INTRODUCTION
The Oriolus MKII is one of the IEM's in the TOTL category that is not as popular as the leading brands. Despite the lack of popularity in most regions, the Oriolus MKII is actually very well known in Asia, especially in Japan. The Oriolus is priced at 1050-1100$ internationally, and around 900-1000$ in Asia/Japan.  Below would be my review after 2 weeks of listening with various sources, cables, and listening situations.  
I apologize in advance for my bad English and grammar. English is not my native tongue and I lack the vocabulary skills and adjectives to review in a technical way 
UNBOXING AND PHOTOS
The Oriolus MKII comes in a simple yet elegant black box. Inside the box is a black metal case which has a very nice finish and feel to it, a cable pouch, some paper work, and some eartips.
I bought my MKII's secondhand but in almost pristine condition for 600$  (around 10-20hours of use, previous owner got into speakers and kept it in the box for almost a year and decided to sell it ).  Below are some photos of the box and MKII's.  
The Box:
Open Box
Close up:
BUILD/DESIGN:
Build:
The Oriolus MKII is very similar to MKI in terms of build and design. The housing is sturdy enough for daily use, but should still always be handled with care. Here in Japan the Oriolus is known to be very fragile, because a lot of the owners seem to always crack or break them.
I think the build is still good enough though, it's just that most Japanese audiophiles just don't handle their IEM's very well. (Not generalizing them, but I think most people or foreigner who lives in Japan and is into audio stuff will agree with me) They always handle them like 10$ earbuds, they just stick it in their pocket's and sometimes even sit on them. Most of the second-hand IEM's for sale here in Japan have a lot of scratches, cracks, and broken wires due to that reason.
Anyways, I think the build is still decent, not the best but its good enough. They're also very light for their size.   
Design:
 The MKII has a very simple yet elegant design. A curvy housing with some golden engravings and a glossy finish. It looks very sleek and gorgeous IMO especially when paired with the PW audio cables, its like you're wearing a piece of jewelry. Most people that see me wearing these always comment about how beautiful they are.  
FIT/ISOLATION:
Fit:
Despite their size, which is a little big than normal, the MKII's are actually very comfortable. The seal on my ears are actually also very good, the only universals that sealed very well for me other than the Oriolus would be that Mee audio P1's and the SE846. They're very light and not fatiguing, the beauty of the curved design IMO is that there wouldn't be edges that might hurt your ear while wearing them or while attempting to wear/remove them. They will stick out a bit of your ears due to their size, but its not really bothersome and not that stupidly big compared to the JH series and the iSine's. You might need to do some tip rolling if you want to find the perfect fit, but I think the Oriolus would fit most people great. Below is a photo of me wearing the Oriolus, (For your reference, I'm Filipino with slightly bigger ears and really small earholes)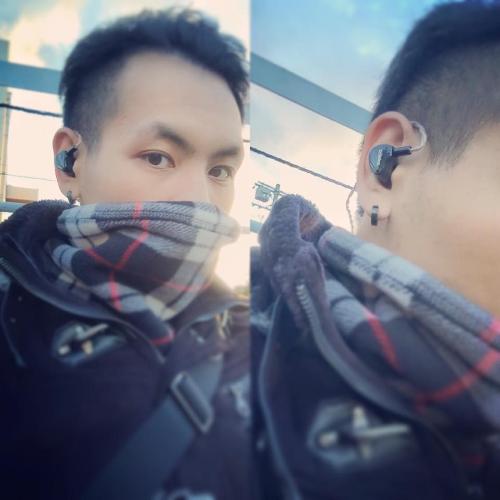 Isolation:
The MKII's isolation is pretty decent, not the best, but good enough especially when listening at 50% or more. They pretty much block most external noises when you're wearing them and when they're fitted correctly. People who can't get a good enough fit might have different opinions though.  
IMPEDANCE:
The Oriolus are very very easy to drive! These IEM's are so sensitive that they will produce hiss and distortion even at lowgain in some amps, they will sound good even through your phone. But a decent dac/amp would ofcourse obviously take to the next level, I just hate the distortion and hiss though.     
SOUND:
320KBPS, FLAC, Tidal, are used with all of the listening. 
Sources: OPPO HA-2SE, iPhone 6, Schiit Magni/Modi V2, Woo Audio WA7, Little DOT MKII, Asus Xonar STU, TSDRENA DAC/AMP, Fiio A3, Fiio X1, AK iRiver
First Impression:
The MKII's are very musical, when I first put them on, the first thing I noticed is how meaty and lush the mids are. Very similar to the Audeze LCD X in terms of sound signature. Slightly warm, lush mids, okay soundstage, great imaging, and great boomy bass. After hearing a couple of songs, I think that these would probably be the most versatile TOTL IEM, every genre that I listened to sounded great with these, they seem to make any song really fun and energetic. Despite all these, at I wasn't really wowed by the Oriolus yet, I was thinking to myself if they are actually even worth it, even at the price that I bought them for which is a steal. I mean they really sound good, but they don't really do anything special, I'd still pick my IE800's over it which IMO has better soundstage and has better clarity and detail retrieval. I'm a soundstage addict and a treble whore, what may be sibilant to others may sound sparkly to me. This is why I really liked the IE800's, because it's bright, great soundstage, and has very little to none mid bass which gives way to all the micro details in the mids and highs. It might sound thin to others, but this is my personal preference.   
The moment that I was wowed by the Oriolus was when I listened to Kreutzer's Violin Sonata No.9 1st movement. I mean, oh my god it just made the violin sound so alive!  This is when I realized why they're TOTL. Despite my hate for mid bass, and warm signatures, the Oriolus made vocals and violins very musical and lush. I really recommend listening to simple acoustic recordings with the Oriolus, and just see how they transform these simple recording with 2-3 instruments into a very musical fiesta. I also really like the Oriolus with EDM and hip hop, they're still good with classical but they're not as good as an IEM with a reference sound signature. They somehow make classical music too grouped and too boomy and lively. This might be good or bad for some people out there but personally I don't like it. I like to hear the spaces between instruments when listening to classical music, this is why I prefer thinner sounding signatures when listening to classical, because warm and lively signatures make the instruments too meaty to my liking. But recordings with few instruments will really shine on the oriolus, and despite all my negative comments, I think most people would find them exceptionally good and very versatile with most genres. Its just that my listening preference is different.  
Bass/Lowend
:
The MkII's bass is really good, it has a lot of volume to it and is very lively. I could use more sub bass, and I would've loved it if the bass was a little tighter and punchier though. But the bass works really well in combination with the slightly forward mids and warm signature. I find them a little boomy for my preference though, but I think overall the bass is really good.  
Mids:
This is where the Oriolus shines! The MKII's just make the mid frequencies so musical and lush that you just can't stop listening for more. When I first heard acoustic tracks and some violin recordings on the Oriolus, I was really surprised at how they can make simple recordings very fun and engaging to listen to. The mids are slightly forward but not that much, Vocals are also livelier because of this trait.  
Treble/Highs:
The Highs of the Oriolus remind me very much of the Fidelio X2 headphone, it has really great detail, but its just that the warmth and sound signature somehow veils some of the details in the highs. You can still hear the micro details though if you listen very carefully. These IEM's are not sibilant or harsh at all, these are probably the most non fatiguing IEM's I have ever heard.  
Soundstage:
The sound stage is decent, not that really great actually. The IE800's have better width and depth in terms of soundstage. The Soundstage is slightly better than the K10U's  but its nothing to write home about. Like I said earlier, when compared to a headphone, The Oriolus would be equal to an Audeze LCD X, they're pretty similar, its like the Oriolus is the IEM version of the LCD X. The only difference is that the LCD X has better bass, punchier and tighter, not boomy like the Oriolus. Most people say that Oriolus lack in depth but is very wide, IMO they're not wide, they pretty much have the same soundstage as the SE846, maybe just slightly better.    
Imaging/Precision:
Despite the not so great soundstage, the imaging is really really good. Much better than most of the TOTL IEM's I've heard. You can really hear where the instruments are and that 3D feel is really awesome! The Imaging is much better than the IE800's and probably on par with the iSine's.   
COMPARISONS:
IE800 vs Oriolus MKII
In my personal opinion, its a tie between these two in terms of overall sound quality. I like the IE800's very much because of my preference, but the Oriolus is just so musical and fun to listen to.
The IE800 has better clarity and detail retrieval. It also has much better soundstage and has a much more open and arier feel to it than the Oriolus. The Oriolus though has better 3d imaging, bass and mids. The oriolus are also much more fun to listen to, and the IE800 might also be harsh to some people because of its treble, but the Oriolus on the other hand won't probably give you problems when it comes to becoming sibilant. I'm still a bit biased over the IE800 and If I were to choose only between the two, I'd still pick the IE800's despite the horrible fit and cable.  
K10U vs Oriolus MKII
Even though the Oriolus might technically be better in every aspect over the K10U, I'd still pick the K10U in this round due to personal preference. These 2 TOTL IEM's have somehow the same objective when it comes to their sound signatures. Non analytical yet still fun and musical. I'd give an edge to the K10U's though because they are somehow brighter and have better detail and treble extension that caters more to my liking and preference. The Oriolus is much more meaty in all sound frequencies and might be more musical, but the K10's have the better speed and clarity.  
SE846 vs Oriolus MKII
The Oriolus MKII is like the roided version of the SE846, The SE846 has punchier bass, but the in terms of overall quality the bass on the MKII's is much much better.I'd say the MKII's are like 15% better than the SE846. The MKII's are definitely better than the SE846, but if you already own the SE846, I wouldn't recommend upgrading to the MKII's unless you really have no concern with budget.   
iSine10/20 vs Oriolus MKII
No contest, hands down to the iSine's especially when paired with the cipher cable. It's very wrong to compare the iSine's to normal IEM"s anyways, they have an open design, they're like open back headphones.They're  really good, the only thing that can beat them in the IEM realm would probably be the Layla's, although I cannot comment further on that yet because I only heard the Laylas for 15minutes tops, I would need more listening time. So the iSine's are still the best IEM I've ever heard so far in terms of overall sound quality. The isolation and leakage is **** though, which pretty much beats the general purpose of using IEM's in the first place.  
CONCLUSION:
The Oriolus MKII is a great buy if you're considering taking the next step into the realm of TOTL IEM's. Probably the best value too because you can buy these used for around 700-800$ which is pretty cheap considering the prices of other TOTL IEM's. They're very good with almost every genre and make every song very musical and engaging. I know I had a lot of negative comments about it, but that is mainly due to my listening preference. And despite my dislike for warm signatures, these IEM's actually made me think twice. They will just draw you in and let you feel music.  
I would be keeping the Oriolus MKII's for now in my collection, I'd use them and swap them with my daily drivers whenever I want to listen to different genres that are best suited with it. 
I'd probably sell them down the road if I get tired of them or if I find a better IEM to add into my collection.   
If you have any questions feel free to hit the comments below!