Item Information
Null Audio Vitesse Copper Cable

,

1

votes
Author:
Category:
Views:

3,948
Reviews:

1
Comments:

0
Null Audio Vitesse Black Edition Copper Cable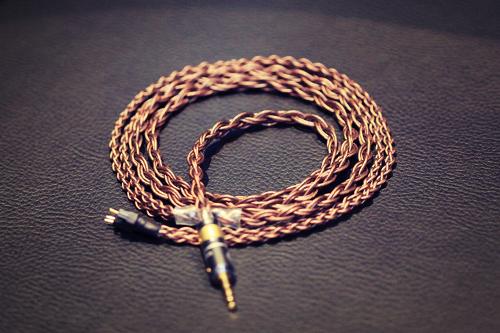 Null Audio Vitesse Copper Cable
---
Recent Reviews
Null Audio Vitesse Copper Cable Review: A Resolving Openness

Written by MikePortnoy
Published

May 27, 2015

Pros - Resolution, Open and Spacious Presentation, Premium Looking, Good Performance for Its Price

Cons - A Bit Heavy Build, Short Pin Connectors for Flush Sockets

I am believer in positive effects of a good cable and I like to try different aftermarket cables to see what sonic changes can be. I have contacted with Null Audio while I was looking for a new reasonably priced upgrade cable for my CIEMs.

 

Null Audio is a well-known brand, located in Singapore. They offer several aftermarket cables such as highly appreciated Luna and Arete series as well as some famous brands' products and custom monitor reshell service. They are some custom iem makers' distributors in Singapore including Hiditon, Canal Works and Rooth. They are also the premium reseller of Advanced AcousticWerkes, which is known by their flagship W500 AHMorph Reference.   

 

 

 

Customer Service:

 

When I had a look to Null Audio website, 8 braided Vitesse cable took my interest and decided to get one. The customer service is quite responsive and patient; they have usually replied to my emails within 24 hours. I think other customers are also happy with their customer relationship.

 

They shipped the cable in two weeks after the conversation via Singapore Post Regular Airmail. Singpost seems to be faster than China Post nowadays. The cable is delivered in 10 days without a problem.

 

 

Built Quality and Accessories:

 

The Vitesse cable has two versions; one is black edition, which is copper; and the other one is made by pure silver. The reviewed cable is a black edition. It has 8 braid and 148 strands of copper conductors.

 

Here is the short description of Vitesse copper cable from Null-Audio website:

 

''Vitesse Black Edition 7N CGOCC-A Copper Earphone Cable utilize the specially made 7N purity GCOCC-A wires with gauge of 23AWG and an amazing 148 strands of fine copper conductor. It is 8 wire braided to minimize cross interference and insulated with ultra flexible silicone sleeve.

Vitesse 

Series Earphone Cable utilizes a special type of metal conductors, which are Grown Crystallized by Ohno Continuous Casting Processed and then Critical Temperature Annealed. The wiring under went cryogenic treatment to further reduce residual stress, resistance and enhance music signal transmission.''

 

 

The Vitesse cable has an exceptionally thin and quite flexible build even if it has 8 conductors; but it is a bit heavy than usual cable weight. In my opinion, this heaviness doesn't create an uncomfortable situation during long listening session while sitting at home or office. However, we have to take that it may be a bit problematic while walking into consideration.

 

It has a flexible silicone sleeve with a bit long memory wire. Thanks to the direction of the memory wire and ironically to the heaviness, there is no need for a slider. Additionally, the memory wire touches to skin; this may cause a discomfort to some listeners, but no issue for me.

 

 

 

The reviewed cable has old type Westone 2 pin; Null Audio also offers many different connector types. Here is the list from their website:

 

Ultimate Ears UE900

Shure SE535/SE425/SE315/SE215

Audio technica CK100Pro

Sennheiser IE80/IE8

Westone W10/W20/W30/W40

Westone UM2 Pro/UM3 Pro 

Westone UM2 RC/UM3X RC/Westone 4R and all Westone Custom Fit IEM

Also works with Earsonics SM1, SM2 V2, SM3 V2, SM64 and all Earsonics Custom Fit IEM

FitEar Custom Fit IEM

Etymotic ER4P/B/S

 

 

The quality of pins is quite good, but connectors aren't long enough to stay connected to earphones with non-recessed/flush sockets such as CA Harmony 8. On the other hand, I haven't had an issue with EW Legend R, since it has a recessed socket and pins stay connected during a movement.

 

Null Audio offers a variety of plugs such as Viablue, Null Audio SC3 and 2.5mm balanced TRRS connector for AK series. They also offer several other balanced connectors; in order to get one with our cable, we need to contact to them directly regarding our demand. 

 

The Vitesse cable comes with an outer box and a soft carrying case made from velvet. Null Audio logo is nicely printed on both soft carrying case and outer box, and looks premium as the cable itself.

 

 

Sound:

 

Null Audio Vitesse Black Edition cable has a bit warm and alive sound with a spacious presentation. It carries a copper cable's signs, but it isn't a low frequency focused one. The Earwerkz stock cable has a closer and darker presentation compared to Vitesse cable. The reviewed cables has more than 100 hours of burn-in.

 

 

Low Frequency:

 

Compared to Earwerkz stock cable, it has tighter, cleaner and more resolving low frequency presentation with a bit better texture. Vitesse's sub bass hits with a bit less area on the stage but goes deeper and there is a bit faster bass response. This ''hitting deeper'' ability helps to creation a deeper stage too.

 

Mid bass presentation is a bit laid back placed compared to stock cable; it comes from a larger area and covers the entire stage. Additionally, mid bass is not prominent as the stock and eliminates the possibility of tightening the stage of Legend R depending on source.  As sub bass, mid bass also becomes more resolved and clean with Vitesse cable.

 

 

Picture from Null Audio  

 

Mid Frequency:

 

Vitesse doesn't change overall note recreation of mid range, but it gives a good resolution and aliveness to the presentation compared to the stock. Mids also become cleaner, more dynamic with a bit more transparency. Vitesse cable has less coloration than the stock cable, this makes the presentation a bit more transparent; but the transparency level is not too high.

 

Lower mids are tighter and a bit drier with Vitesse, compared to fullness of the stock cable. However, Vitesse's resolution is a bit better with cleaner attacks. Center mids are more open and alive compared to stock; vocals are a bit more close to face here, but overall mid range presentation comes from a larger horizontal dimension. Upper mids are still smooth even if there is an extra openness on overall mid range. Although there is no sibilance with both cables, the Vitesse has more open tone but still keeps the sibilance away.

 

 

High Frequency:

 

The Vitesse has more prominent treble presentation without being harsh or piercing. There is a good control here and resolution level is higher than the stock. In addition, the stock cable has detail problems on lower treble; Vitesse creates a good level of detail with a better extension and it doesn't brighten the treble.  In addition, high frequency presentation is a bit less stressed than the stock.

 

 

Picture from Null Audio

 

 

Soundstage and Separation:

 

The Vitesse cable has a bit deeper and a lot wider stage than the stock. The identical instruments take place close to 9 o'clock and 3 o'clock with Vitesse cable, while the stock's instruments take place in front of listeners with a narrow area.  That makes Vitesse cable more enveloping sounding unit with a better 3D ability.

 

The stage and overall presentation stays a bit congested with the stock while Vitesse cable has a more airy and spacious stage with clearer space between instruments. 

 

Even thought the Vitesse doesn't have an overly large stage dimension, the combination of a cable and an earphone with overly large stages may result in lack of focus. In my opinion, when we go to an overly large stage, the coherence gets lost and focusing becomes difficult. Surely, this is about preference and it may differ from listener to listener. However, the Vitesse seems to solve stage dimension problem with its stage creation ability and spaciousness.

 

Vitesse cable doesn't add much in terms of background blackness or stableness. The stock and the Vitesse, they both have nearly the same level of background performance. On the other hand, Vitesse has more spacious presentation with clear spaces, and this makes it to have a better instrument separation; but there is still a warm air between instruments.

 

 

Final Words:

 

Null Audio Vitesse Black Edition cable is a quite good copper cable for its price and deserves a good rank among mid-fi aftermarket cables. Overall body and dynamism is still here even if it has a tighter presentation. The best ability of the Vitesse cable is its resolution, spaciousness and open sound without adding brightness.

 

The price is approx. 190 USD and 249 SGD.

 

 

Here is link to Null Audio:

 

http://www.null-audio.com

 

http://www.null-audio.com/collections/iem-headphone-cable/products/vitesse-black-edition-cryo-7n-cgocc-a-copper-earphone-cable

 


Comments

To view comments, simply sign up and become a member!