The Katana is an IEM that's been around for some time now, and by this point any regular review is a bit of an overkill given the sheer quantity of articles that have already been written on it
That is why I am taking a completely different angle on it, and in a way I'm reviewing an entirely different product - a universal Noble Katana, that has been sent to ItsFit for a re-shell into a custom.
Before we get started, a few disclaimers:
1. The Katana that I'm reviewing might not have the original Noble Katana sound - given my ear shape, ItsFit have had to change some of the internal tubes (I have really narrow ear canals). Not only that, the ItsFit Katana might have a different depth of insertion in comparison to the Noble Katana, as well as a number of other small differences that can add up to a completely different experience
2. By sending the Katana to ItsFit to be re-shelled, you're voiding the warranty, and agreeing that Noble no longer has anything to do with the IEM. Even if some part of the IEM is defective from the very start, the moment a third party opens it up, that's your warranty gone.
With that out of the way, let us get started
First and foremost - who are ItsFit? They are a Vietnamese company that has recently joined the IEM game (you might know them for their Fusion), and have taken Head-Fi by a storm. I have spent countless hours chatting about audio with their owner, Nguyen, and my purchase experience with them has been nothing short of outstanding.
I tend to have a really hard time picking designs, so the concept was changed multiple times since the re-shell discussion began. ItsFit were extremely accommodating and helpful throughout the process. There was an issue when I sent my Katana to Vietnam, but Nguyen was able to get it through customs successfully, a big thank you for which.
I paid for all the options available pretty much - heritage design and rush order. Pretty glad that I did that since my Katana was done in under 5 days as of arrival, and returned to me in a little under a week.
For the design, I picked their heritage "magma" option, in dark purple transparent shells and a white pattern. Here are some of the images that Nguyen sent me:
Now, I'm no stranger to a good custom design, as I've spent countless hours with VE, 64Audio, Empire and ItsFit to get them looks just right, but I have to admit, this is by far the finest custom artwork I have ever seen on an IEM.
Fast forward 2 days, and DHL delivered my brand new ItsFit Katana, and the design was just as stunning in person as it was on those photos ItsFit sent me.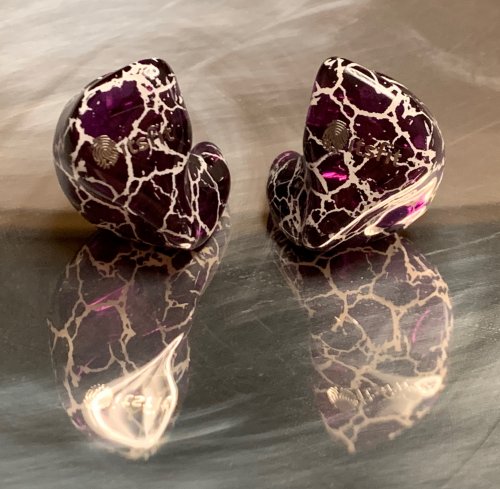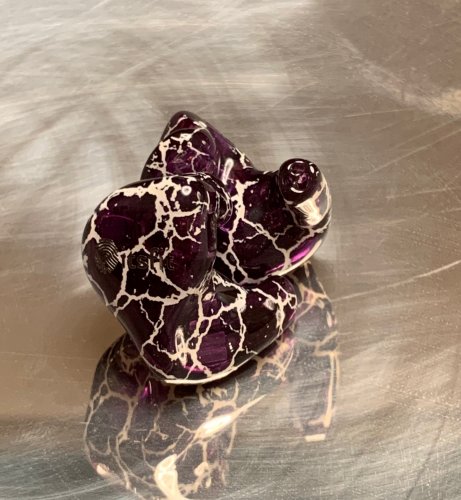 The build quality is nothing short of excellent. I haven't owned Noble customs, but ItsFit have been able to surpass the Noble universals in one specific area - the sockets. Truth be told, it's not too difficult to have better sockets than Noble, but that's a story for another time (Noble doesn't guarantee that cables that aren't made by Noble will fit in their sockets).
If you are of those cable rolling lunatics like myself, I cannot recommend the ItsFit re-shell enough. Their sockets are comfortably among the finest I've ever used. Every single cable I own fits in there like it was built for the IEM, pure audiophile cable-rolling bliss.
The rest of the built is on point, it feels solid and premium - fit is perfect, no complaints to be had. Design, as covered already, is jaw-dropping.
To try and get back to the essence of this hobby, it's time to cover the sound, and how the re-shell has affected it. It is definitely worth mentioning that I never did manage to achieve a good seal with the universal Katana, so the net result was that it sounded quite rolled off on both ends, only really able to perform the midrange well. Technicalities were mediocre at best, but now that I've tried it as a custom, I can say that that was attributable to seal above all else.
The first thing that struck me was how beautiful and spectacular the treble is. It is clean, very present and forward, but also with that sparkle that sets apart bad from good treble. It can be a bit much for some, but given the sheer quality, I would not want it to be any less. It reminds me of some ways of the Khan's treble (in terms of quantity), but the Khan's dryness really killed my enjoyment when listening to it. The custom Katana feels like a straight up upgrade.
The midrange I'd say has remained the same - that midrange that the Katana is famous for. A mini Elysium of sorts, wonderful detail, focus and elegance. Subbass has noticeably improved, but that I can't say is due to anything other than the seal, and midbass has remained the same - light and complementary to the rest of the sound signature.
The improvement in technicalities is similar to the improvement in treble. Much wider soundstage, much more detail, much better texture. More of everything, and not just more, but also much better. This is an effect I have observed quite consistently when going from universal to custom though (due to ear anatomy I suppose), so I can't really credit ItsFit for that, but rather the depth of insertion and seal above all else.
On the topic of pairings, I personally like the Katana with pure silver cables. It adds some clarity, treble quantity and sparkle that I appreciate in almost every piece of gear that I own. Might be more specific to my preferences though, as opposed to being the fully optimal cable pairing. A pure copper cable might be a good idea to add some warmth if you happen to find it too bright.
Would I recommend the re-shell? Cautiously.
The Katana went from one of my least listened to IEMs, to one of my most used ones. I absolutely love what ItsFit have done with it, and could not be happier that I took the risk.
The reason why it isn't getting a glowing recommendation from me is the fact that you are voiding the warranty, and possibly altering the true nature of the IEM. If you are fine with that however, I don't see why not take the plunge. Would heavily recommend getting a cheap used Katana for example, and sending it in for a re-shell.
Thank you ItsFit!