MU6 Ring Open Ear Wireless Air Conduction Bluetooth 5.0 Sports Headphones
Interesting concept that could improve further
Pros
:
Flexible and well-thought out design, MULTIPOINT!, decent call quality, acceptable audio, IP55, superb battery life
Cons
:
Look a little odd, don't fit well with thicker glasses or helmets, connectivity is a little weak
How I review:
(See Previous Reviews)
Model
: MU6 Ring
Price
: MSRP $89 - currently on sale at $79
Vendor Website
:
MU6
Distributor Store:
Genhigh/Gadget Plus
Social Media Links:
Facebook
,
Instagram
,
Twitter
,
YouTube
Review Reference:
RC037
Manufacturer Specification:
Brand: MU6
Model: Ring
Chipset: Not known
Microphones: Dual-mic array
Bluetooth Version: 5.0
ANC: No, open design
Driver: 16mm
Impedance: 20 Ω
Codec Support: AAC, SBC
Operation Range: 10m
Multipoint: YES!
Charging Time: 90 minutes
Standby Time: 200 hours
Single Playtime: 6.5 - 9 hours
Power Input: 5v-200mAh (Micro-USB)
Water Resistance: IP55
Protocols Supported: HFP / A2DP / AVRCP / HSP
Weight: 35g
Size: 157x121x20mm
Includes:
1 x Pair wireless headphones
1 x USB Type-Micro Charge Cable
1 x User manual (English, Simplified Chinese, Japanese, French, German)
1 x Warranty Card
1 x Reflective Stripe
1 x Carry Pouch
Real Life Experience:
Welcome to the regancipher lowdown on a product I've been intruiged about since
Gamesky
reviewed them back in February, the MU6 Ring.
Now it's fair to say these are not my usual style earbud, so reviewing them has been a little odd with little to reference them against, but I'll give my honest appraisal and have ordered in some similar buds to test them against. When
Genhigh aka Gadget Plus
contacted me and asked me to provide a review, it was with my usual caveats that there are
NO PAID REVIEWS
in the world of regancipher! So it was positive that another vendor was prepared to put their product reputation on the line - many don't agree to these terms, so kudos to them for that.
Now my first thought was 'ugh - bone conduction'. Bone conduction headphones give me jawache and vertigo, so I was not keen, and many of the reviews I read were a little negative, saying they 'weren't really bone conduction'. However, after reading the marketing material Mu6 make it abundantly clear these are NOT BONE CONDUCTION HEADPHONES! When I watched the Gamesky video, he explained they are in fact 'air conduction' - and there is a difference.
MU6 do not have the patent on air conduction. That belongs to Edward Kellogg, who between 1925 and 1929 invented and patented the loudspeaker. Yep, these are essentially mini speakers! To summarise them as this is a little simplistic - there is some intelligence in the design to ensure sound is piped into your ear canal at the optimal angle, but the principle of their design is similar to that of semi-in-ear buds, whereby the pressure of silicone or foam tips is negated. MU6 have just done it in a slightly different way.
MU6 are not a household name in audio, even in the Chifi world. Their parent company, Shenzhen Senji Technology Co, have an annual revenue of around $5m having been established in late 2017 - not bad going. Their core products have been smart devices - their Neabot Nomo vacuum cleaner crowdfunded over $250k on Kickstarter last year, and this is not their first foray into audio - they released the over-ear Space 1 and Space 2 (which were reviewed
here on Headfi
, and having been present at CES in 2020, it is clear audio is a primary area of focus for them going forward, despite a now congested market.
The Unboxing


MU6 have a very clear marketing slogan - 'Be Your Days'. I'm not sure what this means, but essentially it is promoting the concept of situational awareness - being able to hear calls, music, podcasts, etc. whilst still going about your day-to-day business. At least that's how I interpreted it.
The box leaves you under no illusions as to what you're getting, and the back elaborates further, designating the key features - open air design, long playtime, mics and a lightweight design. On the side they declare use-cases as running, driving, cycling, office and home - more on that later.
The packaging is a little flimsy considering the price, but as regular regancipher subscribers will testify, I am not in the business of judging a product by the strength of the cardboard they use.
As a package MU6 have included all the essentials. The headphones, which at first look like an alice band, are nicely enclosed in a plastic inlay, and they come with a small carry bag, quick start guide (which is in English, French, German, Chinese and Japanese), reflective stickers and a micro-USB charging cable.
This is a little disappointing - I would have liked to have seen USB-C included, but I understand these took a while to get to market, so we can let them off for that.
The quick start guide is very clear and concise, giving easy to understand instructions on how to wear them, using visuals and text to good effect.
Design & Ergonomics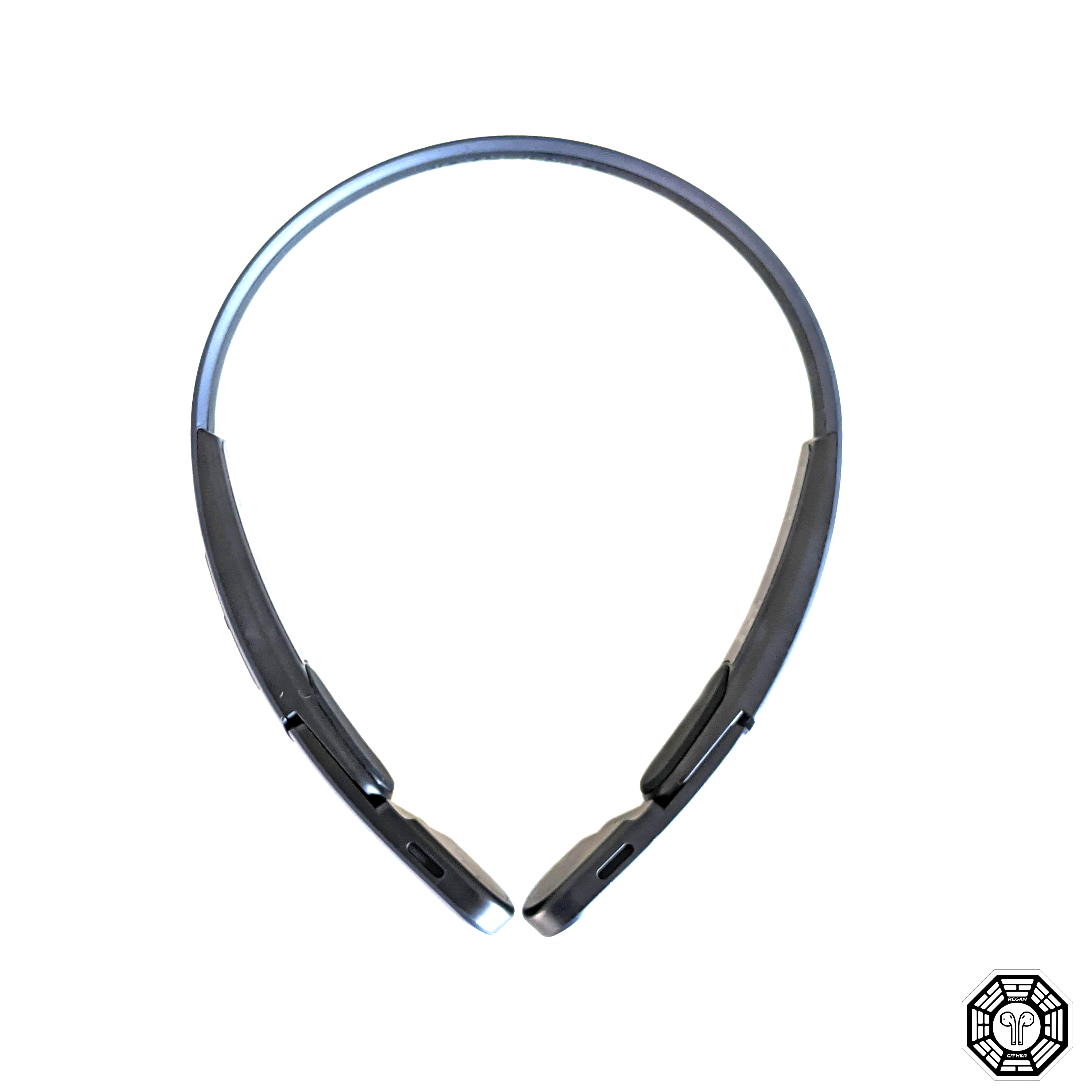 As stated above, the band is somewhat like an alice band in style, and when you're not wearing them, they can hang around your neck quite nicely. The first thing you notice is how light they are - they are advertised at 35g, which is lighter than some charge cases! Considering the average set of earbuds I review are around 11g across the two buds, MU6 have displaced the weight really well.
The finish of the headphones is really nice - despite being mainly plastic, there are no sharp edges or poor QC, certainly not on the model I received. The rubber pads ensure plenty of comfort - the Ring were so light I often forgot I was wearing them. There is also plenty of flexibility in the rotating audio section - up to 120 degrees, and with a width of 121mm and length of 157mm, they even allow for big heads like mine, with a lot of give and no impact on comfort.
Now I'm not sure what the hole below the rubber pad is - it could well be an ambient mic, perhaps a pressure relieving hole, but it doesn't detract from the water resistance, well, strictly speaking sweat and light rain resistance - these are IP55, so no showering or swimming. You will notice that the hole is on an inclined grooved edge - this is to allow for extra comfort for those wearing glasses, and for many models, such as my Persols, the indent sufficed, although it took a little fiddling around to get right, and is definitely firmer on one side than the other.
RING is emblazoned on the outer edge (and inner band) next to an LED, which flashes different colours depending on what it is doing. This is clearly outlined in the manual, and each of the LED statuses is shown below under the controls section. Unfortunately the LED does stay on intermittently when music is playing, but it isn't strong, and does at least let people know you're listening to something if they interrupt you.
Due to the dreadful weather here in the UK it is difficult to show everything without pointing it out, so hopefully the above demonstrates the level of thought that has gone into the design.
Flexibility and durability are also important in headphones like these, so I gave them the full works with no signs of any degradation.
The appearance of the Ring can be a little odd, but when paired with a hat, it looks a lot less obtrusive. Now on the use cases - for running, I will let them have that one. They passed the shake test and I found them decent for a light jog. For cycling, I think it's going to very much depend on your glasses and helmet. I tried the earphones with a helmet and it didn't quite work for me, but I've seen others have managed it successfully. For driving - well, if you don't have Bluetooth in your car, maybe it's a solution, but not many cars don't have Bluetooth these days, or maybe I'm being presumptuous - I don't know.
For home and office - forget about it! If you have nobody within 10m from you you may get away with it, but even on 70%-ish volume others can still hear, and that's the only minor drawback with the design - leakage, but I've experienced similar with semi-in-ear style - even the Samsung Galaxy Buds Live leak a bit, just not as much as this. As many of us are working from home, in this respect they are useful. They pair to two devices, so Zoom and Cell don't require a fumbling around and changing earbuds, and nobody will be bothered by the leakage. But be aware, it exists.
Overall, the ergonomics and design get a thumbs up. They have put quite a bit of thought into them.
Controls
Controls are initiated by a single button on the right side of the headphones, which does, well, everything. Kinda like Jacob in Lost.
Above describes how to initiate an action using the button, and the consequential LED or voice notification. Everything actually seemed to work fine, but I rarely use controls on earbuds anyway. The single button does take some getting used to though - you have to feel your way around it a little bit to make sure you're definitely touching it, and if you need to increase the volume during a call - well, I wouldn't risk it. It would have made sense to add an additional button on the other side, but hey-ho, it is what it is.
Connectivity
Connectivity is good and bad. Good because it allows for Multipoint, which is extremely rare with earbuds (although my sleepy mask also allows for it!) and bad because the range is a bit limited. 10m is ambitious - it can drop out earlier if there are other similar-frequency devices in close proximity.
Sound Quality
I'm not going to try and convince you the sound is B&O-quality. Despite the 16mm drivers, in order to facilitate multipoint, MU6 have essentially had to split the codec. So on AAC, you have a upper limit variable bitrate of 128kbps, 44.1/48kHz frequency stereo. This will be fine for many, but anyone expecting audiophile quality is asking to be disappointed. For podcasts and streaming services it is absolutely fine and even mid-bass on tracks I tested was OK, but subbass is virtually eliminated in order to avoid distortion - makes perfect sense in the context.
I tested a few flacs with them and they didn't sound terrible. I've actually heard worse Bluetooth earbuds! The soundstage is pretty airy like most semi-in-ear buds, which I like. Latency is not bad at all, which is to be expected given the low bitrate.
Calls
Calls are surprisingly not too bad, much better than I was expecting. At least from the perspective of your voice. Unfortunately due to the open nature, others around you may hear the content of the call, so where they have been marketed for driving or home office, this makes perfect sense. Nevertheless, I was surprised how effective they were.
Battery Life
Battery is charged with the supplied micro-USB cable, and advertise up to 10 hours battery life. I got close to 8 hours with a few calls and light listening to podcasts. Overall, not too bad at all, although earbuds have caught up, with buds like the Soundpeats T2 and ZMI PurPods giving you almost the same.
There is no quick charge, but it takes around 90 minutes for a full charge, and the LED changes colour to let you know when charge is complete.
Summary
Pleasantly surprised! the MU6 Ring were not at all what I expected, but reading and listening to some other reviews makes far more sense. They have some great features - multipoint connectivity is great for home office, IP55 moisture resistance is impressive given their form factor, they're comfortable and well thought-out for those wearing specs, and audio quality both in sound and calls are perfectly passable.
That said, sound leakage is a bit much for all of the use-cases they have described, and wearing under a helmet may not be ideal. I also would have liked to see USB-C. The price is also pretty high for us earbud consumers who are used to paying $20-30 for often pretty good quality buds, although there are regularly promotions so wait for the price to drop, and remember, for headphones of this type, the price does tend to be higher.
Nevertheless, I always look for use-cases when I buy headphones, and these definitely have one. For indoor cycling, running, home office, etc - there are definite merits. Just don't buy them thinking they are bone conduction then complain in the review!!!
Overall, a very good effort by Mu6, and if you're looking for headphones of this type, I can only recommend them.
Last edited: