At the time of the review, the Meizu HD50 Headphones were on sale at Gearbest's website. Here is a link to their listing of the product:  
http://www.gearbest.com/headsets/pp_265038.html  
Introduction
There's exciting earphones coming out of China recently, that's for sure! I have had the honor of covering some recent products that were pretty mind blowing for their asking price.  
One of the main problems with Chinese products are that because there are so many it can be hit or miss when purchasing them without trusted reviews. It seems like many Asian companies are beginning to catch on to this. Manufacturers will at times end up sitting on some really good models because word hasn't gotten out on them. Many times the way we discover new products is for manufacturers and sellers to put the better gear in the hands of seasoned Head-Fiers. Simply put, most of us need to know how well something performs before we decide to purchase it.  
When Gearbest contacted me to review products, I was weary of what I was getting into. I didn't want to get into a situation where I was going to be covering mediocre stuff. At the time I was looking to be a little more exclusive with what products I covered.  
I asked George to please keep me in mind to cover flagships and new and exciting products that would appeal to the audiophile community. Well, the first review I covered for them was the Xiaomi Mi headphone. It is an extraordinary headphone for the price that I highly recommend. I asked him to keep me in mind if he gets anything new and comparable in stock. Today I will be covering a new and exciting Chinese release, the Meizu HD50 portable on-ear headphones. For those who don't know, Meizu is a Chinese manufacturer primarily of smartphones and accessories.  
Disclaimer
I was given an opportunity to review the HD50 in exchange for my honest opinion and review. I am in no way affiliated with Meizu or Gearbest. I would like to take this time to personally thank George at Gearbest for the opportunity. If you haven't had a chance to check out Gearbest's website, make sure to check it out. They not only offer a large selection of earphones, they also have a lot of gizmos and gadgets I'm sure many who are reading this review would be interested in.  
My Background
I AM NOT a numbers and graphs audiophile or sound engineer. Personal audio enthusiast? Absolutely! Headphone junkie? Possibly…  
There's something about quality DAPs, DACs, Amplifiers and Earphones that intrigues me, especially if they can be had for low prices. I will buy the $5 to $500 earphone that looks promising, in hopes that I will discover that one new gem that can compete with the big names in this industry. If you look at my Head-Fi profile you will see that I have purchased MANY different headphones and earphones, ranging from from dirt cheap to higher end products. For me, this hobby is more about getting great price to performance ratio from a product, and have a variety of different gears with varying builds and sound to mix and match. With personal audio gear, we tend to pay a lot of money for minor upgrades. One thing I've learned over the last few years is that just because a headphone has a higher price tag, it doesn't mean that it has superior build and sound quality.  
I'm always looking for great audio at a great price. I'm after headphones and IEMs that give me the "WOW" factor. I can appreciate different builds and sound signatures as long as they are ergonomic, and the sound is pleasing to the ear. It is my pleasure to share my experiences with audio products and make recommendations based gear I have owned and used.  
REVIEW
The HD50 came in a gray box with black and white lettering  and a very nice picture of the headphones on the front of the box.  
The back of the box featured a drawing of the side view of the headphones along with a bunch of Chinese I wish I could read. There was a nice graph of the HD50 frequency response. After hearing them, I will say that the graph doesn't seem to be drastically manipulated to appeal to a larger audience. It is pretty spot on with what I'm hearing when listening to them.  
Opening the package I was greeted with a plastic overlay stating "For the lovely ones, designed by Meizu."  
Lifting the overlay revealed a very nice as somewhat compact neoprene zipper case that was of nice quality. The headphones, cable, quarter inch adapter and airline adapter were neatly stored inside.  
Specifications and Accessories
Connectivity : Wired




Connecting interface : 3.5mm




Application : Portable Media Player, Aviation, Computer, DJ, Mobile Phone




Plug Type: Full-sized




Cable length : 1.2m




Frequency response : 20~20KHz




Impedance : 32ohms




Sensitivity : 103dB + / - 3dB




Microphone sensitivity: -42±3dB




Product weight : 0.228 kg




Package weight : 0.5 kg




Package size (L x W x H) : 19 x 19 x 19 cm / 7.47 x 7.47 x 7.47 inches




Package contents: 1 x Original Meizu HD50 Hi-Fi Headphones, 1 x 1.2m Cable



Overall Build
The Meizu HD50 is a sturdy build with premium Materials. Every component of the HD50 construction is made of metal or high quality synthetic protein material.  
Starting with the headband, it is a very flexible band that is coated in the synthetic protein material. Don't be discouraged by the fact that it isn't genuine leather or lamb skin. The material is really nice and sits somewhere between the two. The inside of the headband is lined with a nice memory foam material. The band transitions into the slider via an aluminum ring with the HD50 product name printed on each side.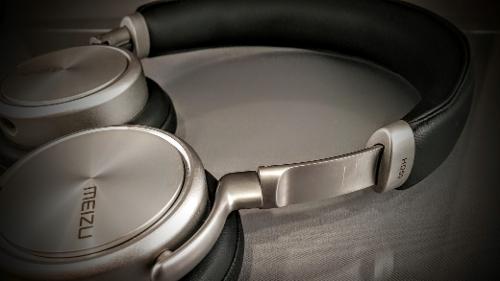 The slides of the headphone follow along the lines of many other headphones. They are made of aluminum and slide and click into place inside of the headband. There are lines to make sure you have the slides adjusted evenly.The metal slides are hinged to allow the cups of the HD50 to be laid flat, or approximately ninety degrees to be worn. There a small hinging mechanism where the cups connect to the arms to help the cups oscillate up or down. To be honest, the amount of adjustability is somewhat minimal, yet just enough to guarantee a nice fit.  
The cups of the HD50 are incredibly stylish. They are a CNC milled aluminum with a sleek design and incredible attention to detail. They are flat round cups with a brushed nickel finish and a simple and sophisticated Meizu logo on each side.  
The HD50 has some nice pads that consist of the same memory foam and synthetic protein material as the headband. For on-ear pads they are very comfortable. Although they get warm, they never got really sweaty or uncomfortable to the point that I had to take a break while listening to them. The left and right channels are printed on the driver overlay. One negative about the pads is the fact that they are attached. Although the HD50 pads could be replaced with some modding, they are designed to be permanent.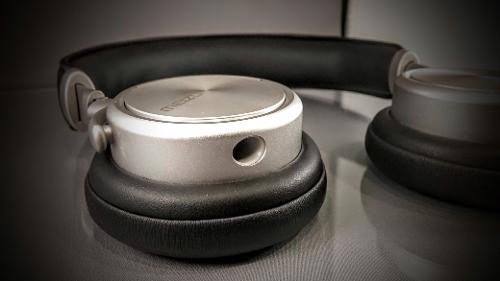 The cable connects via a discreet single 3.5mm socket on the bottom of the right cup. The connection seems solid, and cable upgrades should be no problem so long as the jack of the new cable has a slim profile.  
Overall, I am incredibly impressed with the build quality of these. They have a build quality worthy of a price tag much higher than their asking price. Aside from the non removable pads, I really can't fault them.  
Cable, Cable Jack & Strain Reliefs
The cable is a slightly thicker than average black rubber jacketed cable with an inline three button microphone and remote designed for Android operating systems. The Jacks at both ends are a straight plug design that seems very sturdy and is jacketed in matching brushed nickel aluminum jackets with an effective and simple rubber strain relief. Cable length is approximately four feet in length (1.2 meters).  
Functionality
The Meizu HD50 comes with a inline cable made for Android. Although all three buttons will function with an Android device, the headphones can also be used with Apple devices (the center button will work, but volume buttons will not). With my LG G3 I could play/pause music, answer calls, control volumes and activate Google voice command. When using the HD50 for phone calls I could hear voices with good clarity. When talking to friends and family, they reported my voice coming through at a three on a scale from one to five.  
Comfort & Isolation
I'm usually not a fan of on-ear headphones, but the HD50 was an exception. The on ear fit was pretty comfortable and along the same lines as most closed back headphones. Although they got a little warm on my ears, they didn't get overly hot or sweaty. The clamping force of the HD50 in combination with the high quality materials used on the earpads gave me an excellent level of isolation without making things uncomfortable. I was able to wear the HD50 for extended periods without the need to give my ears a break.  
Sound Review
I did my demo with my usual gear. I used an LG-G3 with the latest firmware for portable and smartphone use, and either my Shanling H3 or Sony Walkman F806/Cayin C5 amplifier for a high fidelity portable use. For desktop use I used my Toshiba Satellite Laptop in combination with a HIFIMEDIY Sabre ES9023 USB DAC/Bravo Audio Ocean Tube amplifier with a Mullard 12AU7 tube for higher impedance, and a Fiio E18 USB DAC & Amplifier in both high and low gain. Both were run at 24 bit, 96000 Hz. I also tested them with other DAPs and amplifiers as well. I used Google Music downloaded in its highest download quality (320 KBPS) and I also streamed FLAC via Tidal streaming service. I also used purchased and downloaded tracks in MP3, FLAC, WAV and DSD. I make sure that any gear I test has sufficient playtime before writing a review.  
I used my usual same songs for testing gear:
"Limit to your love" by James Blake (bass speed, punch, response)
"Doin' it Right" by Daft Punk (sub bass)
"Get lucky" by Daft Punk (bass to midrange transition resolution, male vocals)
"Madness" by Muse (soundstage, separation)
"Some nights" by Fun (soundstage and male vocals)
"The soundmaker" by Rodrigo y Gabriela (texture and imaging)
"Bassically" by Tei Shi (bass to midrange resolution, female vocals)
"Skinny Love" performed by Birdie (female vocals, acoustic playback)
"One" by Ed Sheeran (male vocals, acoustic playback)
"Outlands" from the Tron Legacy Soundtrack (symphonic presentation, imaging)
"Sultans of swing" by Dire Straits (detail, separation, balance)
"And Justic for All" by Metallica (driver distortion, treble response, rock playback)
"Ten thousand fists" by Disturbed (driver distortion, treble response, rock playback)  
Note: Other tracks were used, but the listed songs were primarily used to assess and break down the gear's response.  
Source Selection
These are designed for portable use with Android phones. With that said they don't need a ton of power and don't necessarily get any added benefit from amplification with more powerful devices. Their bass forward response makes them forgiving with poorly recorded music and low bit rate files. They will also upscale decently with better files. For best results (although not necessarily needed to sound good) with the HD50, use a neutral source and higher quality recordings.  
Sound Signature
I think the best way to describe them from what I've heard is that they are a portable poor man's ZMF Omni with extra added bass. While they don't offer the same level of overall fidelity, they have a similar tuning that is very enjoyable. They have a bass forward tuning that carries over into a musical midrange and relaxed but extended treble response. They are very musical and work with most genres of music. They are particularly fantastic with modern genres. Using the HD50 at home, they were on the bassier side of what I prefer, but when using them for commuting I found the tuning to be darn near perfect. The combination of functionality, ergonomics, isolation, bass and musicality makes these my go to portable headphones.  
Bass
The bass of the HD50 is authoritative and robust, offering equal amounts of punch and rumble. It can seem slightly wooly or boomy from time to time, but more times than not it is an enjoyable response that gives my music collection a nice low end kick. The bass forward tuning does carry into the lower midrange from time to time, but it never falls into the category of a causing distortion or bass bleed. It is more of a musical oomph rather that is more forward than lower midrange tones.  
Midrange
Midrange definitely takes a back seat to the lower frequency range. I would describe it as musical, relaxed and free of distortion. It is a smooth and pretty natural sound that doesn't have any radical drop offs or spikes. Aside from lower midrange tones being overshadowed by the bass tones, it is fairly warm/neutral and easy on the ears.  
Treble
This is where the Meizu takes a unique approach. Usually headphones will have a spike somewhere around the 4-7 kHz range then drop off after that. This is to give listeners a nice sense of space and balance the upper frequencies with the bottom end. Rather than follow the trend, Meizu has kept the overall treble tuning somewhat relaxed and also maintained an excellent amount of extension at upper frequencies without much drop off. What you get is an overall relaxed feel while still getting just about all of the treble details. I really enjoy the way this is done.  
Soundstage and Imaging
For an on-ear headphone the HD50 has better soundstage than just about every other on-ear headphone design I've heard. The extension gives a sense of space that is achieved by the nice extension on both ends of the listening spectrum. Imaging is solid, but not world class.  
Comparisons
Audio Technica ATH-M50 ($100 to $150 USD on many sites)
The M50 is a legendary earphone that is a must have for many audiophiles. They are used by many as reference monitors. They have a relatively balanced sound with a slight bass emphasis.  
Comparing the two, the M50 is more neutral than the more musical HD50. The HD50 packs more of a bass wallop, and follows it up with a slightly warmer midrange and more relaxed and extended treble presence. The way I see it, I would use the ATH-M50 to make music, and the HD50 to enjoy it after it's made. I don't see one as necessarily better than the other in terms of sound quality, but more that they are tuned differently.  
As far as build quality is concerned the HD50 is a clear cut winner. They have superior materials used as compared to the plastic build of the M50. The HD50 also has an edge with their detachable cable and neoprene carrying case as compared to the attached cable and leather pouch of the M50.  
Brainwavz HM2 ($50 to $80 USD on many sites)
The HM2 is a solid new offering from Brainwavz, offering a sturdy plastic build, nice cable and case, and a formidable sound that is overall pretty decent. The current fifty dollar sale price makes them a good value for their price.  
Comparing the two, I find the build and sound quality of the HD50 to be an upgrade over the HM2. Although the HM2 is formidable in just about all criteria, Meizu really nailed it with their materials, design and sound. The leap in quality definitely justifies the slight increase in price.  
The sound of the HD50 is more extended, detailed and with better separation. Bouncing back and forth, the mids seem to be more forward on the HM2, but there is noticeably less extension on both ends of the frequency response as compared to the HD50.  
In terms of accessories, It is a draw. They both offer some really nice cases and the cables are similar in terms of quality and design.  
Conclusion
At first I wasn't overly impressed by the HD50, but the longer I used it the more I liked it. It has become one of my favorite headphones for when I'm out of the house. The portability, build quality, isolation and sound quality makes this an easy recommendation for anyone looking for a portable or on-ear audio solution.  
Thanks for reading and happy listening!