Item information
Added by
Views

17,514
Reviews

11
Last update
Rating

4.95 star(s)

11 ratings
General Information
Matrix M-Stage SS Headphone Amplifier
Latest reviews
Pros
:
Cheep in comparison with analogue amp...solid symply to upgrade
Cons
:
Power botton placed in the rear...
I useed my Matrix very rarely from 2 year to now because was too arsh for mee.
I prefer my little dot or lake people or my rega ear...but reading in internet the possibility of replace the amp chip for better resultI bought a normal
LM4562NA Amplificateur Operationnel TEXAS INSTRUMENTS
for 9€ shipment included. 3 minutes to replace the original one end NOW.....a miracle. Everything go right and musically correct. I tested wiyh my hd600 and HIFIman he400i .....supeb with the max gain to +12db.
The next day I'll try with my Grado sr325i and dt990 and dt880(600 Ohm)...I'll see!
Pros
:
Great build and sound. Four different gain settings, easy to change op amps, great value
Cons
:
5Ohms impedance is slightly high, slightly warm, physical deisgn may not appeal to everyone
The M-stage HPA-1 was purchased by me from an eBay seller about a year ago for $180 including a class A biased OPA627 op amp.
The HPA-1 was the first generation in the M-stage series and have since then been followed by the HPA-2 and the quite recently released HPA-3. The HPA-1 was released back in 2010 but I still think that it offers enough interesting features to be worthy of a review in 2016.  
The HPA-1 came with one version without built in DAC (the one that I've got) and one with built in DAC. Both were available in black and silver so a total of four different offerings were available. To my understanding the original version with USB is no long available (but generation 2 and 3 is) while the pure amplifier version is.  
The HPA-1 is still available from several sellers and here's a link to the Amazon listing of it:  
http://www.amazon.com/Matrix-m-stage-HPA-Headphone-Amplifier/dp/B0056ER22E  
I'm not in any way affiliated with Matrix.  
Short introduction to Matrix Electronic:
Matrix Electronic Technology Co. Ltd., located in Xi'an Economic and Technological Development Zone, is a high-tech enterprise that dedicates to the R&D, manufacture, marketing and sales of high-fidelity digital audio products. The company has its own digital audio brand; meanwhile, it also collaborates with a number of domestic and foreign companies on OEM and ODM business.  
Homepage:
http://www.matrix-digi.com/en/index.html  
About me:
I'm a 43 year old music and sound lover that changed my focus from speakers to headphones and IEM's about five years ago. At that time I realized that it wasn't realistic for me to have all the different setups that I wanted and still house a family of four children and a wife so my interest turned first to full sized headphones and later also IEM's.
 
My preferences are towards full sized open headphones and I believe that also says something about what kind of sound signature I prefer (large soundstage in all directions, balanced and organic sound).
 
My music preferences are pretty much all over the place (only excluding classical music, jazz and really heavy metal). My all-time favorite band is Depeche Mode although I also listen to a lot of grunge/indie, singer/songwriter/acoustical stuff as well as the typical top 40 music.
 
I do not use EQ, ever.
 
I'm a sucker for value for money on most things in life Head-Fi related stuff is no exception.
 
Built:
The Matrix M-stage HPA-1 is a solid state headphone amplifier.    
The HPA-1 is literally built as a tank. It's made of metal and feels very reliable both in outer- and inner- design. It really feels like a non-nonsense product built to last for a long time.  
The physical design of the HPA-1 (long in depth and short in width) is a not typical one and this may be a problem for people preferring to stack their gear.  
The volume knob does also feel very solid and has a perfect amount of resistance when being moved to raise or lower the volume.  
The HPA-1 offers two RCA inputs where you connect your sources and one RCA output for its pre-amp function. It also has a 6.3 mm jack to connect the headphones to.  
To continue it also offers a switch to choose which of the line in sources to listen to and underneath it also has gain switches. The gain switch can be put to four different options: 0, 10, 18 and 20dB. I really like to have four gain options to choose from. This was the reason for me choosing the HPA-1 over the newer HPA-2 when I made my purchase. Finally there's also an On/Off switch which, unfortunately, is placed on the back and makes it a bit hard to reach when placed in a rack.  
Op amp socket with the Burson Audio SS V5 in place
Gain switch
Four different gain settings
Under the hood
With the lid in place
The back
The specs:
·         Output: discrete
·         Gain Switchable
·         Frequency Response: 10 Hz (-0.3dB) ~ 35kHz (-1dB)
·         Signal to Noise Ratio: >95dB (0dB)
·         Distortion: <0.001% (6 mW/300 Ohms)
·         Input Impedance: 47 kOhms
·         Output Impedance: Line-out 60 Ohms, Phone-out 5 Ohms
·         Output Power: 200 mW/300 Ohms, 400 mW/60 Ohms
·         Power Support: AC 220-240V/100-120V 
·         Front Panel Color: Black/Silver
·         Weight: 2 kg
·         Device Dimension: 280 x 110 x 42mm  
Sound:
I've used the M-stage on and off for the last year and it have played for well over 100 hours.    
I've fed it from my Advance Acoustic MDA503, the GO720 and the CEntrance DACport Slim and it has worked very well in all combinations.  
Demo list:
Mark Knopfler – Sailing to Philadelphia
Røyksopp (Feat.Susanne Sundfør) – Save Me
Ane Brun – These Days
Michael Jackson – Dirty Diana
Metallica – Die Die My Darling
The Peter Malick Group – Immigrant
Eva Cassidy – Songbird
Thomas Dybdahl – A Lovestory
Norah Jones – Don't Know Why
Celldweller – Unshakeable
Jack Johnson – Better Together
Seinabo Sey – Younger (Kygo remix)
Dire Straits- So Far Away
Bjørk - Moon
Lupe Fiasco - Deliver
Morrissey – Earth Is the Loneliest Planet
I've got to be honest and admit that I find it pretty difficult to describe the sound from an amplifier. To me the sound of headphones/IEM's is more easy to describe than that of amplifiers and DAC's. Because of this I'll do a brief description of the overall sound from the HPA-1 and then compare it to a couple of other amplifiers to highlight the difference and similarities to them.  
The first thing that I noticed when I started to listen to the M-stage was the black background. It was simply on another level than I've ever heard before. It sounds so calm and with great authority to everything it does. I don't feel that it does not highlight any particular frequencies but the overall sound is full and slightly on the warm side. Although it doesn't sound very vivid it doesn't strike me as particularly laid back either, neutral with a warm tone would probably be the best way I can describe it. The extension in both ends is very good and I don't think that anything is missing. Soundstage feels natural and separation is very good. While some amplifiers with wide soundstage can tend to sound slightly diffuse (combined with some headphones) I don't find this to be the case at all with the HPA-1 and it's very easy to hear the position of each instrument. I'd characterize the overall signature as full, distinct, slightly warm and with an excellent timbre to it.   
Op amp rolling:
The M-stage uses one dual op amp that's mounted in a DIP8 socket and is very easily user replaceable. I general I find op amp changes to be quite subtle, especially when a/b testing with short listening sessions. I find that long time usage makes it easier to say at least which sound you prefer and which may cause more fatigue or other wanted/unwanted characteristics from the different op amps. Still I'd consider op amp changes fine tuning kind of in the same way as with tube changes. In short the Matrix M-stage will always sound like the Matrix M-stage but smaller adjustments are possible. I'd also like to say that there are no "better" or "worse" op amps in my opinion but there may be differences in synergy with the rest of your system and of course also in what preferences one have.  
As I've already mentioned my HPA-1 came with the OPA627 pre-installed. Lately I've acquired a MUSES8820 op amp and Burson have been so kind to send me a sample of their Dual Supreme Sound (SS) V5 op amp for my shoot out. Big thanks to Dennis at Burson Audio for the support of my little project and for putting up with all of my questions.  
For those interested in reading more about the latest generation of the Burson op amps (V5) here's the link to their site with more information:
http://www.bursonaudio.com/products/supreme-sound-opamp-v5/
I've also posted a review for the Burson Audio SS V5 with more detailed information about it. Those who's interested can find it here:
http://www.head-fi.org/products/burson-audio-supreme-sound-opamp-v5/reviews/15046    
On top OPA 627, below MUSES8820, on the right Burson Audio SS V5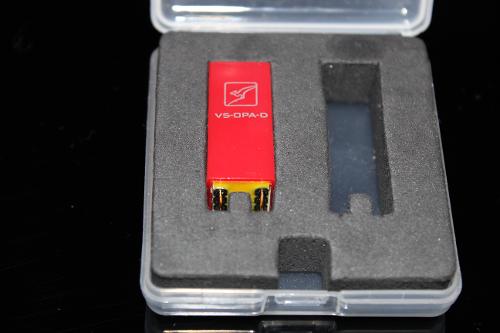 Premium product in premium package
OPA627 (class A biased), $30:
With the OPA627 installed the warmth in the HPA-1 is easily noticeable but clarity and details are still in place. Focus on each instrument is excellent and the OPA 627 is the most intimate sounding among those tested here.  
Full bodied, focused and warm is keywords for this op amp.  
Burson Audio SS V5, $70:
With the SS V5 the black background of the HPA-1 is even more noticeable. There's also more air to the presentation and the stage feels wider while still keeping the great positioning of each instrument. The more airy presentation also makes it feel less warm if that makes sense. The V5 has great extension in both ends.  
Rich, detailed and airy is keywords for this op amp.    
Muses 8820, $13:
The MUSES8820 sits nicely in between the OPA 627 and SS V5 when it comes to warmth and soundstage. It has good extensions in both ends and is quite neutral.  
Neutral and yet very musical is keywords for this op amp.  
I've also made a short breakdown of the characteristic of the three op amps I've compared:  
Warmth:
627 > 8820 > V5
Black background:
V5 > 627 = 8820
Soundstage:
V5 > 8820 > 627
Extension:
V5 > 8820 > 627
Airy presentation:
V5 > 8820 > 627
Separation:
V5 > 8820 = 627  
Once again these differences are not big but it's how I hear them with my ears in my system. That being said it's no doubt that I prefer the Burson offering over the others for long term listening.  
Matching:
The output impedance of the headphone out on the HPA-1 is rated to 5 ohms. This means that it may not be the ideal pairing with very easy to drive headphones and IEM's. In theory it should be paired with headphones that has an impedance of 40Ohms or greater to perform its best.  
The HPA-1 has plenty of power to drive all my full sized headphones, even my modded Fostex T50RP's, which are the most demanding pairs I've got in terms of power, get more than enough power from the 10dB gain setting. The official power rating of the M-stage is 400 mW at 60 Ohms and 200 mW at 300Ohms so it should be enough for most headphones.  
AKG Q701:
The combination of the HPA-1 and the Q's are a match made in heaven in my opinion. The slight warmth and power from the M-stage really bring out the best from the Q's. Bass is as impactful as I've ever heard with them and the overall presentation is very enjoyable. Also the great positioning and separation of the M-stage seem to work very well with the Q's which can be a bit diffused with some sources in my opinion.  
Grado SR325is:
Although the Grado's only have an impedance of 32Ohms I find them to sound excellent combined with the M-stage. The slight warmth combined with the full and calm presentation seems to pair very well with the lively nature of the Grado's giving them a very pleasant and enjoyable overall sound.  
Philips Fidelio X2:
Although the X2's certainly doesn't sound bad with the M-stage it's the only headphone that I enjoy even more with the Little Dot I+. I don't know if it's the 30Ohms impedance of the X2's or the full and warm nature  of the HPA-1 that's to blame but on some recordings the bass get slightly too much for my preference. After spending a lot of time (and money) on different tubes and op amps for the LD I+ to make them perfect for the X2's I've settled on a combination of Siemens 6AK5W tubes and the MUSES8820 op amp that really bring the X2's to the next level for me. The midrange is more forward and mid-bass slightly reduced compared to the HPA-1.  
Comparison:
Please note that the comments in the comparison section are not in absolute terms but in comparison between subject A and B. This means (as an example) that if subject A is found to be brighter than subject B it does not necessarily mean that subject A is bright sounding in absolute terms. I hope this makes sense.  
I this comparison both amplifiers were fed by the Advance Acoustic MDA503 DAC equipped with Ei NOS tubes in the output stage. I've been listening through my Philips Fidelio X2's.  
I used a simple Android app to volume match the amplifiers so although maybe not perfectly scientifically the result should still be pretty correct.  
I used the M-stage with the Burson SS V5 installed when doing this section.  
Little Dot I+ vs HPA-1:
The LD I+ ($140) is smaller than the HPA-1 and has a built in power supply solution just like the HPA-1.  
As already mentioned I've settled on a Siemens/MUSES combo of tubes and op amp for the LD I+ and that's what I've used it with in this comparison as well.  
Being a tube/solid state hybrid the LD I+ introduce some noise with easy to drive IEM's that makes it not match the HPA-1 in the level of black background. Compared to the M-stage the LD I+ have a more forward midrange and a very slightly less warm sound with a more lively presentation. The M-stage on the other hand feels more even across the frequencies and also slightly fuller and with more authority to the way it sounds.  
The HPA-1 offers a bit higher power output (200 mW for the HPA-1 vs 150mW for the LD I+ at 300Ohms). The LD I+ also offers a gain switch for 3.25 or 6.5 dB compared to the HPA-1's four different settings (0, 10, 18 and 20dB).  Unfortunately the output impedance of the LD I+ seem to be unknown except for the fact that it's said to be made for low impedance headphones. The LD I+ has one pair of RCA inputs while the HPA-1 offers two and one set of outputs for pre-amp function.   
Schiit Magni vs HPA-1:
The Magni ($99) is much smaller than the HPA-1 and has a power supply solution that requires a wall wart in contrast to the built in power supply on the HPA-1.  
Compare to the M-stage the Magni has an overall slightly thinner but also cleaner presentation. While the M-stage is slightly warmer than what I'd consider to be neutral the Magni is what I'd describe as spot on neutral. The result is a slightly more full sound most easily noticeable with male vocals and also more distinct character on the M-stage. The Magni can tend to sound a bit shouty (in comparison) with some music (Michael Jackson – Dirty Diana is a good example of this). They both offer similar great sense of space, separation and bass depth. The M-stage does have a more black background.  
The Magni also offers a slightly higher power output (260mW at 300Ohms compared to 200mW for the HPA-1) but has no gain switch and its fixed gain is very high (making it more difficult to use with easy to drive IEM's). The Magni has a very low output impedance (less than 0.1 Ohms) compared to the slightly high 5 Ohms for the HPA-1.  The Magni offers a pair of RCA inputs while the HPA-1 offers two and one set of outputs for pre-amp function.    
Summary:
The Matrix M-stage HPA-1 may not be the latest addition to the amplifier market but it may very well be one of the best values with current prices.  
The combination of four different gain options, pre amp function, two set of RCA inputs, easily user switchable op amps for fine tuning the sound and an excellent overall performance makes it a great option as long as you can live with an output impedance of 5Ohms.  
In combination with the Burson SS V5 op amp it has become my favorite amplifier, especially when driving headphones that need a good amount of power to perform their best.   
This has been a project over several weeks and I've enjoyed every minute of it. Hopefully you've enjoyed reading it as well
Pros
:
Sheer Sound Quality, Immense Output Power, Excellent Features, Amazing Synergy with HD800 & K812
---
---
Me: I am an amateur musician & avid admirer of music from India. I would like to call myself a music enthusiast, rather than an audiophile. I was inspired by music since childhood, and as the time passed, the passion of music grew in me, and that subsequently led me to join Head-Fi. Eventually, I found the pleasure of listening to music mainly by the HD600 and recently, by the seductive LCD2 headphones, and realized the true components of recorded music. I usually like to listen to Indian Classical Music along with Bollywood songs. My main listening genres include classical, vocal, instrumental, jazz and sometimes pop.  With time, my sonic preferences have very much grown. I avidly admire transparency, accuracy along with neutrality, I mostly listen to full sized open back headphones and my all-time favorite headphones are Sennheiser HD800 & AKG K812, which I run from solid state amplifiers. I prefer & admire transparent solid state headphone amplifiers simply because they provide best possible accuracy, transparency & reliability.
I am an average consumer & a humble enthusiast, I like to pen down my thoughts, & I love to express my feelings. I do not receive for any sort financial benefits through this review. My articles are a purely honest writeup aimed for fellow enthusiasts here at Head-Fi community. My profound thanks to Matrix Audio for arranging a sample unit of HPA-3 for my evaluation.
---
Intro:  Matrix Electronic Technology Co. Ltd., located in Xi'an Economic and Technological Development Zone, in the ancient  city of Xian. Matrix is an enterprise that dedicates to development & manufacturing of high-fidelity audio products. It also collaborates with a number of domestic and foreign companies on OEM and ODM business. Matrix has its own highly qualified R&D team, which designs all of their products.
I assume we all heard of matrix only since its release of M-Stage headphone amplifer around 2010 which stirred the headphone amp market & was extremely well received across the world; hence It became a benchmark device. 
Im a proud owner of Matrix's HPA-1 & HPA-2,  over more than two years. I loved them a lot, had a wonderful time with both of them. The M-Stage is getting updates in circuit board every two years. The latest model is HPA-3, improvised on previous designs.
HPA-1 was warmest & 'richest' sounding of all three, but had mediocre inbuilt DAC, plus slightly audible noise floor. It had the original BCL style gain switches. HPA-2 largely improvised from HPA-1, applied better performing 24/192 DAC with fixed +15dB gain. Also, the benchmark bass 'bump' has vastly reduced, with much better cleaner & flatter output.
Their latest release is HPA-3, successor to HPA-2. The HPA-3 has two variants, HPA-3U a Single end headphone amplifier with inbuilt DAC, whereas the  HPA-3B, truly balanced headphone amplifier without inbuilt DAC.
Technical specifications of HPA-3U:
Line Output
SNR: >-112dB at 20Hz-22kHz A-Weighting
THD+N: <0.0003% at 1kHz 1VRMS A-Weighting
Frequency Response: 20Hz-20kHz(+0.01dB/-0.04dB)
Output Impedance: 51ohms
Headphone Output
SNR: >-112dB A-Weighting
THD+N: <0.0003% at 33ohms 90mW 1kHz A-Weighting
Frequency Response: 20Hz-20kHz(+0.01dB/-0.04dB)
Output Impedance: 0.2ohms
Output Power: 2800mW at 33ohms / 420mW at 300ohms / 210mW at 600ohms at THD+N=0.01%
Gain:  5dB 10dB 20dB
DAC
USB Chip: XMOS U-Series Asynchronous USB Chip
D/A Chip: Texas Instruments DSD1793
SNR: >-110dB A-Weighting
THD+N: <0.002% at 1kHz A-Weighting
PCM Sample Rate: 16-24Bit /44.1kHz 48kHz 88.2kHz 96kHz 176.4kHz 192kHz
DSD Sample Rate: DSD64(DoP)
System Support
Windows XP/Vista/7/8/8.1 systems need to install the driver supplied
Mac OS X 10.6.4 and above version have native support and do not require a driver
Can be used with the most of Android devices via the OTG cable
Can be used with iOS devices via the Lightning to USB Camera Adapter
Power
Supports both 110V & 230V (switchable)
Power Consumption: <25W
Fuse: AC250V/500mA 5×20mm
Weight: 1.7 KG
---
Packaging & Accessories: The HPA-3U comes packed in Matrix Audio's strong cardboard box with foam protection inside & necessary accessories included in the package.
Included Accessories
User manual & Driver CD: Contains instruction about operating it & some warranty information. A compact disk containing HPA-3's USB driver is included.
USB Cable: Good quality USB A-B cable. About a metre and half long.
Power Cable:  AC power cord to attach to mains supply.
---
Design and Build: The HPA-3U a marvelous & Robust build quality with perfect finishing. 
The case is redesigned from past to be more efficient.  More vents, thicker case, excellent finished edges & a modern look. It is made up of aluminium, and is painted in matt black & brush finished.  
Overall the amp feels heavy in hand and comparatively longer is dimensions than other amps in size.  On the front side, we have Volume control knob, headphone jack is present in 6.5mm format along with a gain & input switch. On the rear side, we have Power socket cum switch, USB input port, along with a RCA input/output jack. Power button is very rugged & tough; Volume knob operates in a very smooth fashion & is very steady. Headphone socket is ball bearing type & goes easy on the headphone jack, does not cause scratches on the surface.
Special mention here is: HPA-3 is capable of handling both 110/220V, whose selection switch is on side of the amp. Plus the AC fuse is accessible right besides it. To remove the case & access the circuitry, one has to remove top four screws using allen keys Size (2 & 2.5) plus additional two side screws on each side, to remove the top cover. One small issue user might face here is: Vents on top cover can attract dust or incase a few water droplets fall down, it will straight on the circuit board & damage the board.
Considering the Internal components, HPA-3U has an entirely redesigned circuit board with has double sided PCB with no manual wirings except the toroidal transformer joints. Components are placed in a symmetrical & neat fashion.  All components used are carefully selected; including all dale resistors, Alps-27 blue velvet pot, premium caps. For D/A conversion, the HPA-3 employs DSD1793 (which is DSD capable version of PCM1793) for USB transfer, asynchronous 24 Bits/192 KHZ capable Xmos Chip. There are no user replaceable/serviceable parts inside theHPA-3U, except the op-amp scoket. Board is excellently soldered and has a reliable workmanship. TheHPA-3U generally runs warm by temperature due to being Class-A. It can also act as standalone headphone amplifier when fed with RCA inputs.
---
Sound:  The HPA-3U offers a very flat, detailed & accurate, sound  sonic presentation. Sound-stage width is superb & expansive. Overall puts up an amazing performance. Lows are tight, accurate & go deep with good impact, The 'bump' associated with older HPA's is mostly gone. Mids sound very clear & open. Highs are very clean, airy, very detailed & extended. Overall no presence of any significant colouration.
I expected that matrix would develop and include a 32 bit DAC in their HPA-3U. The M-Stage have always been a strong & reliable amp, but contained a mediocre DAC. Though DAC in HPA-3U is good, but is not performing upto the standards of the amazing amp circuit. 
Soundstage in HPA-3U is just great . It has a fully circular 3D imaging. Detail retrieval, and dynamics are excellent, perhaps one of the best for an Amp/Dac under the price tag. Overall the sonic presentation is high level of transparency and accuracy.  Absolutely zero audible hiss/noise, and zero EMI pickup.
Alps RK-27 pot does an amazing job of controlling volume very precisely without any channel imbalance & noise with retaining maximum sound quality. Another plus point here is, the HPA-3 has relay mechanism which prevent any noise pop's when headphones are plugged in. This way, a better safety is guaranteed for the precious headphones.
Op-Amp: Stock op-amp is LME49860 from Texas Instruments, which does its job. To test if the HPA-3 scales with better op-amps, I tested it with many op-amps, and settled on LME49710HA X2 with browndog adapter. The HPA-3U indeed does scales well and supports the replacement op-amp. 
With LME49710HA, I have about 10% improvement from stock ones, with increased soundstage depth, excellent detailing & instrument separation & even more extension in treble. Overall increase in clarity & transparency.  For HPA-3U, ASIO suits better than other pluggins. Ofcourse it is audibly better than the default DS. In Matrix control panel, Set Transfer as "Most Safest" This again ensures maximum possible performance.
Driving Power: The HPA-3U is very powerful when it comes to driving headphones @2.8W power in tap. Drove my AKG K702 (which is a demanding headphone when it comes to ampling) well with 25% volume pot utilized in least gain of 5dB.  Infact, I couldn't even switch over to 10dB gain switch, because the HPA-3U is so powerful, 5dB gain is more than enough to drive any headphones. I also tried my trusty LCD-2's, U200 drove them very well, with good synergy. Both AKG K812 & HD800 sound fantastic HPA-3U.   It anything drives from IEM's to planar magnetic with ease. Volume pot does a very good job here, volume increase very steady and in a highly accurate fashion. No channel imbalance. Overall, the HPA-3U impressed me a lot in the sound regard.
---
Comparison:  A very good competitor for HPA-3U we have here is Yulong Audio's U200 whose review I wrote a while ago http://www.head-fi.org/products/yulong-audio-u200-dsd-32bit-384khz-dac-headphone-amplifier/reviews/13333  which is also similarly priced & has similar functions. Now we have a tough competition, both newly released amp/dac's, are priced around very well & both perform really well.
The HPA-3U has user-changeable gain 5/10/20X settings, & 230V/110V AC voltage switch to use in various parts of world without any hassle. It also has an internally swappable op-amp for any such rolling. Another advantage the HPA posses over U200 is that the HPA-3U has Alps blue velvet pot, which is simply well ahead of  Alps-16 used in the U200. The U200 offers WiFi module for an additional 100$, which I sometimes feel not very necessary. The Yulong U200's gain is fixed, but it drives all earphones & headphones well.  AC voltage switch is not present, and can be a drawback for frequent international travellers. The HPA-3U also has mute relay mechanism, which is a plus for headphones safety.
In terms of build quality & workmanship, the U200 clearly has an upper hand with superior build inside & out, HPA-3U follows very closely, with slightly inferior part quality & design in few areas. The U200 has a very neutral & expansive sound quality with a touch of naturalness: sweet mids, slightly smooth highs & full bodied bass. Soundstage is deeper & more expansive in U200. HPA-3U has stronger bass  clear & open mids along with extended, & revealing highs, and not exactly 'natural' if I must say. I would rather call HPA-3U more analytic & clinical that the U200, but only with a slight margin. HPA-3 has about 15% lesser soundstage than U200, but has extended & more detailed top end. Mids are neutral compared to addictive smooth mids of U200. 
HPA-3U lacks soundstage perhaps due to lower 24/192 DAC capability. Audibly, The HPA-3 lacks the vast, airy & relaxed soundstage of U200, along with silky smooth mids. Top end is relaxed & airy in U200. The U200's DAC is very superior & well performing, & has a fairly good amp section. The HPA-3U is just the opposite: superior amp section & fairly performing DAC unit.
In end of the day, both HPA-3U and U200 have an excellent performance & high value aspect associated with the price paid. Here the decision makes up of preferences only & sound quality almost same on both the devices. But HPA-3U has upper hand when it comes to flexibility & features.
---
Conclusion:  The HPA-3U continues the legacy & Reputation of M-Stage series forward.
The Matrix M-Stage HPA-3 is a benchmark & legendary headphone amplifier.  It is not just another amp, it has legacy behind it.  It impressed me not just in sound presentation, but I literally loved every inch of it. The HPA-3U excels in each and every criterion you put through it. 
Its workmanship is of high standards, and thus very reliable & robust in operation. The HPA-3U is reputed to have very good synergy & pairing with world famous high end headphones like HD800 & K812. 
I
highly
speak & recommend of the HPA-3U. It is a
MUST HAVE
device for HD800 & K812 headphones, & the pair  performs amazingly good with perfect synergy. Perhaps HPA-3U is the best solution for these headphones even at double the price.
Pros:
1) Design and Build: The HPA-3U  has a very well designed and implemented build.  Both internal & external build quality is supreme excellent workmanship.
2) Sound quality: The sonic presentation here is very neutral & accurate & transparent, with minimum or none colouration. Sonically, performs extremely well.  Powerful enough to drive any dynamic  or even planar magnetic headphones.
3) Features: The HPA-3 has perfect set of features which are needed in a headphone amplifier device. Voltage switch, Alps Blue velvet, mute relays, op-amp rolling together makes it a perfect device.
Cons:
Inbuilt DAC: This has got be the only drawback for the HPA-3U. The inbuilt DAC is very good, but not in the long run. Audibly, I observed the inbuilt DAC is limiting the performance (particularly soundstage) of amp section.  I sincerely hoped, with HPA-3U, Matrix would bring a better performing 32 Bit capable DAC. This is the only area where I am disappointed with the HPA-3U.
---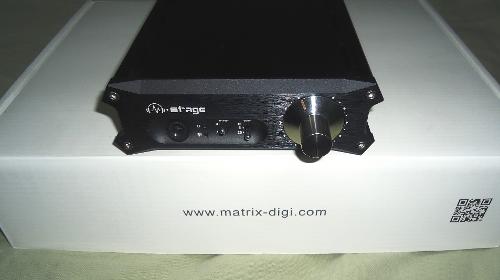 ---
---