I was in my busiest week of the semester when I suddenly received a message from my friend in Malaysia. He was interested in building his own two-channel speaker system and asked me if I can recommend him any. We were discussing it for a while and he ended up with Marantz PM8005 because he had the chance to listen to PM6005 and love it. PM8005 is a more capable amp and he decided to go with that and send it directly to me for review with my system. I have the opportunity to use the amp for roughly 4 months before I send it to him back in May this year. He also sends me a two-channel speaker KEF Q350 for the same purpose. But, I'll write a separate post on the Q350. Now let's dig how good this amp is!
Disclaimer:
I received the amp from my friend for the sole purpose of review. I do not own the amp or affiliated with Marantz by any means. This is my honest review on the amp, but my personal preferences might influence the review. However, I will clearly state it when that happens.
Order and package
It came with a big box that has a dimension of 21.5 in x 18.3 in x 8.5 in. Considering the size of amps I have/had, this is probably the largest. It was ordered from Amazon that it doesn't take too long before it arrives at my front door. Out of the box, you'll get what you expect from most commercial products: the Marantz PM8005 amp, remote controller, manuals, warranty card and generic power cord.
Build
The amp has a solid build. The chassis is made of plastic, not metal or aluminum, but the circuitry is well thought. It has a lot of inputs as you can see from the pictures below; although, I can only see myself using the AUX input on most occasion. Still, it is a great amp for those who have CD or network player as a source and works well for music recording. It has four outputs: ¼ in headphone out, two speaker outs and one pre-amp out. In terms of functionality, it has the capability to play one or two speakers at a time. It has jumper to reduce the gain for headphone but will not shut the speaker out when headphone is plugged in. My Emotiva BasX a-100 will stop the speaker out when headphone is plugged in unless I removed the jumpers at the headphone out. This is to limit the amount of power coming out from the headphone out to a moderate level, mainly for safety purposes because you don't want the volume to blast out of sudden you plug in your headphone. On the front panel, you have the ability to a/b between two speakers which is I found convenient. It also has a basic tone control for treble, bass, mids, and balance. Personally, I thought it helps but not as accurate as Schiit Loki mini albeit a nice feature to have. There are two knobs to change volume and source inputs. Two other things that could be the highlight of the amp is the ability to use it as a power amp direct and source direct. The source direct is just bypassing the tone control while the power amp direct requires a preamp to be connected to the amp. I don't have any other preamp than Schiit SYS which I thought will not do justice to the power amp usage. Most of the time, I keep it in source direct mode, but one could definitely benefit the tone control.
Feature/Specifications
Color: Black
Front Panel: Aluminum/Glass-reinforced resin
Remote Control: Marantz System Remote Controller
Power Requirement: AC 120V 60Hz
Power Consumption: 220W (Standby: 0.2W)
Dimensions W x H x D (Inches): 17.3" x 5.04" x 14.92"
Weight (lbs.): 26.44 lbs.
THD: 0.02% (20Hz – 20kHz, 2 channel driven, 8 ohms load)
Input Sensitivity/Impedance: PHONO:MM:2mV/47k ohms, LINE:200mV/20k ohms
Frequency response: 5Hz – 100kHz ±3dB (CD, 1W, 8 ohms load)
S/N Ratio: PHONO:MM:87dB, LINE:106dB, DIRECT IN: 125dB
Number of Channels: 2
Output Power: 70W (8 ohms), 100W (4 ohms)
HDAM: Yes
Power Transformer: Shielded Toroidal Transformer
Current Feedback Amplifier: Yes
Speaker Terminal: Marantz SPKT-1
Tone Control: (Bass: 50Hz ±10dB, Mid: 900Hz ±6dB, Treble: 15kHz ±10dB)
Source Direct: Yes
Speaker A/B: Yes
Gear Used

Source(s):
Tidal Master, Foobar2000 and Spotify
Dac(s):
Holo Spring Level 3 Kitsune Edition
Amp(s):
ECP DSHA-0, Marantz PM8005 and Emotiva BasX a-100
Headphone(s):
Takstar Pro 82 modded, Sennheiser HD800 SDR and HD6XX (modded)
Speaker(s):
KEFQ350 and Wharfedale Diamond 220
Songs
As per request from the amp owner, the first three songs were chosen to fit his preferences.
Celine Dion – Where is the love (24/96kHz)
This song has a good depth and wide presentation that works amazingly with the right setup. The amp utilizes the space and produces a great imaging throughout. From left to right, it has a good balance; engaging mids, sparkle but never fatigue vocals but the bass does sound softer.

Norah Jones – Don't Know Why (16/44.1kHz)
The first thing that struck me was the vocal intimacy. It was engaging and keeps you listening for hours. I also find that it has a good balance between instrument play and vocal. Good separation allows for above par imaging and lets you enjoy the song both on headphones and speakers.

The Eagles – Hotel California
(24/96kHz)
The guitar play has always been my favorite, but it could sound harsh when not amped properly. Marantz gives a soft treble without losing the micro details. It really benefits the Holo Spring DAC ability to dig out the details from this song. The bass does have good body and well-controlled but not punchy by any means.
Lorde – Ribs
Unique would be the perfect word to describe this song. It struck between a good balance of detail and smooth vocal with articulate sounding background sound. Marantz PM8005 provides wide presentation but less so in depth. But, I love how it really brings every detail from the song and blends everything together but not putting it right on your face.
Pink Floyd – Wish you were here
Great presentation with articulate guitar timbre. I really enjoyed this song with a warm amp mainly because I listen to the song when I lay down on my couch and just let it play. The bass, however, could do a bit better. It has a good texture but still lack in quantity. The vocals are not as good as female vocal but still lively and enjoyable.
Headphones Pairing
HD6XX modded
Balanced, spacious with mellow and lush mids. Oh! Also, no veil?! The soundstage has always been an issue with HD6XX thus the mod. PM8005 brings more width to the headphone but not so much in depth and I have more space to breathe. One thing I noticed when I compared the HD6XX back to back with BasX a-100 was a layer has been lifted when I used it with Marantz. It was actually pretty obvious although not as resolved as my DSHA-0. More balanced across the spectrum albeit the lack of bass punch. Treble is articulate and sparkle at the right amount. The mids is engaging as usual with lush and mellow sounding vocals. The strength is more on the female over male vocals but both sound stellar with this amp. The amp preferences this time for HD6XX goes to PM8005 over BasX a-100.
HD800SDR
Spacious, articulate and good tonal balance. Most of my songs were reviewed through this headphone because it gives more accurate sounding compares to my other gears. The extra width was my immediate experience the first time I had the headphone on my head. Then, I tried them with couple songs for 3 to 4 hours and came to a conclusion that it did give a more spacious presentation. My other concern was the treble, but it was up to my expectation albeit the lack of details coming from ECP DSHA-0. The mids were smooth with a good amount of details and great intimacy. My preferences again go to female vocal on these. Like I mentioned in the song review, the bass is a little soft and could potentially one of the best combos with HD800 for an amp under $1000 if the amp could add more punch and thump to the headphone.

Takstar Pro 82 modded
Clean bass with smooth neutral presentation and sweeter mids. The mod was done to sweeten the slight harsh mids but everything else about the headphones is amazing especially in its price bracket. The amp brought out the overall bass detail and produced a clean bass extension. It added a little punch without bass boost and didn't bleed to the mids. If you found that the Pro 82 has a harsh treble before, you will not gonna complain again ever. I still find that both my other amps are the better pairs in keeping that non-fatigue sparkle, but this amp is a new contender in this regard. Above all, my main favorite was the mids. The female voice that came out from this combo was very sweet and mellow. It brought the mids a couple steps back that increases the distance between each instrument and singer. A very balanced combo with good imaging.
Speakers Pairing
KEF Q350
Stellar combo, punchy bass with good rumble and mellow sounding vocal. I would love to have a relax sounding setup when I rest on the couch but would also crave for something energetic when I am studying and working. The amp provided a balance between lively and pleasant to listen to. With aggressive songs, the bass kicked in and a good amount of rumble from the song would keep you awake and energetic. At times where jazz, blues, and acoustic songs were played, it would give a laid-back signature that produced a good amount of sparkle with mellow and lush sounding vocals. It worked well sounded about right with most genre. The Q350 was able to pick up more microdetail in comparison to BasX a-100. Also, with BasX a-100, the Q350 bass is too overpowered and less controlled. It does have more body but lack in texture with a-100. The imaging was something that worth mentioned over and over. It produced a studio band performance staging in terms of width but still lack in depth. However, it had its own intimacy that I felt, it sounds just fine without any urge to look for a wider soundstage. It's difficult to get something this good in terms of the soundstage at the current price.
Wharfedale Diamond 220
awesome timbre, wide sound and sweet vocals. Diamond 220 is known for their price over performance ratio that scales well with the better system. With Marantz PM8005, it broadened the sound width that allows you to experience better positioning in the song. Despite being wide, the mids was never sounded shallow. It had a good body and sweet vocal sounding for both male and female. In comparison to KEF Q350, Wharfedale Diamond 220 could sound a little bright but PM8005 created a good balance between a good amount of sparks and bright. It was a fatigue-free listening for sure. The bass however not as visceral as Diamond 220 combo with BasX a-100 but it was well-controlled and tight that I find enough for the most genre. It is a definite upgrade for the sound coming from BasX a-100 and I could imagine on getting this myself in the future.
Amp Comparison
Vs Emotiva BasX a-100 ($229)
No doubt that PM8005 has more detail and resolution, but BasX a-100 has more bass and impact. Micro detail goes for PM8005 on speaker system but BasX a-100 came close with resolution through headphone out. I noticed an immediate impact on BasX while PM8005 delays the impact and dynamically brings out the energy over time. BasX provides more speed and bass thump while PM8005 provides larger space with a more accurate presentation. Both has a smooth top end that works well for hotter cans like HD800 and TH900. I enjoyed both in my system but prefer PM8005 for my speaker system and BasX a-100 for headphone system.
Vs ECP DSHA-0 ($2400)
DSHA-0 has a superb resolution, great imaging, natural mids and smooth top end. Since DSHA-0 only has a headphone out, that is the only section that I focus my reviews on. For the most part, it was no contest that I prefer DSHA-0 over PM8005. DSHA-0 has more resolution with a black background even with sensitive IEMs. The soundstage has a similar width on both but DSHA-0 has more depth and micro detail. Mids is more engaging with great vocal intimacy on DSHA-0 but PM8005 is not far in this as they are actually pretty close. The highs is more articulate and smooth with DSHA-0 because it sounds like a high-end tube amp rather than solid state. Although PM8005 has a smooth top end, DSHA-0 is a step better. Imaging and separations are what separate a good amp from a great one. While PM8005 has a good imaging and soundstage, DSHA-0 picks all those small details without a miss. In Norah Jones' song, Come Away With Me, there are a 3 seconds long cymbal hits at 2:30 and I did not realize that when I listen to the HD800 through PM8005. With DSHA-0, the cymbal sounds were so clear and spread out through the ear cups. It was no contest that I would go for DSHA-0 99% of the time but hey, PM8005 is a speaker amp and highly suggest using it as is.
Tone Control
It has 4 knobs for tone control: bass, mids, treble, and balance. Occasionally, I used the tone control with my headphones and speakers with some songs that needed some extra tweaks to it. It has a good sensitivity with mids and trebles not as much with bass and balance. It didn't go too far high or too far low which might not give a lot of changes to speaker sound. The case might be different with headphones due to its sensitivity. As compares to Schiit Loki mini, I think that Marantz does a respectable job with the tone control but not as good as Schiit Loki. Schiit Loki is undoubted a better tone control and more options with four tone controls of low end, midbass, lower treble and upper treble. I ended up using source direct most of the time but the tone control is a good feature to have especially if you don't want to pay an extra $170 for Schiit Loki mini.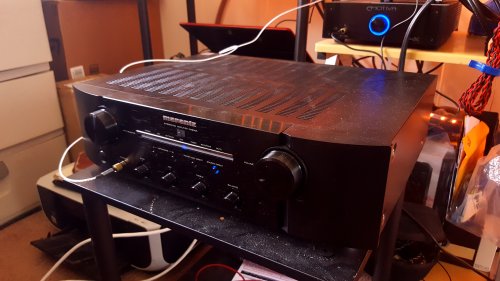 Last words
As much as I love the headphone out, I think the speaker out is a much better way of using this amp. If I want to summarize the sound here, it would be as follows:
Spacious sound with great width and imaging
sweet and mellow sounding vocals
neutral presentation but smooth at the top end
well-controlled bass but not punchy by any means
good tonal balance across the spectrum
In the end, it is really up to preferences but again for speakers, I would definitely go for PM8005 compare to my other amps.