---
I would like to Thank Easy Earphones for providing me with a review sample in exchange for my honest opinion.  
Manufacturer website: I wasn't able to find one, but it's being officially distributed by Easy Earphones on
Amazon
and
Aliexpress
.  
* click on images to expand.
---
The last time I looked into a "budget" 3way hybrid IEM was over a year ago (remember T2?), and after that disappointing experience I'm a lot more cautious when it comes to newcomers who try to challenge a better known releases from Fidue, DUNU, and others.  Oriveti was definitely a pleasant surprise, but not exactly budget friendly.  Early this year I started to hear a buzz about a new IEM company named LZ, not to be confused with another line of budget iems from KZ.  As the buzz was growing around their debut A2 model, I learned that it's no longer available and instead they have a new 3way flagship called A3, actually highly recommend by a friend of mine, Vince (
@Hisoundfi
) who just reviewed it
HERE
.  
What caught my attention the most was the passion of their main distributor, Easy Earphones, who truly believes in LZ line of monitors and actively interacts with different members and reviewers of audio communities not only to spread the word but to collect the feedback to improve the design and the sound quality.  In a short period of time A2 was replaced with A3, and just now Easy updated it with an improved replacement cable.  Plus, I have been told that for those ordering from their AX on-line store when you put "Easy" in your order, the list price will be reduced SIGNIFICANTLY!  Even so I was impressed with my interaction with distributor, this write up is about LZ A3 3way hybrid, so let's proceed to the review.  
Unboxing and Accessories.
A3 arrived in a medium size cardboard box, nothing fancy on the cover and a basic Chinese/English spec on the back of the box.  With the cover removed, you'll find a rather nice presentation with a dense foam cutout hosting A3 earpieces and the part of the cable.  It's a simple presentation, but very effective because right away it shows you that cable is removable and you get a good glimpse of a unique shape of A3 shells.  Once you remove that foam piece, you can see the rest of the accessories underneath.  Though this packaging is more on a budget side and not going to Wow you like some other flagships, I wouldn't call it being cheap either.  
The accessories include a basic small square storage case, a pair of soft earhook guides, a shirt clip, and a plethora of eartips.  You get 2 sets of S/M/L hybrid eartips (with yellow and red cores) distinguished by a slightly different shape and firmness of the eartip cap, a set of regular silicone single flange S/M/L tips, a pair of medium size double flange tips, a set of multi-color foam (non Comply) S/M/L eartips, and one unique pair of large fuzzy eartips to "tickle" your ear senses.  
Due to a unique design shape of these IEMs, eartip selection is very critical not only to get a good seal but also to get a comfortable fit.  Don't be surprised that despite so many included eartips you might end up tip rolling outside of the provided accessories.  Obviously, it also depends on the anatomy of your ears, but the stacked collar design at the nozzle base and the perpendicular short nozzle placement might not have the best fit synergy with different ears.  For me personally I ended up using Spiral Dot eartips which delivered the best sound quality (due to a wide bore opening and the wide cap), a very good isolation, and a secure fit.  As a result I was able to wear A3 comfortably wire down and wire up, without a need for earhook guides.  
Unboxing.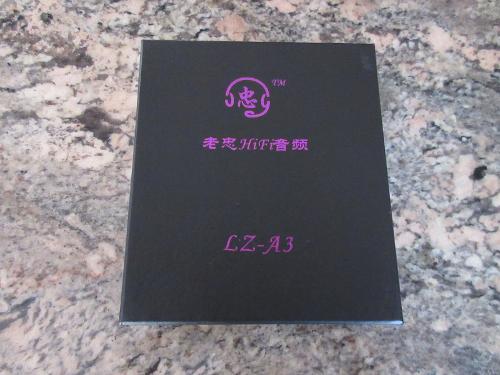 Accessories.
The fit (wire up/down).
Cable.
I'm not sure how the cable became a controversial topic in A3 discussion (per a few other review comments), perhaps due to variation of mmcx connectors.  These connectors are usually more prone to issues related to intermittent contact, and I see many manufacturers constantly revising them.  In two weeks that I have been using A3, I never had a single issue with the cable.  Mmcx connectors were snappy and always maintained the contact, the rotation of earpieces around the connector wasn't as loose, and the cable itself had a nice design to match earpieces.  But my experience is just a single data point, and if Easy decided to switch to a different cable with a better build and more reliable connectors – I'm a believer in where there is a smoke there is a fire.  Keep in mind, when you click on AX product link, it will have pictures of the new pink cable.  
Since my test evaluation was done using the original white-sparkly cable, I will describe it as is.  I liked the 45deg headphone plug – it has been awhile since I seen them being used; I kind of miss it since everything nowadays is straight or 90deg.  The wires, obviously a regular basic OFC, where soft, didn't tangle too much, and didn't require a memory wire.  Though earhook guides are included, those were not necessary for my personal use.  The y-splitter is a small plastic cylinder in an aluminum shell matching the color of earpieces, no strain relief here.  The chin slider has a matching design; and the same with mmcx connector housing which has a matching aluminum ring and L/R clear marking.  
Due to a removable nature of the cable with universal mmcx connectors, I was tempted to try it with my other cables since I have access to higher quality silver plated and pure silver cables.  To my very big surprise, I went back to the original stock cable.  The replacement cables with silver material tend to brighten up the sound, adding more details and resolution to upper frequencies, which is a plus with A3 where the treble is rolled off.  But at the same time, due to 1k-3kHz boost I see in FR of A3, I didn't like silver cable improvement effect on vocals, making them more upfront and even slightly grainy.  This is just a matter of a personal taste, and if you have access to replacement cables I strongly encourage you to experiment to find your sweet spot.  
Design.
As I mentioned before, the design of the shell could be a hit or a miss, depending on eartip selection.  I think LZ took a bit of a risk here by going with a rather less traditional form factor.  I mean, they didn't reinvent the wheel and a vertical shell with perpendicular nozzle placement has been done before (I still love and use my UE600), but LZ decided to take it one step further by stuffing a single dynamic driver and dual BA inside of a rather compact metal shell.  This adds a bit of weight, and you can't extend the nozzle design by making it longer because the shell will stick out too far.  
With a nozzle being short, you will end up jamming them in your ears while stacked up collars at the base of the nozzle, where it's attached to the shell body, can push into the concha area of your ears.  It's not the end of the world and actually easy to fix, just need to have patience in finding the eartip with a core stem which is not too long or too short.  This way A3 will not stick out too far and will not go in too deep.  Plus the eartip has to stay secure in to hold the shell weighting down.  That's why wire up fit is easier than wire down.  It's a small price to pay for rewarding sound results.  
The design definitely looks beautiful with its carved lines, gold finish, stamped logo, proper L/R labeling, LZ label and font of the writings, and a silver nozzle mesh.  There are two pinhole vents, one by the base of the short nozzle and another one on the side of the shell.  There is no flex from a dynamic driver and the low end response is excellent, thus pinholes do their job.  One interesting observation is that vent on the side of the shell is facing inward with wire down and outward with wire up, but I didn't hear any noticeable difference because inward facing vent still has plenty of clearance based on my wearing style.  
Another area of a particular interest is around the bottom of the shell where mmcx connector is located.  As I mentioned before, I didn't have any issues with a connector and actually found it to be sturdy, no flex or movement, but it does look a bit DIY-ish.  This is probably a pure aesthetic comment, but considering how much thought went into the design of the shape of these shells, LZ should have made the connector placement flush with the bottom of the shell.  
Sound analysis.
One thing I learned from reviewing other 3way hybrids – there is no common rule about sound signature.  Just because you have a dynamic driver to cover your bass and dual-BA drivers to cover your mids and treble, every manufacturer still does their own tuning interpretation of how they think it should sound.  
After approximately 75hrs of burn in, I found LZ A3 to have smooth, clean, warm tonality with an excellent low end extension, clean detailed mids, and somewhat rolled off treble. The sound signature is a bit mid-forward, not just because I see it in my FR measurements with a boost around 1kHz-3kHz region, but you can actually hear mids pushing slightly forward which puts vocals more upfront and creates a noticeable contrast with treble which is pushed slightly back.  But at the same time, bass has a strong impact as well, just more balanced in comparison to mids.  Overall, it's a uniquely tuned signature which doesn't exactly fit stereotypical warm sound.  Treble is slightly boosted around 10kHz-15kHz, which adds more definition to highs and even some airiness and sparkle.  
Low end has a very nice sub-bass extension which goes deep with a nice textured rumble, though still at a modest quantity.  Sub-bass doesn't add extra bulk, but rather adds the foundation underneath of a mid-bass punch with a moderate speed.  The bass in A3 is well controlled without spilling into mids or adding muddiness to a sound.  Lower mids have a nice body, not too thick or too thin, and upper mids are clean and detailed but not too analytical or micro-detailed.  They actually sound smooth-detailed with a nice organic tonality, but their quantity is slightly boosted (what I hear as a bit of a mid-forward sound sig) and on a few occasions I had to lower the volume so the vocals wouldn't become shouty.  When volume is lowered, it also affects the treble where I feel like a more forward upper mids creates a bigger contrast with lower treble which as a result sounds more rolled off.  Treble is clear and smooth, not crisp or bright, with a good definition, and actually some airiness.  
Soundstage has a decent width, definitely way above average, and just an average depth, but not as much height.  Don't expect a holographic staging, but separation and layering is actually good, and positioning of instruments is convincing.  With a boost around upper mids region, you get more clarity and improved layering between instruments and vocals.  
Comparison.
A3 vs A83
- Similar soundstage width, but A83 has more depth and height.  A83 has more sub-bass quantity and mid-bass has a little more impact and faster attack, lower mids are leaner, upper mids are brighter and a little more revealing, treble is crispier, brighter, and has more airiness.  
A3 vs DN2kJ
- similar soundstage width, but DN has more depth and height.  DN low end is more neutral is comparison, similar extension but less quantity, though DN mid-bass has a faster punch; lower mids in DN are a lot thinner in comparison, and upper mids are brighter and more analytical and micro-detailed.  Treble is a lot brighter, crispier, and airier.  
A3 vs Primacy
- similar soundstage width and depth, but Primacy has more height.  Primacy has more sub-bass quantity and stronger mid-bass impact.  Very similar lower mids, while upper mids in Primacy are a little brighter and more detailed.  Primacy lower treble is crispier and brighter, while upper treble has more airiness.  
Conclusion.
To be honest, I approached this review with lowered expectations because I didn't know how this budget hybrid will turn out to be.  Finding the correct eartip was a bit of a challenge, and it will dictate not only a good seal/isolation but also the fit and the comfort of wearing these monitors.  Everything fell in place once I settled on Spiral dots, and I was able to enjoy the smooth warm detailed signature of these fine tuned 3way hybrids.  These budget 3ways do cost less than a half (don't forget to write "Easy" if/when placing order on AX) in comparison to other more established popular hybrids.  But lower price doesn't mean lower quality.  As a matter of fact, if you are not looking for micro-detailed, bright, airy sounds, I think LZ A3 actually compliments quite nicely sig of other 3way hybrids with a more balanced full body smooth sound that even has a bit of an edge pushing forward the organic mids, resulting in a sweet musical performance of vocals.  Considering the progress made from A2 to A3, I wouldn't be surprised if A4 is not too far away.