My background.
I am a professional musician, producer and audio engineer with experience in the performing, recording and pro-audio industry. I test products on a technical and musical level and try to write reviews as simple as possible from a music fan's perspective.
Genre preferences.
I majorly listen to rock, acoustic, pop, metal, and sometimes popular EDM songs doing the rounds on the charts.
Disclaimer.
I would like to thank Lime Ears for sending me the Aether R to test and review. I am not affiliated with the company or any of its sellers and write this review with an unbiased opinion regardless of how the review turns out.
About Lime Ears.
Lime Ears was started by Emil Stolecki who is himself a musician/bass player. If you haven't noticed, Lime is basically Emil spelt backwards. They are based out of Warsaw, Poland and have a very simple but intriguing line up of 4 models, Λ (lambda), Ψ (psi), Model X and flagship Aether R. Lime Ears cater to both pro-musicians and audiophiles, and make CIEMs as well as universal models with very attractive and intriguing designs. Some of Poland's breakthrough metal bands like Katatonia and Decapitated endorse Lime Ears and can be seen sporting their IEMs in their concerts.
Links -
Lime Ears Official Website
|
Lime Ears Aether R
(€1200)
Technical Specifications.
Six balanced armature driver construction
Four-way passive hybrid crossover
Switchable subwoofer double driver
Utilizing VariBore and TrueSub technology
Varibore -
Acoustical design utilizing sound bores of different diameter for each frequency band. Use of 2mm bore for high frequencies in combination with internal acoustical damping results in open sound and smooth highs.
TrueSub -
Unlike in the standard electrical filtering (done with electrical crossover), the lowest frequencies in Aether are filtered by custom-designed filter, 3D printed in XHD resolution. Use of precise acoustic filtering results in powerful yet extremely clear, textured and dynamic subwoofer frequencies.
Emil's Philosophy for Aether R tuning via quick chat.
Emil told me that he had been listening to several constructions of Far-Field and Near-Filed monitors placed in spacious and well acoustically treated rooms. He said, "At my friend's studio and at home, my favourite constructions were speakers that can act as near-field but are slightly bigger so that they can move some air, which could act a bit like mid-far field'. He said that they particularly wanted to create how he heard some of his favourite monitors, particularly the APS Aeon 2, in a well-treated room and wanted the listener to experience everything the artist and engineer had created in the recording, with a touch of top audiophile quality that would please users who avoid too technical sound but still look for real fidelity in their recordings.
Bass Switch –
The switch gives you a bit of control over the bass quantity. It isn't massive bass head levels of bass boost. It is a rather simple 4-5 dB boost in the lower spectrum, 500Hz and below. Without the bass boost, I feel the lower end is a bit lacking. So, I generally always have the bass switch ON.
Lime Ears wanted to integrate the bass switch for a couple of reasons,
As a compensation switch as per the Fletcher-Munson curve theory. Basically at lower volumes, human ears don't hear the bass quantity as nicely and for that you can flip the bass switch up which will give it a slight boost for it to be better audible.
To manipulate the level according to the quality of bass in the recording. If the bass is well recorded, it can increase its strength. On the other hand, if the material is not mixed properly and lows become boomy and get out of control, they can be trimmed down.
To compensate for external noise levels. For example, if you are using your monitors in a noisy environment: airplane, subway, etc., where the low-end noise masks the lows, you might want to use the switch to make up for that.
Included in the box.
Alright, let me tell you right off the bat that Aether R's package is the biggest and most goodie filled package I've gotten from a brand EVER! I'm not kidding! I was a bit startled to see the size of the box. Actually, Lime Ears pack everything in a 'Lime Ears' branded shoe box. They fill it with goodies like Lime Ears branded Polish chocolates (yum!), multiple stickers, Lime Ears Lookbook, Lime Ears info manual and then the actual Aether R box. All this is nicely cushioned in thermocol puffs for safety. The Aether R box isn't small either as it packs quite a lot of things inside too. Oh man, I'm now spoilt and would be extra nitpicky if future boxes from brands don't come like this. Lol! Jokes aside, Lime Ears, take a bow! You sure know how to package your products and fill it with goodies to make people extra happy.
Here is all that came in the Main Shoe Box.
Aether R box
Big and small stickers
Lookbook
Info Manual
Traditional Polish Cream Fudge chocolates in a nice cloth lace pouch
Aether R's box contents –
Aether R
Big circular metal case
Cable in a cloth lace pouch
Ear tips – 3 Symbio W | 4 Spinfits | 2 Comply Foam
Cleaning tool
Dehumidifier
Warranty card
I have to give it to Lime Ears for including branded ear tips like Spinfits, Symbio W and Comply T400 foam ear tips stock in the package. Very cool!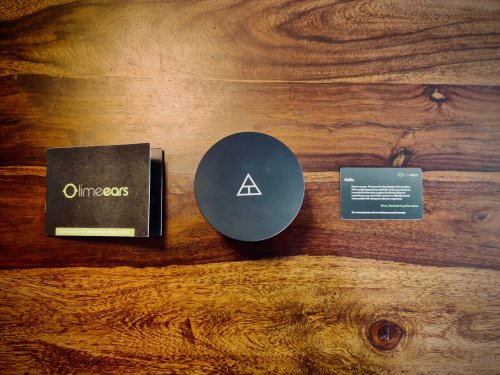 CIEM Ordering process.
Use their online CIEM designer tool.
Go all out customizing it where imagination and budget are the limit. Customization costs are extra. Plain shells are included in the basic cost of €1200.
Place an order.
Mail your physical ear impressions to Lime Ears lab address.
There is an option for a rush order too for around €180.
Build Quality.
Shells -
Lime Ears gave me the option to customize my universal shells and I went with the 'Nebula Galaxy' design. They came out really well! I also dig the Lime Ears and Aether R logo in metallic silver. They have a very 3D-ish depth to them on top of the blue galaxy colours. Lime Ears certainly have a very good eye for design. The shells are made up of resin and look & feel very well built. The faceplate is integrated very well with the bottom shell without disrupting the natural flow of the galaxy colours. The nozzles are made out of metal and have a brushed smokey nickel look. The nozzles have 3 bores, one big and two small. The bass switch feels rugged and sturdy too. All contours are very smooth and look very ergonomically designed.
Case -
You can either use the big metal round case or the lace pouch to carry your Aether R. The big metal case is very well built with a nice black slate texture, though is a little heavy to carry around. Nevertheless it is built like a tank and can fit in all your ear tips, IEM with cable as well as a couple of other things that you want to throw in. It's that spacious! Lace cloth pouch on the other hand is made up of nice old cotton style cloth which is very vintage-y in looks. Though I don't know if you'd be comfortable carrying a €1200 IEM in a cloth pouch.
Cable -
The cable is a typical 4 core Plastics One cable and is the only let down in an otherwise premium and highly attractive package. It has a memory hook and 2-pin connectors, just like what you see musicians wearing on stage. There is not much to talk about here. I wish Lime Ears had included a nice UP-OCC Litz cable in the package. That would've been the cherry on the already great icing on the cake.
Fit, Comfort and Noise Isolation
Aether R universal shells have nice semi-custom contours. Fit depends on your choice of ear tips. I like to get a nice custom like deep fit and a lot of ear tips helped me achieve that but I liked Comply foam tips the most out of the stock ones, for comfort as well as the sound signature. Aether R with them is very comfortable and it almost feels like a CIEM. I had no problems wearing them for hours. Noise Isolation in case of universal shells depends on the ear tips you choose but in my case, it was excellent with Final-E and foam ear tips, especially
NewBee foams
that I like quite a lot. I can hardly hear a thing going on outside with them on.
Sound Analysis.
Note -
First things first, you need the right ear tips for universal Aether R's sound signature to shine its best as it benefits greatly from a perfect seal and snug fit, which is quite easy to achieve as it pairs well with a lot of ear tips. I've written my own 2 cents about that below. Of course you can get Aether R as a CIEM (Lime Ears make mean CIEMs) but universal shells always benefit with good tip rolling, especially this one.

Aether R moves from warm to neutral bright with the choice of ear tips. Good foam ear tips are the best pairing in my opinion. I like the stock Comply T400 foam tips but I like AliExpress T400 and NewBee foam ear tips even better. The stock Spinfits pair well, which is what Emil likes most personally. Symbio W are fine but accentuate a bit of treble for me. Final-E tips worked well for me too. Your experience of course might vary. A lot of 3rd party medium silicone ear tips paired well for me too.

My sound analysis was majorly written with NewBee, T400 and stock Comply foam ear tips as well as Final-E tips. I always had Aether R's bass switch in ON position because I like the balance more with it on.
Summary -
Now I'm not one to easily accept what a brand says to market its product and I don't want to say this loosely but with the right ear tips (foams in my case), Aether R's sound signature really does have some character of nice studio monitors in a well-treated room. I was slightly taken aback when I first tried the Aether R right after using my flat frequency compensated near-field monitors in my studio and then hearing the same song on the Aether R back to back. It's not a theoretical specimen of 'studio monitors in an acoustically treated room' but it certainly has that mojo. Aether R sounds neutral but vibrantly musical, so much that I've been enjoying it a lot (if not most) over the last 2 months or so since I got it. It has a very real presentation of instruments, very good clarity and a clean, open and spacious sound signature which is what actually gives you the illusion of 'studio monitors in a room'. It has very precise imaging, separation and layering of instruments with good instrument definition, bite and crispness.
Aether R has excellent clarity at lower volumes which helps keep my music listening levels on the average to low side as I don't need to boost volume to compensate for any lack in clarity. I anyway highly suggest everyone to keep music listening levels under control. Hearing loss and tinnitus are not good things to have. Haha.
Also, Aether R benefits greatly with a good cable pairing. I tested it with Ego Audio Whiskey & Tequila, Effect Audio Ares II, Electro Acousti 7N Single Crystal Copper & 7N UP-OCC, Null Audio Arete, etc, to very good results. Some of the immediate things you notice by pairing it with a good cable are - slightly better overall balance, better bass definition & presence, fuller lower mids, slight increase in resolution and a more open and airy soundstage.
Let's dig in deeper….
Bass –
Again, my impressions are with bass switch flipped up in ON position. Aether R presents bass quantity in a very neutral way and presents it how it is mixed in the song. Bass transients, clarity, micro details and bass placement in the image is very well done. It has extremely precise 3D imaging and so if the bass is mixed to sit below the vocals vertically and behind the kick depth wise, that is exactly how you will hear it in Aether R. Mid-bass has slightly more emphasis than sub-bass. As seen in some graphs, there is a slight sub-bass roll-off around 35Hz with a very minor slope, similar to how studio monitors have it. In my tests, I tried boosting bass with a low-shelf of 1-3dBs at around 35Hz as well as 60Hz but I much prefer and like Aether R's stock bass tuning and accuracy. Aether R's bass always sounds clean and detailed without the bass ever overpowering the centre space and I quite like it that way.
Bass in Dua Lipa's 'Pretty Please' has quality, presence, punch and depth without interfering with the voice or any of the other instruments. In the song, it is upfront but with presence how it is in the song and is not boosted by the Aether R itself to make it more present. In Hans Zimmer & James Newton Howard's 'Why so serious, the sub-bass around the 3:27 mark is presented very cleanly and has good neutral rumble but certainly not what you would expect from a bass boosted/heavy IEM or even a Harman Target IEM like Moondrop S8. The overall atmosphere of the song feels very realistic and the sub-bass plays more as part of the band rather than an isolated star of the show.
Mids –
Lower mids are neither full nor lean. They sound very clean and clear and as a result, deeper baritone vocals, snare's slam and body as well as strings and organs played in the lower registers come out shining without ever sounding too full, muddy or boxy. Upper mids are presented forwardly but aren't peaky or shouty. Aether R has very good instrument definition, imaging and precision owning to its upper mids tuning. Vocals are crystal clear in the centre and sound beautiful with foam and Final-E ear tips. Big rock guitars hard panned left and right have good authority and punch. A lot of the warmer sets make Audioslave's guitars in the song 'Revelations' and 'Cochise' a little too soft but Aether R brings them out shining and hitting hard. Aether R does have a dip in the 4-5kHz region which makes cymbals hits easier and non-intrusive but I don't hear it taking away much information from anything else.
Treble -
Treble extends very well, is open and airy and supports the upper mids very well. The treble character changes a bit with different ear tips. Some ear tips accentuate the treble a bit, so be vary of that and roll your ear tips. Foam ear tips make sure the treble is smooth and comfortable. Spinfit ear tips pair well too and so do a lot of 3rd party silicone ear tips from my collection. Even though Aether R has an 8kHz peak, it mostly promotes good resolution and clarity but never sibilance. My test track for sibilance is Gavin James' 'Always' and it sounds fine, free from any sibilance. Aether R's treble is fatigue free if you have a good seal and snug fit with the right ear tips. Acoustics in Porcupine Tree's 'Trains' and 'Sound of Muzak' have remarkable string definition and clarity. There is no artificial sparkle to them, just very good life-like clarity and definition. Shakers, Tamborines and everyone's favourite Cowbells have very realistic presence too owing to the treble tuning, especially the cowbell that plays in the chorus of Dua Lipa's 'Don't Start Now'. It sounds as if someone is playing it right in front of me.
Soundstage, Imaging, Separation & Resolution.
Aether R's soundstage is beautiful and big... height, width and depth wise. It has a very 3D presentation and has the capability of placing instruments in all XYZ axes. The soundstage is very open & airy and as a result gives you a very life-like insight into the performance of the song. Imagining and separation is exceptional for its asking price. Instruments panned left and right have very precise presence and imaging. If an instrument is panned, let's say at 1:30 o'clock (45° from centre), with 3 o'clock being the widest, it sounds exactly at 1:30 and doesn't take up any more space in 1-2 o'clock area. I don't want to seem too enthusiastic, but Aether R really does perform very well in this segment.
Comparisons.
BGVP EST12 –
EST12 is my reference IEM in the $1000-2000 segment. Let's dig in deeper with Aether R... EST12 has slightly better extension down low with a neutral sub-bass to mid-bass relationship. Aether R relies more on its mid-bass tuning compared to its sub-bass. Both have very good bass definition, clarity and details. Both EST12 and Aether R have a clean lower midrange where EST12 has a more neutral character whereas Aether R has a slight dip in the 500-1kHz region. Both have very defined upper midrange leading to good instrument definition but Aether R focuses more in the 2-3.5kHz region with a dip in the 3.5-5kHz region whereas EST12 has peak definition in the 2-4kHz region with a gradual upper mids peak fall-off to 5kHz. As a result, Aether R sounds slightly forward musically without being harsh in the upper midrange and EST12 sounds a bit more natural in the same region, but both of them have very good detail retrieval and resolution. Both have good treble tuning that helps them have an open and spacious sound signature. Both have wide and deep soundstages with nice black backgrounds.
Custom Art Fibae 7 –
Custom Art are Lime Ears' Polish brothers. They too make some great looking CIEM designs and offer their whole line up in universal shells. Onto the comparison… Fibae 7 has a much smaller universal shell compared to Aether R's shell. Aether R has a smokey nickel metal nozzle glued onto the shell and Fibae 7 has a resin nozzle as a part of its shell. Fibae7's universal shell is a bit more ergonomic for my ears but Aether R fits very snugly with Final-E and foam ear tips too. Sound wise, Fibae7 and Aether R share some similarities but are quite different sounding when you hear them back to back. Fibae7 has slightly better extension down low in the sub-bass region (1-2dBs) but Aether R has much better extension up top in the treble region. The biggest difference is that Fibae 7 has a natural roll-off in treble post 5kHz and as a result sounds warmer in comparison whereas Aether R sounds more vibrant, open and airy. Fibae 7 has more sub-bass rumble and impact whereas Aether R does better with its mid-bass. Both have very clean and clear lower midrange and a forward upper midrange, though Fibae 7 is more forward sounding in comparison. Aether R sounds more natural to my ears. Both have nice wide soundstages but Aether R's sounds more open, airy and slightly deeper. Fibae 7 just has a warmer soundstage owing to its treble tuning. Both have nice black backgrounds.
ItsFit Fusion –
Fusion shares some similarities with Aether R as both of them sound lively and vibrant. Fusion has better sub-bass extension, rumble and presence but Aether R has better mid-bass presence and better overall bass clarity and details. Fusion's lower midrange has slightly thinner body and is pushed back in the image in comparison, whereas Lime Ears' is quite neutral there. Aether R's upper midrange has good pinna gain and as a result has strong instrument definition, bite and crispness in comparison. Fusion is no slouch but has a warmer midrange presentation in comparison. Both Aether R and Fusion have nice treble extension and are vibrant and lively in their own sense, but Aether R's treble sounds more defined, natural, open and spacious. Both have nice wide soundstages but Aether R's is more defined and refined in comparison.
Conclusion.
Lime Ears have certainly created a special IEM in the Aether R. It has a very attractive open, airy and spacious sound signature with very good instrument definition, imaging and separation. It is extremely musical, vibrant and lively, and immediately grabs you and throws you in the atmosphere of the song. The tiny details you hear in the song are very life-like, be it string dynamics of an acoustic guitar, a solo violin in the background or just a cowbell repeating in a section of a song. The only thing I can nitpick is the slight sub-bass roll-off around 35Hz. I personally don't mind it much and enjoy the stock tuning as it is. For me, the musicality and the aura the Aether R creates as well as the instrument presentation and details take the cake and all my attention. Aether R surely deserves the TOTL tag for Lime Ears' and a place as one of the nicest IEMs that exists in its price segment and further. So, definitely check it out if you get the chance and give it a shot if you're looking to buy an IEM in this price segment. Highly recommended!
Gear used for testing and review.
DAPs - iBasso DX160 and Hiby R6 Pro
Laptop - Apple Macbook Pro 15"
Phone - OnePlus 7 Pro
Reference Songs list.
Normandie – White Flag album
Dua Lipa - Future Nostalgia album
Dave Matthews - Shake Me Like a Monkey
Foo Fighters - The Pretender, Best of you & Everlong
Coldplay - Paradise, Up in flames & Everglow + Everyday Life Album
Ed Sheeran - Thinking out loud, Bloodstream & Galway Girl
Chainsmokers – Somebody, Sickboy, This Feeling & Closer
John Mayer - Slow dancing in a burning room, Stop this Train & Say
Gavin James - Always & Hearts on fire
Switchfoot - Meant to live & Dare you to move
Porcupine Tree - Sound of Muzak, Blackest Eyes & .3
Our Lady Peace - Do You Like It & Innocent
Linkin Park - Papercut, Somewhere I belong & Talking to myself
Maroon 5 - She will be loved, Payphone & Lost stars
Lifehouse - All in all & Come back down
Breaking Benjamin - Diary of Jane
Karnivool - Simple boy & Goliath
Dead Letter Circus - Real you
I Am Giant - Purple heart, City limits & Transmission
Muse - Panic station
James Bay - Hold back the river