DISCLAIMER: Lark Studio loaned me the LSX in return for my honest opinion. I will send the unit back following the review. I am not personally affiliated with the companies in any way, nor do I receive any monetary rewards for a positive evaluation. I'd like to Lark Studio for their kindness and support. The review is as follows.
Lark Studio is an in-ear monitor manufacturer based in Chengdu, the capital of China's Sichuan province. Although their 2018 debut haven't given them much time to accrue renown in the portable audio scene, their history suggests a level of experience that should
not
be underestimated. Their core founding trio have 18 years of it among them, plus another 2 invested into this brand alone. And, all of that has manifested into the company's debut IEM: The 10-driver Lark Studio LSX. Armed with a warm, full-bodied and syrupy sound, the LSX is sheer pleasure with commendable technique to boot.
Lark Studio LSX
Driver count: Ten balanced-armature drivers
Impedance: 20Ω @ 1kHz
Sensitivity: 110dB @ 1mW
Key feature(s) (if any): N/A
Available form factor(s): Custom and universal acrylic in-ear monitors
Price: $1699
Website: www.lark-studios.com
Build and Accessories
The LSX comes in a rather sizeable package with a black outer sleeve. Removing the sleeve reveals the box, lined with a black, leather-esque material and the
Lark Studio
logo embossed on top. Unfolding the lid open reveals the LSX and all its included accessories recessed within foam cut-outs. The foam itself is dense and velvet red in colour, lending to both security and aesthetics. The add-ons include five extra pairs of tips (silicone, bi-flange and foam), a 1/4″ adapter and an airline adapter. Then, there's a smaller box containing the final few accessories: A storage pouch, a microfibre cloth, a cleaning tool and two rubber bands for amp stacking. Presentation-wise, Lark Studio have certainly not skimped out.
The earpieces themselves are superbly constructed. The shells feel even and smooth, as does the lacquer finish on top. Cosmetically, they sport a simple, black colour scheme with metallic artwork on top. But, it takes a mere glance at Lark Studio's social media to grasp the artistic complexity they're truly capable of. From glittered and abalone-lined shells to wood-resin-hybrid faceplates, the sky is really the limit as far as customisation is concerned. I'm a huge fan of how Lark Studio have contoured their shells. For my ears specifically, the grooves fit really well, further aided by the shell's small footprint. The tips do dig deep in the ear, so keep that in mind if you're used to shallower fits with universal monitors.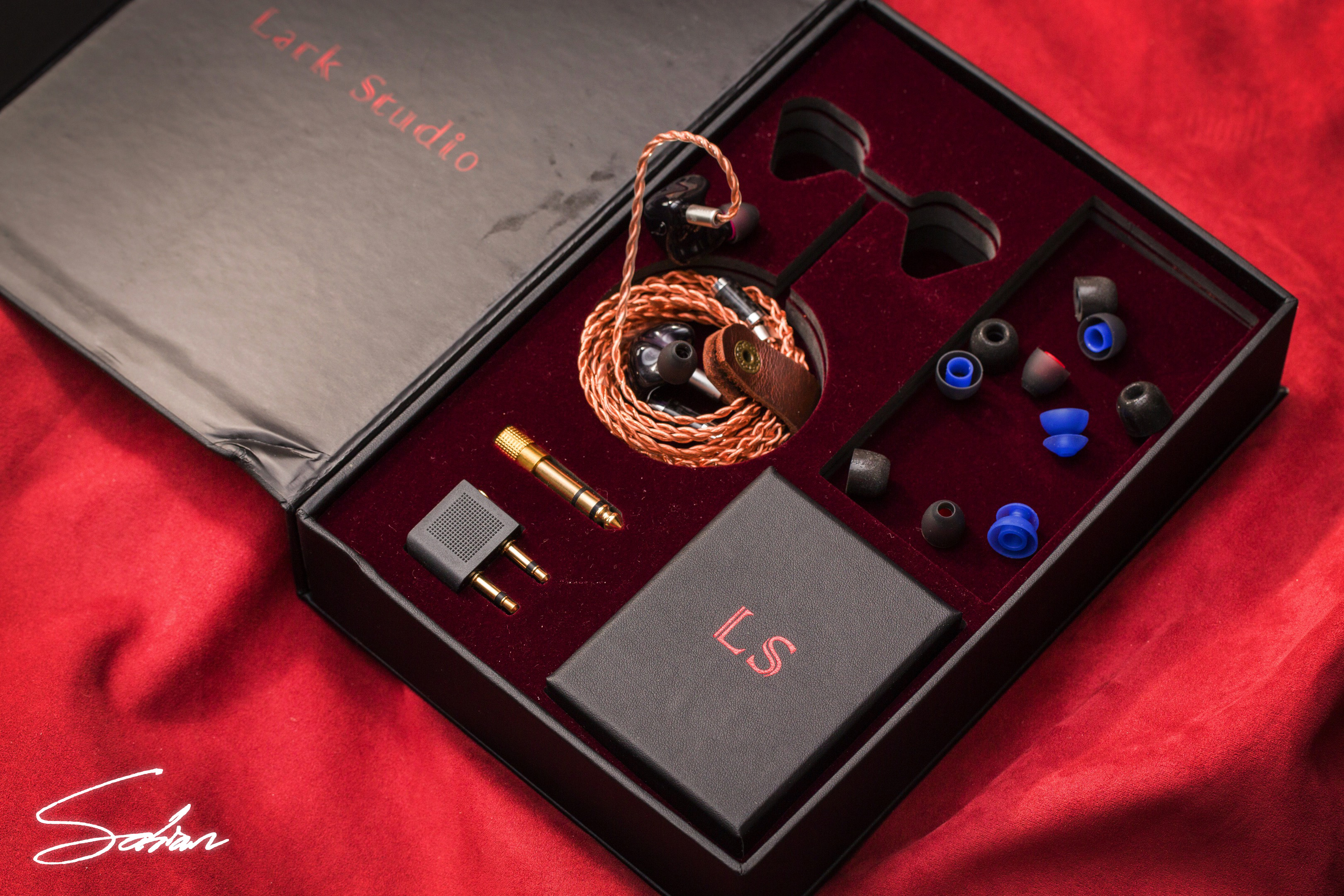 Finally, the LSX also comes with a braided copper cable, as well as a leather-esque cable tie. As a whole, the shine of the conductors in tandem with the metallic and carbon-fibre elements are visually appealing. Ergonomics leave much to be desired, especially compared to aftermarket offerings. But nevertheless, it's an added value to the LSX's overall package.
Splendor
Lark Studio also offer a
Splendor
variant of the LSX, which includes a PWAudio Saladin cable for a $200 premium. The Saladin is a copper-and-SPC hybrid cable, which I featured briefly in my CanJam Singapore 2018 coverage article. It also retails for S$439 via Music Sanctuary, which translates to around $325 at the time of writing. I can't comment on synergy as I haven't heard the pairing, but when you take into account the value proposition, improved ergonomics and ability to customise terminations, I believe the Splendor is a worthy option to consider when purchasing the LSX. Also, considering the leap in performance and treble presence I hear when I demo'ed the LSX with Satin Audio's all-copper Griffin cable, I think an upgrade cable is something the LSX can really benefit from – especially if clarity and detail are what you're after.
Presentation
The Lark Studio LSX straddles between rich, organic warmth and clean, open clarity. Although there's a distinct, weighty butteriness to its images courtesy of the bass and low-mids, ample upper-treble presence undercuts that fat with plenty of crisp transient attack. Instruments loom large with great fullness. Yet, the LSX stands strong with simple
and
complex arrangements alike, because of its stability. Instruments sound bold, chesty and tube-esque, but without the congestion one would expect with these sorts of signatures. Despite its facade as a breezy, warm,
go-with-the-flow
songstress with a penchant for thump if called for, the LSX subtly possesses a marvellous sense of control that elevates it above the rest.
Now, because of the LSX's larger, bolder images, stage expansion isn't something you notice right off the bat. It's really those weighty, energetic instruments that pull you in first, rather than the spaces around them. But, once you adjust, you
will
begin to notice the pockets of air the LSX sprinkles throughout. Again, it isn't the most spacey, atmospheric presentation in the world, but it does provide ample headroom for notes to ring and resonate. Despite the LSX's fuller signature, it's not an IEM that's ever stuffy or saturated. This is further proven in imaging and dynamics. As a track builds with more and more elements thrown in, the LSX constantly maintains composure. You have a clear idea of what's been added and where everything is in relation to each other. And, above all, it's delivered with the LSX's warm, clean touch.
Bass
The LSX's low-end is a wonderful achievement. Tonally, it may lean closer towards neutral because of that upper-treble lift. But, what truly defines that response is its addictively analog spirit. Its attractive blend of body, wetness and thump injects a subtle, vintage playfulness to any piece of music. At the same time, it's subtle enough to never distract either. This quality is further emphasised with similarly retro-inspired tracks like Justin Stanton's
Automatic Attraction
. The kick drums, bass line and toms that kick the track off are reproduced with richness, wetness and warmth. Thumps come and go with excellent timing, tightness and resolve, so both its musical
and
technical quotas are checked at the same time.
The LSX's low-end is distinctly mid-bass-tilted. The sub-bass is definitely more reserved in favour of meatier, rounder hits. This technically benefits the LSX, as it provides more headroom for the mid-bass to play around. But at the same time, it should be something to keep in mind if a strong fundamental rumble is something you heavily prioritise when shopping for in-ear monitors. Nevertheless, the bass extends admirably, resolving the most subterranean waves even though they'll have to sit tight in the very back of the mix. And, bass clarity is excellent because of the LSX's proficient top-end. Once again, bass response is the LSX's ace-in-the-hole. It's a nostalgic blend that appeals to retro sensibilities, but rendered with modern technique. As long as you're not one to favour loads of sub-bass, I can hardly really fault it.
Midrange
The LSX cuts a bit of that presence moving towards the lower-midrange. This light dip allows transients to cut through without cloy-ness or mud. Nevertheless, the LSX's warm profile continues to come through, and the region serves as a smooth, seamless bridge between the low-end and the vocal range. Texturally, notes here lie on the smoother, wetter side of the spectrum. There's a resonant quality to them that musically blends elements together. So, to my ears, the LSX's low-mids aren't the most nuanced or analytical in the world. Tom toms and lower-pitched synthesisers are more harmonic and bloom-y than they are contoured and tight. However, this also gives instruments like pianos and horns a musical, full-bodied, reverb-y quality. And, the in-ear's stable background continues to preserve resolution regardless.
The centre-mids are where much of the LSX's muscle come into play. A healthy rise through 1-2kHz gives instruments density and solidity. Male vocals in particular are gifted a deep, chesty foundation, so they're never lost in the low-end. Comparatively, the upper-mids across 3-4kHz are far more laid-back. This means higher-pitched instruments sit further back in the mix. It also means female vocalists have a deeper, chestier note, as their higher overtones are less prevalent. But, the dip also provides space for vocals to breathe. Because those high-pitched notes are less upfront, they have tons of space to reverberate, resulting in an airy, wispy and effortless quality. This may not be preferred by those who enjoy shouty-er or more
in-your-face
presentations, but it brings a lot of balance to the LSX crucial for its overall performance.
Treble
The LSX's top-end is coloured towards achieving sharpness and clarity without introducing too much brightness. This is achieved through a peak around 6-7kHz to add
tizz
, as well as a peak around 12kHz to add definition, bite and contrast against the black background. This means instruments like cymbals and hi-hats cut through the mix really well; punchy and sparkly. Snare drums, electric guitars and horns also come through with immediacy and snap. But, at the same time, appropriate dips around 10kHz have been applied to remove as much sibilance and glare as possible. So, the resulting presentation is crisp without that metallic sheen, which adds a welcome dose of clarity to all genres of music.
However, with all these dips and peaks comes a touch of incoherence. I believe the gulf between the upper-midrange and the low-treble can be problematic at times. Ariana Grande's voice on
Imagine
comes across too tizzy, for example. There's too much of the transient relative to the body – the
meat
– of the instrument. But, this is less of a problem on well-recorded material, like Dimas Pradipta's
9 Range Road
single or Snarky Puppy's
Family Dinners Vol. 2
album. On the latter, the peaks effectively increase detail retrieval and separation. And, the top-end's excellent extension also allows for wonderful stereo imaging. The left, right and centre sections remain well-segregated for a convincing
around-the-head
experience. So, as long as your library isn't too hotly-mastered, the LSX's tonal and technical efforts will shine.
General Recommendations
The LSX's musical, coloured sound makes it ideal for a wide variety of genres, so long as you subscribe to its penchant for body, warmth and clarity. So, if those are qualities that appeal to you, here are three of the LSX's greatest strengths: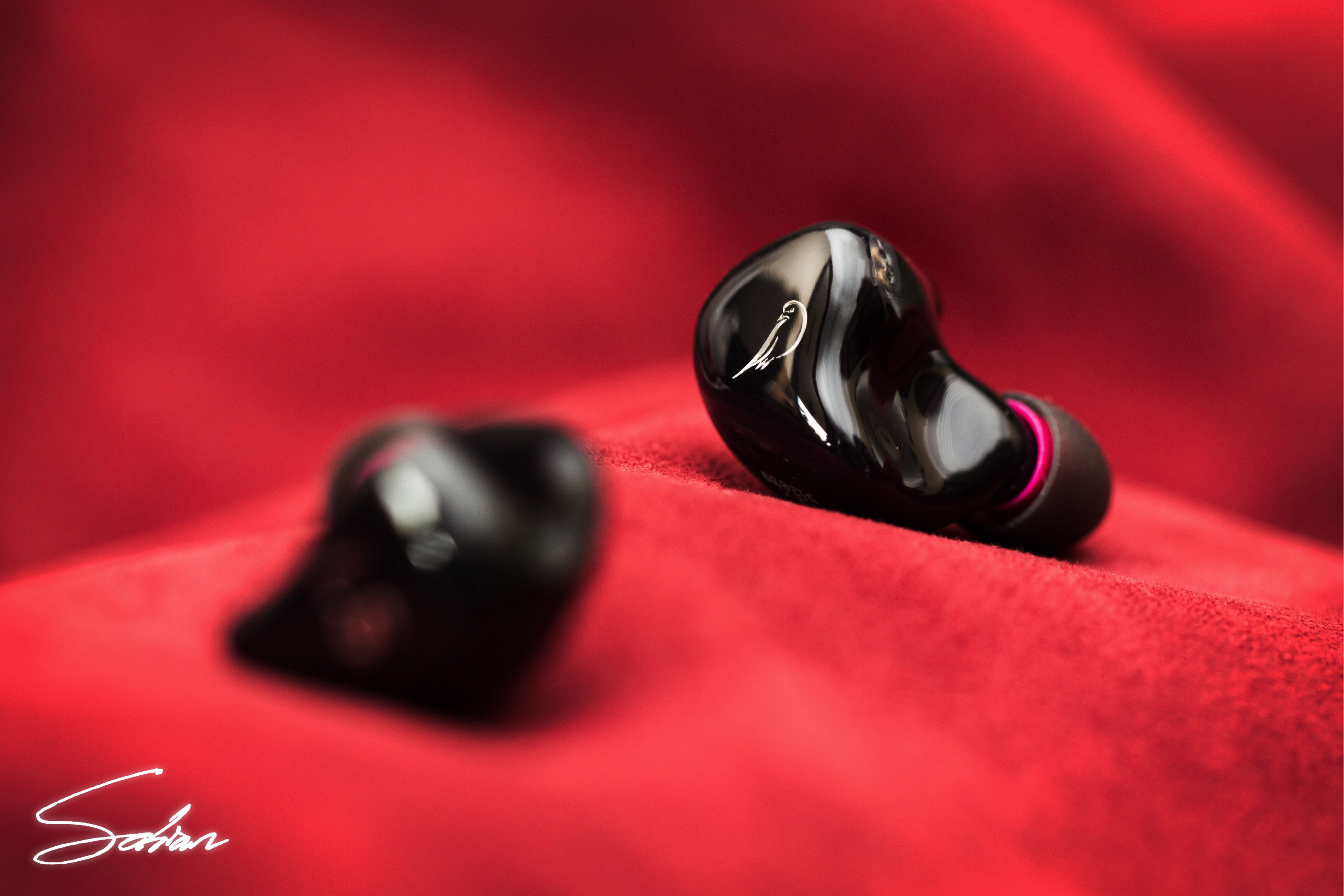 Engaging, analog musicality:
The LSX's mix of body and clarity gives it a vintage vibe without coming across veiled, muddy or congested. It has all the wetness any retro-head would desire, paired with sparkle any all-rounder would be proud to have. So, if you desire an analog sound without compromising cleanliness, cut and clarity, the LSX is a wonderful pick.
Meaty, wet, vintage lows:
Mid-bass is the LSX's forte. There's a liquid, organic tone to it without becoming overtly bloomy or mushy. It possesses texture as well, and the combination works especially well with recordings old
and
new. As long as skull-rattling sub-bass isn't on your wish list, the LSX is a treat if wet, reverb-y and meaty lows are what you're after.
A technical, coloured sound:
The LSX's musical, engaging signature comes with no cost to technical performance. Stage expansion, resolution, extension and stereo separation are all impressive despite the LSX's penchant for energy and body. So, if you want to have that analog musicality with apparent refinement and finesse, the LSX is a strong way to go.
But, at the same time, the LSX's specific colour may be a hindrance to its appeal. If the three following qualities are what you're searching for in your next in-ear monitor purchase, the Lark Studio LSX may not be the one you're looking for:
An intimate midrange:
Although the LSX is never short on energy, its upper-mids are a tad recessed for a lighter, airier delivery. They're not particularly saturated or in-your-face. They take a step back to create space instead. So, if intimacy – especially for genres like jazz or R&B – are what you desire from your vocals, the LSX is not the most ideal in-ear for you.
Elevated sub-bass content:
Again, the LSX has a clear mid-bass tilt with a more reserved sub-bass region. This means you'll get a lot more thickness and thump than rumble or verve. So, the LSX isn't an ideal option for woofer-loving
bassheads
.
A smooth, reserved low-treble:
The LSX's 6-7kHz peak provides livelier transients and sparkle. Energy and clarity benefit, but it may contribute to slight incoherence. Transients tend to sound thinner than the body, and may sometimes encroach metallicity too. So, if perfect smoothness and linearity are qualities you're after, the LSX may just fall short.
Select Comparisons
Lime Ears Aether R (€1200)
The Aether R is Lime Ears' latest flagship – a revision of their critically-acclaimed Aether, renowned for a similar blend of warmth, cleanliness and air. For this revision, Lime Ears have seemingly toned down the top-end a hair, especially in the uppermost octaves. As a result, the LSX is the crisper-sounding of the two with its leaner transients, more cut and more apparent detail. Instruments sound brighter and more energised, while the Aether R instead emphasises balance and even-handed-ness. Projection is noticeably less coloured, so instruments come across more naturally and effortlessly. A transparent sense of balance is the Aether R's forte, while the LSX has the edge in vibrance, clarity, sparkle and attack.
This discrepancy in attack plays into spatial performance as well. The Aether R's calmer transients give it a greater sense of depth. Width-wise, the LSX has the edge, as instruments are a hair more out-of-head. Also an advantage to the LSX's more lively presentation is the bigness of its images. The Aether R's calmer delivery makes it sound more even-handed and linear, while the LSX's larger notes give it musicality and engagement. This is further spurred on by the LSX's fatter low-end. The Aether R's lows prioritise clarity, speed and layering, while the LSX's richer, wetter bass is all about fun. So, to conclude, the LSX is the more coloured-to-please of the two, while Aether R preaches finesse, linearity and balance.
Empire Ears Phantom ($1799)
Compared to the Phantom, the LSX immediately comes across as the crisper-sounding of the two. A considerably more prominent high-treble range boosts the its transient attack, as well as the perceived sharpness of its images. As a result, layering, micro-detail retrieval and clarity is more immediate on the LSX. The Phantom is the more even-sounding of the two between transience and body. They possess similar, lightly warm tones, though the LSX's top-end is – again -brighter and cleaner. So, the LSX will be the preferred choice among those who crave sharp detail, while the Phantom is more ideal for smoother, long-term listening, or those who listen to a wider breadth of genres with varying recording quality.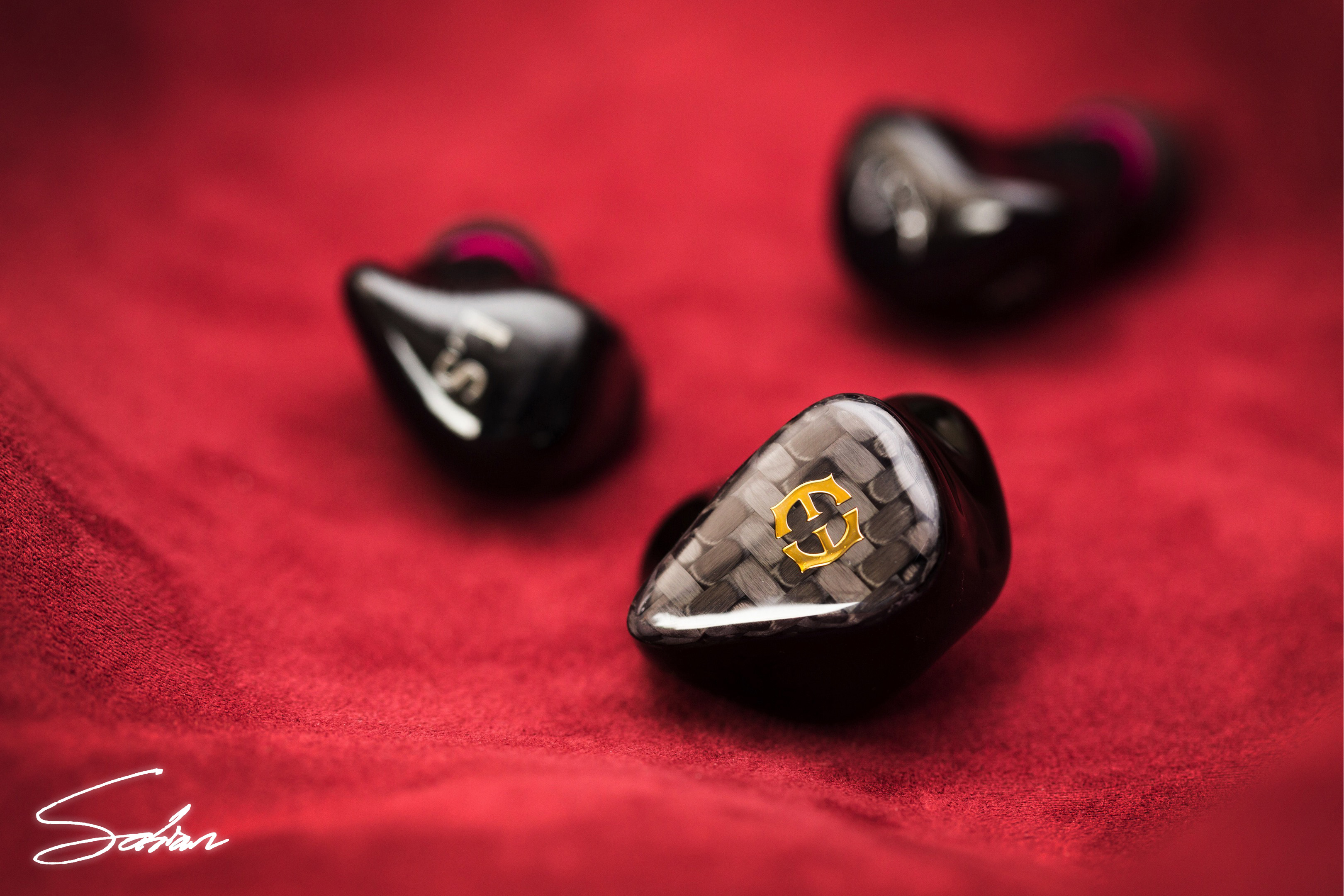 Technically though, the Phantom just as capably performs. Treble extension allows the Phantom to posit a stable, black backdrop, so its resolution is on par with the LSX's, despite the discrepancy in top-end quantity. In terms of stage size, the two are just about equal. The LSX perhaps has the slightest edge when it comes to width. Though, the Phantom's spatial presentation is more sensitive to the track than the LSX's is. It alters from one track to another, while the LSX's livelier top-end always gives transients a forwardly presence. The Phantom's low-end is punchier with considerably more sub-bass presence. There's a physicality to thumps that the LSX has opted to reserve. The latter's low-end is tighter and cleaner because of top-end presence, but it can too be perceived as less natural and warm compared to the Phantom's.
Verdict
Lark Studio's LSX is a boisterous blend of warmth, body and cut. With its rich, full-bodied lows comes a top-end just as eager, resulting in a wet, bloomy profile never bereft of clarity, nuance or air. The mid-bass is the star of the show, with meatiness, texture and tone to spare. Kick drums possess an analog timbre with the technical ability to back it up. The mids sport similar density for muscular male vocals and rich, chesty female balladeers. Instruments constantly possess wetness and weight, even if they aren't the most clean-cut. But, at the end of the day, the LSX is an embrace of coloured sigs, and a skilful one at that. Rare as it is in the flagship space, the LSX pulls off crisp-and-warm with
wonderful
success.