Affordable TWS adaper but with some annoyances
Pros
:
BT5.2
High Performance mode(low latency)
Battery Time
Charge time
Sounds good in AAC with my Dap and alright when paired my pc
Cons
:
Volume can some times be at full volume on reconnect, only happened twice
No buttons to raise or lower volume
High Volume voices or beeps when you switch songs or enable High Performance mode
Supports AAC mode only
I was looking for a way to use my CCA CRA with my desktop wireless instead of normally using it wired and I came across this after looking at options. The KZ ZA09 looked like it would do the job I needed. The One I went with was one for 2pin where the connector on the IEM sticks out from the iem it self. It was easy to get it connected and each piece told you which side it was for. But it felt a little tight getting them on and looked like it could take a bit of effort to remove the adapter from the CRA.
Worked right away with my BT 5.0 dongle that connected to my windows PC, no issues with dropped connection. Connected to my Hiby R3 Dap after changing it to AAC in the bluetooth options. When I tried a older BT 4.2 dongle it wouldn't connect.
While the volume was good, I only had two times where it reset it volume, once when I didn't have it on and notice it, and the second time when opening discord, it went full volume for a couple of seconds causing me to rip them off my ears, so I don't know if was discord that caused it to do it, because it was rare. I usually Always check the volume before I use them.
For being a Bluetooth adapter it sound really good mostly, I would say very good, of course not as good using the CCA CRA wired, But good enough for me to enjoy it while using it thru BT.
The battery charge time was around an hour and 30 mins, during use it really did felt like it lasted 6 hours in High performance mode and 8 in normal mode. I had a odd issue where one side didn't get charge all the way, but that could just from me not putting it in the case correctly. Since it only happened once.
Some times the case would switch from green to red and back even tho it's charged fully or plugged in. Tho the case work good otherwise. I kinda wish the a bit smaller because its on a bulky size.
Over all while after more usage and realizing that I had to set my Hiby R3 to AAC, I started to enjoy the KZ AZ09 alot more. But sadly having loud voice screaming in your ears about low battery warning, high performance mode on or loud beeps when you switch tracks using the button, makes the button useless. Unless you remove them from your ears first before changing modes or tracks, but that will become an hassle, if your planning to use them around the house away from your pc. It isn't a issue if your using it with a phone or Dap.
Last edited:
Previously known as sub30
Pros
:
It works
Voice recognition for assistant is excellent
Design of module is practical and comfortable
Snappy Controls
Battery life
Bluetooth 5.2
Cons
:
QC Concerns
AAC-limited (Not a problem for Apple users)
Compatibility with other QDC IEMs
Cable might turn green after some time
Disclaimer:
I would like to thank Knowledge Zenith for providing a review unit of the AZ09. Rest assured that my impressions written in this review are my own personal thoughts and opinions and in no way influenced by outside parties.
I am not an expert in this hobby nor claim to be an "audiophile." I just love listening to music and am fond of writing articles.
Introduction:
They say that third time's the charm, but what if in my second time was already amazing? EDX (nope. still don't like it). DQ6 (awesome ultra-budget). And for this review, AZ09. The KZ AZ09 is an "upgrade" in a sense if you want to turn your wired IEM into a TWS. It's only available in QDC, is AAC limited, charges via USB-C, and is currently on sale for 16 USD on Shopee/Lazada. This is KZ's first ever product that delves into wired IEM-into-TWS conversion and hint, hint: it's AWESOME! If you can get by the cons, that is.
These were connected to my Oppo Reno 4 for this review as it is the only device I currently have that has Bluetooth 5.1 (close to AZ09's 5.2). I did test it with my laptop and it works as intended.


Technology:
TWS high-definition Bluetooth upgrade earhooks, support AAC audio encoding transmission, professional sound quality comes from the dual protection of chip blessing and AAC advanced encoding capabilities. Adopt AAC advanced audio coding transmission technology to greatly improve the quality of hearing and bring natural and clear sound.
The earhook battery capacity is 50mA, the charging compartment battery capacity is 800mA, the earhook can be used for about 6 hours when it is fully charged, and the charging compartment can last 7 times. Small body, multiple core functions.
Using RTL8753 Bluetooth 5.2 chip, transmission is more stable, high-performance mode. Compared with the 5.0 version of the chip, the power consumption is lower and it brings longer battery life. 2PIN pluggable design, 0.75mm gold-plated pin, the earphone can be turned into a wireless earphone in seconds, getting rid of the wire shackles.
Ergonomic design. The structure is optimized according to the contour of the outer ear, and the design is ergonomic. Reduce weight and improve wearing comfort. High-purity oxygen-free copper silver-plated wire is used inside the earhook to ensure the lossless transmission of audio signals.
Eliminate conventional single host, dual-channel transmission, lower latency, two earhooks can be connected to the same mobile phone at the same time, earhooks can be used individually. When you are ready to enter the game, press the button on the earhook three times to enter the high-performance game mode. The sound signal is transmitted faster.
Package:
KZ AZ09. Charging Case. USB C to USB A cable. Paperwork. User Manual
Design, Build, and Fit:
For the charging case, it's all plastic. Acceptable for the price it sells for. Size, meanwhile, while still pocketable, won't go unnoticed when you start walking around. It has an indicator light that shows how much charge is left in the case itself (Red 0-30%; Yellow 30-70%; Green 70-100%). I have tested this feature and it did work… for the first day, that is. On the second day, I tried charging the case again but it didn't light up anymore. At first, I was scared that it was the battery that had a problem. Upon further testing, I discovered it was the indicator light that was defective and the case still charged the Bluetooth module properly.
The AZ09 itself is reminiscent of the "first" TWSs released in the market and sports-oriented TWS, with the battery pack at the back and the over-ear design for stability. I wore them for ~6 hours straight daily and they remained snug, tight, and most important of all, comfortable over ear (it is light over-ear). Hook is shaped perfectly and should fit most ears. The battery pack itself is entirely plastic as well as the physical button for commands (not touch-operated). Button doesn't wiggle and has a satisfying click when pressed. There's also a mic located with each module and while it isn't the clearest, it's more than decent as I have used it for online class and my peers understood me easily at my usual speaking volume without raising any concern on mic quality.
Connectivity:
Opening the charging case automatically puts the AZ09 in pairing mode. Since the initial pairing, I have not experienced any sort of disconnection or random "unpairing" of the two modules to the source which I have experienced with my previous TWSs. The AZ09 is SBC and AAC capable, and while it can't reach APTX, for the price it is selling for and what it offers, this is way more than acceptable. Nitpicking it for its lack of APTX support is just "hating."
Now, for how far I can get from the source without losing connection, as context, our home is more than 200 square meters from front to back (floor area not sure), 2-stories high with walls built to support up to 3 floors. Long story short, I can walk all around our home and enter any room without losing Bluetooth connection, with the source and AZ09 on opposite ends.
Controls:
Play/pause, skip track, switching between the two modes. Those three are what I deemed as the most important controls here in the AZ09. Playing and pausing songs has a very, very slight delay, skipping track (forward & backward) is registered fast (even consecutive ones which is awesome) with a note playing to signify command recognition, and switching modes is seamless with a female voice prompt (in English). There's no volume control which I personally do not find as an issue. I could just simply remove the IEM from my ear and let it dangle if I am talking to someone.
To activate voice assistant, you have to hold the button of either the left or right earpiece for ~two seconds. My voice is recognized immediately and is registered correctly all the time in sub-optimal conditions (i.e., relatively noisy environment). For example, with the command "play Sleeping in My Dreams," my phone perfectly recognized it and went straight to Youtube, playing the video. A nifty function for those that use said assistant. To add, even Filipino and romanticized Japanese words (simple ones) are easily recognized [e.g., Tayo Lang Ang May Alam (Filipino song) and Zutomayo (Japanese artist)]. More complex words and the Google Assistant has a hard time correctly recognizing it (e.g., Yorushika).
The lack of volume control? The assistant is the fix for that and it worked in my experienced (command: "set volume to n" where n is a number from 0 to max volume step, or "volume set to n%" where n is a number from 0 to 100).
Now, onto sound:
----------
It does what it is meant to do – that is, to convert your wired IEMs into TWS. I didn't notice any noticeable change across the spectrum with the T1 Plus and DQ6. If I might say, it elevates the bass just a bit but I'm not so sure how much of that is placebo and my brain playing tricks with me as I was specifically looking for any change/s. There also weren't any observed improvements or the opposite in technicalities as far as my ears go. However, I have a feeling that this will depend on what transducer will be used, especially whether it is easy-to-drive or hard-to-drive, as the AZ09 doesn't have a lot of power, nor the cleanest while we're at it. Estimating its driving force, I'd say it's on par with Qualcomm chips found in your typical midrange Snapdragon-equipped phone.
----------


Hiss Amount:
I was only able to test the AZ09 with two IEMs due to reasons that will further be discussed in the latter part of this review.
KZ DQ6 (112 dB at 24 ohms) – noticeable hiss on quiet parts of tracks but is still what I will consider fine; might be annoying for some.

Tinhifi T1 Plus (105 dB at 32 ohms) – no hiss at all
Latency:
The AZ09 has two modes to choose from – high performance/low latency mode and standard mode. Switching between the two is straightforward – just three consecutive presses. For what it's worth, I much prefer the former for media consumption as with the latter, delay is noticeable - tolerable for me but something I won't prefer if there's an available fix. If you're only listening to music, then standard mode should be enough and will offer better battery efficiency. Wasn't able to test it with games as I don't play them.
For every connection of the AZ09 with your device, it is automatically set in standard mode.
Battery Efficiency and Charging:
100-0%

Low latency mode - ~6.5 hours

Standard mode - ~8 hours
Results will vary depending on transducer used and listening volume. The recorded time was done with the KZ DQ6 on my preferred listening volume (low-medium). This can extend or decrease depending on said factors.
On charging the module from 0-100%, it took me about ~1.2 hours. As per the specs, the case contains an 800mA battery, which should theoretically fully charge the AZ09 8 times (50mA per module) but with the claims of KZ, the "charging box can last 8-10 times." I wasn't able to test this because I had a problem with the case that I'll discuss in-depth in the next part. However, because my testing of battery life of the module matched with KZ's claimed battery life, I am trusting them on this.
Low battery warning (every 30 seconds) for the AZ09 starts at ~25%. Prompts stop by ~20% and come back at around 10%.
Issues and Concerns
:
1
. It just doesn't fit perfectly for two out of my three compatible IEMs. The QDC male housing/sleeve (?) fits "correctly", tighter than what I prefer (this does make it so that the module and IEM do not separate/disconnect when moving around) with the DQ6. However, when I tested it with my TinHifi T1 Plus, it just wouldn't go floor down. With the TRN STM, it doesn't fit at all. I do wonder if KZ uses a different QDC housing compared to others, where they utilize something much thinner for their IEMs? Maybe this "fit" with other brands was intentionally done by KZ? Who knows, only KZ does.
Advice:
Don't force the AZ09 to connect with your IEM floor down if it doesn't smoothly fit. Once it produces sound, even if not floor down, don't push it down anymore. If you do that, you'll be having a very, very hard time trying to remove the connection, which might result in damaging the AZ09, or worst, your IEM itself.
Fix:
Filing the male connector to enlarge the hole should work. I, however, wasn't able to test this because of lack of tools.
2
. Red light, green light… go? The charging case features an indicator light that changes color depending on charge left. It's a nice feature to have, I must admit. But with my unit, it only worked for an awesome one whole freakin' day. The following morning? Didn't light up anymore. The case still charges the module, though. Personally, I don't see this as a deal breaker considering how "cheap" it sells for but it does make it hard to estimate how much battery life is left in the case.
Advice:
Hope for the best with your ordered unit? And wait for more user/reviewer feedback, if you want.
Fix
: Opening the case and changing the light? Or, if this happens to you, just contact the seller/store (what I would do).
Important Details in User Manual: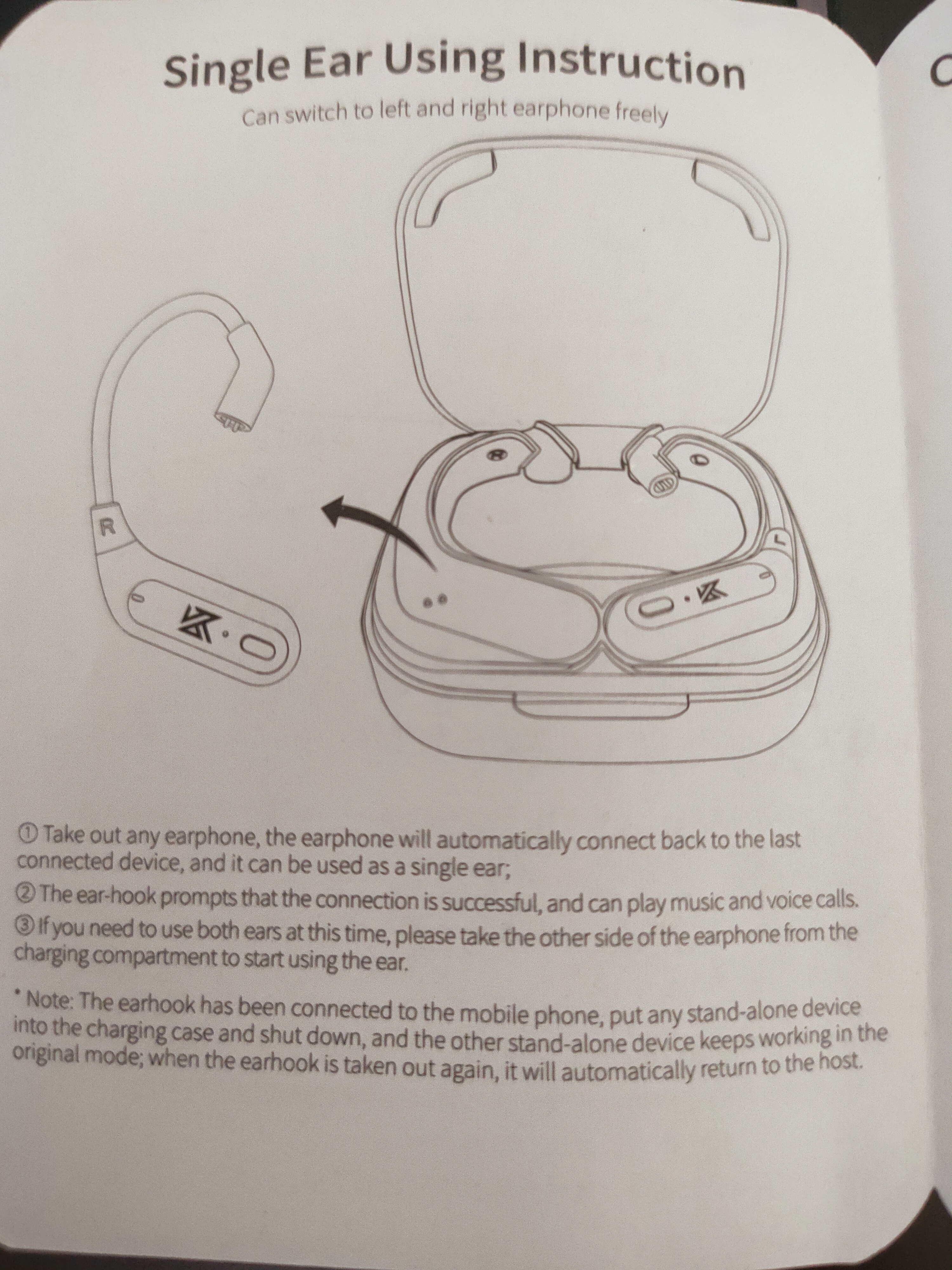 ----------------

Conclusion:
It's a wonderful product/accessory, if you can get by the "flaws" it comes with. It's the cheapest adaptor by far that comes with a case and USB-C charging, and while it has limitations, it still does its job properly – that is, to make your wired IEMS into TWS. Wanting APTX support, wireless charging, blah, blah, blah, etc. and reasoning out that because it doesn't have those then it's a bad product is like asking for a Snapdragon 888 chip, glass front and back, aluminum housing, 590183325 MP main shooter in a phone under 200 USD.
It's 16 USD on Shopee and Lazada. 23 for my Amazon brothers and sisters. In my most honest opinion, it's a steal for that price. The next adapter you can find with a case and USB-C charging is worth ~4 times more than the AZ09. But of course, it still depends on what you have, what you want, and what you need right now.
****If you have other questions/concerns with the product mentioned, feel free to message me****​
Last edited: