Quick Stats
Koss RUK 30K Noise Isolating In-Ear Stereophone, Black

,

3

votes
Author:
Category:
Views:

771
Images:

1
Reviews:

3
Comments:

0
Average User Rating:

3.66667

/

5

,

3 votes
Noise Isolating in-ear Stereophone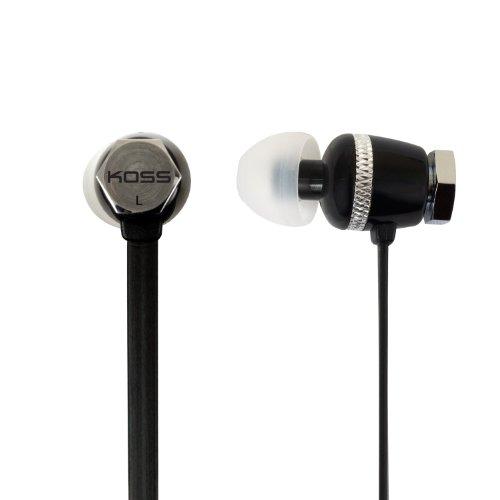 Koss RUK 30K Noise Isolating In-Ear Stereophone, Black
Universal Fit item created by jacksonchansf, Jun 11, 2013
Average User Rating:

3.66667

/

5

,
Recent User Reviews
"Steal...for bass heads."

Pros - solid-deep bass response with visceral rendering, good mids & trebs, price/quality ratio, well made, tangle resistant cord

Cons - good soundstage but a bit narrow , in some genres very colored, the isolation not %100, mutes some fine details in layered music.

I tested it with Dr.Chesky's Binaural album and Depeche Mode flacs.
 
What I like most is of course bass response..it is more than enough, maybe a bit exaggerated, aggressive. Overall, I am really satisfied this excessive response in some genres.The only real problem it is prone to loudness noise of the record.. Maybe this is because the drivers are too sensitive. I am not that high end audiophile who can use technical terms to describe but this happens generally with lossless files...other problem might be ear pads for some.. smallest ones work fine but fit best no..the reason of isolation leak probably because of pads..I may change them with high quality ones.
 
Trebs rendering not detailed enough as basses but that does not mean bad  they are as good as it gets behind bass response..not that sharp though. Mids are all balanced and  has enough clearness in vocals and seperation of instruments. V-shape character makes it lively and suitable for pop of every genre. Mids in higher volumes are laided-back. Timbre quality of course not as same as high end JVC  or Senns. Come on guys..this unit costs approximately 20 bucks and within that framework it is absolutely magneficent piece of equipment ...a steal.
 
It is highly recommended to low budget hifi people like me who wants bassy in ear with good isolataion and 

tangle resistant cord which can be used on the go. Many over priced in ears I tested are not good as 

Koss RUK 30K.in terms of basses. It is not your dreams in ears but  cheapest thing very close to it. its price is unbeatable. It provides good solution for mobility in budget.It is not JVC HA-FX850 so you get much more from what you spent.
 
I really like listening chamber classics, rap,techno,new age and acid jazz records with this unit.It has stellar performance. Apart from those genres drivers have above medicore performance. I use another price/quality monsters Asus Xonar U3 and Fiio E17 . I can drive this unit (16 Ohm) with ease to 32-64 Ohm pro-gaming exiter mode and no problem I face till now. With that mode Depeche Mode etc..listening nearly above over-head quality of most respected brands' mid ranges.
 
It is made for mobile devices and works wonderful with any device but it gains considerable resolution with more  juice like I stated above. Get one if you like punchy V shaped with good bass kicks without sacrificing mids.


"Bass heavy and bulky headphones with unresponsive murky mids. Your standart bass monster with little else to offer."

Pros - The bass. Very responsive and clear with no bleeding pure bass awesomeness.

Cons - Bulky, muddled flat mids, non existent highs. Not even saved by burning in and equalizing. Simply misses the finesse and details of classical sounds.

Bass junkies will love these as it is probably the most prominent iems out there when it comes to bass. But after 120Hz you are into the bog of mids and garbled highs. RUK30 fail to deliver the details of you classical, folk, new age, fantasy pieces even when specifically amped and equalized for the details you hear from your over-ears, you will not be hearing them. 


"Who wants some bass & things ?"

Pros - Wide acoustic with good separations and large sound. Powerful & good separated bass. 90% of the KDX200 is in here!

Cons - Compared to KDX200: Vocals sounds a little muffled & Treble sounds slightly dark (but more detailed somehow).

first things first, let me inform you that ruk30 shares nearly the same driver with kdx200, for one third of the price. can you imagine that ? wow it has got nearly the same bass & acoustics...
 
the biggest difference is on the treble side, but it's really hard to decide which one is better. kdx200 of course sounds more refined overall but differences are very hard to notice. treble is definitely more bright, thus sounds more realistic but kdx200 was suffering a treble duration issue as i mentioned in my review. interestingly, ruk30 performs better on that.
 
thanks to it's big & good separated acoustics, details are not even a problem with koss. you'll get back every detail you lost on the models with congested acoustics. the bass type & power of koss is the best among the models i've tried so far. while the acoustic of it still one of the best. only weak side of koss is the treble performance but it's still better than a lot of models in sub $100 price range. which should be seen as a quite archivement.
 
koss ruk30 has very close characteristics to the vsonic vsd3/s and can be considered as an upgrade to them.
 
 
 
 
 
Acoustic:
separation of instruments and overall acoustic of mids are complete. it does not incorporates the best vocals but on par if not better than alternatives. the acoustic may not be the very best but does the job fine without showing a certain weakness.
 
Bass:
full body & punch. excellently separated from mids. on par if not better than brainwavz s1 which means it's certainly better than moxpad x3-x6 & vsonic vsd3/s. if you love bass, you'll love koss. that's a period. 
 
Treble:

quality of the treble is on par if not better than vsonic vsd3/s but detail level could still suffer a little bit, despite being better than kdx200. i'll prefer koss to vsonic again on this.
 
Amplification Requirements:
close to none. can easily reach to high volumes with minimal bass distortion. brainwavz ap001 will be more than enough for it.
 
Equalizer Corrections:
comes fairly flat. 250hz amplification will forward drums and 1khz amplification will forward vocals (if you find them recessed).
 
visit my table for further comparisons and informations 

User Comments
To view comments, simply sign up and become a member!