Kennerton Odin
Pros
:
Remarkable build
Beautiful design
Materials
Easy to listen sound signature
It basically sounds like an old-school BBC speaker
Rich, lush and exciting
Romantic
Fantastic unboxing experience
Cons
:
Weight
It's expensive, but you know what you're paying for
Kennerton Odin is a pair of Planar headphones that shows the importance of premium feel and sound as well as staggering and remarkable build quality. It will cost you $2250.
Sound quality for the price
Rating: 9 out of 10.
Build quality
Rating: 10 out of 10.
Value
Rating: 9 out of 10.
Packaging & Accessories
Packaging, box, headphones, cable… Everything just screams QUALITY & PREMIUM.
Honestly, I think this was the greatest unboxing experience I've ever had in my life. First up, you're getting this huge wooden chest. You open it and what you find inside looks like something definitely made about 3-5 decades back. The headphones, a tin can with a wooden engraved top, and all of that covered in Kennerton signed fabric. That lid has small magnets built-in so every time you close it you get that satisfying shunt.
That cable definitely won't break even if you'll use it for something else than connecting your headphones.
What about that tin can? On the top of it, you also have a wooden lid.
It has an engraved Kennerton logo as well as the most important aspects of headphones. Inside you'll find your cable. Ended from one side with 6.3mm Jack and on the other with two Mini-XLR's. Cable itself is actually pretty hefty, thick, hard, and very robust. The only complaint I can give it is that after splitting into two Mini-XLR's cable is actually getting much thinner and because of that this hard material is very microphonic so you should keep that in mind. However, if I'd like to say anything about durability, I don't think this cable will break anytime soon and you also have to keep that in mind because if you have some lighter amp and you accidentally pull that cable while it's being plugged in, you can actually drag your amp with you. I'm not joking. From other positive aspects of that cable, it's very nice to touch and never tangles, rolling it is simply a joy.
That tin can definitely brings some nostalgic vibes.
Build Quality & Comfort
I'm still amazed with how a pair of headphones can be so well made.
The greatest part of these headphones. They are built like an actual tank. It's a combination of aluminum, steel, real leather, and real wood. Because of that, these headphones are very heavy, and I mean VERY heavy. About 700 grams and that's without a cable. When I first put them on I thought my neck is going to give up but after few hours I started to get used to it. By any means, I'm not saying you can get used to wearing such an amount of weight. Even if you wore them for more than a week you're still going to feel a slight ache in your neck every time you'll put them off. I even have fallen asleep in the chair while listening to them. Not recommended.
Now onto the pads. 105 mm lambskin leather soft pads that are literally sucking your ears in and I have no issues with them whatsoever. They are huge and because of that, I'd also recommend these headphones for people with larger heads. The hinge is also pretty unique because you have this big knob which you can twist to set them properly to your head. There's no clicking, just a sliding metal. The headband does not have any sort of padding. I can definitely feel it after some time but definitely, it's not painful. I can't say the same thing about the clamp of the headphones overall. From the box it's very strong and tight. You're basically dragging your skin with those pads while even trying to adjust them. I can recommend stretching them a little. At the bottom of the headphones we have those Mini XLR ports and cups have this really nice arrow style metal grill that in my opinion simply looks amazing.
Sound
No weak points in terms of construction. You can kill a man with those.
First of all, I need to clarify one thing – I've seen many people describing the Odin as "easy to drive". My observations tell me the absolute opposite – Kennerton Odin is in my opinion one of the hardest headphone to drive on the market. They didn't perform too well with amplifiers like JDSLabs Atom, Fezz Audio Omega Lupi or anything similar. It all changed when I plugged them into the Little Dot MK VI+. I invited my audio friends, and we were all quite astonished with the results. Oh, a friendly reminder – the MK VI+ has 5W output power into 120oHm!
Having that in mind, I strongly recommend trying the Odin with a beast of an amplifier, they really do open up then.
I won't be describing them in our standard fashion, splitting the impressions by the bass, midrange, treble and soundstage sections. I believe the Odin is an extraordinary pair of headphones but it also tells the story with its sound. That kind of products create a sensation of dealing with a lifelike sound, that is tailor-made for some music genres.
So, what does the Odin sound like?
A piece of fine equipment.
Natural. These are not the most accurate, fast, or resolving pair of headphones ever made. Not even close actually. It doesn't have the hardest slamming bass, nor the most sparkly treble response. The soundstage also isn't very wide, but it's also not shrunken down. It is just…right, the way it's supposed to be regarding the song currently played.
Here's the thing – I'm a headphone-related audio reviewer, and I've been reviewing this kind of equipment for about 8 years. But I've been into stereo gear for even longer, both as a hobby and by the profession.
Why do I mention this? Well, I actually think that the Kennerton Odin is like a well-assembled, good stereo setup. It just sounds right. Have you ever heard a hi-end stereo gear? Something like Vivid Audio Giya, Ayon Vulcan Evo power amplifiers, or even Trilogy 925? In this kind of setups, you stop listening to specific sections of the sound, you'll never say – wow, that upper midrange has a nice boost. Nah, you listen to it as a whole, focusing more on an overall timbre or key characteristics of this specific setup.
It's also just the thing that made BBC speakers so famous – they made you listen to the music, not to the sound, which is quite rare nowadays in my opinion.
If you're one of those guys, who really like that BBC sound (so you basically like Spendor, Harbeth, etc) then you'll probably gonna ask that question: "Should I buy the Odin then?".
The answer is… yes, definitely. See, I'm currently having fun with vintage Spendor SP 2/2 BBC speakers, I'm a fan, definitely. The Odin is very similar to that, it gives you that sensation of the music sounding…right, easy, true and involving in a romantic manner.
Wood, wood, wood.
The Kennerton Odin shows its strength in acoustic, jazz, and overall vocal-oriented music. Do not expect them to shine in electronic, metal etc. They might lack speed, attack, and an overall "crazy factor". Those are meant for chilling – grab a glass of nice whisky, kick back, and get lost in this cozy, effortless, and beautiful sound.
I know that you probably came here for a more direct and informative sound impressions, but I truly believe it won't do any justice to this great pair of headphones. But I hear you, so I'll give you something.
The bass has a decent slam, but it's way more about the texture and creating the rhythm. It kind of reminds me of the bass from Audeze LCD3, minus the hard-slamming. It's still rich, deep, and saturated, but it's not crazy fast and punchy as you could expect from a hi-end pair of planars.
The midrange is where the magic happens – moist, lush, and beautifully resonant. The timbre is truly spot on, creating that wonderful mist around the vocals. It's not veiled, not even close. It's just not sharp or dry sounding. The whole mid frequency has this wetness, softness and charm to it, which is very easy to fall in love with. Magnificent.
The treble is soft and delicate, but I wouldn't call them "dark". You're simply getting a staggering resolution and timbre, that with this slight sweetness to it creates a very pleasing and rich sound. Analog-like in the best possible way. If you're into a strong and forward treble response, you'll probably won't like the Odin. But you've got plenty of choice on the market.
I definitely won't recommend the Odin to be your sole pair of headphones to use everyday with everything. Not only they are quite heavy and unforgiving for the rest of the setup, but also their sound is specific and surely not for everybody. If you're looking for something special though, for a headphone that has this natural and chill sound signature, then you should most definitely try them, as you might simply fall in love.
Summary
Perfect example of great craftsmanship.
At $2250 the Kennerton Odin definitely doesn't come cheap, but you know what you're paying for in every single aspect. Beautiful, boutique-like packaging and attention to detail, fantastic and beautiful build, and the sound that is so well-tuned that it reminds me of the golden age of British HiFi in the 70's. Truly remarkable headphone.
Gear used during this review for the sake of comparison and as an accompanying equipment:
Headphones – DT 1990, Audeze LCD3, Hifiman Susvara, Focal Clear, Abyss 1266 Phi, Dekoni Blue, Sennheiser HD800,
Sources– JDSLabs Atom, Little Dot MK VI+, Chord Dave, Cayin HA-300, Cayin iDAC-6,
Pros
:
Realism, Tonal Balance, Pleasant
Cons
:
Finishing, Design, Subbass
Kennerton Odin​
Odin, Thou Whirlwind, What Realism!​
---
---
INTRODUCTION​
---
From Russia, With Love Of Course​
I suppose this review will be a swan song to end my audio journey in Singapore.  It's hard not to be just a little bit sentimental, especially when the pair of cans on your head is rendering Bryan Adam's Heaven almost perfectly.  In many ways, this review represents a lot of the best aspects of the local audio community.  I learnt of the Odin through reviewer @earfonia 
(who always does impressive work here), and I had the chance to audition it via my loca headphonel store Zepp & Co.  In the course of my time here in Singapore, I've met a lot of good people, and have made a number of very close friends through audio. To me it represents just how much can be done when a group of people come together to share knowledge in a meaningful and constructive manner.  It is a true pleasure to have been a small part of this immense effort.
​
 ​
In case you were wondering if I had forgotten about the Odin altogether –I haven't.  The headphone is far too good for that to ever occur.  First, a short introduction. Kennerton Audio is the luxury arm of Fischer Audio, a Russian audio company that has been previously recognized for its competent entry-midrange offerings. The Kennerton branch is quite a bit more understated, having maintained a fairly low profile since its introduction back in 2006.  In speaking with Kennerton representatives here in SG, I came to understand that the Odin was the pinnacle of the Kennerton sound, a cost-no-object look at what could be achieved by Fischer Audio engineers.  The passion and enthusiasm that propelled the development of this headphone is clear –and the result is excellent.  While it isn't a regular headliner, the Odin is highly regarded within certain circles, and is arguably one of the better-kept secrets in today's audio market. 
​
 ​
Before I go on, this review is indeed dedicated my partner in crime (figurative), Joseph.  If I'm Sonny Crockett, he would be a really crap version of Rico Tubbs, one that can't aim for his life (literal).  You truly redefine what it means to be a one-hit wonder at 25 meters.  ​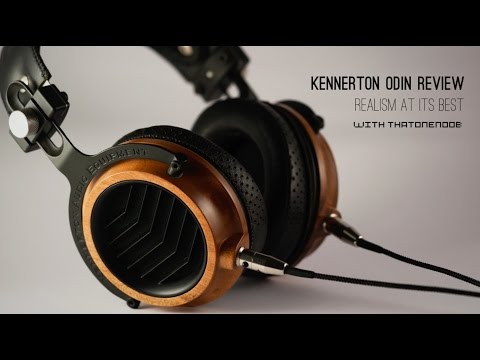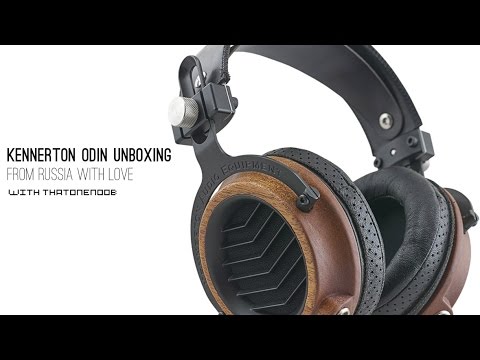 Disclaimer​
I received this unit directly from Kennerton in Singapore, and have now had it on loan for close to 3 weeks.  This review did take a while to complete, mostly due to scheduling issues from late-arrivals, and also because I am currently in the process of moving.  However, this month has been a true pleasure as far as reviews go –the opportunity to cover so many excellent products at once is without a doubt a privilege. My time with the Odin was short but certainly memorable.  I do reserve the rights to the media in this review, so if you would like to use the photography/ videos seen here please do drop me a line first (at the very least please provide attribution).  I dislike watermarks on photos and would rather not use them.  I had a blast writing this review, and hope that you will enjoy this piece too!
​
 ​
Also, feel free to post any comments and questions below.  However, I am slow with checking the comments section, especially on older reviews.  In such situations, just send me a PM.  I really do try my best to answer all the PMs I get (and if I don't, as far as is reasonable, send me another).
​
 ​
PACKAGING AND ACCESSORIES​
---
The Odin comes in a large trapezoid shaped wooden box with the Kennerton logo engraved nicely onto the lid.  Removing the thin cardboard sleeve allows the box to be opened.  The lid rotates such that the box can be propped up at a 45-degree angle to act as a headphone stand/ display case.  It is a novel idea that appeals to the egoist in all of us. The green velour that lines the interior is a nice touch, and the engraving on the inside panel of the box is certainly a very pleasant piece of detailing.  The cable is stored within a cardboard cylinder (with a tin lid).  In summary, the included accessories are as follows:
​
 ​
3.5mm To Quarter-Inch Adaptor

​
 ​
However, there are a couple of practical design concerns with the package.  The headphone will not fit into the box if the headband has been adjusted past its default setting, and there is wasted space at the bottom of the box that could easily have been utilized as a cable storage area.  The lid doesn't clasp shut, making the case fairly impractical as a transport solution (then again, its size precludes it from doing this anyways).   
The utility of the box is further reduced due to a lack of padding on the inner face of the lid. A bit of a shame, as I'd love to have a package that would allow me to carry the Odin around with relative ease.  The headphone has a fairly superb sound that I would like to share with fellow enthusiasts.
​
 ​
BUILD AND DESIGN​
---
If there is one word to describe the Kennerton Odin's general aesthetic, it would be rustic. Posing an interesting mix of natural materials and a touch of unrefined rawness, the Odin would feel comfortably at home in a Timberland catalogue.  In many ways, the Odin stands in stark contrast to the previously reviewed Sony MDR-Z1R, a headphone that was a general master class in properly executed product (and by extension, industrial) design. 
​
 ​
As a whole, the build quality on the Kennerton Odin is somewhat hit-or-miss.  It's an odd combination of quality components that have been put together in a fairly awkward fashion.  Let's start with a quick look at the headband.  It's a two-piece design with a hardened top band and a softer supportive strap that is meant to provide better comfort and distribution of weight.  Perhaps it's just the shape of my head, but after a while pressure does tend to build up near the topmost point of the headband, making an adjustment necessary.  The yoke is inconveniently attached by means of a single screw, and fitment has to literally be done by wholly manual means.  Granted, this robust headband adjustment system was probably meant to deal with the weight of the earcups, but it is clearly an inelegant solution. Loosening the screw allows the yoke to slide along both the horizontal and vertical axes.  Determining the appropriate angling of the earcups is thus a fairly tedious process, but once secured the earcups do not move.  Not one bit.  I can't emphasize just how important it is that one takes the time to try to achieve proper fitment with this headphone.  Failure to do so will result in a poor seal and significant loss in lower frequency performance.
​
 ​
 ​
As of now, the earcups come in two different types of woods: sapele and walnut.  The process behind the manufacture of these cups is rather extensive, with each earcup undergoing multiple instances of milling, heat treatment, and wax coating.  The final product is rather nice looking, but slightly too glossy. However, I've been told that my woodworking tastes are fairly undeveloped, so please do take this with a solid pinch of salt.   The leather on this headphone is said to be lambskin, and looks to be of full-grain finish.  While this is certainly very pretty and "premium", it's not exactly comfortable.  This is particularly true for the earpads, which seem to lack the comfortable plushness expected of most flagships.  The good thing is that owners will have a nice leather patina after some use…which is something to look forward to, I guess.  That is if the stitching on the headband doesn't start to come off after a little while.
​
 ​
The cable is just unfortunate on a number of accounts.  The mini-Din termination is well built, though slightly uncommon (Audeze uses a similar one if I'm not wrong).  However, just about everything after the termination needs work.  To start, the cable is covered in a PET braided sleeve (Tech Flex, if I'm not wrong)
, which starts to unravel near the split due to the individual left and right wires exiting too close to each other (literally rubbing against the other in the wrong way).  This is further aggravated by the fact that the cable tends to kink.  The PET braid is also microphonic and far from being malleable, and is just unpleasant to use.  The 3.5 mm jack is out of place for a headphone that should instead see use in home setups, and the rigid metal edge tends to cut into the cable (the Zepp demo unit has one such example of a frayed cable).  The 3.5 to quarter-inch adaptor adds insult to injury, featuring a wonderful 90 degree angle that really doesn't gel with desktop equipment. 
​
 ​
So, there are some issues with the build.  However, design wise, there are some very cool things going on within the Kennerton Odin.  The headphone features a scratch-built 80mm planar magnetic driver with a 10-micron polymide film diaphragm, and is powered by a magnet system comprised of 10 neodymium magnets in a symmetric push-pull configuration.  The magnets are also semicircular in form, which apparently improves airflow and also makes for a more uniform magnetic field.   Needless to say, this level of development is indicative of Kennerton's immense interest in producing the best sound possible, and compared to some of the recycled designs available today, is something worthy of commendation.
​
 ​
MEASUREMENT​
---
This is a bit of a copy and paste from my past review, so if you've read it already feel free to skip to the numbers direct.  My current setup is called Box #2, which is a small headphone measurement rig as the name implies. There are no major secrets behind this rig.  The measurement microphone is the omni-directional UMIK-1 from miniDSP.  It can be purchased for about a 100 dollars USD.  Internally, the box is filled with acoustic foam (easily obtainable from your local specialty source).  The coupler was perhaps the most difficult part to figure out.  There are many documented approaches, and definitely very interesting reading to be done.  In creating the coupler, I opted for a conventional flat plate made from soft polyester covered rubber cut from a mouse pad.  I quickly noticed that this coupling alone made for some very poor measurements, especially in the higher frequencies where it was clear that artifacts were developing in a regular pattern.  Following conventional fixes, I experimented with various diameters of felt, leading to varying degrees of attenuation in the midrange and high frequencies.  I have temporarily settled on a variation of the felt fix, with a smaller piece of circular padding hidden beneath the felt. Mic is set close to flush with the coupling surface.     
​
 ​
From a build standpoint, I made an oversight in designing Box #2 when I chose to start with a rather small box.  The coupling area is tight and to get multiple positions does take some orienting.  The felt-pad piece surrounding the mic should also probably be glued but I wanted to have the flexibility to play around with the design.   I won't sugarcoat it –the rig looks like it took a fall from the ugly tree and hit every branch on the way down.  Software used is Room EQ Wizard.  The results are raw, uncompensated curves to use as general guidelines.  There have been a couple of measurements of the Odin so far, but I'm not entirely sure about how well they represent the headphones.  These curves should be used as general tonal guides, not pound-for-pound representations of what you hear (once again, uncompensated).
​
Here we have the frequency response - I've applied a slight smoothing (1/48th).​
 ​
​
Same graph, except that I've manually offset my Beyerdynamic T1 measurement below for quick reference. ​
-T1 offset was -30 dB to lineup with around the 65 dB area.  This is not because the levels were particularly diff.
​
during the measurement process for the two headphones. 
​
Here we have the CSD for the Odin.  Please read the commentary.​
-I noted in the previous review that the MDR-Z1R had what seemed to be ringing in the 3kHz area.
​
With this measurement, we do not see that occur, which gives me confidence in the rig, and suggests
​
that it isn't so much a result of interaction or artifact, but perhaps that there is actual ringing there.
​
 ​
---
At A Glance​
The Kennerton Odin presents music with an easy realism that is overwhelmingly pleasant.  It does not embellish sound, but rather has its focus on a precise and clear reproduction achieved via competency in several sonic areas.  Textural quality is generally good, especially in the midrange.  Tonal balance leaves little to be desired, though I do have a point to make about the Odin's bass section.  An accommodating mix of technicals as well as general dynamics rounds off the package, making the Odin an incredibly pleasant and versatile headphone.  It goes without saying that this headphone will make for a great primary driver option. Given the way the Odin sounds (with a slight warmth), amplification will come down to personal taste, as pushing the sound in either direction will most likely not produce a crippling pairing.   Some amps that I have tried with the Odin include the Teac UD-503, Chord Hugo TT, iFi Micro iCAN, CMA-600i/800i, and Cavalli Audio Liquid Carbon.  One thing that I will note –initially, I noted a lack of subbass texture on the Kennerton Odin.  @earfonia suggested that I try the headphone in balanced connection and lent me his balanced cable, which did work out better!
​
 ​
In Depth​
The Kennerton Odin's bass section is fairly fast, clean, and generally speaking unobtrusive.  This is inline with tunings that would typically be considered as being more "neutral".  As mentioned before, I do take issue with certain aspects of the Odin's subbass.  While being decently extended, it lacks slightly in presence and detailing.  This is particularly true on tracks like Debussy's La Cathédrale Engloutie.  Nearing the sonore sans dureté, the Odin falters and is unable to capture the subtle nuances required of the piece, and sustained notes do not feel as impactful as they should.  This can be aided by using a balanced connection, which brings out more texture. The Fostex TH-900 has let me explore the depths of the lower frequencies, revealing information that might otherwise have been missed on cans.  I do not expect similar levels of bass quantity or texture, but I do hope to hear certain sonic cues arising from detailing. As one may expect, this isn't the Odin's strongest suite. Midbass is well placed, with good body and impact, but does not sound unnaturally punchy.  This is certainly a trait that I did come to appreciate, and it certainly allowed for a more revealing look at midbass than some cans would offer.
​
 ​
The midrange on the Kennerton Odin is very good.  Male vocals come across with a certain clarity, but not in a manner that would be perceived as being overly "chesty" or uncomfortably forward.  Listening to Tony O'Malley's Autumn Leaves, I found the singer's rasp to be well-rendered, but with good modulation of tone (as opposed to an outright blanket of grain).  However, it is the female vocals that really did the trick. While I do occasionally enjoy sweeter mids, the Odin impressed in its clarity and dynamic execution, all without lacking body.  China Forbes' vocals in Pink Martini's Hey Eugene came across wonderfully, but my true guilty pleasure was Sheena Easton's For Your Eyes Only.  Yes, it's a cheesy Bond song.  But there's something quite enveloping and captivating about the Odin's general presentation that made me attempt to sing along.  Note the word "attempt".
​
 ​
The highs on the Odin are well extended, and like the subbass, inoffensive.  There are times where I did feel they were slightly too smooth, and lacking in crisp sheen.   In Schubert's String Quintet in C Major, aggressive staccato comes across as being somewhat weak, and this perceived sound is further emphasized when contrasted against the smoother decorations.  This is a piece that I do have firsthand experience with, and in that sense I am slightly more particular as this is a very solid gauge for personal evaluation.  The Odin has very nice imaging, and soundstage is certainly large enough!  In an effort to help contextualize the Odin's performance, I've tried my best to collect meaningful comparisons below. While I have sat down with all these headphones multiple times (and for hours on each occasion), I still cannot claim full familiarity with all, and in fact there are some that I do dislike. Once again, approach with an understanding that your personal tastes are in fact most important determinant of your level of musical enjoyment.   
​
 ​
LCD-2 – $995 USD​
LCD-X – $1,699 ISD​
Odin - $2,250 USD​
 ​
The LCD-X does share certain characteristics with the Odin.  In some ways, the presentation is similar, though the Odin is the more refined headphone in my opinion.  The bass on the LCD-X is what I would refer to as being punchy and tight, and generally well controlled.  While I don't have many complaints with the LCD-X's bass, it does seem less "natural" when compared to the Odin. It became clear that there were times when the LCD-X reproduces mid-bass with a kick drum effect when it really shouldn't have.  Did it sound bad or take away from musical enjoyment?  Not really –this artistic coloration could easily be a matter of personal preference.  However, to my ears and based on my experience, the Odin would be closer to what I would consider realistic.  The Audeze 2's bass is fuller and richer, and in this sense the Odin would fall somewhere in between.  I find bass extension to be similar on the cans, but there are times when the LCD-X simply feels a bit more satisfying. 
​
 ​
The mids are a clear win for the Odin.  I've mentioned in previous comparisons that the LCD-X mids have power and clarity, and are also more aggressive in tone.  The way the LCD-X handles midrange textures is in fact is a bit similar to the Odin, but in comparison the Odin does this without harshness, and also doesn't have the occasional thinness that can be heard on the LCD-X.  In comparison, the LCD-2 does better in this regard, but in attaining its characteristically richer vocals does give up resolving power. 
​
 ​
Treble on the Odin is a bit similar to the LCD-2, but has better extension and articulation.  However, as mentioned before, it is not quite on the same level as the Beyerdynamic T1, or the Sennheiser HD800/S.  However, I would take the Odin's highs easily over that of the LCD-X, which are lacking in refinement and come off as a bit hot on occasion.  Soundstage and imaging are superior on the Odin, especially when compared to the LCD-2, which struggles a bit in this regard.  On a general note, none of these cans are particularly comfortable, but (and I'd never imagined that I would one day be saying this) the Audeze cans with their plusher earpads are a step above the Odin.  Yes, it is actually possible to get a neck cramp with the Odin should you tilt your head one direction for too long.
​
 ​
Beyerdynamic​
T1 - $500 USD - $1000 USD (Varying Prices)​
​
Odin - $2,250 USD
​
 ​
The T1 once again gets thrown into the ring with a more modern flagship.  My T1 is from the 21,XXX range, and as seen from the measurements section, does have an upper end tilt.  This was my original sonic preference, and I can't say that it has changed much.  That said, I listen to and do enjoy a number of signatures.  I've often wondered why this is the case, and my current theory is that it stems from my slight focus on technicals, which allows me to handle a number of tonal signatures as long as they are well executed.   Back to the T1 –the bass section is certainly not lacking, and isn't quite the anemic headphone that it is often made out to be.  It makes me happy to know how my T1 measures from an objective standpoint.   Bass wise, both headphones are fairly similar as far as quantity goes.  Perceived decay on the Odin is a bit slower, and it does sounds slightly more enveloping in this sense. 
​
 ​
Both have fairly linear mids, with the T1 being tilted more in favor of the upper end than the Odin.  I find both to be very agreeable, but the Odin does have an edge texture-wise that lends a more realistic sound on certain tracks (perhaps male vocals).  While the Odin may be slightly more laidback, it does feel more appropriate on certain tracks.   
Highs on the T1 are better in my opinion.  Returning to Schubert's String Quintet in C Major, the violins no longer sound as smooth, and are captures more appropriately through the T1.  I understand that there are some people who are sensitive to treble, and in this sense the Odin is a similar, but probably more appropriate headphone.  Imaging is similar, but due to the upper-end tilt on the T1, soundstage and perceived transparency is better.  From a practical standpoint the T1, is far lighter and generally more comfortable.  While I could get used to the Odin's weight, switching to the T1 was rather night-and-day.
​
 ​
Focal​
Utopia – $3,999 USD ​
Odin - $2,250 USD​
 ​
The Utopia joins the Odin in the "natural" class of headphones, and the two do make for an interesting comparison.  Generally speaking, the Utopia is more involved, featuring a better sense of imaging arising from its speed, micro-detail retrieval, and generally superior technicals.  Bass-wise, both headphones do take a fairly moderate approach, though the Utopia extends deeper and has better articulation. 
The midrange is generally on par, which is impressive considering the price difference.  The Utopia is just a slight bit less textured, and which is more appropriately "realistic" is something that I've yet to decide on.  For female vocals, I do feel that the Utopia performs better on sustained notes, being cleaner than the Odin.  Carly Simon's Nobody Does It Better is an example of the Utopia mids at its finest. 
​
 ​
Highs on the Utopia are better than the Odin.  It is more articulate and better extended, and finds itself comfortably in between the Odin and the T1.  Imaging on the Utopia is quite stunning, and along with the staging, is of a different class.  When I first heard it, I was impressed by just how much sound was coming from each direction, and still, that sense of wonderment hasn't quite worn off. However, there is a certain easiness to the Odin's sound that makes it great for general listening.  Given the price difference, the Odin does perform very admirably.  
​
 ​
Sennheiser​
HD800S - $1679.99 USD​
 ​
I appreciate the HD-800/S for the headphones that they are, but would ultimately take the Beyerdynamic T1 handily over them.  I personally find the HD-800/S to be bass-light and erring towards an overly clean, and, dare I say, boring sound.   Specifically for this review, I did spend some time revisiting the HD800S, which is improved over the HD800 all things considered. I find the subbass characteristics on the HD800S to still be unsatisfying though.  The Odin, despite this not being in its strongest suite, maintains an advantage, which gives a comparative sense of where the HD800s lays.  Midbass on the HD800S is faster, but doesn't inspire or capture anything particularly noteworthy.  It clearly does not have the same impact or body of the Odin.
​
 ​
Generally speaking, the textural quality of the HD-800S is excellent, but in achieving the perception of grand staging, it would seem to me that the mids are recessed in comparison to the Odin.  It is more detached and disinterested, and doesn't have the same body to carry through on certain vocal-intensive tracks.  Highs on the HD800s are good, being more emphasized than the Odin.  This lends itself to a larger perceived staging and possibly better extension, but as mentioned before, this returns in unsatisfactory ways when dealing with vocals in particular.  The Odin is the better headphone for me personally -but for those requiring grand staging or raw technicals, the HD800S will be the right headphone.
​
 ​
FINAL THOUGHTS​
---
The Odin is a very good headphone.  It may not be immediately striking or breathtaking, but when it comes to an appropriately realistic presentation of sound it is easily among the best.  The only thing that really holds it back is its current ergonomics and design, which get in the way of the headphone.  With a better headband and more precise finishing, the Kennerton Odin could very well replace a number of better known headphones.  If you're in the market for a versatile primary driver headphone, this would be a must-hear.
​
 ​
 ​
​
---
The Odin is a headphone under improvement, and Kennerton is providing constant support/ updates to its design.  This is a very positive thing.  To my understanding, here's what has changed over the course of the Odin's production lifespan.
​6.3 mm (1/4 inch) termination on the cable.

Softer lambskin earpads!  This is a great plus as far as comfort goes.

FUTURE - New OCC cable with cotton sleeve and 6.3 mm termination.

FUTURE - Redesigned packaging.
Pros
:
Realistic & lifelike sound quality, easy to drive.
Cons
:
Heavy, stock cable comes only with 3.5mm jack.
First of all, I would like to thank
Fischer Audio Singapore
for giving me the opportunity to test and review their flagship headphone, the Kennerton Odin! Also big thanks to
Zeppelin & Co.
where I spent hours comparing Odin with other headphones, and to
AV One Singapore
for their hospitality during the Audeze LCD-4 comparison!
http://kennerton.com/index.php?route=product/product&path=59&product_id=95
There are 3 type of woods for the ear cups: Old Wood, Sapele, and Walnut. Kennerton Odin Walnut is the version that I reviewed. It is made of all natural material, wood, metal, and leather, that somehow reflected well to its natural sound signature. Kennerton takes great care of the production of Odin. I've been told that the production rate is rather low, only around 30 pieces per month, to maintain the quality. I've used it for more than 2 months now, and I can say that besides the stock cable (which I will discuss in feature section), Kennerton Odin is made to last. It feels solid and I can see from the design and construction that it will last for a very long time.  
From my 2 months of experience with Odin listening to various recordings and genres, tried different DACs and Amps with it, and also compared it with many other headphones, I honestly love the natural sound signature of Odin. It sounds so balanced, musical, and emotionally engaging without any emphasis on any of the sonic element.
Sound quality wise, I would give a full 5 stars rating to Odin without any reservation.
But for the overall rating, I have to reduce it to 4.5 stars, mainly due to the weight of the headphone that affects the comfort level.
One day, when I was at Zeppelin testing gears, there was a guy testing some headphones, near to where I sit. After a while, after he tested a few headphones, I suggested to him to try the Odin, and oh boy…. his facial expression was totally changed when he listened to Odin. Initially, he was quite serious, showing the usual analytical expression when he was testing other headphones, but once he listened to Odin, he smiled, joyful, and I saw some tears of joy in his eyes. I can see clearly Odin touched his emotion deeply and shed some joy to him. I was so surprised that Odin has that magical power to drastically changed his mood. It was a very nice experience that I will remember for a very long time.  
Pros:
Lifelike sound quality, almost a perfect balance of all the musical elements, tonality, detail, clarity, speed, & dynamic.
Easy to drive.
Very good build quality (headphone only).
Detachable cable.
Cons:
Heavy. Around 666 grams, headphone only without cable.
Stock cable come with 3.5mm headphone jack that has no cable strain relief. The metal barrel of the 3.5mm connector will eventually erode the cable braided sleeve and jacket.
Sub bass rumbles a bit lacking for bass lover.
Suggestions for Improvement:
Weight reduction while maintaining the same sound quality.
Cable with proper 6.5mm headphone jack with cable strain relief is highly recommended as the main stock cable. Stock cable with 3.5mm jack is not appropriate for a headphone at this caliber, but a good option to be included as the 2nd stock cable.
To include a balanced cable with 4 pins XLR is highly recommended.
The nice wooden case is better if it is able to accommodate Odin with the headband extended at maximum extension, and with the cable attached. If user has to remove the cable and adjust the headband every time they want to keep Odin in the wooden case, the wooden case can be considered practically useless.  
Sound Quality
Before going with more detail description, I would summarize the sound quality into a few bullet points:
Natural, smooth, musical, and engaging are probably 4 words that best described Odin's sound signature.
Lifelike and consistent tonal density across the spectrum. The nice tonal density makes Odin has some fullness to the sound and doesn't sound thin.
Balanced tonality with a touch of warmness. Odin is not analytical, but also not too warm or mellow. It is neither bright nor dark sounding. No annoying peaks or dips observed in the frequency response.
Pleasant, enjoyable, rather forgiving, and Non-fatiguing sonic character, yet quite detailed and transparent for classical and other acoustic recordings. Also quite lively and never sounded dull or boring.
Lifelike Tonal Density
If I have to pick one particular sonic character of Odin that I find most special, it would be the tonal density. It took me some time to find the right words to express that sonic quality, and I think tonal density would be the closest. I often feel that my Sennheiser HD800 and Beyerdynamic T1 sound rather thin when compared to some live concerts. They sound very transparent, detailed, but often don't present music with good body and natural weight, and often make music sounds thin and light. Tube amps may help, but only to a certain extent. On the other hand, Odin never sounded thin, and also never sounded overly thick. It has the right amount of tonal density that gives a natural thickness, body, and weight to the sound, and quite consistent across the audio spectrum to give realistic musical experience. Listening to classical recordings on Odin reminds me of live classical performance. Somehow the sonic signature of Odin relates quite well with live music performances.  
Pleasant & Enjoyable
Odin has the type of sound signature that makes music listening a very pleasant & enjoyable experience. Vocal rendered with a good body in a natural way without sounding too thick or over emphasized. It also has the right amount of detail, clarity, and dynamic that make music sounds lively and realistic without causing listening fatigue even for a very long session. But unfortunately, even though the sound signature is non-fatiguing, being a heavy headphone, Odin might cause some fatigue elsewhere.
Balanced Tonality
Overall tonality is quite balanced, slightly on the warmer side. Treble is silky smooth but has a nice sparkle and doesn't take attention to itself. The treble is not as sparkling as Focal Utopia, HifiMan HE-6, Sennheiser HD800, or Beyerdynamic T1, but it has more treble than Audeze LCD-2 and LCD-4. Bass sounds clean, tight, with good texture and quality, and without any emphasis on the bass level. Bass level is quite neutral in comparison to the midrange, and never sounded anemic. Bass is slightly emphasized on the mid bass, with extended but rather soft sub bass, so not much sub bass rumble from the bass. Midrange is superb. Very natural sounding midrange that is both smooth and full sounding. It is not thin and also not overly thick or bloomy midrange. Simply beautiful, clear and realistic sounding midrange.  
It is hard to identify any emphasize or deemphasize of a certain frequency from Odin tonality. There is no annoying emphasize or deemphasize of any area in the frequency region. The tonality is quite balanced in my book. Perceived balanced tonality could vary from one person to the other, and it is also heavily dependent on the recordings used to observe the tonality. Therefore I always mention in my reviews, the recordings that I use for evaluation. Besides recordings, I use both frequency sweep as well as individual tones from 20H to 15kHz (my hearing limit) in comparison to 1kHz tone, to observe the tonality. From my observation, the sub bass below 40 Hz rolls off rather early and it is rather difficult to observe the 20 Hz tone. Odin sub bass level is pretty close to my Hifiman HE6 sub-bass response, with HE6 has slightly fatter overall bass and a tad better sub bass. Around the midrange to the treble area, when using tone loudness comparison, I only could hear mild hump around 3 kHz and 7 kHz. What I mean by mild is, those humps are not obvious when we listening to music. This is roughly what I observed:
3 kHz : ~3 dB
7 kHz : ~3 dB
For my own personal preference, I do prefer a little boost around the sub bass area to add some sub-bass rumble and a little improvement in speed and transient like what I hear from Focal Utopia. I tried to apply some equalizer to boost the sub bass below 60 Hz. Around 6 dB sub bass boost sounds very nice to my ears. Sometimes I do have some craving for vibrating sub-bass. With Odin, a simple +6 dB eq as the following is all I need.  
I saw a website that has frequency response measurement of Kennerton Odin by Reference Audio Analyzer Pro, pretty close to my observation, even though it doesn't show the 3 kHz hump that I heard:
http://reference-audio-analyzer.pro/report/hp/kennerton-odin.php
Using my own method that I called
Earfonia Frequency Response Evaluation or 
EFRE
(under development), this is the estimated frequency response, based on my personal hearing:  
Lifelike Detail, Transparency, Speed, and Dynamic
Perceived detail and transparency are very good, but in a natural way, without sounding analytical or artificially emphasizing the perceived detail and clarity. By now you might be able to guess that Odin has a rather forgiving sonic signature, mainly due to the smooth sounding treble. Being forgiving it doesn't mean that it is dull sounding or has a low level of clarity that masks the detail. But the detail and clarity are naturally presented in a non-offensive way. I could easily hear the different sound signature between different amplifiers and DACs with Odin, and this is a good indication that the level of perceived detail and transparency are good.
Instrument separation is clear and focused, with good 3D localization. Stereo imaging is quite holographic but on the average level of width and depth. The stereo imaging is more spacious than LCD4, but not as large and spacious as HD800. So I would say the size of the perceived stereo imaging is about average, not congested and also not ultra spacious.  
Odin has an engaging dynamic but never sounded aggressive. Dynamic is quite lively, and definitely not in the category of mellow or slow transient headphone, but not as fast and punchy as Focal Utopia. As mentioned earlier, personally I do prefer faster-sounding headphone and  I prefer for the speed and transient of Odin to be slightly faster and closer to the Utopia. But don't get the impression that Odin is a slow and mellow sounding headphone, because it is not. It is more because I'm quite amazed at the incredible speed and transient of Focal Utopia. The speed and dynamic are just nice to make Odin sounds pleasant while still able to cope with some fast pace music and complex orchestra. But please take note that generally Odin is not a very fast sounding headphone, and if improvement in speed is desirable, pairing it with a fast amp in balanced connection is recommended. In my setup, when I need more speed, I prefer to pair Odin with my Questyle CMA600i in balanced, as compared to the smoother sounding Geek Pulse XFi.  
In summary, Odin is neither bright nor dark. Tonality is quite linear, with smooth texture of midrange and treble, good clean bass with rather a soft sub bass. IMHO, generally Kennerton Odin is an excellent all-rounder. From what I've tried so far, it sounded great with almost any type of genres and recordings I tried. Probably only with one exception for some recordings that have lots of sub bass rumble like some movie soundtracks, Odin doesn't have the earth shaking sub bass for those recordings. Kennerton Odin is not a bass head headphone and won't give cinematic rumbling sub bass and the strong bass that bass head might crave for, but it has the musical type of clean bass that I believe most audiophile will prefer. In my opinion, Odin is a very musical and realistic sounding headphone.
Comparisons
For the last of almost 2 months, I mainly compared Kennerton Odin with the following headphones in my collection:
Audio-Technica ATH-R70x
Beyerdynamic T1
Hifiman HE-6
Sennheiser HD800
Besides those, I had a few sessions in both
Zeppelin & Co.
and
AV One Singapore
to compare Kennerton Odin with:
Audeze LCD-2
Audeze LCD-4 (both 100 ohms and 200 ohms version)
Focal Utopia
Hifiman HE-1000 v2  
If I could generalize those headphones into 3 groups based only by their perceived tonality, it would be something like the following:
Group 1: Natural with some emphasis on clarity & transparency:
Beyerdynamic T1
Focal Utopia
Hifiman HE-6
Hifiman HE-1000 v2
Sennheiser HD800
Group 2: Natural with a slight touch of warmness:
Audeze LCD-2
Audio-Technica ATH-R70x
Kennerton Odin
Group 3: Natural warm:
Audeze LCD-4
Generally, my personal preference is group 2, natural and balanced tonality with a hint of warmness. The slight touch of warmness is preferable to me as they usually have a nice tonal density around the midrange and bass that IMHO sounds closer to some of the live performances that I auditioned, and use to hear in church weekly. Group 2 also has smoother treble that helps to avoid listening fatigue in a long session. While other warmer sounding headphones are sometimes polarized toward certain type of genres and generally less 'all-rounder' than group 2 headphones. Comparisons below will follow the sequence as the above grouping.
Previously I was not really sure where to put the Hifiman HE-1000 v2. Probably somewhere in between group 1 and 2. Hifiman HE-1000 v2 has a real smooth flat tonality, reach low to sub bass and also reach high to upper treble extension, but without any added perceived emphasis on clarity nor warmness. But after more sessions with it, I decided to put it in group 1 as it has pretty strong transparent character to its sound signature.  
Beyerdynamic T1
Odin is obviously less bright than T1, with fatter bass. Not a night and day differences here, probably in the range of a few dB more bass and less treble. Both have more or less quite linear tonality to my ears, while Odin sounds horizontally flat, and T1 sounds linear but slightly ramping up towards the treble. T1 brightness is I would say within the limit of my brightness tolerance, but borderline at the maximum level. Anything brighter than T1 is started to become not acceptable to my ears. I heard that there are some different batches of Beyerdynamic T1 out there with some variations on the tonality. My T1 serial number is 7230, and I'm not sure in which category of T1 variant is mine. Being moderately brighter, T1 generally sounds more transparent than Odin but also sounds thinner in comparison. T1 bass is fast and punchy but rather lean. Odin has fatter bass, not by much, just nice to give more body to the bass. Overall, I much prefer the Odin tonality for being more linear and less bright than T1. Odin tonality is more agreeable to my ears as being more natural sounding and closer to lifelike tonality. The level of perceived detail is pretty close. At first, the brighter sounding T1 might give the impression of higher perceived detail. But with closer observation, actually, the perceived detail are quite similar between the two. Odin has better-perceived dynamic, more lifelike than T1. Imaging wise, both are not as spacious as HD800, but both have good 3D holographic imaging. Sound quality wise, I prefer Odin for sounding more natural and lifelike to my ears. But being a lighter headphone, T1 is more comfortable.
Focal Utopia
Utopia to me is an amazing headphone. I'm not saying this because of the $ 3,999.- price tag, almost twice the Kennerton Odin street price, but I truly impressed by the Utopia sound quality. From all headphones in this comparison, to me, the best three are Utopia, Odin, & Hifiman HE6. If I have the money, I would like to have both Utopia and Odin, and will probably pretty much settle for a long time.  
Clarity, separation, detail, attack, and transient of Utopia are second to none. Utopia is gloriously transparent in the right and natural way. Detail and instrument separation is simply the best I've heard. Detail is presented in a very natural way without any artificial analytical artifacts. Don't imagine HD800 detail and transparency, which are good but sound rather artificial when compared to Utopia. Utopia transparency is so natural and realistic without sounding analytical. It also has better tonal density than HD800, therefore it doesn't sound thin in comparison.
Utopia has excellent transient and dynamic that are presented in a very realistic way. Bass is much faster and textured, very punchy, but slightly leaner in body than Odin. Utopia tonality to my ears sounds balanced and neutral, just mildly bright, but with good tonal density. Realistic is probably the best word to describe Utopia sound quality. IMHO, Utopia is a must for all recording studios in the world. It is just remarkably balanced and realistic sounding.
So, Utopia is clearly better than Odin technically. But as ones might guess, it is also very revealing and might not be very friendly to less than stellar recordings. Bad recordings will simply sound bad on Utopia. While Odin is more pleasing and forgiving, and more friendly for those recordings. Utopia has the ability to bring stellar recordings to the next level of musical bliss, while Odin has the ability to make not so stellar recordings sound acceptable, and more enjoyable.  
Hifiman HE-6
I'm glad to say that my old Hifiman HE-6 still competes very well with the newer Kennerton Odin. Being older and cheaper than Odin, I don't feel that HE-6 is inferior in this comparison. At least from the perspective of musical enjoyment, I would say they give me more or less a similar level of musical enjoyment. In comparison to Odin, HE-6 tonality is mildly V shape, with slightly more emphasis on the treble and level of transparency, and slightly more potent bass. When properly driven, HE-6 has slightly better dynamic than Odin. But HE-6 is well known for being one of the most difficult headphones in the world to be properly driven, while on the other hand, Odin is much easier to drive and doesn't require high power amplifier to produce lifelike and enjoyable dynamic. Currently, I use Matrix HPA-3B with around 3.8 Watt output power at 33 ohms to drive HE-6. Definitely, not the most powerful amp for HE-6, but for now I feel it is quite sufficient for HE-6. I tend to hear both Odin and HE-6 as two different headphones with more similarities than differences. They have rather similar 'planar' tonal density, quite similar in dynamic and perceived soundstage imaging. The main difference is in tonality as mentioned earlier. I do prefer the Odin tonality for a fuller and more engaging midrange, with the more intimate vocal presentation. While HE-6 can be more fun with large scale complex orchestra. In my book, they are almost equally good. If I have to choose between the two, I slightly prefer the Odin, but not by much. They are both among the most musical headphones I've ever tried.  
EFRE Result of my HE-6:  
Hifiman HE-1000 v2
I would describe HE-1000 v2 sonic signature as smooth, transparent, open and airy with neutral tonality. Dynamic and punch are rather on the soft side. Frequency extension and tonality flatness is excellent, reaching very low and very high, but it doesn't punch hard. Very polite dynamic. Bass body and punch are a bit lacking for my preference. Not anemic, but HE-1000 v2 bass doesn't sound as potent as Odin.
HE1000 V2 is slightly brighter than Odin, with nice, smooth and extended high. No peaky treble and the treble sounds better and smoother than HD800. Midrange is very neutral, but leaner, less tonal density than Odin. I actually like the HE1000 v2 neutral tonality, but I prefer to have more punch and overall dynamic. HE1000 v2 sonic signature is probably lean more towards the electrostatic type of sonic character, sweet, smooth and relax sounding. For my personal preference, I do prefer the Odin for more dynamic and thicker tonal density.  
Sennheiser HD800
Swapping HD800 and Odin back and forth makes me appreciate the comfort level of HD800. The design of HD800 with extra-large ear cups and much lighter weight (366 grams headphone only) makes HD800 a much more comfortable headphone than Odin. The large ear cups also helps to give a more spacious sensation of soundstage. On tonality, as expected HD800 tonality sounds brighter and thinner than Odin. And frankly I'm rather annoyed by the 7 kHz treble peak of HD800, therefore seldom could enjoy them for a long session of music listening. It is very transparent, but thin sounding, therefore to my ears, doesn't sound as natural as Odin which has better overall tonal density and dynamic. I do like HD800 for the comfort, transparency, and spacious soundstage, but to be honest, having HD800 for many years, it doesn't give me musical enjoyment as much as I got from Odin from the last 2 months. Odin is more musically engaging, provides balanced stimulation to both my left and right brain hemispheres. While I feel that HD800 stimulates my left brain much more than my right brain. For comfort, transparency, and spacious soundstage, HD800 is the king. But when it comes to balanced, natural, and lifelike sonic character, in my opinion, Odin is the better headphone.  
EFRE result of HD800 based on my hearing:  
ATH-R70x
I reviewed ATH-R70x last year. Here is the link if anyone interested:
http://www.head-fi.org/t/765004/audio-technica-ath-r70x-in-depth-review-impressions
ATH-R70x and Audeze LCD2 are probably the 2 headphones in the group that tonality wise closer to Kennerton Odin, with LCD2 being the closest. ATH-R70x has a tad fatter bass and better, 'more shaking' sub bass, but not as clean and textured as Odin's bass quality. I actually feel the ATH-R70x vibrates on my ears when there is earth shattering sub bass on the tracks. It probably due to the light driver frame of the R70x. Vocal sounds more intimate on R70x with slightly more forward presentation. Odin has better overall clarity, perceived detail, and instrument separation. Stereo imaging is more spacious and holographic on Odin. I put ATH-R70x with Odin in the same group is for the reason that those who like the sound signature or ATH-R70x will most likely love Odin sound signature, and consider Odin as a great improvement over the ATH-R70x.  
EFRE Result of my ATH-R70x:  
Audeze LCD-2
Kennerton Odin is pretty much an LCD-2 with improvement in detail retrieval, instrument separation, clarity, transparency, and dynamic. Tonal balance is pretty close between the two, obviously not exactly the same but pretty close. For those who love LCD-2 tonality, and wish to have some improvement in detail, clarity, and dynamic, Odin is a must try. It is almost that simple, that I think that I don't have to write more about the comparison between the two.  
Audeze LCD-4
I had 3 different sessions for LCD-4 auditions. Twice with the 200 ohm version paired with Woo Audio WA5-LE amplifier at AV One Singapore, and once with the 100 ohm version paired with around 7 watts discrete DIY amplifier that belong to a friend. Odin was compared side by side with the LCD-4 using the same setup. I tend to like the 100 ohm LCD-4 setup slightly better for sounding a tad more lively, but the difference is not much. Both LCD-4 that I tried are generally warmer sounding than Odin. Odin has flatter and more balanced tonality in comparison. LCD-4 has more midrange and midbass emphasize, while Odin has more treble sparkle and extension. LCD-4 has slightly better dynamic and punch. Mid-bass punch is better on LCD-4, while Odin has slightly better sub-bass to mid-bass balance. Perceived detail, clarity, and instrument separation is slightly better on Odin, but not by much. Probably the more sparkling treble helps in the perceived detail and clarity. LCD-4 sounds a tad smoother and has a kind of cohesiveness to the sound that somehow makes the instrument separation less clear than Odin. Perceived size of soundstage is more or less similar, with Odin sounds slightly more spacious and holographic and the LCD-4 sounds closer and more intimate.  
In general, I would say the LCD4 has the extra oomph, especially on vocal. Vocal has more presence and sounds fuller on LCD4. Those who love vocal would probably choose the LCD4 over Odin. But in my opinion, Odin is a better all-rounder, and less polarized towards a any kind of musical genre.  
Features and Build Quality
Planar Magnetic Driver
I suggest visiting the Kennerton website to read more about the new 80mm planar-magnetic driver that is designed from scratch by Kennerton, as well as other design highlights. Planar magnetic is not a new technology, but the interesting part is how Kennerton improves the conventional design in their own planar magnetic driver. It was mentioned that Kennerton uses a reliable and durable multi-layer 10µm polyimide film diaphragm, and also unique semicircular FEM-Optimized bar magnets system to improve the driver response and reduce distortion. I attached the scan copy of the leaflet included in the package, to show the construction of the semicircular magnet bars.  
One advantage of the planar magnetic driver is the constant impedance across the audio frequency spectrum. It translates as a constant load to the amplifier regardless of the frequency. Unlike common dynamic driver that usually has frequency specific impedance, that is inconsistent across the audio spectrum. Rated at 35 Ohm with 104 dB sensitivity, Odin is easy to drive and doesn't require a powerful amplifier.
Amplification & Gear Pairing
The loudest volume I ever set to play some soft sounding recordings was around -10 dB on my Geek Pulse XFi unbalanced output, at high gain. My listening volume is generally around -20 dB. The -10 dB unbalanced output was measured 2 Vrms on my oscilloscope, while -20 dB was around 0.64 Vrms. Therefore any player or amplifier that is able to output 2 Vrms at 35 ohms, or approximately 115 mW output at 35 ohms, would be able to drive Odin with sufficient loudness. These days, many modern DAPs have 2 Vrms maximum output or more, with output power ranging to a few hundred mW. Those powerful modern DAPs would be able to drive Odin with sufficient loudness. Adding an additional 6 dB headroom, in the case that louder volume is required, it is translated to -4 dB volume on my Geek Pulse XFi unbalanced output, which is 4 Vrms, which is approximately 460 mW output at 35 ohms. 500 mW output is quite common for desktop amplifiers, and not considered high power output. Therefore we can conclude that Odin doesn't require high power amplification, and relatively easy to drive.
Any source with around 150 mW output at 35 ohms would be sufficient, and around 500 mW (or higher) output at 35 ohms is recommended for Odin.
Odin is easy to drive in the sense that we could get adequate loudness even from a not so powerful DAP. But from my observation, bass will suffer when not properly driven. Bass may sound loose and less textured when not properly driven. When properly driver using good amp, bass is clean and tight with realistic texture.  
During the 2 months period with Odin, I've tried Odin with some DAPs & DACs such as AK70, Onkyo DP-X1, Cayin i5 (only short period), Chord Mojo, Chord Dave, Geek Pulse XFi, ifi micro iDSD + iCan, Yulong DA8, Questyle CMA800i, Questyle CMA600i, Matrix HPA-3B amplifier, and some other amps. Odin with its musicality can easily sound good and enjoyable with all of them. But it doesn't that Odin sounds more or less the same with all of them. Odin clearly reveals the source and amp signature quite well, but it has the ability to sound good with most gears. For DAPs like AK70 and Onkyo DP-X1 using the balanced output is highly recommended for extra power and better driveability. The 3 most frequent sources I used during this review is the Geek Pulse XFi, Questyle CMA600i, and Chord Mojo. My personal preference for Odin is the Geek Pulse XFi which gives a tad extra body to the bass for a more engaging musical experience. Questyle CMA600i and ifi micro iDSD + iCan combo are also highly recommended for a faster transient and dynamic. So even though Odin is easy to drive, but it also scales well with some gears that match well with Odin's sound signature.  
Stock Cable
The cable is detachable using 4 pins mini XLR, with similar pin assignment as the Audeze LCD headphones. So Audeze LCD headphone cables can be used for Odin and vice versa. I don't understand why Kennerton decided to use a 3.5mm jack for the stock cable. Probably to show that Odin is easy to drive and can be driven from portable players. But I still consider stock cable with a 3.5mm jack for a headphone at this caliber is not a proper setup. I do believe that most Odin users will use a desktop amplifier or DAC to drive it. Therefore the 6.5mm stereo jack is more proper for the stock cable. I even think at this price Kennerton should have included a balanced cable with 4 pins XLR.  
The quality of the stock cable itself looks pretty good, but unfortunately, as mentioned earlier, the 3.5mm jack's barrel has no cable strain relief, and the metal barrel will eventually erode the cable braided sleeve and jacket. and this is what happen after it was being used for the demo set in Zeppelin, for a few weeks.  
I strongly suggest to Kennerton to include proper cable with 4 pins XLR or 6.5mm stereo jack as the stock cable for Odin.
To test the balanced connection, I made a balanced cable for Odin. Though I honestly didn't hear any major improvement using the balanced connection, there was a mild audible improvement in bass tightness and control. Impressions in this review are based mostly on the balanced DIY cable.  
Headband and Ear Cups
The headband is very sturdy and well designed. Weight distribution is cleverly done using a simple and effective solution, by using a leather strap under the headband to evenly distribute the weight over the head.  
Kennerton chose tighten-to-fix slider rather than the flexible one, and it is made of solid aluminum. I guess to properly hold the heavy drivers, this solution is much more durable. To adjust the slider, the metal screw must be loosened, and later be tightened after adjustment is made.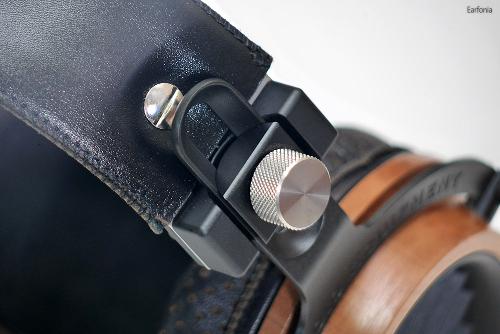 The ear pads have a large inner hole, approximately around 6.0-6.5 cm in diameter. It is large enough to cover my ears comfortably. The ear pads are made of real lambskin leather that I expect will be quite durable.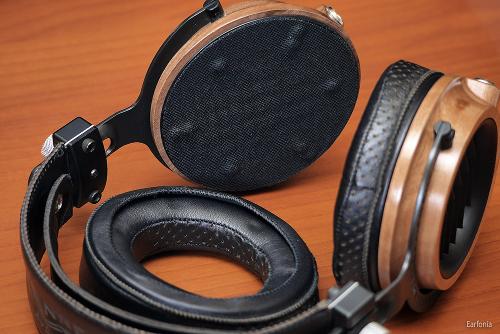 Weight
At 665.7 grams (headphone only) Odin is considered a heavy headphone. From my observation, 400 grams is more or less the borderline for generally comfortable headphone weight. More than 400 grams, we will start to feel the headphone as heavy. Having said that I had many sessions with Odin for more than an hour continuously. And one time 2.5 hours straight without putting it off. Yes, it is heavy, but for me the comfort is still acceptable, and I think some high flyer Head-Fi'ers shouldn't have any issue with the weight, considering the excellent headband weight distribution.  
For comparisons, below are estimated weight of some headphones that I have (or had):
Audio-Technica R70x : ~210 grams
Sennheiser HD 800 : ~330 grams
Beyerdynamic T 1 : ~350 grams
Beyerdynamic DT 880 Pro : ~295 grams
Philips Fidelio X1 : ~300 grams
Hifiman HE6 : ~502 grams    
Wooden Case
Kennerton Odin comes with a very nice wooden case. But unfortunately, the wooden case is not very useful for daily use. The nice wooden case cannot accommodate Odin with the headband extended, and with the cable attached. The user has to remove the cable and adjust the headband every time they want to keep Odin in the wooden case. So, we can consider the wooden case is practically useless, and we will need another case for daily use.  
Conclusion
Kennerton Odin is all about musical enjoyment. It might not be the most technically superior headphone, but definitely one of the most enjoyable sounding headphone that I've ever used. With Odin, I found it is so easy to get emotionally connected to the music, an important feature that often rather weak on other technically superior headphones. Odin is an excellent example of how to set all sonic elements in a balance proportion to achieve optimum musical enjoyment. I do hope that if in the future Kennerton will be releasing a newer version of Odin, they could reduce the weight for better comfort while maintaining the sound quality. I highly recommend for everyone to have some musical experience with Odin. Kudos to Kennerton!  
Specifications:
Driver Type : Open Backed Planar Magnetic    
Driver Unit : 80 mm    
Frequency Response : 15-50000 Hz    
Sensitivity : 104 dB    
Impedance : 35 Ohm    
Cord length : 2 m detachable copper cable (3.5 mm)
Weight without cable : 666 grams    
Equipment used in this review:
Headphones:
Audeze LCD-4
Audeze LCD-2
Audio-Technica ATH-R70x
Beyerdynamic T1
Focal Utopia
Hifiman HE-6
Hifiman HE-1000 v2
Sennheiser HD800
DAPs, DACs & Headphone Amplifiers:
Astell&Kern AK70
Onkyo DP-X1
Chord Dave
Chord Mojo
Geek Pulse XFi
ifi micro iDSD
ifi micro iCan
Questyle CMA800i
Questyle CMA600i
Matrix HPA-3B
Yulong DA8
Computer & Player:
DIY Desktop PC: Gigabyte GA-H77-D3H-MVP motherboard, Intel i7-3770, 16 GB RAM, Windows 7 Home Premium 64 bit SP1.
foobar2000 v1.3.12  
Some recordings used in this review: