KB EAR Lark: A Melodious Pleasing Avian
Pros
:
• Sufficiently balance-sounding IEM.
• Good all-rounder set.
• Elegant looking shell.
• Smooth and mature tuning.
• One of the most generous audio companies on putting up a substantial amount of included accessories.
• Decent technicalities.
• Ample resolution quality for its price value.
Cons
:
• Too recessed and laidback mids especially on vocals and percussive instruments in my liking.
• Treble quality needs more refinement.
• Wishing for better stock cable.
"Larks are one of the most adaptable species of birds out there, they can produce that melodious and high pitch singing especially on their call to mating ritual and even to a simplest communication, they can mimic some of other birds' chirping and churrs too."
Oi! welcome to my another IEM review article and I'll do another product review from one of the fastest growing audio companies in the current market,
KB Ear
.
I previously done some reviews on their product twice,
KB Ear KS1
and the successor of this product, The
KB Ear Robin
. If you are interested on their other products, you can check it out the links below after this statement.
KB Ear KS1
:
https://euphoniareviews.blogspot.com/2021/03/kb-ear-ks1-kilo-sierra-uno.html
KB Ear Robin:
https://euphoniareviews.blogspot.com/2021/11/kbear-robin-good-decent-performing.html
What I have here is the
KB Ear
Lark
, this is the first product from their line of "Birds" series. As I mentioned that I've done a review on its successor unit, both have a hybrid driver system but this one has a single BA (balanced armature) driver as opposed to a quad BA drivers to its successor.
KB
Ear Lark
has a 10mm dynamic driver that handles the low end and a single custom BA's made by Bellsing for mids and highs frequency range that were regulated by an electronic frequency divider.
The shell of
KB Ear Lark
has different materials on each section as its face plate is made of zinc alloy, an opaque polycarbonate plastic on its cavity base ( mine has pale purpleish colour) and an aluminium alloy on its nozzle. The shells a little bit on a hefty side but It was well-constructed and of a good quality standard. The metal face plate has a debossed honeycomb pattern and very fine, laser-etched "
KB Ear"
word at the bottom. It has a 2-pin connector that reminds me from the one's implemented on TFZ's which sturdy and proven design
Ergonomically-wise, when it comes on fitting and comfort. The shells' contour fits alright in my lug holes as I don't feel any unpleasant experience as it has smooth finish on its sides without any roughness or misalignment construction on the sandwiched polycarbonate and metal. As I insert it into my lug holes, I feel that it has an average sealing that it barely blocks the noises from external source due to the nozzles are bit wobbly into my ear canal.
When it comes to packaging and inclusion of accessories, KB Ear is the few audio companies are impeccably generous on putting up some contents and on how they are place in orderly that make unboxing experience pleasing and enjoyable. The box itself has a white colour cardboard sleeve with the picture of the product at the front and some basic information on specifications and address at the back.
Here are the following contents that you will find inside the box:
A pair of KB Ear Lark
Three (3) pairs of black ear tips of different standard sizes.
Three (3) pairs of white ear tips of different standard sizes.
A white 4N SPC cable with a L-shaped 3.5mm termination plug.
A canvas zippered IEM case.
Instruction manual.
As for connectivity from its source, this IEM is easy to drive as they can use to decent sources such as laptop, smartphones and tablets. Putting them on a more better sources such as good quality devices with DAC/Amps will scale them even better as they sound even more fuller and produce better resolution.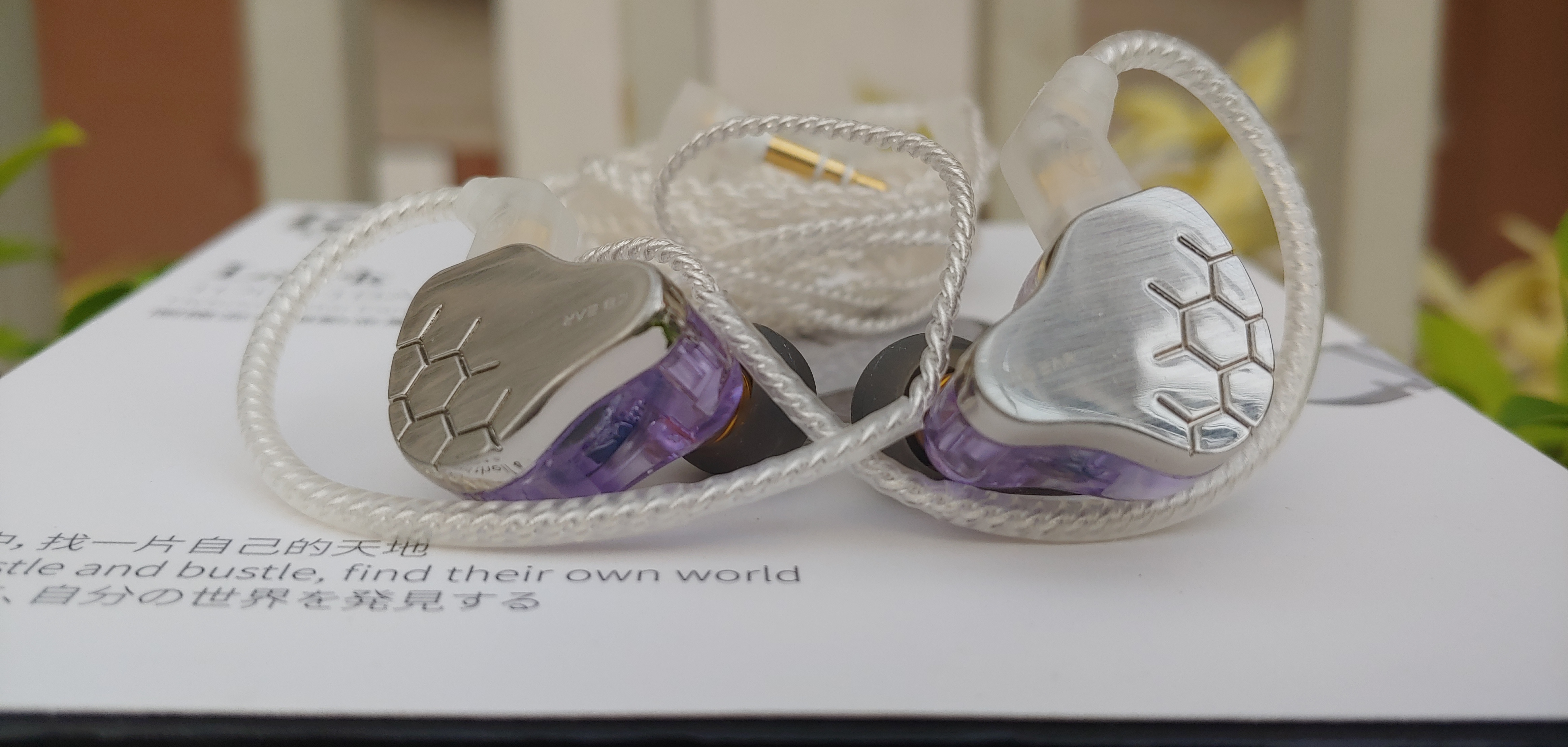 The sound signature of
KB Ear Lark
is more on v-shaped tuning as bass and treble are more prominent that the mids' placement is more on neutral and deep-seated in the audio frequency spectrum.
Here are some of my observation on each segment of audio frequency spectrum.
LOWS/BASS:
The bass is prominent on this IEM as it sound more punchy, precise and definitely has an ample slam, to think that sub-bass is more prominent on the bass region.
The sub bass is quite impressive as it has a good extension that it really produces a grumbling when I play some bass-intense tracks. Mid bass has decent amount of weight note to give a substantial texture on bass kicks, bass guitar and some male vocals. Authoritative bass kicks, a growl and more earthy sound of bass guitar and a more throaty quality on bass-leaning male vocals.
Overall, bass quality is decent enough that some ardent bassheads will probably accept the Lark's bass as sufficient and satisfying.
MIDS:
In this part of audio frequency spectrum, here will I layout my critique on KB Ear Lark. In my impression, I find it subdued, recessed and leaner that it doesn't suit my preference as I want my mids has more forward vocals and more natural, well-textured and accurate timbre on instruments.
Despite of my skepticism on its midrange, It still find it as a clean, neutral and detailed. The vocals of both gender performs well as male vocals has a decent and leaner weight note but still deliver a clean and definition while the female vocals will be more benefited on this one as its has that more transparent and openness as their voices has that pleasant and sweet quality albeit it is sound a bit thinner.
When it comes to the tone colour of each instrument, I find it more benefited more on strings and wind instruments rather than percussions due to it more brighter timber as it gives off a more crisper sound of a guitar, more reverberating quality in violins and shrilly and edgy sound of a sax. Percussive has a less penetrating, sustaining, crackled and less detail sound especially on snares and bongos.
Despite on my reservations on the quality and quantity of the mids, I still find it more mature and pleasant to listen compare to some contemporary IEMs at almost the same price range.
HIGHS/TREBLE:
The trebles performs decently but here some of my observations; It has an enough brightness just to give a crisp, sparkling and decent airy extension.
In most tracks, it delivers that uneven smoothness as I noticed that's it shows a sibilance if the tracks was intendedly mix to be sibilant and a hissy one a bit, And a hint of strident and gratin sound to high pitch female vocals in some vocal-centric tracks (probably due some adjustments on fixing the first tuning of Lark which reported to more boosted that cause a harshness but treble on this one sounds leaner and leaning towards being brittle sounding).



Cymbals strikes has a satisfactory shimmer and natural airy extension while hi-hats sounds less muted as it has ample definition and harmonic range.
Summarily, if I rate the quality of treble, I give it just as a barely passable mark as they don't really sound bad nor spectacularly impressive.
SOUNDSTAGE, IMAGING AND OTHER TECHNICALITIES:
In my estimation on overall dimensions of its sound field, it has an above average on width, just enough depth just to be able to sense a deep and more emphasis on height. Imaging performs up to the mark one, not the most accurate on pinpoint the exact location as I hear in some IEMs but for its price range compare to other products at the same price bracket, KB Ear Lark performs well.
Separation has a little bit sense of gap and spacing on between instruments and vocals, Just have an enough distance if I perceive but the layering aspect is laudable, the fact that on how the rows and its placement of each instrument has a good overlay and stack on each segment especially on orchestra that plays classical and movie scores.
Driver coherency performs decently for a hybrid that they sound well-balanced without being uneven phasing and imbalance sounding. When comes to the timbre, it has bright and has "BA" tonality due to sounds metallic.
The DD is more a bit more sedate as its transients speed is performs sluggish and decay has a gradual pacing.
As I render my verdict on my assessment on
KB Ear Lark
, if you observe that I'm quite pointing out some of its flaws and inadequacies to sound more of a critique on this product rather than being buoyant and yet I still give a 4-star mark, one of the reasons is that
KB
Ear
gives an importance on its customer's satisfaction on how they present their product very well-organise and very presentable with a substantial amount of included accessories compare to its competitors that usually provided their set with just bare-bones accessories. Second is their products aesthetics and presentation for its quality and in well-organise manner and lastly, their tuning which is more mature and refined compare to some IEMs when it comes to V-shape tuning.
And to be honest, It will be a hard to sell that I will recommend this one to a more experience audio enthusiast who were more attuned to neutral and less coloured sound signature, But for a starters and beginners who want a better sounding and decent technicalities set than their previous more casual "consumer-friendly" tuning earphones then
KB Ear Lark
is a better option.
The
KB Ear Lark
pricing is around
US$29/£22
and still available to all e-commerce sites.
SPECIFICATION

:



MODEL: KB EAR LARK

IMPEDANCE: 16Ω

SENSITIVITY: 106dB

FREQUENCY RESPONSE: 20Hz - 20KHz

CABLE LENGTH: 1.25M

PIN TYPE: MMCX CONNECTOR

PLUG TYPE: 3.5mm

DRIVER UNITS: 1 DYNAMIC DRIVER AND 1 BALANCED ARMATURE DRIVER.
PROS:
Sufficiently balance-sounding IEM.
Good all-rounder set.
Elegant looking shell.
Smooth and mature tuning.
One of the most generous audio companies on putting up a substantial amount of included accessories.
Decent technicalities.
Ample resolution quality for its price value.
CONS:
Too recessed and laidback mids especially on vocals and percussive instruments in my liking.
Treble quality needs more refinement.
Wishing for better stock cable.
Some Tracks Tested: ( * = 16-bit FLAC, ** = 24-bit FLAC, *'* = MQA, '*' = DSD, *'= .WAV)
Alison Krauss -When You Say Nothing At All *

Jade Wiedlin - Blue Kiss**

Led Zeppelin - When The Levee Breaks **

Mountain - Mississippi Queen *

Queen - Killer Queen **

Guns N' Roses - Patience *'*

Eric Clapton - Tears in Heaven '*'

Sergio Mendes- Never Gonna Let You Go '*'

Pearl Jam - Daughter **

Roselia - Hidamari Rhodonite *

Assassin - Fight (To Stop The Tyranny)*

Celtic Frost- Visual Aggression *

New Order - Blue Monday *

The Corrs- What Can I do (unplugged version) *

Jimi Hendrix Experience - Voodoo Child *

The Madness- Buggy Trousers *

Metallica - Motorbreath **

Mariah Carey- Always Be My Baby *

Destiny's Child - Say My Name *

Malice Mizer- Au Revoir *

Mozart - Lacrimosa *

New York Philharmonic Orchestra - Dvorak- Symphony 9 " From the New World." *

Eva Cassidy - Fields of Gold (Sting cover)*

Michael Jackson - Give In To Me *

Exciter - Violence and Force *

Diana Krall - Stop This World **

Debbie Gibson - Foolish Beat *'*
P.S.
I am not affiliated to
KB EAR
nor receive monetary incentives and financial gains as they provide me a review unit for an exchange of factual and sincere feedback from yours truly.
Once again, I would like to thank Wendy Li for providing this review unit, I truly appreciate on her generosity towards me and other reviewers.
If you are interested this IEM product from
KB Ear,
Just check out the link below:
Facebook:
https://mobile.facebook.com/kbearofficial1/
Ali Express:

https://kbear.aliexpress.com/store/5017064
Last edited by a moderator:
Revisiting the KBEAR Lark (a new set that fixes the treble?)
Pros
:
FR up until the Treble
Much better than the original set I reviewed
Price
This content is also available in Spanish on my blog and on YouTube, links at the end of the post.
As I mentioned in my recent review of the KBEAR Robin, KeepHiFi sent me both the Robin and a new set of Lark in order to compare them between themselves and also compare the Lark against the version I received late last year that had not so great highs (I'll explain more in a moment).
KeepHifi have not requested anything specific, so, as always, my review will be as sincere and unbiased as possible, however, it is always good to consider the fact that these products have not cost me anything.
I have left (non-affiliate) links to KeepHifi and the Lark in the version of this review posted on my blog.
Intro…
For those that haven't read my review of the
KBEAR Robin
that I published recently, here is a quick rundown of why I am revisiting the KBEAR Lark almost 9 months later.
When I originally reviewed the Lark, a review that you can read
here
, I mentioned that the treble area had some serious problems. I am not going to go into detail (you can read the original review for that) but it turned out that there were two different revisions of the Lark (or so it seemed), where one had issues with the treble and the other didn't. I never got to try a different set of them so I just thought that I probably had a set with the issues.
When KeepHiFi offered to send me out another set (after mentioning my previous findings) in order to compare them with the Robin, I thought it would be good to also compare them with the original set I have, to see if I really did get a bad set.
Well, first, I can certainly say that the treble is different on these, definitely better than on the original set.
Usual review…
As the only thing that seems to be different is the treble, I am not going to go through all the usual steps of creating a full review, you can read the original review for that, I am just going to focus on the differences between these and the originals, compare them to the Robin and add a couple of comparisons to other similarly priced alternatives.
KBEAR Lark v1 vs V2…
As far as I am aware, there is absolutely no way of knowing which set is which without listening to them, or if there is, I haven't found it.
In fact, I don't think that it is actually a v1 and v2, it is more a case of some sets that were either assembled differently or the BA driver was different, again, this is just speculation because I have not found any details on it, just various examples from different people (including measurements). However, for the sake of simplicity, I am going to call the ones I reviewed last year the v1 and the new ones I have received v2.
In the lower ranges, the sound is as identical as you can expect, considering possible placement changes when swapping between v1 and v2, along with a different choice of tips. My opinion of the bass and the mids has not changed from my original review, the only (major!) difference is in the treble.
Let me point out that the treble on the v2 is still far from perfect, but it is also a very long way from the mess that was (is) the v1.
With the v1, I opted to use the included silicon tips as I found the foams to result in too much of a thin sound. With the v2, I have found myself using foam tips. The reason for this is that, although I prefer the bass and mids with the silicone tips, the treble is a little harsh for my tastes and after playing around with multiple tips, I find that the foams reduce it just enough to make it more comfortable. Yes, I am losing a little in the lower regions in order to tame a peak or two in the highs, but I find it to be my preference with these IEMs.
The v1 presented a peak somewhere in the middle of the sibilance range, this is much reduced on the v2 but is still quite noticeable. In fact, it is noticeable with the foam tips, with the silicone tips I find it to be rather unpleasant. There is still a touch of harshness that reminds me of the v1 but where the v2 is much improved is in the extension.
On the v1, there was a very noticeable drop off after about 12kHz, something that the v2 does not exhibit. In fact, the extension of the v2 is miles better, being an extension I would expect from a hybrid set of IEMs in the under 50€ category, actually more extended than a lot of IEMs in this range.
The treble, except for that peak, is actually rather smooth, the main problem lies in that peak. Apart from the usual sibilance tests, voices like Paul Simon on
Graceland
can be rather harsh when volume is increased.
I have no doubt that the v2 is much better (in the highs) than the v1 I reviewed, however, I still find the treble too harsh and it still shows that metallic timbre of the BA driver in the upper ranges.
My conclusion would be that the Lark v2 does not sound broken like the v1 did but it is still a shame that the BA is not up to the quality of the DD.
KBEAR Lark (v2) vs KBEAR Robin…
Now, this is the main reason for KeepHiFi sending me the new version of the Lark, however, there is a slight problem:
Yes, that is the nozzle of the Robin inside the tip. That is not some new crazy tuning method, it is actually the nozzle that has separated itself from the shell.
This is an issue that I have not experienced before, nor have I heard of this issue with other KBEAR units, so it is most probably an isolated incident, but let's face it, stuff happens. All brands and models can experience some kind of issue and, to me, the most important part is how the seller/manufacturer responds to the issue.
In this case, KeepHiFi was very apologetic and was more than willing to resolve the issue by replacing the faulty pair. However, as these IEMs were sent to me free of charge, and I have already performed the listening tests necessary to both review the Robin and compare it to the Lark, I do not need them to send out a new pair.
KeepHiFi made it very clear, in my conversation with them, that they have a warranty and they will work with anyone who has issues with any of their products to resolve the situation. I really don't think that we can expect anything more from a seller than for them to stand behind the products they sell and treat the customers fairly when something happens. They obviously are not to blame for the issue, they don't manufacture the IEMs, but came across as being very interested in both resolving the issue and passing the information on to the manufacturer directly.
So, anyway, the sound comparison…
I am only comparing sound as everything else is the same (shape, build, etc.), the only difference is the 1DD + 1BA of the Lark vs the 1DD + 4BA of the Robin.
Now, at first I thought that the DD driver in both of these was the same, now I am not so sure. To be honest, I have absolutely no idea what driver is used in each of these, they might very well be the same just with different tuning, but I find the Lark to be more enrgetic.
In my review of the Robin, I mentioned that sometimes I found the lows to invade the mids a little when playing longer, more pronounced bass notes. After more listening, I find that it is more of the case of the DD not being quite up to the task. I don't know where the crossover happens, in other words, I don't know where the DD drops out and the BA kicks in, but if the DD is covering the lower mids along with the bass, the lack of speed would certainly explain the feeling I get from it.
The Lark, on the other hand, I find to be much better at resolving these same frequencies and to be more capable of staying clear when things get a little hectic in the lows (extended rumbling bass, multiple bass lines simultaneously etc.). So, what I am basically saying is that I prefer the lower range of the Lark over the Robin.
In the treble range, I find the opposite to be true. In comparison to the Lark (v2, as the v1 was just not comparable), the Robin does not have that harshness that I find in the Lark. There are still a couple of moments when some slight sibilance will raise its head but it is by no means harsh like the Lark is. The treble of the Robin is far smoother and seems much more precise, without the harshness and even the BA metallic timbre is not as apparent.
If I could, I would take the lows of the Lark with the highs of the Robin, I feel this would make for a much more balanced set.
KBEAR Lark vs Kinera BD005 Pro…
The Kinera are another set of hybrids under 50€ that I reviewed recently
here
. I also did a comparison of the BD005 Pro against multiple other sub 50€ offerings in that review. Therefore, I feel that a comparison of the Lark to the BD005 Pro will serve to also compare against some of the other units in that review.
First let me say that the BD005 Pro benefit from a little extra amplification, whereas the Lark will be happy running off almost anything that has a headphone jack. For this comparison, I used the Apple Dongle, which does not bring the best out of the Kinera (in my opinion) but is more than enough to run them both, probably better than the majority of phones that these will be connected to by the majority of users.
The reason I mention the source (apart from the fact that it is a break from my normal set up for testing) is that I feel that the lower regions (subbass through to low mids) are very similar on both sets when using the Apple Dongle. With a bit more amplification, such as the Atom, I feel that the BD005 Pro becomes a little more articulate and the lows to mids is a little cleaner. With the Lark, I don't find that the extra amp really makes any difference in this respect.
The tonality of stringed instruments in the lows and mids I also find a little better on the Kinera. It is not night and day but I do feel that the Kinera seems a little more lifelike, maybe even just a little warmer.
Both sets have slightly recessed mids, maybe slightly more on the Kinera but I think that it is the fact that the bass is a little more present at times than on the Lark, making it appear more of a recess than it is. I really couldn't say which of the two I prefer in the mids.
In the treble, neither of them are my thing. The BD005 Pro has too much treble in my opinion, however, the Lark has less treble but is harsher. At low volumes (most of my listening is at low volumes but I mean even slightly lower), I would pick the Lark as the harshness is not quite as noticeable when at low levels, however, when increasing the volume levels (not by a huge amount, just slightly over my normal listening levels), the harshness of the Lark appears and I find it more uncomfortable than the boosted treble of the Kinera.
Conclusion…
The KBEAR Lark does sound better than I said when I reviewed it back in December. As suspected, the unit I reviewed originally had issues with the treble and this new set has proved the point.
However, sounding better than the other set is not quite enough for it to sound great in my opinion. That harshness in the treble is enough to take away the enjoyment in my case. It may not be an issue for others, maybe the peak is exactly at a point that is sensitive for me, but I can only comment on what I hear personally.
Is the KBEAR Robin worth it over the Lark, which is really the whole reason for revisiting the Lark, I would say yes. I do find the low end to be a step below on the Robin in comparison to the Lark, but it is not something that makes it unpleasant enough to avoid it, at least for me. I listened to the Robin all week and at my usual listening levels, the bass was just something I noticed on tracks with heavy bass. However, the harshness on the Lark is something I notice on (almost) all music, unless I am at very low levels.
www.achoreviews.com
www.youtube.com/achoreviews
KBear Lark
Pros
:
Fantastic value
Good design
Great accessories
Hybrid technology
Warm, punchy sound
Cons
:
It costs as much as a good dinner, ain't gonna nitpick
​
KBear Lark is a very affordable hybrid (1 Dynamic Driver + 1 Balanced Armature) metal IEM
.
It'll cost you $29.99.
---
Packaging​
You're getting a large set for this price!
In terms of packaging
KBear Lark
actually gives us a set that we would find attached to plenty of $100 range IEMs. Inside typical black packaging with golden accents we're getting small fabric case, 4 pairs of black silicone tips, 3 pairs of white silicone tips, IEMs themselves and a cable. In some cases I don't think you would be able to buy all these accessories alone for 30 bucks, which means that even without IEMs you're getting pretty great
bang for the buck
!
Build Quality & Cable​
That sweet transparent design!
KBear Lark shells are made out of zinc alloy and plastic. Starting from the sleeve, it's painted gold. In the middle the sleeve is slightly recessed which is going to prevent tips from falling off accidentally which can result in losing them or leaving in our ear canals. I personally do like what
KBear
have done with plastic material. It's fully clear and transparent, which means you can easily look at all the drivers, wires and soldering inside. In my opinion it actually looks very cool! At the top we can find a metal part, metal faceplates to be exact. They have a very nice looking brushed finish as well as some honeycomb-like styling. In terms of the fit,
Larks
are medium sized in diameter. Not the tiniest IEMs but also not the largest so if you don't have an ear canal of a 5-year-old child you should be fine. Isolation is pretty good as well especially when you'll swap tips for something nicer such as
Final E-type
.
That beautiful minimalistic metal faceshield.
That faceplate certainly has a unique pattern which I've never seen before and in this regard
Lark
gets a huge plus from me for overall design, because we cannot forget about it… it's just $30 and I will probably remind you about that few times more because
Lark
can easily be a great gift for people who don't really care about their audio devices but are kinda annoyed with replacing cheap-o earphones from thrift store every month or two.
I also have to remind you about that because every time when I was checking IEMs within this price range (looking at you
Blon BL-03
) or even slightly more expensive, cables were simply rubbish and most of the time they were just painful to use or in some cases purely unusable. Fortunately not in this case. We're getting 4 core silver plated cable with encased 2 pin 0.78mm connectors and on the other end angled 3.5mm jack. It's not the greatest cable I've ever used but surely it's not annoying in any case. It's not microphonic, hard, never tangles or have a tendency to develop knots while being carried in pockets. Just very well put cable, but in case if you'd like to swap it and you're afraid about this encased design, don't worry. Standard exposed pins design fit without any issues.
Sound​
Inside those shells we're getting a popular these days hybrid combination of
Dynamic Driver
as well as
Balanced Armature
. Impedance is only 16 ohms but I find them not very picky in terms of the noise. They are also very easy to power. Phones will drive them just fine which is also a very big plus especially for a pair in this price range. You can basically use whatever to listen to them.
It's time for sound so let's start from the bottom with my favorite part of frequency range.
'The Bass'
of course. This is a strong point of those IEMs. You can definitely hear it and sometimes even feel it. Larks in general are pretty warm earphones with sub-bass focus. With that said they aren't muddy bass monsters although it's true that some of its bass bleeds a little into lower mids but fortunately you're not losing any precious detail nor separation. You know… it's just that moderate spice that you're adding to your dish so you'll make it much more interesting in result.
I really like that brushed finish.
Now let's talk about midrange. Since
KBear Larks
can be described as
V-shape
earphones then it's no surprise that we will find some dips in this part of frequency range. The most significant one can be noticed somewhere around
1 Khz
. It doesn't sound dull but some vocals just sound like they aren't the most important part of the track, because sometimes you hear them more behind you instead in front of you. However, you're still preserving all the detail and soundstage so if you're not into mid-focused pairs, you should be fine.
I really can't find anything to complain about…
I have to say that
treble
is probably the weakest part of these. Detail, separation, clarity, you can check all these boxes.
Treble
is simply crispy… sometimes little too crispy. There were some rare occassions were violins and japanese female vocals were simply too aggressive. Sometimes it even exposed sibilants but nothing extreme in this regard. You'll hear all the instruments and small nuances but some of them will sound very thin and unpleasant. Although not all of them so don't cross out them only because of that. In fact, I think you should buy them nonetheless because there's a good reason for it.
Yes, you already know it.
Only 30 bucks~
Summary​
You can't get more for this kind of money!
KBear Lark is one of the greatest options in its price range. You're getting a very nice packaging, plenty of tips in different sizes, very useful roomy case as well as cable that does not bother you and all of that for just $30! You just have to sacrifice your single dinner at the restaurant and many of casual listeners will find their endgame in those.
Highly recommended!
---
Gear used during this review for the sake of comparison and as an accompanying equipment:
Headphones – DT 1990, BLON BL-03, Oriolus Finschi, Tripowin TC-01,
Moondrop Blessing 2 Dusk
Sources– Sony ZX300, Pocophone X3, Earmen TR-Amp
KB EAR LARK
Pros
:
Very nice bass response and quality, detail-oriented, clarity, value.
Cons
:
Overly aggressive treble, quirks in its tonality.
LARK | Overall Score: 7.3/10

More reviews at: www.perrivanaudio.com

Driver Setup: 1 Dynamic Driver + 1 Balanced Armature


Price: 26.49 USD
Intro ​
Disclaimer: Disclaimer: This review set was graciously lent to me by a friend and the review is written of my own accord.
(The LARK with a NICEHCK third-party cable)
Previously, KBEAR managed to deliver a superb value proposition with the KS2 that puts a smile upon the budget audiophiles. Although the KS2 wasn't phenomenal for the price, it certainly served as a good reference when it comes to value. With this new release of the LARK, we are excited to see what KBEAR has in store for us.
Accessories and Build Quality (Score: 6.0/10)​
The LARK comes in a KBEAR themed box which is common to see in their product line ups. Inside the box, you will see the earpiece themselves as the centrepiece and 2 boxes that are specifically designed to fill the spaces. Moving to accessories, the package comes with 2 sets of ear tips (black and white), a nice carrying case as well as a silver-coloured 2-pin cable. It is not really super quality stuff you see in those higher-end offerings, KBEAR covered all grounds here while keeping it affordable, kudos to them.
Moving on to the build of LARK, it seems polished and feels sturdy to my hands. In my opinion, the back-metal plating design was a fashionable choice and appeals to my inner bias of these designs. In general, the LARK's robust exterior will be able to handle your daily knocks and scruffles well and not fail.
The included cable was not as impressive though, it tangles relatively easily and isn't that well made. No serious qualms or gripes here given the relatively low MSRP that they are asking for. The cable works but it is one of those common stock cables you get from most budget offerings.
Fit (Score: 9.0/10)​
I have to say that the LARK fit my ear really well and I didn't face any major discomfort when putting them on. On top of that, I was able to use a significant amount of time when I was focusing on other tasks. Perhaps my only gripe was that the tips provided aren't the best as compared to the likes of final tips, but they do provide enough seal in stock so well done KBEAR!
Sound (Overall Score: 7/10)​
​
In general, I find the LARK to be warm and V-shaped. It also has a good sense of detail and soundstage.
Frequency Response Graph of the KBEAR LARK
Sources used
-
Ibasso DX120
-
iPhone XR
-
Atom DAC and AMP


Music and Albums listened with
- Alan Walker
- Billie Eilish – When we all fall asleep, where do we go?
- Tchaikovsky 1812 Overture
- Cigarettes After Sex
- One Republic – Dreaming Out Loud
- Keane – Fears and Hopes
- Nino Rota – The Godfather OST
- Fedde Le Grand – Cinematic
- ARTY
- Halo 2 OST
- Halo 1 OST
- Czardas
- Lauv
- Scary Pockets
- Hans Zimmer
- Aladdin OST
Bass (Score: 8.5/10)
The LARK's bass has a strong and authoritative response but not so overpowering as the typical V-shaped offerings we expect to hear. It actually provides a rather satisfying experience when listening to modern pop songs and their sub-bass focused mix that allows the listening to fully immerse themselves in. The dexterity of its bass is pretty good as well, it sounds clean and its separation abilities are quite good. In general, there isn't much to a critic here but just some slight bass bleed but checks most boxes for a budget IEM contender. Good job KBEAR!
Mids (Score: 6.5/10)
Mid-range sounds less emphasised but not to the extent of it sounding wonky and unpleasant. It is the staging here that I have gripes with where the vocals aren't really in the "middle" but somewhat pushed back. The upper midrange sounds decent here actually without that overcompensating "detail boost" that many offerings turn to (not saying that it doesn't have, but not too much). I definitely have mixed feelings with regards to the mid-range response of the LARK but I guess it is still within the realms of acceptance and that it still maintains that "detail-oriented" idea revolving around the tuning here.
Treble (Score: 6.0/10)
Now, the weakest link of the LARK. The treble here is definitely overemphasised and that it becomes rather aggressive. I detected quite a bit of sibilance across the tracks I listened to which isn't pleasant and felt that it was quite a wasted opportunity for the LARK to be a contender on all fronts. Despite its focus on detail retrieval, separation and clarity, such tuning isn't going to do well when reviewing them. All in all, it is definitely capable in terms of technicalities, but the overly aggressive stance is not going gather support for it.
Overall
Something I liked about the LARK is that it does have a good mix of soundstage, layering, separation, and detail retrieval which is a pretty good spec sheet to look at, but it does suffer from some quirks in tonality. Sometimes, I do notice that the upper midrange sounds off especially when it comes to trumpets and trombones in orchestras where it sounds thin and unpleasant.
Comparisons
KBEAR KS2
Although the LARK does have some weak points, I can confidently say that it is a general improvement over the KS2 and felt that KBEAR took the right step in the right direction in delivering that nice price-to-performance product to the budget audiophile group. The LARK here has more detail, a nicer bass response, a somewhat similar mid-range, and a much more exposed treble.
Conclusion​
​
In conclusion for 26.49 USD, there isn't much to fault them for and the LARK's stat sheet seems really beefy and tough to beat for the price. If you are looking for a detail-oriented budget offering, the LARK is actually a decent contender if you are not so treble sensitive like me. It does have a really good value proposition and maintained its reputation for it which I guess gives every budget audiophile more options to consider and be happy about them.
KB EAR LARK UNIVERSAL IEM
Pros
:
Pleasant and "nice" tuning
Fits perfect
Just the right amount of detail and excitement
Gorgeous staging
A true value
Very well made and designed
Cons
:
Bass extension missing at subterranean frequencies
Some issues with bass timbre and low-end resolution, but this is nitpicking
KB EAR
LARK
UNIVERSAL IEM
1DD/1BA Hybrid
Specifications:
Brand: KBEAR
Model:
Lark
Interface: 2PIN 0.78mm(TFZ)
Frequency response: 20-20kHz
Sensitivity: 105dB
Impedance: 16ohm
Earphone material:
Zinc Alloy+Environmental friendly PO
Color: Mauve; light gray; Aqua green
Cable material: 4 core silver-plated cable
Plug type: 3.5mm L-type gold-plated plug
Price: $29.99 add $1 extra for microphone cable
Product Page
KBEAR Official Store
KBEAR Headfi Thread
KB EAR Facebook Page
KB EAR Facebook Group
KB EAR Instagram
The Lark Universal IEM became a whispered new release for KB EAR this year. Small quite whispers by the Head-Fi community as KB EAR (as a new company) showed up out of blue reinventing the value quotas; seemingly renaming them single handed.

For me, I was the sourpuss, showing not an ounce of interest, as I had worked my way above the $29.99 price stratifications; regardless of the stories told and excitement whispered. I simply didn't care. But of course I man-handled the system explaining to KB EAR reviewers how to better write their reviews. And they quietly told me how the Lark was special and that it didn't need side by side comparisons, that it was its own gig. I laughed then stayed quiet. Then all of a sudden people started sending me these (not KB EAR) $23 IEMs....then $49 IEMs. Now I had to do some personal re-evaluations...........even with being the profound expert I thought I was.

These new 2020-2021 Budget Audiophile Monitors are on a whole new level.

So I'll try my best to redeem myself here and say I was wrong. I was completely unaware of how the sub $100 market has changed in 18 months time. You can't make this stuff up. And while I'm not going to make a review calling the Lark the next flagship equalizer. I'm not even going to say the Lark sounds like a $700 Chinese made IEM. Such tactics are (even though mildly relevant) not going to get us where we need to go with this review.





For this review to work we need simple perspective. With the right perspective this review writes itself. Investigate and report, listen and interpret.....that's all.



So let's start with some history. Rumor has it that KB EAR sent out LARK prototypes to experienced listeners. Later they received community feedback and started final Lark production. Somewhere along the line the agreed-upon tune became slightly modified.

Typically these tuning tweaks are much more simple than you may guess. Instead of a yellow (as an example) damper filter.......the guys at the factory put in red ones. And they started to ship the first batches all over the world. By the time the community enthusiasts received their product (they designed) it was very different than agreed upon. This is where those whispers started. So it's known that the first run are called the 4K batch, due to the (increased 4K-zone) Frequency Response. All this happened around November 2020. Rumor has it that the 4K spike was introducing grain. With the smoothness here, I can only imagine how you would want to keep it alive.

Anyway, so those models are gone but not forgotten. That's right, due to the random subjectivity of our hobby a few folks liked the 4K ones. And while the corrected one I'm using is wonderfully tuned..........I still wonder. With curiosity being the fickle mistress she is, I still am wondering about the LARK 4K!






Enough small talk, let's get to the nitty-gritty here.


The KB EAR LARK was provided by Wendy from KB EAR to enable this single review.



Introduction To KB EAR:


KB EAR and TRI Brands
TRI is a sister band of KB EAR. TRI made a splash recently with the TRI i3, TRI i4 and the TRI Starlight and TRI Starsea!

Once in a while you will hear of people thinking (KZ) Knowledge Zenith Corporation has involvement with KB EAR........yet nothing could be farther from the truth. If anything we see KB EAR competing directly for KZ market share and winning! KB EAR sells fancy aftermarket cables directly targeted to KZ owners.



It's difficult to imagine KB EAR did all this growth since 2019? Their new flagship.....The Believe (179.99) comes sporting a single 9mm Beryllium DD.



They also make a 2BA, single DD Hybrid called the $23.99 KS2 which sits very close on the ladder to our $29.99 KB EAR Lark IEM. Also you may have seen or heard of the KB Ear Diamond i1 and KB EAR Opal?

KB EAR was founded in Shenzhen China in 2014 and is the "earphone brand" of Shenzhen Lingyin Technology Company Ltd, China.

Construction:
Somehow the Lark looked cheap in pictures yet expensive in hand? I guess I assumed I knew how it was made regardless of never actually making a real IEM before. To me the zinc alloy cover looked like it would be sharp. Also it appeared like stuff I've seen where the metal is basically an end-cap. And it may still be an end cap, but it's all so well put together the whole IEM has a silky smooth feel to the touch. Taking it out of the box the first thing you notice is it's totally nice. Those areas where the zinc meets-up with the medical grade resin body? Somehow the edge is polished to such a place that everything becomes one?
I sat with them in my hands for five minutes, just because I've never experienced an IEM made this way. The aluminum alloy nozzle has a nice size and for once is the regular length, though it IS the thing with edges!
I give The Lark a 10/10 in perceived build quality and design. Studying the build design in person shows two air ports (shown in photo) directly next to the base of the nozzle. So let's assume one port is for air-in and the other, air-out. The IEMs have a nice substantial feel and weight, not too big or too small, not to low in weight or too heavy. If you look close you can see the back side of the single BA driver wedged up inside the nozzle with about 15% of the BA exposed where the nozzle stops inside the shell.
Unboxing Event and Accessories:

You get a warranty card

You get 3 pairs of black tips
You get 3 pairs of white tips
You get a nice Included cable (though it can tangle at times)

You get a nice zippered hard-case



Cable:

TFZ plug. A gold-electroplated L jack 3.5mm cable keeps the plug out of harms way. The ear-hooks actually work in their intended fashion. I mean for $29.99 your simply just not going to get a $20 cable included. Also I would much rather have added value on the IEM side of things.

There is a neck cinch, but the cable is not looking to impress if you get my drift. What it is is fully functional and comfortable. Strangely I like the white color too?
The IEM fit:


10/10 here. Somehow they fit like dream. My only issue was all the included tips were too small....................after finding my go-to generic black tip, The Lark fit instantly. Due to the compiled data-bass of human ear-shapes……….form factor is the classic semi-custom shape blocking a fairly good amount of noise. It's vented so that's always a compromise with noise occlusion.



Sound Impressions:

This character of frequency response has been often generalized as a "NICE" tune. Nothing stands out, the IEM is not trying to win an agility contest or dazzle with any one thing. These style of "tunes" win by playing multiple genres of music and appealing to a lot of ears. For as much as they play it safe they are offering the intrinsic excitement offered by default with a subtle V response.

After a day of burn-in I placed the Lark in my ears and consequently smirked. It wasn't that I was totally blown away or anything of course. But it was more like being greeted with audio comfort. KB Ears sound goals were familiar. They were trying to walk this fine line being pseudo audiophile for $29.99 but actually totally real-life audiophile too for $29.99. The surprise was the finesse and composure. The seemingly grand politeness at hand. All I could think about was wanting my old

KZ-ATE

from 2016 to compare, as I knew even from (5 year old) memory that this was a whole different animal.

I keyed into the guitar tone right away. And…………………..OK.............I was excited about the way the guitar was both warm/crunchy and actually had correct timbre. Now yes, there are blaring issues in technicalities and abilities, but somehow it's all very forgettable due to the friendly musicality at hand. It's like they know how to offer this well done even and correct frequency response. The main thing? Well for me the main thing was the size of the stage. The big sound was just that………….really big. Big and entertaining and big and involving. Admittedly I was totally wrong to judge something by price.

The most important thing is frequency response……..as if that's well done then your about 80% into the win-zone.



Bass: I like the bass better than a few $200 IEMs I've tried yet that's not to say it's perfect. It's simply hard to believe how things have changed since what was acceptable in 2016? Because due to staging and bass combined this is one dynamic and authoritative experience.




Below is KB EAR's publicly released LARK FR graph: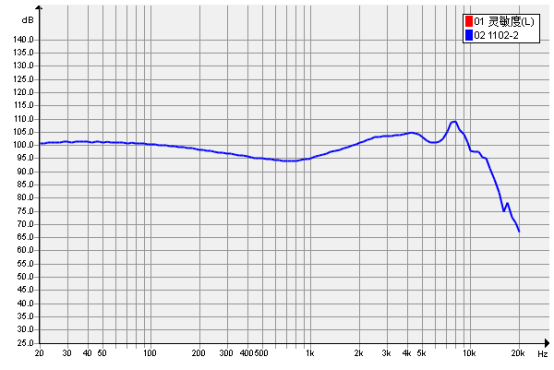 The signature is the classic mild V with both bass weight and a 2.5K to 4.5K peak for balance.
What we are left with is perfectly placed vocals and no glare to speak of. These style of tunes are generally accepted as enjoyable for the masses. Nothing really different or showing a noticeable off character. Typically the 8K peaks in these graphs result from coupler resonance. Also keep in mind the tested and displayed information above 10K is normally questionable. The frequencies above 10K are also much farther away from our sensitive mid frequency hearing. Due to this resulting sensitivity factor.........they are heard as farther set back and not as noticeable.
Male sibilance is typically 3-7k Hz with female sibilance found typically 5-9k Hz, so after investigating the KB EAR frequency graph it's noted a substantial dip from 5K to 7K. Coincidentally the DUNU SA6 has a profound dip at 5K to 7K. We learned about the complete vocal sibilance ranges above and have to assume these dips were intentionally designed in both The Lark and DUNU SA6 to negate sibilance. This 5K to 7K dip could very well be the crossover high pass of the BA tweeter and the bandpass of the DD driver being perfectly trimmed. Some may have issue with these "safe tune" tactics wanting more brilliance in the area. Yet, once again we find the Lark showing how it's a nice and polite tune.
Pace and Sound Exploration Tracks:


So if you wanted to impress someone with your newly acquired KB EAR Lark there are a couple easy ways. Namely after us going over frequency response (which is great) there is only one single area of concern. Though in relation to value we are splitting hairs and looking the gift horse in the mouth. My single issue comes down to a perception of pace, and namely low end pace. In so many ways this is an easy review as all concepts are upfront and easily discernible. Since the Lark does Heavy Metal, Electronica and OSTs so well we will use the genres for our examples. Also just because I'm using a few music genres, don't think the Lark doesn't do a super wide range of music well, because it does. But Heavy Metal is known as pace dependent. Meaning great pace on faster songs means a great score from me.



If you wanted to impress someone or even impress yourself, this first song would do it.

Artist: Metallica

Album: Metallica (The Black Album) 48/24bit.

Song: "Nothing Else Matters"



This is the number you play to get looks of admiration from friends. You could josh and say THE LARK was a much more expensive IEM……..even with experienced IEM hobbyists. Lol

In the recording studio they pay close attention to the drums and bass rhythm section as to not let the bass waves overlap or touch. Those elements need to start and stop and leave room for PRaT. So here due to the middle tempo of this song, the pace issues are masked.


Artist: Hinkstep Album: A Generation Lost In Space 44/24bit
Songs: "Within Your Echoes" "A Little Tree"

Ok, so I didn't find this song randomly. I already knew that this would offer an unquestionable 10/10 playback and it did. The bass in this song is not just beautifully low and focused, but it's a modern masterpiece of how to use bass placement in a mix. Surprisingly the "1996 Jungle" or "Drum and Bass" rhythm section due to their frequency placement, stay out of harms way. Here we will start to hear the edge of the bass ability/definition on the following song "A Little Tree". Note, "A Little Tree" has deeper bass than "Within Your Echoes" outlining our extent of reproduction ability here. The lowest frequencies are simply not there.

Artist: Daft Punk Album: TRON: Legacy 44/16bit
Songs: "The Son Of Flynn" "Rinzler" and "Arena"

This album is a perfect example of how we are happy to overlook bass technicalities and focus on musicality instead. While "The Son Of Flynn" is just over a minute and a half in length, we want a snapshot of ability to focus on. This song sounds correct and delineated probably due to being written and inspired by a single arpeggio. And while the key to the whole TRON OST is Daft Punks's understanding of synth arpeggios; something about this snippet "The Son Of Flynn" remains memorable and iconic all these years later. Also to side-step onto FR topics………TRON:Legacy can't help but continue to show how listenable and complete our tone balance is. The song "Arena" shows up as a messenger reminding us of the general forgiving stance the Lark parlays. Even the intensity of elements in "Rinzler" reminds us how both musical and easy going the Lark always is.

Artist: Emmure Album: Hindsight 48/24bit
Song: (F) (U) (N) "Finally Understanding Nothing"



Laughingly coming back to revisit this fast paced and 5150 musical statement, the PRaT is not really that bad (but………it should be?) Probably expectation bias on my early listens, resulting in hearing what I thought I should hear. The KB EAR LARK can fly away from danger…….and does.

Artist: Luna Coil Album: Black Anima 44/24bit Song: Sword Of Anger

Ok, so this is a truly perfect example of our main issue.

And remember it's almost mean for me to do this to an innocent $29.99 "value IEM" but the truth needs to be exposed none the less. So what is going on revolves around the guitar/drum/bass fusion "matrix" composite. And while this section is dense, layered and offering a unique example of a rhythm section……………it IS possible to actually hear it with better IEMs. It's probably not fair to bring out the $195.00 Theiaudio Legacy 4, but we have to learn what's in the recording and if there could be an alternative way to hear it. No time stamps are needed as this playback takes place from start to finish. The LARK replay of driving force and combined elements can not be separated or lifted into the light. This is the quintessential example of "smeared".

Is this a deal breaker? No.
And to be fair..........this is a perfect example of a brick walled modern studio mess, which the Legacy 4 is just slightly able to improve on, due to timing skills.



Random Song:

Artist: Katatonia
Album: The Fall Of Hearts 48/24bit Song: Decima





So instead of searching out songs to cause us trouble, I simply choose a random song, kinda like the way real life is. As Lady Luck would have it this song ends a special style of coincidence, and maybe meant to be for us. Yep, impeccable playback in every level, everything. And ending here I don't think I could have even come up with a better song to show how our "easy going" LARK tune takes care of business. Here we are met with perfect production, and simplistic-categorized song elements. An absolutely world-class capture of Jonas Renkse enigmatic vocal stance and vibe. The way the elements come together here is why we listen and why we value when stuff works out. This is also the style of tune which showcases the over-all timbre talent the BK EAR somehow has been given. Obviously these accomplishments are not chance like our song choice but reflect KB EARS maturity and skill as an "up-and-comming" tunesmith of IEMs.




Sound Summery:


So we learned the capabilities and extent of The Lark's abilities........for better or worse. And while there are no perfect IEMs, the chance of finding a way less than perfect IEM for $29.99 surely exists. Finding random perfect playback of songs like "Decima" just shows our potential for success.

This super-super low non-existent frequency replay seems to be our number one issue along with pace. Not really a big deal when you start to make a laundry list of attributes, but existing and potentially heard at times. I can't help to be reminded of the bass in the Sennheiser HD600/HD650 having this same roll-off. Funny as I have not heard those two headphones for years, yet this bass, both in slowness and extension roll-off became reminiscent?




Switching DAPs, Desktops and iPods:


Cellphones are all over the world, why wouldn't they dial-in $29.99 to $199.99 IEMs and make them sound fantastic?

Using the KB EAR Lark listening to OSTs in Hi-Resolution Audio from an iPod Touch is amazing. The 24bit ALAC plays fine yet becomes truncated down to 48mHz/16bit due to Apple DAC implementation.
https://www.prostudiomasters.com/album/page/57213
This 48/24bit file was transcoded in Foobar 2000 into ALAC.


My Gosh! So this is what iPods sound like now! The bass was taut, fast and clean.........the whole experience made me start thinking that this was the design goal when making the LARK?
The Walkmans:
Contrary to what you might think the $1200 Sony 1A was dramatically better than the $3200 Sony 1Z with the LARK. I'm going to assume this takes place due to the 1A being more mid-centric and the 1Z offering a heavy bass and treble peak? Really what we are ultimately looking for is to dial the LARK low-end back and add balance to it.
This is maybe why the simple iPod was such a roaring success?
iPods are famous for offering a strict linear response free of color or warmth; which somehow clarifies our KB EAR LARK listening experience.
Sony TA-ZH1ES:
So due to wearability and comfort there is no reason why you wouldn't join the LARK into desk-top home desk listening. And while amazingly there was a small scale up, there was obviously not going to be any cure for our little issues, namely the missing bass timbre. Strangely these aspects were less noticeable from a phone?
Conclusion:
This conclusion is the simple end-point of our exploration today. In fact no conclusion is needed. We found how a new modern IEM maker (KB EAR) have built on new technologies and the understanding of human hearing to simply make an IEM good and at minimal expense for the consumer. It's actually shocking how far things have moved along in 5 years. IEMs like this are designed from the get-go to appeal to the general population. Who knew that the general population's FR curve would also be the perfect audiophile frequency FR? As it turns out the general listening population are no different than audiophiles when it comes to what they want in nice sounding IEMs.
Company Product Description:
Durable Artwork
By using aviation level zinc alloy shell and environmental friendly PC cavity, KBEAR Lark has an eye-catching look with bright colors, fine metal texture and fashionable aesthetics, reflecting the light luxury craftsmanship.

Professional acoustic configuration
Three times the cost of ordinary earphones, casting Lark's professional metal earphones sound quality.

Technologically innovative DD
5 micron silicon crystal biological diaphragm
10mm new frame dynamic driver

2 times the frequency response range of human ear perception, less than 0.03% distortion rate (1 k Hz), creating the flagship quality and sound performance of the Lark.

Customized BA
Broader high-frequency resolution
Richer musical details

BA can greatly improve high frequency density and extension of Lark. It boasts a performance of low distortion, fast and abundant mids and highs. Vocal is clear while highs bright and so on.

Professional Tuning
Precise internal acoustic structure and subtle circuit optimization combine the advantages of DD and BA, providing a hearty sound and color detail experience; the curve is intuitively displayed the effects to achieve balance, cleanness and rich detail, enhancing separation and layering of music.

Ergonomic Design
According to ergonomic cochlear big data, Lark's cavity structure is designed to fit your auricle like tailor-made, even if strenuous exercise is still locked ears.

Sound features
High-definition resolution, balanced three-frequency, high on-site reproduction, rich and layered information presentation. Suitable dynamic sensitivity, accurate instrument positioning, sweet and gentle vocals, elegant and loose tone color, durable and rich flavor.
Disclaimer:
IEMs are ultimately a singular experience. The write-up here is a singular view. Don't get caught-up in the hype but trust your own ears……………as ultimately nothing else matters except what sounds right to you. While an attempt was made to be critical here…….your LARK sound quality and fit experience may differ.

My KB EAR LARK had 50 hours for this review. There was noticeable
changes in smoothness and fluidness after just 24 hours burn-in, though very minimal changes after.
Last edited:
KB EAR Lark Review
Pros
:
Sparkling highs
Decent layering and separation
Good quality bass
Good build quality
Complete accessory pack
Cons
:
Drums lack impact to it
Vocals takes a slight dip
Disclaimer: The earphones were sent to me by KeepHifi for reviewing. However, this does not affect my opinion on the product in any way whatsoever. I was told to give my honest feedback on the product.
INTRO
It seems that KB EAR has been on a roll this year, churning out multiple decent earphones with a budget price tag. I have previously reviewed their earphones such as the KS2 and the Stellar and even their bluetooth cable, all of which were decent at its price point. At this point, I have pretty high expectations for KB EAR's products as they are always trying to do better with each product. Now, let's see how the Lark fares.
QUICK SUMMARY
Sound: V-shaped with airy highs and quality bass
This graph depicts how the earphone sounds to me (Note the change in High, Mids and Lows)
Driver: 1x BA + 1x Dynamic Driver (10mm)
Socket: 0.78mm 2-pin socket
Price: 29.99 USD (+ 1 USD for Microphone cable)
Where to buy it:
Aliexpress
or
Amazon
Suitable Genres: Funk, Jazz, Songs that are bass-focused
If you like my content, check out my instagram
here!
WHAT'S IN THE BOX
2 Sets of different sized eartips (S, M, L; in grey and white)
1 Semi hard earphone case
1 x earphone cable (3.5mm; L-shaped jack)
1 x KB EAR Lark
First things first, look at that unboxing experience, everything is labelled clearly and it feels so premium! I really like what they have done with the whole packaging of the earphone! Great job KB EAR!
I really like how complete this accessory pack is with 2 different sets of earphone tips and the semi hard case. The case feels like denim and it's really sturdy and has a small compartment at the top of the case to allow you to slot extra eartips or a cleaning tool in it.
It's really one of the more complete packages for earphones in the market and I really have nothing to complain about here. Keep it up KB EAR, I really hope that all your earphone packages will be in this format from now!
BUILD QUALITY
Outfitted with a sturdy aluminum honeycomb patterned faceplate, I think it's really one of the defining traits of the earphone. It makes the earphone look really unique and the faceplate adds an amount of weight to it, making it feel very premium too. It does, however, invite scratches (as can be seen in some of my pictures) on the faceplate but still feels good nonetheless.
The acrylic shell of the earphone is rather light, which some people may like due to the overall weight of the earphone being lighter. However for myself, I found the weight to be a tad mismatch because the weight tends to go toward the faceplate, which means it will fall on the faceplate.
Overall, great build quality, really love the honeycomb patterned faceplate! It's really one of a kind!
COMFORT AND ISOLATION
Despite it sporting an aluminum faceplate, it actually feels alright on the ears. I never once felt that the earphone is falling out of my ears when using it and stays on snugly. The stock eartips fit really well for my ears and never felt the need to change it.
Seal is also good, which means that isolation is great. Never once did I hear anything from the outside. The soft, supple cable is comfortable and does help with making you feel that the earphones are in place.
SOUND
Before I give a general overview of the sound, the setup I use to test are as follows :
DAP - Cayin N6ii (T01)
Cable - Stock (3.5mm)
Eartips - Stock
Overall, the Lark has a v-shaped warm sound with more emphasis in the treble and bass and the mids taking a slight dip in terms of presence. The Lark is tuned with a tad more sharpness in the highs but it is not piercing, just very crisp. The separation on these are also pretty good considering its price, I would say that it's one of the best in terms of separation for an earphone at its price range. It helps you to clearly listen out for each layer due to its distinctiveness.
Highs
In the highs section, the Lark seems to have a specific frequency range in which the highs are elevated which gives the feeling of a crisp treble. High hats are very crisp but it decays rather quickly.
As I am more into funk music lately, BRADIO has been my band of choice these days. The Lark makes listening to "
Back To The Funk
" very engaging, it draws you in with the high energy of the hi-hats and makes you want to groove to the music. However, I did notice that the spike in the high frequency seems to be at a specific range as the treble within the high frequency range seems to be slightly lacking. For instance, when the snare hits, it doesn't have that after-effect impact of it. On Polyphia's "
G.O.A.T
", Tim Henson's guitar doesn't shine that much despite being close to the high frequency range.
In essence, the spike in the highs at that specific range does help with engaging in the music but upon closer inspection, other instruments or beats within the high frequency range tend to be slightly lacking. This may make the Lark sound like a treble cannon to some or it sounding a bit unnatural in the highs department.
Mids
Generally the mids are slightly more laidback compared to the highs and lows. Drums and guitars take a slight dip in presence and it has less of an attack when all of the instruments are being played together. Vocals are airy and sound more forward than the drums and guitars but are still laidback.
When listening to BRADIO's "
Back To The Funk
" guitars are tight, with a strong presence on the left channel but the snares (or beats in this song) sounds like they could use a bit more impact to it. This is also the same for Frederic's "
Sukiraism
" where the guitars are clear but the drums lack definition here.
Vocals are decent, they sound natural and are audible. However, I find myself having to turn up the volume when I do want to listen to more vocals but the other instruments then tend to overpower it. More vocals would have been better in this case.
In conclusion, vocals are airy but still tend to be a bit too laidback for my liking. A boost in the midrange would have been a bit better to give the drums more kick.
Lows
I have to admit that the bass is surprisingly good for an earphone of this price range. The bass has a decent extension that draws that makes you want to listen to it longer to enjoy that delicious bass. Kickdrums can be felt in your ears at a comfortable volume without fatigue, and with that amount of bass, it adds a layer of thickness to the music.
For bass, I usually like to use Polyphia's "
So Strange (feat Cuco)
" at around the 2:40 mark to gauge how low an earphone can go. In an earphone with good bass, the bass rumbles with authority here and the Lark does that but I just wished that it could be just a bit deeper. That would have made the bass perfect. On BRADIO's "
O.TE.A.GE.DA!
" the bass is clearly audible and tends to shine together with the lead guitar and it's super funky to listen to with its interesting bass lines. I like that the bass is really clear to the listener and I never have to strain myself to listen out for the bass especially when trying to figure out how the bass is being played.
Overall, bass on the Lark is very decent for its price and it will not fail you if you are a bass lover. I feel that it has really good quality bass with decent enough extension for one to enjoy without the fatigue that comes with such deep bass. I would suggest that the bass be tuned a tad deeper still to give listeners a bit more rumble in their songs.
OTHER NOTES
I read online that KB EAR has actually revised the Lark after it was released to reduce the highs, around the 4 Khz frequency range. KeepHifi was kind enough to send me both units to compare. From what I could tell, the previous sounded very grainy in the highs. High-hats sound as if grains of rice were being shaken around in a bottle. I was glad that they revised the unit and they are no longer selling the previous version.
Soundstage and Imaging
The Lark generally has a wider soundstage than most earphones, giving the impression that the music is played in a small concert hall. Imaging actually ties in with separation here and both are very good for its price. Whichever music that I listen to, there's a very clear distinction between the layers of instruments and the positioning! It does add another layer of musicality over it.
CONCLUSION
All in all, KB EAR has made another earphone that I really enjoy despite the slight laidback of the mids section. With a complete accessory pack, decent layering, soundstage, deep bass and sparkling highs, it has a quite a 3D effect on you which entices you to listen more. All for just 30 USD. Good job KB EAR!
Last edited:
KBEAR Lark Review
Pros
:
Clean and clear signature rarely found in this price range
Comfortable
Affordable
Cons
:
Excessive treble greatly hampers overall tonality
Fatiguing to listen to
Lack of "fun" factor
Disclaimer: The KBEAR Lark was sent to me for review free-of-charge. Rest assured though, I will be as objective as possible.

Ratings are given on a scale of 1 through 10 and are graded relative to my experience with the myriad IEMs I own, from budget-friendly earphones to the many TOTL ones I have reviewed.


Introduction
To be honest, prior to Wendy (KBEAR's representative) reaching out to me, I had never tried any KBEAR products, though I was very much aware that they were a head-fi sponsor. Thus, I am grateful for the opportunity to listen to and review the KBEAR Lark.
The KBEAR Lark is a hybrid in-ear-monitor (1DD + 1BA) which aims towards the budget-conscious crowd, priced at a modest $30 USD. At this price point, my current go-to recommendation to my friends and family was always the BLON-B03. We will thus see if the KBEAR Lark can dethrone the B03, which will be further examined in the review.
Sound
The overall sound signature of the KBEAR Lark leans towards a bright-neutral signature, with a greater focus on clarity and cleanliness compared to tonality.
Bass (6/10):
The bass on the KBEAR Lark is surprisingly clean, given the tendency of IEMs in this price range to sound muddy. This is also because the bass is relatively subdued in comparison, with KBEAR choosing to reduce the bass quantity at the expense of a cleaner signature, at the expense of what many would consider a more "fun and exciting" sound signature. Bassheads should look elsewhere.
Subbass on the KBEAR Lark is not particularly well extended– on tracks like Billie Eilish's "bad guy" or Lorde's "Royals", there's an obvious lack of rumble from the lowest registers. There is a decent amount of punch to keep things interesting, but it is ultimately lacking. Midbass performance is similar – on tracks like Muse's "Neutron Star Collision", the subdued bass does not do enough to get my feet tapping along with the music.
In comparison to the B03, while the bass is much snappier and faster, the B03's bass has more detail and texture to it, bringing a significant amount of body and warmth along with it.
Ultimately, however, compared to most sets in a similar price range that I have tried, it likely has the cleanest low end. The Lark aims towards a more "studio monitor" signature, compared to the BLON B03 for example – which is slower and warmer, though providing a much more entertaining presentation. It's down to preference in the end, given I personally prefer the BLON B03 in this regard, but someone else searching for a no-nonsense, bloom free listen would be happier with the Lark.
Mids (6/10):
Thanks to the lack of a significant midbass hump, the Lark sounds very clean in the midrange, continuing its pursuit of a more "studio monitor" sound signature as exemplified by the low end.
The midrange leans towards the thinner side of things – the upper midrange of the Lark takes center stage ahead of the lower midrange, favouring songs which feature, for example, female singers rather than male ones. The lower midrange is, however, still quite competent, as vocalists like Frank Sintara or John Mayer still retain substantial weight and clarity – they are merely overshadowed by the upper midrange.
In Nikki Yanofsky's "I Got Rhythm", the bar the upper-most mids, which will be elaborated on further, the emphasis is done well – the sweetness of her voice comes across well, avoiding the pitfall of being overtly tinny sounding.
While not the most "emotional" or "soothing" of midranges, the Lark's midrange is free from bloat and maintains good realism, something many cheaper sets fail to do. Its placement is also slightly further back than average, so those who do not like their vocals in their face will find joy in owning a pair.
Treble (4.5/10):
The emphasis on the lower treble, and the upper-most mids of the Larkis much overdone – the Achilles Heel of the Lark, if you will. The Lark was likely tuned this way to create a greater perception of clarity across the spectrum. While this goal was successfully achieved, with the Lark surpassing the BLON in this regard, this is done at the expenses of tonality, one of the B03's greatest qualities. The signature can be extremely fatiguing at times, exacerbated by my personal intolerance of any peaks in this sonic region.
MIKA's "C'est Quoi Ce Bonheur", for example, is near unlistenable on the Lark, given the song's upper midrange/lower treble emphasis. The chorus in particular is extremely grating on the ears to listen to. Michael Buble's rendition of "The More I See You" is similar on this note (or any Jazz track, really), where cymbal crashes, trumpets and hi-hats are a recipe for disaster.
Those who are less sensitive in this regard or crave a greater level of perceived detail will love the Lark (it's very competent in this regard), but fatigue free, long listening sessions with the Lark will be a difficulty for most.
KBEAR has (thankfully) not decided to continue this trend into the upper treble, where it remains considerably muted in comparison, though still possessing a good amount of air and space. It is rolled-off in comparison, a welcome departure from the lower midrange, providing some respite from the heat in the lower treble.
Soundstage, Imaging, Separation and Timbre (5/10):
The Lark's soundstage is great for the asking price. It never feels spatially congested, partly due to the laid-back midrange presentation, and width is slightly above average. Imaging is serviceable, nothing to really write home about. Separation is competent for the price as well – many sets in this price range can sound extremely messy on Of Monsters and Men's "Little Talks", and while the Lark doesn't breeze through the track, it definitely handles it respectably. The Lark's Timbre is let down by the emphasis in the upper-most midrange and lower treble, where instruments and vocals can often sound shrill or harsh, which is a pity, given how admirably it performs elsewhere.
Conclusion:
The Lark is a very competent set of IEMs, ultimately let down by the "enthusiastic" tuning in the upper-most midrange/lower treble region, where it comes off too harshly. Should you not be particularly bothered by the treble presence, however, the Lark is a good recommendation, given it otherwise does well to fulfil its niche as a budget-friendly, reference signature (bright-neutral) monitor, a rare sight in the budget realm. The BLON B03 will remain my go-to recommendation as of now, but I am excited to see what KBEAR comes up with next.
The second one is good
Pros
:
Well calibrated bright-neutral tuning.
Very nice bass.
Outstanding technicalities for this price.
Above average stock cable.
High value.
Cons
:
Somewhat excessive treble emphasis.
Choice of stock tips should be reconsidered.
Important preliminary note: Lark is a product in a sense "born twice". Its initial release has been stopped after the first users reported a treble section output not in line with what originally wanted by the designers. KBEAR stopped distribution, fixed whatever needed to, and restarted it. This sample I'm reporting about on this article belongs to such second wave.
Very simply put, with Lark KBEAR has marketed an improved version to their KB04, while keeping the same extremely modest price point.
Sharing the same macro-architecture (1DD+1BA), Lark "fixes" KB04's main issue being the inconsistency between the low and high part of its presentation. The result is a very nice IEM selling for less than $30 that is bound to gift great pleasure to all lovers of bright-neutral tuning.
While still partaking to the general category of bright-neutral drivers, Lark's overall tuning is definitely homogeneous, its mids and bass sections being musically coherent – without prejudice to personal preferences – with its treble end.
Talking about personal preferences, I do prefer more balanced tunings, and Lark didn't make me change my mind: to me, Lark sounds better when I apply a very simple EQ scheme taking a couple of dBs off 8K and add 1 dB back onto 16K. But again, that's personal finetuning.
A very important note is about eartips. Lark is very sensible to those. Inside the package I found the pre-mounted dark grey ones, which I didn't like a small bit as I feel they make bass go right out of control, and a set of white ones which softer umbrella fixes the bass issue but pushes trebles too much into "metallic" territory. Outside of the main product package a pair of Sony tips have been delivered to me too. Those are nigh-perfect in terms of tuning for my taste, too bad they are juuuust a little too small for my canals so they get me a too unfirm seal. I rotated quite a few other models and I found Symbio Peel and JVC SpiralDots being good, and final E being perfect for my case. YMMV as always.
The stock cable while surprisingly good for the price could also use some more love in terms of pairing: the Silver Plated one is too "trebly" which is not something Lark really needs. Together with Lark I also got a very interesting (KBEAR) Tri 4 core 5N Silver Plated Single Crystal Copper. Undoubtedly of further higher quality vs the stock one, that one also tends to support trebles more than taming them so it's not the ideal pair for Lark for my taste at least. A pure copper one would be preferable here.
I got this pair of KBEAR Lark as a review unit from my friends at KEEPHIFI (
www.keephifi.com
) entrusting me to an unbiased analysis and openhearted subjective evaluation, which is what I'm reporting here below. You can purchase Lark at
Friendly Audio Store
(Keephifi's official store).
Test setup
Questyle QP1R / Sony NW-A55 mrWalkman / Apogee Groove + iBasso T3 – final E tips – Stock cable – lossless 16-24/44.1-192 FLAC tracks.
Signature analysis
Tonality
Clearly bright-neutral. Timbre is bright and lean-ish although not thin. Alongside the preponderant trebles personality, virtuous attention has been paid to grant some body to the mids and a nice voice to the bass.
Sub-Bass
Extended all the way, and almost at the same very lightly elevated level as the mid bass. It's there, and responds well to some extra volume when desired.
Mid Bass
Together with technicalities this is the part I like best. Midbass is not much elevated, indeed well dosed for my tastes. Transients speed is intermediate, which is a good compromise to avoid any form of boomyness or invasivity on one hand while offering a bass frequency support foundation to all those trebles.
Mids
Quite nice. Neither recessed nor forward, they are beyond decently bodied and quite detailed. The general bright-sided tonality makes higher mids a bit more pleasant than lower ones.
Male Vocals
Above average to good, within the category of non-vocal-specialised drivers. Considering the general brightness males could be much leaner and instead they are present and pleasant at all times.
Female Vocals
Similar to what said for male voices Lark is a not a female vocals specialists but that said this part comes accross not bad at all, and even a bit better than males at that.
Highs
Emphasized, authoritative, crispy, almost always unsibilant. While extremely well done for a product at this price, my persnal taste calls for some less elevation on the 6-8K region, and a tad further extention on the last octave.
A word is deserved by
pairings
too. Please note that my subjective evaluations are – as always – referred to pairing the IEM with my preferred sources, mentioned above and namely Questyle QP1R, Sony NW-A55 and Apogee Groove + amp (in these days an iBasso T3) combo. Out of the three, A55 blesses Lark most by its musical warmth, although trebles come out just a wiff less refined from there, as it after all seems justified by the device class difference compared to the other two options. Going further down with source quality the situation furtherly depletes though: trebles start sounding edgier and somwhat grainy when paired with a Fiio X3-iii, or a Meizu Hifi DAC Pro directly connected to my PC. Lark's output quality goes back up when the Meizu is prefiltered via my nano iUSB3. Long story short: Lark will be easily driven by just about any source; on the other hand higher quality source will induce better sound output even more on Lark's case than on other drivers.
Technicalities
Soundstage
Very nice extension for a driver of this price, especially horizontally wise. Depth and height might be better but even as such I would call them very good in this category.
Imaging
Very accurate, certainly one of the fortes of this product.
Details
Quite nice detail retrieval, which deserves a very high remark when factoring the price category in. Difficult to find better under 30 bucks frankly.
Instrument separation
In general very good, with the sole exception of some fuzzyness generated by trebles (6-8K) exagerating their role when volume is pushed up.
Driveability
Very easy, even phones will have no problems driving the Larks.
Physicals
Build
Hard to assess wether the PC cavity will be durable over time – it seems so, though. I almost never care about aesthetics but in the case of the Lark a mention to the beautiful honeycomb-styled chiseling on shell plates is really deserved.
Fit
Shapewise the housings are very well designed and sit well in my concha. Nozzles are quite long so getting good insertion is not a problem. Finding the right eartips has been more difficult than usual.
Comfort
Very comfortable to me once I found the right tips
Isolation
Good passive isolation once housings are properly fitted
Cable
Unlike what is usually found on so inexpensive IEMs the cable is not bad at all. A bit tangly from the physical point of view, but quite competent from the electrical one, and apparently well built. Given the tuning's bright preponderance I would prefer opting for a full-copper one but that's a pure matter of taste.
Specifications (declared)
Housing
"Aviation-level" zinc-alloy shell over "environmental friendly" PC cavity
Driver(s)
1 x 5 micron silicon crystal biological diaphragm 10mm new frame dynamic driver, 1 x customized Bellsing tech. Balanced Armature driver
Connector
2-pin TFZ
Cable
4 core 32 strands braided 4N silver plated cable, 3.5mm single ended termination
Sensitivity
105 dB
Impedance
16 Ω
Frequency Range
20-20000Hz
Package & Accessories
1 set of S/M/L white soft silicon tips, 1 set of S/M/M/L grey medium stiffness silicon tips, 1 pair of M Sony silicon tips, hard shell carry case
MSRP at this post time
$42,19 ($29,99 street price)
Last edited:
That could have been something great
Pros
:
Bass and mids very homogeneous and neutral
clarity
good timbre of the mids
Cons
:
high frequency too accentuated
sound is artificially brightened
sibilants and sometimes nasty peak
Rating: 7.7
Sound: 7.7
Intro
A lot of attention was paid in advance to LARK, the new budget model from KBEAR.
This is not so much due to the marketing, but rather to a kind of hype within the community, as the tuner(s) have also expressed themselves more often.
So everything waited anxiously for the release date until it became known that LARK deviated from the actual intention and the final beta model due to a production error (wrong filter). Unfortunately, many buyers had already pulled the trigger and the "wrong" LARK was shipped before the problem was recognized. The wrong filter lets around 2-3 kHz and 4 kHz "too much" volume through, resulting in two peaks, which can be interpreted as positive or negative, depending on your listening habits. First of all: Whether with or without emphasis on the lower trebles, the problem is much higher (8-12 kHz).

In the further course of the whole thing, one can now clearly see how impressively fast KBEAR (representing China) was able to react to this, as they immediately took the 4K LARK out of circulation and replaced it with the revised version, which must be a great logistical effort, as KBEAR has several distributors, even though they are probably sitting door to door in China. Nevertheless, it cannot be ruled out that some still sell the "old" LARK unknowingly or knowingly in order to get rid of their stock, because a note on the packaging is missing and without a measuring rig it will be difficult to tell the difference if you don't have both at hand.

Here, however, it becomes clear how such a problem is handled in China (especially in the budget area, where mass is more important for the margin).
Fortunately, I have both models at hand and after I got the 4K LARK and contacted KBEAR to see how they would handle the different versions, I was also asked what I thought of the 4K model.
I meant that I didn't really mind the 2-4 kHz range at all, as it didn't seem too much for my taste, though a bit too bright, but more about the strong sibilants and the unnatural high frequency extension. The advice was thankfully accepted, but the "final" LARK now has a reduced lower high frequency, but the nasty peaks remain in the upper high frequency range and so the LARK clearly gives away its potential.

In my imagination, I would have left the 4K LARK's stock on the market without continuing to produce, taken more time for the revision of LARK V2 and waited to see what the general resonance is like instead of quickly extinguishing a fire that actually has its source somewhere else. Then one could have marketed the LARK as a new version, which I think is most important anyway. Not everyone has the insight into the CHI-FI world and will probably never know which LARK he has or that there are two versions at all.
I know, LARK "merely" is one budget model of many, but here KBEAR could have distinguished itself with professionalism and sustainable work, but failed to do so. Apart from that, the LARK has potential, which has been wasted for my taste, unless you listen to music with less vocals.
Sorry for the long INTRO!
Handling
The LARK has a catchy faceplate design. The honeycombs on the "brushed" metal make it look quite noble. Under the faceplate, however, is the standard plastic housing that we know from many KZ models, with a golden sound opening.
I haven't really had any comfort problems with this IEM design so far, and so the LARK is a pleasant companion to wear.
The packaging of the LARK looks quite high quality at first glance, but you can't really talk about sustainability here. My highlight is the robust and chic transport case. If you want to think ecologically, you leave out all the individual packaging, pack the silicone tips in a small bag for hygienic reasons and pack everything together with the cable in the hard case, as already practiced by other companies. The package size (which could then also be omitted completely) would shrink to at least a third. A package inside a package inside a package doesn't make that much sense, but I think you get my point.
I'm a big fan of useful inserts, but please save some resources and also production costs. However, such a presentation is still nice to look at.
The 2-PIN cable is budget standard and nothing special. The isolation is also average.
Sound
The review is based on the revised and current LARK.
I inevitably remember the review of the TIN HIFI P2, where I wished I could stop after the mids.
The bass is successful in itself. It finds a good measure of quantity so that it can still sufficiently serve bass-hungry tracks, is never overpowering, generally stays discreetly in the background and lets the mids shine. It's too tame for bassheads, but I also find it lacking a bit of organicity and thus a natural keynote. The bass seems a bit stiff, but can score with details and also copes well with fast passages.
The mids lack a bit of body, which sometimes makes them sound a bit thin, but in and of themselves they are quite linear in a mild V-Signaur, with an open and slightly bright sound (which, however, comes more from the treble). Here is actually the biggest difference with the "4K" version (which is a bit misleading, as the range around 2-3 kHz is likewise already boosted by 2-3 dB), as this still seems a bit brighter. However, I don't find this particularly disturbing or unnatural. It gives the signature, which then slides more into the V, a bit more effervescence and freshness, which then continues in the lower treble. The final LARK might sound too flat and emotionless to some. However, I don't think the more neutral orientation is a bad thing either, and so there could have happily been two versions, with appropriate labeling. Voices are not the liveliest, but very clear, with realistic timbre.
It now becomes somewhat problematic in the treble. Here I find the final LARK almost even an aggravation, because due to the level loss in the upper mids & lower treble the upper treble range asserts itself even more clearly (compared to the 4K LARK unchanged). This means that an unnatural emphasis is created here, which makes the LARK thinner than it should be, since the bass and mids actually harmonize very well and could have used an equally relaxed, slightly darker treble. Admittedly, the sibilant emphasis and also the sometimes nasty peak at 8 kHz is song-dependent and not constantly destructive, but still to a degree where I find it annoying and consciously avoid songs. Warm sources are preferable here, silicone tips with wider openings (not included) or foam tips. A good example is "White Walls" by Macklemore. Here, the sibilants on his parts are tolerable, but the bell (peak) and chorus (woman) is above the pain threshold for me. With less vocal-heavy music, a bright shimmer always resonates, but here the emphasized area around the 8- 12 kHz is not so noticeable. The treble, however, has a nice transparency and also knows how to please with information diversity.
It also contributes to a lush stage as well as good separation, where locating details and instruments is child's play. This is clearly the LARK's strength.
Outro
With the high frequency dropping earlier, the LARK could be quite a neutral and natural sounding no-brainer in the budget range and thus a welcome and largely unique alternative. As it is now, one should bring a certain tolerance for high frequencies and in the best case already have suitable tips at hand to control them somewhat. An equalizer helps too, of course, but out-of-the-box the LARK could cause problems, at least it did to me. Maybe there will be another 3rd version soon, but this time please with labeling!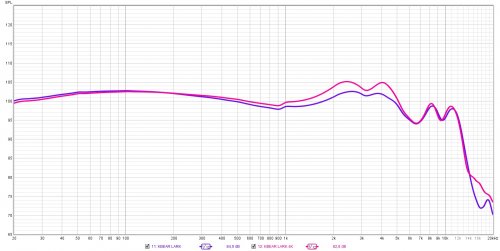 ___________________________________________________________
More reviews:
CHI-FIEAR
Facebook:
https://www.facebook.com/CHIFIEAR/
KBEAR Lark - are you up with the Lark?
Pros
:
An easy top score - good fit, sound, design, looks and a carry case
KB – EAR LARK HYBRID IEM HYBRID 1 DD 1 BA
$32
The latest IEM to hit the offices of Subjective, these are preceded by many many superlatives on many many online entries. I've done all I can to avoid the reviews and thus avoid the hype. I bring this to you being aware of the above but being ignorant of the reasons why and I hope this can give you the insight that you have come to expect from this site. Above all else, we want to give you our opinions. Regurgitating others' views is not what we do. It's not smart. And it's not art.
I find reviews like this real easy. First the good stuff. It's $32! What would I have expected for something costing that 3 years ago? I would have walked past. I wouldn't have paid any attention to it. No longer, my friends. This end of the market is hot, is rife, with bargains galore. Tuning done with precision. Good fits. Good bass. And so much more. I spent some time with BLON earlier last week. That is a down the ear design, not my favourite, but it was ridiculous for the price.
But the Lark? This is surely the Lark ascending! It is an around the ear design (my fave). It has a chin strap (many don't and it irks me). It has a very low impedance (smartphones are it's specialty). And it doesn't have excessive treble energy (phew!) I compare this to the CVJ CS8 in the vid. Both are unbelievable for the money. But, if you want a bit of excitement in your life, then, sorry CVJ. It has to be K Bear. What happened to K Bear? Suddenly, it seems like they're collection of IEMs has taken on a rather distinguished look. May it continue to do so. There is a model called Believe which mentions that salivating material Beryllium. Maybe one day I shall get my hands on that…. Until then, if you want a bassy non shouty IEM and your ears are anything like mine, get spending that pocket money!
Solid entry-level neutralish monitor
Pros
:
Excellent lateral imaging
Good resolution and detail throughout
Linear bass with good physicality
Good extension on both ends
Neutralish tuning
Excellent build quality
Good price/performance
Solid hard shell carrying case included
Cons
:
Somewhat flat sound which might not suit everyone
A bit hard to drive
Soundstage lacks depth/height leading to poor layering/instrument separation
Slight BA timbre in upper registers
Cheap and tangly stock cable (expected for price point)
Introduction
: In the budget ChiFi world littered with V-shaped monstrosities with 12 billion drivers crammed into them for no particular reason, the KBEAR Lark instead opts for restraint and refinement. It is a relatively rare dual hybrid with one DD and one custom BA, and it is tuned more or less neutrally, or perhaps in an extremely shallow U-shape. The FR is a standard 20Hz-20kHz, and it has an impedance of 16 ohms and a sensitivity of 105dB (I found it to be harder to drive than expected, but most phones should still be able to give it adequate volume even if amped setups are preferred). Please note that the early batches had a different tuning, now known as the 4K variant, but KBEAR informs us that this is no longer being sold in Western markets. The MSRP is $29.99.
Disclaimer: the Lark was kindly provided by Wendy at KBEAR in exchange for an honest review.
Accessories
: Given the price point, accessories are quite generous and the packaging even more surprisingly classy (far better than anything I have bought under $100). A hardshell carry case is included along with 4 pairs of black silicone tips and 3 pairs of white silicon tips. I had no issue with these tips and don't feel the need to replace them with anything aftermarket. The only disappointment is the thin and tangly TFZ-style stock cable, although this is hardly unexpected given the low price of the IEM.
Build & Comfort
: The build quality is excellent. The resin shell and metal faceplate look and feel extremely solid and should not give any issues in the future. Comfort is likewise superb, they are light and ergonomic, and cause no discomfort even with long listening sessions whilst giving excellent isolation in my smallish ears.
Signature
: The FR is fairly flat, with only a hint of very linear elevation in the bass and lower mids and slightly more elevation in the treble leading to a neutral to neutral-bright sound. While this will not satisfy people looking for a dynamic and punchy tuning, it is nevertheless a breath of fresh air especially in the sub-$30 budget market and will well suit those looking for faithful reproduction of their recordings.
Bass
: While this is not by any stretch a bass head IEM, nevertheless the bass is very tight and well-controlled, with excellent sub-bass extension that provides good physicality and slam when called for. There is perhaps a slight bit of bleed into the lower mids, giving a hint of warmth, nevertheless there is no bloat whatsoever. Texture and detail are excellent.
Mids
: The mids are not emphasized but neither are they recessed. Both male and female vocals sound very pleasing, though it skews ever so slightly towards female vocals in emphasis due to the slightly greater upper-mid/treble elevation. Again detail is good throughout, and there is very little to complain about here. The excellent timbre on stringed instruments is especially appreciated
Highs
: Despite the generally neutral tuning, if there is an area of emphasis on the Lark it is certainly the treble. Nevertheless it is done in a very refined and tasteful manner, there is no peakiness or sibilance to my ear, and I don't think even treble-sensitive folks will have much of an issue here. The only exception might be if people really crank the volume, in that case the treble might get just a little too hot on some tracks. Detail and sparkle is very good, as is the extension and air.
Soundstage, Imaging, Etc.
: Here we come to both the best and worst of the Lark. On the one hand the soundstage is extremely wide, and lateral imaging is superb. On the other hand there is very little depth or height, and this leads at times to congestion and poor instrument separation/layering. For simpler tracks this makes the Lark an excellent choice, but on busier tracks it falls apart a bit. There is a bit of BA timbre in the upper registers. However, again given that this is a $30 IEM it does surprisingly well in its technicalities, especially resolution and detail retrieval.
Conclusion
: The Lark is amongst the most compelling budget options for those looking for a relatively neutral tuning, one which is mellow and refined rather than punchy and in-your-face. For a quiet evening at home, the Lark is an excellent entry-level IEM which once again proves that 2020 for all its disasters has been a very good year for ChiFi IEMs.
Last edited:
That's sparkling!!
Pros
:
Mids
Treble details
Soundstage
Box
User experience
Cons
:
Too much trebles
6k-8k pierce
no instrument separation
not versatile
Audio quality is ok, good listening from these pieces on many aspects: fun, detailed, very neutral even with a strong high-freq tune.
Build and Impression:
Amazing presentation, top level box and wrap, much more premium than the price suggests. Apart of the cable that is just the same old KZ cable, just a bit more shiny.
Comfortable to wear, shape factor is a kind of typical KZ and KB evergreen. It's good for me but slowly tends to slide out with movements.
AUDIO:
So much of a trebles tune, listening feels explosive, sparkling, with the right amount of details.
BASS:
Well reproduced. Trebles emphasis let the bass a bit back. Lower frequencies miss a lot of the volume and power of other bass-heads products, but they provide good timbre, are nice to listen to and well controlled. You'll be happy to listen to the details of Massive Attack, but you'll miss huge subwoofer.
MEDIUM:
Nice and detailed. Voices are warm and never recessed, sometimes even too shiny, especially when female ones. Pianos, cellos and clarinets are well detailed and never confused, even in huge orchestras. Do yourself a favor and get a flac of Threshold's Keep my Head to feel the voice and the piano of this masterpiece.
TREBLES:
Sharp and explosive, peaks are present in the 6-8k range and are not nice to listen to. Not really the most detailed trebles, confusing sometimes and too shiny for me, can distort and result very fatiguing after a while (especially for young ears). High definition files are fundamental to avoid sharp spikes as much as possible and appreciate the brilliance.
DETAILS:
Very wide soundstage for a typical dual drive configuration. Not the best but makes the listener feel a good amount of space around. A bit more of a low frequencies channel shift would result in a better and wider experience. Dream Theater's The Mirror makes you feel exactly that: distorted guitar in the intro is powerful but definitely not surrounding as it should be.
Instrument separation is a flaw. Everything is mixed kind of ok, just not separated!
COMPARISONS:
KB Ear KS2: Identical shape and size, different material on the back. Larks are more detailed but sharper on the trebles. Sound quality is just better on the Larks. Never been a fan of the KS2, they are very confused and can't provide a good sound quality. For double the price, go for the Larks.
KZ zstX: KZs are much more powerful, basses are punchy, full and surrounding. Larks are more detailed and have a better soundstage, still KZs provide a better instrumental definition. Overall I would go for the KZ if looking for bass and power, for the Larks if looking for detail and trebles.
KZ ZS6: Structurally different but similar sound signature. I find Larks even more sharp and shiny on the trebles, but providing half of the details offered by the KZ ZS6. KZs still have that disturbing 8k pierce but, if EQed correctly, they are on a different level: details and sound quality are just superior.
CONCLUSION:
A bit more expensive than other competitors, worth the extra price for the details on the mids and the awesome user experience of the packaging. Sound wise, there are better options for a similar, if not lower price.
Last edited:
KBear Lark 4k vs non-4k
Pros
:
-Affordable and reasonable price tag
-Not Harsh
-No Sibilance
-More fun/energetic in the female vocals (4k)
-More balanced, stronger bass (non-4k)
-Extended quality accesorries
Cons
:
-Slightly thick, feels less secure
-Fatiguing (4k)
-KZ-like 4 core cable
Introduction
Hi all, Just a headsup, the review is done with KBEar Rhyme SPOCC balanced cable. If you want impression on the default spc cable or the pure copper cable included during the 11.11 promo by kbear, pls pm me. During the listening impression section, I will give a general overview then I will compare the 4k and non 4k version.

LARKS
[non 4k]
[4k]
Accessories
1. Protective case
2. SPC cable
3. 6 Pairs of tips (2 types, S,M,L), including stock tips would be 7 pair
Listening impression
BASS:
The bass is punchy, fast and accurate. The tuning of the bass is more relaxing, providing/kicking in the energy only when the piece calls for it. As a result, it is not boomy and kind of conceal himself in order not to steal the show from the vocals.
4k: Due to the 4k spike, the bass representation is more laid back. Like above mentioned, it tends to be a little shy and start to conceal itself every once in a while. Not to say it is missing/lacking but more of being gentle and polite.
non-4k: Down here the bass is slightly stronger, giving more energy
MIDS:
The mids is definitely the highlight! Really clean vocals for both male and female, no harshness or sibilance from the higher mids. The separation between the male and female vocals is pretty apparent, making mixed duet very enjoyable.
4k: The peakier 4k provides a more airy,chirpier response to the female vocals. At the same time it made the separation between male and female vocal more distinctive. This bring forth more fun and more lively. Fatiguing for long listen < 1hour listening for me
non-4k: Without the sharper peak, the vocals are more "flat". Occasionally some pieces sound more like reading with rythmn more than singing. I can hear a that there is a very small region where both vocals bleeds making that region a little muffled.
Highs:
Unlike recent newcomers to the $30 fight, the highs seem to extend a little more than the typical 10k steep roll off. As a result, there is more micro details. It also does not give the feeling of "something went missing" which happened to me on my QOA Vesper (yes... not a $30 contender).
4k: Seem to roll off pretty steeply somewhere close to 13k? As a result it sort of reiterates/highlight the bright nature and crispier female vocals.
non-4k: Further extension than the 4k counterpart. Overall provides a broader spectrum and as a result more balanced sounding. And of course also more micro-details than the 4k version.
Isolation:
Isolation wise it is extremely good for me. Every single time someone wants to talk to me, I have to remove my earpiece...
Soundstage:
Soundstage is not particularly wide but certainly not congested. I won't mind a slightly broader soundstage though...(maybe like 10%)
Conclusion
All in all both are good, similarly tuned but that 4k's 3/4 db diffrence result to suitability for different settings. If it is a short <1hr session I would prefer the 4k for that more vibrant female vocals and more distinctive separation of vocals. >1hr I will definitely go for non-4k with the more balanced,less fatiguing tuning.
Last edited:
Previously known as Wretched Stare
Beyond its Budget
Pros
:
Unit is attractive and doesn't look cheap, sound profile is very pleasant and non offensive being both balance and neutral towards bright, accessories are quite decent for its price.
Cons
:
The cable is KZ quality but far from the worst I've seen.
The packaging for the Lark is far better than anything in its class , very nice unboxing experience indeed. Inside one finds the Lark inside with its shiny and polished backplate and octagon design and KB EAR logo. There are two sets of ear tips and a case made of cloth with a hard liner, the case is compact making it easy to store the IEM
Build quality is good as is comfort and in my opinion style as well.
The Lark was tested using my collection of FLAC, DSD and Spotify Premium as well as lower quality audio to test its forgiveness using MP3s etc. A variety of devices were used including the ifi hip-dac , xDuoo XP2 Bluetooth DAC, Surfans F20 DAP, iPad air , multiple Android phones, PC and the SMSL SP200 and Soundavo HP1 DAC.
Music ranging from classical to Industrial Metal was used as I have eclectic taste and like almost any kind of music.
A good pairing is the 1More HD Bluetooth adapter the slight warmth added something more to the Lark I found I enjoyed, this said it sounded great on the hip-dac as well and the Xbass was not needed.
Sound:
Bass: Is very detailed has a nice speed to it and good texture, Sub-Bass is present and can be enjoyed on recordings that take advantage of this or ones that are bass boosted to begin with. The Larks Bass is a little north of neutral and Mid-Bass has some good energy some of my favorite drum solos sounded so good with its non fatiguing pleasant Bass I could listen all day.
Mids: The Mids of the Lark well balanced they are at a forward point as to be natural in there presentation, I found them to have a excellent details and clarity far beyond what I was expecting in a budget IEM of this price Vocals sounded clear and no recession was heard.
Treble: The Highs are full of fine details and there is much sparkle here but not to the point of harshness, together with the mids the Lark has a brightness to it without being shouty and are tuned to have very little peaks in the treble.
Soundstage: Is wide with a good depth and height to it as well it feels natural, imaging is spot on and in the gaming test I found it accurate and useful.
Conclusion: The KB EAR Lark is one of the finest IEMs in this price range I've had the privilege of using in some time. Such a natural sounding and balanced earphone with great details, layering, instrument separation with a open soundstage I makes the music come to life. Even with the 4K variant it was a pleasant listening experience. KB EAR has given us a new standard to expect in the sub $50 tier that's usually dominated by V-shaped IEMs with little substance or less clarity. Well done!
My Thanks To
https://keephifi.com/
for the review sample
Neutral with Attitude!
Pros
:
Excellent detail
Balanced profile
Superb clarity
No recession in mids
Expansive soundstage
Great presentation
Cons
:
Cable is thin and tangly
The Lark is the third dual hybrid (1DD + 1BA) released recently by KBEAR, following the KB04 and KS2. It employs a 10mm dynamic driver with a "silicon crystal biological composite diaphragm" which may also be the same bass driver found in the new TRI Starsea. The BA is described as a "customised" unit and is, I believe, made by Bellsing but no model number is quoted.
The zinc alloy faceplate features a honeycomb design covering the lower half of the surface and KBEAR branding and the body is formed of a clear resin which comes in a choice of three colours: grey, mauve or pale green. There is a small circular vent on the inner surface. The raised 2-pin sockets are in clear plastic and the words "KBEAR LARK" are written in white on the side of the housing along with channel identification. The supplied cable is a 4-core braided silver-plated type with clear QDC connectors and a right angled 3.5mm plug and is rather thin and prone to tangling.
The presentation is very nice. The box is square with a photograph of the IEMs and the words "KBEAR Lark, hybrid metal earphone" and below, "in the hustle and bustle, find their own world". Removing the slipcase reveals a black box with a gold KBEAR logo. Inside you will see the IEMs sitting in a cut-out and two black boxes with gold writing, one long box containing the accessories and another containing the case. In all you get:
* KBEAR Lark IEMs
* 2-pin silver plated cable
* 4 pairs of grey silicone tips (S, 2 x M, L)
* 3 pairs of white silicone tips (S,M,L)
* Carrying case
* User guide
The carrying case is finished in a grey textured material with a white KBEAR logo and has a zip closure. The presentation and accessories are excellent for the price and put companies like KZ to shame.
The Lark was tested principally using an Xduoo X20 DAP but a CD player and smartphone were also employed. The stock cable and medium wide bore tips were fitted and a burn in period of 100 hours was carried out before evaluation. A comfortable fit was obtained with good isolation.
First Impressions
It was immediately apparent that the Lark's tuning was accurate and well balanced with a natural timbre. The integration of the drive units was seamless and the presentation was lively and energetic with good bass weight, excellent detail retrieval and superb clarity. I found it somewhat power hungry and had to increase the volume by around 20% compared to my regular IEMs. Also notable were treble extension and the expansive staging. After a short evaluation I replaced the cable with a TRI Through cable which improved the soundstage and smoothed out the treble.
Bass
The bass possessed good weight and resolution with a natural quality. In Copland's "Fanfare for the Common Man" performed by the Minnesota Orchestra under Eiji Oue, the bass drum strikes displayed authentic tonality and it was possible to clearly hear the rebound of the skin during the decay. The timpani also sounded very believable and the powerful bass presence never dominated the overall sound but always remained in perfect balance.
"Moving On" is a lyrical electronic piece by Constance Demby from her album "Set Free". The beautiful flowing melody was supported by deep bass synthesiser chords which were nicely reproduced by the Lark and showed an attractive resonant quality, forming a perfect foundation for the colourful lead keyboard voices.
The introduction to Debussy's "The Engulfed Cathedral" features a sustained orchestral bass drum background underlying a musical representation of a sunrise. In the performance by the LPO under Nicholas Braithwaite, the orchestral balance was nigh-on perfect with the brass and strings reaching a thrilling climax full of depth and colour all set in a realistic space.
Midrange
The Lark's midrange was well balanced with the bass and treble, not displaying any evidence of recession but possessing good detail and separation with a natural timbre.
Lesley Hatfield's violin in Gerald Finzi's "Introit" with the Northern Sinfonia conducted by Howard Griffiths sounded very convincing. The character of the solo instrument was clearly defined above the sensitive orchestration and towards the conclusion the reproduction of the high harmonics was particularly impressive set against the hushed accompaniment.
The solo guitars and saxophone in Chris Spheeris's "First Kiss" from the album "Enchantment" soared above the rich synthesised backing. Timbre was very natural with the sax having plenty of "bite" and the guitars, placed high in the image, displaying delicacy and attack in equal measure.
Vocals were excellent as well. The character of Carole King's voice in "A Natural Woman" came over beautifully and clearly delineated in the centre of the image in an intimate acoustic with her double-tracked piano supporting the vocal line on each side. The transient attack was very good on this track.
Treble
Treble was clean, extended and free from peaks. The BA was very well tuned. Separation and layering were excellent and this contributed to the expansive staging. Resolution was very good with the finest micro-detail easily discernible.
At the beginning of Tomita's version of Ives's "The Unanswered Question" the Lark managed to reproduce the sparkling and intricate electronic effects with great precision and the layering in the following synth chords was laid bare with each element clearly audible. The highest frequencies were clean and crisp with an "etched" quality and precise focus.
The chiming clocks in the famous introduction to Pink Floyd's "Money" from the seminal "Dark Side of the Moon" were beautifully reproduced with each separate chime having its own character. Detail retrieval in this case was particularly impressive.
The conclusion of Hamish McCunn's "Land of the Mountains and Flood" conducted by Martin Brabbyns features full orchestra with an emphasis on brass and percussion. One could imagine the light glinting on the brass instruments, such was the crisp and clean sound produced by the Lark in this piece and even during busy passages everything remained clear and nicely separated.
Soundstage
The open and transparent midrange and highly detailed treble combined to produce an expansive 3-D stage. This was most evident in classical music where symphony orchestras were laid out in a most convincing manner, adding to the realism. A good example of this was in Arthur Bliss's March from "Things to come" with the LSO conducted by the composer in a vintage Decca recording. Percussion in the rear, brass in front of that and strings and woodwind closest to the listener with the sections of the orchestra perfectly placed, showing authentic interplay between them.
The imaging was excellent. In "Eve of the War" by Jeff Wayne from "War of the Worlds" the reverb on Richard Burton's voice was very effective and following this, the electronic effects and percussion dancing around the image were very striking with stage width notably emphasised. The complex production really came to life with vocals, bass and strings all making a powerful impression.
Conclusion
The Lark really surprised me with its combination of neutrality and verve. KBEAR's previous dual hybrids were both V-shaped to one degree or another, the KB04 being more gently profiled and the KS2's deeper V signature majoring on bass and being more recessed in the midrange. In contrast, the Lark managed to balance bass, mids and treble whilst maintaining an exciting and dynamic delivery, which is no mean feat. In this respect it resembled KBEAR's earlier KB06 but with more refinement and authority, a superior soundstage and improved detail retrieval.
Beautifully presented and well made, its performance even exceeded that of more costly models such as the Tin Hifi T3 and the TRI i4 which had previously been the best dual hybrids I had heard. The Lark is adept with many genres and scales well. It benefits from a high quality source and a better cable and also improves with amplification.
There is little to criticise here, except perhaps the cable. If a similar cable to that provided with KBEAR's own Diamond or TRI i3 were supplied that would be perfect.
This, I feel, is KBEAR's finest effort so far and is highly recommended.
This unit was provided for review by Wendy Li from KBEAR.
.