Item Information
JBL SUB150P Sudio 1 300 Watt Sub Woofer (Black)

,

1

votes
Author:
Category:
Views:

1,533
Reviews:

1
Comments:

0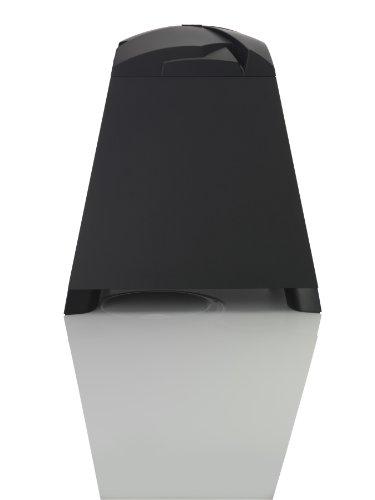 JBL SUB150P Sudio 1 300 Watt Sub Woofer (Black)
---
Recent Reviews
Surprised, yet not surprised!

Written by hazmatt81
Published

Feb 5, 2014

Pros - Power, Design, Quality

Let me start off by saying that I am just a surround sound buff.  A knowledgeable guy above and beyond the typical retail store employee.  But, I am in no way a sound engineer/technician.  With that said, this sub came to my possession as of yesterday from a wonderful Craigslist purchase.  I was mainly interested in the receiver that he was highlighting in the ad. Anyways, he had the system all still hooked up and proved to me all of the items were in good working condition.  The JBL sub was rocking the house...hard!  I was very impressed!  I loaded it up and got everything home and set it up and used the receiver's calibration mode to adjust the levels on all of the speakers.  Then I played music through the system.  Playing alternative to punk, classic rock to indie and to the bass heavy rap/hip-hop songs and dub-step, this sub performed well.  I was waiting for distortion when it got really low (hz), but it stayed clean.  Then with the rock music, it was nice and tight, while hitting very hard. The one thing that had me intrigued was the design.  Of course, JBL has been know for some pretty off the wall designs/styles with their speakers, but it never compromises their quality.  My friend saw it and described it best..."It looks like Darth Vader's helmet!"  How very true.  So, with that I'm giving it about a 60/40 on the design.  It's definitely unique and attracts attention, but because of it's shape, it may not fit as tight against something (wall or home entertainment center) as you'd hope, or may just have you looking at other brand subs immediately.  It's definitely something to consider before even buying it. There is no indicator light on the front like some subs, but makes no difference to me.  You'll know when this thing is on!  The power factor was what really impressed me being that I wasn't researching this sub prior to the Craigslist transaction.  300W RMS and a 500W Peak, this thing can really rattle your brains.  My living room is about 20'x18' and I have the level adjustment set at 50% and it was hittin' hard. I may have to back it off to about 40% and see if I'm still feeling it as good, yet not bothering the wife...LOL!  It has all the adjustments you'd expect on a sub of this price range/level...detachable AC plug (nice feature), On/Off rocker switch w/indicator light (on back), RCA/LFE Inputs, Crossover (mine is set at 80Hz), Level Adjustment (Amp Gain), Phase 0-180, and a selector for LFE or Normal input.  I'm kind of confused by this switch as subwoofer frequencies aren't sent in a stereo fashion, so, you really only need to use the LFE input.  Sorry if this is a really brief review, but I saw that there weren't any at all on this site.  Hopefully such an early review doesn't bite me in the butt.  I can't imagine anything less than a quality and durable product from Harman Kardon.  They've been doing this for ages now! 

Comments
To view comments, simply sign up and become a member!