I didn't see a review of this old item or a suitable thread in the equipment forums, so I'm posting this here, mostly so I can have links to information for at least two conversations I'm having, without having to retype the same post. The content might be of interest to existing Jaybird X3 owners anyway.
This thing has been out for a while now, and it has been reviewed many, many times. For the most part, the reviews have been positive. The Jaybird X3 has been discontinued and replaced with the waterproof X4. This write-up is mostly for holding observations and measurements of the product that I haven't found anywhere else online. It's also a discussion of its built-in 5-band fully-parametric equalizer, which can save a preset on the X3 itself.
Frequency response with silicone tips​
After over two years of on and off gym use, this unit has developed a channel imbalance in the area where human hearing is most sensitive. In practice, I really don't notice it unless I'm paying attention and listening for it. The response is intentionally v-shaped. Maybe this is what people really want when they're running or in the gym.
Frequency response with bundled foam tips​
The shiny foam tips don't do too good a job of damping the ear canal resonance when they're new. The built-in parametric EQ can cancel the peak on one channel, but there's no guarantee that the resonance in the other channel will be at the same center frequency, or even if it will be in the same spot the next time the IEM is worn.
Frequency response with somewhat worn out foam tips​
The foam tips lose their shine and start to become more acoustically absorbent after some use. It changes the treble, for the better IMO. The resulting frequency response is smoother, and so is easier to EQ.
Frequency response with Comply Sport Pro tips for Jaybird​
Comply sells the Sport Pro tips specifically for Jaybird IEMs. They smooth out the treble better than the bundled foam.
Frequency response with Comply Sport Pro tips with Smart Core​
Comply also sells the generic Sport Pro tips with Smart Core, which can be used with all sorts of IEMs with different barrel diameters. The result is similar.
The parametric equalizer in the Jaybird MySound app is very flexible, but frustrating to use if you want to fine tune the response to your personal preference. The frequency markings on the horizontal axis aren't too helpful because it's very hard to tell where they are exactly. Worse yet, the vertical axis doesn't even have any indication in dB how much the adjustment is.
Even with measurement gear, it can take a while to dial in precise settings. I played white noise from an iPhone with the X3 inside an IEC 60318-4-compliant coupler while measuring the response in Room EQ Wizard (REW). If you use the highest resolution settings in REW with lots of averaging, it takes too long for the EQ adjustment to settle on the screen. With fewer FFT points and fewer averages, the result appears on the display faster, but it's fuzzy even with smoothing. Again, it's hard to tell what the EQ adjustment really is. The FFTPlot iOS app is more responsive.
After a while I came up with these presets: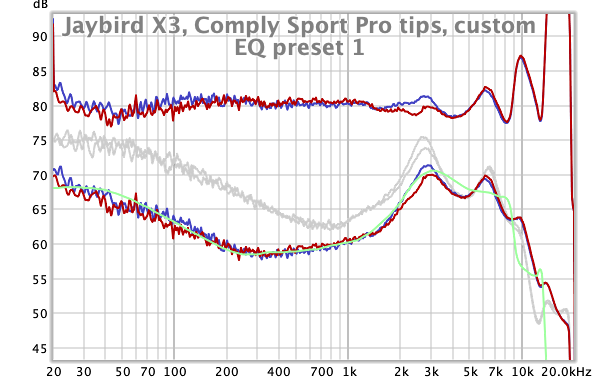 Frequency response and EQ settings for first attempt to match the 2017 Harman IE target.
Top: 2017 Harman IE target compensated
Bottom: Raw. Unequalized response shown in gray. 2017 Harman IE target shown in light green.​
To approach the target, I cut down the bass, the response around 200 Hz, and the peak near 3 kHz. It's a decent starting point for further adjustments. Measurements at rtings.com show that the X4 has a stronger response above 10 kHz; maybe a treble boost won't be needed there. I didn't try to flatten the bump from the ear canal resonance. As the foam tip starts to get worn out with more use, I expect that bump to flatten itself. Ditto with the relatively hot response at 10 kHz. I'm having second thoughts about that treble boost though. Measurements above 10k are really unreliable and unpredictable from coupler to coupler, so an adjustment there has no guarantee of translating well to an actual human ear. It really should be a shelf filter, which is a wide-band adjustment.
Starting from this preset, I dialed the response to suit my taste. I think the result sounds very, very good. The X3 isn't dead silent like the my Airpods, but its self noise is low enough not to bother me when I'm listening to most music. It might become a problem with music with lots of quiet passages.
I also have a pair of the Jaybird Freedom F5, which originally cost $200 when they first came out. It actually feels more comfortable and secure to me than the X3. Its sound can be tuned similarly.
Apps for personalizing the sound can be really powerful tools, if they allow the user to make fine adjustments. After many cycles of listening and measuring, on and off over months, I now prefer the resulting frequency balance from the X3 or the F5 over any unequalized IEM that I've heard. Personalization won't be the silver bullet for everyone, but for the rest of us, it can be a game changer.
I made a second attempt at a Harman-esqe EQ for the X3 with Comply Sport Pro tips: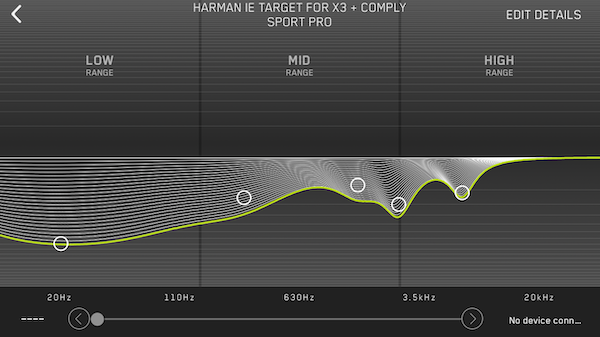 Second attempt, for more forgiving sound.
Top: 2017 Harman IE target compensated
Bottom: Raw. Unequalized response showed shown in gray. 2017 Harman IE target shown in light green.​
This custom preset has more bass. Instead of using a filter band to boost a region in the top octave, I used it to flatten the bump from the ear canal resonance. Maybe it's a little dependent on insertion depth, but it's not as sensitive to it as in the case with the silicone tips, where the resonance showed up as a tall spike. I don't think this preset sounds as lively as the first one, but it might be a better starting point for most other people.
I made these two presets available in the MySound app. Search for "Yuri V". Just keep in mind that they're for the Comply Sport Pro, which are acoustically absorbent even even compared to other foam tips, and so damp treble resonances more. Maybe after trying again to get it closer to target, I'll make another update here. If you have an X3 with Comply Sport Pro tips, maybe you can try out my presets and give me some feedback.