The popular mid-ranger - but are they still worth it?
Pros
:
Multipoint connectivity, lots of configuration options in app, physical mute button, ANC added via firmware update
Cons
:
Cost, tactile button and fit can cause discomfort, default sound signature too bassy, no protection for the drivers
How I review:
(See Previous Reviews)
Model
: Jabra Elite 75t
Price
: MSRP £149.99
Vendor Website
:
Jabra
Review Reference:
RC034
Manufacturer Specification:
Brand: Jabra
Model: Elite 75t
Driver: 6mm
Chipset: Qualcomm QCC5126 (no aptX support though?!)
Codecs: AAC, SBC
Mics: 4
Volume Control: Yes, also physical mute
ANC: Yes, upgraded via the app
App Support: Yes
Earbud Weight: 5.75g
Case Weight: 49.22g
Gross Weight: 43.06g
Earbud Dimensions: 21.9mm x 19.4mm x 16.2 mm
Case Dimensions: 60mm x 36.5mm x 27.1mm
Single Charge Playtime: 5.5 hours
Earbuds and Case Fully Charged Music Playtime: 28 hours, 24 hours ANC on*
Earbuds Charging Time: Earbuds 1.5 hours
QI Wireless Charging: Optional
Quick Charge Support: Yes
Bluetooth Range: 10m advertised
Bluetooth: Bluetooth® 5.0
Bluetooth Protocols: HSP v1.2, HFP v1.7, A2DP v1.3, AVRCP v1.6, SPP v1.2
Water Resistance: IP55
Warranty: 2 Years
Includes:
1 x Pair Wireless Earbuds
1 x USB Type-C Charge Case
1 x USB Type-C Charge Cable
3 x Pair Silicone 'EarGels'
1 x User manual, warranty card, safety information
Real Life Experience
Welcome to the Regancipher review of the Jabra Elite 75t. With Jabra and Samsung seeing mass price cuts on former-flagship models, I decided to go back and review a few sets of headphones that I tested over a year ago - before my time on head-fi- and document my findings, whilst asking the question - are they still worth it, especially with the new iteration of Jabra buds already released with more to come in Q4.
Jabra are a wholly-owned subsidiary of GN Netcom A/S, a global hands-free mobile technology company, based in Copenhagen, Denmark, with their core business in headset products, hands-free phones, and video conference-related tech, and their messaging has typically been focused on B2B AV, with a good reputation for reliability and customer service. This gave them a pretty nice starting position in the consumer TWS market, where customer service generally involves sending the buds back to Amazon or if you're really unlucky, Aliexpress. However, this is a market that moves at frenetic pace - Moore's Law is dwarfed these days! Even with the supply shortages in the semi-conductor market vendors find ways of eeking out more from their existing technology, such as stripping out legacy codec elements, etc. Even Jabra themselves have updated their leading model to the 85t.
The 75t are a much-loved, but expensive option even by today's standards, but their upgrading of certain features via firmware updates - ANC for example - is a sign that the tech that went into them back in the day was cutting edge. Today I'll be looking back at the 75t from a view of 'are they still worth it', and comparing the various elements that made the buds stand out- even compared to many of today's mid-range offerings.
The Unboxing - 8/10
Both the front and back of the Jabra 75t box clearly outline the key features, including app support, which is notable as it is one of the better apps out there and pretty much crucial to getting the best experience from the buds. Note, ANC is not advertised - I bought mine before they added it via a firmware update, but today I think they either changed the packaging or added a sticker.
After a lengthy process of jimmying the yellow box out, there is a very premium decasing which reveals the buds, fitted with medium earjels, the charge case, a USB type C charge cable and a small box which encloses it all, along with a manual and safety warning. The manual I unfortunately misplaced, but the safety warning is in so many languages I lost count, which is reflective of the premium, global branding offered by Jabra.
When you spend this kind of money on earbuds, you expect more than the standard cheap enclosure, and this delivers, although it falls short of something like the Tronsmart Apollo Bold, which is like a story of the history of audio! The USB cable isn't the best quality, and even the earjels appeared to be missing the 'mesh' that is included on the 85t.
The Case - 7/10
The Jabra 75t case is simple, but pretty effective. It is very slim, lightweight, has a large and secure magnetic hinge, and good quality (but not too strong) magnets luring the buds into the case.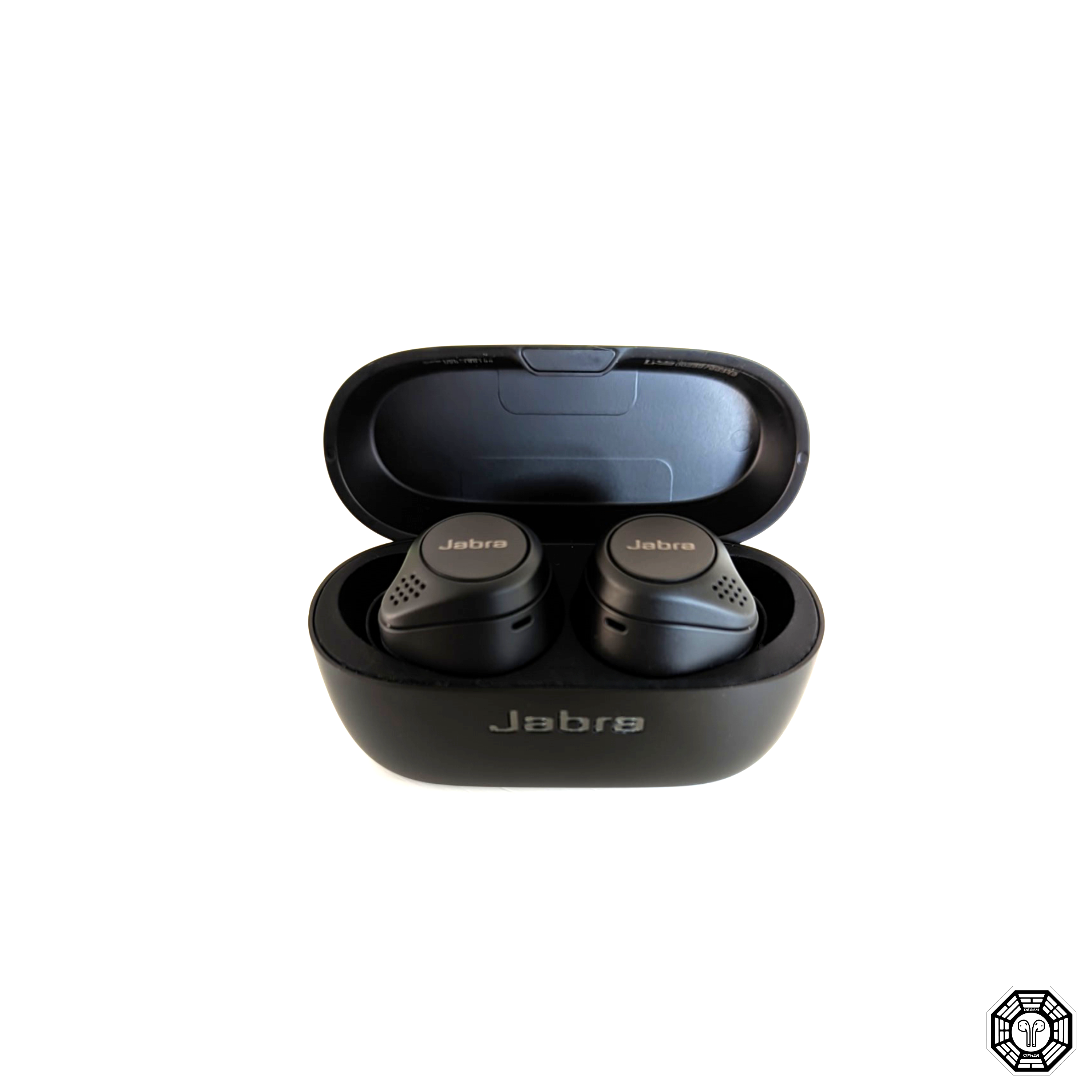 The buds sit intuitively in the the top of the case, and LED's flash different colours depending on the status. Below is taken from the Jabra website:
Note, the LED is located at the rear, next to the USB-C charge point. Jabra have released a model with Qi wireless charging, but this wasn't available when I purchased them.
Portability is top notch. Even with some margin for error, they weigh in below the 46.4g advertised, and the cylindrical shape is suited to fitting in jacket pockets, although probably a bit too beefy for trousers.
Jabra list the width at their longest points, but in reality it 'feels' 6cm, and doesn't feel wide in your pocket. The other measurements are also overbaked on the specification sheet. This makes for a nicely portable case that is commuter-friendly enough, at least for jacket pockets or handbags.
Typically, the mAh is listed on the case- not so here, but the pdf reveals it offers a further 3-4 charges and takes 2 hours 20 minutes to fully charge (long by today's standards), and it supports quick charge, giving 1 hour playtime after 15min juice, holding standby power for around 6 months.
The Ergonomics - 8/10
The 75t offer tactile buttons, which is often welcomed over touch controls which can be hit and miss, especially in this form factor. Whilst they are more accurate and less prone to accidental touches than more typical contemporary touch controls, their shape - with their long neck and invasive design - means that those button presses can feel at times like a lobotomy.
If you're used to testing a lot of buds, the 75t are a little unorthodox, dipping low like the Kinera YH623, mapping quite nicely with your ear shape, without boasting the custom feel of the Kinera or KZ SKS. The neck length is comparable to the Alien Secret, and width comparable to the TaoTronics Soundliberty 94, and whilst reasonably snug, they can feel a touch invasive - not only when you apply pressure to the buttons, but also just in general, especially when subjected to prolonged use. To negate the slightly invasive design, they add in-ear pressure relief chambers, and they work to reasonably good effect.
From the front, whilst they are visible, they aren't in-your-face, although the profile could have been better with a flatter design. This is exemplified when placed alongside custom-IEM style buds like the KZ SKS (see below). Whilst, as I said previously, the shape is fine, they may feel a bit too bulbous for some. In trying to balance noise isolation and comfort, neither are quite perfect, but it's a happy half-way house that has been improved upon since, and I'm sure will be improved further in Jabra's next generation.
Unlike many earbuds, they position the ambient mic on the bottom of the buds, very close to the voice mic. This seemed a little odd, as most position it at the top. Mic tests will judge whether this had any impact.
They also leave a little gap at the top of my concha, and whilst this is difficult to see, it can make them a little wobbly after lots of exercise. This is something that the SoundPEATS Sonic - a similar design - also suffered from. SoundPEATS remedied this on the H1, and KZ went a step further with the outstanding-fitting SKS.
One way of getting the buds to fit better is to use alternative tips. I used the
BGVP S01
, which cover the entire neck, and the sound and fit seem much improved as a result. The tips fill your concha and provide a bit of resistance. It also augments ANC, which will naturally diminish if the seal breaks.
On the inside of the buds, you see the designated L or R (hard to see below), I assume the inner, ambient mic, pressure relief chamber and battery connectors. Note, if you suffer from nickel allergies, this brings them into direct contact with your skin. If you look closely, you'll see that a dust-proof mesh is omitted on the 75t, which is a bit of an insult given the cost - KZ included one on buds that cost less than 20 bucks.
At 5.75g, they are one of the heavier buds out there - heavier than the beefy SoundPEATS T2 at 5.42g, and the same weight as the stem-based Huawei FreeBuds Pro. This is noticeable during strenuous cardio, where as I said previously, they can potentially wiggle free.
The buds are only IP55, which means dust proof and maybe a little rain, but no showering or swimming. They released the 75t active with a higher moisture resistance rating, although many users here use the 75t for exercise without any issue.
Noise Cancellation - 7/10
It is perhaps a little unfair to judge a product that added ANC retrospectively, but Jabra have done a fair job of adding a feature that is essential to many users.
In fact, I would postulate they maybe even allowed for it, given they offload the signal transmission from the SoC using NFMI (Near-field Magnetic Induction), freeing up processing power for future features. NFMI deserves to be referenced in the features really, as it allows for automatic pause when the buds are a certain distance apart without the use of proximity sensors. Not great for Frank Sidebottom, but a clever design that's worthy of mention.
By offloading various processes intelligently, this allows Jabra to use the SoC to do more, so I wasn't surprised that ANC was introduced via firmware. The ANC is not especially strong, but it does have the advantage of being configurable via the app.
Above is the start of a journey whereby you can personalise the ANC according to your own auditory experience through the app. I found this to be useful, because indoors you need different frequencies blotting out compared to commuting, but overall it falls short of the likes of the Edifier NeoBuds Pro, which is just plain stronger all round. It even falls a little short of the Tronsmart Apollo Bold, which were released almost 18 months ago now, and this may be down to using only 4 mics rather than 6 to kick in at full strength - something many newer releases offer as standard these days. Max strength ANC is more akin to the Honor Magic or FIIL T1 Pro. I found indoors it was borderline impossible to nullify distant noise altogether, but it kinda 'muffles' it. Compare to the Soundpeats T2, which are able to completely negate drilling next door but let through keyboard taps, and you get the picture - all frequencies are reduced evenly, all reasonable well, without focusing and excelling in one specific area.
Overall it's a nice add-on feature that is customizable, and works quite well, but not a standout feature by today's standards.
Call Quality - Indoors - 7.5/10, Outdoors - 6.5/10
Calls were, by 2020 standards, very good for in-ear buds, as was the case with the 65t, and this isn't really surprising given Jabra's background. However in 2021 they started to show their age.
When I listened back to recorded calls between my iPhone 8 and Poco X3, my voice sounded predictably distant compared with stem-based buds, but they do a decent job of nullifying distant ambient noises such as traffic and wind without removing them altogether.
Jabra use a 4 mic array which communicates with the DSP element of the SOC to isolate your voice from background noise. Whilst not as effective as the accelerometer method used by Samsung in their Galaxy Buds Live, it is not bad at all, although again, you would expect better given the price tag.
In 2021 they have been surpassed by even budget buds such as the Soundpeats Mini and even QCY'S budget 2021 releases, which retail at less than a tenth of the release RRP.
Outdoors, they fare pretty well for their form factor, elevating your voice somewhat to negate background noise, and whilst it doesn't complete with stem-based offerings that bring the mic closer to your voice, it's not a bad attempt from a brand known for good mic performance, certainly on their headsets, but again, compared with newer models from even the budget brands, it hasn't really stood the test of time:
Audio - 7/10 (for the price paid), 8/10 (raw score)
Perhaps I should start grading with percentages, because it difficult giving this a similar score to other buds when I know it is performing better, and even more so when I know the buds are a year old. All that aside, the 75t are simply too bass-centric out of the box.
My preferred sound signature favours detail over dynamics, and unfortunately the Jabra have been tuned with the latter in mind. As a result, you get a nasty subbass rumble that can overpower the mid bass to the point that the timbre sound off in familiar tracks. This is especially notable in baritone soul and RnB tracks, and even opera, where detail is everything.
Fortunately, this can be overcome to a degree with a little tweak in the app, or in Wavelet or Poweramp if you prefer. Response to EQ is one of the key barometers for good earbuds, and the Jabra were good enough in this respect, but lack the responsiveness of high quality hybrid driver buds, which these days retail at a fraction of the 75t MSRP.
Below you can see I started to tune them, I ended up elevating the mids ever so slightly, dropping the lows further and also edging up the higher frequencies. The result was still somewhat tinny, so you really do need that 10 band EQ to get the most out of them.
As far as the app is concerned, it's not bad at all. Not only do you get a customised EQ, there are some presets too.
The soundstage lacks the airiness of the Samsung Galaxy Buds Live, but is still very respectable for in-ear silicone-based buds.
So long story short, not too great out of the box, but can be tuned without degradation to a level where the sound isn't a disaster.
Connectivity, Controls and Other Features - 8/10
Connectivity is OK, it got a bit patchy on a run earlier and I do sometimes suffer drop-outs with the 75t where they will suddenly disconnect from my phone then reconnect.
Now kudos to Jabra, because very few buds out there support multipoint connectivity, where you can connect two two of 8 paired devices simultaneously, listening to music on one device and being interrupted by your phone ringing as it remains connected to both devices. This is an absolute godsend. On paper.
Hearing 'two device connected' is marvelous, music to my ears. On IOS 14.4 I had a few issues with the connection dropping. This seemed to have been sorted in 14.5 but the behaviour has repeated again a few times since. I'm using an AX200 Bluetooth Adapter on my desktop PC, and to be fair to Jabra it could be Windows or Intel causing the interruptions. When your phone rings you hear a sudden 'device disconnected' as it focuses on the call only, but again, much of this can be customised in the outstanding app.
TWS apps standards are usually turgid affairs that feel like a data-harvesting dream. Thankfully, the slick Jabra app doesn't feel like that at all.
When you arrive, it takes a while for the app to realise your buds are connected. You can 'find your jabra' from here, and also pair a new set.
Once it realises you're already connected, you get the option to adjust ANC immediately, and a clear visible battery life for both the buds and the case.
Hitting the wheel in the top right gets you into the above menu. Here you can update the latest firmware, set up the headset configuration, audio experience, and call experience. Whilst not pictured in full, when you first receive the device it will walk you through a number of different frequency sounds that require you to tap when you hear them. This is designed to fine tune the buds to suit your own hearing. It is in the 'headset configuration' section where this can be toggled.
You can also determine what happens in hear-through mode and auto pause.
Call experience and multipoint behaviour are also set here. Now unfortunately I've hit the limit of images to upload, but there are some other nice features in the app such as being able to assign a physical mute button - I have uploaded a video to show how this works to my
instagram
, but needless to say it's a welcome feature that is often asked for. You can also toggle how long the buds should wait before entering sleep mode, voice or tone guidance, which noise cancellation modes you want to be active, and much more.
Whilst there is no Qi wireless charging, Jabra have now released a case which does support this feature. The other minor grumble is that latency isn't as good as recent offerings, again that's simply technology moving fast.
Overall it is hard to argue with the features offered by Jabra with the 75t - it is easy to see why they were so popular on release, and remain so today.
Battery Life - 8/10
Battery life on the 75t is excellent. I got a good 7 hours, short of the advertised but that's to be expected. The case charges up to around 25 hours total - for ANC buds I find this perfectly acceptable, but not in the realms of more recent offerings such as the ZMI PurPods Pro.
The quick charge feature is extremely handy, but the 2 hour 20 minute total charge time is pretty monstrous by today's standards.
Final Comments
The big question - are the Jabra 75t still worthy of their lofty price tag a year later - is difficult to answer. The 75t have a lot going for them - the app is fantastic, the sound (when tuned) is good, calls are pretty good, ANC is pretty good, comfort is pretty good...you get the picture. Everything is 'pretty good' - they are not outstanding at anything, but they come into their own with multipoint connectivity. So few buds on the market offer this, it makes the 75t almost essential for everyone using earbuds for pretty much anything.
Jabra have tried to craft buds that anyone can use for just about any scenario. This is stark contrast to the likes of SoundPEATS and FIIL, who are skilled at designing lower-cost but excellent value buds which fulfil a specific use-case.
If you want one set of buds that can do everything, the closest you will get is still the Jabra Elite 75t, and if you can get a set through Amazon Warehouse for the crazy prices I've seen lately (as low as £49.99) then absolutely DO NOT HESITATE!
MSRP Price Weighted Score: 86%
Raw Score (on release): 89%
2021 Score: 84%
ig: @
regancipher
Last edited:
Pros
:
- Tactile sub-bass, seismic in nature
- No bass bleed into the midrange
- Detailed sounding midrange
- Comfortable ergonomic shell shape, secure fit without ear fins
- Compact charging case
- Good features in Jabra Sound+ app
Cons
:
- Uncontrolled, woolly sub-bass
- Imbalance within bass region, hyper-boosted sub-bass and relatively tame mid-bass makes for an uneven timbre
- Tinny tonal quality
- Treble region could do with more definition
- Narrow-sounding headstage
Jabra Elite 75t Review - Mini sub-bass cannons
Specifications:
Price - 179.99 USD
Product page
here
Driver - 6mm DD
Weight - 35g charging case, 5.5g each earbud
Frequency response - 20Hz-20kHz (music playback)
Battery - Up to 7.5h with earbuds and 28h including charging case
Charging time - About 2h20min to full charge
Connectivity - Bluetooth 5.0
IP rating - IP55 (resistant against dust and sustained low-pressure water jet spray)
This review can also be found on my hobby
website
with more pretty pictures taken by my good friend! You may find more of his works
here
.
General thoughts:
The 75t is Jabra's new offering as a follow-up for the popular 65t. The 75t takes a different approach from the 65t's neutral sound, attempting one that gives users a solid kick with their favourite tunes. The shell size and charging case are now much smaller, a more-than-welcome feature I love about it. This review primarily aims to describe the 75t's sound, more so than the other features.
Build, comfort and isolation:
The body shell is made of plastic and is much smaller than its predecessor, the 65t. The titanium black face of the buds is finished with a grainy texture and the body has a smooth matte finish. The build feels alright for what you're paying for and I personally wouldn't mind forking out an extra $20 for the Active version released earlier this year.
The charging case has a smooth matt finish that is pleasant to touch. Jabra has now adopted a magnetic lid which snaps shut on closing. Opening and closing the 75t's charging case is unusually satisfying of all TWS sets I've played around with before. It gives me the same satisfaction as toying with a fidget cube.
The shells are incredibly ergonomic as the ear buds now better replicate the ear anatomy with the curved nozzle simulating the 2nd bend in the ear canal, as compared to straight nozzles seen almost everywhere. The result is a comfortable, secure fit without ear fins/hooks which can cause irritation to the ear cymba. Despite having physical buttons, they are easy to press comfortably. With some other TWS, pressing these buttons can be uncomfortable because the user ends up jamming the ear bud further into the ear when they want to pause or take a call.
Passive noise isolation is average and gets the job done within the realm of UIEMs.
Packaging and accessories:
Earbuds
Charging case
USB-C cable
S, M & L silicone ear tips ("eargels", as Jabra likes to call it)
Comments on accessories:
I appreciate how the charging case is compact and thin, taking on the thickness of an average wallet. This makes pocketing the tech really handy when going about my daily activities.
Testing procedure:
The 75t was tested with Spotify on my MacBook Pro and Samsung smartphone. I have also tested the 75t with a tone generator to look out for any jarring peaks or dips. While I can never be as precise and accurate as a graphing tool, I use the rough information to rationalise specific sonic qualities which I hear for myself. Take this information with a pinch of salt.
Each【X】is a reference for some of the test tracks used to come to that conclusion. The list of referenced test tracks can be found at the end of this review. This list is not exhaustive, the full pool of test tracks can be found on my
website
.
Sound overview:
The 75t has a reverse J-shape response - essentially an imbalanced U-shape response with more emphasis on the sub-bass. Attack transients are a tad slow, and can seem even slower in the presence of the excessive sub-bass boominess.
Sound analysis:
The 75t has a hyper-boosted sub-bass with a spike in the bass response 90Hz and below. This sound might not normally work with average IEMs if we pump the sub-bass up to max on the EQ. However, Jabra manufactured the DD to fit in well with its tuning by giving the 75t DD a good sense of physicality - this makes the sub-bass seismic in nature.
However, little was done to provide grip to the sub-bass, making it woolly. This woolly sub-bass provides plenty of rumble and slam for bass-heavy tunes【1】, but it can lend an odd timbre to the sound. This stems from the fact that there isn't a complementary mid-bass boost.
The sheer imbalance within the bass region, with a hyper-boosted sub-bass and tame mid-bass, can make tracks sound uneven in rock & metal - kick drums give a resounding physical thump but tom-toms and snare drums pale in comparison with a lack of weight【2】. The unevenness is alleviated on playback of tracks with consistent synthetic bass beats【3】and therefore works better with the Pop genre.
Surprisingly, the 75t also manages to sound tinny. This only goes to depict the extent of the mid-bass recession despite the ample dose of sub-bass. The 75t might have been tuned this way to make room for the dominating sub-bass presence and to avoid bass bleeding into the midrange.
As a rough gauge, there is a recession from 90kHz to 200Hz, followed by a slow and gradual climb from 200Hz all the way to 6kHz which could be contributing to its tinny timbre. This also causes the midrange to be on the thin side and border on harshness. Tonal quality takes a hit as vocalists sound as if they are singing from their throat【4】and speedy electric guitars lose their crunch【5】.
In tracks with a ballad before a grand multi-instrumental outro which I can best describe as "calm before the storm"【6】, the 75t makes me want to skip the "calm" and dive right into the "storm". The imbalance discussed earlier can make the 75t go from a dark-sounding set to a bright one, solely dependent on whether the mix contains sub-bass presence. It essentially becomes bright without the sub-bass to mask the upper midrange shout.
On a more positive note, the midrange does "force out" subtle background cues because of its detail-oriented aggressive upper mid boost【7】. Some may enjoy this if they don't mind the midrange features discussed earlier.
The treble of the 75t is characterised by its massive spike from 6kHz to 8kHz, which could be Jabra's attempt at balancing out the sub-bass spike. This brings cymbals and hi-hats forward, but does little to give them shimmer and sparkle. In busy rock or metalcore mixes, crash cymbals can sound splashy【8】.
It should also be noted that the overall resolving ability of the 75t is not particularly fantastic for both midrange【9】and treble. This is especially so for the treble region where it lacks definition in cymbal strikes and hi-hat patterns - this contributes to a splashy background harshness as well【10】.
In other news for technical ability, the 75t has a narrow-sounding headstage, exacerbated by its thin midrange. However, the woolly sub-bass can help alleviate this depending on the quantities of sub-bass present during playback. The 75t doesn't do much for separation or imaging. Sonic cues are projected upon a narrow 2-dimensional wall of sound with little depth to it. Subtle background details become audible but aren't placed in a discernible location within its narrow headstage.
When left on
"neutral"
, it sounds as if somebody already cranked up the sub-bass on the EQ and left it as that. We will now discuss each EQ pre-set in brief.
Speech
: Sub-bass presence is the most tame in this setting. Thin and hard sounding vocals described earlier now dominate the mix.
Bass Boost
: Amplifies the already excessive sub-bass bloom and rumble. Helps drown out any abrasiveness in the upper mids and treble for a smoother playback.
Treble Boost
: The most "balanced" signature the 75t has to offer. Be warned that listener fatigue may set in quickly. For me at least.
Smooth
: Begins to imitate a more traditional V-shaped sound signature. Becomes smoother relative to its original sound but is still distinctly 75t sound, which is, not smooth.
Energize
: Similar to "neutral" but with vocals pushed even further back.
Who is this for?
Unique tunings, while interesting, can be polarizing.
The 75t is not for those who:
Don't want another earbud that has a midrange which borders on shoutiness (varies between listeners depending on their tolerance)
Want a TWS with an organic musical playback with their multi-genre library (vocalists can sound as if singing from their throat, etc…)
But the 75t may fit the bill for those who:
Want gobs of skull-rattling (sub) bass for the kicks, especially at the gym
Appreciate a tactile bass response - this is what makes the 75t's overly-bassy tuning work
Don't mind the unusual sub-bass spike for a different take on their music
Have a library which involves heavy rotation among synthetic "future bass" Pop or EDM. (Marshmello, Gryffin, Illenium, Seven Lions, The Chainsmokers, etc…)
Want something convenient and comfortable for their daily commute. The ergonomic earbud housing and compact charging case fit into my daily life with ease.
Would I change anything about it?
With the available EQ presets, I don't find myself wanting the original tuning to be tweaked. I most often find myself rotating between "bass boost" and "treble boost" ("bass boost" for workouts and "treble boost" for short mundane tasks such as folding laundry).
Concluding thoughts:
If this sounds like something you'd like to have on top of your primary reference gear, you might be happy to hear that the other features of the 75t are very well done. The Jabra Sound+ app offers users other features:
- A transparency mode, "HearThrough", that gets the job done
- Soundscapes such as "white noise", "ventilation fan", "ocean waves", "rainy day", "crowd", etc…
- Multi-device connection. It spares me the trouble of configuring the earbuds for use between my laptop and phone.
The asking price offers the consumer a fun, unusual playback with the convenience of TWS. The other features may merely be a gimmick for some but I do find them useful. Its unique playback is genre-specific which makes it one of those earbuds I'd wear to enjoy self-curated playlists containing songs which don't reveal the 75t's bass imbalance - mainly synthetic "future bass" pop. I don't often play acoustic on these as it can sound "naked" without the sub-bass to carry the sound.
The 75t's seismic sub-bass is one that I've grown addicted to in the gym. It is clearly geared towards bassheads who can appreciate its odd flavour and those who need a kick in their tunes.
Test tracks for reference:
Artiste 1
–
Song 1, Song 2
.
Artiste 2
–
Song 1…
The Glitch Mob - Aminus Vox, We Can Make The World Stop, Come Closer. Billie Eilish - bury a friend, bad guy, you should see me in a crown. The Weeknd - Starboy, Six Feet Under.
All Time Low - Favourite Place, Cinderblock Garden, Summer Daze. Solence - Paralyzed. Bring Me The Horizon - Sleepwalking, Shadow Moses.
Josie Dunne - Old School, Ohh La La, Same. The Weeknd - Blinding Lights, I Feel It Coming, True Colours. Halsey - Colours, Roman Holiday, 100 Letters. Aimer - ONE, 3min, Monochrome Syndrome.
Andrea Bocelli - Vivere. Of Monsters And Men - Wild Roses, Stuck In Gravity. Andrew Lloyd Webber - The Music Of The Night, 'Til I Hear You Sing, Memory, Any Dream Will Do. Aimer - Marie, Choucho Musubi, Rokutouseino Yoru. Radwimps - tazuna, Is There Still Anything That Love Can Do?, Confession. Coldrain - JANUARY 1ST. The Fray - You Found Me. Daughtry - What About Now, No Surprise.
My Chemical Romance - Welcome to the Black Parade, Famous Last Words, Thank You for the Venom. M83 - Go!. MY FIRST STORY - Mukoku, LET IT DIE, REVIVER, 2 FACE, ALONE.
Falling In Reverse - The Drug In Me Is Reimagined. MY FIRST STORY - Love Letter, Last Kiss, Kimi no Uta. Radwimps - Mountain Top, Breath, Hari to Toge.
MY FIRST STORY - Mukoku, LET IT DIE. LiSA - Gurenge, ADAMAS, Ash. Sawano Hiroyuki - Binary Star, Tranquility, Trollz, narrative.
Coldrain - ENVY, F.T.T.T, SPEAK, ANSWER / SICKNESS, LI(E)FE. Crystal Lake - +81, Lost in Forever, Devilcry, Apollo, Sanctuary. Bring Me The Horizon - Sleepwalking, Shadow Moses, Avalanche.
Bring Me The Horizon - Drown, Oh No, mother tongue, Happy Song. ONE OK ROCK - Wasted Nights, Take What You Want, We Are, Decision. Sawano Hiroyuki - REMEMBER, i-mage, View. MY FIRST STORY - REMEMBER, REVIVER, Monologue + Kyogen Neurose (Orchestra Ver.). Radwimps - 万歳千唱, 正解 (18FES ver.).
Royal Blood - Little Monster, Hook Line & Sinker, Out of the Black, Figure It Out. ONE OK ROCK - Cry Out, Taking Off, The Beginning, Mikansei koukyoukyoku. MY FIRST STORY - WINNER, Home, Fukagyaku Replace, MONSTER.
Last edited:
Pros
:
1. Compact case with 28 hours battery life
2. HearThrough mode offers optional ambient awareness
3. Multi-Connect allows 2 active device connections
4. IP55 water rating
Cons
:
1. Excessive sub-bass tuning and lacks midrange warmth
Jabra gained popularity in the consumer audio with their mono headsets in 2000s. They later expanded into stereo headphones which I reviewed with great potential. They continued to improve on their audio signature and met my listening standard with the
Jabra Rox Wireless
(which I bought). I also later bought the
Jabra Sport Pulse
, the first wireless earphones with heartrate monitor. Then the Elite series debuted and won many fans. On review here is the new Elite 75t.
Compared to Jabra Elite 65t
For far, the Elite 75t appears similar to Elite 65t. Improvements over the
Elite 65t
, the charging case of the Elite 75t is more compact, lighter and can now stand upright, carrying almost double the battery life in total with the buds. The earbuds are now secured on the case with magnets so they do not drop out easily, unlike the Elite 65t. The volume controls operate on both earbuds: press-and-hold the right earbud to increase volume, and the left earbud to decrease. To change tracks, double-click the left earbud to go next track, and triple-click to go previous track. To bring up voice assistant like Google and Amazon Alexa, double-click the right earbud.
Features
When most true wireless earbuds are implementing the Qualcomm QCC302x chipset to transmit audio signals to both earbuds simultaneously, the Elite 75t continues to implement
Near-Field Magnetic Induction (NFMI)
to communicate to the secondary left earbud. With that, the earbuds audio automatically pauses when the earbuds are further than the distance between your ears, a simple but effective solution without the need to build proximity sensors. To pair, user has to power down the earbuds first (press-hold 1 second), then press-hold both earbuds for 3 seconds, and the LED should flash blue.
Another feature not commonly found on wireless headphones is
multi-connect
: the Elite 75t can remember up to 8 devices, and 2 of them can be connected at the same time. When you are listening audio from one device, you will be able to answer an incoming call from the second device. Very useful for people carrying multiple devices.
Audio Quality
I have liked Jabra's audio quality for the past few years, including the
Elite Sport
and Elite 65t. While the Elite 75t continues to excel in the higher frequencies, I feel that the lower frequencies are overdone. When listening without comparison, most consumers would easily be impressed with the overall sound. You get clear and transparent treble and deep bass boom that rumbles your ear drums. Even in my case, after listening for a while, they do sound exciting and hyped. But once you switch to another better-tuned earbuds, you would suddenly realise how much musical details you have missed out. The Elite 75t lacks musicality and warmth, relegating the mid-bass to midrange into the unknown regions as if it is ashamed of their existence in audiology.
If you do not have software EQ to compensate this aural blasphemy, your saviour is Jabra Sound+, the smartphone app that provides personalisation of features. So using the app, you can adjust the EQ to tame the sub-bass and elevate the midrange to give more soul to the music. The app only has 5-band adjustment, which is inadequate for finer tuning. Below is the EQ compensation I applied using PowerAmp. Noticed how I reduced 30Hz by over 10 dB, while boosting 125 – 1000 Hz to revive the lost details.
As far as I can see, there are no exclusive features added from the app to the Elite 75t, so just like earlier models, you get to select one of three "Moment" modes, where in each "Moment" mode you can customise the HearThrough mode, EQ, Sidetone (hear your own voice when on a call), sleep timer, and others. The Jabra HearThrough mode is similar to "Transparency" or "Ambient" mode on other earbuds, which lets the users hear what's going on around them, and a slider from the app adjusts the amount of ambient sound to be heard. To enable HearThrough, single-click the left earbud.
Like all true-wireless earbuds, there is a short audio lag but negligible for video. Gaming would be a risk if you are counting on audio responses to win. Voice calls sound close and rounded.
Compared to Plantronics BackBeat PRO 5100
I compared the Elite 75t and Plantronics BackBeat PRO 5100. Both have similar design style, price and targets the same segments. The Elite 75t has a slightly smaller case with more battery life, IP55, HearThrough, multi-connect and different personalisation features through the app. The BackBeat PRO 5100 is only IPX4 water-rated, able to customise the tap controls, and can use either earbuds independently for voice calls. When it comes to sound quality, the BackBeat PRO 5100 has a wider sound staging, less packed, while the Elite 75t has a tighter sound, excessive sub-bass, weak midrange. Fit-wise, the Plantronics is slightly more comfortable as the nozzles are more angled and eartips are more contoured. For calls, the BackBeat PRO 5100 sounded a little more distant but clearer, while Elite 75t sounded closer but more baritone, and only the right earbud.
Verdict
Just like how the new-gen smartphone camera owners who love their image quality in over-saturated over-processed look, the Jabra Elite 75t will win fans who are into this "extreme-V" shaped sound signature. These earbuds sweeten the tracks to sound crystalised with heart-thumping deepness, while lacking in warmth and character. Consumers will love it, audiophiles will despise it, but the Elite 75t will satisfy.
Source
Last edited: