Item information
Added by
Views

24,083
Watchers

5
Comments

6
Reviews

3
Last update
Rating

3.33 star(s)

3 ratings
General Information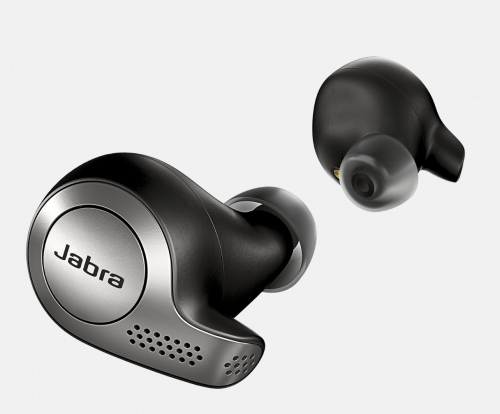 Product page, features, technical specifications:
https://www.jabra.com/bluetooth-headsets/jabra-elite-65t
Latest reviews
I'm going to come at this review from a former Bose Sounds Free owner.

I've had the Bose Soundsport Free ear buds for over 2 years. While not what I would consider an "audiophile" headphone, they were energetic and fun.

They did have some shortcomings. The left ear bud would often drop out.
They would discharge over time, even without use and in the charging case.

While they did not have noise cancelling features, it was difficult sometimes to hear outside sounds and the software/hardware did not support it.

Recently, the Bose were getting worse, never fully recharging and drop outs disconnects more frequent. Bose offered to provide a discount on another pair, but at the office they were offering, I thought I would shop around.

During my initial research, it came down to the Bose or the Jabra. This time, I decided that, for the price I could get the Jabra on Amazon, it was only a few dollars more than the Bose replace cost.

What I gained with the Jabra:
They stick out less from my ear than the Bose, great for use in the winter months when I need to wear a hat.
The case they come in is smaller.
You get pass through audio. I love this feature for when I'm out running in busy areas.

What I didn't like:
The ear tips that come with. The small and medium tips were too small and made the audio sound horrible. The large tips were better, but they caused a horrible suction in my ears and did not feel good.
Overall the mids and highs were fine but they lacked in bass compared to the Bose.

So I went and picked up some Comply tips. Reviews on the specifically marketed tips for the Jabra were a little concerning, so I took a chance and went for the Comply SmartCore Audio Pro tips.

So far, these have been great. They are way more comfortable than the stock tips. They also provide for a fuller sound. Still, even with EQ, they are not blooming Bose bass levels... but now the sound is richer and fuller. I like my headphones and ear buds closer to a rock/metal sounds anyway, so this sound signature fits me quite well.
Cons
:
Customer Service is an epic FAIL
All electronics are prone to fail. Therefore, a warranty is an essential element of all earbuds, including the Elite 65t. However, even a cursory review of Amazon, Best Buy or social media consistently shows that Jabra is an epic FAIL in this critical area. Custyafter customer reports that Jabra first provides boiler plate "reset" instructions over a period of weeks then refuses to respond when that charade fails. The customer is then left with a defective $200 earbud.
No responsible reviewer can recommend a product from such a company!!
Pros
:
Secure fit
Comfortable
IP-55 rating
Customizable sound with built-in equalizer
AAC support
Multipoint connections
Bluetooth 5.0
Good call quality
Volume controls are on the earpieces themselves
HearThrough feature can allow an adjustable amount of outside sound in
Cons
:
Somewhat expensive
Foam tips for this model are still unavailable
The 5-band graphic equalizer can make only very coarse adjustments
Latency is high enough for audio to be out of sync in apps that don't delay video playback (e.g., iOS YouTube app)
Every once in a while, the Jabra Elite 65t's price drops down to $130, maybe lower. It happened during the two-week return period that I had them, so I asked Best Buy to match Amazon. The product page doesn't call these sport earphones, but the specs say they have an IP-55 rating, so I gave them a try. I guess they want to reserve the sport designation for the more expensive Elite
Active
65t. I returned the Jaybird Run after 14 days and decided to keep these Elite 65t instead. Price was a factor in the decision.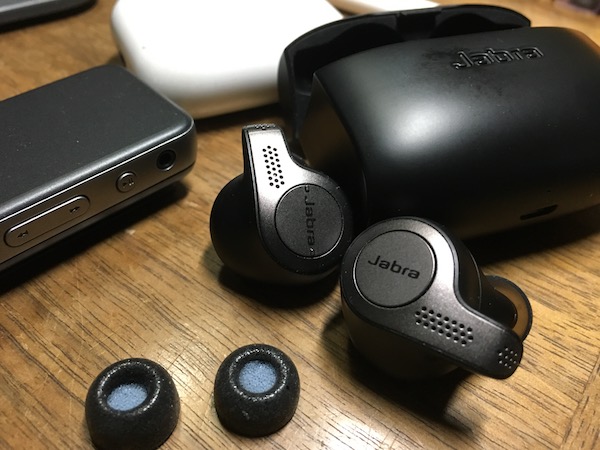 The Jabra Elite 65t​
How they work out during workouts
So far, they have stayed in place during my runs. It helps to have music playing because the earpieces don't do a good job of decoupling the noise from your steps. My natural running style is mid-foot contact. Maybe if I were a heel striker it would be different. Even when walking, the sound of footsteps is magnified. The Jaybird Run does a better job here, especially with the Comply Sport Pro tips.
Maybe foam tips for the Elite 65t will help. Comply doesn't make them specifically for this model. The generic Sport Pro with Smart Core tips fit, but they make the earpieces stick out of my ears too much. Comply Truly Wireless with Smart Core fits better; unlike the Sport Pro model, they don't prevent the earpieces from going back into the charging case. I didn't continue to use them because I didn't like the resulting sound and couldn't fix it with the app's equalizer. Maybe in the future, Comply will make a foam tip specifically for the Elite 65t.
Included silicone sleeves, Comply Truly Wireless tips, Comply Sport Pro tips​
Update, January 12, 2019:
Comply announced that they have a foam tip especially for the Jabra Elite 65t and Elite Active 65t:
https://www.complyfoam.com/products/jabra-elite65t
But I asked them the following question on the product page:
01/08/19
Q: What's the difference between this and the generic Comply Truly Wireless Replacement Earphone Tips? They seem to have identical product photos and the same item model number 25-10111-11. That is, is there anything different about this that makes it specific to the Jabra Elite 65t and Elite Active 65t?
​
This is the reply I received:
01/08/19
A: Thanks for your question! They are the same tip, just marketed to the Jabra Elite 65t customers. Please email us if you have any additional questions!
​
So there you have it. No new tip specially for this model.​
At the gym, the Elite 65t stayed in place during box jumps, burpees, barbell snatches, cleans and jerks, and handstand pushups. They didn't feel as secure as the Jaybird Run, but they didn't come flying out of my ears either. When I shake my head no vigorously, they stay put. Maybe problem is psychological, and with time, I'll get used to them and just focus on the workouts.
BTW, as far as secure fit goes, the Jaybird Freedom F5 is the one that gives me the most confidence and has done so from day 1. I wear them with the cord over the ears and tightened securely behind the head. Secure fitting is a matter that is different from person to person, so of course, YMMV.
The exercises often take me a good 10m away from my phone. So far, the Bluetooth 5.0 connection has been stable. The Jaybird Run has only Bluetooth 4.2, and early reviews slammed them for connection problems. Jaybird must have had a lot of time to fix the firmware because I didn't have any connection problems with them either. Range tests at rtings.com says that the Jabra does better, but neither model had an issue at the gym.
Some Useful features
Call quality is good—better than Jaybird. The four microphones are there for wind noise reduction. Like on the Airpods, calls just work with no problems. If known, the caller's name is announced in a rather robotic voice. There's a feature called
Sidetone
, that allows you to hear your own voice through the mics. Talking while wearing IEMs still feels unnatural to me, so the experience is better with the Airpods. The Sidetone feature on the Elite 65t helps a little bit.
The Sound+ app can tell the microphones to allow some outside sound to come in. They call this feature
HearThrough
, and you can adjust its level. Jaybird doesn't have this.
I find multipoint connections very useful. The Elite 65t will pair with up to eight devices and connect to two simultaneously. When I take them out of the case and put them on, they tell me, "two devices connected." I don't have to do anything to switch between my phone and whatever other device I have with me, tablet or laptop. The Jaybird Freedom F5 and X3 can do this too. The Jaybird Run cannot. I wish the Airpods could do this. Some intervention is needed when switching even between Apple devices.
About the sound
Jabra Elite 65t in the coupler​
The default sound is fine. This is with the EQ set to flat. They sound like the common, inexpensive dynamic-driver IEMs that you can get from Sony, Philips, Panasonic, LG, or JVC. Here's how mine measures with flat EQ:
Jabra Elite 65t frequency response​
This is a bit different from
what rtings.com measured
(unlike my Jaybird Run measurements, which have good agreement with theirs).
They're getting a huge 10+ dB spike around 10 kHz
, and a bigger bass roll-off. I dislike headphones and IEMs with that sort of response. To me it sounds harsh. If I'm being generous, I'd call it fake sparkle that's not supposed to be there. I listen to calibrated speakers at my computer, my home theater, and my keyboards, so it's hard for me to get used to any headphone that does that. I'm going to guess that so many expensive boutique IEMs have something similar, to cater to corrupted audiophile tastes.
I'm glad that my pair of Elite 65t doesn't have that peak, and I've verified my measurements by listening to sine sweeps. What I'm getting instead is a small bump around 7 kHz. The exact frequency depends on the insertion depth and the length of the ear canals. I can hear it with test tones, so it's definitely not an artifact of measurement. To me, it might be small enough that's it's not too harmful to music. This is also where a proper foam tip for the Elite 65t might help.
I don't know if the difference between rtings.com's pair and mine is in the hardware, or if it's a result of a firmware update changing the default equalization. Either way, I'm glad that mine doesn't have the 10k spike. I hope a future update doesn't mess up the response.
The Jabra Sound+ app controls the built-in 5-band graphic equalizer. Every connected device gets system-wide EQ because the settings are stored in the earphones themselves. The Elite 65t retains the EQ even after powering down and powering up. Jabra's equalizer isn't nearly as flexible as Jaybird's 5-band parametric EQ, so it's a good thing that my pair's frequency response isn't too crazy. I played around with the EQ to get something close to the
2017 Harman In-Ear target
:
Maybe I could have boosted 4 kHz more to get even closer. Anyway, this EQ has too much bass for me. With solo piano music, for example, the lowest notes have excessive weight. And the timbre is wrong. When you pound a piano's lowest keys, it should rumble and growl a bit. With this EQ, it doesn't have as much bite, maybe because the notes' harmonics are not in the right proportion. But I can see where this preset might come in handy. In a busy environment like the gym, the extra bass helps to mask the external noise. Also, there are some kinds of music that can benefit from such a boost. Here's the other extreme:
Even with the 60 Hz and the 250 Hz sliders at their lowest positions (which looks like -6 dB), the bass isn't completely flat. This might be the closest you can get to a diffuse-field sort of response. When I'm in a quiet location, my preference is for something in between:
Maybe it could use a little bit more at the frequency extremes to make it sound livelier. I might have made some incremental change since this measurement, but it sounds quite good to me. Pulling 250 Hz down to the minimum sounds a bit extreme, but after listening to it on and off at various levels, I definitely feel that 250 Hz at the minimum level sounds more natural, and that it very much improves the clarity of the music. It also makes the sound closer to what I'm hearing from my speakers.
Please note that this equalizer preset is my preference, and that I wouldn't necessarily recommend it to anyone else. The ideal setting, of course, is program dependent, i.e., one curve might not work for all music. This is why I appreciate the convenience of having an easy-to-adjust system-wide EQ.
Jaybird's parametric equalizer is more flexible than Jabra Sound+: each peaking filter's center frequency and Q are adjustable. I can dial their frequency balance closer to my ideal response. A Freedom F5 or X3 with Comply foam sounds damn good when the EQ is carefully personalized to my taste.
The Jaybird Run's frequency response can be similarly finely tuned. But I'd rather listen to the Jabra Elite 65t after equalization. The self noise is lower on the Elite 65t than on the Run. Its soft background hiss is still audible, unlike on my Airpods, which are dead silent. The Elite 65t also has lower measured distortion than the Jaybird Run. But that's not where the Jabra wins big.
The Elite 65t supports AAC playback. The Jaybird Run supports only SBC, which is mandatory. SBC lossy compression artifacts are more likely to be audible—more than MP3 at the same bit rate. AAC renders audio better than MP3 and AptX, let alone SBC. On the Elite 65t's product page, AAC playback is not a listed feature, but I can confirm AAC support. Here's a screenshot of Bluetooth Explorer on a Mac Pro while playing music:
Bluetooth Explorer showing AAC as the active audio codec​
The Jaybird Run shows only SBC as the active audio codec even when AAC support is enabled. I wrote about my problem with this in
my Jaybird Run review
. It's disappointing because their Freedom and X3 IEMs have AAC.
More about the Jabra Sound+ equalizer
The equalizer in Sound+ doesn't have any markings on the vertical axis, so it's just as bad as Jaybird's EQ. I wanted to know more about the range of adjustment, so I measured the frequency response with each individual slider at the maximum and minimum settings, then subtracted the resulting curves from the one with the EQ set to flat. Here's the result:
Difference from flat EQ with sliders at maximum and minimum levels. Red: 60Hz, Green: 250 Hz, Blue: 1 kHz, Purple: 4 kHz, Orange: 7.6 kHz​
It looks like +/- 6 dB for each band. But look at the one for 7.6 kHz! The label is wrong. It looks like the center frequency is near 16 kHz, which would continue the pattern of having the adjacent bands two octaves away from each other. Or it could it be a shelving filter. If I didn't make an error in measurement, the range looks like it could be wider than +/- 6 dB. If you were hoping to reduce the level of the peak near 7 kHz, please note that the slider labeled 7.6 kHz will have less effect than shown in the app.
Latency and video sync
Rtings.com measured the Elite 65t's latency at 224 ms. It's practically the same on the Jaybird Run and the Bose QC35 II (at 220 ms each). The Jaybird Freedom and the Airpods do better at 179 ms and 168 ms, respectively.
None of them are suitable for playing software instruments in real time. When I tried the free (but good) Audiokit Synth One app for iPad, the differences feel bigger than these numbers. With the iPad's built-in speakers, the latency is low enough that the notes play immediately when you press the keys. With the Elite 65t, it feels like half a second. The Airpods react much more quickly, but they're still unusable.
I got mixed results when playing video in iOS. Audio-video sync depends on the app and how well it delays video to match the audio. iTunes and Netflix are watchable. Other apps don't sync as well; YouTube has one of the worst results. It might be a deal-breaker if you spend a lot of time there. But this is something that can be addressed in an app update.
YouTube was not as bad in Edge or Chrome on a Windows 10 PC. Search "audio video sync test" in YouTube for videos that can help you estimate the delay. It was close to 300ms on an iPad Pro and the Elite 65t. Get this: the lag is much, much smaller when you play YouTube videos in Safari! It's practically in sync. The only problem with this is that the browser's UI doesn't disappear when you tell YouTube to play the video full screen.
Conclusion
Compared to what else is out there, it's not bad for a true wireless sport IEM at $170. As of this writing, I'm unaware of anything cheaper with the same features and performance. It's a better deal, of course, if your timing is good and you catch it when it's $130.
Comments
nice review. can you tell me the Jabra-Elite 65t have multipoint capability? And does it announce the calls coming in?
nice review. can you tell me the Jabra-Elite 65t have multipoint capability? And does it announce the calls coming in?
Thanks, and yes, it has multipoint. It can pair with up to eight devices and connect two two simultaneously. I think it's in my review. Switching between an iPhone and an another device works seamlessly. I've tried it with an iPad, a Surface, and a Mac.
Call quality is good. It announces the calls coming in, and if known, announces the caller's name in a rather robotic voice. I'll add that info to my review.
nice review. can you tell me the Jabra-Elite 65t have multipoint capability? And does it announce the calls coming in?
thx yuriv
The
best Bluetooth earbuds
. Comfortable, great sounding, fantastic for phone calls, and equipped with all the controls you need, the Elite 65t is the first set of true wireless headphones we'd recommend over traditional Bluetooth earbuds.