ISN AUDIO D02
Pros
:
Great build and material quality. Beautiful blue color shell. Sound quality. Price. Great fit and ergonomics.
Cons
:
Minor changes between switches.
Before starting this review, I would like to share technical aspects and package details.
Here is the link of ISN Audio D02:
https://penonaudio.com/isn-audio-d02.html
Specifications:
Brand:ISN Audio
Model: D02
Driver: 10mm dynamic driver
Material: resin
Impedance: 32 Ω @1khz
Sensitivity: 108 ± 3dB @1khz
Frequency response: 20-20kHz
Connector: MMCX
Plug: 3.5mm Audio
Cable length: 1.2M
Package Details:
ISN D02 IEM
3 pairs of blue silicone eartips (SML)
3 pairs of green silicone eartips (SML)
Carry case
Carabiner
Test Equipment:
Opus #1
Topping D50s & THX AAA 789
Earmen TR-Amp
Chord Mojo
Package, Design & Isolation;
Let's take a look at the packaging. ISN D02 comes with standard small ISN cardboard box. There is carry case inside of the box and everything has in to it. Nylon carry case is looks flimsy but it does its job. There is a plenty size and quantity tips and you can find the best fits for yourself. ISN D02 is very well build gorgeous looking earphone. It is made by medical grade resin which is looks and feel pretty high quality in hands. I can't believe the price when I inspect the D02 because it has same or better-quality feelings then the much more expensive earphones that I've used. It has only one color which is blue but it is so beautiful in low light condition. There is a gold ISN Logo on both side of the faceplate. There is an air venting grill on top. MMCX sockets feels solid and secure and you can use your after-market cables without problem. Stock cable looks and feels good. It is pretty soft and tangle free. D02 has nice ergonomic shape and size which it will fit most ears without any pain. Isolation is pretty good and there nothing to complaint about it.
Sound:
D02 is typical V shaped sound earphone. There are some minor differences between switches but I've used with the default settings while testing (switches up).
Treble has quite enough sparkle and energy. Clean and clear presentation results in an extremely good musical performance. The resolution and level of details are well above the price and surprisingly good. There is no sibilance or hard presentation as well as no roll off, but it might be sharp with some bright source with silver cables. Details level is really great which I've listened so many instrumental tracks and have heard background details very easily.
Although mid frequencies are less emphasised then the other frequencies, they are not that far behind and weak in presentation. Mid frequencies are very detailed and has good performance in terms of resolution. Instrument separation is extremely successful. The vocals are impressive, but I like male vocal performance more. It was so enjoyable to listen to Richard Hawley – The Ocean track. Although the mid frequencies are relatively behind, the vocals are forward and have a fuller presentation. With the help of air venting, the stage has a very good sense of width and distributes the instruments over a very large area. Before listened D02, I was expecting mid frequencies will be weak and laid back, but it has a very detailed and bodied presentation.
Basses are one of my favorite frequencies on D02. It has extremely pronounced and powerful beats. Sub-bass has roll of, but they can still go pretty deep. Bass is a bit emphasized in quantity and this may be too much for those who do not like the bass frequency very much, but it will also make the bass-head users smile. However, I would like to mention that it is not a bass-head level earphone. I can consider it is fast, but still the recovery time is a bit slow with the disadvantage of the dynamic driver. The bass is tight but I guess it will perform much better with a better cable. The body and voluminous presentation offer a very musical and enjoyable performance. As you can imagine, it is very enjoyable to listen to music like EDM.
Soundstage is spacious and airy which every instrument spread out enough distance from each other. Instrument separation and details are easy to hear it and clean background helps a lot.
Compare:

D02 vs Rhapsodio Orla:
Orla is single dynamic driver earphone from Rhapsodio and it has a nice beautiful sound. Both earphones-built quality is top notch. Although Orla has smaller in shell size, D02 fits my ears better and provides more secure seal. Sound wise; Orla is organic, sweet and lush while D02 is more energetic, powerful and dynamic. Trebles are more pronounced and emphasized on S02 which provides better clarity and details while Orla is more relaxed and smoother in presentation. Technical performance is better on D02 in terms of resolution and details on trebles, but Orla has beautiful tonality and sweetness that you can easily like. Lush presentation of Orla continuous on mid frequencies as well. It is organic, slightly forward and smooth while D02 is more sterile and drier when I compare side by side. D02 is slightly laid back and less emphasize than the Orla. D02 provides better clarity and details. Vocals are more natural and easier to listen with Orla. Bass is more dynamic and powerful on D02. It hits harder and goes deeper while Orla is lush in presentation and beats are smooth and soft. D02 is more aggressive and edgy. D02 provides airier and spacious soundstage I believe air venting has a big role on here. Orla soundstage feels intimate and limited but still it has nice fresh feelings.
D02 vs Final Audio E5000:
E5000 is one of the favorite earphones from Final Audio which has a nice safe tuning. Both earphones material and build quality are great. E500 has stainless steel while D02 is made by 3d printed resin. Both earphones have MMCX connectors. Like D02, E5000 also has 1 single dynamic driver per unit. Both earphones are great in comfort but D02 provides much better sealing and isolation due to its design. E5000 is smooth, lush and rich while D02 is more dynamic and fun to listen earphone. D02 has better bass presence and it is more in quantity while E5000 is less emphasise but still has good amount of bass. Mids are more organic, natural in presentation and forward on E5000 while D02 has slightly recessed and thinner on mid frequencies. Vocals are more pronounced and forward on E5000 and at the same time it feels intimate in stage. D02 is slightly laid back on vocals but it has nice airy presentation and has better clarity. Trebles are more forward and detailed on D02. E5000 is smooth and creamy. D02 provides better details and resolution. Soundstage is wider and deeper on D02 while E5000 has more limited presentation.
D02 vs Bille Jean:
JH Audio Billie Jean has 2 balanced armature drivers per side while D02 has 1 dynamic driver per side. BJ is made with high quality ABS plastic and its body shape is slightly smaller than D02, but D02 provides better fit and secure seals on ears. Also, BJ comes with flimsy plastic stock cable while D02 comes with beautiful SPC cable which is much better. BJ has quite strong and powerful bass for a balanced armature driver but it can not scare to D02 in this sense. D02 is more in quantity, hits harder, goes deeper. Thanks to dynamic driver. BJ has better speed and control on bass and much tighter while D02 slower and less controlled. Both earphones have recessed mids but vocals are slightly forward and when I compare side by side. Trebles are more extended, sparkled and detailed on D02 which provides more resolution and details. BJ has smoother slightly dark trebles. Soundstage is wider and deeper on D02 and instrument separation is better.
Verdict:
ISN D02 is fantastic earphone for 80$ and it is absolutely bang for the buck. There is so many good things about D02; enjoyable dynamic tuning and very well-made material and build quality, spacious airy soundstage. I haven't heard anything better than D02 at this price.
ISN D02 Review!
Pros
:
Well-tuned, balanced, V shaped with no honky mids, good soundstage, fit
Cons
:
Serious Driver Flex, peaky upper mid-range and lower treble.
D02 | Overall Score: 7.5/10
More reviews at:
www.perrivanaudio.com
Driver Setup: 1 Dynamic Driver

Price: 80 USD
Intro
Disclaimer: This review set was graciously lent to me by a friend and the review is written of my own accord.
ISN had been around for quite some time with its acclaimed hybrid model – H40 which impressed many and managed to attract numerous followers. Today we will be taking a closer look at its cheaper offering the ISN D02 which is a single dynamic driver IEM which we will see if they are able to re-create their success with the D02!
Accessories (Score: 7.0/10)
The package itself is small and compact, with just a carrying case with the IEM itself, tips and cable all packed into the carrying case. Of course I don't expect it to be as "grand" and fancy as compared to the likes of moondrop's idea of package and accessories but I guess these will suffice as they covered all the important accessories that I feel any IEM should have.
Build Quality and Fit (Score: 6.5/10)
The shell feels good in the hand and the fit is above average as it has a relatively longer nozzle (deeper fit) as well as a very ergonomic design. Isolation (no leakages post insertion however it is vented so isolation takes a hit) is good with the right tips and the cable quality looks well built and rather fancy in my opinion. All is well here except the driver flex issue. I understand that there are some units that do not experience this issue but unfortunately this is just my experience with the unit. To overcome that, there are many solutions posted elsewhere in the web, but the general rule of thumb would be slow insertion and slow removal to minimise "pops" from the driver.
Sound (Overall Score: 7.5/10)
This unit sounds like a borderline V/U shaped IEM to me, but it manages to steer clear of that honky mid-range trait which many other V-shaped IEMs suffer from. In general, I enjoyed the sound of the ISN D02 and it being one of the few V-shaped IEMs that I consider to be "unique" due to its vented design. This review was done with the switches being set "up" which is its default setting, flipping the switches reduces its high frequencies which may serve you well if you want something less aggressive.
Sources used
-
Ibasso DX120
-
IPhone XR
-
Atom DAC and AMP

Music/Albums/Artists, I listened to
- Alan Walker
- Billie Eilish – When we all fall asleep, where do we go?
- Tchaikovsky 1812 Overture
- Cigarettes After Sex
- One Republic – Dreaming Out Loud
- Kodaline
- Keane – Fears and Hopes
- Nino Rota – The Godfather OST
- Fedde Le Grand – Cinematic
- ARTY – Rebound
- Halo 2 OST
- Halo 1 OST
- Czardas
- Lauv
- Aladdin OST
Bass (Score: 8.0/10)
Bass is tasteful here as it does have that rumble as well as a impactful punch. For example, when listening to the Halo 2 OSTs, bass drums as well as bass guitars sound deep and huge which really helps to translate that "epic-warzone" vibes. Its sub-bass is relatively less emphasised here than mid-bass, but it does not overshadow them. the decay might be a tad too long which makes the presentation slightly sluggish or muddy when moving through fast passages but in general still an acceptable trade-off between impact/presence and agility.
I would say that the bass on the ISN D02 can satisfy most casual and semi-critical listeners although bass heads should take note that although the frequency response graph measured in this review shows an emphasised sub-bass response, I do suggest otherwise based on my experiences with this unit.
Mids (Score: 7.0/10)
Mid-range sounds less emphasised but not too much such that it feels honky or absent. Male vocals still manage to shine through the accompanying tracks in Keane's "Everybody Changing" however I do sometimes feel that the keyboard tracks and bass lines are constantly competing against the main vocalists for the spotlight. I do pick up some glaring midrange spikes that made the keyboards, pads and synthesisers sounding relatively much more forward than the rest. I would say that male vocals on the ISN D02 sounds more laid back/less intimate as compared to female voices. I do find the upper mid-range peaks and low treble to be peaky which I find myself toning down the volume as it can get slightly tiring to listen to.
Treble (Score: 7.0/10)
The treble doesn't sound splashy nor sibilant, but there are some spikes in this region as OSTs with violins and synths sounds relatively way too forward and present as compared to other parts of the track. For most of the time, it sounds balanced or relatively on par with other emphasised frequency bands and occasionally giving that sparkle to spice things up. For example, when listening to "I will survive" cover by Scary Pockets, the combination between its bass guitar line, cymbals and high hats shimmer made it super lively and chill at the same time.
The ISN D02's treble really brings some energy to the table but on the flip side, it might induce fatigue as time passes. For sure, there are going to be tracks that exposes its uneven/peaky treble but for most tracks, you can expect that airy but non-sibilant energy that you soak your ears in.
Overall
On top all the frequency response and how it is tuned throughout, soundstage is one of its unique points and one of the first quality that I noticed when I plugged in and play. Its vented design seems to be giving it that technical edge in this area and I am just very pleased with what ISN had done here. Imaging is decent-above average from binaural recordings and tonality wise I would prefer a more present lower-mids to keep things more balanced.
Comparison
QoA Vesper
I think it is a pretty close match up here but I will lean towards the QoA vesper partly due to its completeness as a package, build quality (no dr iver flexes picked up) as well as sonic performance. The vesper's upper-midrange and lower treble has more control and does not have that uneven peaks as per the D02. Although the ISN has a better soundstage, the Vesper compensates with its overall presentation and the ability to suit more genres!
The D02 is no slouch either but it innately posseses more quirks that appears right in my face which cannot be avoided
Conclusion
In conclusion, I felt that for 80 USD the ISN D02 checks most boxes that I look out for when looking for a sub 100 pick. It was tuned well, along with that awesome soundstage that is tough to see in sub 100 choices. Although, driver flex was a huge issue that I encountered with this unit which I felt is one of the greatest weaknesses that it has. Other than that, I am fully confident of its sonic performance at this price range, a fearsome contender to all the other sub 100USD V/U shaped IEMs out there.
Last edited:
ISN D02 affordable excellence
Pros
:
Higher end 10mm Carbon Crystal Dynamic in an all resin semi custom universal shell. Lovely all dark blue color. Not so large, comfy ergonomic shell should fit most. Fundamentally versatile balanced tuning with emphasis in mid bass, upper mids and mid trebles. Very good imaging with a spacious airy stage due to a semi open well vended design. Dimensional and rich in tone. Amazing when amped. Very affordable
Cons
:
Standard 4 core SPC is just standard with decent quality. Some minor driver flex reported, minimum effects with the switch in the ON position. More mid bass than sub bass.
ISN D02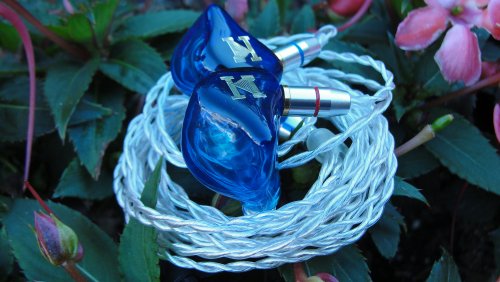 ISN has become a brand that enthusiasts will associate with cables first but has been making some outstanding earphones as of late. Their H40 has garnered a fairly large fan base and for good reason. Talk about coming out of the gate with a big bang. Then there was the single dynamic D10 and now their newest the D02.
I would like to thank ISN audio for insisting I give the new D02 a good listen and a report. I am not associated with ISN or Penon. But I am however enthusiastic about their offerings as I consider ISN earphones some of the best bang for money earphones in the market. You can read more about and purchase the ISN D02
here
. H40 review
here
. D10 review
here
.
ISN D02 comes to you in their familiar blue smaller packaging. Included within is their all black semi hard rectangular zip up case. Included in the case are 2 sets of silicones as standard, If you're lucky you might get a few extra sets of tips as well as a perk, a decent 4 core SPC cable and the ear pieces. ISN has always been about modest simple yet to the point packaging. You're not getting a huge variety of tips or are you getting a premium cable in a large box with a lot of extras. You're getting the goods and considering what they are charging to own a pair of D02s I can understand the minimum packaging here.
D02 has a very interesting build. It is the familiar all resin filled semi custom shell but within that shell incorporates a very capable 10mm carbon crystal dynamic driver vented and positioned very nicely and tilted inside the back end of the shell.
While carbon based dynamic drivers are nothing new. This design however is something a bit more rare in the IEM world. There is a large 3mm vent right above the dynamic driver. This large vent allows the driver of the D02 to have plenty of breathing room and even better is properly vented to give some outstanding sonic ability to the D02. This design is a semi open design due to the large vent and is brilliant in execution. I will get into it more so in the sound descriptions.
Single dynamics has seen a relative surge as of late. While it is difficult for other types of drivers to cover the sound spectrum, BAs for example, the tried and true dynamic has no problems covering the 20hz-20Khz of the sound spectrum. This has been the mainstay of the in ear monitor for the longest time but now we see dynamics with more ability. No longer are we seeing your standard neodymium dynamic. Just about every dynamic based earphone that stands out has some sort of coating on them and the D02 is a carbon based dynamic that really has much more ability than your standard driver. More than just a gimmick the coatings give a more rigid based material that results in what seems to be an extra when it comes to sound but all this is nothing without the right tuning.
Sound analysis was done using my Fiio M15, Shaning M6 pro, M5s, M3s, Ibasso DX160, Sony ZX300, and IFI Black Label.
I have to admit sub $100 earphones nowadays have made some amazing strides. No longer can you expect just decent performance from a sub $100 earphone. You need to demand from the sector cus companies like Ibasso, Fiio, NF audio and the large variety of budget fi segment are now pushing some amazing sonics for well under the $100 mark. With that being said the competition is more than fierce in the price range, it is just down right daunting. The one upmanship has steadily increased over the years where now the sub $100 earphones no longer actually sound like sub $100 earphones, well the good ones at least.
And the D02 is one of the good ones.
What if I told you it actually is leading the charge for one of the best if not the best sounding earphones in the segment? Ya let's get that out of the way. What you once thought a good sounding sub $100 earphones are is great n all but then you have the D02. .
Out of the box the D02 had an airy sound quality with a wider stage for earphones. Again this has to do with the large vent/ design on the top of the earphones and the effects on the sonics are one of the better airy sounds for an earphone. Usually this type of airy, wider sound is associated with earphones and headphones much higher up in the food chain and you're certainly not going to get that from sub $100 earphones. On top of this it has a tuning switch on the back of the shells. So this was getting very interesting.
Looking at the shells of the D02 and the nicely vented driver. The Driver sits toward the back end of the shells tilted, giving a nice broader stage. I can't state enough just how good the sense of stage is on the D02 not just in width but in depth and height of sound. All ISN earphones have a good sense of stage and the D02 seems to follow suit. If the stage and or a spacious sound in an earphone is important to you. You need to check out a D02. Then there is the actual sound balancing.
Foundational tuning set on the 1 switch, which is what it comes to you set at is a balanced tuning with a slight emphasis in upper mids, mid trebles and mid bass. Fundamentally however it is more closer to a balanced tuning than overly emphasized in any given range of sound. I detect no recession or off peak in the treble area that is perceivable. It was apparent to me this time they went for more of a versatile sound tuning something similar to their H40 vs the D10 which was clearly a V shaped tuning.
According to the marketing material with the switch on this was supposed to be more ideal for EDM and rock. To be honest I didn't notice a huge difference between the 1 and the ON switch. The base tuning is done so well that for me at least it wasn't a big deal. The review here was just based on the 1 switch.
That airy stage lets the dynamic sounds of the D02 breath life into your music and treble has good definition and unexpected extension. The clear crisp treble end has enough energy and presence to let treble have its own arena of sound. With a good amount of sparkle, a natural decay and shimmer when called for, the ISN crew did a great job at tuning the treble to be representative of the high end while not being overly cooked. Treble has just a sliver of influence in the mid bands so tonality is just a hair above a neutral leaning toward cooler in tone in the mid bands. Giving a clean sheen to the overall sonics. With a nice copper cable this smooths out this affect and tonality is even better perfected.
Mids has very good range with a right amount of height and depth giving a more surround type of presentation. Mids layering and imaging is superb on the D02 as it is easy to pick out details in the mid bands on the D02. Vocals sound rich and airy due to that vented design in conjunction with that wider stage and you got the making for a very immersive experience. Upper mid bands have a slight forward emphasis letting vocals shine be it male or female. This coloration while not exactly natural, sounds rich in tone in conjunction to a bit of forwardness. That natural dynamic timbre also plays a key role in giving the D02 a smooth rangy mid section that delivers very good imaging in the process. One aspect I appreciate about ISN tuned earphones is their ability to utilize space in their designs and it shows in the mid range of the D02. This aspect was clearly evident in their H40 as well.
Bass has its main influence in the mid bass. Bass impact is plentiful when called for and while emphasized does not encroach into the lower mids. Bass can be brawny when called for but these are not a big bass earphone. Sub bass has a roll off and any notes that reach 50hz and lower will have less intensity vs the bands above it. While most enthusiasts prefer having the sub bass to be strong while less emphasized in the mid bass I would say the sub bass does not fail completely here.
Unless you're an extreme bass head you're not gonna notice much and these in fact for bass genres sounds adequate if not just outstanding for EDM and electronica since most of the bass notes are from the mid bass area. Even performing excellently for hip hop. I do wish there was a bit more sub bass but given the positives to the rest of the sonics. I am not gonna complain. The quality of the bass end also falls in line with the rest of the sound. The D02 has adequate punch; it is fairly tight and speedy for a dynamic. Metal and rock plays nicely with that mid bass punch and double kicks keep up with no issue on faster more complex metal tracks.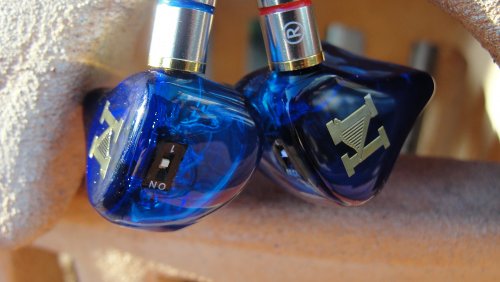 Overall tuning design is focused from mid bass to the mid trebles and while the tuning is not perfect, it does so many things right. Most importantly they sound immersive and sound absolutely musical due to their rich tone and if that is not the bottom line aspect to get you into your music I don't know what it should be. I can't under state just how much of that larger airy quality to the sonics plays a role. This exact tuning with a narrow not so airy stage and you hearing an average earphone. But average is not how I would describe the D02.
There are earphones that don't have these qualities to the sonics that cost much more and here we are reporting about just this on a sub $100 earphone. The ISN D02 simply has to be one of the best sounding earphones in the budget sector. I can't think of too many that sounds just as good or better in the price range. The compelling aspect however is in the pro tuning and excellent technicalities of the D02. If these aspects sounds appealing to you. Check out the dedicated thread here and read as much as you can about the ISN D02. As always thanks for reading and as always happy listening.
Shanling M3s source+ IFI Black label+ ISN GC4 cable
Bonus. Maximum D02 listening. Tip rolling 101. It has been reported that more medium to narrower bored tips bring out the best in the D02 but I will go one further. Amping the D02 yields quite the experience. Out of my IFI Black label the sound becomes headphone like. Crystalline treble clarity and detail. A more expansive holographic stage with a punchier deeper bass. While the D02 does not require amping as they will work fine even on a cell phone. Amp these and you will be rewarded with an earphone that sounds absolutely nothing like what you paid for. Tip roll, cable roll and most of all amp the D02 to maximize their sonics.
Last edited: