Disclaimer
This review is made by myself based on my observation and listening pleasure of The item on gears that I have.
I have no affiliation to Ifi in any way and everything said here is based on my experience over a week.
The Official pricing is 399.00 USD at launch.
The pricing in Australia is 589.95 AUD, so the review will be made using that as the value as I'm in Australia.
INTRODUCTION
(If you read my other review, you can skip this)
I'm an Indonesian working as a Web Developer in Melbourne, Australia.
Other than programming/coding, listening to music is another one of my hobby.
I've been a metalhead since 5 years ago, I also listen to other genres occasionally, but metal music is my focus.
I don't actually listen to all kinds of music, it is important to understand that this review is based on my observation on the kinds of musics I like which I have tried with the Unit, and those are mainly:
- Metal (many kinds, mainly the extreme kind, like 80% off the time)
- Rock (mostly Porcupine Tree, Steven Wilson, Riverside(rock/metal), Radiohead or something like it)
- etc
Genre's that I don't listen to, not even one bit.
- Rap
- Classical
- Bollywood stuff
- Country
Headphones Used
- Meze 99 Classic
- Focal Utopia
Gear Used for Comparisons/Testing
- Fiio X7 II
- Hiby R6
- iFi Nano iDSD BL
- iFi Micro iDSD BL
- Violectric HPA V281
- Samsung Galaxy S8+
Packaging
Simple white box, nothing more, nothing less. Made from recycle-able material with pictures of the unit at the front and, tech specs at the back and features on the right sides.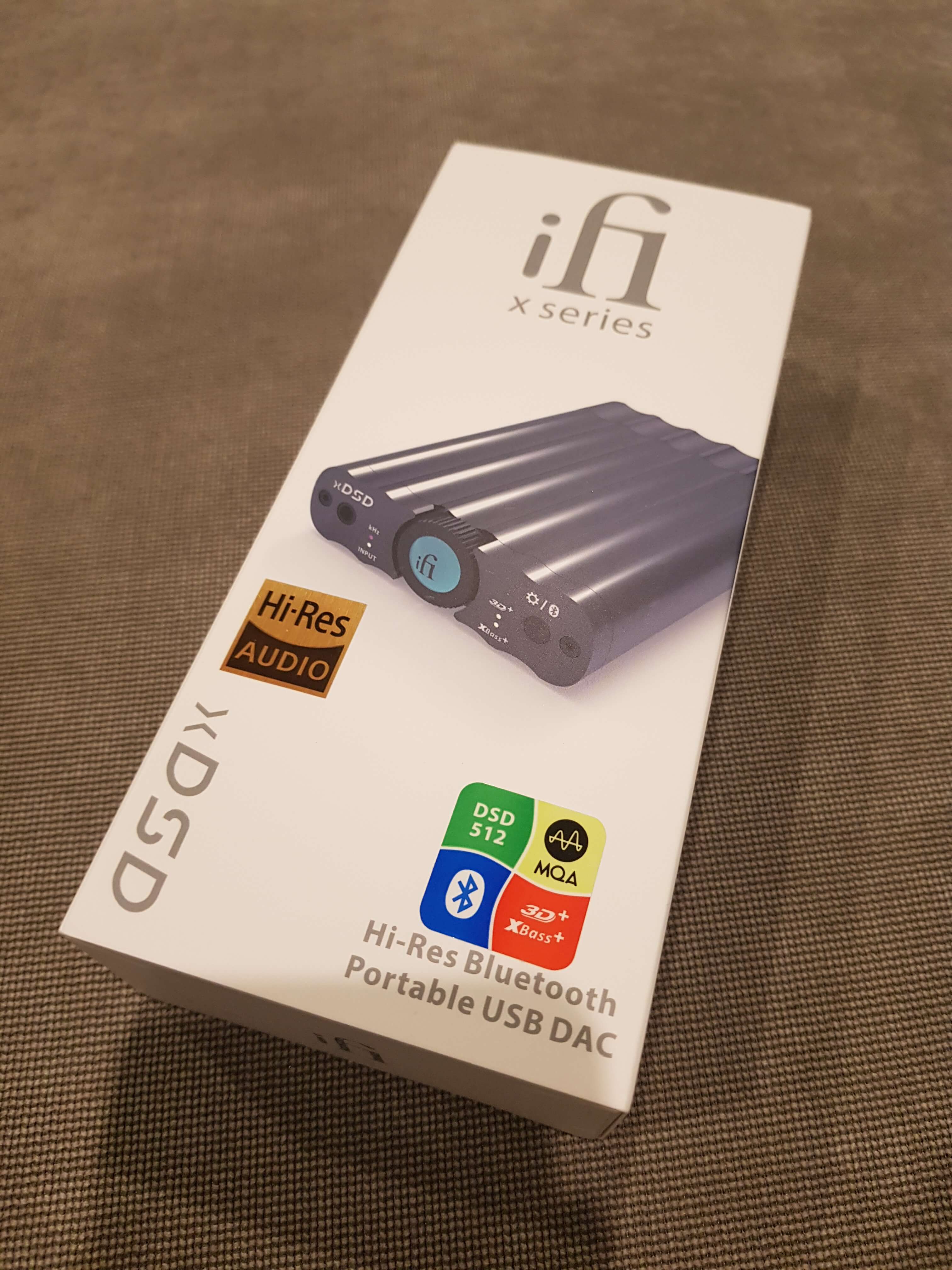 ACCESSORIES
- Black carrying pouch
- USB adaptor (USB to USB-A)
- USB for digital input
- Plastic strapping for stacking
- Toslink to mini-optical adaptor
Output Jack
- 3.5mm headphone out (TRRS Balanced, can be used as single ended as well)
- 3.5mm S/PDIF and optical
Extra Features:
- Filter for measuring and music listening (I didn't play around with this)
- 3D sioundstage expansion (soundstage/treble boost)
- XBass (bassboost)
- MQA
- DSD playback
- Bluetooth Pairing
Battery Life
8 -10 hours depending on loads, made it to the end of work day, good!
Build quality
Material of Choice is good, however the execution is a bit unrefined, this is just nitpicking here as we all buy this unit not for looks, but the aluminum glossy finish is super prone to finger print, you can see it in the pictures.
It would have been much better if they build the whole thing using the black aluminum material at the bottom of the unit.
The assembly could be a bit more tidy, I'm totally nitpicking here but due to the wavy shape, the components don't fit together nicely, you can see some unrefined bits here and there, all smoothed out though so you can't cut or injure yourself, so no worries there.
iFi usually make great volume control with excellent feel and weight to it, this one feels a bit more flimsy and will now increase the volume by steps instead of the usual analog style ones, I think this is a wrong move.
Rubber feet at the bottom is a nice touch and is quite grippy.
Form Factor
Excellent, The device is small and fit in the hand very easily, It is the smallest DAC/AMP product iFi makes, most of the complaint with the nano is the height as it is quite a thick unit, while micro is really not pocket-able, so iFi definitely listened to the customer complains.
Bluetooth Connectivity
When you turn it on it will default to pairing mode for 15 seconds, where you should be able to find and pair the xDSD with the device of your own choosing, after that hold the setting button for 3 seconds to force pair the devices.
My Goto DAP right now is the R6 and for some reason my R6 weren't able to find the xDSD but found many other device, even when both is sitting very closely.
On my Samsung Galaxy S8+, it does find the xDSD along with many other device, i don't know why this is, it seems like the Bluetooth is not discover able on every device, I hope that this is not the problem with the xDSD.
I gave it some listen in wireless mode, but not for long as I want to get how it sounds in full capability.
From my brief listen, it sounds very good and similar to the wired mode, i didn't spend some time to AB test this as the process is difficult and cumbersome, by the time I switch I would have forgotten the sound between wired and wireless.
Sound Signature
I wouldn't call this V-shaped, but more on L-Shaped. Moderate amount of emphasis in the bass, while mids and treble has very similar emphasis.
The mids is slightly forward, with some hefty bass that hits with good power, treble is smooth and not the analytical type.
Bass
The Bass is quite tight with good dynamic and attack. Bass sounds meaty but maintains good speed.
As a listener of Extreme Metal, Blast Beats is bread and butter, it keeps up quite well although it can sound a little diffuse at times.
Bass extension is quite good and hits deep without being rumbly, It is presented in a clear way, if many of your tracks are mastered with weaker bass, this will defintely help as it will receive helpful boost but keeps them clean.
The bass will surely grab your attention in the music, as the ratio of emphasis, thickness and attack is pretty much spot on for people who likes bass.
With XBass on, you can defintely feel that it hits harder and sound louder, the boost is definitely not a small one, and as far as I can tell there is only one level of boost.
I mostly leave this features off as I found that the bass amount is quite good already, but bass lovers will absolutly love this as the implementation is flawless.
with the XBass, I hear no sound degradation to the bass, it never creep into other frequencies and stays clean on the presentation.
Mids
The mids are very natural in presentation, macro detail is good but micro details like drawing breath, lip smacking and minor crackles in growling death metal vocals is missing a little bit.
Clarity is excellent and does not sounds veiled at all even when I was using the XBass.
I find that female vocals sounds a little bit more forward than the male ones, while the male vocals has more body.
Listening to the new album by Amorphis on track Amongst Stars, you can definitely hear how both the male and female vocals shine in the tracks, both are represented with eamotion due to the excellent dynamic range.
The vocals feels really strong in the climax of the track and sounds very distinct and euphonic.
Treble
The treble is tuned in a musical way, the sound is sweet and un-offensive, exposure of details, sizzles and sparkles is not the main priority, It is not rolled off in any way, the treble still have good presence in tracks, but if you want to dig into the tiny details you have to look for it.
Cymbals sounds quite good but you can feel that it is losing it a bit at the end, like tiny little bit of details and sizzles are missing at the end.
Guitar Solos is charming on this, it just catch your attention and takes the highlight of the tracks very nicely. It is smooth and musical, it lose some of the bites that I usually hear in higher end gears but this could be beneficial for some tracks as well.
Many of my Black Metal Tracks has some sharpniss in the guitars, cymbals and hi-hits that can sound very fatigueing, even from my Meze 99 Classic, but here it is absolutly listenable.
Violin is also sweet sounding and melodic, one of the metal bands I like Ne Obliviscaris, employs violin in their music, it sounds nice and solid, it is quite natural with a little bit of added body to make it even more emotional in the tracks.
Overall The treble is very forgiving and sweet sounding.
If you like more Treble, you can also turn on the 3D soundstage feature, which actually adds more treble as well and makes the sound more airy.
Soundstage
It has more width than depth and height, left/right channel separation is good with instruments taking its own place without being congested.
It is not the enveloping type, instruments takes position in its own place and the sound is coming from that direction exactly from that point.
Overall in standard mode the soundstage is not very big, but well proportioned so you don't have instruments sounding super far left and right, everything is at a good distance and does not overlap each other.
With 3D soundstage on, the soundstage becomes more expansive and the difference is very apparent, due to that it is quite often that I might prefer to leave it on in some tracks, it usually fits very nicely with Progressive Rock Tracks.
The problem with this is it also increase the treble response, that means some tracks can be a bit too bright and will not sounds as natural, this feature is definitely usefull but you need to play around with the tracks.
Comparisons
(all comparison are done in standard mode)
Fiio X7 II
The X7 II is more sparkly up top, soundstage is very similar in size, bass is tighter and faster and overall the notes has less body.
Micro details are a little more apparent while macro detail is very similar.
X7 II is more neutral overall but more unforgiving to bad recordings.
Hiby R6
The R6 has stronger punch on the bass and better dynamics.
It is also a little bit more neutral and the mids is more forward.
Soundstage is wider and deeper, height is also a little bit better but not by much.
Micro detail pops a bit more on the R6, although sounds very similar in thickness, the notes has good body but too much and pairs very well with thinny headphone.
iFi Nano iDSD BL
The Nano is still warmer and more v-shaped than the xDSD with less clarity and thicker notes.
Macro detail is good and is actually quite close but micro detail is not as good.
Soundstage is a little wider with similar depth and height.
iFi Micro iDSD BL
The Micro is brighter with thinner and more to the point notes, it has slighly better clarity, more detailed and is closer to neutral.
Instrument separation is a lot better and is more airy.
Soundstage is wider and deeper, height is just slightly better.
Headphone pairing
Meze 99 Classic
(Smaller Pads)
Good pairing, Background noise is silent, Bass impact is string and vivid, very unoffensive sound but not boring either. Mids has good body and Guitars sounds sweet.
Speed is good and can keep up very well on blast beats drum in Metal music.
Decay is quite good too, you can hear the sound fading away in a quiet passage very well.
Never get any fatigue with this combo, just keep on listening to music all day long.
Focal Utopia
OK Pairing, The Micro details that I usually hear in the same tracks on my usual desktop Gear (DAP -> V281) definitely is less apparent here.
The tonality is a good match with some boost in the bass and good body can help in some tracks when listened with the Utopia.
Clarity is also good but not as vivid and rich as my desktop gear as well.
It did very well for a portable but this is absolutely not the optimal thing to do.
Conclusions
Bluetooth connection is not the best and still need more work, but it is there when you need it.
The sound upgrade from the Nano is there, not 2 times better but still a sizable improvements.
The Micro gives more upgrade but portability is the worst in the line up, I would actually get the xDSD instead.
At its retail price of 589.95 AUD, it packs a good amount of features and in a typical iFi fashion, they pack very generous amount of accessories to come with it.
I would recommend this product for Laptop and smartphone users, who wants more flexibility in their use case.