Disclaimer: This unit as send to me by iFi UK however, all the thoughts shared in this review are my own and reflect my honest opinion about this product.
I am new to the head-fi world and I have only recently started to appreciate the intricacies of the high resolution audio, so don't expected this to be a technical review It will be a review that will address the major features of the product from the consumer point of view specifying its usefulness or not.
Packaging and accessories


The product Is well package in a white box enclosed in a cardboard sheath, the device rests in a cut out and in front of it is a little white box containing the included accessories (iFi bag to carry the device, an 3m dual lock in order to create an stack, a USB-to-USB Type B dongle, a USB3.0 A Male to A Female cable as well as an optical-to-3.5mm adapter that fits into the rear combined coax/optical input.) Although the box contains all the necessary cables to connect it to the computer it lacks an OTG Cable to able to connect It to your android or an equivalent solution for an Apple device. Which it's kind of a bummer since one of its use cases it's the possibility to connect it to your smartphone and up your audio quality while on the go. Another minor annoyance is the fact that the unit itself doesn't have any buttons, like next track or pause to use while connected to the phone over Bluetooth.
Build Quality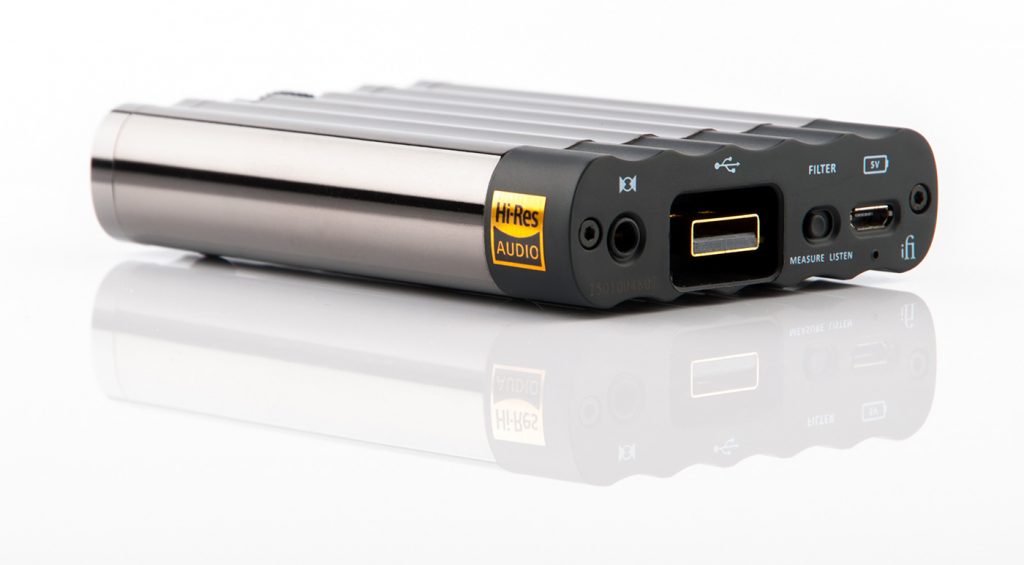 The device feels robust and overall has a very nice build quality, unfortunately the surface finish doesn't do this product justice, it smudges very easily and 5 minutes after you take it out of the box its already full of fingerprints and looking like you didn't clean it for a whole year.
In the bottom it was four silicone feet that prevent it from sliding or scratching your smartphone when it's attached via the 3m dual lock in.
Features
On one side you have the volume wheel which changes colors while you rise the volume, acts as the power on/off switch and is resposible for selecting the input type. The wheel does not sit flush with the chassis, which unfortunately led to scratches on my dap and the xDSD volume wheel when carrying then booth in the same pocket. On the right side of the volume wheel you have your settings/bluetooth button which configures the Bluetooth functionality (Bluetooth 4.0, AAC and aptx, lacking LDAC support) (Pairs up to 8 devices), activates the line out mode when long pressed changing the volume wheel light to white and changes between the 3d or xbass filters when pressed. On the left you have your 3.5mm TRSS output.
On the back side from left to right you have your SPDIF socket to connect standard TS or TRS, the standard iFi usb input (full usb female), two filters measure and listen and the 5v power input via micro usb.
Sound
The iFi xDSD performs extremely well sound quality wise, it has very good detail retrieval and doesn't color the sound in any way, providing much better sound than your standard smartphone. It's a league above the previously reviewed iFi Nano iDSD BL and its comparable to my Onkyo DP-X1 DAP in terms of general detail retrieval.
This unit gets compared with both Chord Mojo and Hugo 2, unfortunately I never listened to the Chord Mojo so I cannot make any commentaries in regards to that but in comparison to the Chord Hugo 2, the Hugo 2 its still on a league of its own in terms of general detail retrieval and micro detail.
The sound performance thought bluetooth is on par with the amazing quality via its wired outputs which is astonishing to say the least.
When using it with my Mr. Speakers AEON I found out the xbass filter to be quite useful to give the bass more life and punch and the amp power turned out to be quite enough ending up being a great match for this little device.
Conclusion
Completly feature packed and portable, the iFi xDSD is a great addition to your phone due to its bluetooth capabilities or as an standalone dac/amp on your desk due to it sounding so good.
iFi once again created a very flexible device with an amazing price to quality ratio.