DISCLAIMER
The Gryphon is a loaner from iFi. It will be returned after this review.
It can be gotten here:
https://ifi-audio.com/products/xdsd-gryphon/
(no affiliate links).
SPECIFICATIONS/COMPATIBILITY
The Gryphon's engine is a Burr Brown DAC, and this gadget can function as a DAC, amp, pre-amp and Bluetooth device, increasing its versatility tremendously.
It is compatible with multiple music formats, including DSD, PCM, DXD and MQA. PCM can be played up to 32-bit/768kHz via USB (or 192kHz via optical/coaxial), with native playback up to DSD512, and full MQA decoding (up to 384kHz).
The Gryphon is also compatible with myriad Bluetooth codecs, which should please our brethren who use wireless gear. The Gryphon has balanced and single-ended outputs, with the former providing more power. This may be useful for demanding transducers if more headroom is required.
ACCESSORIES
Other than the Gryphon, these are included:
- 1 x USB-A to USB-C cable
- 1 x USB-C to USB-C cable
- 1 x lightning to USB-C cable
- 1 x carrying pouch
The accessories are pretty serviceable, and users of both Android and Apple devices should be covered with the spread. Perhaps only legacy type devices that utilize micro-USB ports or older ports may face an issue, but no biggie getting an aftermarket adapter I guess.
The velvet carrying pouch should prevent scratches on the Gryphon, but it won't prevent drops or knocks, so perhaps a hard carrying case would have been desirable, but this is just nitpicking.
DESIGN/FUNCTION
Fashioned from aluminum chassis with an OLED display, the Gryphon is industrial looking but functional. The build is solid and tough. Measuring 123 x 75 x19 mm and weighing in at 215 g, this device is quite portable on-the-go, with no excessive weight or bulkiness.
A rectangular OLED screen on the top of the DAC/Amp displays audio format, sampling rates, volume, input mode, battery levels and whether the XSpace/XBass II functions are enabled.
The Gryphon has a ton-load of connectors and ports, and these are what they do:
On the front, we have the single-ended (3.5 mm) and balanced (4.4 mm) output ports, with the latter reinforced with gold-plating. No 2.5 mm or 6.35 mm ports are present, but once again, one can easily source for an aftermarket adapter if your cables are in these terminations.
We also have the XSpace and XBass II buttons, volume knob and the input selector buttons on the front. The input selector buttons will switch between USB, Bluetooth, Line-out and S/PDIF options.
The XBass II boosts bass for our basshead friends, whereas the XSpace function is kind of a spatialiser to open up the soundstage. Do explore these functions and see if they are your cup of tea.
The volume knob functions as a power on/off button, an analogue volume control, a mute/unmute control and even accesses the menu setting:
Inside the settings menu, we can select stuff like USB-C port charging/input, screen brightness, BT voice prompting and digital filters. Basically the usual she-bangs that any audiophile would require is included here.
These are the 3 filters included with the Gryphon. Do explore to see what suits your needs, thought the differences in sound are quite subtle to my ears.
This device flashes a different LED colour on the front panel, depending on the audio format/sampling:
| | |
| --- | --- |
| LED Colour | Mode |
| Yellow | PCM 48/44.1 kHz |
| White | PCM 768/705.6/384/352.8/192/176.4/96/88.2 kHz |
| Cyan | DSD 128/64 |
| Red | DSD 512/256 |
| Green | MQA |
| Blue | MQA Studio |
| Magenta | MQB (Original Sample Rate) |
The input and volume levels also showcase different LED colours, which is quite useful at a glance:
On the base of this device, we have the serial number and a built-in iEMatch. There are rubberized feet to add grip during usage.
The iEMatch (
https://ifi-audio.com/faqs/what-is-the-iematch/
) is a nifty tool to match the Gryphon to transducers that have very low impedance (based on the audiophile rule of eights). And the best part is that unlike other impedance adapters, the iEMatch doesn't skew the frequency response of the IEM attached. Thus, this is a very important tool that increases the Gryphon's compatibility with fussy gear eg Campfire Andromeda.
There is some hiss with very sensitive IEMs on this device, so toggling the iEMatch also gets rid of the hiss!
At the back of the Gryphon, we have a bass/presence toggle switch. This affects what the XBass switch at the front changes in the frequency response. Also at the back are the input and digital ports, in addition to the USB-C and charging connectors.
I am glad to report that the Gryphon gets just slightly warm with usage, but nothing very hot or scalding, unlike some competitor devices.
For those that are interested, the Gryphon utilizes many choice components, as detailed in the photos below:
BLUETOOTH
The Gryphon contains a Bluetooth 5.1 module with QCCS100 chipset, supporting 96 kHz HD BT formats including aptXHD, aptX Adaptive, LDAC and HWA/LHDC! During my field tests, the Gryphon was easily recognized by multiple Windows and Android devices, including DAPs (I'm sorry but I do not use Apple devices, so can't comment on this aspect).
Bluetooth range is about 10 metres without obstructions, and 5 metres with obstructions. Sadly, there was some stuttering and occasional drop outs with longer distances or larger obstructions.
BATTERY
On balanced, I can hit about 7 - 8 hours on the Gryphon thru wired connection, using FLAC/WAV files at moderate volumes, which is okayish in my book. Do bear in mind though that with repeated charge cycles, the battery life is expected to go down.
Sadly, the Gryphon takes a whopping 5 hours or so to be fully charged, which is a bit disappointing. That's like a big fraction of the actual play time!
While the Gryphon can be used to play music while charging, it does get slightly hot with this combination, and will also take longer to charge too.
SOUND
The Gryphon bestows a
warm-neutral tuning
. Perhaps it isn't as warm and analoguish as some other iFi gear, but it still lies on the warmer side, with a thicker note weight than neutral sources.
Timbral accuracy
is very natural and timbre freaks should have no complaints here.
Indeed, nothing sounds artificial unlike some treble-boosted DAC/Amp rivals, and it is very musical with sibilant-free sonics. The treble and upper midrange are quite restrained. Bass is emphasized, but nevertheless has good texturing with solid sub-bass extension. As alluded to above, bassheads can activate the XBass switch to increase the bass quantity even further.
In
technicalities
, the Gryphon has an expansive soundstage with superb layering and instrument separation. While it isn't the most micro-detailed compared to some steroid infused competitors that boost the high-end frequencies, there is still decent clarity and resolution available. The keyword to describe this device is "natural". Everything sounds as it should, with a musical signature meeting good technicalities.
Due to the tuning, the Gryphon is an excellent pairing with so-called shoutier or harsher gear - such as the AKG N5005 for example - in taming the upper end. This DAC/Amp can be used for hours on end for a chill and relaxing session, without too many compromises in resolution.
On the
balanced output
, the Gryphon can provide 1000 mW at 32 ohms and 74 mW at 600 ohm. Thus, it can drive most gear out there, perhaps other than some planar headphones or extreme outliers. Unsurprisingly, this DAC/Amp has more power on the balanced (4.4 mm) port when compared to the single-ended (3.5 mm port), with increased dynamics and headroom heard on balanced, especially for harder to drive gear.
These are my usual acid tests when testing out a new source:
- Final Audio E5000 (low sensitivity at 93dB/mW)
- Sennheiser HD650 (high impedance at 300ohm)
- Yinman 600 ohm (600 ohm impedance and 87db/mW sensitivity)
If the Final E5000 is underpowered, it sounds bloated and untextured in the bass, with one-noted boomy basslines heard. The Gryphon easily aces this tests on its 4.4 mm port, with no smudging in the bass, even with complex bass tracks.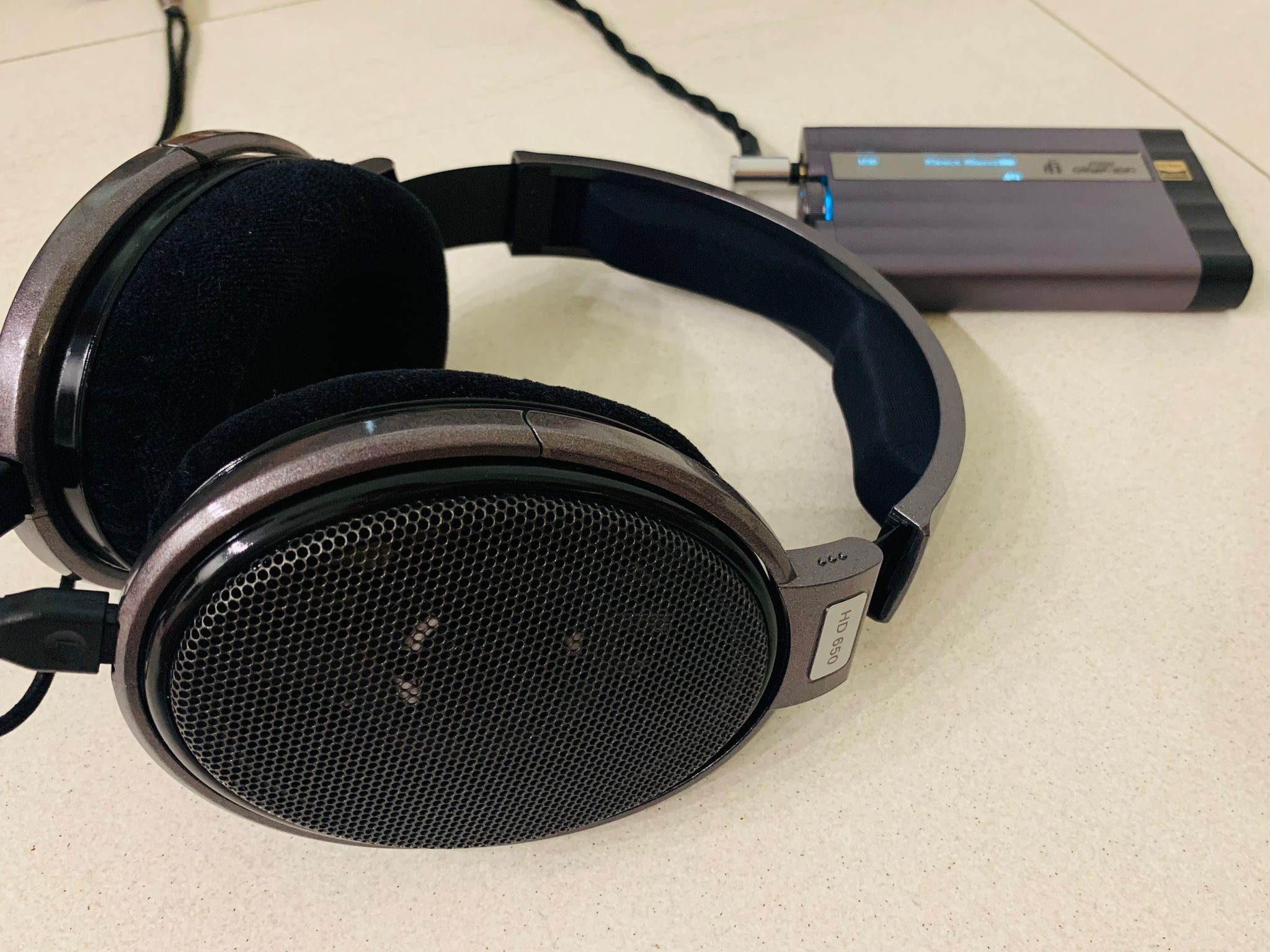 The HD650 sounds boring and undynamic if not juiced well. The Gryphon adequately powers the HD650 to fine dynamics and bass tightness, though unsurprisingly, some desktop level amps might probably do a slightly better job.
The final boss, the Yinman 600 ohm earbuds, has very low sensitivity with a high 600 ohm impedance. The bass can be very nebulous and fuzzy when it is not driven well. The Gryphon can power this behemoth on the 4.4 mm port, though the bass does smear somewhat on complex tracks, with a slight lack of dynamics. Having said that, it is no shame to be unable to juice this earbud, most of my portable sources can't even drive it adequately, and the Yinman 600 ohm probably needs desktop amps with larger power on tap to do justice to the sonics.
The Gryphon has <1.0 ohm output impedance both output ports, allowing it to be paired with fussy sensitive IEMs like the Campfire Andromeda (based on audiophile rule of eights) without skewing the frequency response. As described above, there is hiss with some sensitive IEMs, but toggling the iEMatch easily fixes this.
I did not encounter any EMI with the Android phones and DAPs that I paired the Gryphon with (I'm not an Apple user so I can't test it on those devices though).
COMPARISONS
The
Chord Mojo 2
is more neutral and slightly more technical, with better soundstage and imaging.
However, the Mojo 2 has EMI with some phones, and has no Bluetooth function. Importantly, it does not have a balanced output! So for folks who have gear that are primarily terminated in balanced, that might be a bummer. Lay consumers who want convenience with Bluetooth gear might also have to look elsewhere from the Mojo 2. From a versatility and practicality standpoint the Gryphon is a better device IMHO.
CONCLUSIONS
Be it as a DAC, amplifier, pre-amp or Bluetooth device, the Gryphon is a literal swiss army knife portable source that can do most departments to a high level. Build and battery are more than adequate, with decent power on tap to deal with transducers other than demanding tough customer outliers. The Gryphon supports various Bluetooth and music formats, in addition to having filters and bass/soundstage boost options.
I quite appreciate that this device does not get hot during listening, and it has a low output impedance and an in-built iEMatch to cope with finicky low impedance/high sensitivity gear, thus increasing compatibility. Listeners will be greeted with a lush warm-neutral pleasant sound, with great imaging and layering, and top-notch timbre. The Gryphon synergizes well with bright headphones and IEMs, letting one chill to music for hours on end!
There are some areas for improvement, namely, the snail's pace for charging, occasional Bluetooth stuttering and drop-outs, and perhaps very demanding transducers may not be adequately juiced. Additionally, this DAC/Amp is coloured, so folks wanting a dead neutral or brighter source might need to consider alternatives.
Those are small nitpicks in the big scheme of things, and the Gryphon is an excellent all-in-one equipment that audiophiles and lay consumers should consider getting. I am quite sad sending this loan unit back after the review, perhaps I might purchase this baby at the next sale!