Ok, they were right!
Pros
:
Size, looks, weight, build, sound, pretty much great overall.
Cons
:
Noise from Balanced output with sensitive IEMs.
The iFi Audio Go Blu was sent to me by the seller in exchange for money. The seller did not ask for anything other than payment, therefore, although I will do my best to be unbiased and sincere as always, you may want to consider that this product didn't cost me any less than it will you.
Intro…
The title of this review on YouTube, in Spanish, is "ok, they were right". This title is actually a response to all of those that have been praising this little iFi device for quite some time. I suppose the title could also reflect some of the negatives of the device pointed out by others as well. This device is not perfect (what device is?), but I'll get on to the good and bad parts in a second.
First I just wanted to state the obvious. The iFi Go Blu is not a product that I know nothing about, as is the case with quite a few of the things I review. I have been paying attention to the Go Blu since it was announced and have been procrastinating the purchase ever since.
My main reason for putting off the purchase was that, as I have said plenty of times in the past, I am not a huge user of Bluetooth. I do use Bluetooth, I have nothing against it, I just always prefer wires when possible and only choose BT for convenience. So, I kept telling myself that I would just send up putting the Blu in a drawer and not use it.
I did keep following the threads and discussions though, and finally decided that I had to give it a try. This means that I already knew the positives and negatives opinions of others and had a preconceived expectation when I received the device. Whether this has any influence on my opinions that I am about to post? Maybe. As I said, I always try to remain unbiased but I am only human
Anyway, less rambling and more reviewing!
Presentation…
As with all iFi products, the packaging is fairly simple but well done. There is nothing special about the presentation or packaging but it never feels like it has been thrown together.
Inside a simple white box with an image of the GB on the front, we receive the Go Blu, a USB to USB-C cable, a drawstring bag for transport, a simple instruction card and the usual warranty card.
Nothing extraordinary or unexpected (except maybe for the bag).
Build and aesthetics…
Both the build and the aesthetics are excellent in my opinion.
The device has an elegant look to it, while breaking away from the typical blackness that is commonly found on so many other devices. The copper coloured plate that decorates the front along with the matching volume wheel really makes this look like something special. If we took away those two elements it would just be another black plastic box but 2 simple touches make all the difference.
Although the device is plastic in its majority, it seems to be well built while staying very light. The wheels and buttons have a good feel to them and work without flaw, with no noticeable looseness or rattling.
All I can say is that the Go Blu looks and feels great.
Functionality…
Let me preface this by saying that as soon as I received the Go Blu, the first thing I did was upgrade to the latest firmware, currently v3.05 I believe, which has some features that may not be available on earlier firmware releases. As far as I am aware, there is no way to update this via windows, however, I do believe that it can now be updated via iOS (but don't quote me on that as I don't have an iOS device, I just seem to remember reading that it could now be done).
The Go Blu is a unit that is very simple to operate with one hand and the various buttons are well laid out for easy access. Looking at the front we have a single button on the left (centered) and a wheel with a push button center, along with another button just below it on the right hand side. On the top we have the 3.5mm SE and 4.4mm Balanced outputs, along with an indicator LED, with a USB-C connector in the bottom of the device and a charging indicator LED.
The single button on the left is for power. Holding it down for a couple of seconds turns the unit on and off. While powered on, pressing the power button twice will trigger the voice of a lovely British lady, who informs you of current codec and sample rate. The same lady informs you of the codec in use each time you connect to your device.
Three clicks of the button enters filter choice mode, which can be cycled through standard and minimum phase by pressing the right hand button of the device. These are identified by the colour of the led on the top of the device, green for standard and pink for minimum phase. Once selected, confirm choice by pressing the power button again, three times.
The dial on the right hand side of the unit is the volume wheel, with a center button for play/pause etc.
The wheel is very sturdy and has points that it clicks to. This volume wheel actually controls the Android volume (when connected to an Android device of course) but it does it in much smaller steps. For each increase by the androids slider (in the case of a phone), you get three clicks of the wheel. That makes finer adjustments easier and much more precise.
In the case of none Android devices, I am not actually sure how the volume control works. I have used it connected to my non-android DAP via USB, with the USB output set to "fixed", and the Go Blu has controlled the volume fine without any changes reflecting on the DAP. I also found that when I used it via USB with my DAP and connected via BT to my phone, the volume level of the phone is controlled at the same time as the music playing. In other words, listening to music via USB, when I increase or lower the volume of the music, my phone also increases or decreases at the same time. So it is somehow controlling both volume levels together, even though the DAP is set to fixed. As I said, I have no idea.
The button that is in the center if the volume wheel uses a multiple click set up. One press plays or pauses the music, two clicks next track, three clicks previous track and long press for activating the assistant. I don't know about other devices but these commands dont work when connected to my DAP via USB and when connected to my phone via USB (without BT), 2 clicks lowers volume and 3 clicks increases it. I also found that Android volume can react a little strangely when connected only via USB, something that works fine on windows and my DAPs.
The final button, on the right hand side below the volume wheel, is to turn XBass and XSpace on or off (along with the filter cycle like I just mentioned). From Off, one press will activate XBass (indicator LED turns yellow), another press activates XSpace (LED goes blue), one more press activates high (along with a white LED) and pressing once again will take us back to all off (including the LED).
That's it. Rather simple but includes quite a few features and manages to do so without having to rely on 20 presses of a single button or an obligatory app (although you do need an app for the firmware upgrades).
My use case scenario…
While this is probably the least useful part of the review, as you are not me, I find that sharing my use case of the device and the pros and cons I have found may help someone who is looking at a similar scenario.
As I said earlier, I held off buying the Go Blu for so long because I didn't think I would use it for what it is good at. I don't hate Bluetooth, I use it in many circumstances, but I always find that, if I have a choice and it doesn't hinder me, I would much rather hook up a cable. There are plenty of times when BT is more than good enough, most of my manual tasks are done while using a BT neckband and Spotify. I don't need to search for perfection while I have my head in an engine or something. BT is good enough, especially now, that I am happy to use it to listen to music as BGM and am happy with the neckband set up.
As a USB DAC/Amp, I felt like there were better options out there (which there are) that are dedicated to that function, whereas the Go Blu is focused on BT with USB as a secondary thing.
Well, let me just say that the Go Blu is the first BT device that has actually attracted me to listen to music with it. For the first time, I have found myself choosing it over wired set ups even when spending extended periods at my desk.
During the past 2 weeks or so, I have found that I have been content with just using the Go Blu. It has even made me get lazy and not even bother turning on my main station when getting home, just crashing directly on the sofa with the Go Blu.
But not everything is perfect and I must mention the things that could be better when speaking about a product from a manufacturer with the pedigree of iFi (especially in the portable realm) and at a price of 200€ which is not exactly cheap for a small Bluetooth dongle when comparing to other contenders with far more options.
The first negative that I am going to mention is a clip. I don't think the lack of clip bothers me as much as many others who have expressed their opinions in forums, but I do agree that some way of connecting this to your clothing would be a big benefit. The best part of BT is the lack of cables and if I am still running a cable from my head to my pocket, it doesn't really matter what I connect it to in my pocket.
The next is the limitation of 24bit 96kHz. I really couldn't care less about MQA or DSD, so then not being supported does not bother me at all. The 24/96 also is not a deal breaker but it would be nice for it to be supported when playing via USB, again, especially when the competition can do it, and cheaper.
The BT range is also not exactly the best. It will work ok with my phone on my desk if I enter the bathroom (about 5 meters away), but any more than that results in drops. This is something that is common with many LDAC devices, I have gotten used to it after using Shanling DAPs, but could be much better.
I will say that the quality of the microphone was a very pleasant surprise. I expected much worse quality and to have to hold the device to my mouth but, at least in my quiet office, I can make calls with the device on the desk with no complaints from anyone.
I am also very happy with the fact that I can use it via USB while still being connected to the telephone via BT. It would be nice to be able to pair it with multiple devices via BT but USB+BT works well for me personally. One thing to note though is that each time you unlock the screen of your phone, or use it in any other way, the music will pause.
That has actually been my main use for the Go Blu. I have had it connected either to my DAP or PC via USB, with my phone connected via BT. This allowed me to use the Go Blu for calls on both PC and the phone without any changing over. However, for some reason, I did find that certain apps (for example Zoom and Skype) needed me to manually set the Go Blu as the device in their app settings, the "use predetermined device" didn't work.
Finally, before I move on to sound, I want to mention one thing that is probably the negative that most affects me. The background noise with sensitive IEMs. Ok, this is not present on the SE output, nor on less sensitive IEMs and headphones, but with the balanced output and sensitive headphones/IEMs, it is certainly noticeable to say the least.
This is not such a big issue for me as it would be on another device as I prefer the SE output (more about that under "sound" in just a moment) and when I am using something that really needs the balanced output, well they usually aren't that sensitive for it to be an issue. I know that iFi sells the perfect solution to this, the IEM Match, but when purchasing one of the most expensive BT dongles (again, from a company with the pedigree of iFi), a gain setting would have been a very nice touch.
So, these are just my random musings after using the Go Blu (almost exclusively) for the past two weeks or so. Now, let's get on with the sound.
Sound…
Where to start?
I have reviewed other iFi devices in the past and I have found that they have a bit of a colour to their sound that is representative of iFi. I might be crazy and I might be imagining it, but that is what my brain has told me I hear. A lot of that is supposedly due to the use of Burr Brown DAC chips, other things may be they way that iFi amplify the signal or even the parts involved, but ignoring the fact that maybe I am just making things up, I do feel that iFi really does have a "house sound" that is slightly warmer than other options.
In the case of the Go Blu, there is no Burr Brown chip and there is nowhere near as much room as in any of the other iFi products to use the same parts, so there is no reason for it to have that iFi warmth to it. But it does. At least to some extent and on the single ended output.
Ok, so I may have gone totally crazy and I may be hearing this just because I have read about som many other people hearing it, but I really do find (or at least my brain says it does) that the SE output is warmer and less harsh than the balanced output.
There is probably no reason for me to hear one be warmer than the other, although I haven't seen measurements, but my brain tells me it is. Using the same IEMs, with the same cable (terminated in 2.5 balanced), just swapping the adapter and from SE to Balanced, I feel that the IEMs sound harsher from the Balanced output.
Obviously the balanced output is louder until we reduce the volume level and performing a perfectly volume matched test is rather difficult with just one device (without quite a gap between listening to one port and the other), so it may be just my perception due to the volume differences, but I also feel the balanced output to be far more fatiguing over longer listening sessions.
Again, different music choices, different moods, different times of day, everything can be an influence, but as an example, I found that using the Yuan Li from from the balanced output made me feel like taking a break every hour or so, whereas from the the SE I could listen all morning (4 hours).
The XBass is great (isn't iFi XBass always great?) although I don't really use it that much. I have used it on a few occasions but not really too much, more for specific albums than anything else.
The XSpace is ok but unfortunately (for me at least) it is not the same as the XSpace on the iFi HFM Signature CAN. On the HFM Sig I found that the XSpace worked really well to give IEMs a bit more room to breathe up top, with the Go Blu I don't get that same sensation of openness. It is more like a subtle treble boost (which I guess the CAN was also) that doesn't quite give the same result.
Here is a graph of the changes in frequency response between the 4 modes (off, XBass, XSpace, XBass + XSpace):
I guess that the last thing to mention is how the Go Blu performs and sounds with more demanding headphones. To be honest, as most of my listening is done at low levels and a lot of it is quite simple acoustic based music, I probably don't suffer as much as someone who listens loudly to Metal. I don't personally need the speed or the volume levels that others may need.
Saying that, here are a few brief opinions on things I have tried with the Go Blu.
IEMs (in General): I have found that the Go Blu can drive any of my IEMs from the SE output without any issues. I have tried multiple IEMs and I did find that balanced opened up some of the darker sounding IEMs a little, my favourite IEMs have been things like the Jasper and the Yuan Li, running from the SE output.
Beyerdynamic Custom Studio (80 Ohms / 96dB/mW): These were actually the first over ear headphones I tried with the Go Blu, as they live in a drawer of my desk in the office. Running them from the SE output I didn't find that I had any issues with volume or performance in general. I was actually surprised to find that I really like the combo and they make a great BT headset.
Hifiman Arya w/ Stealth Magnets (32 Ohms / 94dB/mW): I enjoyed these headphones powered by the Go Blu, from both the SE and Balanced outputs. With the majority of music I listen to, there were no issues but when listening to some heavy paced electronic music, I did feel that they weren't performing to their capabilities. They lacked some technical performance more than actual sound issues.
Hifiman Ananda (25 Ohms / 103dB/mW): I enjoyed this combination very much. I did not find that the Ananda seemed to be lacking in any way and seemed to be as detailed as always. I actually preferred these from the SE output.
Hifiman HE400se (25 Ohms / 91dB/mW): These sounded ok with the Go Blu but somehow seemed to be lacking a bit of life. Where the Arya was lacking in technicalities, the HE400se just seemed to be a little dull in general.
Sennheiser HD6XX (300 Ohms / 103dB/mW): These headphones actually sound fairly decent on the Go Blu, at least at low listening levels. I didn't really push these while trying them out as I had people at the side of me but I enjoyed the while I spent with them (it's always random whether I enjoy these headphones or not anyway).
Beyerdynamic DT1990 Pro: Guess what? They sounded like DT1990 Pro's, as they always do
That is about all I have tried out with the Go Blu, except for the Titan S that I tried out briefly today, but I will certainly be trying out new stuff I receive with it and I'm sure it will be mentioned in more reviews over time.
Conclusion…
iFi Audio seems to have a vibe with their products that invite you to listen to music. I know I haven't had the pleasure of trying all their stuff but the ones I have, all give off this same vibe, except maybe for the Diablo. The Diablo still has that iFi flavour but is more of a "look what I can do!" kind of source than others that are more "just sit back and enjoy!". I had that sensation with the NEO and with the HFM stack, and now I get it with the Go Blu, even though it is not using the same hardware at all.
I avoided the Go Blu for so long because I thought I would not use the BT functionality except on occasions and that there were better wired options, so it would just sit in a drawer. I have been proven wrong. Not in the fact that there are better products out there, everyone will have their own needs and things will suit them better or worse, but in the fact that I wouldn't use it.
As I said earlier in the review, it is the first BT device that actually inspires me to pick it up even when I have wired alternatives on hand. In comparison to other things that I have been using recently, such as the Hidizs S9 Pro and the Aune BU2, it is different to both of them.
The harshness I find in the higher ranges of the S9 Pro is present in a similar way but to a more reduced extent on the balanced output of the Blu. As with the S9 Pro, I find the balanced output of the Blu to be more tiring over time. However, everything else about the Blu (except for the 24/96 limit) is superior by a mile. The build, the looks, the functionality and the fact that it inspires me to relax and enjoy the music where the S9 Pro is more of an attention seeker.
In comparison to the BU2, they are again different. I feel that the BU2 focuses on USB with BT as an extra, whereas the Go Blu is the other way around. If using Bluetooth I would no doubt go for the Blu, but when competing on wired terms, the Aune is more detailed in my opinion. Maybe more detailed is the wrong term, it is clearer with its details, whereas the Go Blu is more relaxed. The balanced output of the BU2 also avoids that harshness I mentioned, sounding exactly like the unbalanced output (in my opinion), just with more power.
I have to say that the iFi Go Blu really is a great little product. It is a perfect companion to always have on hand as it fits in an IEM case along with a set of IEMs, a couple of adapters and a USB-C to USB-C cable.
There are a couple of things that could be improved on and I would love to see more case options for it (even if they are just simple transparent cases with a clip like on the S9 Pro) but other than that, I really can't complain.
And the final thing that matches the rest of the iFi products is that my review of them turns into a long wall of text!
*This review is also available in Spanish on my blog here and on YouTube here.
My new iFfy Daily driver
Pros
:
Super small footprint. Great power output for such a small device. Long battery life. iFi xBass/xSpace!!
Cons
:
Hiss from balanced jack. No included clip style case.
My personal set of on the go DAC/amps rotate between the iFi hip dac, Lotoo PAW S1 and on occasion, the newer AUNE BU2. The Aune BU2 gets probably the most use since it's bluetooth and for the most part I almost always use bluetooth when I'm constantly on the move. I'll always hardwire my portable DAC/amp when I settle in at say a family member's house or after I get to a hotel after a flight. The new iFi GO blu caught my attention for being a small portable DAC/amp that seemed perfect for my use and would still allow me to either plug in via USB or at least hold me over till I got one of my travel DAC/amps out to plug into my laptop or iPad. The GO blu is using a Cirrus Logic CS43131 DAC and Qualcomm's QCC5100 Bluetooth chipset.
Thanks to Seb and iFi for hooking me up with a review unit. While I always appreciate stuff being sent in to test and review, It never affects the rating of my review.



Info and purchase links on the iFi GO blu can be found below
Gear used​
Topping EX5, Lotto PAW S1, iFi hip dac, AUNE BU2, Symphonium Helios, Moondrop S8, UE TripleFi 10, Meze Elite, Audeze LCD-5
Looks and Feel​
The GO blu is super small. I knew it would be smaller but I was extremely surprised when I held it in my hand. My Volvo key fob is bigger than the Go blu side by side haha. The unit has a nice soft touch matte finish and it has a little metal(not sure if real) accent which looks good. The real winner in terms of looks comes from the volume wheel. It's a clicky wheel and it feels great rotating. This is the first iFi product that didn't terrify me since the volume wheel has just the right amount of resistance. I experienced zero issues with random volume adjustment when it was in a pocket and on the move.
Accessories and unboxing​
We get a standard iFi box, basic user guide, tidal setup guide,the unit, USB-C to USB-A cable and finally a little carrying bag. The basics are included and that's totally fine since this is meant to be used wirelessly.
Sound(overall)​
These final impressions were done off the GO blu connected to my Apple devices via Bluetooth. This will be what the GO blu sounded like with all the headphones I used. Things like headphone pairings or going wired will produce different results and impressions vs what my ears hear on my specific gear.
The little GO blu is a powerhouse. The bass sounds super dynamic, the mids have a nice crisp sound to them and the treble has fairly good detail retrieval. The bass hits a little harder but doesn't quite give me the standard iFi warmth I'm used to from their other products. This is probably due to the use of a different DAC over the normal Burr Brown stuff they use. The mids have a nice accurate sound all the way through those frequencies. Vocals always sound clear and details in the voices are a little above average. The treble is where I was most surprised. I figured the GO blu might have either a warm treble or a hard time with detail retrieval for how tiny and for its price. It was quite the opposite in fact. When compared to some of the other portables I use, the GO blu was close to the top when it came to pulling in details for the detail heavy IEMs and headphones I tested with. Treble has a nice airyness that I don't get with some of the other portables either. Is it as good as something like a $400-$600 DAC amp? I don't think so but I can't carry those with me like I can the GO blu. I'm super happy with the GO blu's performance and I haven't even started talking about their hardware EQ stuff yet.
XBass/XSpace​
Speaking of Hardware EQ! The GO blu gets both of iFi's bass boost and their soundstage booster. The XBass is a nice and tasteful bass boost that adds a nice amount of sub bass boost to give some headphones that lack in the impact departments a little extra energy down low. I've heard many bass boosts and iFi still manages to be one of the best out there. The XSpace is always different with each of their devices. I've yet to hear two devices that have the same sounding XSpace. The GO blu's use of XSpace is less of a soundstage enhancer and more of a treble boost from my testing. Which for the most part works out well. I don't really have a collection of dark sounding headphones so I didn't get much use out of XSpace but I will say it adds a decent treble boost that might give some top end energy to headphones and IEMs that may need it.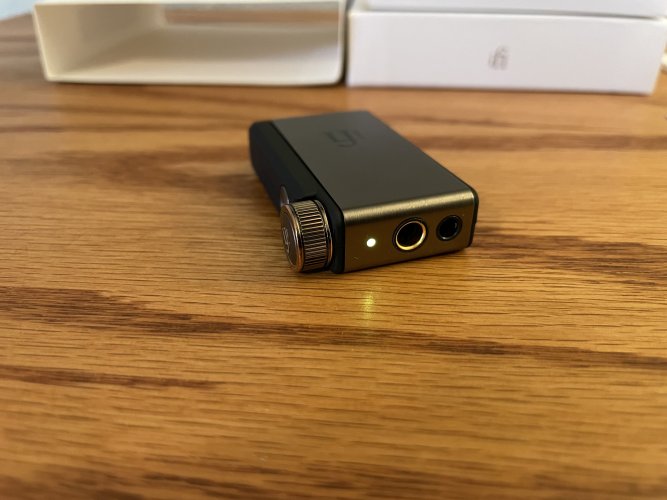 Imaging/Soundstage​
The soundstage and imaging tend to be headphone specific but DAC/amps can add a little extra on occasion. The Go blu has about average staging width and depth wise. More of an accurate presentation and lets the headphones and IEMs do their thing. The imaging was totally fine too which I expect from source gear.
Bluetooth/Wired connectivity​
So most of my testing was done via AAC Bluetooth from my iPhone or iPad. I won't get into the whole bluetooth vs wired debate but I was super happy with the bluetooth performance and range for the AAC codec was awesome. I never had issues when walking away from my room and it lost connection about the same distance as my Sony TWS. I ran the GO blu wired into my Windows 10 desktop that has my main audio gear and through my Windows 11 Asus gaming laptop. I had zero issues from the Windows 10 desktop but I had a strange issue with Windows 11 that had an issue with volume that resulted in the GO blu having so much volume that half my IEMs couldn't be used on the lowest volume. I blame Windows 11 for this issue but I did do a firmware update to the GO blu that had come out a month prior and that solved the issue. Now onto said wired connection. I do believe the GO blu sounded even better via being wired but it was just minor improvements and a little more noticeable stage increase. I had no issues with Bluetooth and plan to run the GO blu wireless unless I don't have any other more powerful DAC/amps to use when I settle in somewhere.
Personal grips with the GO blu?​
I honestly have no real issues with the GO blu. I do have three small nitpick issues but these won't be a big deal at all for most people. First would be the hiss out of the 4.4mm Pentaconn connector. This has always been an issue for iFi on their devices. I'll give the GO blu a pass since the trade off is that it has a higher volume output which means I managed to power bigger headphones like the Meze Elite and Audeze LCD-5 to high volumes just fine via balanced. I would have liked to see them include a low/high gain to allow sensitive IEMs to have less hiss. The hiss isn't terrible and it doesn't bother me once music plays. The second thing would be that they don't include any type of case with a clip on it. This is the perfect device that could make use of that type of case and I feel like it was a missed opportunity. I put the GO blu in the change pocket thing on my jeans and that's probably how I would use it even if it did come with a clip case though. Last little thing would be firmware updating. It's a weird app that has to be done via Android. Luckily my finance had an old android device I could use but I would like to see a way to update via Windows at the very least down the road.
Single ended and balanced power output​
iFi did normal power ratings into 32 ohm which is what I like to go by. The GO blu with output 245mW into 32 ohm via balanced and it will also do 165mW into 32 ohm via single ended. Before the Lotoo PAW S1, these numbers would have been too small for me personally(on paper) but the single ended power output is great for all IEMs and the balanced power output was perfectly fine for getting enough volume to full sized cans.
IEM pairing opinions​
Moondrop Aria​
The Aria still remains my favorite sub $100 IEMs and it pairs really well with the GO blu. The Aria maintains its fantastic "all rounder" qualities but it seems to benefit from both the xBASS and xSPACE features. The xBASS boost takes the Aria from "pretty good bass" to a much deeper bass texture with more impact. The way iFi does the hardware bass boost means there was no bleed into the mids which was fantastic. xSPACE added just a bit more top end energy which added that nice "perceived detail". Using both features at the same time gives the Aria a bit more energy and was probably one of the better IEMs I used with the GO blu.
Moondrop Variations​
Coming in a little over double the price of the GO blu is the Moondrop Variations. This is one of my favorite IEMs and the Go blu does well to keep everything sounding smooth and wonderful. I couldn't tell a real difference from desktop to this when using the Variations. Bass stays strong, the mids are still smooth and the treble was well maintained and pulled in some decent detail when paired with the GO blu.
Kinera Nanna Pro​
The Nanna is probably one of the best "Vocal" oriented IEMs I've had a chance to hear recently. When paired with the GO blu, it keeps a wonderful focus on the vocals but the bass can feel a little weak at times. I've noticed this IEM is fairly power hungry and the GO blu does good at keeping it sounding great. I fixed what I felt was a lack of bass with the xBASS turned on. It was just the right amount of added subbass to give the Nanna back the oomph I get from the desktop amp I use with it. I would say using this combo is perfectly fine.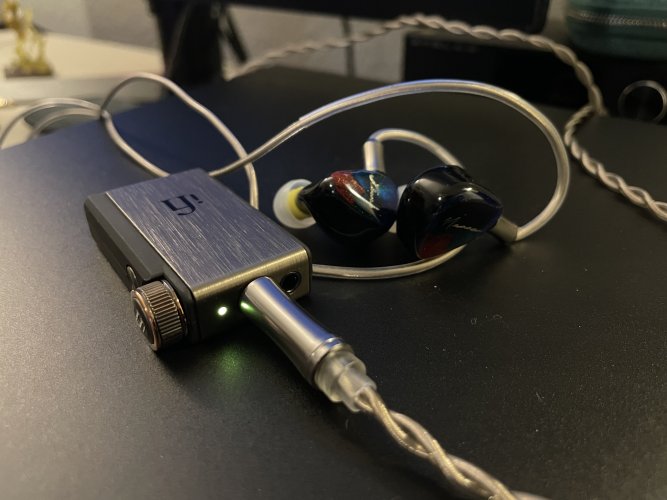 Over ear pairings​
Meze Elite/Audeze LCD-5​
Unfortunately I don't have any full size headphones on hand and I was gonna skip including full size headphones since I wouldn't use open backs with the GO blu out and about but I was still curious what the little Go blu could do to some really nice TOTL headphones. The Elite sounds pretty good off everything I test for the most part. It does well with the GO blu and manages to stay strong and bassy but loses a little when it comes to upper mids and into the rest of the treble. Things can sound just a little hollow at times and I believe this to be a issue of power which I wont hold against a $200 portable DAC/amp. I was impressed with the performance regardless. The LCD-5 was mostly the same story. Though I find the LCD-5 a little too warm for my taste, the use of both the xBASS and xSPACE really helped bring some fun energy to the LCD-5. While you could totally use a GO blu to power some TOTL headphones, I wouldn't personally use the unit for that purpose.
DAC/Amp comparison​
Aune BU2​
The BU2 is better at detail retrieval and I personally like ESS DACs for that extra sharpness which is very much noticeable on the BU2. The BU2 also has a nice dynamic bass and crystal clear mids. The big differences here will be the size and unit outputs. The GO blu has a more powerful 3.5mm output and the BU2 has just a little extra power out of the 2.5mm jack. That will be the main reason I recommend the GO blu over the BU2. While I like the overall detail retrieval from the BU2, I think 2.5mm is mostly dead and I prefer my units to use 4.4mm Pentaconn these days. Plus size is a big thing IMO. The GO blu is easy to take around. The BU2 is about the size of some smaller smartphones so it takes up more space.
iFi hip dac​
The GO blu is simply better than the hip dac is almost every way to me. The hip dac has more power output from both the single ended and balanced jacks but the GO blu has alot more features. The GO blu uses USB-C for charging and data connection instead of the male USB-A output that the hip dac uses. The GO blu has Bluetooth which makes it a much better portable unit. Finally we have the "iFi" features. The hip dac uses only xBASS and the GO blu has both xBASS and xSPACE. The hip dac does sound a little brighter to my ears from testing but they both do detail retrieval from the headphones I tested about the same. For the purpose of being a portable transport, I think the GO blu is a better unit overall.
Overall thoughts​
The iFi GO blu has been a real treat and I plan to personally pick one up after doing the review for it. I was extremely impressed with what the little DAC/amp was able to do and it sounds great wireless as well.
I highly recommend the iFi GO blu
for anyone looking for a little portable DAC/amp to use either on the go or away from the desktop. I'm happy to see iFi come out with a brand new original product and look forward to checking out their Gryphon soon! Thanks for reading!
Last edited:
GO blu or go home
Pros
:
Incredibly versatile without sacrificing sound quality
Clear, transparent tonality with a hint of ifi warmth
Excellent wired and wireless performance
Full-house Bluetooth support for ultimate flexibility
Great build quality and minimalist ultraportable design
Cons
:
Lacks some features, including higher-bitrate wired support
Short a few cables for the price
Some users report noise issues with sensitive IEMs
A shirt-clip case would be nice
Full disclosure: @iFi audio sent me a sample GO blu in exchange for my honest review, and the opinions expressed herein are entirely my own. My review unit was supplied by
AudioExchange
, South Africa's official iFi reseller.
Introduction
iFi is no stranger to the head-fi community, having established itself over the past few years with a range of well-received source gear for almost any use case and budget. The UK-based company is actually a subsidiary of Abbingdon Music Research (AMR), one of the UK's largest manufacturers of high-end audio systems, so when it comes to pedigree, iFi is not just another niche player or nameless mass-producer vying for a share of the limelight.
GO blu is iFi's first attempt at an ultra-portable 'dongle', but unlike the majority of cable-tethered dongles from other brand-name vendors, Go blu is first and foremost a 'hi-res' Bluetooth dongle. That means it supports the highest Bluetooth codecs currently available, including Sony's LDAC, which theoretically has enough bandwidth to stream hi-res music files (up to 24/96), albeit using lossy algorithms.
I've spent the past two weeks getting to know GO Blu more intimately, using it as my main DAC/amp (with my smartphone as the source), and comparing the experience to the higher-end DAPs I'm more familiar with. To say it's been an eye-opening fortnight is an understatement; GO Blu has so far been one of the more pleasant surprises I've enjoyed in the hobby. Read on to find out why.
Tiny but mighty
The first thing that struck me about GO blu was not the stylish metal faceplate, Swiss-like chronograph, or practical non-slip rubber surround, but rather how
small
it was. By small I mean absolutely tiny – 54mm x 34mm and only 13mm thick. It's also light, so light that iFi claim an AA battery is heavier, which is true by the way.
As tiny and light as it is, it still manages to house two headphone output ports, including a genuine Pentaconn-certified 4.4mm fully balanced socket. The chronograph – or
ChronoDial
, as iFi calls it – is the other striking feature. As far as I can tell, GO blu is the only dongle that features a rotary volume dial, though the ChronoDial is more than that, doubling as a click-button for pause/play, next/previous, and call answer/reject controls too.
There are two other buttons, one below the ChronoDial that's used to switch between GO Blu's nifty XBass and XSpace features (more on these later) and Bluetooth pairing mode, and one on the opposite side for power on/off and Bluetooth pairing confirmation. At the bottom of the case is a single USB-C port that doubles as a charging and digital data port (for wired DAC functionality), a small LED light for power state, and two pinholes, one for factory reset, the other for the built-in microphone (yes, you can make and take calls while connected with GO blu, although I didn't try out this functionality myself).
The packaging is neat and simple, typically iFi-like with lots of information all over the box. A slide-out tray holds GO blu in its own cavity, with a small separate box for the included USB-C to A cable and velour-style carry pouch. I would have preferred to see a USB-C to C cable included considering GO blu is most often going to connect directly to a smartphone, and most modern laptops feature USB-C connectors too.
For the asking price of $199 a USB-C to lightning cable wouldn't have gone amiss either, if only so that iPhone users would have one less thing to complain about because let's face it, who wants to fall back on AAC?
But I digress; GO blu ships with everything you need to get up and running in the box. Build quality is excellent, and not just for the price, and the styling is unique and, if I may say so, quite stylish, more so than iFi's usual utilitarian designs.
Swiss Army dongle
At the heart of GO blu's functionality is a compact Cirrus Logic CS43131 DAC, which according to iFi is going to form the basis of their ultra-mobile product lineup. I can only assume there's a good reason that iFi decided against using the traditional hybrid Burr Brown DAC that powers just about all their current devices, and if I had to speculate it's probably because they were aiming for a much lower power draw than was possible to achieve with the standard DAC.
As it is, GO Blu's 450mAh lithium battery supplies up to 8 hours' runtime, depending on the headphones used and processing requirements, which is plenty for all-day use, considering it only takes an hour or so to charge it back up to full. Since GO blu also uses its battery in tethered mode, you can maximise sound quality from your phone by wiring it up without draining the phone's battery, something many other dongles don't offer.
GO blu incorporates the same dual-mono fully balanced architecture common to many of iFi's recent portable products. This not only helps clean up the signal, but also provides much more power to drive even demanding headphones – up to 245mW into 32 ohms to be exact. You'll struggle to find this much muscle in any other dongle in this price range, and even more expensive (and less portable) amps generally don't go this high either.
Ironically the additional power seems to have caused some teething issues for early adopters, with reports of some GO blu units emitting unacceptable levels of amplification noise, especially with sensitive IEMs. In my own testing, I've found
no such issues
with my particular unit and my IEMs, so it's likely more a factor of quality control than it is a design flaw, or at least I hope that's the case.
Other amplification features making their way into GO blu's spec list include DirectDrive, which eliminates the coupling capacitor typical in many circuit designs to provide a more direct signal path that, supposedly, helps further eliminate noise and reduce distortion. The capacitors that are included are sourced from TDK and MuRata, much like those used in ifi's more expensive desktop-grade devices.
Also adapted from other iFi designs is analogue DSP functionality, which in GO blu take the form of XBass and XSpace effects. XBass, as the name suggests, helps fill out the lower octaves with a subtle dose of extra weight, an effect I can heartily recommend even if you're using bass-savvy IEMs or headphones. XSpace is less convincing, adding a touch of air and pseudo 'space' to the sound, which could be useful if you're using intimate-sounding headphones. You can also use both effects together, but I tend to just leave XBass on and forget about it.
The last arrow in GO blu's sizeable quiver is a Qualcomm QCC 5100 Bluetooth controller. This brings GO blu up-to-date with the latest Bluetooth 5.1 receiver spec and supports almost every conceivable Bluetooth codec, including AAC, SBC, aptX, aptX HD, aptX Adaptive, aptX LL, LDAC, and LHDC/HWA. Conspicuous in its absence is Qualcomm's newly- announced AptX Lossless codec, although I don't believe there are any devices that support this codec at the time of writing.
Sound impressions
With so many features and so much power in such a miniature space, iFi has taken a leap of faith that all these moving parts, figuratively speaking, will click together to deliver a quality audio experience on the go. The combination of hi-res Bluetooth and 4.4mm output makes GO blu particularly potent for users of higher-end and higher-power IEMs and headphones.
I decided to test GO blu by using it exactly how I expect most people to use it: first, with Bluetooth and a smartphone, and second, wired to a laptop. All tests were done with a pair of Sennheiser IE 900 IEMs using the 4.4mm balanced output.
My playlist included tracks by Lana Del Rey, Beyries, Angel Olsen, Ane Brun, Max Richter, Def Leppard, Brandi Carlile, Britney Spears, Linda Ronstadt, Eagles, Lola Marsh, Cranberries, Carpenters, and a host of other obscure indie singer-songwriters I won't list here. I mention these only because my taste in music will likely differ from yours, and it's important to remember that my impressions will be
biased to my preferences
accordingly.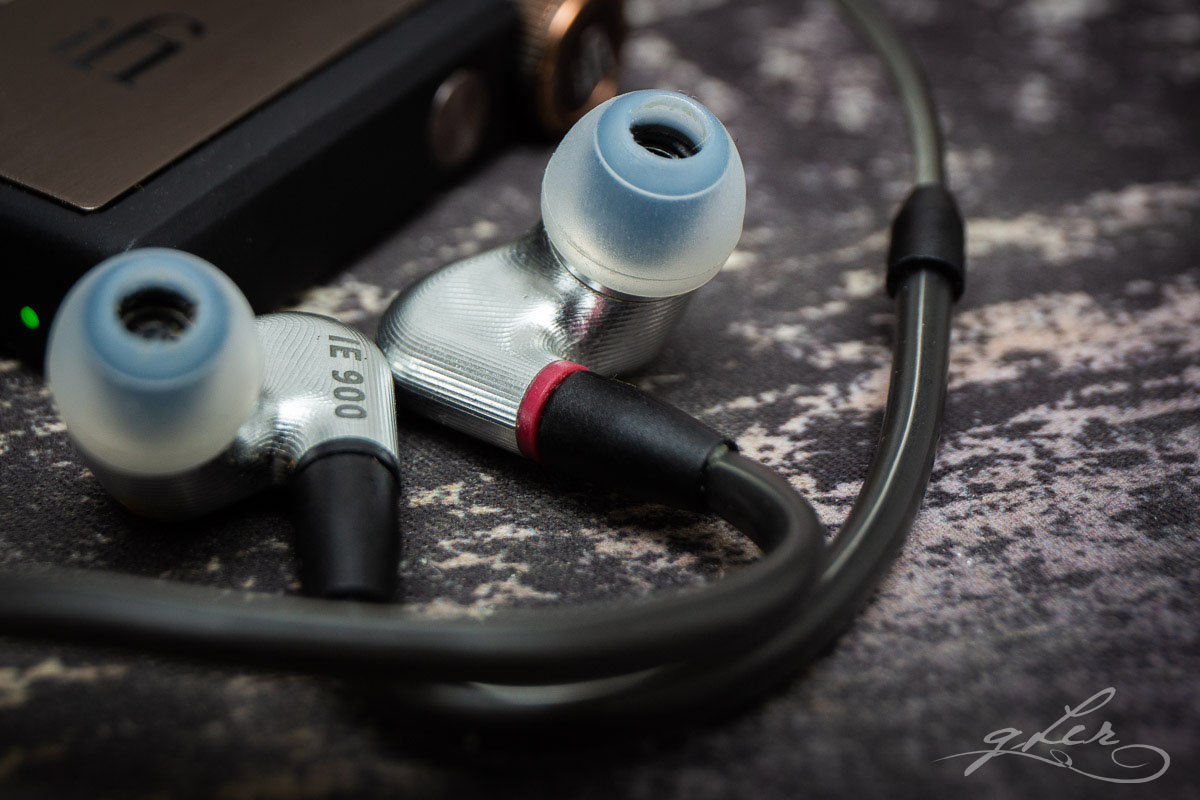 As a Bluetooth receiver
To be honest, I was skeptical about using Bluetooth for serious listening. While I've experienced exceptional power and quality from tiny dongles before (
EarMen's Sparrow
comes to mind), this is the first time I've gotten to hear just how far we've come with wireless in the mix.
The Sony WF-1000XM4 true wireless IEMs are my go-to for 'casual listening', with a smooth, punchy and inoffensive sound I can listen to with ease all day long. But when I want a more involved listen with better quality throughout the playlist, I generally turn to more capable (and correspondingly more expensive) IEMs like the IE 900.
Unlike TWS, GO blu relies on Bluetooth for input only, since all the digital conversion and amplification happens internally. That makes a Bluetooth dongle very different to TWS IEMs, which rely entirely on the tiny DACs and amps built into each earpiece for sound processing. It's a distinction I feel is important to make, in case you're thinking there's little difference between the two, even though they both use Bluetooth in the chain.
Pairing GO blu to an LG V30+ phone was a quick and simple process. Switching the blu on for the first time automatically puts it into pairing mode (denoted by alternating blue/red LEDs on the top panel). Once paired, it's important to select 'Best Quality' under the pairing's Bluetooth settings – if your phone doesn't select that option by default – else you may get paired using AAC or worse, SBC.
Note that if you're an iPhone user, AAC and SBC are your only options, so this only applies to Android users. Most modern Android phones should support the LDAC and/or LDHC codecs, so make sure that's how you're connected before proceeding. If you're unsure which codec you're paired with, double-click the button on the left panel, and a sexy voice will reveal the codec and bitrate ('LDAC 96 kilohertz' is what you want to hear).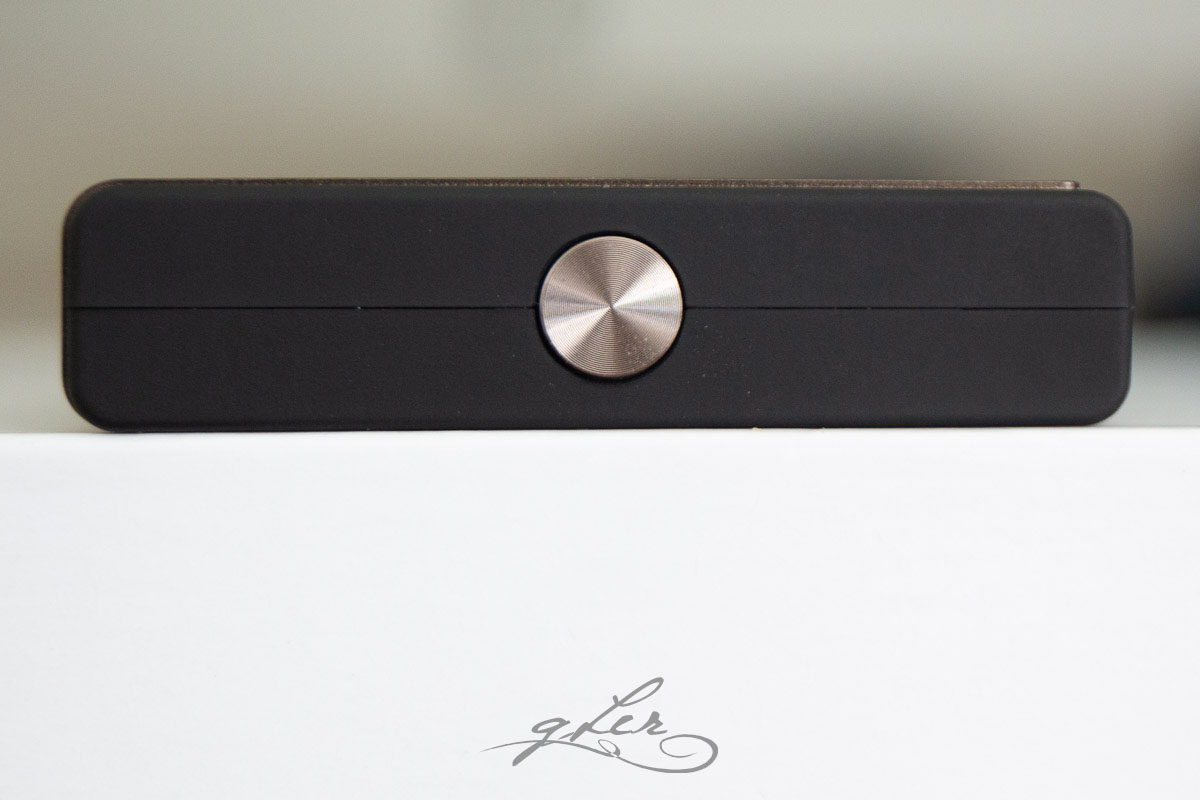 My very first thought at hearing the opening verses of Lana Del Rey's
Video Games
though GO blu, streaming over LDAC from my trusty LG, was a distinct sense of familiarity. This was not the sweet but smoothed-out sound of the Sony TWS IEMs; this was very much the same tone, same texture, same
quality
I was used to hearing from the IE 900 plugged
directly
to my phone, to the Sparrow, or to just about any other excellent, amplified source.
Instrument timbre is as good as I know the IE 900's timbre to be, and layers beautifully with Brandi Carlile's smoky vocals in
The Story
. Overall tonality is neutral with a hint of warmth, very much as I expected from an iFi device. This has been the 'house sound' since my first encounter with the venerable Micro iDSD more than four years ago, although I find the GO blu to be slightly more transparent and airier by comparison, if memory serves.
Male vocals are delivered just as deftly as female, Don Henley's iconic performance of
Hotel California
performed live on the Eagles'
Hell Freezes Over
a case in point. GO blu takes firm control of the IE 900's powerful dynamic driver, pushing punchy, bouncy bass notes that hit with authority, and more complex passages like crowd noises and guitar duets are never muddied or overwhelmed, even though I can pick out a hint of smoothness that probably shouldn't be there in some raspier vocals.
While not the most technical high-end IEM I own, the IE 900 is still very technically adept, with a generous stage, excellent layering and separation, and fairly precise imaging. To my ears none of these are hamstrung to any significant degree by GO blu as a Bluetooth dongle. It may not drive the IE 900 as precisely and expansively as the HiBy R8, for example, but the difference is far smaller than the $1800 difference in price between the two would suggest.
As a wired dongle
I have to take issue with iFi for 'crippling' the Cirrus DAC by limiting its maximum supported resolution to 24/96, not enabling native DSD support, and not even contemplating MQA support. I suspect these were conscious choices made by the company to either maximise battery life or reduce size and cost, but at the very least the very capable DAC should have been allowed to do its thing with PCM?
Regardless of the reasons, when I connected GO blu to my MacBook Pro, these limitations were clearly displayed in Audirvana's control panel. However, it didn't stop GO blu from continuing to show off with its crisp,
clean
delivery. Linda Ronstadt's evocative vocals in
Dreams to Dream
made me tear up like a baby – as they always do when the delivery is spot on – and with GO blu, it was absolutely on the mark.
Switching to something more modern and poppy, Britney Spears'
If You Seek Amy
was a bassload of fun, complete with sketchy sample quality and imperfectly recorded vocals. If nothing else this speaks to GO blu's transparency as a source, because it's exactly how I know this track to sound with the IE 900. The slight injection of warmth is welcome, and I could swear this is some of the best bass weight I've heard from the IE 900.
Replaying some of the tracks I heard wirelessly, I could try to make a distinction between the two, but I'd probably be off-target half the time. What struck me more than anything was how much
fun
it was to work and play with the MacBook Pro delivering insanely good sound quality with nothing more than a little dongle dangling from the USB port. I could AB and pick out minor differences here or there, but really, why?
It's not all roses though. For example, I struggled with figuring out how which device – GO blu or MacBook – ultimately controlled volume. Turning the volume of the ChronoDial changes the volume on the Mac, but sliding the volume up or down in Audirvana leaves the ChronoDial setting as-is. Also, I can only raise the volume about 10-15 percent on Audirvana before the IE 900 becomes too loud. There's probably a setting in Audirvana or the Mac itself that I haven't studied properly, but out of the box, it's unnecessarily complicated compared to Bluetooth mode.
Also, it seems I can't pause/play or skip tracks using the ChronoDial when in wired mode. I'm not sure that's even an option, but if it's not, that's one less useful feature you lose when you wire up.
Closing thoughts
GO blu appeared out of the blue, so to speak, not really aligning with anything iFi has done in the past, and yet when you use it, it makes perfect sense. It's the ultimate expression of iFi's portable DAC/amp philosophy – an ultraportable device that gives up very few features iFi users almost expect by now, like analogue DSP, sophisticated amplification, and a well-tuned, well-specced DAC untethered from the desktop and able to drive almost any mainstream headphone.
The killer feature, for me, is Bluetooth. It's such an obvious feature I'm actually surprised so few of the many dongles flooding the market right now actually offer it. Considering how good GO blu sounds in Bluetooth mode – so good, in fact, that wiring it up makes a small but arguably insignificant difference to sound quality – and it almost doesn't make sense that dongles don't offer wired mode as an option instead of default.
That said, GO blu isn't perfect either. While my own unit, with my IEMs, has no audible hiss or hum during playback or between tracks, but there are enough reports out there that suggest it's not ideal for all IEMs, and that QC could be an issue. It also lacks many features that iFi have either purposefully withheld to optimise battery life and performance, or perhaps 'cleverly' withheld so as not to cannibalise other products. After all, if they gave us IEMatch and their famous Burr Brown DSD-capable DAC, there wouldn't be much sense in spending twice as much on a device twice the size and harder to carry around, right?
But cynicism aside, I'm excited by GO blu, even if it is version one-point-oh. It's already 'better' than any other dongle I've used by virtue of its ultimate Bluetooth portability and infectiously-good sound quality. It's well made and seems to be fairly stable, and with any luck, iFi will see fit to add to the current features with future firmware updates. Best of all, it takes the IEMs I know and love, and drives them with a steady hand, infusing its own very subtle character but really just allowing them to do what they do best.
I can think of no better endorsement than the fact that, for two weeks, I've been using a $200 dongle instead of a $2000 DAP and haven't for a minute felt poorer for it. GO blu is an easy recommendation from me.
Ifi go blue review - so close to perfection
Pros
:
Sound
Output power
Build quality
Battery life
Disclaimer:
iFi graciously lent me the Go Blue.
Gear used:
Ath AD1000X, Ath R70x, Sennheiser HD600, Final B3
Specifications:
Chipset
DAC
Bluetooth
Cirrus Logic CS43131
Qualcomm QCC 5100
Inputs
Wireless


Wired
Bluetooth 5.1 ( AAC, SBC, aptX, aptX HD,
aptX Adaptive, aptX LL, LDAC, LHDC/HWA Codec)

USB-C (24/96)
Headphone Outputs
Balanced
SE
4.4mm
3.5mm
Power Output
Balanced
SE
245mW @ 32Ω; 5.6v @ 600Ω
165mW @ 32Ω; 2.8v @ 600Ω
Output Impedance
Balanced
SE
<1Ω
<1Ω
SNR
Balanced
SE
111dB(A) @ 0dBFS
116.5dB(A) @ 0dBFS
DNR
Balanced/SE
>120dB(A)
THD + N
Balanced
SE
<0.009% @ (6.5mW/2.0v@600Ω)
<0.03% @ (100mW/1.27v@16Ω)
Frequency Response
20Hz - 45kHz (-3dB)
Battery
Lithium-polymer 450mAh approx. ~8 hours (depending upon volume and headphones)
Power System
Charging via USB-C, BC V1.2 compliant up to
1000mA charging current and 6.3 volts
Dimensions
54 x 34 x 13 mm
2.1' x 1.3' x 0.5'
Weight
27g (0.95 oz)
Warranty period
12 months
Source:
https://ifi-audio.com/products/go-blu/

Intro and accessories:
The go blue (199$ MSRP) is one of the newest products that ifi has launched to the market. Its main function is to improve the sound quality of your PC, phone, tablet or any device with a bluetooth connection without the need of cables between those devices and your headphones.
This product comes with some extra accessories like an USB A to C cable and a protective bag. I would have liked to see a protective case in the accessory set for free and hope that iFi launches a fancy case in the future to avoid scratching the main unit.
Design:
Beautiful, elegant and small are words that can summarize the design and build of the go blue. It has almost the length of a quarter inch adapter and the weight of a small box of paper clips so it's very easy to carry wherever you go.
iFi audio has a reputation of using quality materials in their products and the go blue is not an exception. It features a metallic finish with some rubbery parts that looks really good, the combination of colours used are gorgeous and the device feels solid and durable.
This device houses a single ended headphone output and a 4.4mm balanced output, both are located in the top near the sounds effect and bluetooth status led. On the right side we are going to find the multifunction knob that allows us to control the volume, to play, pause, change the songs and last, it will also wake up the voice assistant.
The buttons are rigid helping to avoid any accidental touch inside of your pocket or bag. The volume wheel feels very solid and responsible, it is made of high quality components like brass, aluminum and stainless steel increasing the useful life of the device.
Daily use:
Once you turn on the go blue by pressing the left side button, the device will start looking for available bluetooth connections. It uses bluetooth 5.0 so all codecs are supported including Ldac and aptx hd, the two main codecs I used during my time with the dac/amp. Pairing it to my google pixel phone and cayin n3 pro dap i didn't experience dropouts of the connection and it also remembers the last paired device for ease of use.
The xbass and xspace are well known features that ifi includes in most of their products both can be activated by pressing the right side button and the results will vary according to the headphones you use. The xspace increases the soundstage positioning instruments far away from you, it's an interesting effect that becomes more notorious with IEM´s.
On the other hand, the xbass as its name suggests is a bass gain. This bass gain is very light to my taste and I would have preferred a more powerful gain like the "true-bass" that other ifi products use.
In terms of amplification, this is one of its strengths. I was able to use high impedance headphones through the 4.4mm output and thanks to the auto-gain of +-6db it was easy to adjust the volume level. Using sensitive IEM´ s I found hiss through the 4.4mm balanced output so I recommend you to use the 3.5mm which is noise free.
If you don't want to use the go blue via bluetooth just use the included usb A to USB c cable and connect it to your computer or phone (usb c - usb c not included). You don't need to install a driver to your windows PC, just plug and play. Using it this way, the go blue works fine but the major disadvantage over products like zen dac or hip dac is that it wont play MQA tracks nor DSD files, it only reaches up to 24 bit 96kHz.
Finally, the battery inside the go blue delivers between 7-8 hours of use and in case that you want to make phone calls you don't need to disconnect your headphones, the device incorporate a good quality mic near to the usb c port.
Sound
The go blue shares the same sound signature as iFi´s Zen dac and hip dac by presenting a warm, smooth and forgiving sound.
Bass is accented delivering weighty and rich attacks. The warmness and softness in the sound are done in a right way preserving clarity and a natural timbre.
With bass heavy headphones, the low end feels more heavy but never overwhelming or excessive, i liked the control and resolution of bass despite of the mid-bass extra punch.
Mids:
The midrange is warm, engaging and musical. Vocals and instruments sound full and have excellent tonality. The level of detail is average, the soundstage is well defined presenting more depth than width. Instrumental separation is excellent specially through the 4.4mm output. The differences between the 3.5mm and 4.4mm are not big but I found more clarity in the midrange and a tighter bass with the balanced output.
Highs:
Treble is soft, without any sibilance or harsh peaks. It has an average extension delivering a good level of detail and focusing on sounding musical and not analytical. I enjoyed it most with bright sounding gear like the ath ad1000x because of the well rounded and controlled highs that the go blue produces
Pairings:
Final B3 (3.5mm): From the first moment I paired it to the go blue I noticed the warmth and softness in the sound of the B3. Bass gained more punch to its attacks, midrange texture and resolution are top notch and treble kept its good extension but also got softer.
Pros: male vocals sound fuller and more natural, female vocals are sweeter, bass gains more presence and the tonality is less brighter.
Cons: Treble is softer and loses some detail on it. Bass gain might not satisfy everyone.
ATH Ad1000x (3.5mm): This was one of the most satisfying pairings in terms of the results and synergy between both. The audio-technica headphone has a bright, airy and fresh sound. Bass is light, thin and compared to HD600 it sounds weak on the lower end. The 1000x is also known as having one of the most satisfying female vocals, in my opinion, it has better female vocal performance than hd650 or r70x.
The go blue and its warmth gives the ATH headphone a more complete bass performance, it sounds fuller, more detailed and now it doesn't sound weak or anemic with pop, metal or rock songs. Male vocals have more weight and female vocals are outstanding, the entire midrange sounds like if i were using a tube amp instead of the go blue.
Pros: Everything improves, it's a very satisfying pairing that can be recommended to anyone who owns the go blue or the 1000x.
Cons: -
ATH R70x (4.4mm): The only dongle dac that could drive this headphone up to ~80% percent of its capability was the e44. Although the go blue is not entirely a usb dac/amp it can be used in this way and thanks to its powerful balanced output (5.6v @ 600Ω) it can drive the r70x better than almost all dongle dacs in the market.
Pros: Big soundstage, excellent instrumental separation, warm-balanced sound and natural timbre on mids
Cons: Treble could be more detailed and have more presence.
Comparisons:
Tempotec e44: The e44 is one of my favourite dongle dacs and given that both can be used via usb C i think its correct to compare them.
The go blue has more presence, texture and weight in the bass, the tonality is warmer, softer and relaxed in the ifi dac/amp while the e44 is more balanced and neutral. Soundstage is also wider and better defined with the go blue. The treble has better extension, a more neutral representation and more clarity with the e44.
Zen dac: Both share the same sound signature and the main differences are that the go blue has a little more warmth in its sound compared to the zen dac that has a characteristic color added to the midrange.
A lot of people have also asked me if the Go blue can replace the zen dac or hip dac due to the powerful amplification it has and the answer is no. The Zen dac and hip dac are devices for different type of customers: the go blue is for those looking for bluetooth solution with enough power for most headphones while the zen dac and hip dac are for those who want even more output power for high impedance headphones and portability is not an issue.
Conclusions
The go blue not only competes with similar Bluetooth DAC/amps, it is a solution for those looking for a versatile and good looking device that can be used plugged directly to your computer or via Bluetooth. Its distinctive feature is the great amplification it delivers, few products on the market can compete in this aspect with the go blue.
In the very competitive world of audio I think that ifi has just set the standard in the bluetooth dac / amp segment by delivering a product with an outstanding amplification, a competitive price, a small size, good sound and a solid construction. I won't give the go blue a 5 stars ranking just because i think iFi lost the opportunity of launching the ultimate bluetooth dac amp by not adding mqa, dsd and a higher sample rate.
Last edited:
best sounding wireless dac amp ive tried
Pros
:
sq
power
looks
size
build quality
Cons
:
bt range
cutting out at times
cost
Ifi go blu
Cirrus Logic CS43131
Advanced 32-bit oversampled multi-bit modulator with mismatch shaping technology
Dynamic Range of 130dB
THD+n of -115dB
Qualcomm's new QCC5100 Bluetooth IC
4.4mm
3.5mm
Balanced 245mW @ 32Ω; 5.6v @ 600Ω
Single end 165mW @ 32Ω; 2.8v @ 600Ω
Output impedance <1Ω
Lithium-polymer 450mAh approx. ~8 hours (depending upon volume and headphones)
USB C charging and connection
Weight of 27g this thing is tiny!
Can charge and play at same time
Built in mic ( works well )
Best sounding Bluetooth DAC amp ive ever tried
Has good power
Bluetooth can be a bit wonky at times
Range isn't great
Price 199$
Looks
Feel
Size
Battery life
Last edited:
Pros
:
Extensive list of codecs supported
4.4mm Balanced connection as well as 3.5mm single
Power output similar to some wired USB dongles
Excellent sound quality from both single and balanced
Great form factor
Quality construction
X-Bass and X-Space work well
Very easy to set up and use
Cons
:
BT range can be unreliable at times
Disclaimer - I was sent this by Ifi-Audio for my honest opinion, it is not a free sample. I will either send back or purchase after review period.
BACKGROUND
The Go Blu is Ifi Audio's latest product, this company feel like they are on a bit of a roll over the last 18 months or so with a steady stream of releases across the market. I already own the Zen Can/DAC Sennheiser Signature pack and I really like the sound quality and function from the duo. I also previously owned the Micro Black Label DAC/AMP and again really enjoyed the sound from that device. I find that Ifi products seem to have a certain house sound, detailed yet musical and very natural sounding. Was really curious to hear the Go Blu as it uses a different DAC chip to most of their other products.
The box as can be seen is small and compact, comes with the Go Blu, little pouch and a usb to c cable. Instruction card also included
In terms of bluetooth devices similar to this I owned the Fiio Q5 a while ago and although very impressive it did have it's issues for me such as size and some interference when near mobile phone. I also tried the Ifi audio Xdsd, this was a very good device but again a bit larger than what I was looking for in a bluetooth option.
Over the last year I've been trying a few different wireless options and although most are very good they still don't match my wired earphones.
I've been looking for a while at options such as the Fiio BTR5 and the Qudelix 5k. The latter has been more or less impossible to source here in the UK. I've been using a few different USB dongles and settled on the L+P W2 which is a fantastic device with excellent sound quality.
I received the Go Blu in the hope that it might come close to the W2 in terms of sound quality, I knew it wouldn't match my Ibasso DX300 but then that costs around 5 times the price.
Use and impressions
Out of the box the Go Blu is very easy to set up with Android. Paired first time with my Galaxy S21 Ultra handset. Phone settings automatically chose LDAC as preferred codec. On startup the Go Blu has nice little voice to tell you what codecs are available with the connected device.
I've been using the Go Blu with Sennheiser 660s using 4.4mm connection, Fiio FD7 with same connection, I've also sporadically tried Grado Hemp (3.5mm SE), Etymotic er4sr (3.5mm SE) and IMR Elysium (4.4mm)
The Go Blu has plenty of power to drive all of these with no issue, the 660s and Fiio FD7 are my earphones/headphones that benefit most from power, when using the W2 they require volume above the 50% mark to et the best out of them.
Compared to my DX300 they don't get quite the same depth of sound as a more powerful amp section however the Go Blu is no slouch, it competes with the wired W2 in terms of power delivered to the headphones.
From a sound quality perspective the Go Blu is really rather very good at this price point. It retains what I regard as the Ifi house sound, detail is present across the spectrum with what I would describe as a musical textured presentation to the mids. There is detail in the highs but not the sharpness that the W2 has. The W2 probably has slightly better separation to instruments, the W2 also feels a little more set back in the way music is presented, the Go Blu feels like you are closer to the stage (if that makes sense).
From a practical point of view, I've seen a few people feel that a shirt clip should be included, I'm not too bothered either with this, it's not something I would use however can see the benefit.
Lack of an app is another complaint aimed at the Go Blu, again I'm not too worried about this, the Go Blu is a doddle to use and for me doesn't need an app however I can understand that some might like more control over EQ etc.
On the subject of EQ, the Xbass and Xspace work really well, very small subtle changes that just improve certain tracks and albums. Never overpowering though.
Battery life seems good at around 8 hours although I haven't fully run the unit down so not 100% certain on this.
On the whole I have really enjoyed the Go Blu, sound quality is very good, it is easy to use and I can see me using this over wired USB dongles, although it doesn't support sample rates as high as the W2 it is very very close in SQ to the W2 and is some respects I find it more engaging musically.
Slight downsides are that Bluetooth range is not great, often signal start to drop after a few metres, I'd expect a little more but not a deal breaker. Other slight issue is volume control, the volume wheel is really well designed with normal turns controlling volume and the button within controlling track etc however the volume on the phone moves in larger increments than the Go Blu's finer adjustments. Not really a fault of Ifi, more linked to the Android system and again by no means a deal breaker.
Cost is greater than Fiio and others and I haven't heard them to compare however I'd buy the Go Blu, it serves a function very well with excellent sound quality and is also very well constructed.
Previously known as Wretched Stare
Small and Mighty...good
Pros
:
light weight, great looking, build quality and support for many different Bluetooth types from SBC to LDAC. Microphone works great for calls too!
Cons
:
USB connection from source is limited to
24-bit/96kHz , no MQA, a clip would be convenient
Build:
The device comes in a nice looking box with both a small USB type-A to type-C cable and a brown Microfiber pouch to carry it. The GO blu is small I was shocked after using portables much larger, it can fit just about anywhere. Its made of a soft material with brushed brass looking accents, in my opinion very handsome looking. It is equipped with both a 3.5mm socket for headphones with a single-ended cable/connector, and a gold-plated 4.4mm Pentaconn output enabling headphones equipped with balanced connectivity to take full advantage of the GO blu's balanced amp design. In addition, the 3.5mm output benefits from iFi's S-Balanced circuitry, cutting crosstalk and related distortion in half when used with regular, single-ended headphone connections. The controls are intuitive and quite easy to use. It also features suppoet for a large variety of Bluetooth formats from Qualcomm's aptX Adaptive and aptX HD, Sony's LDAC and HWA's LHDC, regular aptX and aptX Low Latency, AAC (Apple iOS devices) and SBC. The amount of features are plentiful in this little device.
Specs:
Chipset Qualcomm QCC 5100 Series
Inputs Wireless
Wired Bluetooth 5.1 ( AAC, SBC, aptX, aptX HD,
aptX Adaptive, aptX LL, LDAC, LHDC/HWA Codec)
USB-C (24/96)
Headphone Outputs Balanced
SE 4.4mm
3.5mm
Power Output Balanced
SE 245mW @ 32Ω; 5.6v @ 600Ω
165mW @ 32Ω; 2.8v @ 600Ω
Output Impedance Balanced
SE <1Ω
<1Ω
SNR Balanced
SE 111dB(A) @ 0dBFS
116.5dB(A) @ 0dBFS
DNR Balanced/SE >120dB(A)
THD + N Balanced
SE
<0.009% @ (6.5mW/2.0v@600Ω)
<0.03% @ (100mW/1.27v@16Ω)
Frequency Response 20Hz - 45kHz (-3dB)
Battery Lithium-polymer 450mAh approx. ~10 hours
Power System Charging via USB-C, BC V1.2 compliant up to
1000mA charging current and 6.3 volts
Dimensions 54 x 34 x 13 mm
2.1' x 1.3' x 0.5'
Weight 27g (0.95 oz)
Warranty period 12 months
Sound.
Both Wired and wireless you get that signature ifi house sound so neutral with that analog warmish sound, the sound is big and full from such a little thing, its a little impressive. Its somewhere between the Hip-Dac and the Zen's signature in my opinion but very enjoyable to say the least.
Bass is a little north of neutral and lends a pleasant warm but rich detailed Xbass only furthers the Bass punch and depth but in an oh so tasteful way. Mids present neutral with some lower end warmth and forwardness and treble is also neutral and detailed. these of course are dependent on your recording and headphones or earphone your using as well. I tested the GO blu using a few of my favorites. The Philips X2HR, HiFiMan Ananda, Dekoni Blues, Koss Porta Pros. for Headphones and the TIN-HiFi T2 EVO, T2 Plus, Metalure Wave, Sure SE846 PRO, CCA NRA, CSA, QBEYZ Summer and spring, BLON bl03 and 05s, and the KBEAR Believe. I found the GO blu to provide a larger sound to these devices with good layering , soundstage and details. Xspace was very useful to open the sound up even more so and I love its affects when coupled with XBass.
Conclusion:
The ifi GO blu is one of those useful travel must haves it boasts and impressive amount of features and the battery lasts an impressive 10 hours depending on what your using. It connects easy and even the microphone worked great on phone calls. Love this little guy!