Reviewer: AudiophileHeaven
iBasso IT07 In-Ear Monitors - Diamond In The Rough
Pros
:
+ Build Quality
+ Comfort
+ Detailed Sound
+ Warm yet very clean
+ Punchy sound
Cons
:
- It is a flagship also priced as a flagship
Please read the full review on my website :
https://www.audiophile-heaven.com/2021/03/ibasso-it07-in-ear-monitors-diamond-in-the-rough.html
This is the conclusion of my full in-depth written review:
Value and Conclusion

iBasso IT07
has an unusually good value for a high-end IEM, and it never felt overpriced or like paying for a premium. From top to bottom, from the package to the sound, it feels like it is actually well balanced in terms of the price performance ratio.
The package is rich, includes a nice default cable with an adapter, and they come with many tips. I personally didn't like the pairing with foam tips, but even those are included, for those who find better comfort with them.
The build quality is excellent, and you can feel that a lot of work went into the production and design of. Multi-venting, high-quality MMCX connectors, removable threaded filters, high-quality workmanship everywhere, it just feels like
IT07
is made to impress.
The sound is also really natural, smooth in the mids, with an impactful bass, and a sparkly, yet smoothly textured treble. Funny how they managed to pull such a complicated signature, something that sounds so good, yet is so effortless.
Before the end of today's review, we're going to add
IT07
to Audiophile-Heaven's Hall Of Fame for being one of the best IEMs I've seen in 2021, providing excellent build, package and sound.
At the end of today's review, if you're looking for a high-end IEM with a natural sound, multi filters, nice deep bass, and a smooth yet detailed treble,
iBasso IT07
is an excellent choice and one of the best IEMs ever made.
Last edited:
InTune with the Next Gen!
Pros
:
hybrid design with a natural clear tonality, W-shaped sound signature with a powerful bass impact, compact and comfortable shell design, interchangeable filters, quality pure silver balanced cable, lots of included eartips.
Cons
:
universal only, reasonably priced but still a step up from the previous IT04 flagship.
---
The product was provided to me free of charge for the review purpose in exchange for my honest opinion. The review was originally posted on my
site
, and now I would like to share it with my readers on Head-fi.
Manufacturer website:
iBasso
. Available for sale directly or other retailers like
Audio46
.
---
Intro.
Back in pre-pandemic days when we had CanJams and other audio shows, new releases were spaced out to make sure every product gets plenty of attention. Today, I have no idea how manufacturers are managing this, definitely not an easy task. And as a result, some new releases end up flying under the radar, like what I think has happened with iBasso flagship 7-driver hybrid IT07 IEMs. They enjoyed some spotlight right after the initial announcement, but then everyone's attention shifted to the upcoming DX300 flagship DAP. And now with DX300 already in hands of consumers, everybody is focused on the next new iBasso release.
Actually, I'm still getting used to saying "iBasso IEMs" since I associate this manufacturer with DAPs. But it doesn't take away from the fact that they already released a number of popular and affordable IEMs. Then, IT04 flagship from a few years ago surprised everyone with a more mature audiophile tuning. The new IT07 takes it to yet another level. When I received IT07 last month and started listening to them, I was already thinking ahead about the review and had a few other IEMs in mind for comparison, though all in a higher price bracket. Now, the review is done and I'm ready to share with you about iBasso IT07 latest flagship hybrid IEM.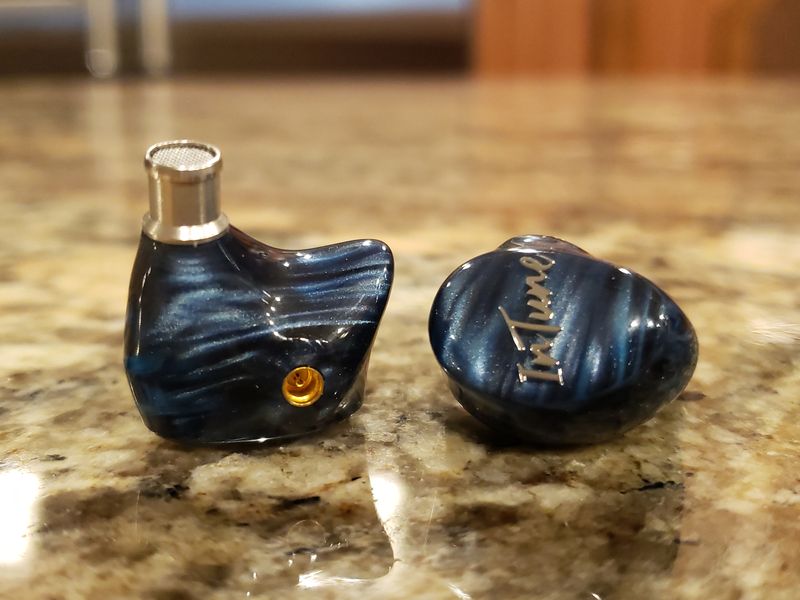 Unboxing and Accessories.
I do appreciate how iBasso pays close attention to packaging, making higher end models stand out from their other mid-fi and entry level products. Here, while the outer packaging is just a plain all black cardboard box with iBasso Audio glossy print, inside you are treated to a more luxurious jewelry like box with a vinyl exterior and suede inner lining. From the moment you lift the cover up, you know right away this is a flagship level product. It has a nice presentation that sets a premium tone from the get-go. In general, these fancy boxes are not as practical since people keep IEMs in a small carry case, but nevertheless, it is a premium unboxing experience and that is what matters.
Similar to IT04, inside you will find all metal aluminum puck storage container with laser etched iBasso Audio on the cover and a soft velour insert under the cover to showcase these IEMs without a cable like a jewelry on the display. Again, another example of a premium presentation, but I'm sure many will remove the insert to place IT07 inside with a cable attached, and probably will switch to their favorite pocket friendly slim case when on the go.
Furthermore, inside of accessories box you will find a cable and the adapter, and a ton of included eartips. Everything from M/L pairs of foam tips, to 4 sets (S/M/L each) of silicone eartips varying in shape, material type, cap springiness, and bore opening. I will go over the difference in Eartips Rolling section of my review after sound analysis. You also get a warranty card, a quick start booklet with lots of useful info, and a set of interchangeable screen filters.
A pair of silver ones already come by default with IT07, and in addition to that you get a stainless-steel plate with 3 sets (silver, black, gold) sets of screen filters which you unscrew from the plate. I will go over these in more details later as well, but that stainless-steel plate with filters setting is like a cherry on top of the unboxing experience.
Cable.
Besides IEMs and DAPs, iBasso product line also has cables and adapters which they include with their IEMs or sell as separate accessories. In the past they only featured pure copper, silver plated copper, or combined hybrids, all with mmcx connectors as standard in iBasso IEMs. And with every new cable the quality of wires and the cable hardware went up, along with a default 2.5mm balanced termination and matching cable pigtail single ended 3.5mm adapter.
IT07 is no exception. Here, iBasso included their own custom premium cable, but this one features a brand-new
high purity silver litz
wires. The wires are thin, lightweight, flexible, and a little springy when wrapped. You will find 4 loosely braided conductors which get twisted above the split and feature pre-shaped heat-shrink earhook toward the connector. The 2.5mm gold plated plug is inside of a slim metal housing with a stainless-steel type of finish and a short strain relief, and a matching finish y-split, chin slider, and mmcx connectors with L/R marking and Blue/Red color coding. Pigtail has 2.5mm female plug and 3.5mm made plug, all with matching finish housing and the same 4 braided wires.
The mmcx connectors are standard universal and make a tight and secure connection with shell connectors. When attached, they don't turn around easily, almost making it feel like a 2pin connection, and I don't see any gap at the joint. Also, despite a metal connector housing which is usually slippery, here I was able to get a good grip and was able to disconnect the cable without a problem. I didn't sense any major microphonic effect, maybe just a little bit, and in general the cable was very comfortable to wear.
If would have been nice to include 4.4mm adapter as well, but if you don't have one already, something like iBasso CA04 pigtail adapter (high purity mono crystal copper with silver plated shield) with right angle 4.4mm plug should work great. One other optional accessory really caught my attention, their new CB16 cable with high purity silver copper alloy wires.
This optional CB16 cable is already terminated with the right-angle low profile 4.4mm plug, has a very soft 4 wires in a cool purple jacket, uses a matching finish y-split, retractable chin slider, and matching connector housing with Red/Blue color coding, and no memory wire or pre-shaped earhook so you can also wear it wire down with other supporting IEMs. And to my big surprise it comes in a nice wooden box. For those who are interested, here is a more detailed comparison of stock silver and optional CB16 spc cables.
IT07 stock silver vs CB16 spc cable.
Based on what I'm hearing, stock silver cable has a little wider and airier soundstage expansion in comparison to CB16 spc cable. I hear the sound with CB16 being a little smoother and slightly more relaxed, while with stock silver cable the sound is tighter, faster, and more revealing, especially more micro-detailed in mids. Not a huge difference, but I can hear it and was able to pick one cable vs the other in a blind test. Regarding aesthetics, I do like CB16 cable better because of its unique purple color, softer wires (vs stock cable being a little stiffer and springy in comparison), and low-profile L-shape 4.4mm plug. But the stock pure silver cable gives IT07 higher resolution and crisper details, especially when it comes to mids and vocals. One cable is not better than the other, but rather a matter of personal pair up preference.
Design.
Being quite familiar with 4 driver hybrid design of IT04, I was expecting 7-driver hybrid version of IT07 to be bigger, but instead it turned out to be just a little taller and more compact. IT07 uses 7 drivers partitioned into 4 groups according to crossover split with 10mm high magnetic flux dynamic driver for bass and 6 Knowles BA drivers covering mids (Knowles 30989), upper mids and highs (Knowles 31785) and ultra-highs (Knowles 30017).
iBasso also paid close attention to IT07 4-way crossover design, using audio-grade high tolerance thin film capacitors and metal film resistors instead of ceramic capacitors. Inside, drivers are arranged based on iBasso patented acoustic structure, referred to as "root tube structure", including a nozzle that uses coaxial structure to optimize the dynamic driver performance.
Also, while iBasso continues with their custom universal shell design, in every new release they apply more tweaks to improve the ergonomics for a better concha fit. I never had issues with any of their previous acrylic shells, but IT07 feels even smoother with a new polished glossy swirling-blue finish. And again, though IT07 is a universal IEM, it looks and feels like a Custom IEM, very comfortable to wear, though they do stick out a bit from my ears. Both shells still feature the InTune logo, a name behind ITxy letters.
On the inner side of the shell pointing down you will find a pinhole vent and also another pinhole vent toward the nozzle, assuming both are for DD. The actual nozzle is all metal and features interchangeable threaded mesh guard screen similar to IT01s and AM05. This screen also designed to be a filter that changes the sound characteristics. iBasso provides 3 pairs of these screens: Silver, Black and Gold. If you look under the light, the mesh has a different opening density which is easy to see and which affect the sound, covered in the next section.
The fit.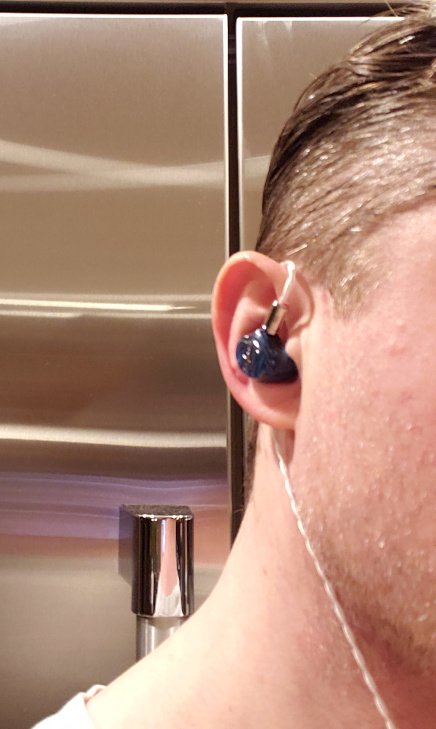 Sound Analysis.
I analyzed IT07 paired up with MAX and LPGT while playing a variety of test tracks, such as Agnes Obel "The curse", Sandro Cavazza "So much better" (Avicii remix), C-Bool "Never go away", Ed Sheeran "Shape of you", Alan Walker "Darkside", Galantis "Hunter", Iggy Azalea "Black widow", Indila "Boite en argent", Dua Lipa "Love again", Counting Crows "Big yellow taxi", David Elias "Vision of her", and Michael Jackson "Dirty Diana". Due to a hybrid design, a more critical sound analysis started after about 100 hours of standalone continuous playback, and I used stock silver cable and stock whirlwind eartips along with silver filter.
As it was already mentioned, IT07 comes with 3 sets of replaceable mesh guard screens like in other iBasso IEMs. From a default Silver (the most open mesh) to Black (medium opening) the change is more subtle where I hear a bit narrower soundstage with a deeper sub-bass and vocals being a bit denser and slightly pushed back. Going to Gold (least open mesh) from Silver was more noticeable with sub-bass going up and getting thicker and mids/vocals going down and being less focused. Basically, going from Silver to Gold the signature changed from more W-shaped to more L-shaped. For my sound analysis, and personal preference, I was using Silver filter.
Upon closer listening, I hear a very wide soundstage with a natural depth/height. Not exactly holographic, but naturally expanded with a decent imaging and separation of sounds in space. Tonality is rather natural, yet still quite detailed with a relatively accurate timbre of instruments and vocals. The signature is balanced and distinctly W-shaped due to a good extension and impact of low end, detailed natural tonality of mids, and clear, natural, extended treble with just enough crunch to give the sound a good definition. The retrieval of details is pretty good, not exactly on analytical level, but I hear a very good level of clarity.
Regarding the coherency of this hybrid 7 driver IEM, I was going back and forth with my assessment. The W-shaped sound sig of IT07 has a distinct focus on lows, mids, and treble, especially lows/bass. They all work together very nicely, but they don't necessary blend in together in a unison of a single driver like you would hear it in IT04. I think this is due to the bass standing out on its own in IT07 tuning. Often in hybrids you have a cut in lower mids for a better separation between DD lows and BA mids, but not in IT07. Here, the bass impact is elevated but without overpowering the mix. And the same with treble, it blends in naturally, yet you can still shift your focus to its organic sparkle which stands out on its own. Thus, while I'm not saying IT07 has a coherent unison tuning that blends all drivers together in one, I would rather call it a W-shaped tuning that creates a coherent balance between lows, mids, and highs.
Looking further into sound details, low end really stands out in this tuning. This is not a basshead IEM and the bass is not overwhelming or overpowering, but it is one of the first things I noticed, especially after listening to IT04 prior to switching to IT07. Bass extends and goes down pretty low, down to sub-bass rumble that tickles your ears. And it is not just the extension but also the lift in sub-bass, not overwhelming but something you can clearly hear and feel. For a dynamic driver, the punch of mid-bass is articulate and slightly rounded with an average attack and decay that gives it a better control. You can clearly hear the authority and the speed of DD driver, and will not mistake it for BA.
Mids are natural, detailed, and with plenty of clarity. Lower mids are not too thick or too thin, definitely have a fuller body but it is average thickness, just enough to give the sound its organic tonality. Upper mids are natural and detailed with a focus around 2kHz and 4kHz peaks that give the sound its clarity and definition. All the sounds are well separated and layered, and as expected for this type of natural tuning there is not too much air between the layers. Treble is well extended, non-harsh at all. There is a moderate amount of crunch but it is well controlled and quite natural.
Eartips selection.
The selection of eartips is crucial with any universal in-ear monitor and will affect the sound, especially the bass impact depending on the seal and the soundstage depending on insertion depth. Due to a large opening of my earcanals, I usually go for the largest size eartips to get a better seal. Please, keep in mind, these impressions are subjective and relative to my ear anatomy which affects how I hear the sound.
Stock foam tips
– even though I was use large size pair of these eartips, I think the seal wasn't as tight, thus bass was less elevated and mids were more forward, including a little more air in treble. It actually works out as a good alternative to those who prefer less bass.
Stock narrow bore silicone tips
- these give IT07 a perfect W-shaped sig with emphasis on deeper lows, a little more forward natural details mids, and airy, crunchy, extended yet still natural treble.
Stock wide bore silicone tips
- these eartips bring out more bass and make mids/vocals and treble sound smoother.
Stock turbo whirlwind wide bore silicone tips
- similar to wide bore stock silicone tips, but with more details in mids/vocals and treble.
Type-E eartips
– these change the tuning to a more extreme V-shaped, especially with more piercing treble. Didn't like this pair up at all.
Symbio F eartips
- excellent balanced W-shaped sound sig where in addition to deep and powerful bass impact and clear and detailed mids, treble also has a little more sparkle and air without being harsh. As a result of treble improvement, the sound has a little more resolution and even better layering.
AZLA Xelastec eartips
- these eartips help with additional sub-bass rumble, going even deeper than any other eartips. Sound sig is still W-shaped and balanced, with a powerful bass impact, natural mids/vocals, and well controlled natural detailed treble.
I liked stock Whirlwinds, Symbio F, and Xelastec tips in pair up with IT07.
Comparison.
The comparison was done using IT07 with a stock cable, MAX and LPGT sources, CA04 balanced adapter, and also volume matched in every comparison.
IT07 vs IT04
- quite a noticeable step up going from 04 to 07. Starting with soundstage, the depth and height are similar, but width spreads a little more to the L/R in 07. The presentation of the sound is more laidback, neutral, natural in 04, and more forward, W-shaped, and more energetic in 07. The improvement in bass performance is probably the first thing you will notice. 04 bass is more neutral, more relaxed, not as tight or articulate, while 07 scales up in both quantity and quality. From a deeper and more elevated sub-bass rumble to a tighter, punchier, and faster mid-bass the overall bass performance is a lot more articulate, better layered, and with more control. The tonality of mids and treble are not too far off, but 04 mids/vocals are pushed slightly back while 07 is more forward, and 07 treble also has a little more sparkle and air. Technical performance is what sets mids more apart in these two, 07 mids have better resolution, layering, and improved separation of sounds. Treble in 07 has a little more sparkle which improves the resolution and the layering. Overall, 04 sounds more laidback, mellow, slower, and more coherent, while 07 is faster, tighter, and more fun, especially thanks to its enhanced bass performance.
iBasso did a big step up going from IT04 to IT07, doubling the amount of genuine Knowles drivers (those are not cheap), implementing new bass driver, adding pure silver cable, introducing optional screen filters, having a serious improvement in bass performance, and while mids/treble are not too off, their technical performance (resolution, retrieval of details, etc.) scaled up as well.
IT07 vs Campfire Audio Solaris '20
- maybe not exactly an upgrade, but definitely a very interesting side-grade based on this comparison. Both have a very similar soundstage expansion. The sound sig of these hybrids is also quite similar, being W-shaped, though Solaris is a little more balanced. While they have similar sub-bass rumble, the mid-bass impact is lower in Solaris and a little more elevated in 07, giving its bass a faster punch. Mids/vocals between these two IEMs have a very similar tonality and presentation, maybe with Solaris being just slightly more forward. The biggest difference here is in treble where 07 is more natural and with a better control while Solaris upper mids/lower treble are brighter and splashier in a relative comparison. I already mentioned that going between these two is more like a side-grade that will depend on a personal sound preference. If you want more punch in your mid-bass and more natural and still well-defined treble, IT07 will be the one for the job. But if you want more relaxed bass and more treble energy and air, Solaris '20 will fit the bill.
IT07 vs Meze Audio RAI Penta
- another interesting hybrid comparison. Here, the first thing that stood out to my ears was how much wider 07 soundstage sounds in comparison to average width Penta; it becomes quite apparent when you go back'n'forth between these two IEMs. Bass of Penta is closer to 07, sub-bass rumble extension is as deep but mid-bass punch of Penta is slight less in quantity and not as tight or articulate like a faster punch of 07 mid-bass. 07 mids/vocals are more forward, more revealing and have better layering, while Penta's mids are more distant, being out of your head, and a little smoother in comparison. Treble has a similar tonality and quality, but for some reason I felt it was a little distant just like Penta's vocals. Overall, RAI Penta has a different presentation of the sound, being more distant, more out of your head, and with a little narrower soundstage, while 07 brings the sound closer and more forward, expands soundstage and improves the imaging.
IT07 vs 64 Audio Trio
- this was another comparison which I found to be interesting. Soundstage expansion between these two was quite similar. Now, starting with bass, finally we have a matching quantity and quality, though to my ears 07 mids-bass is a little tighter and faster. Presentation of mids is a little different, with 07 bringing it more forward, giving the sound W-shaped sound sig while being pushed a little back in Trio which gives its sound a more V-shaped sig. I also noticed 07 lower mids having more body which gave vocals a little fuller tonality while Trio vocals are a little thinner. Treble is where I hear the biggest difference since Trio is brighter, crisper, and even a bit splashier in comparison to a more natural and smoother 07 treble. Both of these IEMs do sound like hybrids, these are not super coherent IEMs where all the drivers blend in. But their signature will differ and those who find Trio treble energy to be a bit overwhelming for their taste will appreciate a more natural yet still detailed treble of 07.
IT07 vs 64 Audio Nio (w/N0 module)
- didn't expect these two being not too far off. Soundstage expansion here is very close, I would be splitting hair looking for a difference in width, depth, and height. Of course, if you are using other apex/atom modules you can get bass more elevated, but with N0 which is my preferred module here it's very close in sub-bass rumble quality and quantity and also matching mid-bass quantity, maybe with IT07 having just a touch faster punch. I hear a bigger difference in mids/vocals where 07 is more revealing and layered while Nio has fuller body and smoother tonality. The same with treble, IT07 having just a little more sparkle in comparison to a smoother Nio treble. Fuller body mids vs more revealing brighter mids is the biggest difference here, while everything else is pretty close when comparing IT07 to Nio w/N0.
Pair up.
In each of these pair ups I was using IT07 w/stock cable and whirlwind eartips. With impedance of 16ohms and sensitivity of 108dB, IT07 is very easy to drive. Also, haven't noticed any hissing. Another thing I would like to mention, my pair up analysis doesn't go into a deep sound analysis, that's what sound analysis and comparison sections are for. Here, I take quick notes for you to see if any of the sources affect the overall sound signature and what changes you can expect due to source variation in power, output impedance, or selection of DAC.
LPGT
- wide soundstage, natural detailed tonality, W-shaped signature, deep bass impact, natural vocals tonality, clear detailed non-harsh treble. This is usually my baseline sound analysis.
DX220 MAX
- very similar sound to LPGT, but with a little stronger mid-bass impact and more air and crunch in treble. Also, relative to LPGT, I hear a blacker background with MAX.
DX160
- very wide and even more holographic soundstage, but the sound presentation is a little different, with the overall sound being more revealing, a little brighter, faster, and mids/vocals being more forward which takes away a little bit from bass impact and also gives treble more crunch.
DX300
- here the sound is somewhere in between DX160 and MAX. Soundstage is still very wide. Overall sound sig is W-shaped, balanced, with bass impact being similar to MAX and LPGT, but mids being a little more revealing, closer to DX160, and treble having more crunch and air which is more typical of DX160 pair up.
Hiby R8
- wide soundstage, natural detailed tonality, W-shaped sig, deep bass impact, maybe even a little more sub-bass rumble, natural vocals tonality with more organic texture, and a little more crunch in treble. This is a smoother pair up example.
FiiO M11 Pro
- wide soundstage, natural detailed tonality, W-shaped sig, deep bass impact, detailed mids with natural vocals tonality, clear detailed non-harsh treble.
Shanling M6
- very wide soundstage, natural detailed smoother tonality, W-shaped sig, slightly elevated bass with more sub-bass and mid-bass impact, natural organic mids, and clear detailed non-harsh treble.
A&K SR25
- wide soundstage expansion, natural detailed tonality, W-shaped sig leaning a little more toward V-shaped since mids are slightly pulled back. Bass is deep and punchy, mids are natural, smooth, detailed, treble is clear detailed non-harsh.
Cayin N3 Pro tube output
- wide soundstage expansion, natural detailed smoother tonality, W-shaped signature, deep bass impact, natural organic mids and vocals, and clear detailed treble with a little more airiness.
Samsung Galaxy S9
- to my pleasant surprise this was a good pair up, wide soundstage, natural detailed fuller body tonality, still W-shaped signature, deep punchy bass, fuller body natural mids and vocals, and clear detailed non-harsh treble. Overall sound was a little more laidback and a touch less resolving, but still very enjoyable.
DC03 + Galaxy S9 –
in this pair up with a volume limiting UAC app (from iBasso), the sound quality scales up to DX160 level with a more articulate faster bass, more revealing detailed mids and vocals, and crisp and airy treble. It was nearly on the same level as listening to DX160, a big step up in tonality, soundstage, and technical performance when compared to being connected directly to my phone.
Conclusion.
iBasso is not the first DAP manufacturer who added IEMs to their product portfolio. But based on what I have heard in the last 4 years from their debut IT03 and follow up releases, iBasso did come a long way. IT03 and IT01x were focused on a more "fun" tuning, IT04 pushed it toward a balanced audiophile tuning, AM05 took a side step to appeal to audiophiles with more focus on vocals. IT07 demonstrated a very mature W-shaped balanced audiophile tuning that can compete head-to-head with other more expensive IEMs from manufacturers who only focus on designing earphones and headphones.
Personally, I find it impressive for a company who is well known for their audio players to pay as much attention to IEMs design and tuning as they do to their flagship DAPs. I did enjoy IT07 natural and rich tonality with a good retrieval of details and a spacious wide soundstage sound. The balanced W-shaped tuning of these IEMs does stand out with a powerful, deep, yet well controlled bass impact complemented by a detailed natural tonality of mids and a clear natural sparkle of treble. Especially for those who felt IT04 were lacking in bass, they will really enjoy IT07 tuning.