The iBasso D14 Bushmaster was sent to me for free by iBasso for the purpose of me writing an unbiased review of it.  I'd like to send a big THANK YOU to Paul at iBasso for letting me check out the iBasso D14 Bushmaster.
The iBasso D14 is available from numerous online resellers with prices ranging from $229 to $259 at the time of this review.  Here's the link to the listing on Penon Audio:  
http://penonaudio.com/iBasso-D14
For more information about the D14 you can also visit the iBasso website:  
http://ibasso.com/cp_xq_dy.php?id=288#page5
I'm not in any way affiliated with iBasso or Penon Audio.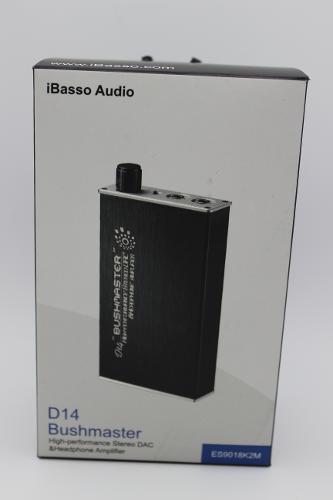 Short introduction to Audinst Inc.:
iBasso Audio is a China based company well known for its good performing and great value for money DAP's, amp's and amp/DAC combos.  
The D14 Bushmaster is the first product I try from them so naturally I was very curious about it so let's find out more about its performance. .  
About me:
I'm a 43 year old music and sound lover that changed my focus from speakers to headphones and IEM's about five years ago. At that time I realized that it wasn't realistic for me to have all the different setups that I wanted and still house a family of four children and a wife so my interest turned first to full sized headphones and later also IEM's.
 
My preferences are towards full sized open headphones and I believe that also says something about what kind of sound signature I prefer (large soundstage in all directions, balanced and organic sound).
 
My music preferences are pretty much all over the place (only excluding classical music, jazz and really heavy metal). My all-time favorite band is Depeche Mode although I also listen to a lot of grunge/indie, singer/songwriter/acoustical stuff as well as the typical top 40 music.
 
I tend to value function over form within reasonable limits.
 
I do not use EQ, ever.
 
I'm a sucker for value for money on most things in life Head-Fi related stuff is no exception.
 
Built, accessories and functionality:
The iBasso D14 Bushmaster is a solid state headphone amplifier and DAC combo.    
The D14 is available in one flavor only AFAIK: silver color.  
Output power is rated to 400mW@ 32Ohm. Output impedance is rated at a very low 0.1Ohm.  
The D14 has a sturdy housing that feels durable. The physical controls available on it do also feel reliable. The physical controls sums up to a gain switch and a volume control that also doubles as on/off switch on the front and a source switch (USB, AUX or SPDIF) and a switch for turning the charging on/off on the back. Although it doesn't feel very heavy the overall build still feels pretty solid.  
The D14 offers one USB mini digital audio input that also doubles as charging port if the charging switch is set to on. It also offers one coaxial and optical input (the SPDIF input doubles as both) as well a combined in/out 3.5mm analogue connection (if headphones are connected it works as an input, if not it works as a line out). There's also one 3.5mm headphones output.  In total I find the number of connections to be very good on a unit this small.  
The D14 works very well with Android when connected with an OTG cable and using USB Audio Player Pro (UAPP) as music player. It might be worth noticing that the D14 uses a mini USB socket and not the more common micro USB. Fortunately iBasso has included a mini to micro OTG cable in the package since these are not the most common cables around. A nice feature is that the D14 disconnect automatically from the Android device when the source selection switch is put in another position than USB. The internal battery on the D14 does also make the battery drain on the hosting device very low. Although Android and sound does not have a great reputation the D14 have worked with every Android device I've tried it with (with the help of UAPP).  
The D14 uses an Xmos USB receiver that is supposed to work with Apple devices using the Camera Connection Kit (CCK) but I haven't been able to test this myself.  
The D14 does also feature a coaxial input and I've used it most connected to my FiiO X3 this way and I like this combo a lot. I've had the X3 since it was first released and although it does not have the  most refined sound I absolutely love (and am VERY familiar with) the way it works and this combo has made me really appreciate it again. iBassy also graciously included an 3.5mm to 3.5mm coaxial cable in the accessories so this connection is truly plug and play.  
The battery life is fairly good and is said to be 13 hours when used as AMP/DAC and 25 hours when used as AMP only. Without having brought out my stop clock I'd say that these numbers are fairly accurate from my experience. Charging time is 5 hours and although it's quite long it have not really bothered me since I typically charge it when I sleep.  
The D14 support all popular file formats for audio up to DSD256 and 32bit/384kHz files.  
The accessories included are:
1 storage pouch
1 USB cable,
1 3.5mm to 3.5mm interconnect
1 mini to micro OTG cable
1 3.5mm coaxial cable
2 Silicone straps  
The specs:
Power Source:
Built-in 4.2V Li-polymer Batteries or external power supply.
Frequency Response: 17Hz~20 KHz +/-1dB (DAC)
17Hz~100 KHz +/-0.2dB (AMP).
Signal to Noise Ratio
:
115dB (DAC), 116dB (Amp).
Crosstalk: 106dB (DAC).
Total Harmonic Distortion
: 0.0018%@1kHz/-10dBF (DAC)
0.0012%@1kHz/max volume (AMP).
Output power:
Up to 400mW+400mW into 32ohm.
Gain:
+3dB and +9dB (AMP).
Battery Life:
13 hours AMP+DAC or 25 hours if amp only.
Battery Charge Time:
5 hours.
External Power supply:
5V DC.
Recommended Headphone Impedance
: 8~300.
Output impedance:
0.1ohm.  
I've used the D14 for the last two weeks and my unit has played for well over 50 hours.  
Demo list:
Mark Knopfler – Sailing to Philadelphia
Røyksopp (Feat.Susanne Sundfør) – Save Me
Ane Brun – These Days
Michael Jackson – Dirty Diana
Metallica – Die Die My Darling
The Peter Malick Group – Immigrant
Eva Cassidy – Songbird
Thomas Dybdahl – A Lovestory
Norah Jones – Don't Know Why
Celldweller – Unshakeable
Jack Johnson – Better Together
Seinabo Sey – Younger (Kygo remix)
Dire Straits- So Far Away
Björk
- Moon
Lupe Fiasco - Deliver
Morrissey – Earth Is the Loneliest Planet
S
ound impression:
The first thing that I noticed when I started to listen to the iBasso D14 was the lean, clean and airy sound it produces.  
Bass extension and quality is quite good with a slight roll off in the lowest frequencies. Mid- and upper-bass is on the lean side making the presentation airy and ever so slightly on the bright side. When listening to the D14 the bass sounds very good and I don't really miss much but when starting to compare to other competitors it does indeed lack some dynamics compared to the best in this department.  
The midrange is liquid and smooth with plenty of details. The D14 sounds very linear through all frequencies and the midrange is no exception. Nothing really stands out and it sounds very natural and airy like a fresh breeze.  
The treble is very well extended, airy and smooth. It adds further to the liquid non-fatiguing and natural overall sound.  Although being slightly on the bright side it does never feel harsh or artificial to me but rather light and refreshing.  
The overall presentation has good soundstage in all directions and layering is also good as is the amount of air between the instruments. The background does also feel black and calm. Transparency is also quite good.  All together I'd describe the sound of the D14 as lean and clean. This is a signature that I personally find to be quite appealing, especially with warmer sounding and/or bass tilted IEM's or headphones.  
Comparison:
Please note that the comments in the comparison section are not in absolute terms but in comparison between subject A and B. This means (as an example) that if subject A is found to be brighter than subject B it does not necessarily mean that subject A is bright sounding in absolute terms. I hope this makes sense.  
In these comparisons I've been listening through my AKG Q701's.  
I've been using the USB input when doing these comparisons. Both units has been hooked up to two different laptops both running Windows 7 with the same settings and I use MediaMonkey as my player of choice.  
Burson Audio Conductor V2+ (1,499) vs iBasso Bushmaster D14:
Compared to the D14 the V2+ has more airiness in its presentation as well as a larger soundstage width and better bass presentation with a higher quality (better layering) and impact. This is actually very easy to hear with the Q's.  The greater bass quality makes the V2+ more dynamic sounding and with better definition while the D14 is more lean in its presentation. The V2+ does also have better separation with more air between instruments. Both are good when it comes to detail retrieval but the V2+ is even better. In short I'd say that the V2+ is more dynamic and engaging while the D14 is more relaxed and slightly thinner sounding.  
The V2+ of course has some other advantages as well such as significantly higher power output (4W @32Ohms compared to 400mW@32Ohm on the iBasso), two analogue RCA inputs and both pre-amp and DAC direct RCA outputs. In addition it also has a great quality remote control. D14 on the other hand offers a gain switch, portability, battery power and is of course much smaller.  
iFi Micro iDSD ($420) vs iBasso D14 Bushmaster:
Compared to the D14 the iDSD have a even more airy presentation. The iDSD has more sub bass presence while both of them had a quite low amount of mid bass making both sound very clean, the iDSD even more so though helped by better separation giving it more air between instruments.The iDSD is a touch warmer and more relaxed while still having the same, if not even slightly better, detail retrieval. In total I find the iDSD to sound more natural and engaging but it's also almost twice the price of the D14. The difference between these two is not as big as it may sound here though but my job is to highlight the difference that does exist.  
Feature wise they both offers coaxial input in addition to the USB input but the SPDIF input on the D14 also offers optical connection. Both does also have an 3.5mm analogue input and line out although the iDSD has RCA outputs and has option to choose between pre-out or direct out while the D14 has a 3.5mm output. When it comes to headphone outputs the D14 has one 3.5 while the iDSD has one 6.3mm. They both also have an internal battery. The footprint of the D14 is quite a bit smaller and it's definitely the more portable of the two. Both offer a gain switch but the iDSD has three settings compared to the two on the D14. The iDSD does offer a bass boost and a 3D enchanter, three different IEM moods (to reduce hiss), polarity switch and the option to choose between three different digital filters. Build quality feels very solid on both units with the iDSD pulling slightly ahead.  
For even further comparisons feel free to visit this thread for breakdown between more $250+ amp/DAC units (this is a work in progress and several other units will follow in the near future).  
http://www.head-fi.org/t/816410/peter123s-250-amp-dac-combo-comparison-thread#post_12771442
Matching:
The output impedance of the headphone out on the D14 is rated to a very low 0.1Ohm. This means that it should work well with all kind headphones and even very sensitive IEM's.  
In this section I've tested how some of my favorite headphones but also one earbud and one pair of IEM's pairs up with the Mojo.    
AKG Q701 ($300):
The Q's pairs up quite nice with the D14. I was kind of afraid that the lean presentation of the D14 would make the Q's unengaging but that's not the case. The smooth presentation of the D14 pairs very well with the forward upper mids on the Q's and does also pair very well with the well extended treble on the Q's. I've heard the bass on the Q's with deeper extension and more impact though. Although the Q's and the D14 is not the perfect pairing it's still a quite enjoyable one to my ears.  
Philips Fidelio X2 ($300):
The X2's, being quite warm and full by itself does make a very good combination with the clean and light presentation from the D14. The D14 is also perfectly smooth in its presentation and this does also help to make the X2's very enjoyable with them. I don't find the X2's to be harsh in any way but they don't have the most refined treble sometimes and the D14 seem to make this less obvious. To put things short these two sound very good together.  
VE Zen 2.0 ($138):
The Zen 2.0 is a 300Ohm earbud that I like a lot and tend to use instead of closed headphones.  
The soft and smooth signature from the Zen 2.0 lack some energy, drive and dynamics compared to the best I've heard it when paired with the D14. The Zen's doesn't have the most impactful bass originally and it doesn't get much help from the D14 to bring it out either. It's pretty obvious to me that the D14, although it's not bad sounding in any way, is not the best pairing with the Zen's.  
Aurisonics ASG-1PLUS ($500):
The ASG-1PLUS is an 11Ohm hybrid IEM (1 DD + 1 BA).  
Once again I was afraid that the lower amount of dynamics and bass drive would make an unengaging listening (like I found the Mojo and 1PLUS to be) but once again I was wrong. Although the D14 doesn't pack a lot of energy its tilt to the bright side still breathes life into the relaxed presentation of the 1PLUS. Once again I find that I've heard better bass presentation but it's still very enjoyable. Once again, it's not a perfect pairing, but still a very good one.  
Super Audio 6 ($250):
The Super Audio 6 (SA6) is a six BA driver Chines DIY offering. It has a warm, smooth, intimate and mid-centric overall presentation.  
The combination of the D14 and SA 6 is a great match and the liquid, creamy and intimate character of the SA6 does really come to live with the help from the fresh, clean and airy presentation of the D14. As a matter of fact this is one of the better pairings I've ever heard for the SA6.  
To sum up the matching section the signature of the D14 works quite well with all the headphones and IEM's I've tried it with. That being said I find it to perform the best with full, lush IEM's and headphones that has a good bass drive. There's also a very low background hiss when paired with my most sensitive IEM's that might be worth noticing. In total I'd still consider the D14 a great all-rounder when it comes to pairing.  
Summary:
The iBasso D14 Bushmaster is a truly excellent offering in its price bracket and even beyond in my opinion. I can easily see people looking for a neutral, smooth and lean sound preferring it over other, much more expensive, offerings.  
Although it's not quite up there with the best $400-600 performers in sound it's certainly not far off either and has a lot good to offer. The iBasso D14 is well built, has an internal battery, works with lap tops, computers, Android devices, Apple devices and is portable. In addition to all this it does also offers a coaxial/optical input as well an analogue input combined with output and a gain switch, This is really a great list of features at this price point, add to it an excellent sound and it makes the iBasso D14 a strong recommendation for the budget oriented looking for great performing AMP/DAC combo in the sub $350 segment.  
Audio Quality: 4
Design: 4
Quality: 4.5
Value: 5
Features: 4.5  
FiiO X3/iBasso D14