Great build quality and good calls, but short battery life and average sound expose their age
Pros
:
Build quality, call quality, finish, ANC
Cons
:
Sound signature, no auto-pairing, battery life
How I review:
(See Previous Reviews)
Model
: Honor Magic Earbuds
Price
: MSRP £89.99
Distributor
: Amazon
Vendor Website
:
Honor
Manufacturer Blurb:
Model: Honor Magic
Driver: 10mm
Chipset: BES 2300
Earbud Weight: 5.27g
Case Weight: 49.22g
Gross Weight: 59.76g
Earbud Dimensions: 41mm long, 23mm wide with tip
Case Dimensions: 59.8mm - 80mm x 35mm x 29mm
Earbud Battery Capacity: 37mAh
Case Battery Capacity: 410 mAh
Earbuds Charging Time: Earbuds 1.5 hours
Audio Format: AAC / SBC
Music Playtime: 3 hours ANC, 3.5 hours ANC off*
Earbuds and Case Fully Charged Music Playtime: 13 hours
Bluetooth Range: 10m advertised
Bluetooth: Bluetooth® 5.0
Bluetooth Protocols: A2DP 1.3 / AVRCP 1.5 / HFP 1.6
Input: 5V 1A
Includes:
1 x Pair wireless headphones
1 x USB Type-C Charge Case (no wireless charging)
1 x USB Type-C Charge Cable
4 x Pair Silicone Tips
1 x User manual, warranty card, app card, safety information
Real Life Experience
Bearing a more than passing resemblance to the Huawei Freebuds 3i, their once-removed Sister company have been a controversial name in the electronics market over the last few years due to their state ownership and reported 'soft-dollar' selling to fund the AI race.
Whilst I have my own opinion about that, and the window-dressing sale which was completed last November, it will not form the scope of the review. All we care about here is whether the buds are worthy of consideration and their use-cases - their MSRP is not cheap, so they will have to be something special to warrant the high price tag given the competition.
The Magic confuse things a little in their marketing, talking about the mics and noise cancellation. Whilst their terminology is technically correct, average Joe consumers are already confused about the difference between CvC or MEMS noise reduction and Active Noise Cancellation, let alone PNI, so Honor could have been a bit clearer in their marketing material.
Available in 'Robin Egg Blue' (see the colour of the box to fathom that out) and generic glossy white, I opted for the glossy white, as it was on offer for a respectable £35.99 on Amazon UK.
The buds have been available for some time, released in Q3 2020, so some allowance is made for the hectic pace of development - the Qualcomm shortage has seen the Chinese semiconductor market accelerate at an alarming pace, so relative technicalities such as the lack of BT 5.2 won't be marked down.
The Unboxing - 8/10


There is no denying Honor are a mature international brand, and that resonates from the packaging, with the warranty card, safety information and quick guide
all in a huge variety of languages
- unlike most items I review, aside from the usual English, French, German, Spanish, Italian and Chinese, there are also allowances made for Dutch, Swedish and Finnish, Eastern Europe and the rest of Asia, with Polish, Czech, Slovakian, I think Estonian, Hungarian, Slovenian, Japanese, Korean, Indian, Vietnamese, Korean and Thai all supported. Impressive.
Whilst not pictured, the unboxing revealed 4 sets of the usual mediocre-quality tips and an extra long USB-C charge cable.
I only speak a few of those languages but those I do understand are accurately translated, and the instructions are very clear and concise.
There is also a card to connect to the Huawei AI Life App, which doesn't do much, but does allow a firmware update, which mine needed.
The curse of earbuds - not cleaning them - is also specifically mentioned on the back, and the metallic surrounds to the head protecting the driver facilitate this quite nicely.
The Case - 7.5/10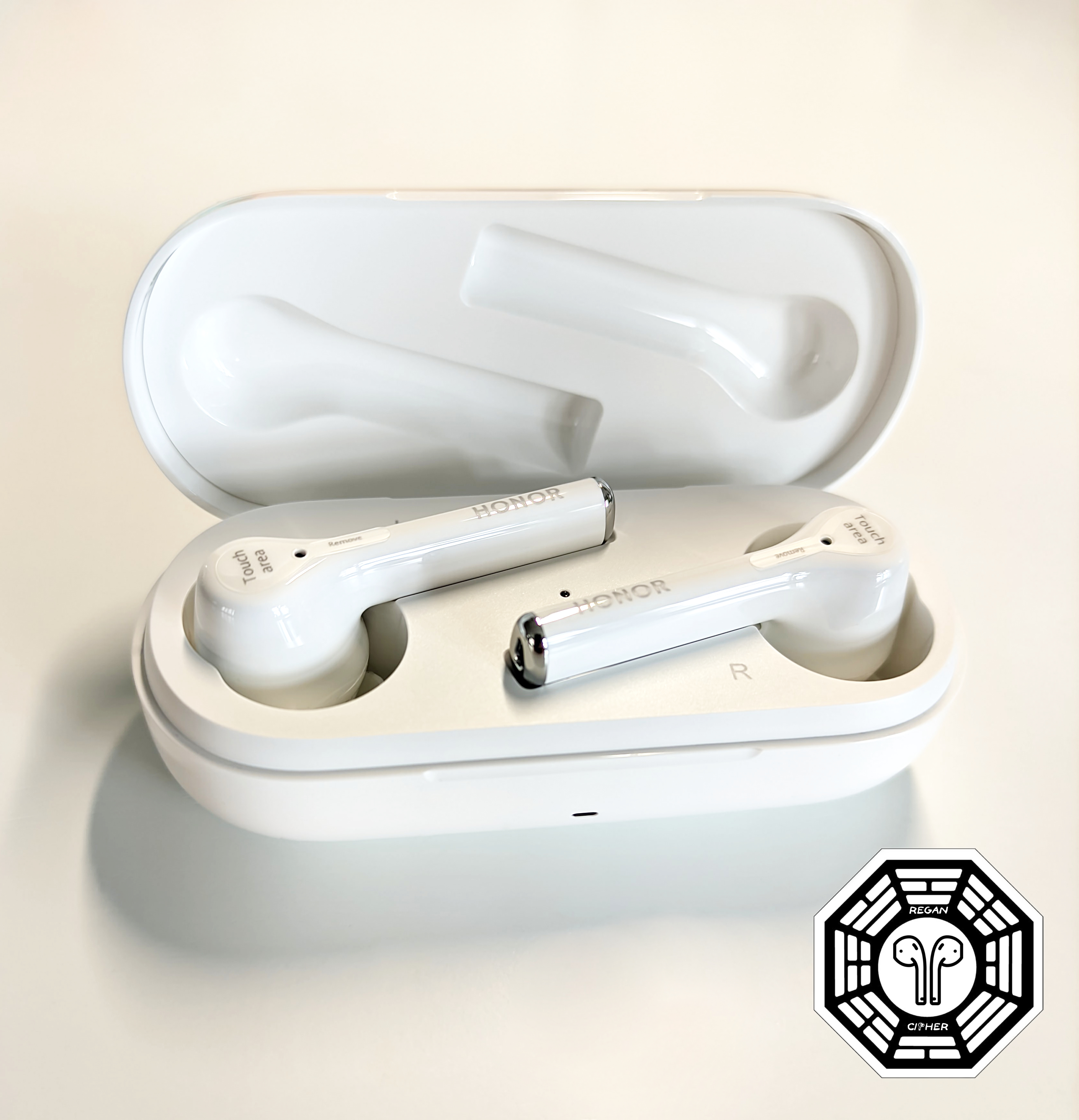 The pictures don't quite do the Honor Magic Case justice - it is
extremely-well finished
with
excellent build quality
. Whilst it is premium quality, the glossy-white is not my preferred look, and it did start to attract dust and finger marks very quickly, but nevertheless was actually a pleasure to photograph and handle, oozing quality commensurate with the price and brand.
The case sports a nice sturdy hinge, well-thought out lip for single-handed use, and perfectly weighted magnets to snap the buds in. They feature a light inside, as well as on the outside, denoting both level of charge and pairing status, the latter as, rather annoyingly, you have to hold a button on the back for three seconds to pair with devices for the first time. Predictably, there is no multipoint connectivity, but you do not have to re-pair every time, thankfully.
The case is pill-shaped, and is rather large when you put it next to the 1More Comfobuds, but is almost identical in shape, size and features to the Boltune BT-BH024, including the L and R denoting which bud goes where. In technology many things over time get smaller and more powerful, and TWS cases seem to be no exception.
It is also quite hefty at nearly 60g fully loaded, but with a height of just 29mm, it is portable enough, even for trouser pockets. The case is charged with USB-C - there is no wireless charging, no quick-charge (more under battery)
The Ergonomics - 7/10
The Magic buds are similar-shaped to the Dudios T8 - a little bulbous at the top, with straight stems, although they measure a couple of mm longer and a weigh a couple of grams more per bud. As with the Dudios, this feels a little awkward sitting in your ears, and TWS vendors have gravitated to a more curved-style over the last 12 months.
The stems are pretty long by 2021 TWS standards - one of the longest I've measured recently, a sign of their age, as TWS vendors are starting to find the sweet spot of 36-40mm the ideal balance.
The length naturally has the advantage of bringing the voice mic closer to your mouth, but the lack of curvature, which makes the ZMI PurPods so nice to wear, does the Magic no favours. They can look awkward in your ears, and when you try to adjust them, if you have a beard like me, you can sound a little scratchy on calls.
Lacking the curvature of the PurPods, whilst they leave oncoming nutters or charity pushers under no illusion you are deep into your podcast, they look kinda weird, or as my kids would say, 'unaesthetic', protruding diagonally away from your ears a little awkwardly.
The touch controls, whilst not especially useful nor broad in their variety, are easy to initiate due to the flat sided 'touch area' of the neck, denoted with a removable sticker.
Above shows the 2nd of 3 microphones - the Magic buds have two sets of ambient mics, one on the inside.
Below shows a large circle in between the battery connectors - that's not the third mic (that's pictured above), it's a physical sensor for detecting removal of the buds and auto-pausing playback- usually this is obscured within the design, but Honor have interestingly left it exposed.
The outer driver housing tapers into a metallic,
oval shaped head
, so there is one way these buds are going to fit in your ears without discomfort, especially if you have slim ear canals.
If they do feel uncomfortable, give them a slight tilt
.
Even taking that into account, they aren't especially comfortable for prolonged use. My preferred buds of this type - the ZMI PurPods, have a filter which relieves some of the pressure caused by silicone tips, but the emphasis with the Magic buds is noise cancelling, so they are designed to seal tightly and let as little noise in as possible. Unfortunately the trade-off is they are noticeable and after a while can become fatiguing depending on your preference (I prefer semi-in ear for this very reason)
At 5.27g, they are not especially light, but the weight is not felt due to the larger size spreading the load.
There is
no specific water resistance rating
anywhere in the manual, so no taking them in the shower!
Noise Cancellation - 7/10
ANC is the headline feature, and whilst it
does a fair job
across the board, unfortunately I found it to be a little weak by today's standards.
In my experience, stem-based buds struggle to isolate noise fully, and if I compared it to anything that others may be aware of it would be the Edifier TWS NB2 or Earfun Air Free. Unlike some buds where you wonder if you have a faulty set or not (Mpow X3, Aukey EP-N5) it is clearly doing something - it
blots out distant noise
and even close up noises such as PC fans, but
conversations are not muted at all
.
I tested against the Jabra Elite 75t and Soundpeats T2. The Soundpeats outperformed both at short range, cutting out Alexa being played loudly in the adjacent room to a whisper. The Honor Magic stifled the sound slightly, but it was still very noticeable. The Jabra were the worst of the three, muffling everything but simply 'muffling it' rather than cancelling it.
Outdoors they perform more than adequately
, similar to the FIIL T1 Pro and Edifier TWS NB2. There will always be a trade-off for this form factor, and Honor balance great call quality and average ANC pretty well.
I noted that ANC remained on, even whilst calls were initiated. is not always the case.
Call Quality - Indoors - 8/10, Outdoors - 8/10

Calls are the best feature
of the Magic buds. The only blot on the copybook is you can occasionally go a little quiet, and your beard can sometimes cause a minor crackle, but traffic is handled extraordinarily well - only the Galaxy Buds Live and Taotronics Soundliberty 79 seemed to be that good at semi-intelligent sound compression.
The Honor are aided by a
6-mic array
, 4 of which are used to filter unwanted sound. At the time of release it was great, and it still performs very well now. There is
no noticeable diminish in quality over videoconferencing
either - Zoom calls were pretty clear when I played back the recordings. There is, at times, some noticeable compression - possibly down to moving around in my seat and the creaks that come with it (which were inaudible, but I know they happen!), so the naturalness can erode a tad, but
call quality in general is a standout feature
.
Outdoors again it is a similar story. Typically your voice sounds quite natural and nearby traffic sounds well compressed, by tws standards. Again, when the scene gets complex you can sound distant, but overall Honor have done well with this implementation.
Audio - 6/10 (for the price paid), 7/10 (raw score)
We've been spoilt recently with some excellent sounding buds - the most recent Lypertek release, the KZ SA08 and Soundpeats Sonic all surprised at lower prices than the Honor, and whilst most of us know there's only so much you can eek out of Bluetooth and streaming services, the Honor still
performed below expectation
with FLACs on Windows 10.
Whilst their sound signature is closer to my preferred default than many - a more balanced sound than the common consumer V-shaped offerings, they LACK detail, and are at times slightly raspy - highs on dance tracks with female vocals are particular culprits. At high volumes some distortion can even be detected - unacceptable at >£50.
At the price I paid - £35.99 - I'd have given it a 7. At £89.99 you aren't getting better sound than buds such as the FIIL T1 Pro, ZMI PurpPods, Soundpeats TrueAir 2, or even the Sonic, which respond well to EQ. The Magic buds unfortunately don't really do much when you tweak them through Wavelet - the dynamisms in the lows is excluded by design, although the highs can be tempered a little, making them more palatable.
Connectivity, Controls and Other Features - 6/10
Connectivity is good- they only support Bluetooth 5.0, but given the mass adoption of BT 5.2 is still a few years away this is hardly a fault, especially as no Bluetooth 5.2 chips were in production at the time of release.
They have an app - the Huawei AI Life App, although don't expect much - you can update firmware, toggle controls and that's about it.
Firmware update was fast
- much quicker than the 1More Comfobuds, which took an eternity by comparison, for example, completing fully in around 2 minutes.
Controls are nice and easy
through the touch control finger pads. There is a small sticker denoting the touch area that can be removed. You can answer or reject calls and play/pause with double tap, and holding changes the ANC mode. Both can be adjusted through the app, but sadly that
doesn't include volume control
.
The
auto-pause sensor is accurate
, and is the same as that used by Huawei in their Freebuds - the Taiwanese Jie Teng JSA-1218. Sadly it
can't be toggled through the app
, so if autopause isn't your thing - stay away from the Magic. I also couldn't seem to get them to reliably re-start playing again, so when you adjust the controls, my advice is leave play/pause alone.
Latency is very good like most Bestechnic-based sets, with virtually lipsynched audio and video on YouTube on the Poco X3, using AAC. For those in the Huawei ecosystem, there is an auto-pairing widget function - unfortunately I couldn't sample this, as I don't own a Huawei phone.
Battery Life - 5/10
Battery life wasn't great when they were released, with only 3.5 hours without ANC and 3 hours with it activated. My experience was that
without ANC they would last around 3 hours
, and
with ANC on
and heavy activity
as low as 1.5 hours
. Whilst the case does offer a further 4 charges, with
no quick charge
and
no wireless charging
this is a little inconvenient by today's standards, where we have buds like the Soundpeats T2 and ZMI Purpods giving you 10 hours worth.
They advertise
90 minutes for a full charge
, but this seems to be for both the buds and the case - which, whilst not quick, is still
very respectable
, so if you're only using occasionally through the day, you won't be as inconvenienced as those who rely on their buds for long, boring webinars.
Final Comments
The Honor Magic (or Huawei Freebuds 3i) were a decent release at the time, but putting to one side the
impressive build quality
and polished finish, they
lack some key features
that are commonplace today, such as battery life above 4 hours, wireless charging, and EQ through the app.
The app is very basic and geared up towards Huawei users across the entire ecosystem. That doesn't include me, so perhaps I didn't get the benefit of the full experience, although it doesn't look like you get much more than hall-switch feature, which most buds have today anyway.
Sound is nothing special
, but the
mic quality is very good
, so if you can handle the
short battery life
, the Magic are passable at the offer price, but anyone paying £90 for now rather outdated tech is barmy, when the 1More Comfobuds Pro, FIIL CC Pro, Edifier NB2 Pro and ZMI PurPods Pro can be purchased for less money.
Price Weighted Score: 69%
Raw Score: 73%
ig: @
regancipher
Last edited: