Item information
Category
Added by
Views

24,185
Watchers

2
Comments

3
Reviews

13
Last update
Rating

3.92 star(s)

13 ratings
General Information
Higher end Audiophile tuned, "Topology Driver" In-Ear Monitor.
Latest reviews
Pros
:
Agile Bass Presentation, Energetic Treble, Build Quality
Cons
:
Midrange can be lusher
Introduction
HiFiMAN is a Chinese company that specializes in producing in-ear monitors and headphones. Recently, they have released the RE800 and their flagship RE2000. For the RE800, I have received the latest version which features detachable cables. I would like to thank HiFiMAN for this review unit. At this point in time, you can purchase the RE800 from
https://www.amazon.com/HIFIMAN-RE800/dp/B071YN9QJR/
Specifications
Frequency Response : 5Hz-20kHz
Impedance : 60Ω
Sensitivity : 105dB
Weight : 0.95oz (27g)
Unboxing & Accessories
The HiFiMAN RE800 comes in a silver hard rectangular case that has the brand name and model name printed on it. It has a protective cover that shows an image of the RE800. Inside the hard case, there are 2 small packages and a hard circular carrying case. For the 2 small packages, the first one contains a detachable mmcx cable while the other one contains eartips. On the top of the carrying case, there is the brand name printed on it with the iem inside it. Under the foam, there is a pack of tips that contains Comply foam tips, 1 pair of ear-guides, 1 warranty card and 1 instruction manual. The overall package has a premium feel to it.
IEM Build & Design
The RE800 has a fine 24k gold finish to its surface and it has a rather oval shape. On the faceplate, there is the Hifiman logo printed on it. The shell is made of brass with a strong build quality. At the bottom of the iem shell, there is a vent. There is also another vent near the nozzle. The nozzle is straight with a metal mesh for earwax prevention. It is rather small and not heavy at all. I am able to fit the RE800 comfortably in my ears. The RE800 has mmcx sockets. Overall, the iem is beautiful in its aesthetics and constructed well.
Cable Build & Design
The cable included is made of silver coated crystalline copper wire. It is not braided and has a 2 core design. The overall build quality on the cable is good and there is a soft-like transparent rubber coating on the wire itself. There is no memory wire section. On each mmcx connectors, there is L & R markings to differentiate between left and right. For the left, it is blue in colour while for the right, it is red in colour. The connectors has a transparent housing. The chin slider is a circular gold ring while the y-splitter has the brand name and model name printed on it. It is gold in colour too. Moving on to the jack, it is 3.5mm gold plated with strain relief.
Sound Analysis
Lows
The RE800 extends its sub-bass with authority and confidence. There is a quick rumble to it. It is typical of a dynamic driver's bass reproduction. The presentation of the bass is clean and technical. There is sufficient punch from the RE800 and each bass note is being portrayed with precision. With an agile nature, it packs energy. The bass texture is very smooth and decay is quick. The bass articulation is accurate and on point. With such an energetic nature, the bass is very enjoyable and exciting to listen to. The transition to the lower mids is good with a smooth passage.
Mids
The midrange on the RE800 operates in a transparent and clinical approach. The lower mids on the RE800 has sufficient quantity to tackle male vocals. Though it does not have huge amount, the lower mids is expressed with musicality and texture. The upper mids is quite forward and there is a good intimate presentation. There is sweetness from the upper mids. Female vocals sound euphoric here. The midrange definition is clear and operates at a high standard with a good level of details retrieval.
Highs
The treble has a good extension with no grain. There is no sibilance and harshness. Treble articulation is precise with a good crisp. The body is rather appropriate. Texture is not very smooth. It operates in a bright approach with a good amount of air at the top end. The air gives space to the overall presentation and lightens it. The details shown is in abundance and there is good clarity.
Soundstage
The RE800 tackles both the width and depth of soundstage rather well. The positioning of vocals and instruments is presented precisely with no congestion. There is a good depth with a great amount of space. The RE800 has a quick expansion in its soundstage and there is a good open feel.
Comparisons
HiFiMAN RE800 vs Beyerdynamic Xelento
The RE800 has less sub-bass extension than the Xelento and it has more quantity. I feel both presents their sub-bass in an authoritative and punchy manner. There is agility in each bass note. The mid-bass on RE800 has more body to it while the Xelento tackles its mid-bass with pace. Xelento has a slight edge in its bass decay. Bass texture on the RE800 is smoother. The impact brought by the Xelento is more and there is more engagement. The lower mids on the RE800 has more body and male vocals are presented with more thickness. The upper mids on the Xelento is more forward. There is more crisp and definition on the Xelento. Female vocals benefit heavily from it. Moving on to the treble section, the Xelento is more extended. There is no sibilance and harshness on both. The amount of air rendered is slightly more on the RE800. For soundstage, both have a very similar width and there is a natural expansion. The depth on the Xelento is slightly better with more space. There is no congestion on both.
HiFiMAN RE800 vs Campfire Audio Vega
The Vega has more sub-bass quantity than the RE800 and there is more extension. Vega stretches it more and the depth is shown. The bass presentation on the Vega is more authoritative and there is more mid-bass slam. The Vega approaches it in a heavier approach while the RE800 presents it in a delicate and lighter manner. The RE800 showcases it agility here. The lower mids on the Vega has slightly more body than the RE800. I find the RE800 to have more pace but the impact brought by the Vega is greater. The upper mids on the RE800 is more crisp. Both have good definition. Female vocals is more controlled on the RE800. The presentation is better with mastery. Next, in the treble section, the extension on the Vega stretches more. There is slight harshness on the Vega. The air rendered on both is very similar. In terms of soundstage, the Vega has slightly more width and the depth on the RE800 is better.
HiFiMAN RE800 vs DITA Answer
The sub-bass on the RE800 is extended better than the Answer. There is slight grain for the Answer. Bass texture on the RE800 is presented more smoothly. The decay on both is similar. I find the rumble on the RE800 to be more musical. The mid-bass on both is similar in the slam. Bass note on the RE800 is presented with more agility than the Answer. The RE800 has more body in the lower mids and male vocals are presented better. The upper mids on the RE800 has more control and the forwardness has more magnitude. For the treble, Answer is slightly more shouty than the RE800. The RE800 presents the treble with finesse. Articulation is much more precise. There is slight harshness on the Answer. The amount of air on the RE800 is more. Answer has a slight sparkle. For the soundstage, RE800 has more width and depth. Vocals and instruments positioning is rather accurate.
Conclusion
The HiFiMAN RE800 is a brilliant dynamic driver iem that boasts an agile bass presentation and controlled treble. It provides an energetic sound that has a high level of engagement. Furthermore, it comes in a premium package with many accessories. HiFiMAN has delivered again with the impressive RE800.
For more reviews, visit
https://audio123blog.wordpress.com/
.
Pros
:
Good build quality.
Small size with excellent fit and comfort.
Good clarity and transparency.
Cons
:
Pricey.
Polarized towards bright tonality, therefore not an all-rounder IEM. The Lean bass and midrange make it tends to sound good on a certain type of recordings but not so good on others.
60 ohms impedance is not very smartphone friendly.
Webpage:
http://www.hifiman.com/products/detail/274
Big thanks to
AV One Singapore
for the opportunity to loan the demo set of Hifiman RE800!
I should have posted this review many months back, but there was a sudden peak on my workload that forced me to temporarily halt the completion of this review. I guess better late than never, so here is my take on this golden IEM.
The unit that I reviewed, as shown in the pictures, was the older type of RE800 with no detachable cable. From Hifiman website, I saw that they have upgraded the RE800 with a detachable cable.
RE800 uses 9.2mm single dynamic driver with special coating technology by Hifiman that they called 'Topology Diaphragm'. Diaphragm with special 'nanoparticle' coating on its surface that distributed in a distinct geometric pattern. The technology is said to reduce distortion and to achieve certain acoustic properties. We can read more explanation about it on the Hifiman website (link above). The IEM housing is made of Brass, electroplated with 24k gold. As for the cable Hifiman chose silver coated crystalline copper, selected from 30 different options. Hifiman seems to have put a lot of attention in the design of RE800. And at this price point, the expectation is high on this cute small golden IEM.
My personal ratings based on the sound quality alone would be around 3.5 stars, mainly due to my personal preference of sound signature is rather different than the RE800 sound signature. I think treble-heads might rate it higher. I like the small size and comfort factor. The build quality and presentation are also good, therefore I think 4 stars is quite a reasonable rating for RE800. Especially considering Hifiman has listened to user feedback and improved RE800 with a detachable cable for the newer batch of RE800. Extra points there.
Pros:
Good build quality.
Small size with excellent fit and comfort.
Good clarity and transparency.
Cons:
Pricey.
Polarized towards bright tonality, therefore not an all-rounder IEM. The Lean bass and midrange make it tends to sound good on a certain type of recordings but not so good on others.
60 ohms impedance is not very smartphone friendly.
Suggestions for Improvement:
Improve value. For the sound quality it offers, in my opinion, RE800 is rather overpriced.
Improve bass and midrange tuning for a more balanced tonality.
Recommendation:
Recommended IEM for treble-head, or those who prefer a higher level of clarity and transparency.
Best with classical and general acoustic instrumental recordings.
May not be suitable for those who are looking for IEM with full-bodied midrange and realistic sounding bass.
Sound Quality
Disclaimer:
Frequency response measurement in this review was done using MiniDSP UMIK-1 measurement microphone with a DIY acoustic coupler. The DIY acoustic coupler is not an industry standard acoustic coupler, therefore the measurement result is not absolute, and shouldn't be used for comparison with other measurement result using different measurement equipment. The measurement result in this review is only useful to be used in this review, for comparison between different IEMs measured using the same system.
After reading some reviews in Head-fi, I suspect that there might be more than 1 variant of tuning of RE800, that most probably not on purpose but could be due to production batch inconsistency. The demo unit from AV One Singapore sounds smooth bright and doesn't seem to have the reported 7 kHz treble peak as reported by other reviewers. Some friends also share similar opinions that the demo unit from AV One Singapore does not suffer from the 7 kHz peak. My measurement also doesn't show the 7 kHz peak. Therefore I suspect, there might be another variant of tuning besides the tuning of the demo unit that I reviewed, but I cannot confirm that because I never tried or measure the other variant of RE800 with the 7 kHz peak. 7 kHz treble peak is easily detectable and won't go unnoticed. So the possibility of being mistaken about it is rather slim. My Sennheiser HD800 has 7 kHz treble peak, so I'm quite familiar with it. Although at this price level we expect a much more stringent and consistent quality control. Anyway, that is just my suspicion, and I might be wrong. And hopefully, the new RE800 with detachable cable will have consistent tuning and a more stringent quality control.
You can read some of the discussion about the 7 kHz peak here:
https://www.head-fi.org/f/threads/hifiman-re-800.831364/page-9#post-13616853
In general, I'm not a big fan of bright tonality tuning, so RE800 tuning as mentioned earlier, is not my cup of tea. But having said that it doesn't mean that I never enjoyed RE800 or my other bright sounding IEMs. Bright IEMs tends to polarize towards a certain type of recordings, good on some and not so good on others. So I generally prefer all-rounder IEMs with more natural tuning. It does sound great with certain recordings such as a classical orchestra. But I prefer a more balanced tuning with fuller sounding midrange and bass. In this review, I also will try to review RE800 from the treble-head point of view, as I think it is a suitable IEM for treble-head. What I mean by treble-head is those who prefer bright, clear, airy, transparent sound with rather lean midrange and bass.
My 15 years old son has developed an interest in audio as well, and he has been involved in church audio setup. So I let him tried RE800 to get his opinion on the sound quality. He has no idea what is Hifiman RE800 and how much it cost. So we can say that his opinion is unbiased. After about an hour, he came back to me with this:
He said, that is roughly the frequency response of the RE800 that he observed. My measurement instrument is not reliable for frequency region above 10 kHz, so only useful for comparison of measurement below 10 kHz. From what I hear I believe the RE800 frequency response above 10 kHz is quite extended, not rolled-off as shown in the FR graph below. While for frequency below 10 kHz, my son's estimation from what he heard is not very far from the measurement result. I'm quite impressed, he has good ears.
Being a relatively bright sounding IEM, RE800 handles treble and sibilant pretty well. Treble is smooth and nicely extended, and IMHO not the ear-piercing type of treble. Sibilant is well managed in the sense that it doesn't sound harsh or piercing. RE800 might not be the IEM of choice for those who allergic to sibilant, but treble-heads will most probably find the sibilant level is acceptable and still far from being annoying. Especially when paired with smooth sounding sources like my Geek Out 2A and Onkyo DP-X1, RE800 treble is golden.
Although RE800 bass is quick and has pretty good sub-bass extension. But bass punch lacks power and impact. I won't call the bass as anemic, but for me, it is not satisfying enough, especially when a potent bass punch is desirable. But for recordings that don't really demand punchy bass, such as classical music, RE800 bass sounds pretty good.
Midrange is clear and transparent but sounds rather lean, not the full-bodied type of midrange. All my friends that have tested the RE800 mostly mentioned about the midrange as being lean sounding, sometimes too lean to their liking. Someone even said the midrange sounds hollow for his recordings. For me, although I agree that the midrange sounds lean and transparent, but not at the level that I would call hollow. Midrange probably rather too lean for vocal lovers, and rather too bright for some pop recordings, but most vocal audiophile recordings that I've tested with RE800 actually sounds fine to me, in the sense that I still enjoy them with RE800. But generally, I agree that vocal is not RE800's forte. Classical orchestra, chamber music, and general acoustic instrumental recordings are what RE800 will truly shine. Again, it is a matter of personal preferences, but that would be my general recommendation for RE800.
Different ear tips might cause slight changes to the tonality as well. As you can see below, a generic large bore ear tips (as shown in the picture above) that I tested on RE800 actually sounds pretty good as it reduces the treble brightness slightly.
In summary, I perceived the sound quality of the demo unit of RE800 that I review as:
Moderately bright, clear and transparent, sparkling yet smooth sounding treble, lean clear midrange, lean bass with good sub-bass extension, fast bass but lack of bass punch, good bass and treble extension, fast transient, excellent detail retrieval and instrument separation.
Compared to DUNU DK-3001
RE800 perceived as slightly brighter with leaner midrange and bass. DK-3001 is slightly more forward sounding, with a bit more emphasize on the upper midrange. Bass sounds fuller on DK-3001, with more powerful punch and slam. DK-3001 bass is really good, effortless without being overpowering. Midrange body also sounds fuller and much better with vocal. RE800 bass is actually pretty good as well, especially the sub bass extension, but midbass part lacks body and punch power, and the smooth and clear midrange might be to lean for most vocal lovers. The resolution, detail retrieval, clarity, and transparency level are more or less similar. As you might have guessed, in my opinion, DK-3001 is the winner with a more 'spot-on' well-balanced tuning.
Compared to AK T8iE Mk2
AK T8iE Mk2 is the only single dynamic driver IEM that I have, that I think worth to be compared to RE800. The sonic signature of AK T8iE Mk2 is quite the opposite of RE800 sonic signature. AK T8iE Mk2 sounds warmer with fuller and stronger bass, fuller sounding midrange and smoother treble. Treble sparkle on AK T8iE Mk2 is not as sparkling as the RE800, and the smoother character of AK T8iE Mk2 treble is more sibilant friendly. When switching from RE800 to MK T8iE Mk2, I do miss the nice treble sparkle of RE800. But when playing vocal, AK T8iE MkII immediately takes the crown. Although AK T8iE Mk2 may sound warmer, but generally it is not a 'very' warm sounding IEM. AK T8iE Mk2 has just the right amount of warmness to the sounds to make general Pop recordings sound more pleasurable, without sacrificing the overall clarity. For my personal preference, AK T8iE Mk2 tuning is more suitable for me.
Build and Comfort
In my opinion, overall build quality is pretty good. Besides that 3.5mm jack that I feel unnecessarily too big for this small IEM, I don't have any other complaint. I used it over the ear, therefore cable microphonic is not an issue. It is very small and comfortable to my ears.
In the discussion thread, some mentioned about the bass tuning port position that might get blocked unintentionally and caused a very high increased of the bass level, causing inconsistent sound quality. I think it is a valid concern even though I never experienced it myself. I guess placing the bass tuning port on the opposite side of the barrel might be a safer option.
Conclusion
Now the $699 question. Is it $699 good? Quite subjective, and not easy to answer that question. For me personally, the answer is no. Simply because I'm not a treble-head. But those who enjoy emphasized clarity and transparency might say yes. I really like the small size and the comfortable shape, but I prefer a fuller sounding midrange and bass. RE800 performs really well on certain area, but the tuning might not suits everyone.
Specifications:
Drivers: 9.2mm Dynamic Driver with Topology Diaphragm
Frequency response: 5 Hz – 20 kHz
Impedance: 60 Ohm
Sensitivity: 105 dB/mW
Equipment used in this review:
IEMs:
DUNU DN-2000
DUNU DK-3001
AK T8iE Mk2
DACs & DAPs:
Chord Mojo
Geek Out 2A
Onkyo DP-X1
Some recordings used in this review:
Pros
:
Highly detailed sound, comfortable.
Cons
:
Small soundstage, lifeless bass and mids, not so musical sound, too fowards sounding, average construction, non detachable cable, very expensive, poor sound value, cable microphonic.
HIFIMAN RE-800 REVIEW:

SOUND: 7/10
CONSTRUCTION: 6.5/10
VALUE: 5/10
Hifiman got good reception among audio community for there RE-400 and RE-600 IEM models, both using great dynamic drivers. With the RE-800, its the first model using the Topology driver technology that we can find as well in the TOTL RE-2000. This do not mean this 700$ IEM sound the same than 2000$ RE-2000, but there some similarities in how sound feel detailed and balanced without feeling too forced or trebly, even if they are more sharp in vocal region than the RE-2000. Still, this 500-800$ price bracket have alot of competition, can the RE-800 be a valuable option in term of price value? I will share my toughs about this in this little review. Must be noted that there a new RE-800S model with a much needed detachable cable, the one I have is old version.
(
Little info about your humble reviewer
: NymPhono is a 34 year old french dude from Quebec (Canada), since about 6 years he became obsess by ''chifi audio market'' for mostly the better, and sometime the worst, now he have collected lot of chinese IEM and DAP ranging from 5$ to 500$ and still find mindblowing how asian audio market can be competitive in term of sound value. His obsession about sound rendering quest is more dangerous than ever, as he climb different price range to compare audio quality benifit and still search for the absolute IEM & Headphones & DAP at a bargain and accessible price, whatever the brand is. When he review IEM or Headphones, he tend to use different DAP, sometime amped, but never he will just use an external DAC or even worst, a smarthphone. As well, he listen a long time with lot of different music style to the audio gear he review.)
SPECS:
Frequency Response : 5Hz-20kHz
Impedance : 60Ω
Sensitivity : 105dB
Weight : 0.95oz (27g)
9.2mm Dynamic Driver with Topology Diaphragm
24K Gold Plated
Silver Coated, Crystaline Copper wire
CONSTRUCTION & DESIGN :
Let's be clear here : i'm not impress at all by this 700$ IEM construction and I think it's a issue with near all Hifiman product including there DAP, they just don't give lot of effort for durability and use of great sturdy material. I remember how I feel insecure with my Hifiman HM601 at the time, built was really cheap, especially the type of plastic used. Having read lot of complaint about QC issue with there IEM and headphones, I don't unserstand why they don't give more effort in construction aspect. This IEM, for near 1000$, is just an insult in term of construction as we can find better one constructed at about 50$ these days in china.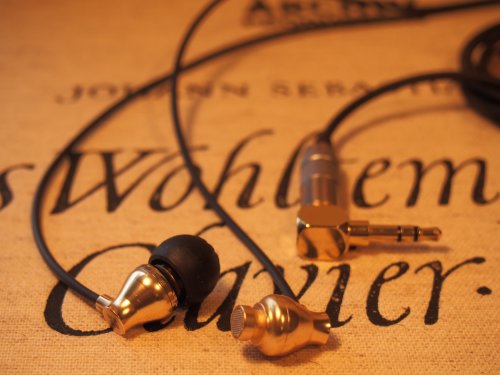 The cable is so so and create lot of microphonic, the housing is gold plated but that's all about his fancyness as it can be scratch quite easily. The L plug is the same used in lot of cheap chinese detachable cable, and I find it too big as well.
Housing is very small, wich is nice, but as the cable create microphonic it make it less interesting.
All in all, I would not have been impress by this type of construction even if I pay 100$ for the RE-800.
SOUND :
Even if very small in size, sound do not feel too small and have an average soundstage, it offer a slightly bright soundsignature with good extension in both end. Vocal are fowards, but a little too sharp for me, it sound grainy and tend to be harsh or nasal sounding sometime, and lack expansion. This is really where the RE-800 feel imperfect, perhaps some people will like this type of presentation but it isn't my case. RE-800 offer an overall foward and bright presentation with good treble extension but a lack of air and an average imaging.
Bass
is tigh and punchy, not very thick or round, but it have good texture and great speed. RE-800 aren't bass light, neither are they V shaped, more W where its the mid bass that have the more impact, so it do not feel loose or too rumbly and give great energy to rock and jazz, even if it lack weight for electro or beat heavy music. As well, it can creat sometime distortion with music that have too much sub, wich confirm the low ends have an issue in 20-500hz region. Cello lack body and sound quite thin because of this, wich is a big drawback for such pricey earphones.
Mids
are treble fowards and very textured, it isn't particularly sibilant but can feel too bright and peaky for some, especially in upper mids region. Vocal are well separated from rest of instrumental and have an inviting presence wich you have no choice to listen to, so invitation is forced and colored alot, and its a hit or miss game depending of signer, if signer have a grainy voice it will sound dry, its subtle, but lot of time it happen that I just say to myself:man, I don't like listening to this type of vocal presentation. I prefer clear and warm and organic vocal, here we have an agressive vocal presentation that will not suit all music genre and feel shouty with smooth signers. It have some hissing as well, another time depending of the signer. For instrument, this fast and agressive treble presentation can be good, like for classical, where violin will sound agile. I don't think mids are exactly recessed, they are push fowards with treble in a non natural way.
HIGHS
are were the RE-800 shine, it have a very revealing treble that give extra resolution and texture to instrumental. The sparkling highs help to give a sens of clarity and dynamic that it lack naturally, it show microdetails easily but isn't particularly harsh. What it lack is decay and air to extend beautifully, because of this the RE-800 sound sometime dark even if detailed, as if it lack PRaT bravado. I hear details but they do not have a special impact and dynamic to them, and feel underline by a magnifiing treble.
SOUNDSTAGE
as said is average, nothing impressive here, it lack deepness and especially air and even if imaging is good overall sound isn't very immersive.
COMPARAISON :


VS HIFIMAN RE-2000 (2000$):
Now between those 2 we don't talk about small diminushing return in term of sound upgrade for the price, the RE2000 is just way above the RE800 in every aspect. It's quite simple the RE2000 is like a perfect version of RE800, it have more bass, more body in mid, more soundstage, more everything even details with a smoother presentation. The RE800 just have more treble and it isn't a plus even if it can make the sound feel a little airier (in a smaller soundstage). Don't take me wrong, the RE800 do sound very good and very musical and even perhaps more linear and balanced than RE2000, but it have a fowards soundsignature that lack RE2000 magic refinement and feel less like a IEM you can cherrish forever where the RE800 sharpness in highs will create ear fatigue to treble sensitive people. Bass is way thinner with RE800 and lack body and texture, it feel kind of boring and even if it go deep, it do not feel like it, the RE2000 is more muscular and accurate and feel tigher too, from another level. The vocal is less lush with RE800 and feel restraint a little. Where the RE800 show his talent it's in the highs wich crave lot of details, and lend towards analytical soundsignature for a very revealing presentation but the RE2000 do not lack in this region and I prefer the smoother peaks it have that give plenty of microdetails and excitment without feeling agressive like the RE800. All in all, if your about to buy the RE800 at full price, try to find a deal for the RE2000 instead, sound upgrade is just IMMENSE!


VS CAMPFIRE AUDIO POLARIS (600$):
The Polaris are from another league in every aspects, the soundstage is like 4 times wider, taller and deeper and instruments separation is way clearer and have more air. Bass is rounder and more impactfull and never distort and go deeper. Mids are more fowards and airy and realist and musical. Highs are more detailed and perhaps a little sharper in upper highs but it isn't an issue. RE-800 feel absurdly congested compared to these incredible performer and even if they were sell 500$ you will feel cheated by such an underwhelming sound presentation.
VS TIN AUDIO T2 (50$):
Soundstage of T2 is wider deeper and more airier and instrument separation is better as well. Vocal of T2 have more body but less texture, they feel less hissy as well. Both have about same level of details but the T2 feel more realist because of way wider soundstage and a little more impact in bass and mids, where the RE-800 have more highs treble emphasis. RE-800 feel faster and tigher because sound have less natural decay. As well, T2 have a detachable cable and an overall better construction if we take the price in account. All in all, I feel the T2 is a better performer and have more musicality, and all that at a 14 times les expensive price.
CONCLUSION:
I really don't understand why this very mediocre earphone have such great reviews here on headfi and I suspect that it's due to selled ass semi-biased reviewers that became a plague these day as they are promoting agent for hifi brands and they want to seduce there furnisher brand to please them and receive more freebies. I'm against this practice and became very sceptical about some reviewers here (I will not tell there name but they can be find in this very reviews page). It's simple, if a reviewer is near always hysterical about how good IEM sound its suspect, even more if they don't take the price as a big factor. At 700$ we can't be as permissive as with sub 100$ IEM and the RE-800 just do not deliver a precious high end sound and have very amateurish flaws that will even make me mad with a 50$ iem, like overall thin and near congested sound, small soundstage, peaky treble and non musical vocal. If your about to spend 700$ on these, wait a minute and try to find a store to listen to them as well as other 200-800$ iem, i'm pretty certain you will prefer the Sennheiser IE800 or Campfire Audio Polaris over this way overated and utterly overpriced IEM. As a chinese brand, Hifiman should check out what can be find these day in IEM chinese market, because I honnestly find this IEM ridiculously so-so sounding for the price and will suggest any TFZ, ****, Ibasso, Brainwavz, Zhiyin, Tinaudio, Macaw, Magaosi or PMV chifi iem over them.
Comments
Hifiman RE800 in-ear headphone
Unboxing video!
Disclaimer
Hello, I am a Head-fi product reviewer named 'Bigheadfiler' in South Korea.
This video may not be perfect because it is my first English translation work.
I appreciate your understanding. Thank you.
This product is sponsored by Hifiman Electronics.
The content of the review has been taken without any restriction because the authors' freedom is respected.
This is a very good, well-written review, and quite accurate regarding the sound signature of the Re-800.

I'm waiting to receive delivery of the Meridian Explorer2 dac device, then I'll do a full review with my own impressions.

Although in the meantime, I'll say that the sound signature of the Re-800 can be significantly altered by the dac source.

As of now while I await on the Meridian Explorer2, I've used the Zorloo Zuperdac, which increases bass and reduces treble detail, while the old Turtle Beach Audio Advantage Roadie external sound card I have does the exact opposite of the Zorloo Zuperdac in reducing bass and enhancing treble detail.

Neither do much to the mids and vocals, though I'm hoping for a vocal forwardness in the Meridian Explorer2. I'll write my review about this on Friday.
Hey AV One, thanks for the chance. The review is completed and is up. Its the third review named "Hifiman RE800"

Regards
Dylan