The Small DAP that could
Pros
:
Size, Power, Budget-Friendly
Cons
:
Smaller Screen, Sensitive IEM's have hiss
I've had the Megamini for a while, and thought I would summarize the pros and cons of this device.

Form Factor:

Plus. The form factor of the Megamini is an obvious draw, and it is both light and easy to carry. It's multiples smaller than a cell phone.

Battery Life:

The battery life is good - what you can expect for this size - but I do wish HifiMan would have advertised more realistic numbers. I have never gotten 15 hours on this thing, maybe closer to 2/3 of that on a good day. It's a bit more difficult to estimate as I don't let it drain to zero.

UI:

The UI is slow, and its age apparent with how quickly DAP's have developed. It's not terrible by any stretch, but definitely slower than a phone or other, more recent DAP's.

Sound:

I always have some trouble with describing sound - especially for DAP's - but the Megamini's sound is controlled. It delivers enough power to drive most cans that are not power-hungry, but it's like comfort food - safe sound, but not wild or dangerous. It is not muddy either to be sure - it sounds clean, given the headphones you are using are the same.

Conclusion:

The Megamini was a nice DAP for its time, and I still use it. But given the influx of more recent offerings, it's hard to recommend. Still, if you do get your hands on one, its a nice player that goes well with most cans.
Reviewer: AudiophileHeaven
Pros
:
Excellent Sound, Portability, Price (Reviewed at 100$), Ergonomics, Soundstage, Vividness of sound, Driving Power, Form Factor, Display Brightness, General Sonic Abilities
Cons
:
Minimalistic feature set, Hiss with ultra-sensitive IEMs, Maybe a bit of lag for those who are very sensitive to it
HifiMan MegaMini - Super-Mini-Power
HIFIMAN started a quest in creating one of the best priced DAPs that focuses on the sound above everything. Megamini is one of the most minimalistic DAPs out there, but it comes with one of the biggest sounds you can find in its price range.
Introduction
HiFiMAN MegaMini is one of the best-known audiophile companies from China having brought to us and having produced some of the most interesting products out there, starting with their IEMs, like HiFiMAN RE2000, HiFiMAN RE800, and even large, Over-The-Ear Headphones like the HE-1000. HiFiMAN has huge experience with DAPs as well, having created a few of the best-known and most-loved DAPs in the world, being some of the first to implement the "interchangeable AMP card concept", a true pioneer and revolutionaries in the DAP industry.
It should be noted that I have absolutely no affiliation with HIFIMAN, I am not receiving any incentive for this review or to sweeten things out. This review is not sponsored nor has been paid for by HIFIMAN or anyone else. I'd like to thank Mark from HIFIMAN for providing the sample for the review. The sample was provided along with HIFIMAN's request for an honest and unbiased review. This review will be as objective as it is humanly possible, and it reflects my personal experience with Megamini. Every opinion expressed is mine and I stand by it, the purpose of this review is to help those interested in Megamini find their next music companion. This review is part of a larger tour HIFIMAN organized with the world-wide release of their Megamini DAP.
About me
https://audiophile-heaven.blogspot.ro/p/about.html
First Impression
I can't even remember that well what was my first impression with this amazing DAP, since this was before I had my little health issue, but I do remember the evening when I finally got to listen to it for a longer period of time, finding it among other amazing DAPs I had on my desk. I was surprised that I forgot about for a little while, as I had a lot to work on for that period.
After fiddling a bit with it, I thought to myself that it won't do much on its own, especially given its rather tiny appearance.
I plugged in my Sennheiser ie800, which do take a fair amount of power to be driven well, and started a random song, something with an upbeat feeling, The Glitch Mob - Becoming Harmonious.
I was almost instantly amazed by the power Megamini puts in ie800, and how well it is able to control it and give it a very dynamic and powerful sound. Megamini also gets extremely loud with ie800, which is a feat since most average smartphones are unable to make ie800 go loud enough for a satisfying listening experience, so it has quite the power packed behind that tiny enclosure.
!!!Extra side note: Its name (Megamini) also reminds of her, making this review just a bit more explosve!!!
!!!Extra side note: Its name (Megamini) also reminds of her, making this review just a bit more explosve!!!



Packaging
First things first, let's get the packaging out of the way:
Megamini comes packed in a packaged fit for its rather diminutive size, a purely white box, which although quite small and pretty simple, feels elegant and pretty pricey. HIFIMAN's logo is written on the outer shell, and there is no other information embedded on the box. Once you open it, you're met with Megamini, which is seated in a snazzy foam cutout, sleeping cozy there, almost like waiting for you to unravel its mysteries.
Besides Megamini, HIFIMAN includes a few manuals and the warranty papers, and a very useful and sturdy-looking cable.
This being said, this is the package one gets with Megamini, which, at the end of the day, is enough to fully enjoy this little machine, where everything was invested in sound.

What to look in when purchasing a high-end DAP
https://audiophile-heaven.blogspot.ro/p/what-to-lookl.html
Technical Specifications
Build Quality/Aesthetics/UI/Firmware
Starting with the build quality and the aesthetics, Megamini is very sturdy and looks like it can take a serious beating, without giving in to anything. It is mostly made out of high-quality plastic, with a high-quality material that resembles glass on its display.

It has a power button on the right side, two volume buttons on the left side, and all its ports at the bottom, those including a microUSB port, a microSD card slot, and a 3.5mm headphone output. There are 4 buttons for navigation at the front of the device, a back button, left, right, and an enter button. The button amount is rich enough to offer a clear navigation.
The back of the device is decorated with a few bits of information about Megamini.
The device has corners, which isn't fully ideal, but which isn't exactly a problem either, given its size relative to other devices. The 3.5mm port is extremely sturdy, and it is totally worth its money, while the microUSB port is quite sturdy as well.
The buttons aren't fully clicky, but they feel satisfying enough to make navigation possible and reliable for a minimalistic DAP.
When it comes to its software, Megamini is one of the most minimalistic DAPs out there, and it does music, and that is it. I only used the folder browsing on it, and while it isn't the quickest DAP out there, I don't think it has too much lag, and I was able to live with it for the most part. At 100$, I haven't noticed a DAP with better overall speed yet, so the firmware is in line with other options. Gapless playback doesn't seem to work, but my music usually has silence between songs. Hifiman might add gapless support in a following update, but at least from my tests, it doesn't seem to work so far.
The display is slightly on the colder side color-wise, but close to neutral. Megamini offers a fairly clear image, that is easy to read, with enough brightness for Megamini to be used outdoors.
All in all, the whole device feels solid in hand, and it is hard to compel the size unless you see one in person, Megamini being really really tiny.
There's no Line Out, and many other functions are missing, but at the end of the day all Megamini owners will be happy that HIFIMAN invested all their money in the sound with Megamini.
Sound Quality
As a few reviewers mentioned this before, describing the Sonic Signature of a DAP (Digital Audio Player) can be fairly complicated, as the ideal source should sound transparent and it should leave the coloring for the IEMs and Headphones. This being said, every single DAP out there will change the sound in some way with every headphone and IEM, some people naming this "Headphone - DAP Synergy".
Even so, we'd like to mention that Megamini is one of the most interesting ultraportable devices, because despite its size, it really really sounds big, strong and dynamic. Its general signature is fairly neutral, with what would be, maybe some extra warmth, but it would be mildly warm, not very warm or thick, having an excellent dynamic and punch to its sound, along with excellent ADSR.
Song impressions have been taken with HIFIMAN RE2000, which was also reviewed by Audiophile Heaven:
https://audiophile-heaven.blogspot.com/2017/11/hifiman-re2000-amazing-ample-absolute.html
Bass
The Bass of HIFIMAN Megamini is quite strong, with a very good impact and dynamic, Megamini being able to make even a power-hungry headphone get a lot of space and impact, driving Ultrasone Signature Studio without a sweat. It is also able to drive almost every single one of my IEMs, giving them a satisfying bass that has good weight, good impact, and good power, despite Megamini's small size. The bass goes as low as the headphones allow it to go, and once again, a bit of warmth maybe slips in there, but it doesn't color the sound too much, and Megamini remains quite neutral and linear for the most part.
Midrange
The midrange is once again quite excellent. Megamini manages to give an excellent dynamic to all music that is played through it, making things sound lively and vivid, giving music an edge in feeling alive. It brings out the emotion in voices and instruments like acoustic guitars, violins, right to the listener, without feeling close, actually having a pretty large soundstage. Despite feeling vivid, the midrange also feels rather open sounding with most headphones and IEMs, Megamini sounding exactly the other way you'd expect it to, if you'd only know how it looks, open, large and powerful. It has an smidgen of aggressiveness, extracting the detail from music quite nicely, thing which is quite welcome with most headphones and IEMs.
Treble
The treble of Megamini sounds exactly as it should, natural. It extends for the perfect amount of time, it is not smoothed out, and it isn't brought forward either, it is a very natural, neutral and uncolored treble, Megamini having just the right amount of sparkle in the treble to stay dynamic, interesting and engaging without going over the edge.



Soundstage
Megamini amazes all listeners once again, providing an excellent soundstage, with good width and fair depth, being quite wide and open in its overall sound. Some listeners might prefer their music with more depth, but at 100$, Megamini does an amazing job at being very wide and natural in its soundstage. Stereo imaging is top notch, and there's nothing I can complain about, especially at this price point.



ADSR/PRaT
This is one of the aspects which amazed me with Megamini, as it is able to provide one of the quicker / lighter ADSR / PRaT ratios out there, giving music and effortless and natural feeling, thing which is usually found in large and strong DAPs, Megamini once again defying the laws of reality with its diminutive size, yes extreme power and ability.



Portable Usage
Here is where things get interesting. Since I'm less prone to hearing Hiss, I will avoid mentioning it for each pairing, but it is worthy to mention it here.
Megamini is extremely portable, being so small that you could actually strap it to your hand while running, thing which is not really possible with most smartphones or DAPs, besides maybe Shanling M2s, everything else being much larger than what I'd feel comfortable jogging with. Megamini has a really light weight of around 70 grams, being probably the lightest DAP I've held in my hands to date.
At the other end of things, there is the hiss, and Megamini has some hiss with IEMs which are prone to hiss. I don't really hear it that well, but some of the people who tried it did hear it, DK-3001 for example, exhibiting a bit of hiss. For me, the hiss is always below my listening levels, as I tend to listen quite loud, so it doesn't bother me, but it is good to keep it in mind when ordering Megamini.



Select Pairings
Please note that for any pairing, the IEM has more impact on the final result than the DAP, the best DAP being one that is as transparent as possible. Since X7mkii is one of the most transparent devices out there, it provides a window, looking at the true signature of every IEM and Headphone.
Megamini + Dunu DK-3001 - A lively and very natural-sounding pairing, with an excellent deep bass, a vivid and detailed midrange, and a natural treble, with enough sparkle and energy to sound satisfying.
Megamini + FiiO F9 Pro - Quite an excellent pairing, with a very open sound, Megamini making F9Pro really shine in the width of their sound, also enhancing their rather dynamic sound.
Megamini + HIFIMAN RE2000 - RE2000 is presented with its typical excellent resolving abilities and midl V-shaped sound, with a strong and well-resolving bass, a clear and open-sounding midrange, and with its bright and energetic treble.
Megamini + HIFIMAN RE800 - Megamini powers RE800 to its true nature, an acoustic Genius, two HIFIMAN products working their magic together, and Megamini providing an excellent vivid sound for RE800, making them sing nicely with all types of music this time, but making them truly shine with acoustic.
Megamini + Ultrasone Signature Studio - Ultrasone Signature Studio is presented with an excellent soundstage size and depth, expanding really nicely in the sonic scape, with a fair amount of detail and energy to their sound. The bass is tight and precise, the midrange is expressed slightly aggressive in tonality, and with a smoother treble.
Megamini + Meze 99 Classics - Megamini makes a favorite source for driving the good ol' Meze 99 Classics, giving them an excellent vivid edge, and reducing the need to EQ their sound to a brighter one. They sound really deep and slightly thick, with a nice and well-rounded bass, a more direct midrange, and with a smooth and relaxing treble.
Megamini + iBasso IT01 - IT01 has a very interesting pairing with Megamini, being quite lightweight this time, with a deep and powerful bass, and a balanced midrange (this might also be a side effect of our unit being properly burned-in as iBasso suggested), with a sparkly and open-sounding treble.
Megamini + MO MZero - MO MZero has a very open and dynamic sound by itself, Megamini making it sound even slightly aggressive in a very positive way, giving them a bit more detail and a very wide presentation.
Megamini + Astrotec AM850 - AM850 is presented with an open-sounding midrange, a deep yet well-placed bass, and a brighter top end that is enthusiastic enough to provide a vivid presentation to music. The soundstage size and instrument separation are both very good, although Megamini does add a bit of hiss with AM850.
Megamini + Final E3000 - Final IEMs are a wonder by themselves, being some of the best sounding budget IEMs there are, Megamini giving them a very open and natural presentation, with a strong, thick and deep bass, a very vivid and clear midrange, and an unobtrusive treble that shines in detail and clarity. The soundstage is also quite wide, and the instrument separation is quite excellent.



Comparisons
Most comparisons have been taken with RE2000, Signature Studio, RE800, ie800, and DK-3001. Hiss is usually very hard to notice and I tend to not notice it at all, but I tried my best to compare how DAPs perform relative to each other in this aspect, as well as other aspects that might come off as relevant.

Megamini vs Shanling M2s -
Both DAPs offer quite an excellent price / performance ratio, but where Megamini is invested in the sound alone, M2s offers a very wide array of usage scenarios, from being a standalone DAP, to a BT receiver, to a BT DAC, to powering Bluetooth Headphones and IEMs. M2s has less hiss, but a smoother, more relaxed sound, Megamini being more resolving and more dynamic.
Megamini vs Opus #1s - Both DAPs are an amazing creation of companies who focused on sound and on offering the best listening experience to their customers. We should keep in mind that Opus #1s is considerably more expensive than Megamini, its sound being more dynamic, with better power and driving abilities and less hiss. Megamini is slightly more aggressive and more linear, and it is much smaller in physical size.
Megamini vs Opus #3 - Megamini has a signature that is somewhat reminding me of Opus #3, with a very open and vivid sound, but Megamini is more like a miniature, ultra-portable version of #3, those who love Opus #3 having a chance to find Megamini an excellent jogging and ultra-portable device with a similar character.



Value and Conclusion
At the end of the day, one has to ask, what is Megamini and why. Megamini is a 100$ DAP, which is focused strictly on offering the best sonic quality a DAP at that price and size constraints is able to offer, and to the extent of what we tested here, it really delivers this to its customers and fans. Megamini doesn't come in an extensive package, and we're actually quite glad that Megamini focused all their funds on sound and sound alone, because Megamini really surprised us with its sound, and given that one can probably excuse some lag in the operation, and some limitation given by its minimalistic design, Megamini is one of the best sounding DAPs you can find for about 100$.
We're talking about a DAP which can safely drive Ultrasone Signature Studio, and have spare power, so Megamini is not to be played with, and despite its rather diminutive size, it is a force to be reckoned with, a true proof of what today's technology is able to package in a small device.
If you have 100$, and if you're budget conscious, we really recommend looking into Megamini, because albeit its very minimalistic design and software, it will surely blow your mind when it comes to its sonic abilities, portability and even battery life, being a truly dazzling experience for those looking for an ultra-portable, ultra-powerful DAP to make their IEMs sing and their music shine.
I hope my review is helpful to you!



Stay safe and remember to always have fun while listening to music!
Like us on Twitter to stay up to date with the latest news! https://twitter.com/audioheavenrev
Audiophile Heaven on Facebook: https://www.facebook.com/AudiophileHeaven/
Link to the review on Audiophile-Heaven: https://audiophile-heaven.blogspot.ro/2018/02/hifiman-megamini-super-mini-power.html
Link to the official Thread on Head-Fi: https://www.head-fi.org/threads/hifiman-megamini-1st-impression.821959/
Writer's head-fi page: https://www.head-fi.org/members/dobrescu-george.170938/
Pros
:
Modern Design - Ease of Use - Mostly Uncolored Sound
Cons
:
Sluggish Software with Odd Layout - Light on Features - Hiss with Sensitive IEMs
Greetings Head-fi!
Today we're going to be checking out the MegaMini from HiFiMan.
In addition to their outstanding headphones and earphones, HiFiMan is no stranger to the media player world with quite a selection of high quality players in their portfolio, many of which have been heavy hitters in their respective categories for quite a while now. The entry level MegaMini is a media player with few frills, and one that places a heavy focus on simply providing a quality listening experience.
I've been using the MegaMini for about a month now and have been thoroughly enjoying it's clean sound, powerful output, and straightforward operation. There are a few features I've been missing when compared to my prior daily driver, the Shanling M1, but is their absence enough to sway me from recommending this compact powerhouse? Let's find out.
Disclaimer:
I would like to thank Mark with HiFiMan for sending over the MegaMini, along with a few other goodies, for the purposes of review. I'm not entirely clear yet on whether this gear needs to go back to HiFiMan after the reviews are up. The thoughts within this review are mine and mine alone, and do not represent HiFiMan or any other entity. There is no financial incentive for writing this review.
At the time of this writing, the MegaMini retailed for 249 USD:
http://store.hifiman.com/index.php/hifiman-megamini-high-res-music-player.html
My Gear and I:
I'm a 30 year old professional working for what is currently the largest luxury hotel chain on the planet. I have a background in Psychology which probably explains my somewhat dry writing style. My entry into the world of portable audio was due primarily to a lack of space for a full-sized stereo system during my university years, and truly began with the venerable JVC HA-FXT90. After reading pretty much the entirety of IjokerI's multi-earphone review thread, reviews from other established writers, and thus being greatly inspired, I took a chance and started writing my own.
Fast forward a couple years and I'm thankful to have had the opportunity to write about products for wonderful companies like HiFiMan, RHA, Accutone, ADVANCED, NarMoo, Mixcder, Brainwavz, Meze, and many more. I don't do it for money or free stuff, but because this is my hobby and I enjoy it. If my reviews can help guide someone to a product that makes them happy, I'll consider that a job well done and payment enough.
Some gear used during testing was; HiFiMan RE800, HiFiMan RE2000, Kinera H3, KZ ZS5, ClarityOne EB110, FLC 8S, thinksound On2, Polk Audio Buckle, and the AKG K553 Pro. I listen primarily to various EDM sub-genres (liquid drum and bass, breakbeat, drumstep, etc.), hip hop, and classic rock.
Specifications:
Packaging and Accessories:
I've really been enjoying HiFiMan's packaging and the MegaMini is no exception. It arrives in a clean white box with the only markings being HiFiMan and their logo tastefully printed in orange-gold lettering on the lid. Removing the lid reveals the MegaMini on display in a foam sheet, protected by a thin sheet of clear plastic. Removing the foam sheet and cardboard divider underneath reveals the only two accessories; a warranty card and microUSB cable used for charging.
It's a very clean and simple unboxing. For the price some additional accessories would have been welcome, like a screen protector or basic silicone case.
Physical Design:
To my eyes HiFiMan has absolutely nailed the design with this player, creating something that's modern and professional yet beautiful in it's minimalism.
The more time I spend with it, the more I come to appreciate the fine creases down the sides and how they conform perfectly to your fingers when held. I have fairly average sized hands, so while some may find the compact size and light weight less than ideal, for me it is downright perfect with every button falling into place without a thought. It feels very stable to hold. The way the slim row of buttons separates the top and bottom portions of the player is quite appealing too, especially when you take into consideration the contrasting coloring of these constituent parts and how your eyes are unconsciously drawn to the different sections.
I could go on for a while and further dissect what I love about the design, but I'm sure that would get boring. I'll instead say that HiFiMan should give the employee or employees that designed this player a hefty raise because they did an amazing job. It both looks and feels right.
Interfacing with the MegaMini:
While the physical design of the MegaMini is godly, interfacing with it isn't quite as seamless. First off, while the buttons have a nice tactile response it's led into with a touch of sponginess. It certainly doesn't ruin the MegaMini, but given the impressive fit and finish and refinement of the physical design it takes away from the experience just a touch.
Also less than ideal is the sluggish graphic interface and odd menu layouts. Turning on the player you are treated to an attractive graphic which after loading sits static for a few seconds before tossing you into the menus or 'Now Playing' screen. All-in-all is takes about 10 seconds to load. Turning off the player treats you to another graphic, with a shutdown time of around 5 seconds. These times aren't particularly slow, but they're not lightning fast either.
Where the GUI's sluggishness comes into it's own is while using the player. If the screen is in sleep mode, pressing any button will bring it back to life though the time this takes will vary. If a track is playing, it can take anywhere from a second to two. While it's not consistent, playing higher quality files seem to increase the delay. Skipping tracks takes around a second and a half. Even when moving through menus there is a slight delay after every press of a button. When you want to get somewhere you're always spending time waiting for the player to react to your inputs. This may seem like nitpicking and for the first couple days these mild delays were easy to overlook, but after using the MegaMini for weeks now these pauses and delays really started to aggravate. Thankfully the MegaMini recalls your previous listening session, so randomizing my entire playlist via the "all Songs" menu ensured I wouldn't have to run through menus, unless I really wanted to listen to a specific song.
In the GUI's favor, it is easy to follow with very clear, easy to read font. I never found myself struggling to read anything, or noticed text extending beyond the confines of the screen as happens on the Shanling M1.
While the interface on the MegaMini could definitely use some work, it is quite usable in it's current state, you just need to have some patience in dealing with delayed reactions to your inputs.
Sound and Pairing:
The MegaMini comes across to me as a fairly neutral player with a warm tilt and slight mid-bass bump. Detail and clarity is good without the overpowering presentation of something like the Walnut V2s. Concurrent listening with the same earphone (KZ ZS5, of which I have two) and songs, I found the MegaMini quite similar to the Shanling M1 in it's tuning, but with a less spacious stage and slightly smoother presentation. Oddly enough, despite it's similarities with the M1 I found they paired best with opposing signatures; M1 with darker gear, MegaMini with brighter gear.
The MegaMini seemed at home with most of my headphones and earphones, only showing itself to be less than ideal with darker, less detailed products like the Polk Audio Buckle or Brainwavz M100. With products like those, the MegaMini would sound somewhat stuffy and muddy. Normally I would counteract this with some mild eqing, maybe upping lower treble and dropping mid-bass a touch to compensate, but the MegaMini shockingly doesn't have any EQ functions, not even a couple built in presets.
Overall I found it a very clean sounding player that was suitable for all the music I listened to. It does hiss with particularly sensitive earphones like the ClarityOne EB110 and I would avoid pairing it with products that feature a darker tune as this quality becomes exacerbated through the MegaMini. Adding an EQ or some built in presents would be a nice addition in a future firmware patch as it would improve the MegaMini's compatibility with a wider variety of sound signatures.
Battery Life:
While the MegaMini's 500 mAh battery is rated for up to 15 hours of use, I can't say that I've ever managed to exceed more than 10. That's with my listening volume generally sitting between 12-30% of the maximum (4-10 out of 32). At least it's charge time seems quite standard, around 2 hours through the USB output on my computer.
Final Thoughts:
Despite the sluggish software, odd menus, and limited feature set, the MegaMini is a pretty capable player. It's small, light, durable, has good enough battery life, sounds fantastic, outputs with plenty of power, and is stunning to sit back and admire. It's not a jack-of-all-trades, packed to the gills with features like some other players. Instead, it focuses on delivering a quality listening experience and to my ears it does that very well.
That said, I wish it was more feature rich as this would add value and functionality, making it more competitive with similarly priced players. Given it's current feature set and GUI sluggishness I feel it's priced too high, especially when compared to something like the Shanling M1. The M1 goes toe-to-toe with it on sound quality but is much snappier and more reactive in use while adding in a ton of extras like Bluetooth, DAC/AMP functionality, gapless playback, and a ton more, all for about 50 USD less. Now, the Shanling doesn't look anywhere near as premium and I still haven't gotten used to the annoying scroll wheel setup, but those are small qualms to deal with when it can do so much while handling it all quite well.
That said, if all you want is an easy to use player that looks amazing, sounds fantastic, and you are willing to pay a slight premium to get it, the MegaMini might be just the ticket. It's a pleasant product to have on hand during your daily activities.
Thanks for reading!
- B9Scrambler
Reviewer at Sound Perfection ReviewsFormerly affiliated with HiFi Headphones
Pros
:
Sound quality is excellent, simple and easy to use
Cons
:
Lack of features for the price, stiff competition, battery life
Firstly I would like to thank HiFiMan for sending me this sample to review, as always I try and write honest reviews. This unit received over 50hrs of burn-in, no differences were noted.
Gear Used:
Megamini > Inearz P350 / HiFiMan RE2000 + RE800 / German Maestro GMP 8.35d and more
Tech Specs:
Dimensions:1.69"x 3.93" x 0.31" (43.0x100.0x9.0mm)
Weight:2.43oz (69g)
Frequency Response:20Hz - 20kHz
THD: 0.08%
Max. Output:54mW (1.4V @36 Ohm)
Battery Life:15 hours
TF Card Capacity : 256GB
MSRP : $249
Packaging, Build Quality and Accessories:
The Megamini comes in a simple white box, with HiFiMan printed in orange on the front, slide the top off the box and you will find a small card leaflet showing you where you can download the user manual and info about the warranty. Underneath this you will find the DAP in a foam insert, held tightly in place. Once you lift out the foam insert, you will find another compartment with the USB cable. The packaging is sleek, slim and perfectly fine for a player at this price point.
The Megamini feels well built, it is mainly plastic with a metal back plate. The buttons are plastic but feel sturdy and the jack socket is nice and tight. I don't have any problems with the build quality, and I'm sure it will last well with some care.
The Megamini only comes with a micro USB cable, nothing else, I personally would have liked HiFiMan to include some screen protectors for the player.
UI, Features and Hiss:
The Megamini is a pure player, no frills, load up music onto a microSD card, pop it in and you are ready to go. On the right hand side of the player is the on/off button, on the left hand side there are up and down volume buttons and on the front you have the play/pause/select button, scroll up/down buttons that are also used to skip tracks, and a back button. On the bottom you will find the 3.5mm headphone output, microSD card slot and micro USB port.
The menus are very simple to navigate; you get a file explorer along with the music separated by artist, albums and genres. You can also set favourites and browse all songs. In the settings you can set shuffle / repeat playback, back light time, library update, auto shutdown and all the normal settings.
The now playing screen shows the artist, song, bit rate and at the top you can see whether it is in repeat/shuffle mode along with the battery meter.
Again this is a pure player that is easy to use and playback whilst in your pocket is possible due to the buttons. I have no issues with the UI or features, volume steps are good but maybe a little too steep for some sensitive IEM's, the volume goes from 0-32.
Just to note there is no EQ, no gapless playback, the audio does not pause when headphones are removed, and no playlist support. Also battery life is not great, I would say around 8-10 hours at the most depending on how loud and how much the screen is on.
Unfortunately I did find the Megamini to have some audible hiss with the Oriveti New Primacy, so it is not the best for hiss prone IEM's. But it has loads of power to drive most IEM's, portable headphones and medium hard to drive full size headphones.
Sound:
I would say the Megamini leans towards a slightly tighter, more aggressive sound with perhaps a small amount of emphasis in the upper registers. It is ever so slightly bright and very energetic presenting the music in an upfront and fun manner. This works wonders with more laid back headphones but could possibly lead to some fatigue if you have brighter headphones.
I like the fact that the Megamini is no slouch for its size, it may be small but it packs some punch and handles all genres well bringing out plenty of detail. It is not strident, and has no roll off at either end of the spectrum.
Stating this player is slightly bright is not to say it lacks any body down low, as the lows are punchy and full, it just has a slightly colder tonality than my Opus #2. The soundstage is also not quite as wide as the Opus #2.
For the size and price of this player I am actually very impressed by the sound quality, it is very clean, crisp and clear. The Megamini with my woodied Grado SR60e is a wonderful pairing, an extremely energetic and engaging listening experience.
Conclusion:
The Megamini is very impressive for its size; it is powerful, crisp and clear. It may not have the layering, refinement and overall natural tonality of high end players, but it is a very fun player to listen to. For a throw around player, that can be used on a daily commute or at the gym the Megamini is worth looking at.
It does not play well with sensitive IEM's but works well with most headphones out there. They have put more into making a great sounding player than to pack it full of features, and in my opinion it has worked and it sounds excellent for a pure no frills DAP at this price. But there is stiff competition from players for the same price or less with more features and great sound, so this may not be the best value for money player in the price range.
Sound Perfection Rating: 7.5/10
(Really engaging and fun but there is hiss with sensitive IEM's)
Pros
:
Great sound quality, very portable, simple and easy to use, build quality
Cons
:
Lacks basic features such as EQ, no music pause when headphones is disconnected
Disclaimer
I was approached by @TeamHiFiMAN to review the SuperMini and Megamini, in which I happily accepted, thank you very much for including me in this tour.  
Please note that the Supermini and Megamini is very similar, so most of the things written here will be the same as the Supermini review.  
Introduction
I am just another music fans in this world, I love listening to music, and that made me stumble into head-fi around 10 years ago when looking for the best way to listen to my music. I am not in anyway an audiophile, heck not even close, so please forgive any lack of details in my review. Most importantly this is my personal impression on the unit, most likely i heard things differently than you, my ears, my preferences, my brain

I've listened to Megamini for about 3 weeks. I've used them mainly when traveling to/from office.  
Music preferences
My music preferences is mostly instrumental, whether it's Classical, Jazz, Celtic, New Age, etc. I also enjoy music with vocal on them, but my playlist is mostly instrumental. I would say around 80/20 mix.  
Example of the music I listen (not limited to):
- Acoustic Alchemy
- Tony McManus, Soig Siberil
- Hawaiian Slack Key guitars
- Fusion Jazz (Lee Ritenour, Dave Grusin, Fourplay, Special EFX, you get the idea)
- Akira Jimbo, Tetsuo Sakurai, Casiopea
- Incognito
- Europa Galante/Fabio Biondi, Musica Antiqua Koln, Rolf Lislevand
- Yoko Kanno
- Madonna  
Sound signature preference
Hmm...not sure what my pref is, I enjoy Fostex TH-600 very much, It's one of the best headphone I've heard, so that make me a fan of U or V shaped sound signature.  
Having said that I also enjoy ZMF Blackwood which have mid-centric sound sig compare to the TH-600, so I guess I am flexible

My typical listening gear is: Asus Xonar STU -> Project Polaris -> ZMF Blackwood  
When travelling I usually use MEE P1 straight out of DAP/Phone.  
Build Quality
I can't find any info if Megamini is build from the same CNC aluminum such as the Supermini, however they have the same feel as Supermini, as such they feel solid and sturdy, quite small and light as well. The buttons layout is a bit different from Supermini, the back and ok button now sits beneath the screen, power button on the right and volume on the left. I like them a lot, and the size is perfect to be a portable DAP. One thing to criticize is the display which is a fingerprint magnet. It's almost impossible to keep them clean, I always end up smudging them with my fingerprint, but to be honest thats me being picky.  
Interface
The interface is quite simple, which I think is a big plus. It's designed to do one thing, plays music from the SD card. Done. While I usually favor devices with more features, I found the simplicity of Super/Megamini quite refreshing, not much of options there, you can choose to play your music based on file explorer, artist, albums or genre. You can also play all songs on your Sd card, and of course you can shuffle or repeat. Done. Just play some music and enjoy, don't worry about other thing.  
Having said all that, I kinda wished they have EQ support, and some basic function like pausing the music if I disconnect the headphone, hopefully future firmware update will make this possible.  
Sound Quality
Ok the most important part for me, sound quality, so how do they sound? I would say they sound neutral, balanced with a very slight boost treble. They are also quite transparent that when I change my headphones I can immediately hear the difference in the sound signature. I found their overall presentation to be very polite and smooth, but firm. separation is quite distinct and clear, bass has good impact and presence.  
Now unlike the Supermini, I can't find this magical treble handling that make the Supermini special, Megamini still sounds fine, however it's missing something that makes the Supermini awesome, while the Megamini just sound....great.  
Comparison
Comparison mostly done using ZMF Blackwood and focused on sound quality  
Megamini vs LG V10
The LG V10 is no slacker in the sound department, carrying a ES9018 DAC. I find they both shared a very similar sound signature, balanced and quite neutral. However I find the Megamini to deliver a more refined sound overall, treble sounds a bit brighter and bass a bit deeper.  
Supermini vs Cayin i5
Very similar experience with V10 here, i5 and Megamini share similar sound signature, again Megamini managed to deliver a slightly more airy, refined, extended treble and deeper bass compare to i5.  
Supermini vs Megamini
Now these two are very similar in build quality and dimension. The difference is Megamini have color LED while Supermini only got monochrome LED. It's also worth mentioning that the Megamini doesn't have any balanced output. In term of sound quality, they also share very similar sound signature, HOWEVER, I notice that Megamini is a tad muted on the treble, compared to the Supermini, and bass is also bit more fuller on the Supermini.  
Summary
Recommending the Megamini is easy, it's perfect for people who likes the Supermini but:
1. Don't care about balanced input
2. Don't need additional earphone  
And that's pretty much myself

Unfortunately I can't help to notice a very subtle difference in the sound quality, it's very very subtle but I believe it's there.  
The Supermini is just awesome, The Megamini is great, very close to Supermini but not quite there.  
Having said all that, $150 is a big difference for me, and to be honest those differences in SQ is not worth $150 in my opinion.  
So, if you want the ultra portable DAP that can play pretty much all music format, have enough power to drive most of headphones/earphones and affordable....tada...Megamini it is.
Pros
:
Small and light form, decent sound, easy UI, should improve with with more firmware updates
Cons
:
Could be priced lower, lots of competition against other similarly priced daps
Hifiman MegaMini Review - Expatinjapan
Head Pie 
Hifiman and Campfire Audio Vega​

 ​

 ​

Hifiman MegaMini review​

-expatinjapan​

 ​

 ​



 

 ​

Whats in the box?


 ​

 ​

The Hifiman MegaMini comes nicely packaged and supported by a foam bed​

 

 ​

Beautiful to look at, simple is best.​

 

 ​

Single end 3.5mm headphone jack, Micro SD card slot for up to 256GB, ​

micro USB port for charging.​

 

 ​

Volume buttons.​

 

 ​

Power on/off. and navigation buttons below the screen.​

 

 ​

Warranty and charge/media transfer cable.​

 

 ​

The MegaMini boots up quickly.​

 

 ​

Simple and easy to use UI.​

 

 ​

Specifications
 
 Dimensions:1.69"x 3.93" x 0.31" (43.0x100.0x9.0mm)
 
Weight:2.43oz (69g)
 
Frequency Response:20Hz - 20kHz
 
THD: 0.08%
 
Max. Output:54mW (1.4V @36 Ohm)
 
Battery Life:15 hours
 
TF Card Capacity : 256GB 
 



The Hifiman Megamini is solidly built with an aluminium sheath and sturdy tactile operating buttons.​

 ​

Lightweight and a handy palm size.
 
UI is basic but easy to use.
 
Decent battery life.
 
 


Hifiman MegaMini and Advanced AcousticWerkes Q​

 ​

Sound
 
I tested the Hifiman with various earphones and headphones of different price points, some of which you will see in the photos.
 
I was interested in how well the Hifiman MegaMini performed with earphones within its price bracket and also more pricey earphones.
 
Tracks were generally FLAC 16/44.
 
The sound stage is a small to medium sphere.
The treble is nice and clear, the bass present enough but could do with more definition.
Resolution is average as to be expected at this price point, but I did expect a bit more of a surprise, but you do get what you pay for.
With earphones within around the $100-$600 I generally didnt notice too much lack of detail and resolution, but with my upscale IEMs in the $700/$800+ range of course artifacts and shortcomings were noticeable. But do bear in mind this player wasnt designed for that market. imho.
 
The sound is generally laidback, basic and clear. I enjoyed very much listening to iBasso IT03 with the Hifiman MegaMini.
 


Hifiman Megamini and iBasso IT03​

 
The Hifiman MegaMini has a fairly neutral sound, that although has enough detail and sound stage to please at an entry level it can appear thin compared to more powerful daps with more body to the music (as expected) and larger sound stages, the bass can be tight and thumping at times, treble extends enough, and has a solid presence of mids.
Although generally veering towards the neutral side of things, the MegaMini can at times appear with a bit of warmth.
 
 
Value
 
Retailing at US$249.00 the Hifiman MegaMini is reasonably priced within todays mega priced Dap market. If it was priced at $199 it could well be a sweet spot for many considering the MegaMini.
 
The promotional photos on the Hifiman site showcase the MegaMini as `going to to work` and `at the gym`, when purchasing the MegaMini or even reviewing it one must keep in mind that is a budget priced player for on the go. Its target audience isnt the high end market of which Hifiman has Daps for already.
 
This is an affordable player for those who want a light, simple and easy to use player at a low end price, that is not to say the sound is compromised at all, the sound is good. But of course dont expect $1000 sound quality. Lets be realistic.
 
Hifiman has five daps ranging from their most simple the MegaMini (US$249.00) up to their flagship player the HM901s retailing at US$1,499.00  http://store.hifiman.com/index.php/portable-players.html
 
So there is a price range and quality of sound that scales up for everyones needs and budget.
 


 ​

Size comparison with other players on the market.​

 
 
Overall
 
The Hifiman MegaMini (and is more powerful sibling the SuperMini) have entered into a world where we are being showered with mid to high end (and priced) Daps as of late.
 
It is quite refereshing to see a release of well made low priced dap for the budget, on the go, commuting and more sporty minded market.
 
The MegaMini is an entry into a competitive market of low to mid priced daps, where the competition is fierce and each offers something different in the way of strengths and weaknesses.
 
The build of the MegaMini is solid, the UI easy to use and the unit iself is lightweight and of small form.
 
The MegaMini does not display album art at this stage and like some other features will probably be added in a future update.
 
I think the name Hifiman conjures up large players with a big and detailed sound, and headphones. Placing the MegaMini within the line up may be a stretch for some.
 
Hifiman have been in the business for a while and bought to the market one of the earliest Hi-res Daps, so they do have a lot of experience under their belt. Some might be expecting a big sound in a small package with the MegaMini, and in some ways it does possess these qualities. But it is a budget priced player with a decent sound, but to judge it alongside its more expensive and powerful cousins would be erroneous.
 
Pairing the Hifiman MegaMini with some of the $1000+ earphones is still surprisingly pleasing, but not entirely statisfactory - nor should it be. I would hazard a guess that earphones $100-$600 would be the sweet spot in matching for the Hifiman MegaMini.
 
When the screen is off the buttons dont function, to prevent accidental volume rises etc.
But one firm touch seems to bring the buttons back to functionality and one can adjust volume etc.
The two touch system seems quite sensible.
 
If one disconnects the earphones the MegaMini keeps playing, so be wary of battery drain.
 
In closing the Hifiman MegaMini is a great opportunity for those on a limited budget wanting a less expensive player, whilst not as detailed, smooth and resolving as others in a similar price range I am sure that If paired with the right earphones and activity the Hifiman MegaMini would be a satisfying purchase.
 
For those wanting more power, detail, soundstage and smoothness there are plenty of other Hifiman players higher up the food chain for one to select from.
 
 
Hifiman MegaMini, the entry level player for people on the go.
 


Hifiman MegaMini and ubsound Orchestra​

 
 
 


 ​

 ​

Thank you to Hifiman for sending the MegaMini to Head pie for review​

-expatinjapan​
Pros
:
Good Sound Quality for Price, Attractive Design
Cons
:
Sharp Corners, Artwork doesn't always display
I'm a 20 year old student currently studying electrical engineering. I was introduced into the world of high end audio roughly 7 years ago, so I'm definitely not new to the game, but it would be a disservice to those who have stuck around for much longer to call myself well experienced. The introduction of high end audio definitely influenced what I want to do with my career, and the constant changes and introductions of new ideas and new companies is something I constantly keep up on! I am known as "the audio guy" by my peers and try my best to give them a solid introduction to the community without making them bankrupt. I'll leave that job to the University.
So, what do I look for? I'm a sucker for a warm sound that allows me to "drift off". Accuracy is definitely important, but if the sound is too clinical to the point of depriving the sound of life, it becomes a turnoff. However, if it is too warm to the point of muddiness, the same effect is achieved. My desired sound can be attributed to many loudspeakers made in the 80s and 90s. Not brutally accurate, but something that is comfortably warm.
In terms of sound signatures, I have found myself changing preference constantly. I like a sound signature with a warm bass, forward mids, and slightly elevated treble. I was introduced to the world of Hifi by the Ultimate Ears 600s (BA Driver) years ago. The phones that make me smirk uncontrollably include the Heir Audio 3.ai, AKG K7XX, as well as the Fostex TH-X00.
Sources:
[size=14.6667px]

Schiit Modi 2U DAC+ JDS Labs O2 AMP


[/size]
[size=14.6667px]

HifiMan Supermini


[/size]
[size=14.6667px]

HifiMan Megamini


[/size]
[size=14.6667px]

Fiio E07K


[/size]
[size=14.6667px]

LG G3


[/size]
[size=14.6667px]

LG V20


[/size]
IEMs:
[size=14.6667px]

Fiio EM3


[/size]
[size=14.6667px]

MEElectronics M-Duo


[/size]
[size=14.6667px]

Hifiman RE-6xx (More on this later)


[/size]
[size=14.6667px]

Hifiman RE-600


[/size]
[size=14.6667px]

Heir Audio 3.ai


[/size]
Headphones:
[size=14.6667px]

Ultimate Ears 4000


[/size]
[size=14.6667px]

Sennheiser Momentum (v 1.0)


[/size]
[size=14.6667px]

AKG K7XX


[/size]
Like everyone here, I am not sponsored by the company nor affiliated with them beyond writing this review. I was provided these units to review them under a reasonable amount of time and will return them after analysis. Because the Supermini is very similar in intent of device, as well as being similar in many other regards, many tangents will be made throughout, comparing both the Megamini and Supermini.
Opening and Initial Impressions:
Similar to the Supermini, the packaging for the Megamini is delightfully minimalistic as well. Minor differences between the Megamini and Supermini can be seen in box color. Where the Supermini has a matte black box to match the color scheme of the device, the Megamini does the same with its white box. In terms of packaging, there was no compromises made between the Megamini and its bigger brother, the Supermini. Fantastic job again on this department. The player is again cradled decently comfortably in firm foam again with a plastic sheet covering the top. There is a small card that gives minimal information about the device, as well as a small compartment below with a few accessories, which include a charging cable… and that's about it. The Supermini distinguishes itself with it's accessories in comparison to Megamini.
The Megamini does not include any earbuds stock, nor does it come with a screen protector like its bigger brother. Since the Megamini does not have a balanced output, it isn't incredibly surprising that it does not come included with in ears. Foregoing this idea hurts the value of this player, especially in comparison to other players in the same price bracket, or those in a slightly higher price bracket (such as the Supermini).
Design and Construction:
     This was initially one of my favorite parts of the device but quickly became one of my disliked parts of the device, due to a few quirks. Similar to the Supermini, the Megamini is also made out in a metal (Aluminum?) chassis. The device has a total of seven buttons for control. Four are directly below the display, which are the back button, reverse/ up button, forward/ down button, and select/ play/ pause buttons in order. Contrasting the Supermini, the volume controls are on the top left side of the device, with the lock button on the top right side of the device. This button layout is fairly ambidextrous in layout, with all buttons easily accessible when used with both hands, a lesson learned and fixed from the Supermini. On the bottom, there is a single non-balanced output, microSD card slot, as well as a microUSB slot for charging. There is a small impression below the microSD card slot, making adding and removing the card easier, which was a minor, but well needed improvement over the Supermini.
The device is quite attractive and eye grabbing. When using it, I was constantly asked about it by colleagues. In contrast to the Supermini, the device is of a metallic, but not reflective or matte, silver. The design is more boxy in comparison to the smoothed Supermini, which is where most of my complaints stem. The corners are deceptively sharp, and make this device a bad neighbor in the pocket, especially in conjunction with other devices with large screens. My LG V20 (Gorilla Glass 4) with its large screen took a few (a bit small) scratches to the screen when in the same pocket. When swapping out the Megamini, I haven't had the same issue occur with other DAPs. Additionally, in contrast to the Supermini, the device itself isn't as impervious to wear as the Supermini. On the very rare occasion that I played the device inside the backpack rather than in my pocket, I risked visible wear (minimal scratches and scuffs, but noticeable for the detail oriented) where the Supermini in comparison never exhibited such problems.
Specifications:
| | |
| --- | --- |
| Dimensions | 1.69"x 3.93" x 0.31" (43.0x100.0x9.0mm) |
| Weight | 2.43oz (69g) |
| Frequency Response | 20Hz - 20kHz |
| THD | 0.08% |
| Max. Output | 54mW (1.4V @36 Ohm) |
| Battery Life | 15 hours |
| TF Card Capacity | 256 GB |
This link (Click me) will give you the specifications for the Megamini. It is to be noted that the DAC/ AMP chip configuration is not available to the public, so I cannot speak to that regard.
Software and Related:
The Operating System for the Megamini is quite simple and intuitive to use. Similar to the iPod Classic and Supermini, navigation of media is through a series of menus, organized by different metadata, such as Artist, Album, and Genre to name a few. The button layout and use is pretty self explanatory, which is nice since Hifiman does not hold your hand and provide instructions on its use.
The stability of the operating system was rock solid, which was pretty nice, given that at the time of review, the product was not yet released. If the device needed to be reset, the soft reset pin hole was located on the bottom left hand of the device. I had to do this only on one occasion, which  However, performance of the system was dependant on the battery life of the Megamini. Menu speeds would be slower as the battery drained. Additionally, there was a delay between pressing the unlock button of the device and it responding, which was an issue when I wanted to pause the device to chat with someone. Furthermore, this delay grew as battery further decreased.
One big miss that I noticed which was consistent with the Supermini was the lack of EQ. It is a fairly common feature on DAPs, especially in the price bracket. As a feature that could be software implemented, I hope it is an offering that could be introduced in a future software update.
Metadata was hit/ miss, with the song more often having some sort of quirk rather than being 100% perfect. Often, the album art didn't present itself properly, which I discovered happened more frequently with higher bitrate files. However, with the multitude of different file formats tried, I could not get a definitive rhyme or reason on why it occurred on all files, but this tendency often showed itself more on larger file formats, such as FLAC. On this tangent however, I was able to successfully able to have playback on all the file formats I had available, ranging from MP3 V0 to DSD64 and everything inbetween.
In the Megamini, Hifiman decided to opt away from the OLED screen for a colored LCD screen. With this, they are able to bring more data to the "now playing screen", specifically the album art. However, on a small display, the album art comes close to maybe 4 cm2 in size. Screen resolution between the Megamini and the Supermini felt pretty similar, with the Megamini edging out the Supermini. However, similar to the Supermini, the screen didn't seem to have a brightness setting, which would have been welcome even more so on the Megamini than on the OLED Supermini. However, the Megamini does have a screen auto shut off, which is definitely welcome.
Battery on the Megamini is pretty solid, but doesn't live up to the 15 hour battery life that was advertized by Hifiman. With constant usage, I find the battery life to hover closer to the 10 hour mark. Additionally, similar to the Supermini, the device does not have an auto shut off feature, so make sure that you don't pocket the device without shutting it off first when done! You may find yourself on a long trip without any juice in the Megamini!
Sound:
As many may know, listening can be very subjective and the impressions that the Megamini have made on me may be different than the impressions that it may have on someone else. That being said, the information written here are a product of my subjective listening, and shouldn't necessarily be treated as a one shot, end all. Rather, it should be just a piece of the puzzle, which can be expanded upon by impressions of others as well as personal listening if the opportunity arises!
That being said, when I listened to the Megamini after extensive listening of the Supermini, I was astounded by the similarities that I heard. To further investigate, I used a switch box and connected both players to do a direct sound comparison only to find that my initial hunch mostly correct. The soundstage sounded a pinch narrower on the Megamini comparatively, but the tonal tendencies of the treble, midrange, and bass were strikingly similar. That's incredible since the sound quality on the Supermini is probably the best sound per unit weight I have ever heard on a portable player.
Treble
Similar to the Supermini, the Treble range is probably one of my favorite, if not my favorite part of the device. The Megamini lays down all notes in the typically fatiguing high registers with authoritative strength. The Megamini is relentless when it comes to ensuring that playback is sharp and deadly accurate, which I can't say many portable solutions are able to accomplish. Additionally, when called upon, the treble can be controlled, but present in situations where other players may falter and overextend, especially in instrumentally dense pieces.
Midrange
I didn't really appreciate the midranges of the Megamini until I gave the right songs a listen. To better understand the midrange capabilities of the Megamini, I listened to Wear by Ken Ashcorp. I mentioned in my analysis of the Supermini that for a solid state player, the sound reproduction is often deceptively warm, and the Megamini doesn't deviate from this trend. Ken's voice is impressively clear and transparent, but also whole bodied. The warmth of the device gives a stronger sense of engagement than other devices, such as the Objective 2 Amplifier. Just don't get too carried away thinking this device will compare to a tube amplifier.
Bass/ Sub-bass
The Bass was well controlled by the Megamini, and along with the many parallels that this shares with the Supermini, the bass tacks onto the neverending list. The bass is very present, but cautiously, never overextending to muddiness, nor accenting music contrasting to the intent of the artist. Listening to the Journey Original Soundtrack by Austin Wintory, the bass is superbly well balanced, while providing warm rumble that is akin to presentation in a concert hall. The Megamini was even able to keep up when connected to more demanding headphones, such as the AKG K7xx, as well as a brief audition with a colleagues Sennheiser HD 600. When he was surprised about the sound from the Megamini in comparison to his Fiio E10, it shows just how much Hifiman was able to pack into something so small.
Viability as a Cell Phone Killer:
My stance on this subject is pretty similar to my opinions with the Supermini. I compared the Supermini across multiple other players and sources here, and my stances with the Megamini compared to these sources are pretty parallel. If you want detailed rundowns on how they compare to other sources tonally, that may be a good place to read up.
Overarchingly, the viability for this to be a replacement for a cell phone player is dependent on a  few factors, such as on your scrutiny as a listener, the devices you hook up to your phone, as well as the age and type of phone you use. If you have a newer phone, such as a Google Pixel or LG V20, and you wanted to solely drive large headphones with leniency on sound quality, you may be perfectly fine with your flagship device alone. However, if you have an older device that may be struggling to drive some unique IEMs or headphones, you may start looking towards the Megamini. Additionally, the Megamini is still a clearly superior DAP to any phone (that I have heard) on the market. Therefore, if you are particular about the sound quality of your device, the Megamini may be just what you are looking for.
Wished Changes
Easily the number one thing I wish could have been changed would be the sharp corners of the device. The fact that I have to worry about it damaging other devices in my pocket should be a non-factor, but unfortunately is something I need to be conscious about. Secondly is adding earbuds for the device. I understand that for the Supermini, being a balanced output device as well, including in ears is logical for a standard that isn't terribly popular. However, if Hifiman can produce a modified RE-600 for the Supermini for the balanced output, including a modified RE-400 for the Megamini would be well appreciated. Additionally, though more radical in thought, opting for a balanced output for the Megamini rather than the non-balanced output may distinguish the device in the large array of DAPs in the price range.
Concluding Statements
The Megamini, while a fantastic player, can be a hard recommendation in its current state in comparison to its older brother the Supermini, which provides a better value. Although the sound quality is more often in striking distance then it isn't to the Supermini, the more premium design of the Supermini, along with the bundled RE-6xx in ears, balanced output, and slightly better sound quality makes it a better value if you can justify the $150 price difference. However, if balanced output isn't something that provides any sort of interest, and you already have a set of in ears and/ or cans that you swear by, then the Megamini may make more sense to you. Minor quirks aside, the Megamini offers a lot for such a small package. Smaller than a pack of gum, and offering many flavors of file formats, with the capability to run circles around a typical phone output, the Megamini may just be the next portable audio player you didn't know you needed.
Pros
:
Awesome sound quality/price ratio, very user friendly UI, loads of power, very stylish, small & lightweight design
Cons
:
Hiss when using sensitive c/iems, shortens soundstage,
There's no way I can start this review without giving a shout out and massive thank you to my friends over at Hifiman. This is the second time they've sent me some of their products to review and I'm just as thankful and appreciative, probably more actually, than the first time. Like myself, there's a lot of people who're interested in purchasing a DAP and Hifiman allowing me the opportunity to share my opinions with others is both very humbling and something I appreciate so again, Hifiman thank you for time with your product.  
Like the disclaimer I posted in my SuperMini
Review
, there's a lot of similarities between the Mega & Super mini's respectably. So throughout this review I'll likely reference back to the other.                                                                             
    I'm a 25 year old firefighter currently for the U.S. Army North Carolina National Guard. I was formerly a civilian firefighter in Kentucky with the Millard Fire Department before I enlisted and moved to my current location in Charlotte, North Carolina. My current goal is to begin my career again in the civilian fire service, and yes, I am the cliché of wanting to do that since as far as I can remember.
    My interests/hobbies are power lifting, fishing and relaxing to audio products and reviewing them to help other decide on what products would work for them. On that note over the years I've really came to an understanding of what it is I like and look for in audio products.
    What I look for is a relaxing, warm and sensual sound that just drifts me away in the emotional experience of the music being performed. Yes, accuracy is still important but I will happily sacrifice some of that if I'm presented with a clean, warm sound that can wisp me away into an experience that makes me yearn for more.
    My ideal signature are that of respectably forward mids and upper bass range with the bass being controlled but with some slight decay. I like my treble to have nice extension and detail reveal with a smooth roll off up top as to not become harsh in the least. Examples of products that have given me chills and keep giving me the yearning for more feels are the (in no particular order) Bowers & Wilkins P7, Oppo PM-1/2, Empire Ears Hermes VI, Audeze LCD-XC, Meze Headphones 99 Classics.
 
-Amp.
    -Audio-Technica AT-PHA100
 
-Headphone
    -Sennheiser HD650
    Bowers & Wilkins P7
    -Empire Ears Hermes VI
    -Audio-Technica
        -ATH-W5000
        -ATH-AD1000X
        -ATH-W1000X
    -Hifiman Balanced iem that comes w/ the SuperMini
 I am by no means sponsored by this company or any of its affiliates. They were kind enough to send me a product for an arranged amount of time in exchange for my honest opinion. I am making no monetary compensation for this review.
    The following is my take on the product being reviewed. It is to be taken 'with a grain of salt" per say and as I always tell people, it is YOUR opinion that matters. So regardless of my take or view on said product, I highly recommend you listen to it yourself and gauge your own opinion. 
The Opening Experience
    The initial handshake, the greeting if you will amongst consumer and company. Truthfully I'm often satisfied with a company's effort in this section; very rarely am I disappointed. So, does Hifiman continue their trend with presenting a very respectful "handshake" to their customer? Yes, The Hifiman Supermini is presented in a sublimely simplistic boc that's matte black with the only words (other than a sticker) seen is that of the Hifiman logo.
    'Firedawg, why do you always praise packages that are simplistic?' Great questions my imaginary friend. The reason for this is I'm a person of action, for better or for worse, I like to see what a product can actually do; not what's said (or not said) on paper.
    Getting back on track, upon opening the MegaMini you're greeted with it being very nicely centered in black sponge like material. Which unlike the SuperMini's all black on black approach. I rather like the white box, silver product, and black backdrop; adds a very nice touch of character (but again. It's more of a personal preference thing). Underneath you're given the charging cable and instruction manual. If you're one of the lucky ones who jumped at the super early bird special then you should also have a pair of RE-400a's to complement your new DAP as well.
Honestly, this is a pretty rock solid unboxing. No jargon, only product. Let's just hope the MegaMini can speak for itself.  
Construction
    So it looks nice out of the package, but that's all for not if it breaks easily. But I've no worries with the Megamini. It's built from very lightweight and slick aluminum that feels deceptively sturdy. The screen is of adequate size in respect to the rest of the unit so no complaints there. The front of the device is where you've the majority of the controls. From left to right you've the go back button, previous/rewind, next/forward, play/pause/select. On the right of the unit is the power button and on the left you've the volume controls. The bottom you have the standard 3.5mm aux port, micro SD card slot (that like the SuperMini, is up to 256gb), and micro usb charging port.
    Like the SuperMini, the MegaMini is a fairly straight forward dap. I have complete confidence that unless you handle it inappropriately, will have no foreseeable issues. It's super small and very light weight. I see these being used for working out do to this very reason.
Specifications
 ​
Dimensions:1.69"x 3.93" x 0.31" (43.0x100.0x9.0mm)
Weight:2.43oz (69g)
Frequency Response:20Hz - 20kHz
THD: 0.08%
Max. Output:54mW (1.4V @36 Ohm)
Battery Life:15 hours
TF Card Capacity : 256GB
    I copied the specifications directly from their product
page
. But I'll also link the SuperMini
page
. for I believe they're quite similar.  
Functionality
    This is one aspect that I see so, many, brands try and implement their own unique spin into but, at least for me personally, no one has gotten it down perfectly. The UI is either to complicated to use due to the company trying to have unnecessarily to many features or they're not enough functions so it seems as if the product is rather cheap.
    Though I will say that though the Hifiman MegaMini still isn't perfect, it's leaps and bounds ahead of the majority of DAP's I've tried in the past.
    The UI is very responsive and is the same as its bigger brother, the SuperMini. The sorting in the main screen I wish could be adjustable to moved to how I see fit instead of a set location (i.e. it will always be Now Playing, File Folder, Albums...All Songs. I can't adjust it to have All Songs on top followed by File Folder etc…). It's a minor thing for sure, but something I wish was present nonetheless.
    One test that I wasn't able to test is the reformatting requirement. When I first inserted my 64gb micro SD card into the SuperMini it forced me to format my card thus loosing all my saved music causing me to have to resync it. That wasn't a major thing per say but having to redownload 40gb of music isn't a 5 minute thing. I'm unsure if the MegaMini doesn't need a certain format or if it used the same format as the SuperMini (if I had to guess the later is the truth).    
Sound
    A disclaimer before I begin. I used much of the same wording as I used in my SuperMini review (linked above) for during my time having both units (at the same time) and A/Bing them, TO MY PERSONAL EARS, I heard no discernable difference in sound quality or reproduction thus me not feeling the need to rewrite the same thing.
    I couldn't find any mention of the exact type of sound that was goaled by the Hifiman MegaMini but as I mentioned above I believe it used the same chipset as the SuperMini for to my ears they sounded, for all intents and purposes, the same. The detail reproduction is superb. Every note that I've heard in music on my home set up (Schiit Lyr 2 & Bifrost 4490) I've heard on this unit. A downside I've noticed with the MegaMini, like the SuperMini, is that it has narrowed the soundstage present to a fairly notable degree. Sure, I've a plethora of Dr. Chesky albums to test depth and soundstage with but one of my favorite albums I've found due to it realism and naturalness being recorded live at an outside event is the Portico Quartet Live 2013. This album truly does a fantastic job teleporting you to the performance and everything so vast and distant (when certain things truly are way out). However, with the SuperMini I sound pretty congested to what I'm used to. The realism and detail is still there, it's just not as spacious sounding.
    In terms of power output, I tested a fairly decent assortment of equipment with it. Starting with my hyper sensitive ciem's the Empire Ears Hermes VI.  The MegaMini presented a definite static that I was really disappointed to hear but it did mostly fade into the background with music playing. Another unfortunate was that they pushed a lot of power into the Hermes; I like to listen to these when I sleep sometimes due to the Hermes sensually warm and enveloping sound that the SuperMini matches wonderfully with, but it plays the ciem's a little louder than I like one the lowest possible volume setting (1), actually even on zero I can still hear the music playing through.
    Next was the fairly difficult to drive mid impedance cans the Sennheiser HD650. As with the SuperMini, the Mega did not even stutter in the slightest when paired with these. I was able to listen to my music at a comfortable volume so no worries about power. Now, I did forget to mention in my SuperMini review that I will add now is that yes, it powered the HD650's easily in terms of volume but when going straight from my home set up (Schiit Lyr 2 & Bifrost 4490), the HD650's didn't seem as, fluid, is the best way I can think of describing them. They didn't sound bad my any means, just not as fluid and smooth as they usually do.
    Lastly was my assortment of Audio-Technica products I'm also reviewing at this point and time. These are fairly easy to drive in terms of ohm resistance but they're not the most sensitive boogers. Nope, no issue at all. The MegaMini played very beautifully with the ATH-W1000X model, so much so it became my go to during my time with Hifiman's DAP's.  
Conclusion
    To conclude my review of the HifiMan MegaMini, it's in my opinion a truly splendid DAP that's worth every ounce of the $249 asking price (at full MSRP, for those lucky enough to take part in the indiegogo campaign it was possibly much cheaper). It's simplistic, to the point, and highly effective. Without having a touchscreen feature, this device has just about everything I've ever asked for in an audio player.
    For those who're looking to purchase a middle of the line DAP that is super simple to use, presents a nice, warm, and relaxing sound. I will most happily stamp my Army-Firedawg recommended brand onto this product. I honestly enjoyed this product and am confident pretty much anyone will as well.                                                                              
Also, make sure to check out my
unboxing
and
review
videos. They're pretty awesome AND you getta put a face to the Army-Firedawg name. If this review helped you out at all please hit that thumbs up button for it really helps me out a lot. Till next time my friends, stay safe.
Pros
:
Undoubtedly price-worthy, light and handy
Cons
:
output with only 3.5mm jack;firmware issue;easily get scratched
Listening to different audio device is my job, literally. As a salesman of audio equipment, it is indeed our job to get to know the products, especially the latest ones. So I kind of just say yes when I was offered a MegaMini and to release a review.
 
Equipments
DAP: MegaMini /SuperMini/ Astell&Kern AK 380
Earphones: JH Audio Roxanne II + Moon Audio Black Dragon v2 balance cable
                    Noble Kaiser 10U Aluminium + plusSound X8 Gold plated Silver cable
                    AKG N40 + Whiplash Audio Gold plated silver cable
 
Ak380 is my daily basis so I have to add to the list to compare to the sound I use to listen to. I have borrow a SuperMini specially cause it shares a very similar size and feel with the MegaMini with roughly 75USD difference.
 
Outlook
The day I received MegaMini, I immediately found it looks very familiar with a products also from HiFiman few years ago - HM700. Though the HM700 definitely have more things in common with e SuperMini, the coding colour, both of them come with a balanced (3.5TRRS)earphone. MegaMini have a silver coding, not like the HM700 nor the SuperMini. The engineers of HiFiman also redesigned the buttons so the MegaMini is easier to use with single hand. The MegaMini only put the switch on/off and volume buttons at two side of the MegaMini and found control buttons at the middle of the faceplate. I found it is very easy to use even for people like me with small hands. The angled-edge is not something I can agree with cause the second day since I got it, I already got scratch on the control buttons. And even with a soft case for protection, it still manage to switch on in my tote bag and drain out the battery.
 
Control
As said, they made the MagaMini very easy to handle, the four control buttons can use to skip songs or fast forward/backward, plain to see and very simple  . Yet some details may make me have a step back. After the screen switch off, you have to push any button to get it turn on the screen, then you can adjust the volume or play the next song. Unlike other players can still function with screen off, so you will have to double-clicked on the button. Not a big deal, just a tiny problem. And there is one time, after I drain the battery, I have to take out my memory sd card to restart the MegaMini. Maybe the firmware still need some improvement.
 
Sound Performance
The MegaMini is designed for IEMs, built in with 32 levels of volume. Most of the time with my IEMs for cd-ripped files, somewhere between 16-20 is pretty enough, even my Roxanne II with 12 drivers the MegaMini seems to doing just fine. While playback DSF file, sometimes have to increase to 22-25, but still going fine. 
Compare with SuperMini, MegaMini obviously lack of some bass. The density of vocalist have lessened. With SuperMini's balance output, the soundstage is even more well-rounded. Yet, consider the price difference and investment for balance cable, I will Say MegaMini is already out of expectation with crisp-clear vocal performance. While listening to unplugged/ acoustic music, you can hardly tell the difference. Both of them are doing very well with acoustic guitars. For my preference I may chose MegaMini Over SuperMini on that. But when it goes to rock music or electric instruments, somehow the MegaMini doesn't doing so well on separating from instrument to instrument. Again, for the price the MegaMini already sounds very good among others. For SuperMini, both separation and sound stage get improved with the balance input, so it's hard to say which one is more worthy to buy.
 
Conclusion
If a customer come in to my store and looking for a price-worthy and easy to carry around DAP, I will no doubt to recommend the MegaMini, and so willingly to let the customer listen to the sound of it. For someone that had already have a pair of Shure se535, used to own a iPod Classic? Then perhaps MegaMini is not the choice for you. It is hard to say for sure which one is more suitable for another after all everyone's preference is not the same. For me, I have more interest on the SuperMini with the right balance cable and earphones, it surprised me with the sound that can compare with some DAC/AMPs. That is just my opinion.

Pros
:
Solid build, button layout,simple to use UI, Power, Surprisingly pleasant sound grower. quite accurate reproduction tonally. Good SQ for price.
Cons
:
Uncomfortable sharp edge design, maybe to cold/ thin a sound for some, battery life not as HFM specs. SQ at expense of features.
HIFIMAN MegaMini review
 Oct 2016
INTRO
I have been in the hunt for a smaller on the go dap for a while now without compromising on the sound in a world where players seem to be getting bigger and heavier and see reviewers wanted for the HIFIMAN SuperMini thread and was not prepared to receive not just that player but a MegaMini also, so could not complain I had two players to try and demo in the comfort of my own home for several days so this will be a unbiased and fair review as I am looking at potentially buying one.  
This review is for the MegaMini only as I am treating each player on its own merits and will keep things in more perspective for each player in its own right.
So thanks to Fang and Ryne for making this possible and letting me try these out in comfort of my living room at home for several days to try them out.               
Equipment tested with for this review:
JH16 Pro Ciem (with Whiplash Hybrid V3 cable)
RHA T20 iem
Meze 99 Classics (with original mrk 1 pads)
Grado GS1000e
Mr. Speakers – Ether (open back)
Sony MDR-7520 (modded with Whiplash Hynrid V3 welded to both drivers & Beyer Velour pads)
Sennheiser HD560 Ovation  (300 ohms)      
 IN THE BOX
The MegaMini comes in a rather smart more upmarket premium plush looking cardboard box packaging in white with gold border trim with the HiFiMAN logo on the box lid.
Inside there is not actually too much to great you apart from obvious laying on top layer is the player itself followed by the storage compartment underneath which holds just a USB cable for charging and syncing to pc/laptop.
It would be nice if it had a more comprehensive start guide booklet although it can be downloaded from their website via PDF document file.       
DESIGN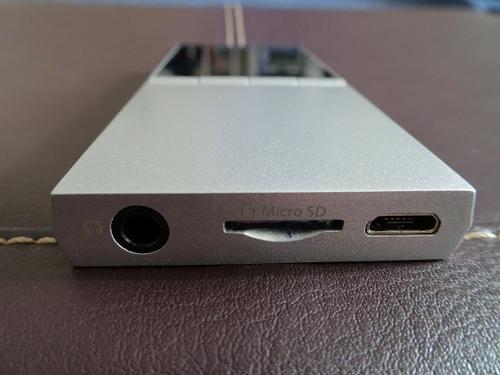 When I first agreed to do the review for HIFIMAN I thought I was only getting the SuperMini but was surprised to see I had two players in the brown transport box when I opened it up.
And with focus on the SuperMini been Balanced with slightly better specs and sound I admit I listened to that briefly first before paying more attention to this pocket friendly MegaMini in price as well as size.  
The players is very small and light and takes me back to my days with the smaller Sony Walkmans I used to have around five years ago before most moved to 5 inch android bricks for a dap.  Only negative for me after handling the SuperMini was that the MegaMini has sharp angled edges and sharp corners which feel a tad uncomfortable to hold and ideally should have been like the SuperMini with a flat edge and rounded of corners.   
The buttons feel solid to press and are located just right for easy operation but there is a currently a fraction of a second lag to the player responding to button presses which is something I'm sure can be remedied with a future F/W upgrade as this is still currently a beta F/W version prior to official release of the player. The button layout makes sense and the UI has been thought through well enough it is simple and quick to use.  
To find a song in the list there is no search function or the like so relies on good old fashioned manual scrolling but luckily here if you hold down the scroll button it fly's through the list like a supersonic jet with no lag so does not take long to get to the proximity letter in the alphabet for that song, album or artist you are hunting for. 
Not ideal after we have all got used to modern dap layouts with search and album art layouts or alpha index scroll on the android or Apple devices but it still does the job and only takes probably a couple of seconds longer to navigate to the all singing dancing coloured touch screen daps out there.  
The screen is fairly clear and concise quality, not quite as good in terms of clarity and standing out as the SuperMini which is OLED but is still legible and clear, laid out in a manner that makes sense to read what info is important.  Only thing so far is I have not been able to get album art up with my flac library but have yet had time to find out why as I type this, all though someone else has so is just a case of finding out how.  
The players features normal facets such as shuffle, repeat and repeat all functions and also sports thankfully a favourites function which you just hold the play button down for a couple of seconds on the selected track you want and gives you the option to add this track to your favourites.
Same press of the play button for longer whilst in play mode brings up the Repeat and shuffle options instead of having to go back through to the settings menu which is handy and quick to execute like this.  
The bottom of the player houses the 3.5 headphone jack with the micro SD card slot and usb micro USB port for charging as there is sadly no OTG function or digital line out for the usb on this player.
I cannot report on the SD card ability with higher cards at moment as I currently had my 128gb micro card go corrupt on me and only have a 64gb card to hand at time of writing but have had no issues with writing and using the card and transferring between this and the SuperMini with the same card.  
In addition there are some small quirks with the player at the moment with turning on power has quite a thump if iems are plugged in when the amp is activated at start up. Slight delay in response to screen activating when home/ power button is pressed.   
No auto cut off if 3.5 jack plug pulled out so potential for playing to keep playing and drain without you knowing about it until it is too late.   
All though the battery is stated as 15 hours I cannot verify pin point precision with the way my testing sessions went but with Flac 16 bit only files and some high res files (192 24 bit) including a few in DSF64 and me fiddling about with the player quite often to navigate and change tracks it was more like 10-12 hours approx even after the 6 hour recommended charge time. Also the battery charge indicator is not quite accurate to where drain status really is as I found the first 50 - 75% went down fairly quickly when on full battery and then last quarter stayed there for almost half the player was on for which is not what I would call a true indicator of time left.  
Hopefully as this is still technically a beta firmware I am guessing they are using before official release I am confident this sort of issues can be pretty much sorted out with a firmware update and know there is one due before the year is out. Only two bigger known caveat's here currently is both the SuperMini and the MegaMini do not support Ex-fat which HIFIMAN have already stated they are working on rectifying before the year is out.  The second is the player is not supporting gapless playback currently but they have announced they plan to release this with the official firmware update later on this year so hopefully these two points will be a irrelevant soon…      
The SOUND department
The MegaMini may be small but has quite a big sound that is dynamic, punchy and open sounding whilst still maintaining a natural tonal quality to its signature.
 The MegaMini  gives the impression it has a slight V shape to its signature with the bass and treble a little more  prominent to the midrange but the mids are not what I would say recessed and is naturally clear with subtle harmonics and micro details.  
The bass has a good natural feel and sound to it without sounding bloated at all and is tight and controlled with bass and tom-tom drums which is weighted just right in mid to sub bass region and such tracks like Dire Straits in Brothers in arms have a good immersive lower bass with an certain amount of realistic tonality with the symbols and hi-hats gives added emotion to the song.
First thing that struck me was its relatively low floor noise and could not hear any hiss with my JH16's or RHA T20's both at 16ohm.  This helps for the detail retrieval to be heard on this MegaMini as it is not as revealing in this department as the SuperMini yet this has just as an addictive pull once you start listening to it.  
My initial first impressions were it had a brighter top end to its signature which gives it a more precise sharper treble that has the ability to be harsh or piercing on the ear. But this only ever happens with sub-par recordings thankfully…with good recordings it will stay within these parameters and will reward with real tonality to instruments without the treble spiking or piercing.... with the wrong material the MegaMini or pairing of colder iems or headphones it can sound a bit to shrill and make it all sound a bit too thin as the mids are quite neutral anyway as this player tends to favour the treble anyway so treads a fine balance of sounding great with the good recordings but with poorly mastered ones can be too much edgy treble.    
The mids are clear and coherent with a punch to the mid bass has a lovely weight and depth to it yet sounds clean with a  punchy dynamic pulse in its DNA which stops it from been anywhere near been a truly flat line response dap to listen to. 
Separation is good on a player of this price bracket with very competent stereo imaging and soundstage even makes my Sony 7520 closed backs seem bigger than they usually are and my Grado GS1000's sound was massive in scale to listen to so kudos to Hi-Fi Man getting this spot on as it goes a long way to the player sounding immersive and involving listening experience.  
The bass is tight and controlled and the sub bass can go quite low, actually very low and expansive it can swallow you up with the right song and headphone like my Meze 99's. The MegaMini has a quick response with timing and imaging which again I almost keep forgetting it's price area for this player at times. It is apparent this player has sacrificed all the normal specs everyone expects from a player now days like Wi-Fi, Bluetooth and so forth with instead opting for just focusing on the best it can make a small player to sound with music which to be honest is what I am personally looking for which Is a player that is non complicated, small, light and portable whilst sounding good.  
I have been trying this with various eims & headphones and although I do not own any hard to drive headphones anymore I did try a pair of Sennhieser HD560 Ovations which are 300 ohm and quite old now 15 years+ (classed as a classic headphone) but still perform well and with the MegaMini held their own  been able to  drive them with enough authority it kept its dynamic strident clean signature as if you was listening to a set iem's with the MegaMini.  
An even bigger surprise for me was how well it paired with the Grado GS1000 which cost's £1K yet the MegaMini was a match made in heaven which surprised me as the combination of the MegaMini brighter end signature and the Grado been a delicate complex detailed flower so was pleasantly taken aback when they sounded great together… so much so It hogged my session with these for so long I almost forgot I had to try them with the rest of my collection!         
The Grado is a fairly big soundstage with been open back but the MegaMini gives it a Mega expansive feeling soundstage and has  height as well whilst still been able to stay focused to the centre of the stage still. 
The on a tightrope of treading either side of  treble heaven or hell of the MegaMini really shines with the Grados and showed me this player can reproduce some nice detail still in the upper range with a nice realistic sounding shimmer to hi-hats and symbols.   
The mid-range is perfectly balanced through my Grados with the players ability to do a good sweep in the lower frequencies can make my slightly bass stubborn GS1000's actually have the ability to  punch lower than the Grados normally do to kick and bass drums.  It goes to show a budget dap can be a good pairing even with a pair of £1k set of open backs that can be an enjoyable listen for long periods of time.  
 I also spent a day with the Ether open backs original version which is a very similar experience as the Meze was when hooked up to this player and was a nice pairing with the Ethers just taking a bit of edge on the treble with again the immersive ability of the MegaMinis soundstage and mid to low bass control and response made it another enjoyable listen with the MegaMini.    
I then tried this with my Sony 7520 closed backs which are Whiplash Hybrid V3 terminated to both drivers and this retains the clarity of details but adds a great amount of depth to the low sub bass region.  Dynamics are there in spades with a good pace timing never feeling slouchy or slow. 
The upper mids really show guitars off well and sound like a guitar with the MegaMinis more metallic high end gives that steely edge to acoustic or electric guitars.  Vocals are positioned well which are quite forward to the mix so never a problem hearing the lead vocalist at any time as some.  
The MegaMini scores again with my Meze 99 classics which are a balance between warm and punchy with plenty of detail makes this a really good match with the already dynamic sounding MegaMini.   
This might not have quite as much micro detail to its bigger brother the SuperMini but it certainly knows how to do soundstage, placement and timing and have been impressed with how at home this player is with most genres of music as it handles it quite naturally as just sticking it on "all tracks" shuffle it went from Mahler No.5 symphony in high res for example with plenty of soundstage width and depth with a smooth and fluid  presentation with string work and then had Labyrinth's Earthquake dance track with its slamming deep hard bass and high frequency testing intro and then followed by Gregory Porter Liquid Spirit with a very layered textured double bass and nice organic sounding piano work with G. Porters chesty centred voice is very present and transfixes the listener to every word been sung.  
The MegaMini is a very transient player and can stop on a sixpence especially with kick drums and bass notes and does suit my Sony 7520 and Meze which are fairly bass happier than most and drives them with authority and ease.  Then also quite happy with something as detailed and tamer as the Grado GS1k's so works well with a range of headphones signatures I found.  In a nutshell this is not the most fussiest player I've had to try and pair with iem's or headphones even with my concerns of the possibly bright top end presentation can produce if the recording is not good enough.  
The more I listened to this player the more you do tend to forget it at times this is a $250 player as what features are stripped from it to other practical players that offer all the gadgets this has concentrated on just the sound yet at first time listening especially after having a sneaky listen to the SuperMini first this sounded more thin at times to treble harsh yet with more time with listening to different headphones/ iems it is not a truly flat sounding player but has a way of sounding dynamic and just a tad bright yet manages to not add much colouration to the overall sound at the same time so symbols, hi-hats etc have a realistic shimmer and the bass has a realism with it's different levels of depth, spacialness, texture transients lead to a very evolving player I thought I would be targeting my iems with more solely for its mobility but further listening with headphones has been an immersive addiction for such a relatively budget portable player.   
CONCLUSION
To be honest I was initially only looking at reviewing the SuperMini as it is balanced and does have a fuller bodied signature with a more detail retrieval but the more I spend with this MegaMini I realized it was indeed a very well balanced sounding player with natural overtones to its signature which made it believable listening experience all the more and for anyone wanting a more natural sounding signature and was looking at the SuperMini you might want to give this a try also as although placed as the cheaper player has griped me to listen with as much as the SuperMini in many respects.  
It is a breath of fresh air really with the last few years the players have become bigger in size as well as price and forgot what it was like to hold a dap in the palm of your hands that was small light and can be used with operation of one hand only yet all the emphasis focused on delivering the sound quality rather than load it up with features like wi-fi, Bluetooth etc and no substance to the sound quality and the MegaMini fits in perfectly making a good quality sounding player in a small truly portable footprint as possible with a realistic affordable price and HIFIMAN have achieved this.  
 All though the player is not totally perfect although build is top notch the design is a bit sharp to hold and should of followed it's SuperMini brothers smoother design for more comfort to hold but for pure sound enjoyment and quality for money and been able to drive headphones not thought imaginable with a player this size has been an achievement and any other glitches it may have should be able to rectified through firmware updates. So if maybe the SuperMini features of balanced with bundled iems doesn't do it for you or your just after the best sound out there on a budget then check this little gem out as it is an impressive player for its small size and can power some heavier loaded headphones yet maintain a consistent sound quality across most genres.   
In a nut shell this is a very accomplished sounding player for the money and to be quite frankly honest it is not usually the sound sig I would go for usually and even alongside the SuperMini it has won me over with its own way of doing music and with its solid build and very practical due to its small size and is nice to see someone deciding to try and offer daps in small size form factor again but with better components inside to bring above average sound and power for the money.  
Even with been lucky enough to also be reviewing the SuperMini I am genuinely sad to be given the MegaMini back but with the SuperMini I am seriously considering one of them if not maybe both a bit later on.  I think it is certainly worth an audition and not to be underestimated at this price.  
Thanks to Fang and Ryne and rest of HI-Fi Man team for the opportunity to listen to this as It's been a MegaMini adventure!        
Pros
:
Tiny form factor, excellent build quality, nice looking, good even keeled sound, easy UI and intuitive control scheme
Cons
:
no external DAC, no gapless (on the way?), limited playlist capability, somewhat thin sound, dismal battery with HiRes, overpriced versus competition

Acknowledgment 
Thank you HiFiMAN for providing this review unit on loan in exchange for my honest opinion.
Introduction       
HiFiMAN has been around a long time now. They've gone from bargain OEM to one of the best and brightest headphone manufacturers in the world. Personally, I have a long history with HiFiMan.
In 2009, I had gotten tired of my $70ish Sony IEMs (can't remember which ones they were and tossed them long ago) and was looking for a new pair of budget headphones to play out of my PSP—dated. Through |joker|'s thread, I discovered the RE0, and through the extinct Head-direct website, I got my first pair of audiophile headphones for $80. It was a really good deal, and the start of something beautiful and terrible, a love and lust for new audiophile gear. In a way, HiFiMAN provided me with my gateway drug, and all of you on HeadFi are now regretting it.  
My first post on HeadFi after years of lurking was a
3 way review comparing the RE0 to two closed circumaural headphones
: the Shure SRH-440 and the KRK-KNS 8400. It did pretty well.
I've listened to a lot of HiFiMAN gear, and still have my RE0. The HE-6 is probably my favourite headphone of all time when properly driven, and the HE-1000 is among my current favourites in production headphones—I haven't been able to do side by side with the Focal Utopia or Mr. Speakers Ether (C) Flow, so can't state that the HE-1000 are my favourite outright. With all the listening I've done, I hadn't yet had the opportunity to do a true review of some HiFiMAN gear, so when they called for reviewers, I jumped, in spite of a busy review queue that will keep me occupied till Christmas.  
The MegaMini is currently in the midst of a crowdfunding campaign
on IndieGoGo
. Get it a little cheaper, if you like. The lowest price available at time of writing is $229, the campaign lists MSRP as a startling $300.  
What follows next is some lyrical prose about my audiofoolery, audiophilery, perspective and preferences. Everyone is biased and I believe that our biases should be transparent. Read below the spoiler if you want to get cosy with me and my biases before you read my reviewing.  
Like most sensible people I started falling in love with music as a child. My first portable audio device was a Sony Walkman (the cassette kind) that I got when I was 10 years old (24 years ago).  I listened with the cheap Sony on ears that came with the Walkman until I bought a Koss CD boombox and started listening to UAF College Radio and 103.9 (alternative rock at the time) in Fairbanks, Alaska. I once listened to
Louie, Louie
for 3 days straight, and I'm not insane—did you know there is a Spanish gospel version of
Louie, Louie
?  
Like political tastes and tastes in friends, my musical tastes evolved through association and then rebellion and experimentation. From the songs of my father (The Beatles, Rolling Stones, Bob Dylan, ZZ Top), to the songs of my peers (Dr. Dre, Green Day, Nirvana, Weezer), my tastes evolved, expanded and exploded into the polyglot love that is my current musical tapestry. Like a Hieronymous Bosch mural, my tastes can be weird and wonderful: dreamy Japanese garble pop, 8 bit chiptune landscapes percolated with
meows
, queer punk, Scandinavian black metal; or they can be more main-stream with minglings of Latin guitar, Miles Davis trumpet, and banks of strings and percussion in the Mariinsky Orchestra. Mostly my audio drink of choice is a rich stout pint of heady classic rock and indie/alternative from my musical infancy and identity formation (the 90s). Come as you are, indeed. Beyond the weird, the wonderful, the interesting and accepted, I'm a big fan of intelligent hip-hop artists like Macklemore, Metermaids, Kendrick Lamar, Sage Francis and Aesop Rock. I even dabble in some country from time to time, with First Aid Kit and the man in black making cameos in my canals.  
My sonic preferences tend towards a balanced or neutral sound, though I'll admit to liking a little boosted bass or treble from time to time. If I have to choose between warm and bright, I'll choose bright almost every time. A few screechy high notes are preferable to me than a foggy unfocused bass guitar. As my tastes are eclectic, and a day of listening can involve frequent shifts in my sonic scenery, I don't generally want headphones that try to paint my horizons in their own hues. I need headphones that get out of the way, or provide benign or beneficial modifications. I desire graceful lifts like an ice-dancing pairs' carved arc, not heaving lifts like a man mountain deadlift.  
My last hearing test with an audiologist was a long time ago and under strange circumstances. However, I have heard tones all the way down to 10hz and all the way up to 23Khz using headphones in my collection. Either my headphones tend to have a hole in frequency at 18kHz or my hearing does, because I never seem to hear it. I'm sensitive to peaky treble, and treble fatigue, even when I can't hear what might be causing it. I do enjoy smooth extended treble. I like deep tight bass and impactful drums, and dislike upper mid-bass emphasis.  I like my vocals crisp, so stay away from Josh Tillman's voice you nasty upper mid-bass hump.  I like air in the stage, not just cues to distance and height, but the feeling of air moving around and through instruments. Soundstage shouldn't be just about hearing, I need to feel it. I listen at volume levels that others consider loud (78 to 82 dB), but I just set it to where the dynamics peak. I'm not here to shatter my eardrums. I like them just how they are.  
I generally don't believe in using EQ, not even for inexpensive headphones, especially in reviews. I won't claim that I haven't done it, but I generally try to avoid it.  
I believe that burn-in can make a difference, but I also acknowledge that there isn't any measurement that appears to give conclusive proof that burn-in exists. I trust my ears, fully acknowledging that my brain may fill in expected details, may colour my interpretation, or may be subject to its own settling period with a headphone. In my experience, burn-in effects are not as large as proponents of burn-in tend to advertise. I've also noted that using white/pink/brown noise, I almost never observe changes beyond 24 hours of burn in. When people tell you that you shouldn't listen to your headphones until they have 200 hours on them, I think these people need to be ignored. No matter what, you should be listening to your headphones at different stages, right out of the box and at intervals. How can someone observe a difference without baseline observations and follow up observations to measure change trajectories? If you really want to be serious about controlling for effect, you need volume matching, source matching, and tip/pad matching.  
I'm a firm believer that cables
can
make a difference, but I don't think they always do. When I tried out Toxic Cables line, they were in a bunch of baggies at the Cambridge 2015 HeadFi meet without any labels telling me what I was listening to. The cheapest looking one was the one I liked the best. I was excited that I wouldn't have to spend much to improve my sound. It turned out that the cheapest looking one was the Silver/Gold top of the line cable. I've heard the difference that USB cables can make, from upgrading from the crappy cable that came with my Geek Out 1000 to a Supra USB, and then again when upgrading to the LH Labs Lightspeed 2G with the iUSB3.0. When I picked up a cheap shielded power lead from Mains Cables R Us to replace my standard kettle lead on my integrated amplifier, I heard more crunchy and clearer treble. I switched the leads with my wife blinded and she heard the same difference. I didn't tell her what I heard and let her describe it herself. But cables don't always make a difference. When I switched from my standard HD650 cable to a custom balanced cable (
Custom Cans UK
, very affordable), the sound stayed exactly the same when hooked up via a top tier (custom made by my local wire wizard,
@dill3000
, out of  silver/gold Neotech wire) 4-pin XLR to 6.3mm converter. Balanced mode made a difference in clarity and blackness of background—this indicates that the amp was the deciding influence, not the cable. Your mileage may vary and you may not hear a difference, but I have.
Vital Statistics (specs from manufacturers and distributors)
So what does the manufacturer have to say about this piece of kit? Sometimes it's enlightening, sometimes not. First, here are some measurements. HiFiMAN didn't provide the output impedance value, which is pretty ridiculous as it significantly affects sound and purchasing decisions for those in the know about impedance mismatches.  
| | |
| --- | --- |
| Specifications |   |
| Dimensions | 43mm x 100mm x 9mm |
| Weight | 69g (2.43oz) |
| Frequency response | 20hz – 20kHz |
| Output Impedance | ~1Ω (as measured by @thatonenoob, comment linkie) |
| Total Harmonic Distortion | 0.08% |
| Power Output | 54 mW into 36Ω |
| Battery life | 15 hours stated |
| Formats supported | 16/44 to 24/192 WAV, FLAC, ALAC; 16/44 to 24/96 APE; DSD64 (single rate, DSF and DFF formats); also supports MP3, OGG, AAC, WMA |
| Memory | MicroSD to 256GB, no accessible internal memory |
HiFiMAN founder, Fang Bian provides some information about the SuperMini and MegaMini in a letter:  
Within the past two to three days, there has been some discussion online about the HIFIMAN SuperMini and MegaMini that I feel contains misinformation about the technology we use. So in the interest of clearing up any confusion and to make everyone comfortable in their consideration of our players, I offer the following clarifications.

  HIFIMAN new player SuperMini and MegaMini: Single thread mode  

A portable music player (PMP) is actually a mobile computer. There are a lot of portable music players that use an Android or Linux operating system. These systems are in multi-thread mode: CPU executes multiple processes or threads concurrently. Multiple threads can interfere with each other when sharing hardware resources, which creates jitter when playing music.  

In computer programming, single threading is the processing of one command at a time. Instead of developing the music player software on existing Android or Linux operation system, the HIFIMAN team has developed its own embedded operating system. Specifically, HIFIMAN SuperMini and MegaMini are portable music players working in "single thread mode" most of the time; only some very small tasks such as displaying and button responses are running on multi-thread mode sometimes. More than 95% working time, they work as single threading so that their jitter level is much less than that of an Android or Linux PMP.  

Reference:

https://en.wikipedia.org/wiki/Thread_(computing)   About Gapless  

When a PMP is playing music as gapless, current technology has to play music and read the next track simultaneously. That way it will play the next track as soon as it finishes playing the first track. Therefore, it is a multi-threading process.  

The current beta version firmware of SuperMini and MegaMini cannot support Gapless. However, the HIFIMAN team has figured out a way to support gapless playback in single thread processing. In other words, there is no more jitter generated when a HIFIMAN SuperMini or MegaMini player is working as gapless. We plan to launch it in the official version firmware before the end of the year.  

Supporting Exfat SD card

The current SuperMini and MegaMini cannot directly run an Exfat format SD card however you can format it in the player and support 64, 128 and 256G SD card without any problems. We are currently working on supporting Exfat and will support it in the official version firmware later this year.  

If anyone has any questions, or would like further information, please contact

customerservice@HIFIMAN.com

. Thank you for your support.  

Best Regards,

Fang  
I'm not sure I buy the threading argument being made. I highly doubt any differences would be audible. Unfortunately, I don't have player handy that I know uses multi-threading—but the DX50 does do gapless. If I had this thing permanently, I could wait till I get delivered the Cyberdrive Seiun Pro X next month and see what it has to say about all this threading stuff. I certainly remember the Android based Opus Audio Opus #1 sounding epically transparent and I'd bet that used multi-threading.
Form & Function
Form
The MegaMini lives up to its name. It's tiny and light in the hand. It melts into your pocket like nothing is even there. The MegaMini has bevelled edges that look quite classy and give a feeling of grip and control in the hand. In a neat touch, the side buttons light up with a faint glow, like a will-o'-the-wisp leading you to dreams or death, depending on whether you subscribe to
Disney
or
folklore
—it's quite pleasing to hold. I like the sharp edges.  
Image originally in Flammarion, L'atmosphère: météorologie populaire (1888, p.749), found on inamidst.com, a site dedicated to anomalous lightforms

The button layout is easy to figure out with good labels on the front buttons—take note SuperMini—but no labels on the side buttons. In contrast, the SuperMini has no labels on the front buttons and full labels on the side. The MegaMini I'm holding is a pre-production version, so hopefully it will have complete labels when it goes into production. The front buttons are for navigating the menus and for play, pause, skip track, last track, forward and backward seeking, selecting shuffle/repeat modes and adding tracks to favourites.  
The headphone out, microSD slot, and microUSB charging point are on the bottom. The microSD slot helpfully has a little indent to make it easier to get the card to the somewhat deep point where it locks into place. The screen on this is colour, but looks like a shrunken version of the GameBoy Color circa 1998.  
Function
HiFiMAN made a video on how to use the player

The operating system on the MegaMini is rudimentary, but functional. Menus are easily navigated using the keys. Holding down the < and > keys allows quick scrolling of menus, and also can be used in playback (Now playing screen) to scroll forward or backward through the current song. In both modes, tapping either button causes the corresponding forward or backward movement. Holding the back button (far left) takes you back to the main menu. Tapping the power button turns the screen on and off. Hold the power button to power off completely. There is no sleep mode, so inactivity will drain your battery fully if you forget about it.  
Holding the play button, O, during playback calls up a menu that allows you to choose shuffle and repeat options, which is nice. These options can also be found in the settings menu. Shuffle is either on or off. After checking, it shuffles whatever organisation level you are at in a random or pseudo-random with replacement order. For example, if I go into my Genre menu and select Indie, the artist Architecture in Helsinki, and the album In Case We Die with shuffle on it will shuffle just that album; if I select All Albums instead of a specific album, all albums will shuffle. If you want to shuffle all songs on the player, this can be done by selecting All Songs on the main menu with shuffle on. However, there is no option to just shuffle all artists in the Indie genre, or to shuffle an upper level folder. It would be nice if both options worked. If you want all songs to be shuffled, you can do that by having shuffle on and then choosing the menu option, All Songs. Repeat works in a similar fashion, you can repeat all albums of an artist or one, but you can't repeat everything in a genre or everything in a folder. Holding the play button outside of playback allows you to add tracks to your favourites when in a menu area with tracks. This favourites list is the only semblance of a playlist option on the player.  
The playback screen is functional, but I question why it needed to be colour. The colour looks very 8 bit, and doesn't have any cover art. Why is there a CD square in the middle of the playback screen with no cover art? It makes no sense to me. A black and white screen, like that on the SuperMini, likely would have saved some battery life and been just as functional. This isn't a froo froo screen or a froo froo player, we shouldn't pretend like either are true. Stick to the no frills presentation, I say.
[Edit: after looking at Brooko's review there appears to be some way to get images in, but it doesn't work for me--this probably can be fixed with a firmware update]
I formatted two cards using the MegaMini player and it was fast at formatting. It was not fast at importing the library and didn't give me a status bar to tell me how long it would take. I didn't want to sit watching it, but I know it took well over ten minutes to do 200GB. Hitting update databases in the settings menu reads the whole card again, not just the files that have changed. I tried 128GB and 200GB cards from Sandisk in the MegaMini and had no problems. One thing that threw me, is the player didn't catch all my tags, leading to some of my favourite tracks falling in the "unknown" category.  
I charged the player a several times and it took 1 hour 30 minutes when I timed it, and seemed consistent on charging time on other charges. The battery life on the MegaMini is dismal. When listening exclusively to 24/96 it only got 5 hours and 45 minutes; when playing mostly 16/44 FLAC it only got 7 hours 50 minutes (there was a little under an hour of 24/96-192). That just won't do for a DAP, I draw the line at 8 hours, and this DAP didn't come close to that under a moderate load. The 15 hour time posted on the Kickstarter is dubious. There is no way they were playing the MegaMini at a reasonable listening volume with any high bitrate music—which is one of the reasons for buying a dedicated DAP and not just using your iPhone. The numbers are a distortion.
Audio quality
Much like Brooko, I'd contend that a good DAC is neutral, but not passionless. A properly tuned DAC won't have much in the way of bass/mids/treble differences to deal with, it'll let the headphone speak, for the most part. Where I find differences in DAC/DAPs, the differences are often subtle, but not always. I find that where a DAC/Amp implementation can make a difference is noise levels, blackness of background, soundstage, and impedance matching. Outside of impedance matching, I think these primarily relate to distortion and treble performance, but I'm no audio engineer, nor do I play one on TV. Damn it Jim, I'm an audio-reviewer not a…  
The MegaMini has good sound quality, but for those who have sensitive IEMs or sensitive ears, it will hiss. When I used the Vibro Labs Maya with the MegaMini, hiss was very audible. The Maya has 114 dB/mw sensitivity and 12Ω impedance. When using the UERR, I didn't perceive any hiss issues. At low volumes there was a tiny bit of hiss, but nothing too objectionable.
Comparisons
For comparisons using the Maya I volume matched using a dB meter and white noise to 78dB, for the Maya, and 72dB for the UERR. I found that because the insertion is deeper on the UERR, I don't need as much volume. All tests were done with single-ended outputs as I had no way to keep cables consistent across single-ended and balanced mode operation. My general approach to comparisons is to control for the variables that I can so that my comparisons are as fair as they can be.  
SuperMini
The sound signature of these two is nearly or completely indiscernible to me at matched volumes. I tested with the Vibro Labs Maya, and couldn't consistently tell a difference between the two players' signatures, which is a good thing, they are both fairly neutral players. Both players have some low level hiss with the Maya, but I think this is going to the case for the Maya on many rigs—I got some soft hiss at low volumes with the Maya on the iBasso DX50 also. I thought I heard a bit more depth and body in the SuperMini, but that may be expectation bias, as I've already read
@Brooko
's excellent review of the SuperMini and the measurements show lower distortion, which in my experience has usually improved depth. Short story shorter: I can't confirm any differences between the Minis whilst using the Maya.  
Switching to the UERR, the SuperMini sounds like it has a little bit bigger soundstage when listening to Amber Rubarth doin' some Tom Waits on Hold On. Differences are small and still subject to all the biases that come with non-blinded testing. It might all just be in my head, and not just because the UERR are several mm closer to my brain than the Maya.
I like the simple black and white screen on the SuperMini better. Navigation is basically the same between them, but the playback screen tells me more on the SuperMini. I found the CD picture in the middle of the MegaMini screen pointless given that I didn't see cover art for any album in my library and I'm not sure the resolution of the little screen on the MegaMini would do cover art any favours anyway.  
iBasso DX50
Up to the point of this comparison, I had been listening to everything on the two Minis. I had settled into the sound like an old recliner and let the cushions envelope me. When reviewing I think it is really important to give yourself time to get used to the sound of a player or headphone before you step into comparisons. I think that this eliminates potential bias against the review item and lets you enter comparisons comfortable to the sound, like that old easy chair. This getting accustomed period also has its benefits in comparisons: it makes differences between comparators more stark, which allows better clarity in defining the characteristics of the review item. There are lots of differences between the MegaMini and the DX50.  
The DX50 absolutely destroys the MegaMini on sound. In comparison, the MegaMini soundstage is small, and the sound is thin and muted sounding. The DX50 has more body and a more engaging organic dynamic sound. Highs are more extended, lows have more texture and body, and overall the sonic portraiture is more refined with a more tightly woven tapestry of notes. The MegaMini is smooth and easy going. The MegaMini sounds good, buti It isn't a close comparison to the DX50, sonically.  
Playing Pink Floyd – Dark Side of the Moon on both players makes me distinctly aware of how much not having implemented gapless sucks for the MegaMini. Floyd just doesn't work well in gapped playback—the staccato breaks between songs are obnoxious and take you out of the extended enveloping moment that is Dark Side of the Moon.  
The iBasso DX50 kicks the MegaMini around the block on features. It has more power. It has adjustable gain, it has a removable battery, it has standalone DAC functionality, it has gapless (HiFiMAN says they will add gapless to the MegaMini later), it has a touchscreen that is pretty easy to use alongside great physical buttons, it has a removable battery, and it supports USB OTG. There is no question that the iBasso DX50 is the better player on features.  
Conclusions
The main selling features of the MegaMini are tiny size, excellent build quality, a variety of formats played, a good UI, decent sound, and advertised 15 hour battery life. In my two battery drain tests, I didn't get anywhere near 15 hours and I really question the methods that they generated that estimate with, so we can strike that last one.  
The player is limited on features: no gapless, no USB DAC, no USB OTG, no line out, no equaliser, no gain adjustment. Some of these could be added via firmware update, and I know that gapless is already in the works. They can't add a line out to the player, and I highly doubt that two of my favourite DAP features: USB DAC capability, and USB OTG are in the cards.  
Before comparing this to the DX50, I was prepared to give it 4 stars, after the comparison, the sonic deficiencies of the player were laid bare. I can't give this 4 stars. This player is a 3 to 3.5 star player. I'm rounding down in this case. Price is a looming reason why the rating declines for me.  
I think that the main selling point for this is its diminutive size. For those looking for an ultraportable DAP, there are other options out there that are less expensive with comparable feature sets. I suggest auditioning players like the
Lotoo PAW 5000
and the
XDUOO X3
. Both will now cost you less, and offer some features that are lacking on the MegaMini, but both will also lose you tagged browsing. The
X3ii
is also an objectively better player with a lower price, if you are okay with a little bit larger form factor. If HiFiMan sold this for $150 instead of $250 ($300 MSRP according to IndieGoGo campaign), I think they would compete better with other offerings that are out there.
Pros
:
Sound quality, build, form factor / size, ease of use, simple interface, power output
Cons
:
Lacking features, battery life (only 9 hours real), competition is subjectively better in same price range
INTRODUCTION
This was the 2nd round of the HifiMan review tour of the two new DAPs in their portfolio. I posted the review of the SuperMini earlier this week – and it proved to be reasonable value with a balanced output, excellent power, small form factor, easy to use UI, and 15 hour real time battery life. Combine it with the excellent IEMs bundled, and you effectively have a pair of IEMs worth $150-200 and a DAP worth $200-$250 – which made the package overall a good value proposition. And this was particularly so if you were looking for a synergistic total package.
This time we're looking at the sibling – which is effectively one tier down. And at $249 and without the IEMs being included, I kind of expected it to struggle just a little against the more expensive (but better value) package deal. But I went into the test with an open mind – and there are some things I like about the MegaMini. Read on to get my thoughts on how the MegaMini performs, and how its value stands up against similar peers.
ABOUT HIFIMAN
HifiMan Audio was founded in late 2005 by Dr Fang Bian when he was resident in New York. He started Head-Direct, and in 2007 began use of the HifiMan brand. They started initially with in-ear earphones, branched out into building hi-res portable players, and this was followed by planar magnetic headphones. As the business grew, so did the need to expand, so in 2010 Dr Bian started two small factories in China, and moved the HQ to Tianjin China in 2011. They are now a well recognised brand globally – particularly in the field of portable or personal audio products.
I found most of these short facts from a couple of interviews with Dr Bian posted on line, and among the interviews were a couple of direct quotes which I found fascinating and illuminating:
I started listening to a lot of music when I was in high school. I used a Walkman and Discman all the time because I had nothing else available to me. They were designed more for convenience than great sound. I wanted both- convenience and great sound so that set the stage for my dream to build the best sounding personal audio products.
Starting with me, everyone is passionate about what we are doing at HiFiMAN. We may not always do everything perfectly from the beginning but we try hard to get it right in the end and our track record is pretty good. Most of all, I want our customers to know how much we appreciate them. Their support and feedback is invaluable.
DISCLAIMER
I was provided the HifiMan MegaMini as a review sample and it will be returned once the review is completed. 
There is no financial incentive from HifiMan in writing this review. I am in no way affiliated with HifiMan - and this review is my honest opinion of the MegaMini. I would like to thank them for making this opportunity available though.
PREAMBLE - 'ABOUT ME'.
For the purposes of this review, I have used the HifiMan MegaMini with a wide variety of headphones including both sensitive and harder to drive IEMs, portable headphones (HD630VB), full sized headphones (HD600 and HD800S), and also the balanced IEMs which were included with the SuperMini.
WHAT I LOOK FOR IN A DAP
I thought I'd list (before I start with the review) what I really look for in a new DAP.
Clean, neutral signature – but with body (not thin)

Good build quality

Reasonable battery life

Easy to use interface

Able to drive both low impedance and (within reason) higher impedance cans without additional amping.

Value for money

Enough storage to hold either my favourite albums in red-book, or my whole library in a reasonably high resolution lossy format (for me – aac256)
At the completion of the review I'll refer back to this list and see how the SuperMini performed. 
This is a purely subjective review - my gear, my ears, and my experience. Please take it all with a grain of salt - especially if it does not match your own experience.
THE REVIEW
PACKAGING AND ACCESSORIES
The MegaMini arrived in an all white retail box and lid. It (like the SuperMini packaging) is minimal, clean and stylish. The box measures 160 x 100 x 40mm. The lid is simply adorned with the HifiMan logo and name in an orange/gold colour.
Removing the lid reveals the silver MegaMini safely nestled in a foam cut-out. You see 4 main buttons on the front face, otherwise at first glance it looks pretty similar to the SuperMini. Removing the foam cut-out reveals a warranty card (which also has links to the downloadable manual – http://down.hifiman.com/MegaMini/manual.pdf). Missing this time is the spare screen protector.
Underneath this is one final compartment which houses a USB to micro-USB cable. To be honest, this package for a $250 DAP is pretty minimal.
TECHNICAL SPECIFICATIONS
The tables below list most of the relevant specifications. I have (as a comparison) also listed specifications from FiiO's X3ii and X5ii, which straddle the MegaMini in it's price bracket. 
I have also asked Ryne at HifiMan for further specifications, however have not received a reply at this time. Many critical specifications are unfortunately not stated by HifiMan.
Feature support
I'll also look further at features as we continue with the review.
BUILD / DESIGN
The build on the MegaMini really is very good. Just like the SuperMini, it is tiny compared to a lot of my other DAPs – about the same height (100mm), but super thin (just 9mm) and only 43mm wide – so perfect for slipping into a pocket, or simply holding in the palm of your hand. And at a mere 69g, the MegaMini is brilliant to have for on the go.
From what I understand, the MegaMini casing is CNC'd from a single block of aluminium alloy. It appears to be two piece – a frame (the sides) including a short plate on the front face, and a full length rear plate. The body is practically seamless though. One thing I noticed immediately after using the SuperMini earlier in the week is that the MegaMini's corners are sharper – where the Super's are more rounded. Anyway – the Super feels slightly nicer to hold overall.
The front face top section is dominated by the 2 inch OLED screen, and underneath this resides 4 clickable buttons. These are (left to right) : a back or return button, back, forward, and play/pause/select. The buttons are easy to locate and navigate, and the click is firm and reassuring. The build appears to be good quality overall.
On the left hand side edge are 2 buttons toward the top – volume up and volume down. On the right hand side edge at the top is the power button (or screen on/off). On the right edge toward the bottom is a reset pinhole. 
At the bottom from left to right is the 3.5mm single-ended socket, the micro SDXC socket (up to 256 Gb) and micro-USB port for charging and data transmission (loading onto the micro SDXC). 
The rear of the casing simply has the HifiMan logo and some compliance information.
The screen is appears to be OLED, colour this time, and is both very clear and also reasonably easy to see in direct sunlight. It has good contrast, and viewing angles are almost 180 deg. The actual screen content is minimalist but effective – we'll go into this shortly. 
From an overall build and aesthetic standpoint, the MegaMini is well built and apart from the slightly sharp edges, a really nicely sized ultra-portable DAP.
DESIGN – INTERNALS
I will add to this section at a later time if I am able to. What we do know is that the MegaMini uses a combined DAC and amp in a single chip. Unfortunately the rest of the actual specifications are pretty much unknown. They've advised a power output of 54 mW @ 1.4V into a 36 ohm load and THD of 0.08%, but there is no mention of specs like SNR or even output impedance (although thatonenoob did measure and the OI appears to be around 1 ohm).
I have requested information from HifiMan on a variety of internal information and specifications including the DAC chip used, OP amps, specs like output impedance and more information on power output. Unfortunately so far I have not been able to ascertain any of this information and to date HifiMan's engineers have politely declined, citing proprietary discretion (which I can understand). I will say that it is disappointing that necessary specs like output impedance aren't stated – and also highlight again that other Companies (FiiO, and even L&P) have been far more forth-coming with their specifications.
UI (USER INTERFACE) / USABILITY
Please note that this is with the released firmware UI2016-09-22V005Beta.
Like with the SuperMini I'm going to choose my words very carefully here – because I don't want to give the wrong impression. The UI on the MegaMini is minimalist, but functional, and easy to navigate. I'm someone who has come from early audiophile DAPs like the HSA V3 Anniversary Edition, and experienced a lot of FiiO's transitions from early betas to more advanced UIs, so I tend to be a little more tolerant of minimalist designs than most.
When first switching on the SuperMini, you are greeted by a HifiMan splash screen, and then simple hierarchical and quite simple menu system. There is a top status bar, and no matter where you are, this will always display the current volume level and also the battery status. The menu has the following options:
now playing

file explorer

artist (ex tags)

albums (ex tags)

genre (ex tags)

favourite (I'll run through this shortly)

all songs

settings
The now playing screen takes you to the main screen when a track is playing. The first change you'll note (from the SuperMini) is that there is small album art included this time. The top status bar now shows track number and total tracks, and the play settings (repeat on or off, and also the play-through method / shuffle etc)
Below this is the main screen with file name, artist, and album name. Below this is the album art. There is a scrubbing or track position indicator, and a time played for the current track. Slightly above this is the file format and bit-rate for the track. Whilst in this screen you can press and hold the play/pause button for 3s, and when released it allows you to quickly access the play mode (turn shuffle or repeat on) – a nice touch. So minimal but functional.
The file explorer is simply that – a means of accessing files, and has become my preferred method of playing full albums. My recommendation here (if you have a larger library) is to arrange in hierarchical folders – I use:
/A-C/artist names/ albums/ tracks
/D-F/artist names/ albums/ tracks
/G-I/artist names/ albums/ tracks
etc
This is a pretty simple way of getting to a preferred artist and album in as few clicks as possible.
Using the tagged library (artists/albums/genre) is very simple, but everything is in a longer list. Fortunately pressing and holding the up or down button allows rapid scrolling (although it is not as snappy as the SuperMini) – so this does help navigation. But it is laborious for a larger library. There is a slight delay from selection of song to it playing. One thing to note is that you can't add a track or album to favourites from the explorer or now playing screen – it must be done from within the artist, album, genre, or all songs (tagged) lists. Personally I think it would have been handy to have this function available from now playing also. Pressing and holding the play/pause/select button from any of these lists allows an option to add to favourites.
The favourites menu allows access to the files you've tagged as favourites. Unfortunately they go in the order you've tagged them and there doesn't seem to be any way to manipulate the files other than removing them (done by pushing the select button when in the favourites men). There is also no option for multiple lists. You have the one favourites list, and that is it. If you're methodical and don't mind spending time setting it up – it can be pretty handy. But for those who use play-lists a lot – the implementation here is likely to drive you mad.
The all songs menu allows you to access every song (through the tagged library) and displays them via file name (alpha numeric). This is the easy way to shuffle your whole library. Put it on random/shuffle hit play and press next. The only issue with this of course is that there is no replay gain, so you'll need to be adjusting volume often.
The settings menu allows you to access:
System version

Repeat and shuffle settings

The back-light (how long it is on)

Auto power off (and this is what it says – its basically an off-timer)

Screen lock switch (on or off)

Language

Update database

Full reset

Format the micro AD
Updating the database (with approx 6500 aac256 tracks) takes about 4 minutes, so its not super quick – but once the database is up to date, overall the UI is not too bad to navigate.
FORMAT SUPPORT
HifiMan list the supported formats as (see below image):
Lossy – MP3, WMA, OGG and AAC
Lossless – WAV, APE, FLAC, AIFF, ALAC and DSD64
I tested all of the listed formats except for WMA and had no issues with playback apart from OGG files and 24/96 WAV (wasn't recognised). Basically I started with Bob Dylan's album Infidels – I have a copy in 24/96. I didn't buy it for the hi-res, but rather for the mastering. I then proceeded to use dbpoweramp to transcode each track in succession to:
MP3 V0, Ogg -q1, WAV 24/96, APE 24/96, FLAC 24/96, AIFF 24/96, FLAC 24/192 + I added a DSF file from Quires and Cloud to test the DSD.
Everything played without a hitch (and sounded good too) apart from the Ogg and the WAV file. Thinking I'd made a mistake with the encoding, I recoded and tried again (no dice). So I tried the micro SD card with my FiiO X3ii – immediate success with Ogg and also WAV. So I'd list the Ogg support as "questionable" - it wasn't working for me. Everything else was as advertised, and the AIFF support was actually better at 24bit rather than 16bit. Not sure what was happening with WAV playback – especially when AIFF worked with no hitch.
POWER OUTPUT
HifiMan publishes the output power at up to 54 mW (1.4V @ 36 ohms) – so it's clear that this power output should be targeted more toward IEMs than full sized headphones. It does have the 32 volume steps though so it was a good chance to test real-world how that power translated into actual performance with a wide variety of headphones and earphones.
Full headphones
For this part of the exercise I used my full sized headphones, SPL meter position inside the cushions adjacent to my ear, and the track "Joker man". The SPL meter was set to measure A-weighted, and my aim was to try and match as closely as possible my desired peak listening level at around 75dB. Results listed below. Each time the SPL meter was reset, and peak SPL recorded:
HD630VB => volume 17/32 = 75.2 dB
HD600 =>volume 25/32 = 75.7 dB
HD800S =>volume 25/32 = 75.4 dB
All 3 headphones sounded pretty good with the MegaMini and I have to admit I was scratching my head a bit as the stated power output didn't seem consistent with what I was hearing (had HifiMan understated the power output?). Anyway I carried on listening to the HD800S for a while afterwards and have to admit that the combo was pretty darn good (but then again the recording is truly excellent).
IEMs and Ear-buds
For the next series of tests I simply repeated the same IEM's I originally used with the SuperMini. For this test I used the included RE600 variant, the Campfire Andromeda (super sensitive), the MEE P1 (harder to drive), and the VE Zen2 320 ohm ear-buds.
Again I used my trusty SPL meter, "I and I" from the Infidels album, and recorded the following results (once again the dB figures are volume peaks from the same portion of music).
HFM RE600 => volume 13/32 = 75.2 dB
Campfire Andromeda => volume 6/32 = 77.9 dB
MEE P1 Pinnacle => volume 18/32 = 75.1 dB
(With the MEE P1 and the MegaMini at full blast – 32/32 volume with that track will produce peaks of an ear shattering 99.6 dB – so the available power is quite a bit more than I was expecting)
With the Zen2, like the full sized headphones, I simply wanted to get to a comfortable listening level, then measure the comparative output. At a volume of 20-21/32 it was pretty close to my normal listening level (peaks of around 75-78dB, but averaging around 70 dB). And in particular with the Zen2, it was clearly obvious that the MegaMini was driving these 320 ohm earphones particularly well. A really good combo.
With all of the earphones tested, the MegaMini went beyond my expectations – and I wish there was more data available for its output (into different loads). You can see from the results above that there seems to be enough output to satisfactorily drive most earphones, and quite a few headphones. The headphones were calibrated to my own volume listening preferences which I know may well be lower than a lot of members here listen at. So take that into account if you prefer to listen at a relatively loud level.
I got my daughter (Emma) to test the Andromeda with the MegaMini. I know its really sensitive, and suspected there would be some hissing. I of course would miss this because quite simply my tinnitus masks it. But Emma has excellent hearing (she listens at levels which I can get no enjoyment at – too quiet), and she said that the Campfire Andromeda hiss was noticeable from a very low (1/32) – and still audible at her normal listening volume 3-4/32. So for people with sensitive hearing who own the Andromeda – not the best pairing.
Will you need a separate amp for the MegaMini? Pretty much "no" in my opinion – and it doesn't have a dedicated line-out anyway.
OTHER ERRATA
Updating database – 6500 aac256 tracks – approx 4 minutes

Battery life – I tested this with the RE600 IEMs (from the HifiMan SuperMini package), Pearl Jam's album Rearview Mirror in aac256 on continuous loop, and for the majority of the time the screen off (turned on periodically for a few seconds simply to check progress). The battery lasted 9 hours and 16 minutes until full shut-down which is far less than the claimed 15 hours. So like the SuperMini, I can only guess that their stated battery life in in "idle" - with nothing playing in. As it is 9 hours is not bad for such a tiny DAP, but I found some of their campaign messages (what can you do in 15 hours – fly from Shanghai to NY) a little misleading – as it implies you can have 15 hours play time which is clearly not the case.

There is no shut-down after inactivity. The screen will switch off but the MegaMini remains on. This is something to consider if you are the forgetful type, as in idle, you will use battery life.

Disconnecting the headphones from the socket does not stop the MegaMini playing. I've forgotten this a few times (the FiiO devices I have automatically stop playing, and will go to sleep if left for a while) – and the resultant flat battery if left for a while has been a little annoying.
SONICS
So lets talk about how the MegaMini sounds.
Some of you may find this section a little limited, so I'll give you some insight into the way I've changed my opinion on how to describe the sound with any competently made DAC, DAP or amplifier. The problem with trying to break the sonics down to bass, mids and treble is that DAP / DAC / amp is designed (or should be designed) to be essentially flat across the frequency spectrum. If it has enhanced bass, then isn't it adding colouration that should come from the headphones or EQ or recording? Likewise, I won't comment on sound-stage, as this is primarily a by-product of the actual recording, or the transducers you're using.
So how do I go about describing it? Well I can't measure it this time (I'd need to be able to isolate the signal from the MegaMini, and it can't be used as a stand alone DAC, nor as a pass through amplifier). I'm pretty confident the MegaMini will be very linear in its measurements, so you'll be left listening to the recording pure and simple (and isn't that what we all want?). To my ears it doesn't sound if any frequency is being bumped or is recessed anyway.
So instead, I'll just say that I really enjoy the sound so far from the MegaMini, and give you my (very) subjective impressions of the MegaMini compared to my other DAPs. But if I was to give a one line sentence on the overall sound characteristic, I would say that the MegaMini is very similar to the SuperMini in overall tonality – so again quite linear with maybe the tiniest tilt toward warmth (or in audiophile terms – musicality). There is definitely a nice depth to the sonic signature with the right earphones.
With each of these comparisons, I used a 1 kHz test tone to exactly match volume, and used the VE Zen2 320 ohm ear-buds to directly compare to other DAPs in a similar price range. I used the Zen2 simply because I was really enjoying them during the power tests and wanted to continue the listening experience.
Warning – very subjective impressions ahead.
MegaMini vs SuperMini
The two have very similar build and dimensions with the MegaMini being slightly smaller at 100 x 42 x8.5mm. Button layout is slightly different with the Mega having 4 buttons on the face and 3 on the sides compared to the Super's 3 on the face and 4 on the side (the return button being the point of difference). The Super does have a longer real-world battery life (~15 hours vs ~9 hours), and is also slightly more powerful (although not as much as I expected) – and of course the Super has balanced which yields even higher power output.
I really think I'd struggle to tell these two apart in a completely blind test. Tonally they are extremely similar, and during the course of the A/B the only feeling I got was that there was slightly more depth or separation to the Super. But this could have simply been the very slight difference in volume (0.2dB), and also natural expectation bias in a sighted test. If I was to choose one purely based on what I'm hearing, I would lean toward the Super. From a recommendation POV, it would come down to what you need. If you value the balanced option, and need a little more power, plus if the included IEMs have value for you – then the choice is an easy one (the Super). If you are simply looking for a great small form factor DAP, don't need balanced, and already have your preferred IEMs, then from a value standpoint the Mega is probably the better option. Looking at value on a whole – the Super would appear to give more bang for your buck.
MegaMini vs FiiO X3ii
The X3ii is bigger and heavier being more around twice the weight and twice the mass/size. Battery life is actually in favour of the X3ii which will generally give me ~10 hours even with the Zen2. It would be difficult to talk about power output – as the X3ii has full specifications released for differing loads while the Mega only has output for a 36 ohm load listed. With the Zen2, 20/32 on the Mega is ~ 75/120 on the X3ii, so on a pure volume to available volume ratio they are practically identical. I'd suggest their total power output may be very similar under load – however with the X3ii you do have added gain options which cannot be under estimated. Where the X3ii kills the MegaMini is on its feature set, and also price. At about 2/3 of the cost, you also get true gapless playback, replay gain, searchable database, external play-lists, user configurable equaliser and use as a DAC.
Sonically I'm finding very little difference between the X3ii and MegaMini during fast switching. They both have very similar overall tonality – and this is one test where I'd suggest I again would have issues telling the two apart if it was a blind test. One thing that is true though is that there is less hiss with the Andromeda (using the X3ii). Both players are brilliant with the Zen2 – and I'd take either one for a long term listening test.
So the choices this time are really on size (MegaMini) vs the extra features and slightly longer extra battery life of the X3ii. When you factor in cost – the X3ii is simply the better option IMO.
MegaMini vs FiiO X5ii
The X5ii is much bigger and heavier being more than twice the weight and twice the size. Battery life is again in favour of the X5ii (~9 hours vs ~10 hours). Again it would be difficult to talk about power output – as the X5ii has full specifications released for differing loads while the Mega only has output for a 36 ohm load listed. With the Zen2, 20/32 on the Mega is ~ 70/120 on the X5ii, so on a pure volume to available volume ratio they are close to identical (but in favour of X5ii). Where the X5ii is different is the additional output of its extra gain stage which does deliver higher voltage and current. What the X5ii loses on portability (size), it more than makes for on features – including gapless playback, replay gain, searchable database, external play-lists, user configurable equaliser and use as a DAC.
Sonically, although both are close, I'm finding the X5ii is perhaps slightly cleaner in its output, and there is a little more definition or separation. The differences are tiny and could be more imagined than real. Again they both have very familiar overall tonality. Again both players are sublime with the VE Zen2.
So like with the X3ii, the choices this time are on the smaller size of the MegaMini vs the additional power, slightly more refinement, and abundance of features of the X5ii (as well as double the potential storage space). For a mere $50 more – again to me the X5ii simply presents a better value proposition.
CONCLUSION / SUMMARY HIFIMAN MEGAMINI
It's been an interesting 10 days since the Mega and Super Mini players arrived. And I've been suitably impressed with the SuperMini – from both a performance and value performance. With the cheaper MegaMini – while I think it is overall a really nice sounding player – IMO it will struggle as a value proposition at its price of $249.
What you will get is a great footprint (ultra-portable), really good SQ, good power output for its size, and an easy to use simple UI experience.
Like the SuperMini, what it lacks is features – and for many these will be deal breakers. No gap-less. No EQ. No DAC mode. No replay-gain. No searchable database. Limited play-list support. And the unfortunate thing is that this time it doesn't have the bundled IEMs, or the balanced output, to help level the overall value. For $249 there are simply better options out there which sound just as good, but give you much better value overall.
So would I recommend the MegaMini? – well this time, not really. Despite it being a great sounding DAP, I simply think its over-priced. If the Mega was listed at $150, and maybe $200 at the high end, it would at least stand a bit of a chance. I still regard it as a very good DAP, and it sounds really good too. If you value ultra-portability over everything else, its definitely worth a look.
The review sets will both be returned to HifiMan and I am going to miss them both. My thanks to Dr Bian, Peter Hoagland and Ryne from HifiMan for their assistance and for giving me the opportunity.
AND WHAT ABOUT MY CHECKLIST
Back at the start I listed what I looked for in a new DAP. So how did the MegaMini go?
Clean, neutral signature – but with body (not thin)
Definitely has very good SQ – tick.
 
Good build quality
Extremely good build quality - definite tick.
 
Reasonable battery life
If I'm looking at usable battery life, and considering the overall feature set – then unfortunately this one is not quite ticked for me. Close though.
 
Easy to use interface
Definitely a tick – it may be short on features, but the design of the UI is really good.
 
Able to drive both low impedance and (within reason) higher impedance cans without additional amping.
Definite tick with the headphones I have.
 
Value for money
Sadly no – there are better options out there, and I personally don't see $249 value subjectively
 
Enough storage to hold either my favourite albums in red-book, or my whole library in a reasonably high resolution lossy format (for me – aac256)
Another tick I tested most formats, but most of my listening is usually AAC256, and I had my entire library at my disposal with a 64 Gb card.
Pros
:
Small, light, no frill DAP, good for vocal jazz
Cons
:
Prickly edges, battery life, album art, micro dynamics
So I am another lucky person who got selected by AV One here in Singapore to do a review of this wonderful player.  I have been using it for about 3 weeks now.  
Quick background of my dabble in personal hifi – I own a few DAPs (Sony A845, FiiO X3, X5ii, QP1R), portable amps (XDuoo, Mojo), desktop amps (ADL Esprit, Liquid Carbon).  Not forgetting inventory of headphones – LCD2, T1, PM3, Beo H6, T51p, M50X, and some less known ones like a self-rewired-to-balance Yamaha RH5ma which is an excellent value for money pair of headphone which is very detailed and pleasure to listen to.  Latest acquisition is a pair of Denon AH-MM400.
The startup screen
It is impressively small and light
The 3.5mm socket, mSDHC slot and microUSB charging port
Well machined and feels premium in the hand
Screen light bleeding into the volume buttons on the left side with nice effect
Light bleed into the Power button on the right
Size comparison with Samsung S7 Edge
Album art seems to work only for mp3, not FLAC
It feels small in the hand especially these days we are so used to handling bigger handphones
The locked screen after pressing Power button once, to unlock press Power button another time
In a leather case I stitched together to cover up the prickly edges and to prevent damage to screen in case I accidentally drop it
Stacked on the Samsung S7 Edge
With Denon AH-MM400 and Beoplay H6
Comparable in size with Sony NWZ-A845, but its sound is not bloated like the Sony  
First impression
It is a solid looking player, much smaller than anticipated.  Comparable in size to my old Sony A845.  Smaller footprint but a few mm thicker.  As handphones get bigger (again) these days, the MegaMini just feel so diminutive.  In use, you hardly notice it is in your pocket, and you have to fish around your bag/pouch to find it.  
It is a very well made player, feels solid yet light.  The only part which does not sit well with me are the pointed edges which feel rather prickly, which could have been rounded off a bit.  On top of that, because the player is small, I just feel the risk of dropping it which may crack the glass screen is high.  So, me being me, I just had to make a case for it – it helps that I had some spare leather scraps… 3 hours later, and I have a case for the MegaMini!  No more prickly corners, and no more stress from drop-phobia.  
UI
As instructed, I updated the firmware soon after I got the unit.  The process was painless.  
The screen size reminds me of my Nokia phone from yesteryears. It is sufficient, nothing fancy, it gets the job done – displaying whatever vital info and with an equally no frill menu to allow for the usual basic set up.  There is no EQ – something I usually do not dabble with anyway.  So no issue for me.  
The Power button doubles up as a lock button.  To unlock, you will have to press the same button twice – once to activate the screen, and the second time to unlock.
Given the screen size album art is nothing to get excited about, you can make out which album you are listening to.  Something which I hope future firmware will fix – at the moment it does not display album art for FLAC files.  
To scroll through songs, you can either do individual clicks or you may hold the directional buttons so that it scrolls through at a pleasant speed – not too fast, nor too slow, it is at just the right speed.  While playing songs, you can press and hold the play button much like a right mouse click and a menu for shuffle and repeat will pop up.  
Overall the menu is no frill and straight forward.  It will only take you couple of minutes to go through all the menu options and you are ready to focus on listening and nothing else.
A nice touch is when fast forward or rewinding a song, the sound elegant fades out and in.  It is an elegant and premium touch.  
Battery gauge could be erratic e.g. while it may show about 70% of charge when no headphone is plugged in, this could drop drastically the moment a headphone is plugged in.  In use, I think it lasts less than 10 hours per charge.  I suspect your mileage may vary depending on the sleeper timer setting because it does not automatically turn off after finishing the album if you decide to turn off the timer.  
The Sound
The obvious thing to do when getting a new DAP is to get the mSDHC  from an existing player and plug it in.  A 128GB card from QP1R did not work, was prompted to reformat with any menu button presses.  A 64GB from FiiO X5ii however works perfectly.  Scanning the card took a good few minutes.  The progress bar stayed at 0% for quite a while, I had thought that it hanged.  Anyway, I just left it there to do what it had to and came back later rather than stare at it because the bar is not a progressive one, instead it jumped from blank to half way and probably straight to 100% after that.  
My obvious go-to pair of headphone for now is the MM400, so most of my review is done using this.  It has just been burned in over the last month or so.  At 32ohm impedance, it does not require a lot to drive it, even with just my handphone so it is a perfect candidate to test this DAP.  Most of the time I just need to go between volume 13 to 20, out of max 32.  There is no gain setting.  
The sound of this small DAP impresses me.  It is better than I expected and it definitely punches above its weight.  It is full sounding with good separation and clarity.  It is detailed and I can hear every accompanying instrument to the vocals as I should.  Soundstage wise, it does not sound compressed like with some portable amp I have experienced especially when paired with PM3; so it is comfortable and not overly intimate, therefore I would rate it as above average and better than I would expect.   
High and low are pronounced and extended, but high is not piercing and I do not find any sibilance.  Low on the other hand is not the thumping sort, just a subtle extended sort of bass.  Mid is forward, just like other reviewers may have commented.  MM400 by itself is supposed to be flat but I find mid is just a little bit more forward than the rest of frequency range, so when paired with MegaMini the mid sounds just a little too domineering for my liking.  On the other hand when the MegaMini is paired with something which is brighter say Beo H6, I would say it sounds about right, what I would call balanced across the frequency range.  
The dynamics is up to my expectation, the macro dynamics are there and you can hear the variations.  I hear the strums and twangs of guitars and the subtlety in voice variations.  They sound familiar and as they should, just like it should when listening to something higher end, albeit at a different energy level – this is the best way I could describe it.  Now over to micro dynamics, this is probably where it is too subtle.  Smaller and softer details can be heard, but I have to focus and track them in order to hear them.  They are not distinct and so can be easily missed if I do not focus on listening out for them.  
From the sound signature, I like this DAP for listening to vocal jazz and blues.  Perhaps not so much for classical where I would prefer wider soundstage and better dynamics especially with micro dynamic details so that I can feel immersed in the musical hall, and knowing the full suite of instruments at play.  
Conclusion
For the size and the price, I think this is a keeper.  It is most suited for on-the-go set up when I want to go light and easy.  It feels so carefree with minimum tweaking or menu to be bothered with.  It is so small that it can easily slip into my pants or shirt pocket and you won't even realize it is there until you check.  It offers substantial sound upgrade compared to my phone, and indeed it is almost comparable to my other setups which cost a few times more and equally weight a few times more too.  The sound of MegaMini in my mind is 70%-80% of what I would expect in term of the best I have heard from my other portable gears.  So unless I want to do some critical listening or insist on having those full sound potential while on the go, I would likely just grab the MegaMini for its ultimate portability in order lose myself in the music while on the go.  Just be sure you have it charged up before heading out just to be sure it can last you the whole day.
Pros
:
Great sound for its price, nice forward wide soundstage with good positioning, compact size
Cons
:
May sound a little too cold depending on pairing, Some UI querks. Sharp edges
Hifiman Mega Mini Review
Some disclaimer: This set is provided to me by HifiMan for review as part of the tour in Singapore. Thanks to AVOne for arranging this
Little box of happiness.
In the age of monster players that cost >500 USD, here comes this little box of happiness by HifiMan, The MegaMini Player.   
This little player is similar sized to a AK Jr, and like it, the only purpose is to output great music to whatever portable headphones or IEM you have. Lets go through part by part on the player.  
Physical
The player is small, about the size of the AK Jr but slightly shorter. It looks rather similar too, with that top section being the glass and matt aluminium. It even got the sharp edges that the AK Jr has. It however doesn't come with a touch screen, instead you get a few buttons to do things you need. The front buttons mainly control the navigation and menu while the side are the power and volume controls. The headphone jack, charging port and SD slot sits at the bottom of the player. Overall its pretty good looking and feels ok to hold except for the corners which could have been a little more rounded. At its price range, you probably will not need to baby it like the AK Jr though.  
Software
The software is a custom build from HifiMan. Relative minimalist, navigation is done through the buttons with the usual menu selections such as artist, song and file explorer. Booting up the software or waking it from sleep takes a longer time then what we are now used to in a modern smartphone. Once up, navigation is quick with clicks on the button. Its definitely faster to use then the AK Jr which had a lot of stutter. There are some oddities in the menu such as shuffle and looping is done at the settings rather then calling it up from the play screen. Theres also the issue of pressing back after selecting the song do not bring you to the last menu but the main screen.
In terms of audio support, it does play every thing except certain DSD such as those above DSD64. Else it handles things like flac, alac and mp3 all fine.  
If I had a complain, it will be "Why is the music still playing after I pull out the headphone?" This sometime lead to a dead player on my way back home as most of us would had probably been trained by modern devices, that pulling the plug will stop the music.    
Sound Review
This review was done with a B&O H6 and Shures KSE1500. For its price and size, its biggest competitor will probably be the smart phones. As such I will be putting it against the Iphone SE. The ZX2 will be brought in just to see where it stands against higher audiophile players.  
Tracks use are mainly from Adele 25 and Distance World: 2  
Against the Iphone SE using the H6
The MegaMini had a relatively different sound. Firstly the Iphone SE was straight up muddier in sound. Theres a bloom in the mid and bass that mixes which was obvious the moment you compare it to the MegaMini that had a much cleaner sound. The MegaMini do lean more towards the treble side  in comparison resulting in a cooler sound. This was easily noticed in the voices of Adele track like I Miss You where the moment the bass comes in, the SE would mix it into the mids a little while the MegaMini clearly separates them.  This also results in overall better detail on the MegaMini vs the SE as the little sounds in various tracks are fleshed out easier due to the cleaner and more treble leaning sound of the MegaMini
In terms of soundstage, the MegaMini sounds like a forward wide stage while the SE sounds all around but rather cramp. The MegaMini do have a vocal that felt further away in the center while instruments were placed left and right of the it while the SE had an all around intimate close up sound.  
The bigger soundstage on the MegaMini and better clarity resulted in more defined positioning that's noticeable especially in the instrumental tracks of Distant World compared to the SE. 
With this, I am sure that most people will prefer the MegaMini over the Iphone direct audio out unless you are one for the more warm and close up sound.
Now how does it stand against the ZX2 with the KSE1500?
Using the KSE1500 a few notable things can be said:  
Straight up the MegaMini felt a little  too cold and towards metallic sounding vs the ZX2. This was probably escalated due to the nature of the KSE1500 being relative neutral sounding and the slight treble bias of the MegaMini.  
The MegaMini does have a nicer treble  with a little more sparkle then the ZX2. If you like treble, the MegaMini probably is better.
That said, the MegaMini just could not compete in vocals or bass. The ZX2 has the touch of warmth and smoothness with no mushiness in the vocals, making it sound closer to a live performance. On the other hand, the MegaMini felt like a obvious recording, with vocals that's cold and at times a little metallic sounding. The bass of the MegaMini also felt less tight then the ZX2 with some mushiness in tracks with quick slams like those of distant worlds.  
The soundstage held similarity with the above against the Iphone SE. The MegaMini feeling more in-front of you type of sound while the ZX2 is all around. However unlike the SE, the ZX2 sounds bigger with clarity, with much more air in the voice and notes of the various tracks. That said positioning I may actually give a slight edge to the MegaMini as the ZX2 sometime may lose me in the sound in very complex track as it goes all around the head.  
One final point, in terms of driving capability using my H6, the MegaMini and ZX2 is about the same while the SE felt a little back in terms of the ability to fully bring out the headphones capability. So for a small package, it performs really well.  
Overall I think the MegaMini is a good product for its price. Other then the button nature and maybe a slightly below average interface response time, it may just be the best thing at its price point and with its size and price, a good replacement to a smartphone for listening to music.  
I will say I prefer the ZX2 but the MegaMini comes close and if you prefer that type of cooler nature of sound, it may just be the better player.
For me, I will pair the MegaMini with my KSE1500 at times  as it's the most compact package that sounds really good.  
If you are looking for a small compact player at a good price, this is definitely a little box of happiness that could improve your overall audio experience on the move.    
Pros
:
Form Factor, Battery Life, Vocals, Glare free sound
Cons
:
simple yet prehistoric UI, sharp edges
first of all I'd like to thank eng siang, my local distributor and of course hifiman for providing me the Megamini review unit. I've been very familiar with hifiman players having been using and very enjoying quite a few of their players in the past. started from the hm801, hm901 and lastly their latest flagship the hm901s (still using until now!) gotta admit first that I'm a sort of a  hifiman player fan myself, but I'm going to try my best to be as unbiased as possible doing this brief subjective review since I currently don't have the equipment to do an objective empirical measurement.  anyways,  I'll conduct the review in the most objective way possible. *I've been using the megamini everyday as a daily portable player this past 2 weeks*
the unit came in a simple, small white cardboard box with golden hifiman logo printed. inside, there's the player and usb cable for charging. pretty standard, I believe this is the same as the production unit. Build quality&form factor: the form factor is all you could ever ask for a portable player really, small, thin, light with well placed buttons out of the box, the build quality seems pretty solid.  made of metal, reasonably smooth machining for a player this price. but after a week of use, i noticed a little paint started chipping off from the 'next' button from normal use. this kinda shows that the paint used isn't really the durable type. User interface: for hifiman standard, i mean it when i said hifiman standard. their players is usually the laggiest, using ancient looking interface and typically not very user friendly. surprisingly, the megamini while the UI is still ancient looking. it is looking simpler n fresher than ever, gone are the days of lag n long scanning times (less than a minute scanning my fully loaded 128gb card). interface is quick, easy to use. it's very sufficient and not annoying enough to be used as a daily player.
For the sound impressions I've been using various equipments with the megamini like IEM: JVC fx850, campfire andromeda, ocharaku flat 4 kaede type 1. Earbuds: yuin pk1, sunrise dragon, blox tm7, crossroads hr1. also Full sized headphones: Grado old alessandro ms1, Audeze LCD-4 (100ohm), hd650, hd800S. Also, I'll be AB comparing the megamini with some players that i have in hand currently.  keep in mind that my listening level (db) is louder than average powerwise, the megamini is driving pretty much all iem comfortably with lots of headroom left, but it struggles to drive higher impedance earbuds like yuin pk1(150ohm) to the db level that I'd like em to be. it's way underpowered to drive the likes of hd800s let alone the hungrier lcd 4. I get roughly the same db at 21-22/32 at the megamini as my smartphone(galaxy s7edge) at 100%. First impression of the sound, it is quite lightfooted yet it has enough impact to make it feel planted, doesn't have a lot of that sub bass, strong in midrange n organic vocal delivery, it doesnt have a hint of that metallic glare, treble is a little smoothed,  some might say it's rolled off but it's not veiled dark like the older generation fiio x3 and even ibasso dx90. A very classic hifiman house sound, overall delivery kinda reminds me of the older 901 running on single ended with the balanced card, with less bass emphasis and extension, a more lightfooted presentation.
I'm gonna do an AB comparison with some player for easier judgement.
vs AK jr: AK jr is brighter with more bass. megamini has a lot more vocal presence n body(more forward mids) megamini has a better 3dimensional feel due to the fuller sound which gives a more natural sense of depth.
vs dx90: dx90 is slightly darker, superior in the imaging precision n overall frequency balance yet is far more terrible at rendering vocals due to the grainy rough delivery with some metallic quality to it
vs
fiio X3: fiio x3 is very bassy, muddy n dark compared with the megamini. fiio X3 has a 'drier' presentation on the vocals compared with the megamini.
I hope this brief review helps!
Formerly known as Res-Reviews
Pros
:
Light, long battery life, neutral tonality, decent UI, solid build, premium look and feel, great sound quality
Cons
:
Strange auto-shutdown behavior, static menus, deep microSD card slot actuation point
​
-Introduction-
[color=rgba(0, 0, 0, 0.8)]
Hifiman is no stranger to the DAP game. In fact, they are amongst some of the most venerable of veterans in the brutal war of high-end audio gear. Today I'm reviewing one of their two new DAPs, the Megamini. It's a small little device, but boy does it have some great stuff going for it.​
[/color]
[color=rgba(0, 0, 0, 0.8)]
Disclaimer: I was provided this product by a manufacturer or distributor as a loaner unit. I do not profit in any way from this review, and was offered no incentives. I retain full and complete control over the content of my review.​
[/color]
[color=rgba(0, 0, 0, 0.8)]
The Megamini, as of October 11, is not for sale. However, it will be soon. Find the Indiegogo page 
here
. When on sale, the MegaMini will be priced at $249.​
[/color]
[color=rgba(0, 0, 0, 0.8)]-Build-[/color]
[color=rgba(0, 0, 0, 0.8)]
Tech Specs​
[/color]
[color=rgba(0, 0, 0, 0.8)]

-Dimensions:1.69"x 3.93" x 0.31" (43.0x100.0x9.0mm)​

[/color]
[color=rgba(0, 0, 0, 0.8)]

-Weight:2.43oz (69g)​

[/color]
[color=rgba(0, 0, 0, 0.8)]

-Frequency Response:20Hz — 20kHz​

[/color]
[color=rgba(0, 0, 0, 0.8)]

-THD: 0.08%​

[/color]
[color=rgba(0, 0, 0, 0.8)]

-Max. Output:54mW (1.4V @36 Ohm)​

[/color]
[color=rgba(0, 0, 0, 0.8)]

-Battery Life:15 hours​

[/color]
[color=rgba(0, 0, 0, 0.8)]
Connectivity​
[/color]
[color=rgba(0, 0, 0, 0.8)]
The Megamini has microSD card support, and accepts up to 256Gb of expandable storage. It charges and connects to computers over microUSB and is capable of acting as a surrogate device for the SD card. This means that when you plug the Megamini into your PC, it will show up as your SD card, enabling you to interact with it as you would normally. The Megamini has no internal storage.​
[/color]
[color=rgba(0, 0, 0, 0.8)]
The microUSB appears to be implemented on some variation of a USB 2.0 hub and has a very respectable 11Mbps transfer rate off my PC's USB 3.1 port.​
[/color]
[color=rgba(0, 0, 0, 0.8)]
Playback​
[/color]
[color=rgba(0, 0, 0, 0.8)]
Hifiman's fancy new player supports at least the following formats​
[/color]
MP3, DSD, WAV, FLAC, APE, OGG, AIFF, ACC, ALAC, WMA​
 ​
[color=rgba(0, 0, 0, 0.8)]
I have tested playback over MP3, FLAC, ALAC and WAV. I did not notice any significant difference in playback quality other than a slightly longer delay between high-bitrate songs.​
[/color]
[color=rgba(0, 0, 0, 0.8)]
Construction​
[/color]
[color=rgba(0, 0, 0, 0.8)]
The Megamini is built from nicely-finished aluminum that doesn't get dirty too easily. The buttons are made from metal as well, and have a nice click to them. The full color screen is covered in a sheet of glass that looks like it could scratch easily, but I'm not in a position to test it.​
[/color]  
 ​
[color=rgba(0, 0, 0, 0.8)]The 3.5mm out, SD card slot, and micro-USB port are all located on the bottom on the Megamini. I find the SD card slot's actuation point to be too far back in the device, making it a hassle to get the SD card in and out of the device.[/color]​
 ​
[color=rgba(0, 0, 0, 0.8)]On the front of the device you will find four buttons. From left to right you get the back button, the left/up button, the right/down button, and the select/play/pause button. On the right you have the power button, and on the top left you'll see the volume up and down buttons.[/color]​
 ​
[color=rgba(0, 0, 0, 0.8)]The Megamini is light and small, making it an excellent device to use on the go. It's rather long operational time is a big plus as well, letting me stay off of the charger and in to my music for longer. I find that I can usually go about two and a half days of listening at moderate volume levels for a good amount of time per day before I need to recharge.[/color]​
 ​
[size=17.03px][color=rgba(0, 0, 0, 0.8)]
-User Interface-​

[/color][/size]

[color=rgba(0, 0, 0, 0.8)]

The UI of the Megamini is pretty good. When powering on the device you'll be greeted with a tasteful power-on animation. Soon after you will be put in the main menu which contains the Now Playing, File Explorer, Artist, Genre, Albums, Favorite, All Songs, and Settings sub-menus. This menu is currently static, and cannot be rearranged. That's a slight annoyance for me, as the All Songs option is all the way at the bottom of the menu, while it's the sub-menu I use the most often.​

[/color]

[color=rgba(0, 0, 0, 0.8)]

In the settings you'll find a good number of options. Here you can configure the repeat, shuffle, back-light, auto power-off, screen lock switch, language, database, and reset options. It's decently comprehensive, but a little out of the way, especially for commonly swapped settings like shuffle. Furthermore, the auto-power off has a different behavior than I would expect. On many audio players, the auto-power off option only starts counting time when the player is idle. On the Megamini and Supermini, the player will just turn itself off, regardless of whether or not the device is in use.​

[/color]

[color=rgba(0, 0, 0, 0.8)]
[/color]  
[color=rgba(0, 0, 0, 0.8)]
The Now Playing screen has a lot of information on it as well. It displays the current album art, the file type of the current song, the bitrate of the current song, the name of the file, the album name, and the name of the artist.​
[/color]
[color=rgba(0, 0, 0, 0.8)]
Feature request​
[/color]
[color=rgba(0, 0, 0, 0.8)]
Custom menu layout. As I mentioned earlier, it would be awesome if we could rearrange the order each sub-menu appears in.​
[/color]
[color=rgba(0, 0, 0, 0.8)]
Library search functionality. I understand the difficulty involved here, but if anyone can do it Hifiman can.​
[/color]
[color=rgba(0, 0, 0, 0.8)]
Remember volume settings after powered off. Minor, but in my opinion, a nice touch.​
[/color]
[color=rgba(0, 0, 0, 0.8)]
Hard volume cap. Sometimes users will have certain files that play out louder than others. Allowing a user to set a hard cap of volume out would certainly be a valuable addition to the Megamini.​
[/color]
[color=rgba(0, 0, 0, 0.8)]
[/color]
[color=rgba(0, 0, 0, 0.8)]-Sound Signature-[/color]
[color=rgba(0, 0, 0, 0.8)]
I am a huge fan of neutral output from my DACs and DAPs. I find that a good earphone should be able to sound good without any particular frequency response bias from the source. This has lead me to collect earphones that do just that: sound good on neutral sources. Luckily for me, Hifiman is trying very hard to get the sound signature of the Megamini to match that of their flagship reference DAP — a laudable goal indeed. I find that, for the most part, the Megamini does do a very good job driving my earphones and headphones with near-neutrality. Some warmth slips in here and there, but it's not noticeable to me on most of my setups.​
[/color]
[color=rgba(0, 0, 0, 0.8)]-Preferred Pairings-[/color]
[color=rgba(0, 0, 0, 0.8)]
Accutone Pisces BA (9/10 match)​
[/color]
[color=rgba(0, 0, 0, 0.8)]
Chord&Major 8'13 (9/10 match)​
[/color]
[color=rgba(0, 0, 0, 0.8)]
Chord&Major 01'16 (10/10 match)​
[/color]
[color=rgba(0, 0, 0, 0.8)]
Meze 99 Classics (10/10 match)​
[/color]
[color=rgba(0, 0, 0, 0.8)]
I have too many earphones to test against the Megamini. If you want me to test out a pair I have in my inventory that's not listed here, leave a comment.​
[/color]
[color=rgba(0, 0, 0, 0.8)]-Summary-[/color]
[color=rgba(0, 0, 0, 0.8)]
The Megamini is a very ambitious device from a very ambitious company. To be frank, I'm impressed. It's light, well machined, and has a decent UI. The very solid battery life and mostly neutral audio output of the Megamini make it hard for me to not recommend this device, even at its $250 price point. Good job Hifiman, you've got yourself a winner.​
[/color]