Desktop performance in a dongle
Pros
:
Desktop power
Ultra clean sound
Sounds awesome in single ended also
Great dac
Great build
Great price
Cons
:
Gets warm
Eats up power ( worth it )
S9 pro
desktop class performance.
powerful, clean, clear and transparent sound, neutral but full and just right. Lows mids and highs sound great.
balanced and unbalanced outputs
- 3.5mm & 2.5mm connection
- Portability
ESS9038Q2M DAC
100mW@32Ω 3.5mm SE / 200mW@32Ω 2.5mm Balanced.
Excellent build and feel
Quality material
Absolutely worth the cost ( around 110$ )
Comes with USB C to USB C cable
Yellow: DSD64/128
Purple: DSD256/512
Blue: PCM176.4/192(Khz)
Red: PCM 352.8/384(Khz)
White: PCM 705.6/768(Khz)
Green: PCM 44.1/48/88.2/96(Khz)
No hardware volume button
Eats power from battery and gets warm
HIDIZS S9 PRO Review
Last edited:
The Path to Fidelity
Pros
:
Great sound.
- Excellent fidelity.
- Plenty of power from both outputs.
- Very good measurements.
- Very useful clamp accessory.
Cons
:
The device gets warm with use, more so when the volume is high.
- Fade In when starting playback.
- USB cable could be improved.
Introduction
Hidizs is not giving fans a break. After the fire at the AKM plant in Japan on 20 October 2020, many of the audio devices that used AKM chips have had to move to another manufacturer, due to the difficulty of finding them. This is the case of the S9, which used an AK4493EQ as a DAC. The new S9 Pro uses Sabre's ESS9038Q2M, one of their flagship chips for mobile devices. The external design is largely the same, but the specifications have been improved. Channel separation is higher, harmonic distortion is lower and power is higher, especially in its balanced mode. All other properties are the same. Thus, this new dongle supports DSD521 and PCM32/768, it also has ASIO support and can run on Windows 10 without drivers. Let's have a look at the performance of this new product.
Disclaimer
Hidizs, offered me this model, in exchange for writing an honest review. I want to make it clear that all my opinions written in this review have not been conditioned by this fact, nor will I ever write anything that I do not really think or feel here. I will only write about my personal opinion in relation to the revised product.
Specifications
DAC: ES9038Q2M
DSD native DSD64/128/256/512
PCM support up to 768kHz/32Bit
Build quality: CNC aluminium alloy integration (black, silver)
Transmission interface: Type-C
Rated output power (SE): 100mW@32Ω
Frequency response (SE): 20-50kHz
Signal-to-Noise Ratio (SNR) (SE): 120dB (@32Ω)
Channel Separation (SE): 80dB (@32Ω)
Total harmonic distortion+noise (SE): 0.0012% (@32Ω)
Rated output power (BAL): L&R 200mW@32Ω
Frequency response (BAL): 20-50kHz
Signal-to-Noise Ratio (SNR) (BAL): 119dB (@32Ω)
Channel separation (BAL): 118dB (@32Ω)
Total harmonic distortion+noise (BAL): 0.0006% (@32Ω)
Recommended headphone impedance range: 8-300Ω
Dimensions: 18x59x8mm
Net weight: 11g
Compatible with 3.5mm and 2.5mm balanced headphones.
Compatible with headphones with microphone.
Works without battery. Plug and Play.
Compatible with: Windows, Mac OS, iPad OS, Android, iOS.
Note: For iOS users, Lightning OTG cable has to be purchased separately.
Packaging
The Hidizs S9 Pro comes in a sober, medium-sized black box, whose size is 128x83x50.5mm. It is sealed with transparent cellophane. On the top side there is a realistic photo of the device in the middle. The brand logo is in the bottom right corner and the product description in the top left corner. Here, there are also the Hi-Res and DSD logos. The ink of the lettering is silver, with holographic reflection. On the back side, the lettering is only silver and small, but it describes all specifications in both Chinese and English. A little further down, behind a dotted line, is the Hidizs address, a grey sticker with barcodes and the model. Finally, there is also the brand's web address. After lifting the lid, the S9 Pro is encased in a black mould and lined with dark cardboard. With the help of a cloth strap, the device, which is protected with cellophane, can be removed. Underneath the mould, there is also a black cardboard divider that protects the rest of the accessories. In summary, the contents are as follows:
Hidizs S9 Pro.
Transparent methacrylate case, with clip.
USB Type-C male to Type-C male cable.
USB Type-C to regular USB adapter.
Instruction manual.
Warranty certificate.
Serial number card.
E-Gift Card.
2 Hi-Res Audio logo stickers.
The presentation is fairly sober, with no fuss, and the size of the box and device are proportionate. The accessories aren't many, but among them is the clip-on case, which is a perfect fit, even if it's not the prettiest or sturdiest piece to go with the sleek S9 Pro. On the other side of the scale, there's the USB cable, which is the same as previous products and is still no better in terms of stiffness and memory effect. I would recommend a better cable, with higher quality, cross-section and manageability. Perhaps a braided cable would be a better option.
Construction and Design
The S9 Pro is a narrow and elongated piece, measuring 59x18x8mm, made of a high-density aluminium body. The larger sides are glazed. On the top one, there is the Hidizs logo and an LED, located at the bottom, near the USB connector. On the lower side is the Hi-Res logo and a description of the device, in small gold letters.
The shape of the device is like a rectangular box, narrow and elongated, with rounded corners. On the audio output side, however, there are two small, low parallelepipeds attached to the base. Thus, the face of the headphone jacks is larger. These are the 3.5mm SE and the balanced 2.5mm. The connectors are not gold-plated. On the opposite side is the USB Type-C connector.
The S9 Pro has been manufactured using CNC technology, which gives it a premium, elegant and sophisticated look, befitting its class.
Sabre's ESS9038Q2M, a flagship chip in the mobile series, is used as the DAC.
The design is quite simple, only the particular shape of the connector face differentiates it from a simple parallelepiped. The glazed surfaces and the operating LED enhance the appearance and functionality. But it is not a particularly striking or revolutionary design. It is very well made, small and light. You don't need much more for a dongle, unless the connectors were gold-plated.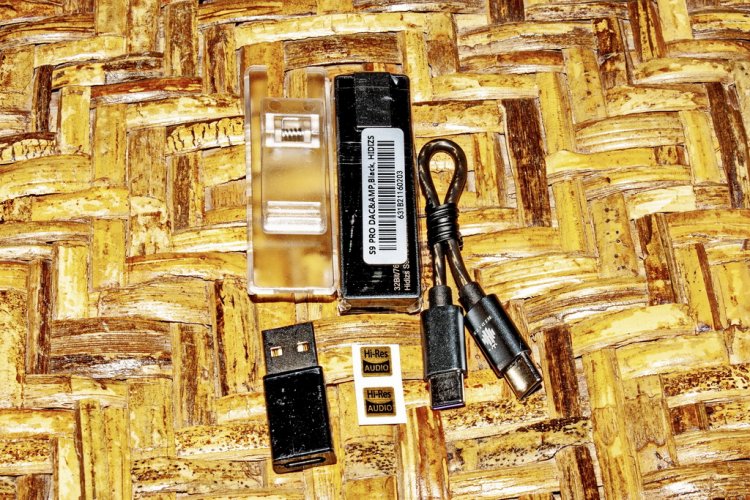 Connectivity
The S9 PRO is compatible with Windows, Android, Mac OS, iOS/iPad OS. It does not come with a Lightning OTG cable, which must be purchased separately. For Windows 10, it is compatible without the need to install additional drivers. However, the ASIO driver from the previous S9 model can also be installed. As usual, the use of ASIO drivers is always recommended. It is also compatible with DAPS that support this type of dongles.
Operativity
The operation is the usual for this type of device, connect, detect and run. In Windows, when it starts playing, it works with a very fast fade.
The existing LED indicates the sample rate, as follows:
Green: PCM 44.1/48/88.2/96(Khz)
Blue: PCM 176.4/192(Khz)
Red: PCM 352.8/384(Khz)
White: PCM 705.6/768(Khz)
Yellow: DSD64/128
Purple: DSD256/512
As a wireless tablet, it is necessary to connect a USB Type-C cable with a suitable connector for the source you wish to use at the other end.
During operation, it should be noted that the body, especially on the glazed sides, becomes a little warm, especially when the volume is increased. In a low voltage regime the temperature is not bothersome. But taken to the limit, as when I took the measurements, i.e. at full power, the heat reached by the device is high, even worrying. I assume that, even so, it is within the "normal" operating range, without suffering any damage.
Measures
The measurements of the S9 Pro are excellent. Even its power output is clearly higher than specified. Without load, the single-ended output exceeds 2V (2.1V), while the balanced output almost doubles this value (4.1V).
No load SE
As already mentioned, the unloaded output reaches 2.11V @ 1kHz, with very good cleanliness.
15Ω SE
With a 15Ω load, a clean voltage of 1.37V @ 1kHz is reached, which means a power of 130mW and a current of over 90mA, a very high figure indeed.
33Ω SE
But if there is one thing that makes this S9 Pro stand out, it is its performance at 33Ω, its voltage at 1kHz is the same as at no load, which means that the output impedance is close to zero. The cleanliness of the waveforms means that distortion is very low. The power measured at 1kHz, is 130mW, which is well above the specification (100mW at 32Ω). Excellent.
100Ω SE
Nothing to complain about at 100Ω, where the voltage values are the reference values with no load, resulting in a power of 44mW. It is not necessary to calculate the power with higher loads, since, due to the very low output impedance, with loads higher than 33Ω, the maximum output voltage will always be 2.1V. So with a simple count you will be able to know the other power ratings up to 300Ω.
No Load BAL
The unloaded balanced output reaches 4.11V at 1kHz, with excellent cleanliness.
15Ω BAL
As the current limit of the device is 90mA, due to the balanced output, the maximum it can deliver is around 1.35V, which provides 130mW.
33Ω BAL
Stretching the volume while observing a clean signal, with this load I have achieved a voltage of 2.75V at 1kHz. It's a little under 90mA, but well over the specified power, reaching 230mW. It's a blast.
100Ω BAL
At 100Ω, the output is already 4.1V at 1kHz, which is 170mW.

Frequency Response
As can be seen in the graph below, the frequency response is completely flat between 10Hz and 20kHz, only dropping slightly less than 1dB towards 40kHz. Crosstalk is also not visible at different volumes and the frequency responses overlap. As it should be.
Sound
Going back to Sabre's now classic and widely used ES9038Q2M DAC, Hidizs proposes a device whose sound has a neutral and open profile, not overly bright, not overly analytical. I have several devices with this DAC and generally, its profile is not cold. On this occasion it is not either, and it is perhaps the most natural sounding of all the Sabre DACs I own. Although, it is also true that this is not only characteristic of the Hidizs implementation. Be that as it may, and contrary to what I would have liked to find, based on the sound of the Hidizs DH80S, the analytical side of Sabre is not, on this occasion, as prominent as in that model. And this is nothing against the sound of this model, it's just a particular interest of my taste for this kind of sound. But back to the S9 Pro and its sound description, we are faced with a device with a clear flat response and a very low impedance, which means that it will never alter the sound of the connected earphones, respecting 100% the profile of each of them. So one of the words that could define the sound of the S9 Pro is fidelity. Starting, as usual, in the low end, the S9 Pro has a big and concise bass, with plenty of air, something that gives it plenty of room to reproduce, gaining in depth and width. The sound is powerful, but there is a certain softness to it, generated by that level of spatiality. In no case does the level of resolution feel limited by this aspect, leaving its capacity for analysis and definition intact. The separation of planes is clear and the speed of execution allows the bass to be concise and agile, in headphones whose response allows it. In this way, the S9 Pro will be able to extract very good results from headphones with powerful bass.
The open, clear, soft, but concise aspect rises in the central zone. Neutrality is based on that mix of level of resolution, analytical ability, openness and amount of air. The balance is a compendium of all these good characteristics and this is how the S9 Pro's mids are drawn. The result is a rich, again airy area, with a good sense of separation, but without offering a bright sound, where vocals come across as very natural and rich in timbre, with an eminently realistic tone. The instrumentation is according to the same description, offering a concise and rather pure sound, but in a rather sober way that does not incite to spectacularity. This is how one could say that the sound does not arouse passions, but those who believe in the purity of good workmanship will be delighted with this device, since, as I have already emphasised, fidelity without artifice is its best virtue.
Coming to the high end, this is perhaps the most analytical part of the S9 Pro and is where pairing it with the most resolving headphones will be very positive, in order to extract the most juice from a potentially very crisp, clear, separated, fast, defined treble with a good dose of sparkle. At this point, with the help of the balanced output, it is possible to enjoy the purity of the Sabre DAC's sound and its best performance without ever losing balance. Thanks to the S9 Pro's ability to pair with any earphone due to its very low output impedance, synergy with any earphone is assured. And with the good ones, it will be very easy to realise that the amount of air it can bring to the sound is quite large. This results in a very well ventilated soundstage, with clear separation and precise, natural positioning, without the three-dimensionality being perceived as unrealistic or forced. Also, thanks to the innate ability of Sabre's DACs and Hidizs' implementation, the level of detail and nuance extraction will be high, but without being overwhelming or disrespectful to the balance and smoothness of the sound that accompanies the rest of the bands.
Finally, the high power of this new model will be an added attraction to bring our headphone collection to a high level of sound, paired with any source, be it a smartphone, a PC, a laptop or a compatible DAP. With that extra voltage, its two 3.5mm and 2.5mm outputs, the S9 Pro will be pretty much all you need to enjoy music at a high level.
Comparisons
E1DA #9038D
The classic E1DA dongle, in its 3.5mm SE output version, has been designed to get the best measurements and maximum power. In my measurements it has given a value of 160mW at 33Ω, which exceeds the 130mW at 33Ω, measured in the S9 Pro, a real barbarity. On the downside, it has no balanced output and its decoding goes up to PCM 384kHz/32bits, DSD256. The S9 Pro goes up to 768kHz/32Bit and DSD512. Its size is slightly smaller and flatter. The price is also lower, but the packaging is very simple and there are no accessories. It only has a small operation LED. Both use the same DAC and their sound is quite similar. In my listening using the comparator it was very difficult to find any differences between the two devices. Their presentation, profile, tone and timbre are very similar. I noticed that the bass texture of the #9038D is rougher, somewhat richer, offering a bass with more depth, slightly more pronounced. The S9 Pro, on the other hand, is slightly smoother. In the mid-range I'm not really able to distinguish much distance either. What I have been able to appreciate, or thought I did, is that the greater power of the E1DA seems to give it a slightly higher level of transparency, clarity and space than the S9 Pro. But the positioning of the voices, their tone, instrumental recreation, timbre and many of the sonic aspects are still very similar. However, it was in the high end that I found the biggest differences between the two devices. If up to now, the E1DA seemed to have an advantage over the S9 Pro, in the high end, in definition and detail extraction, the Hidizs proves superior, offering a sound with more sparkle and less flatness than the #9038D. Thus, the S9 Pro seems to have a more dynamic feel, more evident nuances and a more vivid sound in this high range. These aspects may even appear in female vocals, benefiting from this brightness to be better positioned, more evident, present and palpable, in the Hidizs. Thus, while the E1DA offers a more powerful bass range, the S9 Pro offers a superior richness in the upper range. In terms of soundstage, as I have already mentioned, the #9038D is a little cleaner and wider, but the definition of the high end matches this aspect.
Having discussed the sound differences, it is worth noting that the Hidizs has a balanced output, with its higher power, in addition to the conventional 3.5mm SE. This is something that could tip the balance towards the S9 Pro, without a doubt, as it makes it a more versatile device and also more capable at decoding high-resolution files.
Qudelix-5K
This little device is one of my favourite dongles. I think there is little else that comes close in performance and sound for the price. It is clear that the Hidizs S9 Pro does not have many of the features of the 5K (Bluetooth, control APP, control buttons, in-body clamp, battery). However, it does have a higher level of decoding (768kHz/32Bit and DSD512), compared to the 24-bit/96kHz, no DSD playback in USB DAC mode of the 5K. On the other hand, in power they are very similar, with the S9 Pro at 33Ω being more powerful due to the SE output (130mW vs 110mW). However, the Qudelix is more powerful due to its balanced output, reaching 260mW at 33Ω, compared to 230mW at 33Ω for the Hidizs. The 5K has no ASIO drivers and its DAC is the Sabre Dual ES9218P. Both devices have an output impedance of less than 1Ω.
If with the previous device the differences were small, between these two, the sound is once again very similar. Not surprisingly, it is once again Sabre vs Sabre. And the fact that the Qudelix has a Dual DAC allows it to compete with Sabre's top of the range DAC. After several hours of comparisons, my feelings are subtle in this respect. A priori, I find the Qudelix a little more analytical, where the smallest details and nuances seem to be revealed more easily. However, I get the sense that the S9 Pro sounds more defined and higher resolution, offering a darker background, a little more separation and air. In the low end of the S9 Pro, there is a little more punch and speed, when playing the lower range. Lower notes seem to be reproduced more concisely and tightly on the Hidizs. On the other hand, the 5K's vocals are a little more present and closer, sounding a little more complete.
As for the scene, slightly cleaner and wider on the S9 Pro, with a bit more air and separation, plus that slightly darker background.
It is a difficult choice between two great dongles. But the preference for one or the other should be based on two aspects: if you want to play music with the highest fidelity and quality, I would choose the Hidizs S9 Pro, because of its ability to play PCM up to 768kHz/32Bit and DSD512 and because its sound is slightly superior. But if you want to use Bluetooth and exploit all the capabilities that the Qudelix offers with its APP, it is clear that the choice will be the 5K. And on this I can't fool anyone.
Conclusion
The fight for the best dongle is fierce. There are more and more models, they are cheaper and they sound better and better. And Hidizs is following the path described above. The S9 Pro is cheaper than the S9, even more powerful. In addition, they have opted for a superior DAC. As a result, its sound has great fidelity and is on a par with more expensive and larger devices. Even with the level of power and the dual audio output (SE and Balanced), the comparison with other similar or superior devices starts to be odious. For example, the S9 Pro is superior in power to the DAP HiBy R3 Pro and with our Smartphone, we don't need anything else. Is it getting to the point where Dongles are displacing DAPS? It is clear that in terms of sound, yes, and they are cheaper, as they are simpler devices, lacking many elements (screens, batteries, card reader, more complex firmwares...). And in the real scenario, where everyone has a mobile phone, potentially, they also have a very high quality sound system, just by adding an S9 Pro. And that's a big advantage.
Earphones and Sources Used During Analysis
HiBy R3 Pro
Xiaomi Redmi Note 8 Pro
Hidizs MS2
Reecho SG-03
NF AUDIO NM2
NF AUDIO NM2+
BGVP ArtMagic VG4
ISN H40
NS Audio NS5 MKII Extra Bass
Tin HiFi T4
TFZ Live X
Rose QT9 MK2
Ikko OH10
BQEYZ Summer
Takstar Pro 80
NiceHCK EBX21
Ratings
Construction and Design: 90
Packaging and Accessories: 80
Connectivity: 91
Operability: 75
Sound: 91
Quality/Price: 93
Purchase Link:
https://www.hidizs.net/products/hidizs-s9-pro-balanced-single-ended-mini-hifi-dac-amp
You can read the full review in Spanish here:
https://hiendportable.com/2021/05/27/hidizs-s9-pro-review/
Hidizs S9Pro – more power, more drive
Pros
:
high power output, balanced output, durable, sounds good
About a week ago Hidizs has announced the launch of a successor to its highly popular balanced S9 USB DAC/amp that is already on pre-order state. We have
reviewed the original S9
some time ago and defined it as highly recommended for those who want to upgrade smartphone/tablet/laptop sound and squeeze out much more juice from music quality.
New version gets PRO suffix due to some significant changes in HW that increases output power and improves other characteristics of this small but mighty device. While the exterior left untouched, main differences are hidden under the hood and here is the table that compares all generations of "S" series units:
This table discloses the main improvements and changes in new S9Pro. For us, the most important is the output power that has increased from 90 to 100mW @ 3.5mm SE output and from 120 to 200 mW @ 2.5mm BL output. Hell lot of additional power on balanced port. Not sure how Hidizs has managed to do that while maintaining similarly small package. Perhaps, shifting from AKK5593EQ to ESS9038Q2M made it possible and also improved other sound spec-related values. For now, it seems that S9Pro is one of the most powerful USB stick-type of DAC that doesn't rely on its own battery. Just think – it is more powerful than AP80Pro (190mW on 2.5mm BL) with larger dimensions and LiON battery inside which is completely enough to drive 150Ohms overheads…
Anyway, now about S9Pro full specs:
What we have noticed just now is that specs declare that S9Pro is compatible with mic equipped earphones. Good to know that when such device is connected to a smartphone you would still have a possibility to accept calls and have a conversation without switching to internal phone mic or loudspeaker. Although, we would still check how can it be possible when S9Pro is occupied by something like HiBy Music app in exclusive USB audio mode. Usually, such mode won't let other sounds from the system mixer to pass through… Not enabling this mode would solve such problem but the sound might be affected by the system processing. We would give our feedback on this further in this text.
Packaging and design:
Nothing much has changed in terms of packaging. It is still logistic-friendly small matt black box but instead of silver outlines new box has glossy product picture on the facing side. Box is stiff and comes undamaged after a long trip from China to other parts of the world. Internal box structure consists of two compartments where the device is located on top in a special soft insert and all accessories are stored underneath. Contents are:
S9Pro DAC/amp
transparent plastic holder / clip
USB type C -> USB type C cable (65см)
USB type C -> USB type C cable (15см)
USB type C -> USB A adapter
leaflets, cards…
Design of this unit has not changed either, therefore we would comment ourselves next:
S9Pro is a small unit (close to AA battery size) but still shows quite complicated design. It's shell is made of aluminum (CNC) whereas both front and back sides are covered with glass panels. Such approach is inherited from other Hidizs products and resembles the design principles of this brand.
Personally, we like such approach which adds the value to the device in terms of overall feel. In fact, S9Pro feels very solid and durable while looking pretty for its combination of aluminum and glass. There are no buttons and no screen, side edges are left free of any elements. USB type-C port is located at the bottom edge and both SE & Balanced ports are situated one over the other on the thickest part of the shell — its top edge.
The only indication that S9Pro has on board is represented by semi transparent Hidizs logo under the front glass panel. Not only it gets lit upon incoming power supply, but also its colors are synchronized with the sampling rates of played tracks.
Plastic clip / holder that comes as a part of the bundle is really great accessory. It securely holds S9Pro at place, protects it from physical impacts and allows to attach it to clothes. It doesn't limit the connectivity or usability of this device. Both short and long cables are similar — soft and flexible transparent braid, aluminum type-C connectors and banding protection at both sides. USB type-C -> USB A adapter is applicable whenever someone wants to connect to laptop or PC.
Device in use:
Since S9Pro has type-C to USB A adapter along with type-C cables – we can try it with laptop/PC as well, not only with Android smartphone. In case of a smartphone everything is straight forward: use type-C to type-C cable to connect devices, HiBy Music App to send audio data over USB. S9Pro gets recognized as USB DAC and there are no problems whatsoever. S9 LED color would resemble track quality:
Yellow: DSD64/128
Purple: DSD256/512
Blue: PCM176.4/192KHz
Red: PCM 352.8/384KHz
White: PCM 705.6/768KHz
Green: PCM 44.1/48/88.2/96KHz
The only small inconvenience here is the absence of control buttons on S9Pro. Volume is being regulated on a smartphone for USB device and might be at its maximum upon initial connection. It might be harmful for sensitive, low impedance IEMs. So, just keep in mind to set the appropriate volume level after connecting S9Pro to smartphone before hitting playback.
In case of Windows 10 laptop/PC – S9Pro gets natively supported as USB DAC but there would be a dedicated ASIO driver that was announced by Hidizs and should become available for download a bit later. Initial S9 already has this driver and S9Pro is on the waiting list. ASIO drivers would give the most sound quality while native Windows 10 driver would have the lowest audio lag possible.
S9Pro shell gets warm during operation but not much, around 32C with SE output and 37C with BL output.
Sound:
Tested with Xiaomi Redmi Note 8Pro, Lenovo Y500, Hidizs MS2 SE and Hidizs MS2 BE, Audio-Technica ATH-M50.
Repeating the success of its predecessor, S9Pro can easily be compared to best representatives of entry level DAPs — significantly better than vast majority of smartphones with their weak sound output and similarly better than even most of the laptops. Smartphones can't perform with such clarity, can't retreive this much resolution and its dynamics lacks power.
S9Pro is much better in resolving lower range, retrieving good amount of textures and its mid bass performance is way ahead. Extension of the lower end gets increased, lows gain in clarity and give a feeling of volume. It is much better separated from mids. Although, lower end is is not accented in S9Pro and this unit definitely not tending to dark signature.
Resolution on mids is somewhere close to AP80Pro DAP, maybe slightly less obvious… Slight tendency to bright delivery is present, making a bit more accent on female over male vocals. Still male voices sound pretty thick and natural. Great amount of details retrieved from upper mid range. S9Pro on mids is definitely sounding more transparent and rich than muddy and mixed result of the same track coming from a smartphone.
Treble is also handled much better, it is more clear, crisp and airy. Extension is greatly increased, making the entire sound picture brighter and detailed on the upper end. Small amount of sibilance is present with some sensitive IEMs but absent with overheads. In general, this range is accurate and in a good balance with mids and bass.
Similarly to S9, Pro version can greatly improve every aspect of the sound on a smartphone or laptop that don't feature dedicated, good quality DAC. Both devices sounds more natural and at the same time deliver more details with better extensions and stronger dynamics. This goes to both output types, while 2.5mm BL is twice as powerful – making stage slightly wider and instrument separation slightly better.
Finally, yes – we have check whether HiBy Music app would allow other sounds to pass to USB device in USB exclusive mode: no, it won't let it pass. Therefore, in order to use mic and talk over S9Pro – USB exclusive mode is not used and audio quality might get worse due to Android OS mixer being used.
Compared to Hidizs S9:
S9 and S9Pro have common exteriors, similar philosophy, compatibility and features. Although, sounding slightly different. Since S9Pro has significantly more powerful 2.5mm BL output – it has better drive and dynamics that results in more punchy mid bass. Slightly more bright and colder picturing makes upper end more detailed and crisp. Instrument separation seems to be slightly better and stage a bit wider. At the same time, S9 is still a good unit since it is thicker on mids and tends more towards lows.
Compared to Hilidac Beam 2:
The main advantage of Beam 2 is MQA support (if you are still not disappointed with it). It has slightly more power on BL output but doesn't support this much of PCM or DSD as S9Pro does. Sounds pretty much similar, with slightly wider stage but more prone to sibilance and even brighter. The main disadvantages: more expensive and both outputs are located on the side which makes it less convenient to store in a pocket.
Conclusion:
With the release of the initial S9, Hidizs has proven than even a small power-dependent USB DAC can be powerful enough and sound as good as most of the entry-level DAPs. Now the successor, S9Pro – sets the new standards on the market for such tiny audio companions in terms of maximum output power and driving ability as a consequence. This also results in unexpectedly reach sound, large amount of textures and details, good extensions at both ends, sufficient dynamics and enlarged stage. All of that produced by a small unit, enclosed to durable aluminum chassis that does not require charging and doesn't weight anything… Perfect and small, with large sound!
Permanent promocode at
Hidizs store
for 10% discount: ZMCR10
Hidizs S9Pro on pre-order:
LINK
Last edited: