Real Sound
Pros
:
Sound and tuning similar to a wired IEMS.
- Mouthpieces and capsules also very similar to wired IEMS.
- Excellent clarity, transparency, sharpness and definition.
- Sensitivity.
- Ergonomics and ease of use for a large number of tips.
- Compact charging case.
Cons
:
Does not support the most advanced Bluetooth codecs, only AAC.
- Surfaces too smooth and slippery.
- Perhaps it doesn't have the best Bluetooth features: average microphone sensitivity, touch surface not very uniform to pulsations, lack of active noise reduction systems, etc.
- There is no case to protect the case from scratches.
- I think that the GF8S prioritises sound quality over all other features, which is an advantage in my opinion. But comparatively speaking, compared to other TWS products, it is more limited in these features.
Introduction
According to their website, Geekfly is a US-based Hi-End audio brand focused on the development and manufacture of high-end wireless audio products. They place special emphasis on innovation, research and development. They currently hold more than 20 patents. Despite all this, their products are, of course, made in China. Their first model was the GF8, whose resemblance to the current model under review, the GF8S, is quite strong. Both models are Triple Hybrid Driver and have a BA + 2 Piezoelectric Ceramic + Dynamic Driver. Their shape is similar, even their characteristics. Although the new GF8S has been designed to maximise sound quality, integrating a Class A amplifier chip and a special filtering circuit for its battery, which reduces noise and interference. Below, I will try to expand on all these features, as well as the rest of its qualities.
Disclaimer
Penon Audio Store, offered me this model, in exchange for writing an honest review. I want to make it clear that all my opinions written in this review have not been conditioned by this fact, nor will I ever write anything that I do not really think or feel here. I will only write about my personal opinion in relation to the revised product.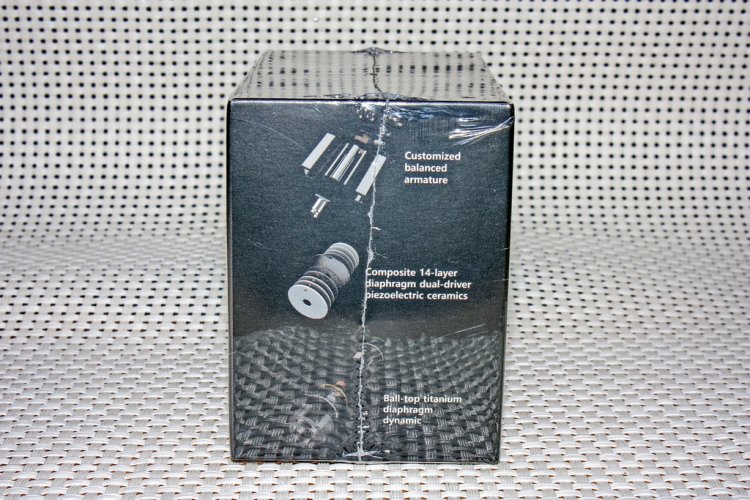 Specifications
Driver Type: 1 Balanced Armature + 2 Piezoelectric Ceramic + 1 Dynamic Driver
Frequency Response: 20Hz-50kHz
Sensitivity: 106dB
Impedance: 10Ω
Charging interface: USB Type-C
Charging voltage: DC5V/800mA
Headphone battery capacity: 3.7V/70mAh
Battery life: about 5 hours.
Charging compartment battery capacity: 3.7V/800mAh
Supported Protocols: HSP1.2/HFP1.7/A2DP1.3/AVRCP1.6/SPP1.2/PBAP1.0
Bluetooth protocol: AAC
Packaging
The Geekfly GF8S case is very compact, a small, almost completely black case, measuring 102x81x61mm. It comes sealed in transparent protective cellophane. On its front side is a realistic picture of the open charging box, with one IEM inside and one outside. On the bottom right, there are pictograms indicating the main characteristics of the product. At the top left, in turquoise blue capital letters, is the name of the model. Below, in white letters of different sizes, the product specifications are discussed. On the back is another realistic photo, showing the internal exploded view of the IEM TWS. Underneath it, in a grey box, all the specifications are set out. Finally, at the bottom, the various certifications met and the brand's web address are shown. On the right side there are three photos of each of the drivers used. On the opposite side there are 8 pictograms with more product features. After sliding off the cardboard cover, a matt black cardboard box can be seen. Once the cover is lifted, the IEMS and its cargo box appear, protected by a thick foam mould. Underneath is a small cardboard box, with a hole in the centre, which houses the rest of the accessories, which are as follows:
The two IEMS TWS.
The charging box
One USB male to Type C charging cable.
3 pairs of black silicone tips, sizes SxMxL.
2 pairs of transparent silicone tips, sizes S (wide yellow core) and L (wide blue core).
1 pair of black silicone tips, size L, inserted into the TWS IEMS.
Instruction manual fully written in English.
As I have already mentioned, the box is ultra-compact and only contains just what is necessary and essential. Nothing more. It misses some bag to keep and protect the charging box from bumps or scratches and some other foam tip. Very fair.
Construction and Design
The charge box Its dimensions are 60x33x35 (width, height, depth). It is completely black and the upper part of the lid has the brand name in grey letters. On the base are specified the characteristics of both the TWS battery and the box, as well as the recommended voltage and amperage for charging. On the main side there is a small slot for easy opening. On the opposite side is the USB Type-C female connection for charging. And underneath it, 4 white LEDS indicate charging. The lid has a slight magnetic closure and inside there are no other LEDs or features of note, apart from the logical geography adapted to house the TWS and power them for charging.
The IEMS are completely dark and smooth, too smooth even. Their outer face is metallic, a very shiny and polished dark grey, a surface that is a magnet for fingerprints, as well as being very slippery. It has a classic African continent shape and an LED on top. The inner side appears to be made of highly polished, hard plastic. There are two gold-coloured charging dots next to the R and L badges, which are inside a circle. The surface of this face has an internal white micro-graining. The nozzles are metallic, metallic grey in colour and are embedded in the body of the capsules. The base is thin and has a diameter of 7mm. The central cylinder has a diameter of slightly less than 5mm and the crown of the mouthpiece measures 5.75mm, with a thickness of 1.35mm. Its interior is protected by a metal grid with relatively large holes. The total length of the piece is almost 6mm.
The design is beautiful, very polished and stylish. It is not too big for a TWS, at least not much bigger than other IEMS multidrivers. In this respect the semi-custom shape is great for a model of this type and serves as a positive differentiator against many of its rivals.
On the other hand, the very smooth and shiny surface is very prone to retain fingerprints, grease and can become very slippery. Depending on the tips used, in my case I use larger ones that fit very tightly into the charging box, I need slightly more force than normal to remove the TWS. I have to be very careful with this operation, because I have dropped them a few times on the floor, due to their slippery surface. Fortunately, they are tough and I try to be as careful as possible every time I do this simple operation.
The charging box does not seem particularly sturdy or consistent, nothing out of the ordinary. The strength of the closing magnet is not very strong and the hinge does not seem the most precise or robust mechanism for its price level. There is no denying that the design is nice and attractive, although the capsules seem to be of a clearly superior quality to the case.
Internally, the Geekfly GF8S has a triple hybrid design, with 4 drivers: 1 BA + 2 piezoelectric ceramic + 1 dynamic. The BA driver is responsible for the mid and high frequencies. The dynamic driver has a titanium diaphragm and is responsible for the low frequencies. The dual piezoelectric ceramic driver has a 10-layer diaphragm with a high capacitance design and is responsible for extending the frequency up to 50kHz.
The battery power is filtered to enhance the listening experience by means of a dual-filtering circuit. Thanks to an imported power amplifier, operating in class A, audio distortion is very low, improving the resulting signal.
A 3-way crossover is also mounted, so that transitions between drivers are smooth and interference-free.
A metal acoustic chamber has been implemented in the internal construction of the capsule for a purer and cleaner sound.
The internal battery of the GF8S is a 70mAh battery capable of providing 5 hours of operation. While the charging box has another 800mAh battery, which allows the TWS to be recharged four times as much.
The microphone used in this model uses sound reduction technology.
Adjustment and Ergonomics
Since its shape is very similar to an IEMS, its ergonomics are quite good. The fact that their mouthpieces are relatively long and wide gives them an insertion that can vary from shallow to medium. Also, because the tips have a classic shape, a multitude of replacement tips can be used, allowing users to find the tips that work best for them, whether they are the standard tips or any other model. With a wide channel silicone tips and large size, the soundproofing is quite good and also the fit, allowing an extra firmness that provides a great degree of freedom, without any problems of detachment or falls during a normal or daily activity. That is why I am very satisfied with the design of these capsules, in terms of fit and ergonomics, on a par with good IEMS. Something that is distinctive compared to other TWS. Excellent.
Operation and Connection
The GF8S have two touch panels on each of their outer sides. Their operation is as follows:
Touch Operation​

Left Capsule​

Right Capsule​

Long press 5-8s
Power on/power off
Power on/power off
Click once
Pause/playback
Pause/playback
Click once
Answering the call
Answering the call
Click twice
Decrease volume
Increase volume
Click twice
Hang up or reject the call
Hang up or reject the call
Click 3 times
Next song
Previous song
Long press 3s
Voice assistant
Voice assistant
Bluetoot is not connected when power on,
the red and blue lights are flashing,
touch 7 times
Restore factory Settings / re-pair LR earphones
Restore factory Settings / re-pair LR earphones
As can be seen, the operation is simple. One of the positive things about their operation is that none of the headsets is primary over the other and they can work individually, although they are connected together, there is no connection channel for each headset.
It uses Bluetooth v5.0 under AAC protocol and has ultra-low latency, ideal for use with online games. It is a pity that it is not compatible with the new Bluetooth codecs such as aptX, LDAC, etc. But through this connection, the link is quite stable and allows a greater distance from the source. I have found that there is no loss of signal or decrease in sound quality, even if I am in another room, even with another room in between, using my Bluetooth table-top transmitter. Using my smartphone or other DAPS, the distance is not as great, allowing use in the same room or in a large room with no walls in between.
What is true, however, is that touch operation is not the smoothest, because the sensitivity of the surface is somewhat relative. Sometimes it is very sensitive, sometimes it does not seem to respond as quickly. It seems that the entire outer surface is sensitive to touch, but it is more sensitive to the fingertips than to the tips. The speed of touch also tends to be somewhat delicate. Even the edges of the IEMS seem to be sensitive to touch, because when I try to adjust them, accidental touches occur.
The microphone seems to have a medium sensitivity and in my comparative recordings with other TWS the sound seems duller and less vivid, but with an acceptable level of clarity.
Sound
Profile
Where the GF8S especially excels is in its sound. It is without a doubt the best TWS in this respect that I have tested. Its sound is as good as other wired IEMS, offering an excellent sound that makes you forget that it is a TWS. Its frequency response is normal, it doesn't have a strange shape that deviates from normal IEMS, as is often the case with other TWS. In fact, their frequency response is very similar to that of the TFZ Live X, almost identical. This means that the GF8Ss have a U-V profile, with a very deep and pronounced sub-bass, a clean, somewhat delayed low-mid range, present mid-highs and a free, well controlled treble with great extension. The sound is very natural, the tonality is neutral, tending to be darker rather than brighter, although it depends on the source as to whether this sensation veers to one side or the other.
Bass
The depth of the bass and the realism of its reproduction is very good. Despite the great emphasis on the sub-bass, the predominance is not total, but the U-profile allows the rest of the frequencies to be freed from its presence, making it very easy to separate its influence. In this way we obtain a low area with abundant power but not thunderous, but more sensory and perceptible, with a less protagonist mid-bass. It is clear that the lower frequencies are the star of the show and they are reproduced with a very natural roughness, a realistic and uncoloured vibration. Their speed is remarkable for a TWS, although their decay is not quite as good, which results in a little bit of a low end aftertaste, something that obscures the range and limits their level of resolution and cleanliness. But, thanks to its naturalness and focus in the sub-bass, the range doesn't feel completely swamped. The planes and different bass lines coexist with quality and harmony, making them easy to distinguish and follow. Note definition is good, although I still notice that it is slightly fuzzy, something that adds more texture to its recreation and that touch of darkness and warmth that characterises the sound.
Mids
It is true that the U-shaped profile of the GF8S might suggest that the first half of the mid-range feels far away. But in reality, the sinking feeling is not so obvious, nor is it even very pronounced. It is true that the energy level of the low end is above this first half, but it is worth remembering that this emphasis is mostly located in the sub-bass, which allows this initial phase of the midrange to be released to a large extent. In this way the first mids feel warm, but without losing a natural and realistic timbre. Voices are recreated with a relatively light body, but very well embellished with detail and nuance, throughout their range, from the lows to the highs. This makes them feel quite rich, complex but still delicate. It is also worth noting their texture, very full and distinguishable, even if they do not sit in the foreground. It is for these reasons that I think that the BA driver and the piezoelectrics work very well, complementing each other in the recreation of the mids, providing those virtues that I have highlighted above, thanks to their good integration and remarkable transition between them. In this aspect, it also feels favoured by the classic emphasis in the upper midrange, very well resolved, as it does not feel too exposed, nor does it lose the relatively warm or neutral profile of the sound. As usual, this effect brings clarity and cleanliness, although it also thins the midrange, leaning the accent on the details rather than the body of the voices or instruments. Fortunately, on this occasion, this sensation is not negative and although the influence is felt, the sound is not unbalanced or overexposed in this area. And I would like to emphasise once again the good timbre of the BA driver on these notes and also the wake of the piezo driver, which together provide a special sonority, full of speed, ultra-fine and precise details, which easily allow the nuances of the music to stand out.
Treble
The treble has the usual mixed presence, starting with a vivid, but controlled focus. And in this sense, the rigour is perceived as increased thanks to the good technicality of the treble and upper treble drivers. There is more restraint than smoothness. While such control is seen in the absence of overexposure in the first part, which is a very positive aspect, the lack of smoothness does not refer to a rawness in the sound, nor to a loss of naturalness or a hint of harshness in its reproduction. Rather, it is attributed to the liveliness, dynamics and edge of its notes. The treble is quite thin, but not very sharp. They have that characteristic timbre and reproduction provided by the piezoelectric driver, a very fine sonority, with a high level of resolution and special brilliance, but tuned in such a way that it seeks a control that does not lose those good technicalities, nor its balanced character. In this respect, the upper range benefits from a special treatment, which tries to avoid the limitations of Bluetooth transmission in this area of the sound spectrum. Thus, the treble is clear, crisp, dynamic, not excessively crunchy, but rich, punchy, airy, well extended, with an excellent level in its profile, shape, definition and a characteristic and not very fatiguing timbre.
Soundstage, Separation
The scene is quite surprising for a TWS. The GF8S has a remarkable width and an acceptable level of three-dimensionality. Although the semi-diffuse appearance of the lower area counteracts this sense of expansiveness, there is no denying the capacity for depth that it possesses. The stage has air and separation, although it is not represented as completely enveloping, but is perceived as eminently frontal, with a fairly decent laterality and a more than respectable height. It is thanks to these elements that the 3D level I mentioned earlier is forged.
The ability to recreate details and nuances at a macro level is quite good. At the micro level, you get the feeling that the drivers are very capable, but it seems that the transmission medium does not play in this respect. Thus, the GF8S seems to have good qualities for revealing fine details, showing a great potential for resolution and definition, but falling short of a superior development, evidencing the limitations of the Bluetooth protocol.
Comparisons
Tronsmart Apollo Bold
The Apollo Bold is a TWS which is currently half the price of the GF8S. In terms of technology, performance and features, this is a very neat product. It can be used in conjunction with an APP for configuration and even has several fixed EQs that allow the frequency response to be varied. For this review the default EQ has been left on. The Geekfly can't compete in terms of pure TWS performance, as it doesn't have an APP, doesn't even support aptX, doesn't have active noise cancellation and doesn't have 6 microphones. However, when it comes to other parameters such as construction or sound, the differences are big in favour of the GF8S.
The Tronsmart's construction is mostly plastic and its circular shape is not the best for long sessions. The Geekfly has a more natural construction, similar to a traditional IEMS, and this gives it an advantage in ergonomics and fit. Their mouthpiece is cylindrical and moderately long, while the Apollo Bold's mouthpiece is short and oval. This makes the GF8S much easier to pair with different tips and find the best solution to suit your needs.
In terms of sound, the price difference is noticeable. The GF8S seem to be a TWS that is totally geared towards the best sound and even aptX doesn't seem to improve on the Apollo Bold's sound performance. In the first instance, the Geekfly's are louder than the Tronsmart's, and they are also better able to handle higher volumes.
The Tronsmart's default EQ profile is U-shaped and its low end is quite deep, although it also has a mid-bass incidence, which provides more width in this range. In reality, though, there are quite a few similarities between the two IEMS in this area: they both have a tendency towards sub-bass, they have a dark spot, a not very high recovery speed and a somewhat diffuse level of resolution. However, I find the GF8S to have a higher degree of cleanliness and speed of execution. Thus, the bass lines are not so close together, there is more air and distance between the different planes. Because of this, the definition is better and the bass range feels less congested and natural, as opposed to the Apollo Bold's greater density and opacity.
The Tronsmart's midrange, in its default EQ, feels further away from that of the GF8S. Voices sound distinctly thinner, with less texture and detail, too smooth, comparatively speaking. The shift to the GF8S is a walk towards light, towards clarity, through naturalness and transparency, where vocals are closer, richer, brighter, fuller, more vivid, with much more detail and a much more descriptive texture. The Apollo Bold, on the other hand, persists in a more distant and simplistic recreation of the voices, which brings less emotion and soul. Furthermore, the relationship between vocals, instruments and low end is at a distinct disadvantage compared to the GF8S approach, because its low end is much more respectful and less intrusive than the Tronsmart. I want to emphasise the transparency and cleanliness parameters of both TWS: the Apollo Bold is simply not capable of reaching the level of quietness, separation and distance offered by the GF8S. Comparatively speaking, the Apollo Bold looks diffuse, opaque, while in the GF8S it is easy to observe its much sharper and silent background, as well as a higher level of resolution. On the other hand, the Apollo Bolds are more sensitive to sibilance, resolving this compromise in a less natural way, in the most extreme cases, but this is not to say that they are bad in this respect.
In the high end, the GF8S sound more natural and chordal, while the Apollo Bold boasts a more pronounced U-profile, which leaves a greater sense of hollowness in the midrange, but more explicitly and extensively enhances the treble. Thus, while the GF8Ss are more prominent in the midrange, generating a fuller, more realistic sound, the Tronsmarts give way to a freer, more prominent sounding high end. As a result, their sound is perceived as more polarised and less balanced. Those who like to feel the treble more clearly will enjoy the Apollo. But I think the GF8S are very much in keeping with the balance demonstrated, as their high end serves to complete and complement the sound, providing detail and nuance, rather than a particular showcasing of the range itself, as is the case with the Tronsmart. In addition, its sonority is more precise and faster, characteristic of a BA driver that is well supported by a piezo driver. So, regardless of the tuning, I find the Geekfly technically superior.
When it comes to imaging, the Bold's more cohesive, polarised and dense sound is a far cry from the better imaging performance of the GF8S. Their greater transparency and separation helps to recreate a more airy, open and clearer soundstage, with better positioning and more accurate instrument placement. It is true that technically, the Geekfly's are more analytical, resolute and precise, parameters that contribute to expanding the soundstage in breadth, but also in depth, thanks to their accent on sub-bass and their distinctly quiet and clear background. And although comparatively speaking, the sound recreation of the GF8S is clearly superior, one misses a little more three-dimensionality or a greater sense of envelopment. Perhaps that's asking too much, though.
Conclusion
Coming from the world of wired IEMS and still believing that music requires a physical, metallic channel to travel and be recreated in the best quality, I find it very difficult to evaluate TWS products. But on the other hand, as a true believer in technology, I believe that at some point, cables will fall out. As of today, I don't think that point has been reached yet. But it's clear that the Geekfly GF8S are here to slap me in the face twice, shouting: Wake up! And so it is, I don't have much of a track record in IEMS TWS. That's why I'm so happy to have found this great touchstone soon, which gives me much more confidence in a future that will inevitably be Wireless. What do the Geekfly GF8S sound like? Well, just like a wired IEMS, but not much cheaper. As soon as the wireless transmission medium improves sufficiently to provide the best bandwidth and the integration of converters, amplifiers and batteries goes a step further, the time is ripe. And I think Geekfly will be there, because the GF8S is not far off that level.
Sources Used During the Analysis
Xiaomi Redmi Note 8 Pro
HiBy R3 Pro
JWD JWM-115
Tempotec Variations V1-A
Ratings
Construction and Design: 85
Adjustment/Ergonomics: 90
Accessories: 60
Operation and Connection: 70
Sound: 88
Quality/Price: 80
Purchase Link
https://penonaudio.com/geekfly-gf8s.html
You can read the full review in Spanish here:
https://hiendportable.com/2021/03/04/geekfly-gf8s-review/
Last edited: