Before reading below, please check out my video review of the Focal XS 2.1 Satellites on YouTube. Please also support the channel by liking the video and sharing it with your friends! A sub won't hurt either

Background Information
I picked these up for around $450 CAD (Used) from Amazon.com after exchange rate and duties about half a year ago. They currently retail for $699 CAD and $599 USD although you may be able to find them slightly cheaper in the US.  
I feel that Focal in many respects is often overlooked here on Head-Fi and are quite underrated. I guess that's perhaps Focal has just entered the headphone game a couple of years ago so that's understandable. However, Focal is certainly not a stranger to speakers and the quality seemed to have trickled down to its smaller and relatively cheaper desktop speakers: the Focal XS 2.1 Satellites.   
I was looking for something to upgrade my Bose Companion 3s and without even listening to these beforehand, I bought them. I knew I was going to get a quality product as the reviews I've read online are generally positive and Focal is a reputable French brand. I had a chance to listen to the Audioengine A5+ and Bose Companion 5s during my search for new desktop speakers. Surprisingly I did not get a chance to listen to Focals nearest competitor, the Bowers and Wilkins MM-1s. I did thoroughly enjoy the A5+ but was confident that Focal had the superior product. And they did.  
Accessories
Quite a good selection of cables you get out of the box. You get a 3.5mm jack, also a USB to use the built-in DAC of the speakers although both these cables seem to resemble cheap dollar store cables but that's fine. You also get a tray of all your iOS adapters which is a great bonus
(but keep in mind that the new lightning connectors will not work on these speakers!)
Out of the box you also get a wireless remote that sticks onto the magnesium (I believe) frame of the speakers and it is quite handy for turning the speakers on and off as well as skipping/pause/play of your music. Aside from that just your usual manuals and focal authenticity number to register your product.   
Very useful remote when I'm just relaxing back on my chair.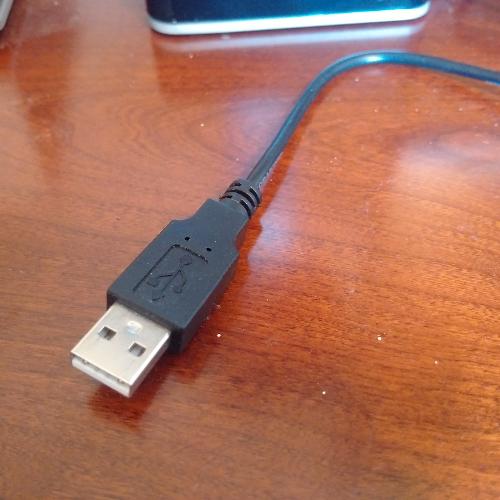 Cheap USB cable but it can be replaced if you wish.  
Just a cheap 3.5mm cable probably from the dollar store.  
Features
This is truly an all-in-one media solution for people who stay at their desks for an extended duration of time. The Focal 2.1 XS Satellites come with a very hefty subwoofer (6.5 inches I think) putting out 70W of power which makes it great for bass-heavy songs as well as for movie lovers who really love deep thumps that come alive. One of my favorite features of the speakers is that it has an iOS docking/charging/syncing station. Great way to have your iPhone or any iOS device that fits with the included adapters charged and synced up before taking it out. Please note that the new iOS devices will not work on the system.  
The XS 2.1 Satellites also has a built in Burr-Brown DAC so you can connect the speakers digitally through the USB provided in the box. However, the downside is that it only supports up to 16bit audio which is quite outdated compared to today's standards. You can also connect it via a 3.5mm audio jack also provided but I'm not sure why you would want to. However, that is an option and it's great that Focal included it with the speakers!  
Docking/Charging/Syncing station for older iOS devices  
Focal brands these as a "Multimedia" sound system for not only music but also movies.  
Very heavy subwoofer. 70W of power into the 6.5inch diameter driver  
Build Quality
Amazing build quality. These speakers are extremely heavy and that's because most of it is made with metal and magnesium components. High quality glossy plastics are also used throughout the build. The box is HEAVY!  
Sound Quality
Now the fun part, how do they sound? Or maybe the most prominent question would be are they worth $600 bucks? I think so. These are easily the best desktop speakers that I've listened to and even bests some professional monitors in terms of detail retrieval. Focal did a great job in not making these sound too cold or bland which is the case for professional monitors. I'm glad that Focal realized they are making a product for the music enthusiast rather than for the producer in mind. Although these do sound detailed and quite analytical for desktop speakers, they are tuned very musically and perhaps that added subwoofer brings the music even more alive.   
Bass
The Focals handle the lower frequencies with ease due to the dedicated subwoofer. Best of all, you can adjust the bass quantity to your liking. I normally keep mine around 10-20% when I'm listening to music. However, what is great is that no matter how high you crank the bass up, it remains tactile and clean. Compared with the Bose acoustimass, I think these are better for music with a much faster and sharper decay while the Bose is the winner for movies due to the extreme rumble that can't be replicated on the Focals. In other words, the bass on the Focals are tight and controlled with much deeper extension while on the Bose it is uncontrolled and loose which make it good for explosive scenes. The bass is really the star of the show here for music, very fast and detailed and well rounded-off without that mid-bass hump (3T- Stuck on You).  
Midrange
The Mids on the Focals are very likeable. Focal seems to have a midrange that is neither forward nor lush but still presents itself with great detail and clarity. It is not too in your face so long listening sessions are wonderful. I found there to be a slight grain on pure vocal tracks perhaps due to the fact that the midrange reproduction is quite flat sounding without too much body or roundness in reproducing the voices. Although this is nothing major and for most tracks I could not even tell.   
Treble
The high frequencies of the Focals are represented by the 0.75 inch Mylar dome tweeters. Focal seemed to have used this type of Mylar-Titanium construction on their headphones as well. This all translates to a very faithful reproduction of the treble. I would say a slight roll-off in the higher regions but the quantity and quality seem to be present and coherent. No details are lost and triangles are well positioned in the track (Savage Garden - Affirmation). At no time I felt that I needed anymore treble in terms of quantity and that slight roll-off tames off any sort of sibilance. A track I used which sounds extremely sibilant on some other speakers and headphones are not present with the Focals (Stevie Hoang - So Incredible). This is not to say they lack energy but rather makes it great for long listening sessions without any harshness.   
Soundstage/Imaging
The Focals definitely do not give you a 3D feel due to its design limitations (it is a 2 channel speaker afterall). So if you're looking at a true 5.1 surround sound system go for a Logitech. Plus, for HiFi it has to be 2-channels IMO

Otherwise left/right imaging is great and very realistic however at times I wish the drivers were able to separate the instruments a bit cleaner.   
Headphone Comparisons
Open Back - AKG K812 (Detailed, Analytical, but still very musical and fun to listen to)  
Closed Back- Focal Professionals (Focal house sound, very similar sound characteristics)    
Final Impressions / Comparisons
Well if you couldn't tell already I am extremely pleased with these speakers. A clear winner in my books. In my opinion, it is better sounding than it's desktop competitors out there around and below the $600 range. Here are some brief comparisons:  
Bose Companion 5 - Focal sounds much clearer and much more transparent. The Bose is great for movies though.   
Audioengine A5+ - Great fidelity from desktop speakers. However, the Focals best it in every respect (resolution, imaging, speed, accuracy). Although amateur listeners may prefer the slightly warmer sound the A5+ presents but the Focal is definitely the technically superior speaker.  
Bowers and Wilkins MM-1 - To my ears, they sound equally as detailed and both are very competent. However, the Focals are more powerful and a better option for movies and also has the convenience of an iOS hub.   
I've yet to hear the KEF X300s nor the Logitech GLA-55s which are both quite a bit more expensive and most likely sound better. My future upgrade would probably be the KEF LS50s or the Sonus Faber Chameleon B but that won't be for a while plus they aren't really desktop/computer speakers since they will require a good amp to drive them well.   
Tracks Discussed:
3T - Stuck On You
Savage Garden - Affirmation
Stevie Hoang - So Incredible  
Thanks for Reading!  
--  
Kevin