Introduction
I initially caught wind of Flare Audio and their offerings through a friend's Facebook post. Cutting a long story short I clicked the link and with each detail I read became more curious. Naturally each word, quote and technology packed description had me wanting to know a little more. To the point I just had to actually hear if it could be all be true! You can read more about the technical side of things over on Flares Kickstarter page which I have provided a link to: 
https://www.kickstarter.com/projects/584645150/flare-audio-a-revolution-in-pure-sound
The general tag line is: 
Distortion free, pressure-balanced IEM in-ear earphones.
So after a few exchanges of messages it was decided and a sample was sent out. Just want to say a special thank you to Davies and Anna for getting everything arranged so quickly.  
Inside the box
Due to the pair I have not being the final version a few thing are missing but I have uploaded pictures anyway yet left comments to a minimum at this point. For those of you who have pledged for the R2PRO be at ease you will be receiving an official R2PRO carry cases not the R2A box which is displayed in the picture below. All sold will be delivered with an official R2Pro carry case, Please see Flare's Kickstarter page for more information.  
Included in the final version will be.
Comply Tips:
 Flare decided to go
 for Comply isolation tips for three reasons… Comfort, isolation and sound quality. With cheap silicone tips there cannot be a guarantee on sound or isolation, sometimes they fit ok, other times not, depending on a person's internal ear shape, when they don't fit totally bass drops off slightly.  
With R2PRO you get 3 sets of Comply tips included, either small/med/large or you can have 3 sets of one size. You can purchase replacement sets online, just search Comply T200 isolation plus.
Flare have tried out all manner of Silicone tips along with carrying out tests with users, they all came back favourable towards Comply memory foam in the end. Another great aspect of the Comply tips is the wax guard, this means you can swap them out and clean the filter at the same time.
It is important to Flare that R2 is experienced the best it can be as the technology requires a perfect seal to work perfectly, however if people really do want silicone tips Flare will be happy to swap them, if you ask nicely.  
The start of something beautiful
I want to spend some time later explaining in more depth the sound, built, fit, specs, technology and packaging but simply couldn't let anyone read any further without giving, at the very least, a nugget about how these things sound.  
Plain and simple from the moment I've had these in my ears there was a smile a brewing. These earphones have a voice but they don't shout, they very firmly say "I am sophisticated, experienced and have travelled a long way to get here, take some time off son, sit down make a cuppa and let me tell you all about it".  
There is certainly something special about the R2PRO and I love it. Is it the last word in refinement? Maybe, maybe not but this beautifully balanced earphone has so much to offer it would be unjust to try and sum up in a sentence or two.  
Build Quality and Cable
The R2Pro is constructed of a Titanium housing this is to reduce sonic vibrations and stop distortion resulting in a clearer cleaner sound. Don't know how much you can read into the science of it all but one thing's for sure the proof certainly is in the pudding, or this case the sound.  
Unfortunately I don't have any of the other models to make an accurate comparison of the effects the housing has on the sound. However, what I do know is there certainly has been some extra time and attention given to this specific model. This is a masterful piece of equipment.    
"Quote from Flare's Kickstarter Page"
E
ach R2Pro enclosure is manufactured from a solid bar of titanium grade 5. This material is 12x stronger than aluminium 6082 and is the only element to feature a close packed hexagonal structure. It's this atomic symmetry coupled with R2's cylindrical design (the strongest possible shape) and Flare's patent-pending pressure-balancing technology that results in the R2Pro's enclosure being the most rigid possible, creating the highest possible quality of sound.
Here are a few pictures of these tiny jewels in the metal: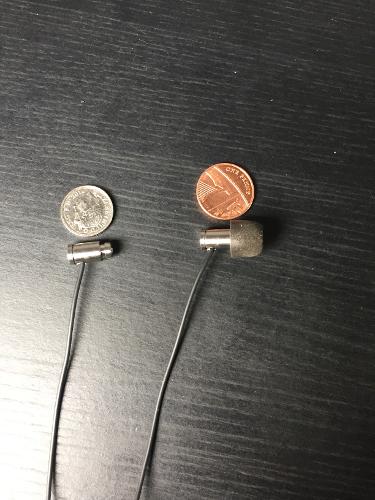 The housing looks and feels absolutely minuet, in all honesty this probably has the smallest footprint of any IEM I have ever tried. It's very reminiscent of Sony's MH1-C with an almost familiar warmth and texture.
The cable is a very simplistic black design with a straight ended jack not much to say here. Now whilst I will commend the R2Pro's cable for its light weight and minimalistic design. I can't help but feel like it's going to break at any moment although, this would be a bit presumptuous as a lot of work has gone in to make sure this doesn't occur. Personally I am a fan of straight ended jacks less issues with devices so there are no complaints here.
I have the prototype model so unfortunately there are no marking indicators for the left and right channel fortunately this will be amended by the time of the official launch. With the final design the Y splitter will have indicators on that identifies the left/right speaker.
It's a metal part that has the Flare logo stamped in with a left/right on it in small letters. This part arrives mid-May in time for the June timeline on KS thus the samples don't have it installed, but note it will be on all pairs purchased.
I have uploaded a picture below and do apologise for the poor quality:
Extra Info: Replaceable driver and cable + T
ech specs
Design: Sealed and pressure-balanced 
Drivers: 5mm dynamic drivers with neodymium magnet 
Impedance: 16 Ω
Enclosure dimensions: 12mm Long. 7mm Diameter 
Ear tip dimensions: (Comply Isolation Plus Tx200 Medium) 10.5mm Long. 12mm Diameter 
Weight: 9g
Materials: Titanium Grade 5 
Connector: 3.5mm Gold mini jack
Cable: 1.2m TPE anti-twist cable 
Disclaimer: This is all the current information I have so far. It is unlikely there will be any major changes from now but just so I don't get shot if there are, so here's the current plan.
As it has been noted there is no strain relief nor will there be. However, there is method in this madness.
The reason for no strain relief is so the user has the ability to swap out the entire cable and driver assembly.  The cable is held under gentle but secure pressure from the rear cap by 2 o-rings that compress both the cable and the driver (to stop unwanted vibrations that would create distortion).
The sides of the cable entry in the body have 250 micron chamfers that don't damage the cable when pulled. This removes the need for a strain relief which we have extensively tested by repeated pulling and snagging (the cable itself breaks first nowhere near the R2 and usually at the point of being pulled very hard).
This is an important feature as adding a strain relief would ruin the great sound (as it's crucial that the entry point of the cable is tiny) and inhibit user replace ability of the drivers and cable.
With regards to the jack, we found that with some cases a 90 degree jack does not work without removing the cases on some phones first, so we went with a straight connector initially as it fitted all. The entire cable assembly includes 2 drivers and new o-rings which are a complete user replacement part which will be available from Flare at just £35. Flare are planning to offer various cable options in the future including...
Mic and remote
Braided cable
90 and 45 degree jacks
Over ear cable for artists IEM stage use
With the cable being a low cost accessory which fits all versions the user will be able to change or upgrade their R2's as they see fit. This is only possible due to R2's unique design which also gives R2 its great sound.
To swap the driver/cable assembly all a user needs to do is unscrew the rear cap. Please note: The drivers should only be removed when replacing them as removal can damage them as they are pulled out. 
If you would like to see inside the R2 just unscrew the rear cap to see inside. When screwing the cap back up ensure that once you get to resistance only apply a medium to light turning pressure. This is to secure the driver in place and secure the cable. Over tightening beyond a medium pressure will inhibit bass response as the driver becomes too compressed between the o-rings.
There is a tolerance gap between the end cap and body so that every user can ensure their drivers are correctly held in place with various different cable options later on.
Find picture below:
Design Fit and Comfort
Whilst much has been covered in the last section regard the build quality I wanted to expand a little on the design with the addition of some subjective opinions.  
Let us start with the uniquely small design Flare has chosen to go with. Primarily my thoughts were these are just far too small but to my surprise once I applied the supplied comply ear tips and wedged them securely in I realised just how comfortable and pragmatic this design really is.  
For the first time in I can't remember how long, I was able to just lay my head on a pillow comfortably and enjoy my music simultaneously. Prior to this I have had a range of earphones that all seemed to have some kind of fit issue. Anyway back to the R2PRO due to the microscopic design they literally disappear into your ears. If you're not a fan of deep insertion I would recommend looking at alternatives, that's if you can live without this stunning sound hehe.  
I have briefly mentioned comfort but to add solidarity to what has been said these are the comfiest earphones I have ever used. In real life terms this equates to me having them glued in for about 3-4 hours without a break and note even as much of an itch of discomfort. Unfortunately still having to live in the real world of jobs, eating and speaking to people means they have to come out sometime, as much as that saddens me. In fact if I could live in this world of wow for longer I probably wouldn't come out for days.  
Due to the great fit of these earphones isolation is pretty darn good not the best I have experienced but certainly enough for stage monitoring and blocking out most external noise.  
Sound quality
Equipment used: Acoustic Research AR-M2, Meridian Explorer + Meier Audio Quickstep, iPhone 6
(Just a note on driveability these are not sensitive earphones so don't be surprised if you find yourself going up a few notches to reach your preferred listen level.)     
Anyway I hope you've stuck with me this far because after all, this is what we all want to know about when looking to invest in any audio gear.  
Conventionally I will be breaking down the sound into bite sized categories but first a tale of what to expect.  
You have just awoken from a wonderfully dreamy sleep gently you stretch out your limbs give air to your back and release that fully unbound, deep and satisfying yawn. The warm hint of the sun's rays has just penetrated your window and you feel its crystal clear glow kiss your face and body. Wow what a great morning this is turning out to be, this moment is yours and yours alone to call your own.  
Nobody can take that away from you but to your surprise your day continues to blossom and grow become more exciting and fun with each passing moment. Surprise after surprise you think to yourself so this is what it is to feel blessed. Ok let us end there, believe me that is the feeling you just might get when you first start to listen to these. From the get go they are impeccably clean and unfatiguing bringing you a smile from ear to ear,  but listen longer and you become even more enveloped with what you're hearing. Is that? No it couldn't be! Yep these puppies will start to pull out some real hidden micro detail as brain burn in and driver burn in occur.  
I don't want to use that misrepresentative phrasing we've all read in one review or audio sales jargon at some point during our journey "I'm hearing things I never heard before".  But I am not far off from wanting to paraphrase it, simple put when critically listening through the R2PRO you will hear more nuances and micro detailing then you might be used to. Coming from a long line of hybrid monitors had me thinking the R2's were not matching the same level of detail as the BA drivers were. Whilst seemly true I found it more a matter of presentation and with a little time taken getting to know the R2 bit by bit came to the conclusion there's actually more going on within the R2's, it just isn't shouting at you or demanding your attention.  
Highs:
I am not sure how I'm going to begin, the treble holds great realism and the micro detailing is just superb especially at the Kickstarter price point! Saying that even at retail price they are pretty much in a league of their own.                       
Through continuous listening I have noticed a weak area but was unable to place it in the upper midrange or treble, some tracks sound astonishing whilst others you end up hearing what can only be described as hollow note presentation. This isn't something you will be immediately drawn to but correcting this would be one more step toward perfection!  
I will say it's in the upper midrange region as it rarely affects guitar strings or cymbals. Moving on from that though there is still so much to be discovered, I really am enjoying the presentation of this tiny beast. The treble (In fact the entire presentation) holds truer to a typical audiophile sound with great timber and note decay leaving shimmers and twangs dancing in your ears as you soak in the ambience of it all.  
I will mention the micro detailing more in regards to the midrange but if there's one thing that has caught me particularly off guard it is this almost ninja like ability the R2PRO has of just surprising you with little nuances in tracks, I mean damn I was listening to Ed Sheeran's newish album X (Multiply) and had to stop for a moment. Yep mid lyric thinking something was wrong but nope there was a gentle scratch going on in the back of the song that I must have missed a dozen times before but the R2's just made it all the more apparent, accomplishing all this without that bright and loud cry for detail I was beginning to get used to made by typical TWFK drivers.  
Midrange:
Hello gorgeous you like me don't you? Don't worry I like you too
. Oh sorry that was meant to be a private moment between me and my R2's. No seriously once again I am being spoilt by this incredibly natural midrange nothing is missing here, everything is where it should be.  
Overlooking the aforementioned hollowness presented in the upper midrange you get a wonderfully clear, detailed and neatly presented presentation. Vocals just melt into the music and when emotion is called on the R2 are right there to bring it. Listening to "Andie Case's Cover of Love me like you do" makes me never want to take these out of my ears. Going back to the micro detailing again, it's like a journey of rediscovery from every guitar pluck down to the subtle after effects added to the track, you get to hear it all naked, unashamed, unmasked yet remaining subtle, soft and oh so gentle.    
I wouldn't call the midrange forward but it's not U shaped ether but can be with bassier tracks. Thankfully it's actually a challenge to get the bass to bleed into the mids which is great because you get to enjoy this smooth, micro detailed packed midrange.  
I make no apologies for overusing some words in this review, it is simply due to the nature of this earphone I find myself wanting to emphasis just how good some of its strong points are.  
Lows:
Now we have made our way to the bass I get to be a little more critical. Please don't misread this the bass is incredibly textured and well done but, I have heard of more capable bass from other IEMs. You won't know how well the bass is done on these until you really put it through its paces though.  
These earphones are marketed towards the more refined listener and not necessarily to the bass junkie so it's something to consider before purchasing if a lover of EDM or Dubstep etc. The bass does however hold incredibly capabilities when driven as a tester track I highly recommend "See You Again" by Wiz Khalifa ft Charlie Puth. Now getting into this track you will immediately notice the refinement that has gone into this earphone there is a lush plump sound driving the bass line but somehow the flabbiness seems to be keeping its top on.  
I personally am a big bass fan that being said, although there isn't necessarily copious amounts of it with every track trying to force a kind of musicality upon you, the fact there is such layering and detailing going on, and can be called on whenever really needed makes the quality of the bass quite a thing of beauty.  
Soundstage and imaging:
I am glad I've gotten finally to this section. Good would be a nice understatement for what I am hearing. The sound stage is very natural, resolving and doesn't really make any effort in making you believe it's there.  
There is an openness about the staging that real allows instruments to breath you can pick where instruments are coming from but not quite as easily as you can from something like the ASG 1Plus. I am however tempted to say I almost prefer this though as it really adds to that unfatiguing effortless character.  
Nothing seems overdone here maybe a touch up here or there could give it some improvement but overall you will find these earphones growing on you hour by hour. Positional cues are all there panning from left to right with just more than moderate width and depth to accompany the unforceful nature of its presentation. Just love this relaxed yet highly detailed beauty.  
Comparisons
·        
Sennheiser ie800 vs R2Pro.
Bass ie800 are going to throw more at you as good as the bass is with the ie800 it does come with some unfortunate boom which can become tiresome.
·         Treble is more pronounced with the ie800's creating a more fatiguing experience, detailing is suburb on both but I would take the less aggressive approach of the R2Pro's any day.
·         Mids are great on both but due to the bass bleed the ie800 vocals sometimes take a back seat in the mix.
·         Soundstage will go to the ie800 it's just a little cleaner and transparent despite its shortcoming the ie800 staging is still pretty top notch for a single dynamic driver.  
·        
Shure se215 vs R2Pro.
Please don't make me do this it's not a fair fight.  
·         Well can I just say now the R2 is in a completely different price range so it's to be expected they're going to be a few steps up.  
·         Basically refinement is what the se215's are really missing from untrimmed bass to their try hard approach to everything, they just unfortunately get outclassed. The midrange on the Shure still do offer a great price to performance ratio but there is too much the R2 does better including the mids.  
Concluding thoughts
What Flare have done here is in my opinion marvellous. I really like just about everything the R2Pro's offer, sure I'd like a bit of improvement here and there but at the Kickstarter price I dare you to find anything as good. Don't take statement too seriously but this hands down is the best single dynamic driver I have heard so far. Every genre of music sounds great through these comfort is amazing I am now just at a loss for what to say so I'll stop.  
I would not hesitate to at least grab the R2A's if the Pros are a little out of budget but if you can get them. I can't encourage anyone reading enough to jump on board, especially with the prices being offered with the Kickstarter still on your getting an unbeatable deal, you certainly won't be disappointed. (For anyone looking to back the project just follow the link provided at the top of the review). It's been an honour to listen to them and will now be my go to IEM for the foreseeable future, a benchmark has been set. Hope you've enjoyed the review any questions or comments feel free to fire away.