Following on from quite a line of portable and desktop audio devices, Fiio has now released the X7. This is now their flagship device and a whole new beast at that. This beauty runs Android (a first for Fiio) and is equipped with some very interesting features.
First there is the ESS9019 DAC chip made by Sabre. This is not your usual run-of-the-mill DAC chip, this thing is desktop grade hardware, and is well revered for its audio quality.
But perhaps the most interesting concept is the amp-module. Here Fiio has tried something different, allowing users to swap out amp modules in order to drive more power-hungry cans, and, of course, make some adjustments to the sound signature. You see, in a perfect world an amp would only be there to provide varying levels of power output…but this is the real world, where few things are quite so black and white. Often I see people on forums asking about this or that amp, and it would seem that most of the time the recommendations tends to focus on the power output; often forgotten is the impact that an amp will have on the sound signature. And this is where I feel the amp modules will be of the greatest interest…the ability to cater to your specific sound signature requirements; whether this be to offset the signature of your cans, or to simply get a specific type of sound which complements the listener's taste in music.
So, before I dive into the review, let me give you a little background info on myself as to better understand what it is that I look for and what my position on the X7 is.
If I had to describe my taste in music, I guess I'd say that I'm an audio purist. By that I mean my aim is to listen to the music the way it was intended; pure and unadulterated. My taste reaches far and wide, everything from jazz to classical, hip-hip to rock, acoustic to RnB. Whilst I fully understand some (perhaps most) people generally only listen to one or a few genres, it makes sense for them to get an audio setup which complements the music the listen to.
But when you're looking to get the purest sound, it's a whole other ball-game. This means that my setup needs to be as neutral as possible, to not emphasize or depreciate, to not add nor take away any of the sounds. I wouldn't go out and buy a painting, and then decide "you know what this needs? More blue"...and then proceed to make my own adjustments. I treat music the same way. I want to hear what the artist wanted to portray, not to do their job for them and try to make the music better. Some people will get that and some won't, but nobody is right or wrong either way; it's all a matter of taste.
But, I'm also on a sensible budget. Unless I can hear a clear difference between different setups, I see no point in spending extra cash on something which is "technically better", but doesn't add to my experience in reality. Again, to each their own and there's no right or wrong way.  
So, the X7; let's get on with it.
This is the second time I'm takin part in a Fiio world tour, the first having been with the X3 Gen 2. I think it's a great concept to allow people to review upcoming products and it is indeed quite exciting to take part in. What I particularly like about taking part in these world tours with Fiio is the fact that they don't try to sensor the reviews. They want users to give their honest opinions, and I respect that greatly.
Those who have been following the X7 thread on Head-fi may have noticed my rather strongly opinionated first impressions of the device, so this time round I will attempt to exercise more, umm, diplomacy.  
Packaging
I must say, I prefer the new packaging. It seems more modern and classy. Up until now much of Fiio's packaging were red and black bokes…nothing wrong with them, but nothing that really said "premium" either. I'm not going to spend any time describing the extra bits in pieces in the box, since the main focus here is the device.  
Design
The X7 is genuinely a beautifully crafted device. Everything about it looks premium. It doesn't look like it was designed by some Chinese audio device manufacturers, but perhaps rather a German car maker. When I first held the device, it felt solid. Be sure to hit the gym before picking it up though, as it is deceptively heavy, tipping the scale at 220g.
But for me, this is where the positives of the design end. The screen sits about a millimetre or two higher than the rest of the chassis, and just looks a bit quirky. The thickness of the entire device also doesn't make it feel natural in the hand (granted, I don't have large hands). On the back there is quite a "hump" which makes placing your fingers on the back feel rather awkward. I guess the weight, added with the form just makes it feel rather unstable in the hand.
Along the top of the device you'll find a 3.5mm line-out and coaxial out combo jack. On the right is the play/pause button and a forward/back rocker. Along the bottom is the micro-USB port and the 3.5mm headphone jack (which is part of the swappable amp module). And finally on the left is the micro-SD slot, power button and the volume rocker.
The side buttons do annoy me a bit. The logos printed on the device for the volume and forward/back rockers are exactly the same. One would think that Fiio would've used the usual "double arrows" to indicate the function of the forward/back rocker, but instead the same single arrow logo is used for both rockers. Not a major deal, but just a little detail that seems like a bit of an oversight (forgive me, I'm a detail Nazi)  
Interface
Here Fiio has done something rather interesting too. You get the full on android experience, but they've also developed what they call "PureMusic mode". When this is selected, the device reboots into an interface specifically designed just for music. Basically, the only app that is allowed to run is Fiio's own PureMusic app. All other unnecessary apps and services do not run in the background…well, that's the idea anyway. In reality this has not been implemented properly. When you have other music apps installed, for some reason they still start up in PureMusic mode when you plug in the headphones. Not the end of the world, you just quit the app…but that's not what is supposed to happen. At first this proved to be quite confusing to a new user since 2 songs playing at the same time throws you off.
This proved to be the start of my frustration and confusion with the device. When I first loaded music onto it, for whatever reason it would scan and then display all the songs twice. So instead of showing 24 songs, it was showing 48. When playing songs as well, the timer would start at 30:00, instead of 00:00. Very odd. A factory data reset did correct this eventually.
But to be really honest, the whole PureMusic app just frustrated me. It's not the worst interface I've ever dealt with (not by a long shot), but as a graphics and web-designer, I am incredibly picky about how intuitive the interface is and whether or not specific design elements make sense (have a purpose). Don't get me wrong, things seem functional, but the whole point of a good interface is to minimize the learning curve and to not leave the user feeling confused to any extent.
A pretty UI has never been Fiio's pride and joy, and this is definitely their best looking one to date, but I fear that a number of people would not want to use the device purely based on their experience with the UI.
In Android mode things are quite familiar. You get the usual home screen, app drawer, and settings look and feel of KitKat. Thanks to the latest firmware update (version 1.5) the Play Store is now also available so you can download your favourite players and streaming apps…but I wouldn't bother, not with alternative players anyways.  
Sound
Let's first get the testy stuff out of the way first. I used a 48Khz 24bit 10-20,000 Hz pink noise wave to record some frequency response graphs, and the results are quite interesting. All graphs have a ½ octave smoothing applied.  
Pure Music Mode
Android Mode – HibyMusic
Android Mode – Neutron
Android Mode – Onkyo Player
Android Mode – Poweramp
As you'll see, the low and mid frequency range seem to be identical, but it's in the highs that we see a drastic difference. HibyMusic and PureMusic mode seem to be extremely similar, however, you'll notice that the volumes are quite different between Android and PureMusic mode. I did try to get the volumes the same, but my recording equipment picked up a lot of clipping at higher volume levels in Android Mode, and so I had to reduce the volume.
Neutron and Hibymusic seem quite similar, although it looks like Neutron has a slightly sharper roll off above 10kHz. Onkyo has an even sharper roll off, whilst Poweramp had the worst FR of all of them.
I wanted to use the Rockbox app as well, but couldn't as I couldnt see anything other than this screen when launching the app.
For the sake of another comparison, here is the FR graph of my E18+E12A stack connected to my LG G3 running Lollipop and HibyMusic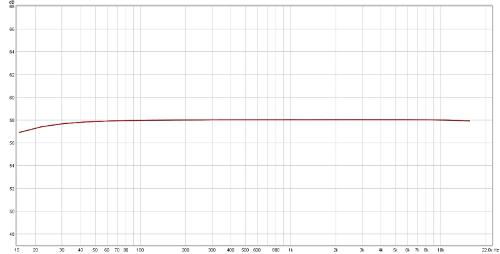 Since the E18+E12A stack is my main setup, I will compare it to the X7.
First off, the X7 does sound great, as is shown by the graphs, the FR is pretty damn good. But they also somewhat confirm what I was hearing. The X7 sounds wonderfully smooth, but just doesn't quite have the sparkle of the E18+E12A in the higher frequencies, and as such highs seem just a tad pushed back. Instrument separation did seem a bit better on the X7 though, but the sound stage seemed a bit wider on the E18+E12A.
Honestly, that's all I can say really, both setups sound incredibly similar, and if I wasn't able to test them side by side, I genuinely wouldn't be able to tell them apart. Heck, even with testing them side by side, I have to really concentrate on what I'm hearing to discern a difference between them.  
Battery Life
This has always been a concern of mine. As much as I love Android, it's not what I would call battery friendly. I did some drain tests (until roughly 10%) in PureMusic mode to see the effects of leaving WiFi on and off.  
On
Off
As you can see, not a big difference, about 15 minutes. I noticed something really strange though; for some reason it is not displaying the battery usage correctly. Each time it showed that the screen was the highest battery drain, but in both tests the screen was on at most for just over 5 minutes…very strange indeed. So, a battery life of approximately 8 hours doesn't give me much hope for the device in terms of the battery. I say this because it is currently equipped with the IEM amp module. How much faster will it run out of juice when the higher power modules are connected?
Perhaps with further firmware improvements we'll see the device become more efficient, but who knows?  
Final Thoughts
Let me be clear, I'm in a very weird state of mind right now with regards to the X7.  Before I was able to get my hands on the device I read through other peoples' impressions and reviews, and I couldn't help but get really excited to try it out. Talks of how great it sounded, and the very "holographic" presentation it gave. I'm not saying they're wrong, It's just that when I compare it to my current setup, I don't get the same sensation of awe. So when I finally got to plug my headphones in to get my fix of this awesomeness, I was left rather underwhelmed. Again, I'm not saying it doesn't sound great, because IT DOES! But compared to my E18+E12A stack, there is absolutely nothing that makes me want the X7. I'm having a really hard time trying to justify why I would want to forget about my $320 stack in favour of a $650 device which doesn't seem to provide me with any type of sonic improvement.
One the forum members mentioned something along the lines of "you can't judge the sound of a device after only a few hours with it, you have to really listen to it for a longer period of time". Personally, I couldn't agree less. The best analogy that I can come up with is, let's say you drive a French car, and someone hands you the keys to an Audi. The moment you climb into that car you just know it's better put together. Everything just feels well thought out and engineered to precision. You don't have to sit in the car for days on end to realise that, but you will appreciate it more as time goes on, and you start to realise why the German has the higher price tag. And I guess that's where my disappointment with the X7 really comes in…there isn't enough about it that screams at me "I'M WORTH MORE!".
This is why I have a very weird state of mind right now. I feel both quite disappointed, and exceptionally relieved at the same time. Disappointed with what the X7 has delivered (or not delivered), and relieved that my humble E18+E12A setup still holds, what is in my opinion, the best bang-for-buck. Of course, the X7 does have a much more portable form factor, but it also couldn't hope to compete with the E18+E12A's 20+ hour battery life. But upon further reflection, perhaps the X7 is impressive after all. Perhaps it's a matter of the IEM amp module holding it back far more than I realise, and with the introduction of better modules it'll really bring the X7 to life.
The whole experience has left a rather bitter-sweet taste in my mouth. As I was discussing with a fellow reviewer, the X7 just feels incomplete. Almost as though there was a rush with the device, perhaps a deadline of some kind (maybe Christmas?) which was deemed more important than polishing the UI and ironing out the bugs. Fiio had a real chance to do something completely different here, to make a device like none other (and to some extent I suppose they have), but instead they sent out what feels to be a blueprint. What particularly annoys me is a buggy UI. UIs can be changed and perfected, so (in my opinion) there is no valid reason as to why they can't properly test and sort out the UI before releasing the product to the consumers (especially for a $650 device). I'm talking about taking pride in one's work, to do it to the very best of your ability. Taking pride doesn't cost a penny.
I genuinely, honestly, truly hope that Fiio will take all the negative feedback and surprise us with a right hook to the jaw. Fiio is still, without a doubt, my favourite audio company and I will keep my hopes up that they will go up from here.  
Last but not least I want to give a special thanks to Samma3a.com. For the purpose of this review I wanted to compare the X7 to the E18+E12A stack, and Samma3a gave me a 25% discount on the E12A. So thanks a lot Samma3a, it proved it be one of my best purchases yet!