First of all, I want to thank FiiO for allowing me to participate in this review opportunity; I received this cable as a free review unit from them:
http://www.head-fi.org/t/688100/the-ultimate-feast-review-qualification-recruitment-for-newest-pcocc-a-headphone-cables
Since many people may not know:
Originally Posted by

FiiO

 /img/forum/go_quote.gif  

As you may know, Japan Furukawa Electric has announced the end of production for PCOCC-A cable due to the low market demand. With the assistance of our business partner OYAIDE, we were fortunate enough to catch the last bus to get a considerable amount of PCOCC-A cable. Now we have received some of this cable, and the first batch of assembled PCOCC-A LO and headphone cables have gone to market already.  

Model

RC-HD1

RC-MH1

RC-UX1

Compatible Models

Sennheiser HD598

PHILIPS X1,
SONY 1R,
V-MODA M80/M100

Extension Cable
Universal

Plug(mm) / F or M

2.5/M to 3.5/M

3.5/M to 3.5/M

3.5/F to 3.5/M

Length(cm)

120

120

100

Q: What exactly is PCOCC-A?
A: PCOCC stands for Pure Copper Ohno Continuous Cast, while the A stands for Anneal
Source: http://www.6moons.com/audioreviews/interconnects/interconnects_3.html
Twenty years ago, a Japanese engineer invented the Ohno wire extrusion method to produce PCOCC or pure copper Ohno continuous cast wire. Instead of forcing molten copper billets through a cold-mold extrusion machine, they are processed in heated molds and subsequently slow-cooled to room temperature. This results in far fewer molecular boundaries than regularly processed copper extrusions. It should come as no surprise that raw PCOCC wire is much more expensive than LF-OFC or TPC.
Cross-sectional diagram of the PCOCC-A cable from FiiO's RC-UX1 product webpage:
---
Anyway, onwards to the review itself. Since Head-Fi no longer lists an individual's detailed ratings in a given review, here's a screenshot of what my ratings are.
Value: 4/5
Performance: 5/5
Quality: 3/5
Silent Unboxing Video
I created an unboxing video for these products, but unfortunately I forgot to select the correct microphone input on my recording device. Thus I re-did the video and it ended up being somewhat of an unboxing video. XD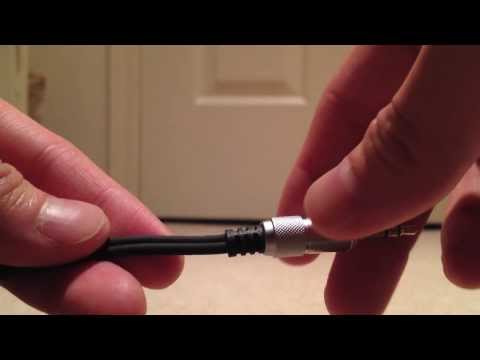 Package
It's just a cable in a sealed bag; nothing fancy. Make sure to use the scratch query on the top label and submit the code to fiio.net to ensure your product is legitimately from FiiO.    
Build Quality and Usability
Upon opening these cables, I was actually disappointed with how the cables looked and felt.  
General Overview
Dual-core/two-stranded cable construction (like two cables glued together) [Figure 1]
3.5 mm jack is sheathed in a straight (read: not angled) metal sleeve, although it is quite thick and heavy [Figure 1]
Cable insulation feels somewhat cheap, having the texture of a stiff plastic cable with a matte-like finish
Kinks and bends are retained if the cable is bent, but easy to straighten out too [Figures 2 and 3]
Strain reliefs don't seem effective since they are very stiff and hardly move [Figures 4 and 5]
Cable may fail at the stiff strain relief, and especially at the end with the metal jack enclosure (the left channel of the RC-MH1 cuts off at certain angles depending on how the cable is bent at this connection)
Fairly low resistance value (see Sound Quality section below)
Figure 1: The 3.5 mm jack with a USB flash drive for a size comparison  
Figure 2: The cable retains kinks and bends quite easily (I let the cable sit there for about a minute)  
Figure 3: The cable can also be straightened out fairly easily (I ran the cable between my hand about 5 times to straighten it)  
Figure 4: If the cables are bent near the jacks, the strain relief doesn't provide much leeway for the cables  
Figure 5: In stark contrast to the V-MODA SharePlay cable, the RC-UX1's strain relief hardly bends at all    
RC-MH1
Narrow jack insert is quite long and it protrudes out from the V-MODA Crossfade M-100 about 3.3 cm (1.3 inches) [Figure 6]
Narrow jack insert can bend and retain its shape [Figure 7]
Heavy compared to the stock V-MODA Crossfade M-100 cable
Fairly short cable at 100 cm (~40 inches)
Slightly improves the sound quality (see Sound Quality section below)
Figure 6: Cable protrusion difference between the V-MODA SharePlay cable (2.3 cm) and the RC-MH1 cable (3.3 cm)  
Figure 7: The RC-MH1's narrow jack insert can bend and retain its shape (I let the cable sit there for about a minute)    
Sound Quality
Be careful when assessing the sound quality of cables. The RC-MH1 has a lower impedance compared to the V-MODA SharePlay cable (~0.16 Ω vs ~1.42 Ω respectively), so proper volume matching has to be done for each cable separately in order to ensure a fair comparison [Figures 8-9]. It was immediately apparent that the cables have different impedance values because music played louder through the RC-MH1 than through the V-MODA SharePlay cable using the same source at the same source volume.  
However, after trying and failing to accurately volume-match between the two cables, I decided to do a different way of evaluating the sound quality of the cables. Over the past month, I have been using the RC-MH1 with the V-MODA Crossfade M-100 pretty much every weekday while commuting to and from school, in addition to walking between classes. After getting used to how the two sound together, I recently switched back to the stock V-MODA SharePlay cable. My theory is that if you can hear a difference from what you're used to, then there is a difference in sound quality (it may not the most scientific reasoning, but it makes sense for us humans

). Likewise, if you can hear that difference in a noisy public bus, then there is a difference in sound quality. I tried to compensate for the RC-MH1's lower resistance value by turning up the volume level (6 volume steps when using the JDS Labs C5D) when using the stock V-MODA SharePlay cable; yes, the volume levels were different and the audio being played through the SharePlay cable was louder than through the RC-MH1. Benefit of the doubt, the SharePlay cable should theoretically sound better because louder is better, right? Well actually I didn't find that to be the case, and I was pleasantly surprised.  
Throughout my listening tests, I found that the RC-MH1 has a slightly more defined and deeper bass response. Switching to the SharePlay cable, I noticed that bass notes didn't hit as deep and they sounded a bit more blurred/muffled/not-as-well-defined. At the opposite end of the spectrum, I also found the RC-MH1 to have a slightly better-defined treble response. Fine details stand out a little more and are more well-defined with the RC-MH1; this is especially notable with Daft Punk's "Motherboard" song in the second half when the "bubble sounds" are played. The differences are pretty subtle, but after listening and getting used to the RC-MH1's sound over the past month, I do miss the deeper lows and more well-defined highs when switching over to the SharePlay cable.  
Figure 8: Impedance (1.420 Ω) of the V-MODA SharePlay cable  
Figure 9: Impedance (0.163 Ω) of RC-MH1 cable      
Conclusion
Apart from the cable breaking at the strain relief, I really think the RC-MH1 is a great replacement cable for standard cables that use a 3.5 mm connector. The cable length is just about right for portable use; it's not too long, nor is it too short (at least for me). Although the cable itself feels kind of cheap with the matte-finished rubber-like material, and it retains kinks and bends, it's actually really easy to manage and I wasn't bothered at all when handling it with portable use.  
Going by FiiO's pricing for their products, I think the RC-MH1 will be a great purchase for a replacement cable, or for just improving the sound experience for the user. As they say, upgrading the cable should be be the very last upgrade in an audio system and I feel that I squeezed the last 2% (an arbitrary number) out of the V-MODA Crossfade M-100.  
If I had any advice for FiiO to improve this product, it would be to make the strain relief at the end of the cable with the metal jacket more robust (more flexible, longer strain relief section), and to make the other narrow-end of the RC-MH1 shorter and/or more flexible as well. After a month's worth of portable use, I'm kind of disappointed that the cable is already losing connection.    
Other than that, thank you FiiO again for allowing me to participate in this product review! I really enjoyed writing this review and I hope to see a better strain relief implemented in future products.