FiiO Q3 THX Balanced DAC/Amplifier - Reviews
Evolution
Pros
:
- Excellent sound
- Analogue potentiometer
- Digital filters
- Charge button
- Usb C
- Fast charging
- Build quality
- 4.4mm , 2.5mm and 3.5mm outputs
Cons
:
- Not the most powerful
- Filter selection without led indicator
- No battery level led indicator
- No bluetooth
Preface
The Q3 was kindly provided for review and evaluation.
FiiO never asked for any kind of a favorable review.
Q3 is the latest battery powered portable dac/amp offering from FiiO.
It seats just above the entry level Q1 mkii and before the flagship Q5S retailing at about 150$/160€.
Physical and layout
The resemblance to the Q1 mkii is obvious as are the dimensions with the Q3 measuring 105x59x12.5mm with a weight of 110g.
Sandblasted aluminum is used throughout with built quality and finish being top notch as is the design with the rounded curves and minimal lines making for a beautiful little device that fits securely inside our palm.
FiiO has cleverly added inside the Q3 an extra nickel - copper shield plus highly efficient radio frequency absorbers to completely shield the unit from electromagnetic interference.
The Q3 is equipped with 4.4mm/2.5mm balanced outputs plus a single ended 3.5mm one for easy connection with all kinds of portable headphones and iems without the need of extra adapters.
One of the best features of FiiO's Q line is the use of an analogue potentiometer volume knob that is very much to our liking.
It acts also as the on/off switch and it is combined with ADC curve reconstruction to help improve with low volume channel imbalance.
An RGB indicator next to the volume knob informs us about the sampling rate with three different colours plus whether the battery is charging or it is low and needs to be recharged.
Unfortunately battery level indication is not supported.
At the other end of the device there is the data/charging usb type C port plus three extra buttons.
The one is the bass boost switch that is hardware based and offers a +6dB level increase.
The next one is a multifunction button that when it is short pressed switches between low and high gain and when it is double taped cycles between sharp and slow roll off filters.
A green light goes on for high gain but there is no visible indication to distinguish between the two filters.
Last but not least there is the long awaited and missing from the Q1 mkii charge on/off switch that is very helpful when we do not want the Q3 to drain the battery of the connected device it's being connected to.
A 1800mAh battery supporting quick charge is used to sufficiently power the Q3.
Technical characteristics
Internally the Q3 is completely renovated with all components and circuit arrangement being brand new.
The dac chip used is AKM's new efficient AK4462 with decoding support up to 768kHz/32bit PCM and DSD512.
The dac is used in balanced mode providing symmetrical signal to the low pass filter and then it is amplified by two THX AAA 28 op amps for low distortion and high power balanced output.
The usb receiver is XMOS XUF208 the same used at the flagship Q5S supported by dual crystal oscillators.
The rated power output of the Q3 is higher than the Q1 mkii with 160mW/32Ω and 300mW/32Ω from the balanced out.
The Q3 can act as a line in amplifier with a short gimmick because it's line in port is shared with the 3.5mm headphone out so in that mode we can only use the balanced outputs to listen to music.
The Q3 in contrast to the Q1 mkii does not feature a dedicated line out that bypasses the amplification stage.
The Q3 is fully compatible with iOS and Android devices plus windows PC and it can also be used with Sony walkman players with an adapter cable that is sold separately.
Accessories
As we are now accustomed with FiiO we get an extra large accessory pack.
Included in the box are a dual usb type C head cable , long usb type C data cable , short lighting to usb type C cable , 3.5mm line cable , long and short binding straps*2 , non slip protective mat and a storage bag.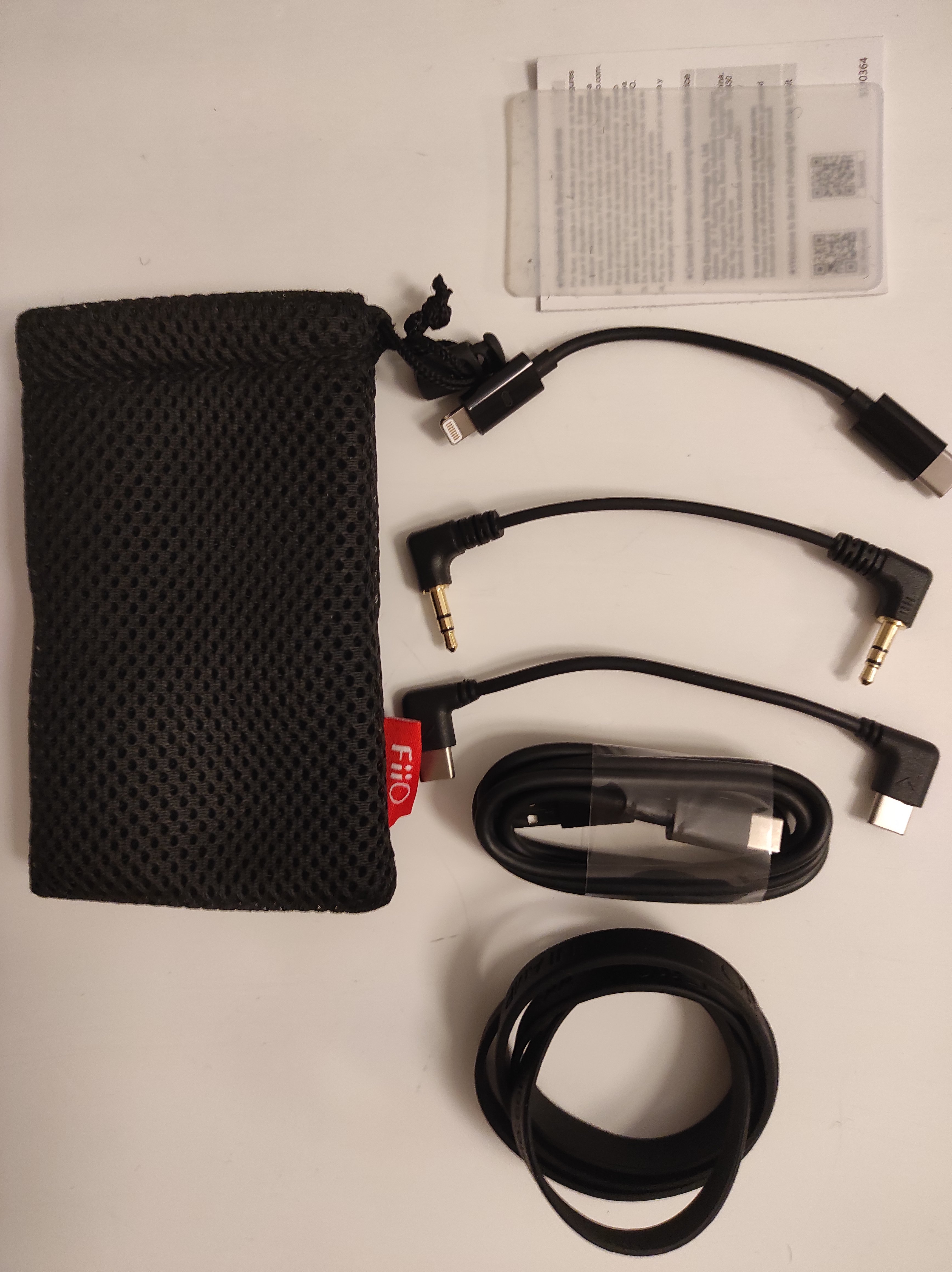 Testing
We have connected the Q3 with various Android devices and a laptop without any apparent issues and we didn't experience any serious electromagnetic interference except one - two times.
In order to test sound quality and driving power plus noise floor we have used various headphones and iems like Sennheiser HD660S , Hifiman Sundara and FiiO FH3 among others.
Noise floor is low enough to be used with normal sensitivity iems and power while it is not lacking isn't sufficient enough for power hungry headphones.
The Q3 from the balanced only output can drive low Z / normal sensitivity headphones plus some higher Z that are efficient enough.
As a real life example we have listened to low level recorded classical music with our Sennheiser HD660S loud enough and without clipping with the volume knob set at about 80% of it's available rotation.
Battery duration is about eight hours with high resolution material running headphones from the balanced out at louder volume levels.
Sound impressions
Overall sound profile is natural and pleasant with an even tonal balance and good extension just rolling off at the extremities of both ends.
Truth to be told one must pay extra attention to notice and let's not forget that the Q3 isn't targeted for critical listening.
So in most cases while on the go or at the office even relaxing at home we have listened to a lot of music of various genres without missing a lot.
The Q3 is full bodied reaching low enough with good impact and layering while offering adequate levels of resolution and detail without compromising a lot.
Midrange is very engaging and higher frequencies are portrayed with a softer tone without rough edges.
The new THX AAA is a marvel helping a lot with great dynamics and fast transient response.
It is very clear and can portray a naturally structured and spacious stage that can do justice to most headphones and iems used.
The single ended output of the Q3 is good enough but rather underpowered and in order to unlock the full potential of it we must use the balanced output.
Not only it offers greater headroom but it also takes advantage of the fully balanced circuit that sounds better with greater technical performance.
Bass boost and filters
The hardware based bass boost is well implemented offering about +6dB of amplification without clouding very much the mid bass or overlapping the other frequencies.
Nice to have for bass lovers or to help lower quality mp3 or YouTube material sound better.
Regarding the two filter settings they mostly affect higher frequencies with the one sounding more firm and well defined and the other more rounded and soft.
Differences are very minimal and due to the lack of a visible indication we can't tell which filter is being used.
Anyway even as such it is good to have in order to tweak the sound a little bit.
Versus the Q1 mark ii
The overall sound signature of the two devices regarding tonality and feeling is quite similar.
Where they mostly differ is in the way the sound is presented from an amping point of view due to the totally different amplifier circuits.
In that regard the Q3 can sound more dynamic , slamming harder and with increased clarity.
Headstage is presented with more air and width plus added separation.
All in all a much improved presentation plus the extra driving power.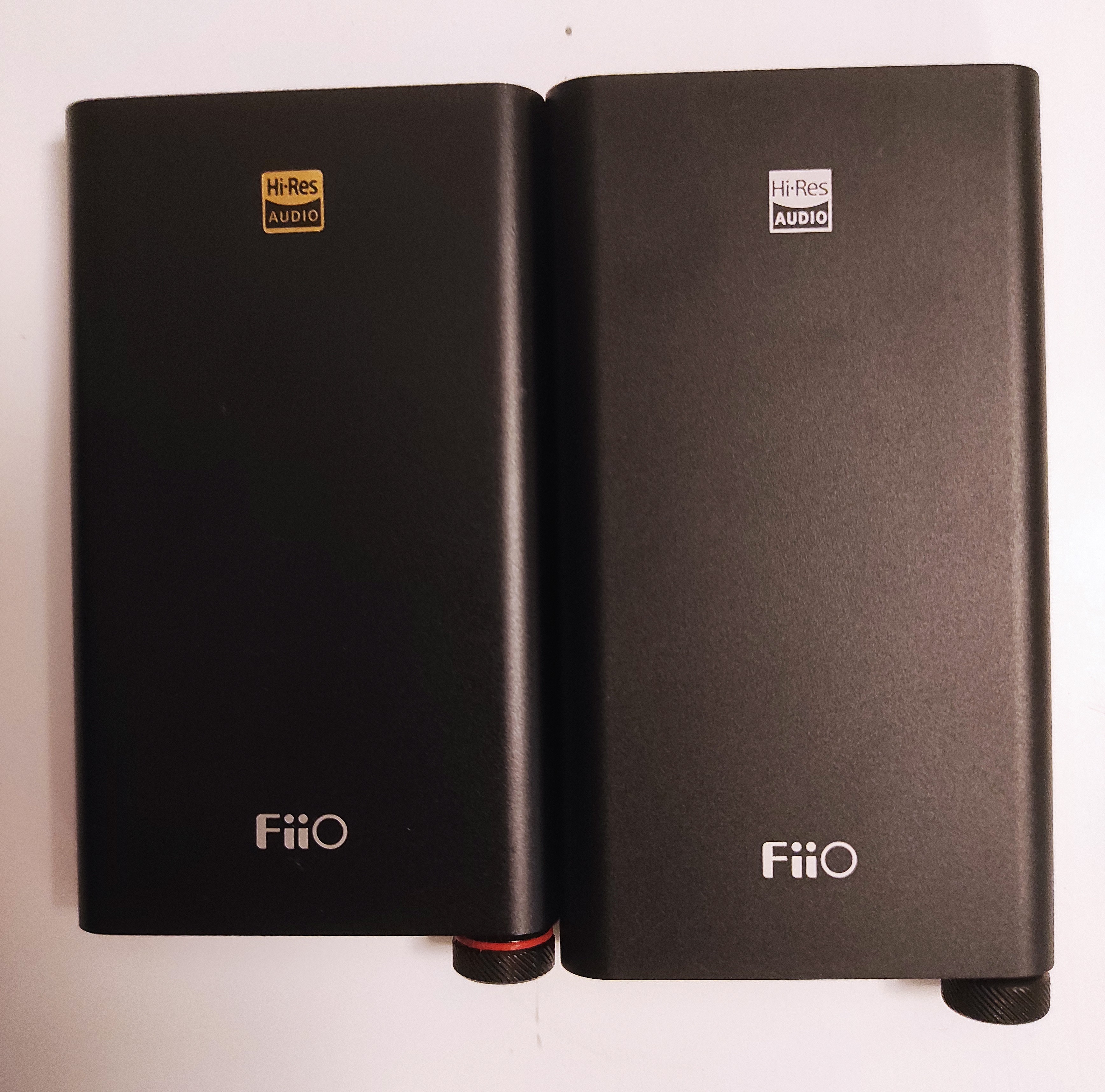 Other than that the Q3 supports fast charging through a modern usb C interface and we get the charge on/off button plus the two filters and extended battery duration.
So at the end in our opinion the only case to choose the Q1mkii over the Q3 is for it's lower price or if we need a dedicated line out.
The Q3 is an evolved version of the original Q1 mark ii well worth the slightly higher asking price.
Final thoughts
FiiO's new Q3 has to face strong competition in an already crowded market.
But it really stands out offering great sound combined with a plethora of outputs plus some very useful functions and great build quality at a very competitive price.
So if you are searching for a budget portable battery powered dac/amp in order to improve your mobile sound experience and you crave for an analogue potentiometer then the Q3 is an obvious excellent choice very highly recommended.
Pair it with a great budget iem like FiiO FH3 and be lost in a remarkable musical journey without breaking the bank.
Copyright - Laskis Petros 2020.
Last edited:
Pros
:
Thin and easy to carry all day. Fairly good power output. 4.4mm pentaconn!!!! Nice and accurate sound!
Cons
:
Bass boost still a little much. No battery indicator.
My third portable DAC/amp was the FiiO Q1 mk2 and I actually used it quite a bit and still own it. At the time it was one of the first devices I saw with a 2.5 balanced jack that didn't cost an arm and leg. It was the first device that got me sucked into the world of balanced and I ended up going balanced with my cables whenever I could. Though this was more for power output vs possible sound quality differences from a balanced output. The only thing I really wished the original Q1 mk2 had was more power and maybe bluetooth so once the FiiO Q5 came out I bought that and used both the Q5 and Q5s for quite a long time. I however always liked the slim profile of the Q1 mk2. Once I saw the Q3 was coming out I wanted to give it a shot and see how a wired only portable DAC/amp does in a world where bluetooth is slowly taking over and "stacked" portable devices attached to phones or players are starting to slowly fade away.
Shoutout to Sunny Wong from FiiO for sending me the Q3 to test and review. While I always appreciate the chance to test and review products sent in from manufacturers, it never affects my review.
Gear used
IPhone 12 Pro, Ikko OH10, FiiO FH3, ADV M5-5D, and Dan Clark Audio Aeon flow "RT" closed.
Unboxing experience
The last few FiiO items I've unboxed all had a really expensive feel to them. The box is somewhat bigger compared to something like the IFI hip dac's packaging. Once opened you're greeted with the Q3 itself. Some documents under the Q3 and then under that you have a small box containing a usb-c charging cable and a big box containing all the goodies. Inside the big box there's a a travel mesh fabric bag, 4 rubber rings that no one will ever use, a thin and small silicone mat to keep the Q3 and back of a device from rubbing in a "stacked" form, one 3.5mm to 3.5mm aux interconnect, a L shaped usb-c to usb-c cable and finally a lightning to usb-c cable.
Looks and Feel
I still really like the small and slim design of the Q3. It looks practically the same as the original Q1 mk2. The Q3 is slightly longer than the old Q1 mk2 but that's about the only physical difference. I personally tend to find all black devices boring but the Sony style gold rings around the jacks do bring some life color wise to the unit as well as the little red ring on the volume knob. Oh and the words explaining the buttons functions on the device being dark grey on black to still be a poor choice depending on lighting. The device is light and doesn't take up much space and is easy to carry around all day in a pocket.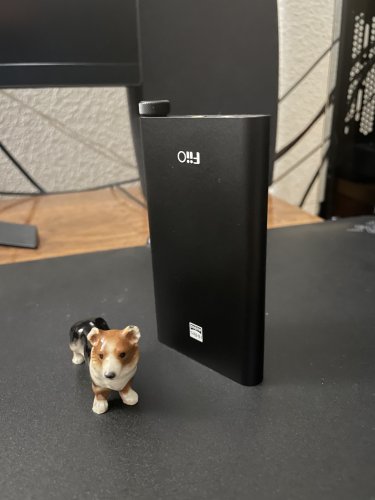 Battery life
FiiO claims 8.5 hours when running balanced and usb in and I can confirm it lasts about 7 and half to 8ish hours with volume at half and in low gain. Very good for my use as I run it at work for about 7-9 hours on and off music playing. Charging is pretty quick as it goes from a pulsing light to a solid red when it's done charging. It also has a switch on the back to turn on or off charging from the device it's plugged into. During the tail end of a longer than normal shift I'll usually flip the switch to charge the Q3 from my IPhone and it's worked fine so far. Oh and there's no battery indicator which I found kind of strange. There wasn't one on the Q1 mk2 either but I figured there would be one on this updated design.
*Note*
I didn't catch this during my write up but I did the final testing of the Q3 connected to the official Apple usb camera dongle. While that dongle will allow the Q3 to charge from my IPhone 12 pro, the Q3 can't be charged from the included FiiO lightning to usb-c cable. Thanks to FiiO for catching that.

EMI noise
When plugged into my IPhone with airplane mode on I get zero noise. This is expected and when I have it connected to my IPhone and with both just wifi or cellular turned on I still pick up a little EMI noise. I've noticed this is a common issue I've experienced with my old Q5s, IFI hip dac and Lotoo Paw S1. They all have different types of noises too. The noise is however only noticeable when using the included cable or the lotoo S1 cable while directly stacked against the back of my IPhone. Running the official IPhone cable usb kit and a longer lightning cable that keeps the devices separated results in zero EMI noise. This is the least noisy of the most recent portable DAC/amps I've used. FiiO makes claims about having EMI protection in place too which I do think works as well as it can. At this point I think it may simply be hard to protect portable DAC/amps from EMI noise coming off a cell phone.
Sound(overall)
These will be my impressions overall with the Q3's sound signature when used with all the iems and headphones I threw at the Q3.
Lows
Lows have a nice small boost that gives a little fun bump to low end on most headphones. Over ears or iems that sound lean in the low end won't be fixed by the Q3. The bass boost can indeed help with lean sounding audio gear. The bass creeped into the lower mid range a little too much for my taste so I'd leave it alone if bass is adequate enough.
Mids
Mids gave me no issues and everything came through super clear and detailed. Vocals were a pleasure to listen to as well. I never ran into sibilance with female vocals on brighter mid focused headphones.
Highs
Top end is on the clinical side. Nowhere near as bright or cold as the M11 but details were very good coming through without ever becoming harsh. I really liked the way drums came through as well as other high frequency instruments. There is still a nice sparkle up top but it holds well on not crossing into a splashy treble territory.
Imaging/Soundstage
The soundstage is average-ish overall. There is above average width but depth was somewhat lacking and it starts to feel like a wall of sound vs a stage. Everything is in your face most of the time. The imaging is really good however, you can easily pick out the placement of sounds in songs. My side to side audio sweeps gave me no issues here and I sometimes picked little details out in places that are sometimes harder to pick out on gear that have a deep soundstage. Running balanced can add some extra width and depth to the stage from my testing.
Single ended output/line in
Single ended performance was pretty good. I had no gripes with any of the gear I tested though the 3.5 jack. Power output is fine for iems and on the edge for power hungry over ear headphones. The one thing to note out of the 3.5mm jack is that when using it as a AUX line it, you have to use either the 2.5mm or 4.4mm balanced jacks to make it work. I didn't really process this initially as the original Q1 mk2 had a dedicated AUX line in port.
Balanced outputs
The balanced jacks barely push out any extra volume when going from single ended to balanced. I got such a small boost to volume using balanced it caught me off guard. When I swapped to balanced on the hip dac from IFI it was a noticeable volume increase. The thing here with the Q3 was that I got zero floor noise with the most sensitive iem/cable combo I threw at it. I was very happy with this result. Even in high gain I get no noise unless I go full blast with no music playing on my most sensitive iem combo. Even then you really have to listen for the super small floor noise. The three planars I had that are somewhat power hungry got to loud levels with decent performance sound wise.
Power output
Power output via the two balanced jacks are 300mW @32 ohm which I find perfectly acceptable for iems and some most over ear headphones. Power output from single ended is 160mW @32ohm which is double the power of the single ended Q1 mk2. This will be fine for iems but might show a problem for some non efficient over ear headphones.
Connectivity with computer and IPhone
Since I didn't test the hip dac with my IPad pro I decided to do the same with the Q3. As I said in the hip dac review, the small Lotoo Paw S1 still holds the honor of being my ipad's main DAC/amp. Running the Q3 through my PC was easy and windows 10 picked it up right away without the need to install the ASIO drivers. If wanted to upscale to the full 32/768kHz and DSD512 then the ASIO drivers were needed. The drivers were easy to find on FiiO's website and after setting that up I was off to the races! While I couldn't tell you honestly if upscaling sounds better I will say if the device says it can do 32/768kHz and it doesn't sound worse then you can bet I'll run it that way hahaha. Plugging into my iphone was fairly easy and the only quirk is that if I have music paused long enough when I hit play, it will play through my iphone speakers for about a second before switching over to the Q3. Not sure who to blame there since IOS is very iffy with audio gear sometimes. While the Q3 doesn't have MQA support I can't be bothered to turn off Master quality in tidal on my iphone and when I played a track in that quality the little Q3's light changed to yellow to indicate it was reading the 24/96kHz song. That made me chuckle but sample rate changes do pick up just fine when paired with an Iphone.
Iem pairing opinions

Ikko OH10
The OH10 is fairly easy to drive, sounds pretty good with most devices and things are no different here. The small boost the low end makes for a nice little thump I expect to hear out of the OH10. With the mids being a little more clinical and accurate the OH10 sounds a little flat and I still like the OH10 better with the hip dac or FiiO's Q5s. I would still say this is a good pairing and the bass boost on the OH10 is ok. It starts to fall into a very warm and thick sound signature and the bass is a little bloated. I would recommend leaving bass boost off here.
FiiO FH3
I of course had to try the FH3 with the Q3. Both made for a great pairing. I found the FH3 to be on the edge of too bright up top sometimes with other gear but the Q3 keeps it accurate and controlled so I really like this pairing. Low end and mids also come across clean and accurate. Soundstage is still small here. Those looking to open up the FH3's stage will maybe wanna look at stepping up to FiiO's Q5s.
ADV Sound M5-5D
The M5-5D is fairly bright, super detailed and has very fantastic hard hitting low end. It's also super sensitive yet it had no hissing from any of the jacks on the Q3. I was fairly disappointed using this set with the hip dac recently via balanced due to the super obnoxious hiss. The lows and mids sounded fantastic here as well as the highs. I didn't run into sibilance with this pairing often which is nice as the M5-5D can be a real killer sometimes. Details came through very well and the soundstage was fairly good single ended. It still felt like a wall of sound compared to both the hip dac and my desktop set. Running these balanced adds some depth to the soundstage so I will give the Q3 a pass here with the M5-5D.
Over ear pairing opinions
Just like with my recent IFI hip dac review, I decided on only using the closed aeons since I rarely use open backs away from my desk at home since I want the best isolation from normal apartment noises and I rather not annoy my roommate with my open back blaring in the living room or when I'm cooking. Using my aeons outside my room is also somewhat rare too. I tend to baby my over ear headphones over my iems. I did try my lcd2c and lcd-x which get enough power to get loud but still lack dynamics as with almost all portable setups I've tried.
Dan Clark Audio Aeon "RT" Closed
The RT closed actually got up to a volume I liked running both single ended and balanced. The RT definitely hit its limits here and it just didn't have enough juice to really sound its best. It sounded a little too lean for my taste and this was the only time the bass boost was actually useful for me and gave a little life back to the aeons. Soundstage feels small here and while I could run the aeons this way I probably wouldn't unless I was on a flight. This is still a huge upgrade in sound quality over using the RT with something like an IPhone headphone adapter.
Compared to the old Q1 mk2
After dusting off the old Q1 mk2 and plugging it in for some side by side testing I noticed some differences right away between the two. I haven't listened to my Q1 in quite a while but I was expecting a mostly small change to sound quality and more changes to features. The Q1 mk2 sounds very sibilant and sharp compared to the Q3. Details come through the Q3 better without the treble being super boosted like with the Q1. The low end is much better on the Q3 with better bite/impact. Soundstage is about the same between the two but I found imaging to be somewhat loose on the Q1 and not as accurate or easy to tell where things were positioned in a track like the Q3. The bass boost is not bad on the Q3. Still terrible like I remember on the Q1 so good job to FiiO on making it slightly better. The option to turn off and on charging of the Q3 is a nice upgrade over the Q1 and I like a button for high gain over the switch personally. Overall I find the Q3 to be a surprising upgrade over the Q1 mk2 which I honestly wasn't expecting.
Thoughts on the Q3 vs the IFI hip dac
Both of these devices come in at $150 and both are fantastic but both start to shift in features and usability when using these portable and on the move. I'll copy over what I wrote on the comparison between the two from my hip dac review.
"Both sound fairly similar and after a week of listening to one for a while then switching devices, it was easy to tell the Q3 was fairly accurate in the mids and highs with a slight boost to low end while the hip dac was a little more "fun" or "lively" sounding overall. The Q3 also has a slightly smaller soundstage compared to the hip dac. Power output goes to the hip dac as well. The Q3 however has a nice and stiff volume knob, AUX input(though you have run balanced headphones to make use of this) and a normal usb-c port. For me the Q3 works out as my new daily portable amp since I've yet to accidentally adjust volume in my pocket or coat. While the hip dac wins IMO in sound quality by a small margin, If you only had one over the other and couldn't compare the two side by side I would say the sound quality difference is small enough it's possible you wouldn't notice the differences after a while. Power output, slightly better audio quality, larger soundstage and MQA will be the big reasons to pick the hip dac over the FiiO Q3 IMO. Pick the Q3 however if you need to use it on the move and want less risk of jumping volume on accident while it's in any type of pocket."

Overall thoughts
While I really enjoy the Q3 and use it as my personal portable daily DAC/amp on the go, I think FiiO's biggest competition in this price range is it's own BTR5. Not having bluetooth in the Q3 does limit it's usefulness if you don't like stacking something behind your phone. For me it's not a big deal and I'll happily take the 4.4mm jack and power output over not having bluetooth. Minus the BTR5, the other device it's fighting against is the hip dac from IFI. Both are fantastic and both have their pros and cons but if you plan to use a portable unit like this on the go in a jacket or pocket then the Q3 will be a better and safer choice. The volume knob is stiff, is less likely to be adjusted by accident while walking and it's not very easy to activate the high gain button on accident either. I think FiiO did a fantastic job here on their update of the Q1 mk2 design and
I can easily recommend
this
for someone on the move in need of a portable DAC/amp to pair with a phone or even someone getting into this hobby that might use this as their desktop setup. FiiO has been on fire lately with a lot of fantastic releases and I can't wait to see what's next! Thanks for reading!
Last edited:
Pros
:
Good value, good-sounding, charge-on/off switch, drives IEMs very well.
Cons
:
Doesn't get very loud with full-sized headphones, no battery indicator.
Thanks to FiiO for giving me a Q3 to review. It was sent without any preconditions whatsoever.
Given the number of good DAPs out there, it's still a surprise that there is interest in DAC/amps in the portable world of Head-Fi. Despite this, some people still say that they like to use their BTR5 using the USB input for the sound quality, so it only makes sense that FiiO produce the Q1 and Q3.
I have shamelessly pinched this image from FiiO's web site to show what comes with the Q3.
​
The Q3 is flat, and of a size that can comfortably fit behind a smartphone. It comes with a non-slip mat to go between the Q3 and another device, along with old-style rubber bands for strapping it on, which are only practical to use with some old-style DAPs, given that modern smartphones have full-size screens nowadays. I can't help thinking that FiiO should have done what iFi did with the xDSD, and include some 3M Dual-Lock instead.
Requisite money shot with my iPhone X and FiiO FH7 with LC-RE cable.
​
Given it's size and shape, it comes with a reasonably substantial 1800 mAh battery, giving it at least 8.5 hours of use time. It also has a useful maximum power output of 300 mW (at 32 Ohms, USB input, balanced output).
Input is via USB (using a Type C cable) or in line-in mode via the 3.5mm output, allowing it to be used as just an amp. To facilitate use with a smartphone, a switch on the back allows charging to be turned off. For USB input, short cables are included for USB-C to C, and Lighting to C, the latter of which only works with the Q-line of products (though may with others — I didn't try).
FiiO's M9, M3 Pro, Q3 and M11 Pro.
​
Alongside that, there are two gain modes, two digital filter modes (which, for me, did audibly nothing) and a 6dB bass boost, which turned out to be too much even for the fairly flat/neutral-sounding Campfire Ara IEMs. Maybe if you're one of those people who listen to hip-hop and rap, or possibly very old pop tunes, quite a bit of which is recorded with a surprisingly low amount of bass, this overkill bass boost will suit.
The gain modes were interesting, as even in high gain, the volume level was about right for even the quite sensitive Campfire Audio Andromedas, with only minimal hiss, a bit more than the BTR-5. The volume has to be turned up quite a bit before sound comes out, even in high gain, and maxes out easily with full-sized headphones before the sound gets very loud. This makes me feel it is best for IEM use, and unless you don't listen loud, the output may be too low for full-sized headphones, especially if you listen to typical jazz and classical music that has a high dynamic range.
Side-by-side comparison of the M3 Pro, M9, Q3 and M11 Pro.
​
While FiiO touts the Q3 as having a THX AAA amplifier, known for their low distortion, I don't consider balanced amplification to provide anything superior to a good single-ended design, and in and of itself wont necessarily make a cheaper product perform better than a more expensive single-ended design. It would make more sense that portable equipment all be single-ended, but as enthusiasts have gotten themselves all excited over "going balanced" for years, the manufacturers have had to follow suit.
In actual use, while the LED next to the volume knob indicates, in basic terms, whether the input is high-res or not, or whether it is charing (by turning red or pulsating) it lacks a battery level indicator, making its charge status uncertain.
Listening Impressions

I tested the Q3 via my iPhone and an M11 Pro from USB, primarily using the 4.4mm output. From that, I found nothing to fault the sound, with no harshness or distortion, making listening pleasant. If anything, I perceived the the sound as being a little bit mellow, which some people describe as being "warm".
With the three FiiO hybrid IEMs on hand, the FH3, FH5, and FH7 (of which I accidentally picked up the FH7 when I made the video, due to it sitting on the same block of foam as a dozen other pairs), the Q3 provided a distinct jump up in bass output and clarity from an Apple Lightning dongle from my iPhone X, something I'd consider a primary consideration for someone looking to buy a DAC/amp like the Q3.
I also tested the Q3 with higher-end IEMs, such as the Campfire 2020 range (Ara, Andromeda and Solaris), as well as the Final A8000. While I don't expect these pairings to be normal ones, I wanted to see in more absolute terms how the Q3 performed against other devices.
The Q3 atop the foam block I use for storing IEMs I am currently listening with.
​
Not surprisingly, while the drive of the IEMs was excellent, the level of detail retrieval from music with which I had a lot of experience, such as Jazz in the New Harmonic by David Chesky, which has the most incredibly nuanced percussion, from the Q3 was not as good as with either FiiO's higher offerings, such as the M11 Pro, or other more expensive DAC/amps, such as the iFi xDSD or Chord Mojo.
The better power output of the Q5S with AM3A module, for example, I felt gave slightly better results, though it's main advance was that it could power full-sized headphones to quite loud levels, something the Q3 can't do. Notably, the Q5S can sound a touch harsh with the default digital filter, easy changed in the FiiO app for the Q5S. The Q3 didn't suffer from this, sounding more mellow out of the box.
The BTR5 on top of the Q3.
​
Using the USB input of the BTR5, I felt that it has a comparable sound quality to the Q3 in this mode, though it is primarily intended to be used wirelessly, rather than wired.
Where the Q3 shines is with how it drove the IEMs I had on hand, at the same time making for easy and pleasant listening. Paired up with the FH7 and the new LC-RE cable worked out very well. That combination is pretty good for rocking out, such as when I want to break out music such as Sonny Landreth's Grant Street, which was recorded live, and doesn't benefit from high-end gear. The more mellow Q3 very slightly takes the edge off what can be a bit of a sharp treble from FiiO's hybrid IEM models, while maintaining good control over their drivers.
Conclusion
The Q3 makes for a solid, inexpensive IEM DAC/amp, and with a pair of FiiO IEMs, a not unreasonably expensive portable rig. If don't want to use Bluetooth, or full-sized headphones, yet want something that can slip into the inner pocket of a bag to use with a computer or phone, then the Q3 fits the bill. I reckon it makes for a noticeable step up from a Lightening audio adaptor, and very likely many USB-C audio dongles, especially when you have IEMs that sound best with a bit of amplification behind them.