A Portly Prince, if Not a King
Pros
:
Google Play Store, lots of ports, Roon endpoint after update!
EDIT: Bumped up my rating from 3.5 to 4 because of a software update to make the M17 a proper Roon endpoint. You can now listen to Roon with the full guts of the device. There is a NOTICEABLE sound improvement. Good riddance to the Fiio player. Overall, the device is still unjustifiably big unless you are going to be using it specifically for full-sized headphones and the sound quality isn't quite on par with summit-fi players, but this software update means I can stop checking eBay for an SP3000 for a bit longer. AirPlay is still unusable. 🥲

Gear tested with the Fiio M17: 64 Audio Tia Fourte with balanced, palladium-plated Plussound X8 cable, Audeze LCD-5 with single-ended, silver-plated Plussound X8 cable, and Dan Clark Audio Ether 2 with single-ended DCA VIVO cable. What steered me toward the Fiio M17 was its ability to use Apple AirPlay. If that was also something that caught your attention, understand this: The lag between an Apple TV and the Fiio M17 over Apple AirPlay is unusable. It's about a 3 second lag/delay, considerably worse than just using Bluetooth. So what's left? A decent DAP that tries to do everything and continually stumbles.

Coming from an Astell & Kern SP1000M, I deeply appreciate access to the Google Play Store and Resilio Sync (By far the best file-syncing option). Roon works great, although I would say that the strength of the Wi-Fi reception of the M17 is "medium". Roon also has to go through Android, so it is not lossless. The sound is good, not great. Despite the marketing department coming up with the term "Desktop class", it is embarrassing to compare this to a good desktop setup. It has the power for full headphones, but it lacks good, dynamic sound. It feels flatter, less slam, and lethargic compared to the A&K SP1000M. I honestly considered the SP1000M and the Tia Fourtes to be one of the best sounding combos of any audio gear I have owned. When I plug the Tia Fourtes into the Fiio M17, I would say that the sound is better than the 2nd gen AirPods Pro, but barely.

It also has some bizarre quirks. The "Enhanced" headphone mode can ONLY be activated with the dumb charging brick. The brick is DC power! You have USB fast charging ports! You cannot activate the enhanced mode with USB power. WHAT IS WRONG WITH YOUR ENGINEERS? The Pure Audio mode UI is generally very good, but of course it has some obnoxious ticks to it. Searching for music is clunky. Manually updating your library seems wildly outdated. When browsing music, UI play buttons will either play music in series or play it randomized, and there is no indication what you're going to get when you press the button.

I think this is a mediocre player that is offensively large. Like… you cannot comprehend its size until it is in your hands. Yes, it does have a full, real 1/4" port, which is insane. But even with earphones and the lowest gain setting and Wi-Fi turned off, the battery life is relatively decent. I haven't thoroughly tested it, but I still have to charge it pretty often.

Overall, I think you have to have some extremely specific needs to justify the Fiio M17. I think that the vast majority of people can get similar sound for less, or spend a little bit more for better. Personally, I am definitely trying the Sony NW-WM1ZM2 and the A&K SP3000 when I get a chance.
Last edited:
The Best Audiophile Brick
Pros
:
1. Superb sound
2. POWER
3. Exquisite build
4. Good screen, Snappy UI experience, Long battery life
5. Loads of input and output options
6. Extreme value
Cons
:
7. Chonky (but manageable)
8. Nothing else to speak of
FiiO started relatively small, mainly manufacturing small, inexpensive portable dac-amps and amps and occasionally in ear monitors. But the brand has grown considerably larger since and now they have quite the portfolio to showcase, ranging from people's favorites like BTR5 to full fledged desktop dac amps like K9 pro. (they have a large portfolio of iems as well but our experience with fiio iems is limited and sort of a mixed bag). FiiO's digital audio players have been quite popular and some of them were genuinely brilliant, M15 being a prime example.

With FiiO M17 however, fiio probably has outdid themselves, along with many of their competitors. Let's find out how and why.
Disclaimer: This DAP is a personally bought unit and belongs to Mr. @Sajid Amit . He also has a YouTube Chanel, Amplify Audiophile show (https://www.youtube.com/channel/UC9EqdhwdpmxZxzNxEC42FOg) that he runs for fun and it generally features his thoughts, impression and reviews on high end gears.
Unboxing experience, general build quality and design:
Unboxing the M17 is quite the experience and quite opposite of what's generally considered to be 'minimalist'. You'll get the M17 itself, a superbly made dock for dc use (DK3) and a very high quality real leather case alongside other typical accessories like cables, manuals and a screen protector. You'll also get a switching power supply for DC use. FiiO probably could sell all of these separately and charge exorbitant prices like many of its competitors do. But instead decided to give the buyer their money's worth and bundled everything together. This in my opinion, deserves a massive applause for being pro consumer

M17 is one massive device. It's the biggest and burliest DAP in the market right now (DMP Z1 doesn't count as a portable audio player IMO) weighing in at a massive 610 grams. The screen is pretty big (7 inches) thus navigating through it is quite the breeze. It also hosts a massive 9200 mAh lithium ion battery inside which is almost as big as flagship samsung/Apple tabs so battery life is never an issue and longer than most smartphones. The screen quality is quite nice and it's a 1080p ips screen so videos and texts are quite sharp and clear compared to 720p options available in the market.
On the OS side of things, FiiO has moved on from archaic android 7 which still many DAP manufacturers continue to use. It's currently using Android 10 which is much more recent and the UI is not loaded with junk or bloatware like some of its competitors do. It's a fairly simple and intuitive, easy to use interface.

Another massive improvement has been made in the SoC powering it. M17 is not using pathetically underpowered low end SD 430 or Exynos chips anymore. It boasts Snapdragon SD 660, a fairly competent mid tier chip from Qualcomm which in turn, makes M17 the snappiest, most fluid Digital audio player in the world. Button placements are ergonomic and I love the smoothness of the volume knob. If I gotta score M17 from a UI experience point of view I'll probably give it a 12 out of 10, that's how far ahead it is of its competition.

Build quality is exquisite as expected from a 1700 USD DAP. The choice of including LEDs as an aesthetic touch can be divisive for many but I think it's youthful and kind of cool.
SPECs:
DAC
2 x ES9038PRO 32-Bit
Amplifier
1 x THX AAA-788+
External DAC Functionality
Yes, DSD512 up to 22.5792 MHz / 1-Bit
PCM up to 768 kHz / 32-Bit
Audio Resolution
PCM: 384 kHz / 32-Bit
DSD256: 11.2896 MHz / 1-Bit
Frequency Response
5 Hz to 80 kHz -3 dB
Impedance
16 to 300 Ohms (Balanced)
16 to 150 Ohms (Unbalanced)
Gain Settings
High1, Normal, Low
Volume Control
Analog (120 Steps)
THD + N
0.0007% at 1 kHz
Audio Power Output
1.5 W at 16 Ohms
3 W at 32 Ohms
500 mW at 300 Ohms
Maximum Output Voltage
27.7 Vp-p
Signal to Noise Ratio
123 dB
Crosstalk
75 dB at 1 kHz
Balance Control
Yes
Custom Equalizer
Yes
I/O:

1 x 4.4 mm Balanced Headphone / Line Output

1 x 1/8" / 3.5 mm Headphone / Line Output

1 x 2.5 mm Balanced Headphone Output

1 x 1/4" / 6.5 mm Headphone Output

1 x RCA S/PDIF Input/Output

1 x USB Type-C USB 3.0 Input/Output

1 x USB Type-C USB 2.0 Input/Output
M17 has all the output options you need except xlr. This minimizes the need to use adapters which might otherwise add bulk and weight to cables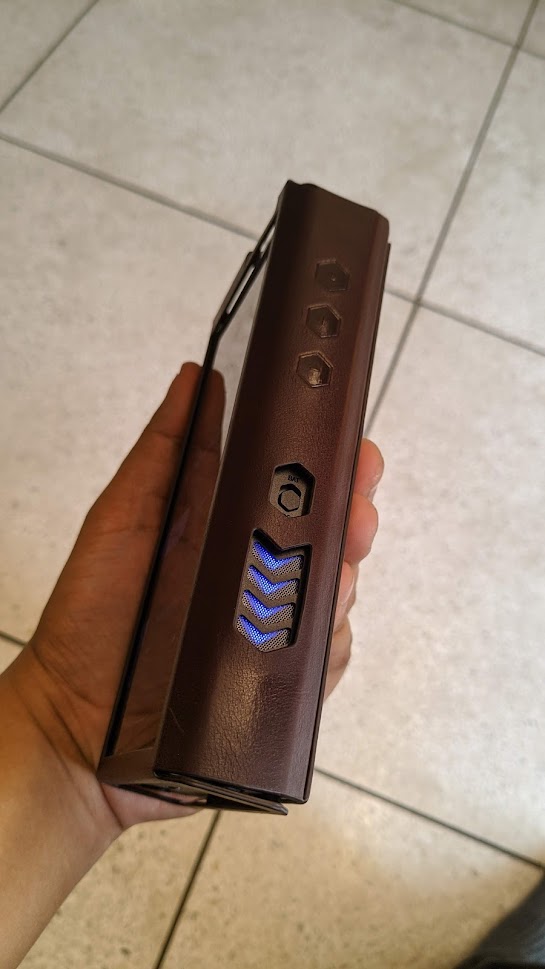 Sound:
FiiO has used dual flagship saber 9038 pro chips and two thx AAA+ 788 amp modules. This sort of setup can spark the preconceived notion that M17 would sound sort of dry and sterile. But M17 has made me re-realize how cliches and unfounded assumptions can be wrong most of the time.

M17 is anything but sterile. It is in fact, probably the smoothest and most lush sounding DAP in the market right now. But thanks to the THX tech and extremely capable DACs inside, it's a technical monster as well. I'd say it's as detailed, transparent and dynamic as similarly priced full fledged desktop setups.

It is not, however, neutral per se in the traditional sense. Like its predecessor M15, M17 has some hint of warmth and authoritative yet a bit laid back midrange presentation. This results in a dense, slammy bass response and accentuation in vocals and other midrange instruments while snubbing out unwanted annoyances like lower treble fatigue or any hint of upper midrange glare.

I'll describe the treble on M17 as calm,rounded and even. While it has superb extension and air, it doesn't have the sandpapery/ ice pick characteristic that some players or DAC amps have.
M17 has several amplification modes. On DC power mode a separate gain mode is unlocked that pushes whooping 3 watts per channel. This means M17 is capable of driving all headphones available In the market to their full potential except estats. It drives Susvara and Abyss 1266 phi TC perfectly well which are rather hard to drive planars and requires very high end equipment to churn the best out of them. It may not be as good a solution as an endgame tier setup like Holo May+ Accuphase combo or May + oor and hypsos but remember, It's a portable digital audio player pushing these heavy hitters. If that is not impressive, I don't know what is.

Pairings with comparatively easy to drive Headphones and IEMs are impressive as well. Both Focal Utopia and Sennheiser HD 800s sound brilliant. In fact, both of these headphones sound better than any other sub 1000/1500 USD setup on M17. This might sound ridiculous to the uninitiated. I probably wouldn't believe it so as well if someone told me but M17 is that good. Another thing to note here is, FiiO didn't gimp the SE out in favor of balanced. Both sound equally competent. The only difference I feel is in power output and separation.

Going back to technicalities, imaging prowess of the M17 is an unreal level of good. Extremely precise and accurate. That added with the clean background, laid back presentation and note weight makes everything sound big and voluminous. When I am listening to iems for example, It doesn't sound trapped in my head but extended in all directions. I have not experienced this phenomenon in any other DAPs

In terms of speed and dynamics, I'll say it's more than sufficient but lags ever so slightly behind Astell and Kern SP2000T. SP2kT has a bit more upfront presentation and sparkle which gives it a clear advantage over M17 in speedy genres like heavy metal. On jazz, funk, classic rock or anything with some form of vocal emphasis through, M17 strikes back and takes the crown.

In my opinion, M17 is a very complete sounding device. It has the technical chops that's generally reserved for high end desktop DAC amps, Has a snappy and intuitive UI, Musical, weighty sound that synergizes well with every headphone/iem I throw at it and power for days.

1700 USD isn't cheap. But for what it offers I believe it's the best value DAP in the market right now and a must buy.
Last edited:
The Milestone / Bridging the gap between portable and desktop.
Pros
:
+ Class leading transparency
+ Masterclas technicalities
+ Quite musical and addicting
+ Desktop level amplification
+ Dead silent and crystal clear
+ Hugely dynamic with impactful bass
+ Grandiose soundstage
+ Highly resolving
+ DC powered mode
+ Abundance of inputs and outputs
+ Excellent as a digital transport
+ Full size coaxial plug
+ Large and crisp display
+ Fast and snappy performance
+ Excellent build quality
+ Stand with cooling fan
+ Real leather case
+ Good price for the features
Cons
:
- A touch more technical than musical
- Slightly dry
- Not really portable
- Bulky and heavyweight
- Cooling fan is noisy
- No ambient light sensor
- No visible gain and digital filter selection
- Awkward filter selection system
- A higher quality DC power adapter should be included
The M17 was kindly provided by FiiO, free of charge in exchange for my honest evaluation.
The retail price is €1499.99 without VAT and you can buy it from
FiiO.eu
.
Introduction
FiiO has long ago decided to abandon the budget / mid-priced DAP category in order to concentrate their efforts on higher-end products.
They started with the
M11 Plus LTD
, featuring two AK4497 DAC chips, which after the chip shortage was succeeded by the M11 Plus ESS version and now they have released their cost - no object flagship, the prestigious M17.
FiiO M17
The M17 is the most complete and feature-rich DAP in the market, although it should be better addressed as "DAT" (Transportable player) rather than simple "DAP" since it is more of a transportable unit than really portable...
Full specifications are available
here
.
DAC and amplifier sections
The M17 uses a pair of the flagship ES9038PRO DAC chips from ESS in a fully balanced and differential configuration.
Each audio channel has 8 parallel outputs, summed together for superior resolution and minimal distortion.
The digital signal is handled through an XMOS XUF208 receiver and dual Femtosecond crystal oscillators which support up to DSD512, 32bit/768kHz PCM and 8X MQA.
For amplification duties, FiiO and THX have jointly developed the exclusive THX AAA 788+ module which is based on one OPA926F and one TPA6120A2 current feedback amplifier for each module.
Two such modules are used for a fully balanced output with a power output that can reach desktop levels up to 3000mW per channel.
Optimized circuitry
Top quality components are used like the high-end TI OPA2211 op-amp, 470mF DMF supercapacitor and ultra-low noise LT3045 LDO linear regulators while analog and digital boards are physically separated to reduce interference.
In order to accommodate all the necessary components and circuit boards while keeping the chassis as less bulky as possible, FiiO spent 1.5 years completing the highly optimized, modular internal structure.
Dual power supplies
This M17 contains two power supplies, a battery power supply and another one powered by an external DC power adapter.
The massive 9200mAh battery can be charged through a dedicated type C USB port or an external DC adapter.
The DC power supply mode offers 35% increased voltage to the analog circuit, up to +11.5V while the battery is kept healthy since it is not used under this mode.
The battery supports fast charging and it needs about 4.5 hours to reach full level while it can be charged either through the USB or the DC input.
With such high specs, someone would expect the battery to discharge really fast but in real life use it offered about 7-8 hours of playback from the balanced output but please keep in mind that this duration is largely dependent on the use scenario.
A very useful option is the battery life saving mode where the user can adjust the maximum percentage of the full charge.
Setting it between 70-80% is very good for the longevity of the battery.
DC/BAT switch explained
There is a switch on the right side of the player which allows you to switch between battery mode and DC mode, while you have the DC power adapter plugged in.
Without the DC power adapter the player is running from the internal battery and the user can't use the over the ear enhanced mode.
Plugging the DC power adapter will unlock the enhanced over-ear mode.
Then you can set the switch to DC or BAT position which have a different effect regarding power management.
In the hybrid power supply mode (BAT), the enhanced mode is not available but battery capacity can be kept full at all times, which is suitable for use in short-term fixed scenarios.
In DC power supply mode, which unlocks the enhanced mode, the battery life can be greatly extended because the battery is not involved in the working process at all.
For short-term usage, hybrid power supply mode is suitable. For better battery life, DC power supply mode is recommended.
In fact, as long as the M17 connects to DC power supply, all power supply is provided from the DC first.
In BAT mode, all DC power supply enters the PMU and then comes out to power other systems.
In DC mode, the DC power supply is divided into 2 channels, 1 channel enters the PMU and powers other systems, and 1 channel is directly powered to THX, which can provide a larger discharge voltage output and a larger swing.
So only the THX part uses DC power supply directly, and the other digital parts, as well as the analog parts of the LPF, are powered by the PMU.
Desktop level gain
Running from the battery there are four gain levels: low, medium, high and headphone mode.
When in DC mode, the enhanced over-ear mode is unlocked, with a truly desktop level amplification.
In balanced output, gain can get as high as 16dB, allowing the M17 to easily drive most of the headphones.
Bluetooth RX/TX
Bluetooth 5.0 connectivity is supported through the flagship QCC5124 chip.
The supported codecs are for Bluetooth reception: SBC, AAC, aptX, aptX LL, aptX HD, aptX Adaptive, LDAC and for Bluetooth transmission: SBC, AAC, aptX, aptX HD, LDAC.
Other notable features
The FiiO M17 houses a large 5.99" full HD 1080P display that produces crisp, high-quality visuals with stunning colors and detail while it uses Qualcomm's latest Snapdragon 660 SoC chip.
This is an eight-core high-performance CPU chip that delivers lightning-fast performance with applications. It also has 4GB of ram that allows for using multiple applications at once.
The FiiO M17 is loaded with the latest Android 10 OS that provides one with the widest range of media and music applications available with Google Play Store.
Heat management
Exceptional audio quality comes with large power consumption, so effective heat dissipation was a large focus when designing the M17.
Not only are "H" type heat dissipation and VC liquid cooling technologies adopted, the M17's 151g unibody aluminum alloy frame also effectively transfers heat out of the device.
Finally, the cooling fan stand also further makes sure heat is
rapidly transported away.
With all my headphones, that are not extremely difficult to drive, I haven't experienced any excessive heat above normal and never used the stand with the cooling fan.
The M17 was only mildly warm, even after a couple of hours of use.
The ambient light system
The M17 features a seven-color RGB ambient light system with
extensive customization options. Colors can be set to be either
fixed, to follow the audio, or to follow a cycle.
The brightness of the ambient light can be set to change depending on the current power, volume, or temperature.
And finally, the top
and side ambient lights can even be controlled separately, allowing you to dial in exactly how you want your dazzling lights to be.
Inputs/Outputs and Connectivity
The M17 features desktop level connectivity as it includes a great variety of inputs and outputs to cater for many different convenient use cases as you can see in the following diagram.
The 3.5mm and 4.4mm headphone outputs can be individually configured as line outputs with fixed or variable signals.
The USB type C and coaxial inputs are bidirectional and can be used either as digital inputs or outputs.
A few examples of connectivity are:
As a digital transport with an external DAC (USB/coaxial output+DAC)
Reading files from a hard drive storage (DC+USB 2.0+hard drive+headphones)
With Bluetooth headphones
(Bluetooth transmitter+Bluetooth headphones)
As a fixed line output DAC or preamplifier
Play music as a PC DAC or from an external CD transport.
(USB DAC input or coaxial input)
Accessories
The M17 comes bundled with a practical stand that has a cooling fan attached to it which by the way is not very silent.
There is also a premium leather case, an external DC adapter, USB 3.0 data and power cable, micro SD card ejector pin and aluminium dust plugs.
The screen comes with a gorilla glass protector pre-installed from the factory while there is an extra one included in the box.
Build quality and physical appearance/interface
The M17 is made from CNC milled aluminium with an excellent, flagship level, build quality.
The luxury, albeit very modern appearance, and the top craftsmanship certainly match the high price tag.
I am not very fond of the side ambient lights that are reminiscent of gaming PC gear and I would be happier without them but feel free to treat this comment as something purely subjective.
The finish is perfect while the volume knob and the side buttons are very well constructed and offer tactile feedback.
The unit is bulky and heavy, the dimensions are 156.5x88.5x28mm while the weight is a whole 610g.
This is not the regular DAP that can be used one handed, you are going to need both of your hands in order not to accidentally drop it.
As such the M17 is by no means portable and should be considered as a transportable unit, more suitable for stationary use.
The physical buttons layout is illustrated in the following picture.
User experience and interface
There are so many possibilities for using the M17 that it would be too lengthy to cover everything so I am going to refer only to the basics plus a couple of serious omissions.
The user can choose between the Android 10 OS or the pure music mode that enters the FiiO Music app, killing all other running applications, which offers marginally better sound quality.
For streaming services or DLNA the Android OS is the only viable option.
Other working modes include USB DAC, Bluetooth receiving, SPDIF RX, AirPlay and In Vehicle, while all of them are easily accessible from the drop down menu.
WiFi reception is strong and reliable, I haven't experienced any kind of issues while streaming high resolution 192/24 material.
The M17 is the first player to run Android 10, the overall use experience is great, the M17 is fast and responsive like a flagship phone, you can listen to music and multitask without slowing down the performance.
The M17 supports official Google Play so the user can install all his favorite applications without reverting to third party marketplaces.
The big screen has vibrant colors with excellent visibility, it supports double tap to wake, navigation and browsing is a delight to do, it can also be rotated and you can customize the touch control to use the gesture system or the classic 3-button layout.
I have opted for the latter since the external case was blocking my fingers and the gesture controls were largely missed.
The multifunction button on the left side of the player is very handy as the user can configure it with one of the available functions, like to change the low pass filter or add a track to the favorites.
Some functions are available only under pure music mode with the FiiO Music application.
For adjusting the volume you can use either the potentiometer or the side buttons.
The low profile potentiometer has a smooth feedback and is my preferred method of adjusting the volume but the truth is that the buttons offer a better, step by step, control.
With the potentiometer you have to carefully adjust because it is easy to get loud without noticing.
M17 is very powerful and the option to set a volume limit is a useful one.
Your music library can be loaded to a micro SD card but you can also use flash drives and powered external Hard Drives with seamless integration of all the music libraries.
Missing functions
Strangely for a flagship player, an ambient light sensor is missing.
Then the top shelf information bar will not display the current gain setting nor the digital filter that is selected.
Something very simple to do with two letters like "Gx" and "Dy" where the"x" will indicate the gain and "y" the number of the filter.
Another thing of note is that the filter selection is not directly available from the drop down menu.
The user must first enter the general settings menu, then select audio settings and only then is allowed to choose the desired filter.
Of course, you can always set the multifunction button to cycle through the available filters but then again you have no clue of which one is selected.
These two issues are great omissions and they should be addressed in a future firmware update, as soon as possible.
FiiO engineers are aware of the issues and they have promised to address them in a future firmware update.
Digital Transport / Receiver
You can either stream or have all your music library loaded to the M17 and use it as a high end digital transport connected to an external DAC through the USB port or the full sized coaxial plug.
Another handy and rare feature is that except the USB DAC mode there is also the unique feature for a DAP to set the coaxial input to act as a receiver so you can connect an external digital source like a CD transport.
I have successfully tested both functions of the M17 and remained completely satisfied.
Associated gear
The M17 was burned for 200 hours without bothering to monitor the progress regarding a possible change in sound quality.
Since this is a flagship DAP, I skipped all mid - tier headphones and I used only the "crème de la crème" like the Meze Elite, Focal Clear Mg, Sennheiser HD8XX, HiFiMan Arya Stealth and the HEDDphone.
My high-end earphone collection is rather limited so I was limited to the Meze Rai Penta, FiiO FH9/FD7 and Sennheiser IE600.
Listening impressions
Hugely dynamic, reference tuned, crystal clear, class leading transparency, are the first words that come to mind when trying to describe the sound of the M17.
The overall presentation is largely neutral with the best technicalities ever heard from a DAP, something not very surprising considering the dual ES9038PRO and the THX AAA 788+ amplifier modules.
But at the same time it is probably the most smooth and musical implementation of a THX amp that I have ever listened to, something that may have to do with the use of the TPA6120A2 as the core component of the THX module.
This IC is very frequently used, I have encountered it dozens of times during my audio journey and it never sounded clinical, something that also holds true to the M17.
There is a nice balance between technicalities and musicality and although the M17 is slightly leaning towards the former, nonetheless it is by no means boring or uninvolving.
It is pretty amazing how FiiO has managed to smartly equilibrate the M17 between reference transparency, the absence of any imposed character and yet stay enjoyable and addicting.
And it is not only about the THX amplifier; FiiO engineers have also succeeded in successfully implementing the notoriously strident ES9038PRO in such a way as not to sound digital and artificial.
I have tested various devices featuring this particular chipset and the M17 is among the ones with the least digital glare.
The M17 is the kind of the player where you are mostly going to listen to the source material and the headphones and not the device itself.
It is not adding a character of its own but rather is making sure that the signal remains in its purest form and gets amplified with the highest possible quality and fidelity.
The M17 is not suitable for trimming the sound signature of your headphones, bright will sound bright and warm will sound warm, boring is boring and musical stays musical.
You can't use it to alter the character of your headphone, the timbre gets set by the headphone and not the player.
Thus said the M17 is ruthlessly revealing, it is going to expose both the best and the worst parts of the recording and your headphones so just make sure that you have your all your hate and love relationships sorted out.
At this point you may ask, is there anything that this player does instead of not doing?
The answer is absolutely yes, the M17 is about muscular amplification with end game technicalities, about giving the most thunderous dynamics and holographic soundstage ever heard, exploiting every last drop of your headphones performance, pushing them to their limits at least as far as a battery powered device can go.
The macro-dynamics on the M17 are demolishing, impactful, it is going to shred your headphones into pieces with the most convincing sonic contrast you have ever experienced from a DAP.
Rise and fall speed is lightning fast, the player can get from ffff to pppp and vice versa in a split of a second adding a great sense of reality into the sound.
Listening to large scale symphonic works is a pure joy, an earthshaking experience per se.
The overall presentation is full and weighty, especially in the bass area, this is not a lean sounding player but it should be noted that it is a touch dry and not as liquid as some other DAPs featuring discrete components or tube output stages like for example the iBasso DX300 or the Cayin N8ii.
Honestly, the bass on the M17 is really amazing, visceral and extended deeply into the lowest notes yet always tight and controlled.
Multi-layering and clarity are out of this world. This is the most technically accomplished bass performance you can think of, just add a headphone that is capable of sustaining such a prowess, select the appropriate music, hit the play button and don't say that you haven't been warned.
Mid range and treble seem to levitate into space, appear from the void, they sound very open with crystalline clarity, excellent definition and the most fine articulation you can imagine.
Notes are born and decay in a natural manner, maybe a bit more rushed than ideal, while transient attack is exemplary.
On the other hand, higher register instruments are not too lush sounding or weighty as some might expect.
Harmonics and overtones are well resolved but they don't have the same kind of saturation and intensity as in some other players like the iBasso DX300.
The sound is by no means bright or fatiguing, the presentation is still neutral without either smoothing out or sharpening the edges.
Treble is linear and balanced without roughness but sometimes the upper part of the region feels just slightly detached.
Anyway the sound is by no means lacking in cohesiveness and integration between the different registers.
The M17 is highly resolving and deeply detailed but not analytical, you are going to hear every last bit of information, even if you don't want to, but thankfully in a polite and non aggressive manner.
Still, pairing with an analytical headphone might result in too much of a good thing, something that should be very welcomed by the detail junkies but not so desirable for the relaxed listener, so careful matching should be considered
Soundstaging abilities on the M17 are at a masterclass level, instrumental separation and placement into space are jaw dropping not only in the positioning accuracy but also in the way that the various groups are proportionally organized and focused.
Depth layering is phenomenal, as such the listener can pinpoint every last instrument in its exact location, while emerging from the deepest ranks of the symphony orchestra with great communication of the venue ambience.
The presentation is large, huge, full scale, grandiose and glorious but slightly lacking in the ultimate sense of holography.
Unleashing the beast
The M17 is already very powerful when running from the internal battery and was completely satisfying with all the headphones used.
Most of them are not very hard to drive and the over the ear gain setting proved more than sufficient with great driver control, spare headroom and ample dynamics, never needing more than 80-90 on the volume setting.
On the other hand, on the lower gain settings the M17 is dead silent with a pitch black background making it suitable for use with sensitive in-ear monitors.
Sufficient as it is running from the battery, the M17 might not be up to the task with more demanding headphones like the HEDDphone.
In such cases the usual procedure with other players is to resort to the line out with an external headphone amplifier.
Not this time though because the M17 has an ace up to the sleeve, namely the enhanced over the ear mode.
Plugging the external DC power adapter with the switch set to DC, will unleash the beast that dwells inside the M17, raising the performance to a level akin to an external headphone amplifier.
Larger voltage swing and higher current flow will not only cater for harder to drive headphones but it will also give you much better control, wider dynamic swings and increased headroom with your regular headphones.
The enhanced mode is really spectacular and while the M17 isn't going to substitute for a powerful external amplifier, it gets the job done better than you can probably imagine, adding greatly to the overall value of the player because most users will remain completely satisfied with the performance as it is without feeling the urge to purchase something else.
If there is a downside to the DC power adapter, that made me prefer using the battery whenever it was possible, is the slightest loss of the ultimate silence, background is not that black as with the battery.
This is something natural though because the THX amplifier is powered exclusively from the external power adapter which is not of the best quality and induces the slightest noise despite the internal filtering and regulation.
There is of course an easy, albeit quite expensive, fix;
Swap the power brick for a high quality linear power supply, like the iFi Elite, which vanishes the noise and raises performance to a whole new level, making the M17 a hard to beat all-in one solution.
Rumours are that FiiO is preparing a high quality linear power supply at a friendly price so stay tuned…
In the end
Digital player?, Streamer?, Transport?, Reference DAC?, Powerful headphone amplifier?, Preamp?, you name it all and the FiiO M17 has you covered at the highest possible quality while remaining transportable, quite compact, not too heavy and with an asking price under $2K.
A multi talented device that can successfully accomplish diverse duties from the obvious one of the Digital Audio Player to a fully featured desktop DAC/amp with top notch sound quality, whichever scenario you choose.
A milestone in the FiiO catalogue, witness to the great evolution of the company through the years, the M17 is probably the best transportable DAP on the market, an endgame audio device that successfully bridges the gap between portable and desktop audio gear.
Test playlist
Copyright - Laskis Petros 2022
Last edited: