Item information
Added by
Views

2,450
Reviews

4
Last update
Rating

4.75 star(s)

4 ratings
General Information
Latest reviews
Pros
:
+ Unique staging and presentation. Open-sounding, big images, with a large sense of scale. Even width, height, and depth staging proportions.
+ Wonderful combination of tonality and technicalities
+ Very well done (moderately) V-shaped tuning. Evenly emphasised sub- and mid-bass; slightly lifted lower mids; accented upper mids; highlighted upper-treble.
+ Organic, analog tonality
+ Bass that kicks, slams, and grunts, with excellent control
+ Well-extended, airy, articulate, and refined upper-treble
+ Superb dynamics and engagement factor
+ Excellent technicalities all around: speed, imaging, detail, separation
+ Fantastic build and aesthetics
+ Good isolation for a semi-open design
+ Impressive accessory set, including a modular-plug cable, and Final MMCX Assist tool
Cons
:
- Falls short of the ultimate resolution, precision, and refinement of TOTL units
I've been sitting on the FD5 for about a month now, and wanted to share my impressions.
For context, my main IEM of late has been the Sony IER-M9. Prior to that, my primary driver was the Sony XBA-Z5. Other single DD IEMs I've owned include the AK T8iE MKII (warmer, darker cousin of the Beyerdynamic Xelento) and the Sony EX1000.
Chain
Spotify Premium on Mac > iFi ZEN DAC Balanced > iFi ZEN CAN Balanced > FiiO FD5
Preface
I'll state upfront that I was frankly disappointed when I heard the FD5 out of the box. I really liked the bass (meaty, plenty of slam) and the mids (full, euphonic), but I found its technicalities fairly lacking.
I ran through a bunch of tips—stock Balanced, stock Vocal, Symbio W, Symbio Peel, Acoustune AET07, Azla Sedna—but simply wasn't hearing the staging, holographic imaging, or resolving capabilities that they had been praised for in reviews.
More specifically, I thought the separation, imaging, and detail were below average for its price point. Muddled sounding, even. Upper-mids/lower treble also tended to display a certain harshness, upper-treble was poorly articulated, diffuse, and splashy, and there was a distinct lack of refinement to the sound as a whole.
On a whim, I tried the SpinFit CP145 tips, and that made a
world
of a difference.
There
was the staging and technical capability that I'd read about. Gone was the upper-mid harshness and dissonance between the lower and upper mids. Upper-treble became well-extended, well-articulated, and refined.
Summary
My sonic priorities are pretty well-defined at this stage in the game: bass, soundstage, timbre, dynamism, liveliness. The FD5 checks all these boxes, with fantastic technicalities to boot.
At its price point, the FD5 are exceptional by virtue of their staging and presentation alone. There isn't the closed-in quality or small images that characterises most IEMs, or the "ants playing in a concert hall" type effect that appears even with IEMs with large stages. This is a big and bold presentation.
Then, there's its analog tonality. I've really only heard two other IEMs that exhibit a similar tone: the Sony EX1000 and the Periodic Be. Both these IEMs, along with the FD5, evoke an unvarnished—though by no means unrefined—vinyl-esque quality. The BLON BL-03
sort of
shares this quality too, but not quite as closely. The AK T8iE MKII, despite being a single DD unit, is farther behind still in this regard.
The closest approximation to the tonality and presentation of the FD5 in my estimation would be the Sony EX1000, albeit with a smoother treble and a healthy added dose of bass slam, weight, and grunt. A lovechild of the Sony EX1000 and the Sony XBA-N3, if you would. I do want to caveat here that it's been a while since I've had EX1000, so I won't comment on their relative performance in terms of technicalities.
Of the V-shaped IEMs I've owned—AK T8iE MKII, Fearless S8F, Sony XBA-N3—I'd pick the FD5 everyday.
If it isn't clear at this point, I dig the FD5, and I dig 'em
hard.
Last edited:
Less is more...
Pros
:
- Natural and high musical tuning
- Great bass extension and quality
- Wide soundstage
- Precise imagining
- Interchangeable sound tube in two sizes
- Excellent build quality
- Stainless steel construction
- High end cable with interchangeable plugs
- Luxury carrying case
- Five different kinds of ear tips
Cons
:
- A bit heavy
- May not fit well small ear cavities
- Medium noise attenuation
- Not as comfortable as anatomically shaped iems
The FD5 was kindly provided by FiiO and is still under their ownership.
This is my honest and subjective evaluation of it.
The retail price is $319.99 and you can get it from here
https://a.aliexpress.com/_mL7xZQh
Introduction
After a long and adventurous journey into multi driver iems - hybrid or not - including the much acclaimed FH3 , FH7 and FA9 , FiiO is back to where it all began.
Six years ago the EX1 was their first iem , a single dynamic driver design as is the case with their brand new flagship the FD5
Technology inside
Say hello to FD5, a single dynamic driver iem with a large 12mm diameter.
Size is not all that matters and this big boy packs some heavy technology and innovation inside.
The diaphragm is beryllium coated combined with diamond like carbon coating (DLC) in order to make full use of the physical rigidity and flexibility of the materials to reduce unneeded vibration and properly damp the sound for improved quality.
In order to address the issues that come with time delay between different sound waves , an acoustic prism was specifically developed for the FD5.
This was inspired by technology used into high end tweeters.
By installing a conical device close to the front end of the diaphragm the designers were able to control how sound waves travel into the tube and eliminate standing waves plus enhancing sound diffusion.
A "volcanic field" was added to the rear of the FD5 in order to reduce low frequency standing waves and distortion.
The FD5 also adopts semi open design which relieves air pressure inside the ear leading to longer listening sessions.
As we can see FiiO used high end technology in order to fully exploit the single drivers most important feature which is the one point source radiation of the sound waves.
Build quality and comfort
The shells are well made from robust stainless steel that not only looks striking and beautiful but additionally helps to reduce the harmonic distortion of sound inside the FD5.
The overall impression is that they definitely feel and look more premium than the price would suggest.
The curved cylindrical design was cleverly adopted in order to enhance fit and to greatly reduce unwanted resonances and reflection of the sound waves inside the body.
But steel as we know is a heavy material and as that each ear piece weighs a whole 11gr.
According to this the FD5 is quite heavy especially when compared to aluminium or 3D printed iem like the FA9 and can become a little fatiguing after a prolonged time of use.
Anyway this wasn't a deal breaker for us because we always take small breaks after an hour or so of continuous use in order to protect our hearing.
Overall fit is good and comfortable but don't expect custom like anatomical fit.
Due to the generic cylindrical shape some users may experience difficulty to properly fit them especially if they have a deep cavity or a smallish inner ear.
Although the FD5 is a semi open design passive noise control was above average and we have successfully used in noisy environments.
Still it will not isolate like some custom like closed back iems do.
The FD5 features interchangeable sound tubes in small and large sizes to best fit our ears.
The large one will fit most ears and results into a balanced sound signature while the small one can be combined with the triple flange ear tips in order to fit smaller ears and additionally enhance the bass reproduction.
Cable
The cable is of very high quality and if it was branded it would probably sell more or less at the FD5 asking price.
We are very grateful that FiiO is paying attention to reviewers and customer feedback.
This is quite like the cable that was used with the EM5 earbud and back then when we reviewed it we wished that FiiO would adopt it in all future flagship earphones.
Our wish was granted and the FD5 is equipped with such a cable in a slightly different form.
It is detachable with an expanded MMCX connector at the earpiece end and an interchangeable audio straight plug at the other end.
The plug is easily swapped and we get 3.5mm , 2.5mm and 4.4mm variants to fit all use cases without the need of an adapter.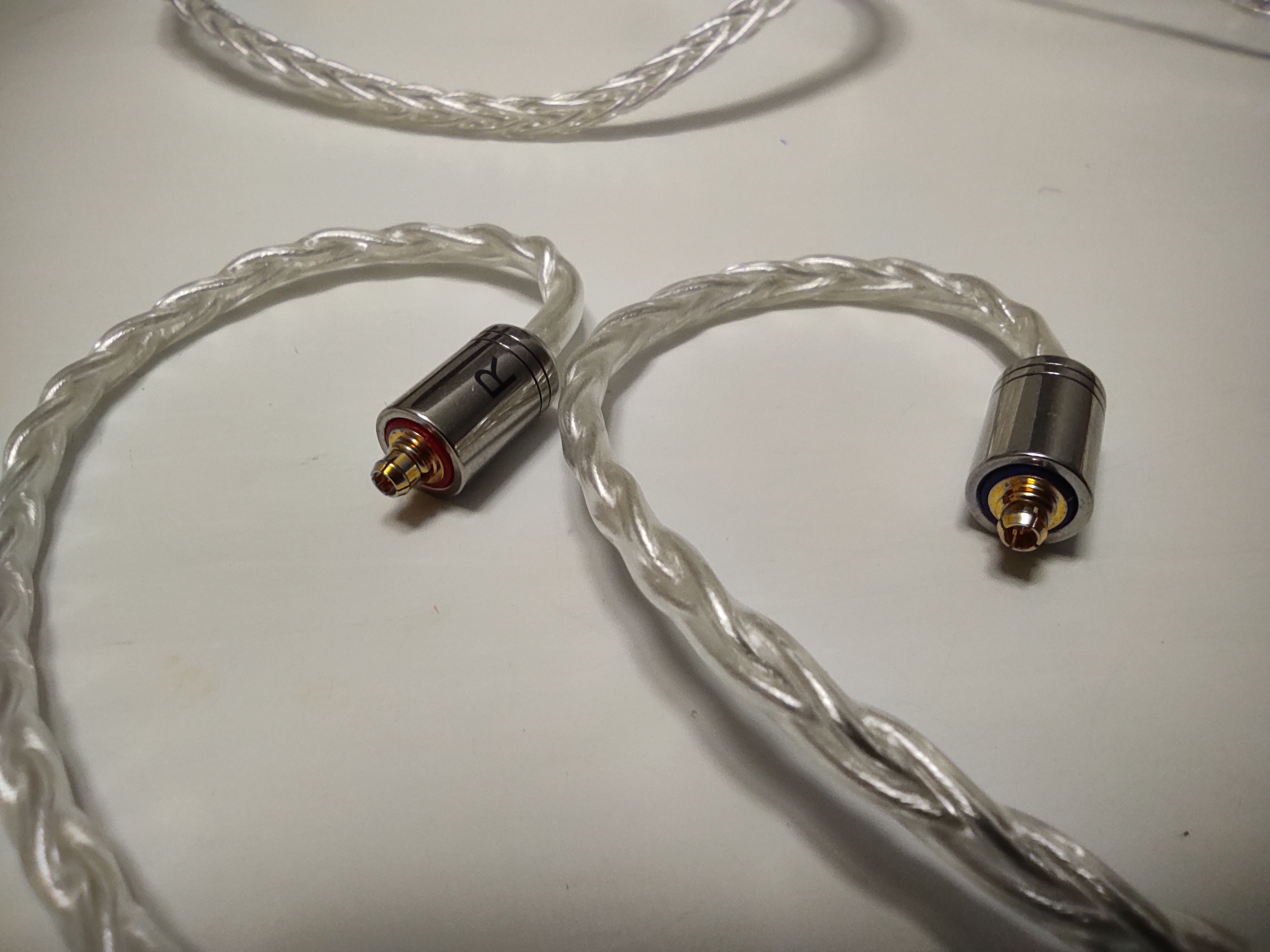 High purity monocrystalline silver plated copper is used in eight strands with 19 wires per strand.
Litz type 2 structure is adopted where each wire is individually insulated.
Cable length is 1.20m and the handling experience is very satisfying with low microphonics and tangle free use.
Accessories
FiiO is always generous when it comes with the supplied accessories so except the cable and the extra sound tubes we get bass , vocal and balanced ear tips in three sizes each.
Additionally we will find extra foam and triple flange ear tips in two sizes plus the Final Audio MMCX extraction tool and a small cleaning brush.
The brand new premium and high quality HB5 carrying case is included.
(
https://www.fiio.com/newsinfo/474735.html
)
Sound impressions
The FD5 with an impedance of 32Ω and a high sensitivity of 109dB/mW is very easy to drive but it will not pick up internal noise.
We have tested the FD5 with various devices such as the FiiO BTR3K , BTR5 , Q3 , Q5S TC , M11PRO , the EarMen Sparrow and Eagle , SoundMAGIC A30 and Zoorlo Ztella among others.
The burn in process is beneficial to the FD5 and we would suggest at least 80-100 hours in order to reach the intended sound signature.
The FD5 while it is very enjoyable from entry level sources it scales incredibly well and can do justice even to high end partners so we wouldn't be hesitant to use our best gear with it.
We have greatly enjoyed it with the FiiO Q5s TC and EarMen Sparrow.
Sound impressions to follow are with the balanced ear tips and the large sound tube.
The overall sound signature is very balanced with excellent timbre and an even , natural and very musical tonality.
One striking aspect is in the sound projection and the way that it feels integrated and homogenized.
Music sounds as a true whole and it doesn't feel like split into several frequency bands as is the case with a lot of multi driver iems.
The FD5 feels very clear and undistorted even when pressed hard to very loud listening volumes.
Bass is the star of the show not because it is accentuated or emphasized but rather for the high quality characteristics.
Low notes are extended down to the sub bass region without any significant roll off.
Quantity is of equal loudness to the rest of the frequencies and as natural as it can get.
Many people that are not used to proper bass levels may initially perceive it as too much but in the long run they will discover that this is the correct bass amount that an earphone should have in order to be balanced according to the equal loudness curves.
If we would like to criticize the bass quantity from a puristic point of view then yes it could be toned just a touch lower to be perfect and of better proportion to the lower mids.
The large and rigid driver can move plenty of air and still recover very fast.
As a result we get an impactful , full bodied bass response that is speedy with great dynamics and excellent control.
Texture is vibrant and visceral with great detail and ample layering.
We can distinguish every drum beat and hammer stroke, even the kind of string bowing or the most silent pizzicato.
Reverberation and echo are very well reproduced and add greatly to the overall sense of reality.
In other words this is one striking performer and among the best we have ever tested.
Transition to the mids is linear without significant mid bass bloat but some times upper bass can feel a little foggy compared for example to the FH3.
The middle section is slightly restrained but not recessed.
The tuning follows the Harman Target response curve but it does not sound overly V shaped or hollow.
Voices and other instruments are centered on the mix without being highlighted or drawn far away.
Timbre is correct and everything sounds lively and engaging with a well rounded and full body.
Clarity is amazing and we can hear every single breath of the singers or their lips whispering the notes.
Higher frequencies are well extended and crispy without being fatiguing or sibilant and timbre is retained very natural.
The presentation is clear and vibrant with very satisfying micro detail levels.
The FD5 is not an analytical or overly detailed earphone but is not lacking in this department.
It is just not oriented in monitoring duties and the fine nuances are presented as an integrated part of the whole musical experience rather than being solely highlighted.
The best part is that the high frequency notes are equally full bodied as the rest of the spectrum and never sound lean or light.
Transient response is moderately fast and time decay is spot on timing with all the notes naturally fading into the recording space that is persuasively recreated.
Talking about space the FD5 can draw a wide and large soundscape which is projected just a little outside our head.
There is enough room for all the instruments to shine with good accuracy across the left to the right axis but depth layering is restrained and unfortunately we don't get that three dimensional effect.
Minor sound tweaking can be done with the supplied ear tips and the small sound tube.
We haven't experimented extendenly because the small tube must be used with the triple flange ear tips that we find them very uncomfortable.
Anyway the few times we tested we felt that the large size tube was much more to our liking.
The various other ear tips are worth testing because they really offer some fine tuning without altering the general character of the sound signature.
At the end
Well what an irony.
FiiO have managed to exceed our expectations and beat their own multi driver flagships with a single dynamic driver iem.
It is obvious that for our individual tastes and hearing perception the FiiO FD5 is not only the best tuned and more mature FiiO iem till now but one of the best we have ever tested.
The FiiO FD5 is the definition of the proverbial phrase "less is more" and a lesson in design and proper implementation.
You don't need to have a dozen of various drivers and complex uber high tech crossovers as long as you are able to be innovative and carefully design around a single quality component.
And FiiO R&D team have managed exactly that elevating simplicity to a whole next level.
The FD5 is a thoughtfully created and tuned iem which is highly enjoyable with all kinds of music without drawing attention to itself.
So to sum up if you value very natural timbre and tonality and you prefer listening rather than analyzing to your music then the FD5 is made for you.
Sit back and enjoy , satisfaction guaranteed.
Test playlist -
http://open.qobuz.com/playlist/5669033
Copyright - Laskis Petros 2021.
Last edited:
FD5, flagship dynamic earphones from Fiio
Pros
:
Flagship level packaging. Great accessories variety, excellent well thought out premium square case with shell divider liners to hold your FD5, 2ndary nozzle for a different sound. All solid metal build with a chrome finish, excellent modern looks in a traditional barrel shaped semi open housing. 8 core silver plated monocrystalline modular cable which comes with 3 different terminations for use with a variety of sources. Highly transparent cable. Mild V shaped musical harmonish sound tuning with more sub bass, lower mids, and enhanced treble frequencies. Large surround like circular stage with a frontal clean detailed sound presentation.
Cons
:
Frontal projecting highly detailed sound using a highly resolving monocrystalline cable does not match well with a highly resolving neutral source. Warm sources recommended. Unforgiving of poorly mastered tracks.
Fiio FD5
Dynamic earphones have seen a resurgence and Fiio is not a company to stand idle while others are exploring and reimagining the tried and true dynamic in ear monitors. Don't know how long the FD5 has been in the development but I can tell they have saved their best for last. The end of 2020 sees new advancing designs for our hobby and today the FD5 is something new from Fiio that brings a new sound and a cutting edge design.
I would like to thank Sunny of Fiio for the opportunity to hear and evaluate their new FD5 earphones. The sample was provided for review purposes. You can order a set for you from their aliexpress page
here
.
Our hobby is all about advancing established designs because let's be honest, if you're not advancing where are you going with that? The modern dynamic designs are using better coatings and materials that promise even better sonics. The birth of the FD5 is perhaps due to the need for better. Utilizing rigid composite materials and coatings that produce quicker transients, better detail, better imaging, better timbre and ultimately a better sound. The FD5 sees a combination of materials being used on the transducer that uses a DLC or diamond like carbon material coated with Beryllium. What is more common would be the use of one material or the other but certainly not both on the same driver. This brings some unique properties to the very capable 12mm drivers of the FD5. Fiio went a few steps further. In looking at the design they incorporated an all new stainless steel housing that is roughly medium cylindrical in size. Inside the housing the driver mounted for what is called a rear volcanic field system, perhaps an ode to rear firing sub woofer designs, and a baffle in front of the driver called an acoustic prism, in a semi open shell.
The prism on the front of the driver is more commonly used in speaker technology and now we see a miniature version placed in front of the very cable 12mm driver of the FD5. What does all this RnD and the use of a new hybrid type dynamic driver do for the sound?.
The PRESENTATION.
When you get the FD5 you will know it is substantial because the box is big. A bigger box means it is housing some substantial accessories and that is what you're getting with the FD5. I have bought flagship earphones that don't have the accessories package that comes with the FD5. Being touted as Fiios flagship dynamic earphones. Usually when we are talking about flagships, one would expect a much higher price tag.
I will give huge props to Fiio for not cutting any corners for accessories and giving the consumer a flagship worthy accessories package. The included tip selection is excellent, something you would expect for a flagship the tip selection sees 3 types of silicones labelled balanced, vocal and bass, triple flange tips to use with the narrow bored nozzle and dual set of foam tips on top of that.
The included well thought out case is higher end in looks and form, comfortably able to include the FD5 the cables, some of the modular connectors, and several sets of tips if need be. The case has included separators for each of the earphones. This is worth mentioning as this will prevent the earphones from banging against each other. Well thought out here.
Then there is the monocrystalline silver coated 8 core modular cable which comes in single ended and is easily able to switch out the connector for any type of termination to use on your players. This level of cable is again something you would see in a much more pricer offering and we get that with the FD5. The quality of the cable is boutique in quality and shows a very highly transparent nature to the cables, as a pack in cable a bit unexpected but definitely a plus.
The shells of the FD5 are made of solid stainless steel finished in chrome. Shiny with a back faceplate that has a very nicely done modern artistic look to the venting. I don't know if anyone will be able to argue that the FD5 is not a looker. One of the better modern designs used in a traditional cylindrical form but very clean and substantial in looks. My only real worry here is if you're not careful when storing these, I can see these shells denting or blemishing when being a bit casual with them. No clanking folks, take care of your shiny earphones, use the included case and you will be fine. I bet they can take a fall or a hit to the shells just fine but who wants blemishes in their nice shiny chrome plated ear pieces.
Due to the metal content on the shells they are a bit weighty at 11 grams but are not like slugs in your ears. The only downside to an all metal housing is, they are a bit cold in winter mornings when throwing them in your ears for the first time. Otherwise excellent build on the FD5s. Fiio included a very nice tool to make sure you're taking out your cables in the correct manner, something they got from Final Audio the tool of 2020.
Though all you have to do is use your fingernails to do the same thing. Nice throw in regardless. If you keep your nails short that is where this tool will be useful.
Sound analysis was done using a variety of daps and amps. Fiio M15, Shanling M6pro, M5s, M3s, Ibasso DX160, Sony ZX300, Cayin N5ii, Ibasso PB3, IFI Black Label.
The MUSICAL
Listening to the FD5 on open box was interesting. The sound scope was large, dimensional, frontal, airy and had the type of sound you get lost in. I knew the sound was on point and I had to explore more the sound on the FD5. I wanted to take my time getting to know the sonics and what Fiio has done to make them sound like they do. The FD5 promises a lot of tech to make them sound how they are and for me they do stand apart from your average dynamic earphone.
What stood out for me right away was a grand presentation in stage and air with a high degree of definition and dynamics across the board.
The TECHNICAL
Earphone definition is a bit different than something you would hear from speakers or any other method of audio hearing. It is those immediate bits of micro and macro details played out in a dimensional field inside your head. The stage of the FD5 is larger and wider than most in ears with an even spread of the 3 parts of the sound field cohesiveness you would expect from a single dynamic, the height and depth of sonics are just as tall and deep as the sound is wide making for a unique more circular type head stage but grander in scope. The impressive head stage and air that the sound has is due to the nicely vented design of the FD5 and in doing so, head stage and the sound the FD5 projects is bigger and also due to the design a bit more frontal sounding than most. Sound is airy which adds an element of coloration to the sonics but one that is enjoyable. The new prism baffle that was made for the FD5 claims to reduce phase mismatches for more accurate imaging. A tech used in higher end floor speakers. Whatever it does, imaging is another aspect that is at the forefront of the sound design.
The FD5 images a lot like a multi BA set, coming off of a review I recently did with 8 BAs in the housing. It is astounding the FD5 matches that set, imaging per imaging. That musical imaging comes to you in a 3 dimensional manor and not on a flat plane of sound like your traditional earphone sound. Highly resolving with gobs of detail I had to fully grasp just how technically proficient the FD5 is. It is one of the cleanest, snappiest and speediest sounding earphones I have ever heard. Instrument separation is also at a very high level. Again going back to the comparison with multi BA sets. The FD5 will go toe to toe with any highly resolving set with excellent instrument timbres and separation with even a better sense of air and space to your music.
What separates the FD5 from your average single dynamic earphone is its sense of layering that happens to be the strong suit of the FD5. Stage being larger its sense of layering in space is one of the best I have heard. Easily able to hear frontal mid and backgrounds of any well recorded track. If your music was recorded in space. You're gonna hear that space. Layering is amazing on the FD5.
Carbon based dynamics seems to have quicker speedier transients and the FD5 clearly has that speed and agility for sound that comes at you in a multi layered dimensional manor. It is one of the better earphones that surrounds you with your music. Nothing flat or average about the sound projected from these drivers FD5 is using a very capable high resolution driver.

The CATCH
The cable the FD5 comes with is highly resolving. I would say is very close to what a pure silver cable does, it is better than a majority of thrown in cables I have seen with just about any earphone. Fiio wants you to hear all them little details and nuances of your music with the highly resolving ability of the FD5, which also comes with one of the most resolving cables. The cable seems to be a customized modular version of their LC-4.4C cables made to enhance the details for the FD5. The catch is, the sound can become a bit edgy on rock and EDM tracks with a lot of crash symbols and synth highs which will test your treble sensibilities. I do notice that your sources will come into play here as well. Highly resolving neutrally tuned sources will add to the definition factor of the FD5. I do notice warm sources matches better with the FD5.
Before you say fatigue. Fiio threw in a large variety of tips including a set of foams for a reason. If you feel the full monty detail can be a bit too much for your sensitive young ears, try the included foams and also try your best resolving copper cables. You will be surprised how much you can tweak the stock sound of the FD5 with tips and cables to your liking.
The ALTERNATIVE
.
Fiio threw in a 2nd nozzle. If the stock highly detailed sound was not enough there is a 2nd nozzle that effectively changes the sound profile to a more mid to bass focused IEM. Brings down the treble emphasis which now skews the sound toward the mids and bass. The issue with the bass nozzle is that while this is an effective way to bring yet another version of sonics on the FD5. This version using a skinnier nozzle effectively lessens the height and depth which also has an effect on the dimensional character and that air. The sound is now more traditional and sounds more closed in as a result. Similar in character going from an open can to a closed one. Headphone guys know what I am talking about here. A better way to do this is by using the same stock wider nozzle and just throwing in an extra mesh filter in front of the nozzle to bring down a bit of the highs. I own several earphones that use this method to change sound balancing and seems to be more effective vs this narrow 2ndary nozzle without neutering what makes the FD5 special, that air that stage.
The BALANCE
Sound balancing for the FD5 is a mild V shape frequency with one of the best extended bass and treble ends I can think of for single dynamic earphones. Each part of the sound spectrum has that detail. Bass has very good authority and here is where I am hearing that beryllium coating comes into play. Bass has an elasticity and reach that not all dynamics can portray. The highly resolving character of the dynamic driver can be clearly heard. There is not a bass note that will not come with authority and tightness.
Speed is another factor that I found the bass end to be excellent with, DLC drivers have one of the speediest bass for dynamics and then you combine that beryllium coating low reaching rumble. You get an outstanding bass ability and presence. Mids to the treble end shows the brunt of that technical ability I went over previously and for vocal lovers these earphones do vocals justice with an enveloping stage and air that not too many earphones can do. The FD5 does have a bit of a harmonish tuning to it with more sub bass, lower mids and more upper trebles. Sound balancing is well done but a bit more skewed toward the upper registers of sound which brings with it a lot of clarity with that sense of air. Treble is clean but is clearly extended into the 16khz region and beyond.
That warm full bass end balances the tonality of the frontal treble notes but I do notice crash symbols and in general highlighted notes in the upper registers comes in clear as a bell and I don't know if it is due to the new prism baffle placed in front of the driver but sound projects a bit more forward than your standard earphones which could be a potential issue for some.
Mid bands is where the music lives and here again the overall tonality is cleaner side of sonics due to the extended treble bands having influence. Add in that lovely deep tall and wide dimensional stage a highly detailed presentation and you got something that is very immersive in sound. Lower mids is elevated some vs your standard harmon balancing and in doing so music has good weight, the perfect body and presence here and the balancing is for the most part done very well.
The DOUBLE EDGE SWORD
Treble here is the name of the game. Treble can make or break an IEM sound tuning. Not enough treble and the sound becomes lifeless, muted, dull in nature. The opposite introduces high levels of detail, clarity, a chiseled sound and that high end sheen and sparkle. A bit too much can cause ear fatigue. Fiio has a history of tuning the treble end to be that fine line of presence and extension and in enhancing the treble range in a highly resolving earphone. We get detail in spades but that comes at a cost. I found myself exclusively using the foam tips to take a bit off the edge of the high notes. This works great but I also found myself lowering the volume to listen for longer periods of time due to just how much resolving character the FD5 has. This is a good thing for me actually since I can appreciate the fine details of the FD5 without the need to blast the volume. That cohesion from a single driver makes the overall tonality very clean, precise and detailed in all regions of sound but I will admit treble balancing is more optimal from the narrow bass nozzle vs the stock one for longer listening sessions.
The FINAL THOUGHTS
New technology in new earphones will bring immediate attention among enthusiasts for a product from a well established manufacturer. Fiio is always at the cutting edge in design in moving forward our audio hobby. FD5 sees a new direction for the tried and true Dynamic earphone. The solid all metal build is substantial in hand and the sound has the detail and presentation to match the stunning looks. Going above and beyond when it comes to accessories, you can clearly tell they put a lot of thought and effort into the entire package.
The sound of the FD5 is ultimately what matters and here we have a very capable, highly resolving sound with a larger airy stage that is difficult for earphones to produce. A technically superb earphone with a look that achieves much higher production values than what the FD5 actually costs. Fiio did really well with these. To get the best results of the FD5, I was told by Fiio to burn in the driver for 100 hours. The reviewed set has 200. Once you dial down the tips and a good warmer source to match up with the FD5. It is one of the most enjoyable listens I have heard all year. Thanks goes out to Fiio and to all my friends at Headfi..
I hope 2021 sees the end of the Pandemic. Happy new year and happy listening always.
Last edited:
Comments
There are no comments to display.