FIIL T1 Pro BT5.2 IPX5 ANC TWS - Reviews
Not quite perfect, but close...and getting better
Pros
:
Magnificent sound quality, comfort (eventually), portability, wireless charging case, battery life, app options (albeit only in Chinese so far)
Cons
:
Microphone - not great for calls outdoors, limited app support so far, some connectivity issues, ergonomics aren't perfectly thought through, ANC is sub-par
How I review:
Sound Quality
What I measure here is the subjective and objective. I listen to a few key tracks, some FLAC, some bad quality mp3's, streaming services, audio books and tracks I know have been so badly produced they will probably clip the top or the bottom end. Usually I listen to one album in particular on FLAC, which I know very well, and also Bolero, which again I also know inside out.
I then test a few key variables such as FR and Spectral Flatness using an acoustic mic setup. Some others too, but I won't go into detail unless it's necessary.
I do this just for confirmation of what I'm hearing. I'm not Scarbir, I'm not The Sound Guys. I have a demanding day job, study, and have three kids, so no long essays in these reviews.
Microphone Quality
I conduct a few different tests, as follows:
Indoor, static, silence
Indoor, static, ambient noise 40-60 dB-A
Indoor, static, high frequency ambient noise
Indoor, static, low frequency ambient noise
All of the above but moving
All of the above moving away from the receiver
Outdoor, static, ambient noise 40-80db
Outdoor, moving, ambient noise 40-80db
Outdoor, under a nearby railway bridge where lorries pass through
All are recorded for 1-3 minutes for future comparisons. I look for voice clarity, voice clarity among noise and glitches.
Tips
Stock tips
Spinfit Silicones
INAIRS foam tips
ikko i-planet foam tips
ANC (where applicable)
As per the call quality tests, I usually test the ANC at the same time, looking for low and high frequency performance as well as my pet peeve, vertigo and jawache.
Comfort
I use earbuds in four activities - calls, exercise, commute and relaxing. All three are taken into consideration to try to find the use case, as finding the perfect earbud is, lets face it, never going to happen.
Connectivity
I find most perform almost identically, but do the usual walk test, especially around congested 2,4ghz wifi areas. I leave a router on 40MHz just in case it messes with it, why the hell not?!
Ok, so onto the review:
Model
: FIIL T1 Pro
Price
: £54
Vendor
: Aliexpress
Link
:
https://www.aliexpress.com/item/100...earchweb0_0,searchweb201602_,searchweb201603_
Manufacturer Blurb:
FIIL T1 Pro true wireless noise canceling headphones
Isolate the noise - ANC+ENC dual noise reduction
Bluetooth 5.2
Wireless charging
Long battery life
Dual host flash stable connection
Dual fast charge & long battery life
5 minutes into the box = 1 hour of listening to the song
Noise reduction: listen to songs for 6 hours
Noise reduction: listening to songs for 7 hours
Hummingbird - Single earphone is about 4.3g
IPX5 waterproof rating - Not afraid of sweat and rain
The specs:
Brand Name: FIIL
Model Number: T1 Pro
Control Button: Touch Control, two modes
Active Noise-Cancellation: Yes
Communication: BT5.2
Volume Control: Yes
Auto ear sensor: Yes
Style: In-Ear
Codecs: AAC, SBC
Support APP: Yes, but app is currently only in Chinese
Number Of Drivers: 2
Drier Diameter: 6.1mm neodymium magnet moving coil with titanium plated composite diaphragm
Waterproof: Yes - IPX5
Frequency Response Range: Assumed 15Hz - 22KHz
With Microphone: Yes, Dual mic NR
Charging Method: USB-C Charging case & Supports Wireless Charge
Charge Time: Case 1 1/2 hours, 5 minutes = 2 hours playtime
Single Use: 7 hours
Playtime with Charge Case: Up to 32 hours
Case weight: 33g
Item weight: 8.6g
What's In The Box:
1 x Charge Case (Micro-USB, IQ)
2 x Earbud
1 x USB-C cable
1 x User Manual
1 x Quick Guide
4 x Tips (pairs)
3 x Wings
Introduction
It's rare I start a review with an intro, but FIIL have been quite the player in the budget earbud market, churning out two releases in quick succession.
The T1XS were fantastic, a great set of earbuds. Their only problem was the submarine-style pressure you would feel after prolonged use. Otherwise they do most stuff pretty well.
The T1 Pro were billed as their ANC release, sporting high end features such as wireless charging, BT5.2, a myriad of options for reducing latency and tweaking ANC and app support.
These are in my top 3 earbuds for everyday use, but they don't get 5 stars, the main reason being they've actually failed in what they've tried to change, but despite this, they are still excellent earbuds at a very competitive price.
Due to the interest in the release, I will compare:
T1 Pro vs T1XS
T1 Pro ANC vs Tronsmart Apollo Bold & Edifier TWS NB2
Rank on the all time leaderboard
Real Life Experience

The Unboxing - 8/10
Never a particularly riveting experience, but I know others enjoy it, the unboxing of the T1 Pro was almost identical.
The first thing that struck me was the height of the tips. I compared the T1XS (in grey) and noticed they were a little taller, but also, the quality immediately struck me as being poorer. They are thinner and flimsier, and one seemed misshaped.
Whereas the black card which gives you the quick guide on the T1XS had English instructions, the pro was 100% Chinese.
The plastic insert is moulded to fit the USB-C cable, which is higher quality than the one included with the T1XS.
The Case - 8.5/10
Similar in construction and dimensions to the T1XS, it is perhaps 1-2mm taller, but still super portable. I did not want to put the cases too close together due to the strong magnets, so you'll have to trust me on this one.
The T1XS case is more substantial, glossy and has a double-reinforced hinge, whereas the pro is matt, and has a single hinge. This does raise question marks about its durability.
Despite this, the case is slightly heavier than the T1XS at 33g vs 29g. If anything, the reverse seems true. So I weighed them. The T1XS was slightly heavier. I'm not crazy after all!
The biggest benefit of the T1 Pro case is wireless charging. The case immediately started to charge when plonked on my Anker wireless charging pad without any issues.
Like with the T1XS, you get around 3-3.5 times the charge time. It can also be powered by USB-C, and features quick charge support, giving you around 1 1/2 hours playtime from 15 minutes of charging.
The Ergonomics - 8/10
But they're thinner and lighter?! How can you give a lower mark?
Well, the main problem is FIIL have got the design concept slightly wrong.
The oval shaped driver surround is no revolution, we've seen it with the Apollo Bold, Klipsch and even the new Airpods. However the instruction to shove this oval into your ear canal is not wise. This is why they include the longer tips, but the tips are so poor quality air gets through very easily and the noise cancellation appears even worse than it actually is.
You can see below that FIIL's idea of wearing them at 90 degrees, like the Whizzer E3, is impractical.
Once you get a proper set of tips on, everything changes. However, you still can't wear them in the way FIIL want you to wear them. You have to tilt them a little in the same way I had to with the T1XS. This makes the longer wing tips almost essential.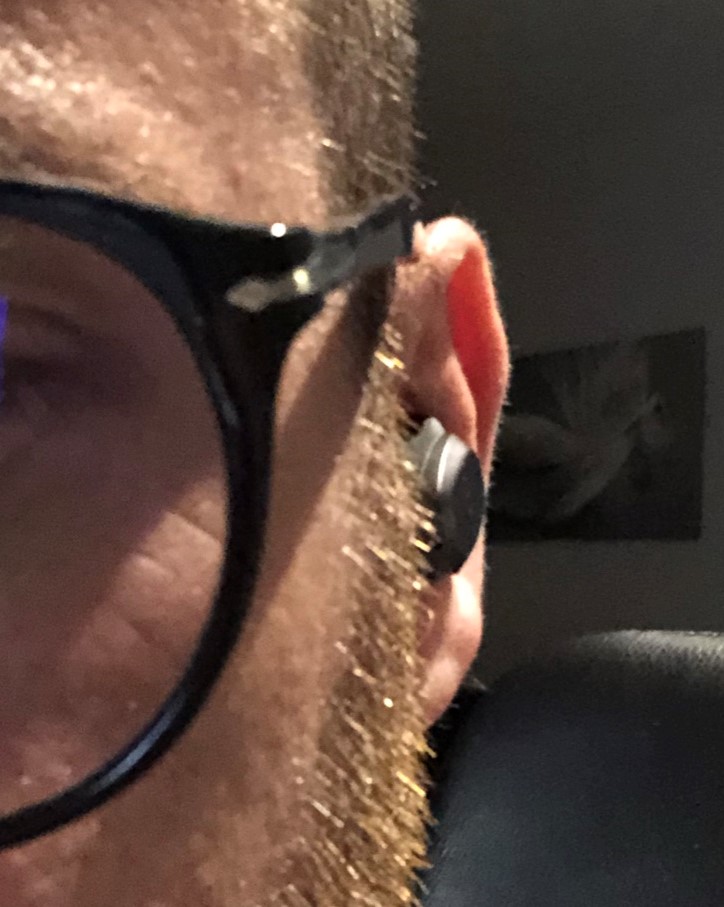 vs the T1XS
However you can also see they leave far less of a footprint on the outside, making them ideal for sleeping in.
These are the first earbuds I've kept in overnight and not woken up trying to find them or feeling pressure in my ear canal. Bravo!
Once you get the fit right, and it takes a lot of fiddling around, you may notice the sound distort briefly as you put pressure on. This doesn't bode well for the longevity, but overall, is the experience better than the T1XS? Well, eventually, yes, they are more comfortable, but don't expect to get there fast.
Further analysis shows they are clearly some way slimmer than the T1XS, which were already reasonably slim.
Sound Quality - 9.5/10 (for the price paid), 8.5/10 (raw score)
It is always a difficult balance reviewing raw sound quality against intermediate sound quality (i.e. sound quality against price). Not this time. The T1 Pro are a joy to listen to any music style with, despite again the Bluetooth analysis revealing some strange quirks.
The frequency range is not advertised. On the T1XS it is claimed as 15Hz to 22KHz, and objective testing revealed that they do notch a little later than the majority of earbuds. No difference on the T1 Pro.
Where they beat the T1XS is on the mids. The T1XS were pretty good in the mid range, one of the best around. The T1 Pro is on par with the Apollo Bold for a wide soundstage, but has the sound separation and intricacy of the Lypertek Tevi, even the Shanling MTW100, in the high mids. Like the T1XS, low mids are great, but separate even better. If anything, I'd say they are more natural sounding - the compression you sense on most earbuds just isn't present.
I put on several of my favourite tester tracks and found myself dancing around the living room. No distortion - flac, mp3, tidal hifi...no problem, throw anything at it and it just delivers. Even audio books sound different. Wow.
The app allows you a myriad of EQ settings, almost too many. Now when I say app, I mean the global app where you pretend they are the T1. Not the Chinese app, that's a whole different kettle of fish:
ANC - 6/10
The Chinese app had a few different versions. I managed to find a beta that supported the Pro eventually. Who knows what all this stuff means, but the ear is probably ambient mode.
Holding the left bud for two seconds gives you the announcement 'Sin chin tai', which appears to be ambient mode. 'MAF Guan' seems to be, well, I have no idea what it is - maybe environmental noise isolation? It seems to be pretty average at everything, you still hear low frequencies but high frequencies are less obvious "Sin thao kai" is almost certainly noise cancellation, it drowns out low and mid frequencies very well but high frequencies are easily still present: keyboard taps, etc come through evidently.
I've seen some really bad reviews of the ANC. It isn't half as bad as the reviews suggest. It is probably down to the oddities in the design and the fact that we've been spoiled with the Apollo Bold.
Tronsmart Apollo Bold ANC:
The Gold Standard. Unbeatable at drowning out all frequencies in the chifi market - 9/10
Edifier TWS NB2:
The Silver medalist. The NB2 are not quite as good as the Apollo, dulling fans and notching the top end off chatter and keyboard taps, but subtly - not enough to drown out the kids - 7/10
FIIL T1 Pro:
I'm not sure if they get on the podium yet. I'll wait until I see what half of these options mean before committing. However if you are buying them for ANC - don't. The Apollo Bold are £20 more, and £50 better at ANC.
Call Quality - Indoors - 7.5/10, Outdoors - 7/10
There is clearly some noise cancelling going on with the mic array. They are much better at filtering out the low end than higher frequencies. Adult voices indoors are evidently muffled, children's voices not so well.
Outdoors, whilst wind is not prominent, you can hear passing traffic but there is evidently extra compression over the T1XS, whilst retaining the relatively natural sound to your voice with no connectivity drops.
When I say natural, I'm talking in relative terms. The compression means they do still sound a touch robotic. These get by for calls, but are nowhere near the Edifier TWS NB2, which lead the way for the daily commute, and possibly even only just compare with the strong all-rounder, the Tranya T10, and the pretty rubbish at everything except calls TT Soundliberty 79.
Connectivity, Controls and Other Features - 8/10
Connectivity is strong. No issues at all whether indoors or outdoors. Using Bluetooth 5.2, this is wasted on me, as none of my receivers support it.
I did suffer occasionally with the left bud not synchronising with the right. On my T1XS I get an announcement saying 'sync' - I don't get anything on these. Again, when the app arrives in English, maybe it will make more sense.
There are 'gaming' modes and a number of other features available, but, here's the problem - the app is in Chinese only. You can still make some adjustments using the global app and registering them as T1X, but seemingly not the Chinese announcements. This gets round the initial perceived inability to change the volume through touch control, because like the T1XS, FIIL made the decision to ship these by default in 'easy' mode, which only allows you to skip tracks, so you have to switch it in the app.
As mentioned previously, wireless charging is handy. The number of options in the app that I unfortunately can't read suggests a very flexible set of buds that can be highly customised - unfortunately the Chinese are on national holiday, so it could be a while before we know what they all mean.
They support auto pause when removed from your ear, and appear to have a gaming and movies mode for reducing latency.
Bluetooth tweaker revealed some oddities. On SBC they have reduced the Bitpool differential by reducing the max bitpool from 2 to 8. This meant that I was able to achieve the lowest latency I've ever tested - 189ms! This beat the previous best, the Edifier TWS NB2 & the T1XS, by some distance.
Interestingly, these do not support MPEG-4 AAC LC - only MPEG-2 AAC-LC. This means they are able to up the bit rate to 393,216 - roughly the equivalent to Aptx.
Battery Life - 8/10
6 hours as standard, I got just over 5 on one earbud, as with the T1XS the other drained a little quicker.
Charge case gives you around 32 hours. Supports quick charge as stated - 15 minutes gives you around an hour and a half charge.
Final Comments
The big question is going to be, should I get these if I already have the T1XS. Sadly, I can't give you an answer.
The T1XS had one problem - the pressure on your ears. The T1 Pro remove this, but you need to get your tips right. The ones that come with them are unsuitable.
The ANC - well, I have no idea what it is, but it isn't as good as the Apollo Bold and others in that bracket. That said, it is a nice little upgrade from the T1XS, which, whilst they had good passive isolation, would become a tad uncomfortable when used over a prolonged period. These - you don't know they're there, their lightweight footprint makes them ideal all-dayers.
The soundstage and audio delivery are absolutely magnificent. The blurring of the lines between chifi and big brand is increasing by the day. There's no necessary EQ'ing, they just sound great out of the box.
What I like about the T1 Pro is I can use foam tips with them. I've had to trim them to get them to fit in the case, but they are usually my preference over silicone.
The build quality does raise a few question marks so I guess we will see if they last the distance, but they improve on the T1XS and get a score of:
Price Weighted Score: 92%

Raw Score: 87%

Sub £100 Leaderboard:
1. Tronsmart Apollo Bold - 92/88
2. FIIL T1 Pro - 92/87
3. FIIL T1XS - 88/86
4. Edifier TWS NB2 - 88/81
5. Alien Secret QCC010 - 90/76