DISCLAIMER: Empire Ears provided me with a discounted price on the Phantom in return for my honest opinion. I am not personally affiliated with the company in any way, nor do I receive any monetary rewards for a positive evaluation. I'd like to thank Empire Ears for their kindness and support. The review is as follows.
Empire Ears are on their way to becoming a household name. The family-run enterprise – formerly known as EarWerkz – have been putting out hits for years, including the venerable Legend-R
average_joe reviewed in 2015
. But, they've only recently broken into the mainstream with their statement piece behemoth; the 14-driver, switch-clad Zeus-XR. Looking to ride that momentum into the proverbial sunset, Empire Ears have taken 2018 by storm, putting out two brand new lines of in-ears tuned with a
think-tank
-like collective of industry pros. Headlining the EP (
Empire Professional
) line is the Phantom: A revelation in tonal transparency; one of
the most
natural, sophisticated and refined in-ears I've
ever
heard.
Empire Ears Phantom
Driver count: Five balanced-armature drivers
Impedance: 10Ω @ 1kHz
Sensitivity: 117dB @ 1kHz, 1mW
Key feature(s) (if any): synX crossover technology, A.R.C. technology, proprietary balanced-armature drivers
Available form factor(s): Custom and universal acrylic IEMs
Price: $1799
Website: www.empireears.com
Build and Accessories
Among the myriad of in-ears I've reviewed over the past year, Empire Ears clearly have the best-packaged ones of them all. The Phantom comes in an
uber
classy, onyx black box – complete with the company's Bentley-like logo glimmering on top and a magnetic strip lining the latch below. Lifting the lid reveals a quick start guide, small and large fabric pouches, a branded micro-fibre cloth and Empire Ears' personalised Aegis case. Within the case are the in-ears themselves, the default Effect Audio Ares II cable and an included cleaning tool securely set within foam cut-outs. Although I wouldn't mind replacing one of the pouches for a mini semi-hard case, this is
surely
a package as complete as I've ever seen one.
The provided Aegis case is a touring musician's dream. A black, fine-textured finish shrouds the enclosure, topped with an engraved, aluminium faceplate and two tenaciously robust clasps. Density and weight throughout the vault suggests a great degree of durability, without sacrificing look
or
feel. The one complaint I've heard online is the narrow profile, which may inadvertently cause pressure on the in-ear monitors when mispositioned. A face-down seating position is required. But overall, Empire Ears' Aegis case possesses a suaveness that all but telegraphs the quality sitting within.
When customising your Empire Ears custom in-ear monitor, you're given the option of 29 shell colours (21 standard and 8 glitter) and a whopping 62 faceplates. The latter consists of the 29 colours that are available in shell form, in addition to multi-coloured swirls, wood, carbon fibre and multi-coloured graphics – almost like vinyl on a race car. On top of that, you're also given the option of adding Empire Ears' logo in gold or silver, a field of Swarovski crystals or your own custom artwork that you can submit on their online designer. Although the tool isn't as sophisticated as JHAudio's (which allows the user to rotate the designs in a 3D space), it's on an equal plane as those from 64Audio, Custom Art and Vision Ears.
In terms of build, cosmetics, comfort and isolation, the Phantom ticks all boxes with ease. My personal pair came in onyx black with carbon fibre faceplates and gold emblems; emulating the class and luxury a high-end in-ear monitor should. And, nowhere is that more clearly reflected (besides in sound, of course) than in finish. The monitors are evenly and illustriously lacquered with neither a bubble nor a rough edge in sight. Even the horn bores – notoriously difficult areas to get clean – are flawlessly structured with utmost finesse. In the ear, they're vanishingly comfortable – balancing pressure and ergonomics better than a large majority of my collection – and they isolate very sufficiently as well.
Finally, as mentioned, Empire Ears includes Effect Audio's acclaimed Ares II wire as the in-ear's stock cable. Relative to other Effect Audio cables I've owned, the braiding isn't as uniform and silky – probably so because the've had to keep up with massive demand. But, they still exude
infinitely
more quality than most stock options in the industry today.
synX
synX is a proprietary crossover system developed in-house by Empire Ears, which they claim designates more individual audio bands per driver than any other crossover technology currently in existence. In essence, it splits the load across more transducers, so that they possess more headroom and – therefore – lower distortion. This is especially true when you wish to apply any form of EQ. You're allowed more leeway to push certain frequencies before the drivers begin to operate outside of their comfort zones. This is useful for me as a sound engineer, if I were required to use EQ for – say – a mixing console with sub-optimal output impedance, a specifically coloured audio player, etc. In addition, Empire Ears claim synX improves stereo separation, phase response and SNR, through handpicked resistors, capacitors and filters.
Image courtesy of Empire Ears
​
A.R.C. Technology
A.R.C. (Anti-Resonance Compound) technology is comprised of two separate parts existing inside
and
outside of the balanced-armature drivers. The first is ferrofluid that they've implanted between the magnets and the armatures within the drivers. What this does is dampen the driver sufficiently, such that it removes any unwanted distortions, peaks and vibrations, whilst maintaining a crisp, clear sound. This also eliminates the need for a damper in the sound tube. The second part is a proprietary coating that they spray on every component of the IEM – including the drivers, crossovers, tubes and shells – to add solidity; acting as – again – a damper to remove any resonances that may render them out-of-phase. Empire Ears claim increased clarity, deeper bass and an overall more efficient monitor as a result of A.R.C.
Image courtesy of Empire Ears
​
Presentation
The Phantom possesses a relaxed, organic signature defined by great robustness, a natural sense of body and excellent tonal transparency. Despite its handful of ingrained, fundamental traits, the Phantom is unique in how it lets the chain determine its tone
and
soundstage. Like other mastering in-ears – such as JHAudio's Layla – the Phantom is capable of distinctly distinguishing shifts in production, mixing and mastering. An example would be the change in saturation in Tom Misch's voice between
Lost in Paris
and
South of the River
from his
Geography
album. Or, the shift in vocals between Sam Smith's
Burning
and
One Day At a Time
. While most IEMs aim to provide a generally pleasing, musical performance, the Phantom's M.O. is infinitely more altruistic: A true, unadulterated representation of music with little compromise.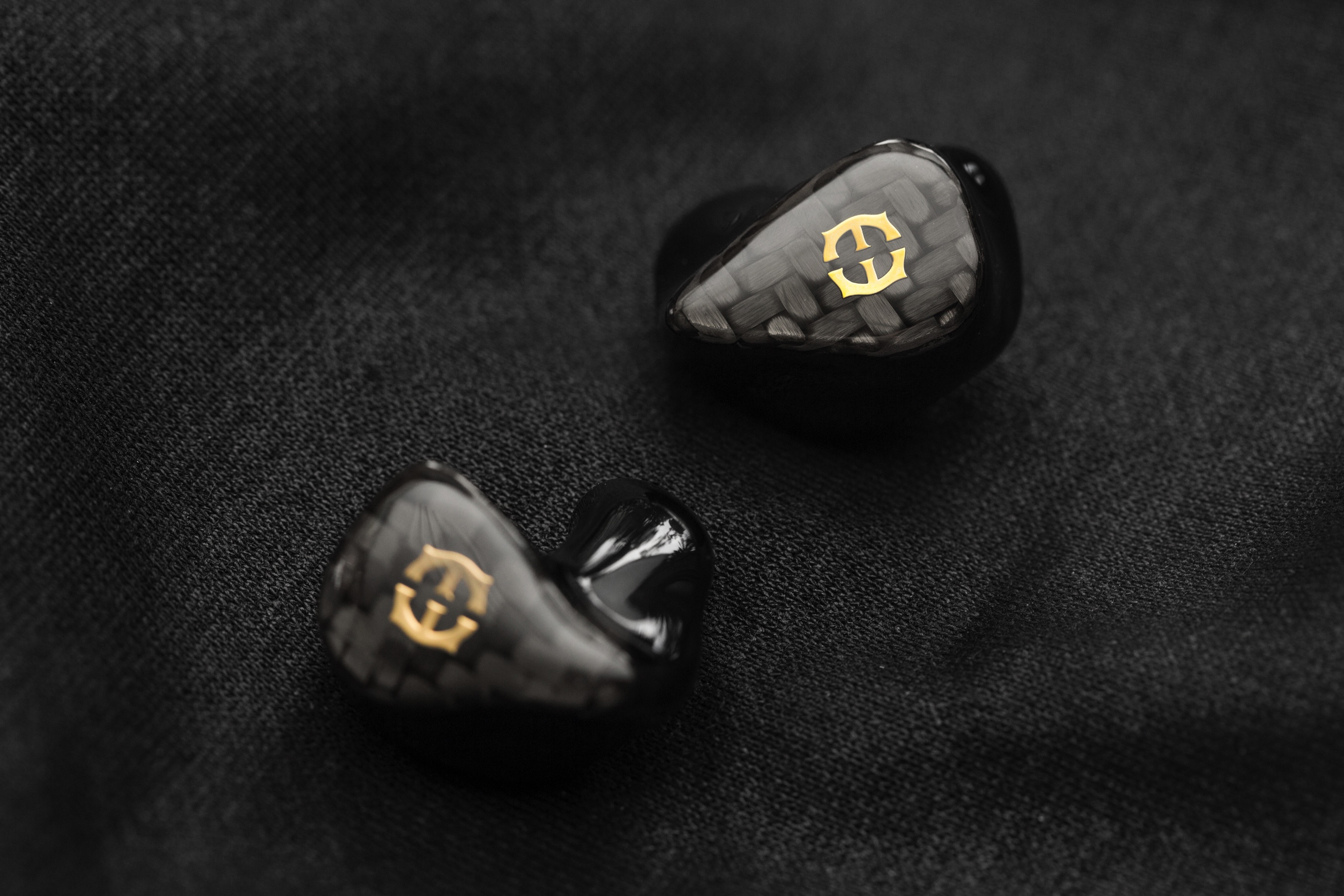 But, this ability can only exist when a strong technical foundation has been set in place. Fortunately, the Phantom possesses excellent spatial performance. The EP flagship has been gifted an impressively stable black background with high resolution, by virtue of strong end-to-end extension. Because of this, no matter the hue or size those instruments embody, they'll always be sat within a well-defined, well-layered and well-resolved soundscape. Despite its transparency, the Phantom does have its quirks in timbre. It's a predominantly rich-sounding monitor with ample harmonic content, because of its prominent lower-midrange. In addition, a linear upper-treble limits sparkle, crispness and raw clarity. If you've grown accustomed to brighter, airier signatures like those of the HD800 or the A18t, the Phantom will likely require some getting used to. But if warmth is your cup-of-tea, it'll fit like a smooth, snug and transparent glove.
Bass
One of the Phantom's most prominent features is its thick, voluptuous low-end – contributing heavily towards both vocal richness
and
the overall organic tinge in its tone. It's not a particularly forward-sounding low-end. Rather, its role in the overall ensemble is to fill out the bottom; pairing articulate transients with equal harmonic content. Outstanding balance is maintained between the sub- and mid-bass, resulting in a transparent response that I'd call
neutral
in tone. Alternating between the synthetic bass lines on Royce da 5'9″'s
Caterpillar
and the uprights on Sarah McKenzie's
That's It I Quit
is a giddying experience – watching the low-end shift between guttural authority and warm emotionality. Again, it's a rich, well-balanced and full-bodied bass that comes across uncoloured, but neither is it sterile or dull by
any
stretch.
This is because the Phantom's bass possesses wonderful technical performance. Although the low-end isn't necessarily coloured for fun, it maintains
gobs
of musicality through authority and extension. The Phantom's sub-bass is excellent despite its balanced-armatured nature. The dynamic range, texture and resolution it possesses is second to few. But, most impressive is the headroom it's able to maintain at the same time. There's an effortlessness in the way it doles out waves of bass, that you're able to objectively appreciate
and
subjectively head-bob simultaneously. Layering is strong as well, because of the Phantom's low-end balance. You get just the right amount of everything, while high extension and low distortion make those individual elements pop. In terms of cons, I can see some preferring less upper-bass for cleanliness and definition. But for my money, this is a quality, balanced-armatured low-end I wouldn't alter one bit.
Midrange
The Phantom possesses a thick, euphonic and resonant midrange; relatively even bar slight bumps around 1-2kHz and 3kHz. The former elevation contributes a characteristic chestiness – perhaps where the Phantom is least transparent throughout its entire frequency range. When combined with the in-ear's full upper-bass and lower-midrange, vocals and instruments alike possess great body, as well as rich harmonic content. Although the Phantom then produces images with wetness and body, overall warmth remains minimal – granted by a well-controlled mid-bass and an extended top-end. So despite the harmonic content, the midrange never sounds cloy or congested. Instruments are organic in timbre, but refined too. When paired with the in-ear's black background, the result is high resolution and tonal transparency.
This refinement also stems from the its light, breezy upper-midrange. Unlike most musically-tilted in-ears, the Phantom does not possess a particularly dense or concentrated midrange. Instead, it chooses to assume a more feathery profile that projects through the chesty fundamental, rather than the throat or mouth. This aids its chameleon-like quality. Comparing two tracks like David Benoit's
Drive Time
and Sarah McKenzie's
We Could Be Lovers
, the Phantom showcases how distinct the two are in terms of real estate, rather than colouring both to sound inaccurately engaging. The former is spacious and theatre-like, while the latter bathes in intimacy. Where this may falter is in physicality. Certain higher-pitched instruments may lack concentration and density; failing to sound punchy at times. But again, this favours the engineer: Where tones, timbres and textures are
easily
discerned, with little distraction stemming from vocal saturation.
Treble
The Phantom's treble is perhaps its most unique attribute and – consequently – its most polarising as well. Unlike most flagships in this day and age, the Phantom employs a flat, unexcited upper-treble; forgoing raw clarity, crispness and air in favour of tonal transparency. The Phantom is the antithesis of in-ears that
"sound good with everything."
Because, its philosophy as an unbiased, uncoloured tool wills it so. The main areas of compromise lie in micro-detail retrieval and transient attack. With instruments like snare drums and cymbals, those accustomed to brighter, crisper transducers will immediately notice what sounds like dulled articulation. Transients don't strike as quickly or as sharply as they normally would. In addition, tiny nuances in the music aren't as prominent. Funnily though, the smoothness this tuning grants
does
allow you to focus on more data in a single sitting. But before you can do so, you have to search for them first.
Instead of the upper-treble then, the Phantom's 6kHz peak provides clarity and articulation. With the right tracks, transients can come across clear as day, yet infinitely refined. These include RVRB's
Faded
EP, Stevie Wonder's
Overjoyed
and David Benoit's
Drive Time
. But other tracks like Charlie Puth's
Done For Me
may end up sounding brittle. This was done to maintain as clear a timbre as possible, so it does not sound crisp or
tizz
-y when it isn't supposed to. Despite
all
the compromises listed above, the Phantom's treble does reward
handsomely
as well. Top-end notes – while softer – leave
zero
trace as they decay. The soundscape remains free of any bright harmonics, haze or
chemtrails
. This results in a perpetually black background; an essential foundation to accentuate the true colour of the track. This aids dynamic range as well, as instruments flow
clearly
between different loudnesses for an endlessly engaging experience. Finally, excellent extension preserves detail retrieval, revealing impressive nuance once you grow accustomed to its sensibilities.
General Recommendations
In the current crop of high-end in-ear monitors, the Phantom is certainly an acquired taste. It's uniquely tuned
without
an eye for raw detail and air – rather, an ear for timbral and spatial shifts. These three are what the Phantom
excel
at:
Tonal transparency for mixing and mastering:
The Phantom's uncoloured sonic palate serves as a great foundation for ruthless pro work. Tiny shifts translate with immense clarity – whether it be in EQ, stereo imaging or overall balance.
A rich, emotionally-resonant midrange:
For playback, the Phantom also possesses a wonderfully transparent midrange – among the best in dynamic range, balance, tonal accuracy and resolution. If your playlist largely consists of vocal-oriented music, you can always rely on the Phantom to bring the best (and worst) out of your favourite balladeers.
An outstandingly well-rounded bass:
Among the vast array of balanced-armatured low-ends I've heard, the Phantom is
definitely
in contention for the throne. Although it's nowhere near
basshead
territory, it possesses a sense of balance present both in-and-of-itself
and
within the Phantom's larger frequency response. Extension and authority allow it to maintain this, whilst sounding fun too. It strides the line between
fun
and
work
with outstanding prowess, effortlessly.
Because of how far it strays from mainstream sensibilities, the Phantom does have its fair share of what can be perceived as
cons
. If you prioritise the following three traits highly in an in-ear monitor, the Phantom may not be for you.
High clarity, crispness and transient performance:
Derived from its laid-back upper-treble, the Phantom's articulation can be perceived is stunted; dulled. It isn't as clinical or clear-cut as most modern flagships. Transient attack may sometimes lack too with more rhythmic genres. If
fun
and
attack
are what you're looking for, Empire Ears' X Series will be for you.
Contrast-y, clinically-defined instruments:
The Phantom's fuller upper-bass and lower-midrange (relative to the treble) also results in wetter, bloomy-er instruments – not as cleanly defined as on brighter, leaner monitors. There's certainly an emphasis on harmonics. If you crave detail and definition, the EVR and ESR from Empire Ears' EP Series will do the job.
A forgiving lower-treble:
Despite the overall smoothness the Phantom possesses throughout its frequency response, its lower-treble is a particular point of caution. Although it provides natural clarity, tracks, cables or sources that emphasise 6kHz may end up sounding brittle or sibilant. Again, the Phantom definitely pulls no punches – if it's there, it'll be heard.
Select Comparisons
JHAudio Layla ($2699)
Jerry Harvey's Layla is a bonafide classic – the weapon of choice for dozens of professional engineers worldwide. So, how does the veteran compare to the new kid on the block? Surprisingly (or the opposite, rather) the Layla and the Phantom share several striking similarities. In tone, the two share the same
track-first
philosophy. The colour the soundscape assumes is determined by the recording and the chain, but both in-ears regardless maintain a sense of organicity; a lush humanity to the way instruments are presented. Where they ultimately differ is how much this lushness intrudes upon the proceedings. The Phantom possesses more flair. There's a confident, muscular timbre to it that stems from its harmonic lower registers. On the other hand, the Layla comes across more strict; more cool, calm and collected.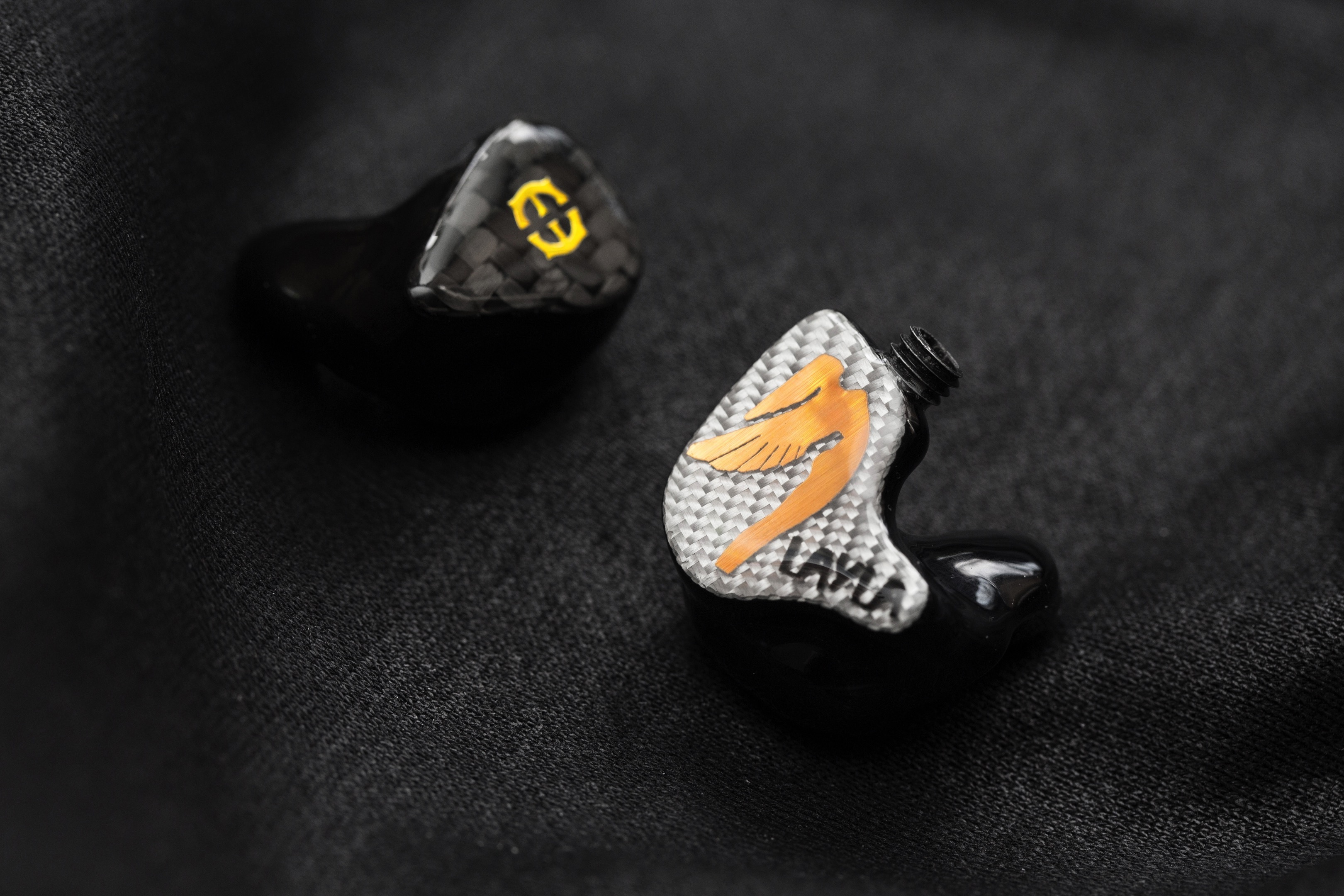 The Phantom has a warmer bottom, a livelier midrange and a peppier treble, while the Layla's all display a similar level of quiet confidence. There's a nonchalance to its delivery that may come across less musical, but will appeal to engineers who are looking for the utmost truth; no more, no less. The Layla's beauty, then, stems from quality. Its low-end digs among the deepest I've heard from balanced-armatures, and its resolution across the board is stunning. This is further exemplified in stage reproduction. The Phantom has an immense technical foundation, but the images that occupy it loom large and full. The Layla compacts its instruments, such that its expansive stage feels even more grand. It provides a theatrical experience that some may consider
detached
relative to the Phantom. As always, it's a matter of preference.
HUM Dolores (¥200,000)
The Dolores is HUM's brand new flagship. Like the Phantom, it's posited as a reference-grade engineering tool. Although the two share similarities, they ultimately diverge in their interpretations of
life-like
. Although it shares the Phantom's linear upper-treble, the Dolores posits a cleaner, more neutral tone – courtesy of a 10kHz peak and an attenuated low-end. Transients sound brighter and punchier, but they aren't much crisper than the Phantom's. Rather, they're far more prone to brittleness with hotter recordings, like J. Cole's verse on Royce da 5'9″'s
Boblo Boat
. So, the Dolores is cleaner in timbre, but far less forgiving. And although it lacks the sub-bass prowess or mid-bass warmth of the Phantom, the Dolores's low-end scores high in speed, control and definition. Extension imbues it with sufficient physicality as well.
Space is where the two are most alike. Excellent bidirectional extension gives the Dolores a stable, well-resolved and richly-nuanced stage. The two are indistinguishable in width, but the Phantom wins out in depth. This is because of its laid-back upper-midrange, while the Dolores' is more saturated. The former has a blacker background as well, but in terms of detail-led transparency, the Dolores has the edge with its sharper transients. Micro-details possess greater vibrance and attack. However, this compromises tonal transparency. Although it's capable of discerning shifts in midrange structure, the Dolores doesn't alter much from one recording to another in overall timbre and hue. So, I'd posit the Phantom as
the
mixing and mastering tool, while the Dolores is most viable in editing first and mixing second.

Verdict
The Phantom is a modern classic – discerning, resolving and soulful all the while. Veering from vogue, Empire Ears' co-flagship forgoes fabricated
pizzazz
to deliver music in its truest, purest form: A balance built for the professional. But, that's not to say it's without its own eccentricities. A harmonic heft tinges its sonic palate, as well as an adamant refusal to conjure any form of hard-edged transient attack; a slip away from the
veiled
cognomen. But years of experience have come to the Phantom's rescue, for Empire Ears have truly instilled it with a wonderful technical foundation. Taken together, it's not a signature all will love – especially those who live on air, crispness and crystalline clarity. But for the listener eager to explore the different flavours, fibres and hues that music has to offer, the Phantom reigns supreme.