Introduction:
Empire Ears was known as Earwerkz in audiophile world. They have changed their name and released new product line a while ago. Their flagship is now a 14-driver unit, Zeus; and Apollo is their second most expensive custom in ear monitor in the product line. Apart from these Olympus series two custom monitors, they also offer lifestyle line, which has hard-wired cable and lower profile fit. In addition, they produce Delta series hearing protection monitors. In sum, Empire Ears has a very rich product line.  
I am always impressed by Earwerkz customer service and they seem to carry this tradition in hands of Jack Vang, Empire Ears Co-Manager. There was a big problem with my package shipping due to USPS fault, but Jack took care of it and tracked the package very carefully. At the end, it was delivered safely, though a bit lately.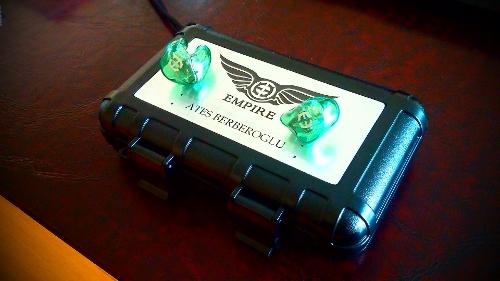 Design, Fit and Accessories:
Apollo utilizes 10 balanced armature drivers per side, 2 for lows, 4 for midrange and 4 for highs. There are also 3 acoustic bores as well as 5-way and 4-point passive crossover network. Apollo has 119 dB of sensitivity with 17 OHM of impedance.
The fit and craftsmanship is simply awesome. There is no sign of error with the craftsmanship and Apollo can be listened for hours without getting fatigued. Apollo has the most comfortable fit among my customs. No complaint at all, simply perfect.
Apollo has detachable two pin cable; as far as I can see on Empire Ears website, Apollo is shipped with BTG Starlight Cable for a limited time. Starlight has very good memory wire section for an aftermarket cable, but its built quality is not very soft.  As accessories, there is an impressive Aegis Case, on which my name is printed, a dust bag, an IEM pouch, cleaning tool and cleaning cloth. Honestly, I feel myself special by looking at this impressive Aegis Case.  
Sound:
Apollo-X has a little bit warm sound with smooth note reproduction. It has slightly distant stage, but not a completely laid back one. As Earwerkz products, Apollo has non-fatiguing approach with controlled treble. Overall, Apollo has a balanced quantity structure between frequencies.
Low Frequency:
Apollo has natural sub-bass hits; they are neither so powerful nor too light. It has nice rumble with medium area of impact on the stage. Sub-bass is not very tight, but controlled and fast enough to not to get messy. Hitting to depth ability is good and they hit from an effective distance on the stage.
Mid-bass has a slightly warm tone, but doesn't fill in the general atmosphere with too much warm air. In this regard, mid-bass is very well controlled and doesn't tighten the stage. Additionally, there is a nice tonal and quantity balance between sub-bass and mid-bass. However, their resolution and texture is not the best.
Mid Frequency:
Like overall spectrum, midrange has a placement that is slightly distant to listener, but it has full-bodied notes and this prevents midrange from being completely laidback. Even if Apollo is not very dynamic, average note thickness is close to thicker side and it is able to create both thin and thick notes well, but stays behind Spiral Ear SE5 in this regard. Thanks to thick and bodied notes, center and lower midrange has a natural tone, but with a slight coloration. Detail level is high, but center image resolution is not the best.
Upper midrange is smooth and detailed; I found its resolution and transparency level better than center and lower midrange. Also, there is sibilance depending on tracks, but it is below ear piercing levels. Vocals are slightly distant, but still intimate in accordance with large portions on the stage.
High Frequency:
Apollo has non-fatiguing treble presentation with a nice resolution. It is neither too laid-back nor too prominent. Overall it is slightly warm, but it is colder when compared to rest of the spectrum. Due to slight coloration, its notes don't have completely true tone, but not metallic either. As for listening to metal tracks, the speed is enough to have a good resolution and separation. Even if the extension is not the best, there is a high level of detail.
Soundstage and Separation:
Apollo doesn't have a very wide stage, but the depth is impressive in accordance with slightly distant located background. Additionally, the stage size is good and there is not a congested instruments placement.
The best part of Apollo is its background and separation. Indeed, the background has a very good level of blackness and the stability is impressive. In very fast and crowded tracks, Apollo is able to create a strong instrument separation. Imaging is also good, but not the best among my others.
Selected Comparisons:
Apollo vs Spiral Ear SE5 Ref:
In general, SE5 is intimate sounding unit with forward mids, while Apollo's stage is slightly distant. Apollo has a warmer presentation when compared to Se5's more transparent and resolved approach.
Both have similarly located sub-bass hits with similar hitting to depth ability. SE5 has better texture and resolution, while Apollo has softer touches. In addition, SE5 has more clearer and tighter punches with a better speed. Apollo has slightly more prominent mid-bass with a little warmer tone. In comparison, SE5 has more resolved and less warm mid-bass presentation.
In midrange, Apollo has cleaner notes, but SE5 has more resolved and transparent note reproduction. Both have thick notes with a natural tone, but SE5 is better in terms of creation of both thick and thin notes. Both have strong vocals, but SE5 gives more dimension and resolution in a more intimate way. Apollo has a mellow midrange presentation in comparison, while SE5 is more alive with a truer tone.
Both have a smooth treble presentation, but SE5 has a truer tone overall with less colored and more extended notes. Detail level is similar; Apollo has slightly more prominent treble, while SE5 is more resolved during fast tracks.
Both don't have overly wide stages, but do have impressive stage depths. In general, Apollo creates longer distances between instruments, while SE5 has clearer/less warm spaces between them. The separation level is similar, but SE5 has speed and resolution advantage during fast tracks.   
Apollo vs Lear LCM-BD4.2
In comparison, Apollo has warmer signature with slightly thicker and smoother notes, while Lear is brighter and sounds with thin notes. Lear is more spacious overall with a bigger picture creation.
Lear has more natural sub-bass tone in accordance with dynamic driver. Texture is better on Lear, but Apollo has a faster sub-bass presentation. Lear uses a larger bass-room by putting air behind punches. Mid-bass is more prominent on Apollo with a slightly warmer tone.
Apollo has thicker, warmer and more bodied midrange notes, while Lear sounds brighter, more transparent and slightly more distant. Detail level is similar, but Lear is better in terms of center image resolution. Apollo has darker note reproduction; on the other hand Lear has clearer notes in accordance with thin sound structure. Vocals have more body on Apollo with a smoother touch; both may have sibilance depending on tracks, but Lear tends to have it more. Both female and male vocals have better dimension/size on Apollo.
In treble section, Apollo is smoother with a more natural tone, while Lear sounds metallic and more prominent in comparison. Transparency level is similar, but Lear is slightly more extended, while Apollo is faster.  
Lear has significantly wider and more spacious stage, while Apollo has slightly deeper one in accordance with its more stable and blacker background. Lear creates longer distances and less warm spaces between instruments. On the other hand, Apollo allows focusing easier, while Lear has slightly better coherence.
Final Words:
Empire Ears Apollo-X custom in ear monitor is a good alternative for who is looking for a smooth sound with non-fatiguing treble notes. Additionally, its separation and background blackness is very impressive. I must say that Empire Ears does a very good job in terms of comfort and fit, the best that I have ever tried. Simply perfect!
For Empire Ears website: http://empireears.com
For Apollo-X info and ordering: http://empireears.com/model-overview/?ap=726
MSRP for Apollo-X: 1599 USD.