Disclaimer
Thank you, Eric from Eletech for providing me the Fortitude in-ear monitors (IEMs) cable. It was provided to me in exchange for my honest review and opinion.
Introduction
Element Technology (Eletech) is an innovative driven cable artisan headquartered in Singapore. Co-Founded by Eric Chong, a prominent figure within the cable segment of Head-Fi industry alongside materials specialist Wang, an incredible talent in the arts of materials engineering whom have been experimenting with cable crafts for decades. Eletech is the platform wherein the pair explores unconventional approaches to developing the zenith of cables though the perfect synergy of musicality, technology, design and innovation.
Eric Chong has been deeply involved with the IEM cable industry segment for the better parts of 5 years while being an industry veteran for the past decade. He has collated various forms of limitations that cable manufacturers have encountered that has steered themselves away from a breakthrough of current bottleneck. Eletech therefore adopted a community-driven approach that is reinforced by a global mindset and talents to their R&D ensuring that the products and innovation shall always stay at the forefront of the industry while maintain excellent transparency. Eletech has also forged various vital connections with IEM & DAP manufacturers, constantly collecting feedback as to ensure that our products are in perfect synergy with the industry key leader's products.
'Fortitude' is designed with a completely fresh philosophy and offers excellent ergonomics, a perfect tinge of warmth with undeniable vocals solvency. It's unique geometry combined with a Type 4-Litz set up enables the Copper to offer excellent staging precision unlike most coppers. Augmented by a Kevlar core, the "Fortitude" is resilient while ensuring the structural stability of extremely high strand counts.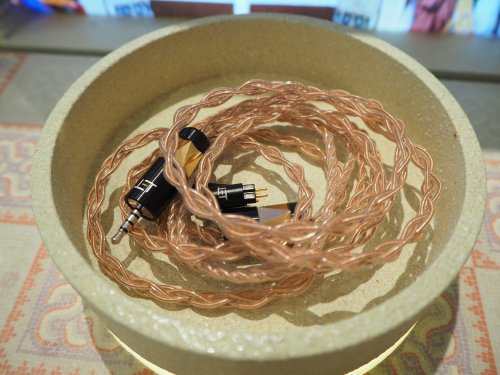 Unboxing
The unboxing experience for Fortitude is rather satisfying. The cable is packed in a cloth pouch together with a leather cable management clip. Then the cloth pouch is stored in the black box with a card stating the specifications. You get all the information and accessories you need from the packaging.
Here're the photos:
Technical Specifications:
26 AWG
Flawless OCC Copper
Extreme high strand counts
Hybrid Type-4 Litz Geometry ; Kevlar Resilient Core
Cryogenically Treated
Eletech Customised connectors and Y-split
Individually Enamelled strands
FlexiMax Insulation™ (patent pending)
Build
I have been buying and testing cables from different manufacturers since 2 years ago. The first aspect that comes to my mind when I am choosing the cable is the stiffness of the cable. I have almost zero tolerance towards a stiff cable that will knock on your body and create unbearable microphonics when you are moving around. This is why I gave up on ALO Audio Reference 8 despite having excellent sonic quality.
I am glad that Fortitude is soft and supple. The cable can be stored easily in my pelican case even without a cable management clip. This is how soft the cable is. When I am moving around, such as commuting, the cable did not produce significant microphonics due to the movement. This allowed me to enjoy my music even on the go.
Fortitude is a four wire braided cable. The braiding is neat and firm. I have some bad experience in braiding from some manufacturers such as Effect Audio. The braiding of my Origin and Ares II became loose after a few months. This made me frustrated. Based on the final work from Eletech, I believe Fortitude could last me longer, definitely longer than those loosely braided cables.
Moving to the hardware, I can feel the passionate and efforts from Eletech by the presentation. Grand, classy and extraordinary. Let's start from the audio jack. The audio jack utilized is designed and produced in-house by Eletech. Unlike mainstream cable manufacturers that use either outsourced audio jack or random "carbon-fiber" coated jack, Eletech came out with a specially designed jack. The rose gold metal is cut by CNC machine, I believe, which requires a significant amount of time and manpower to achieve such accurate and smooth surface.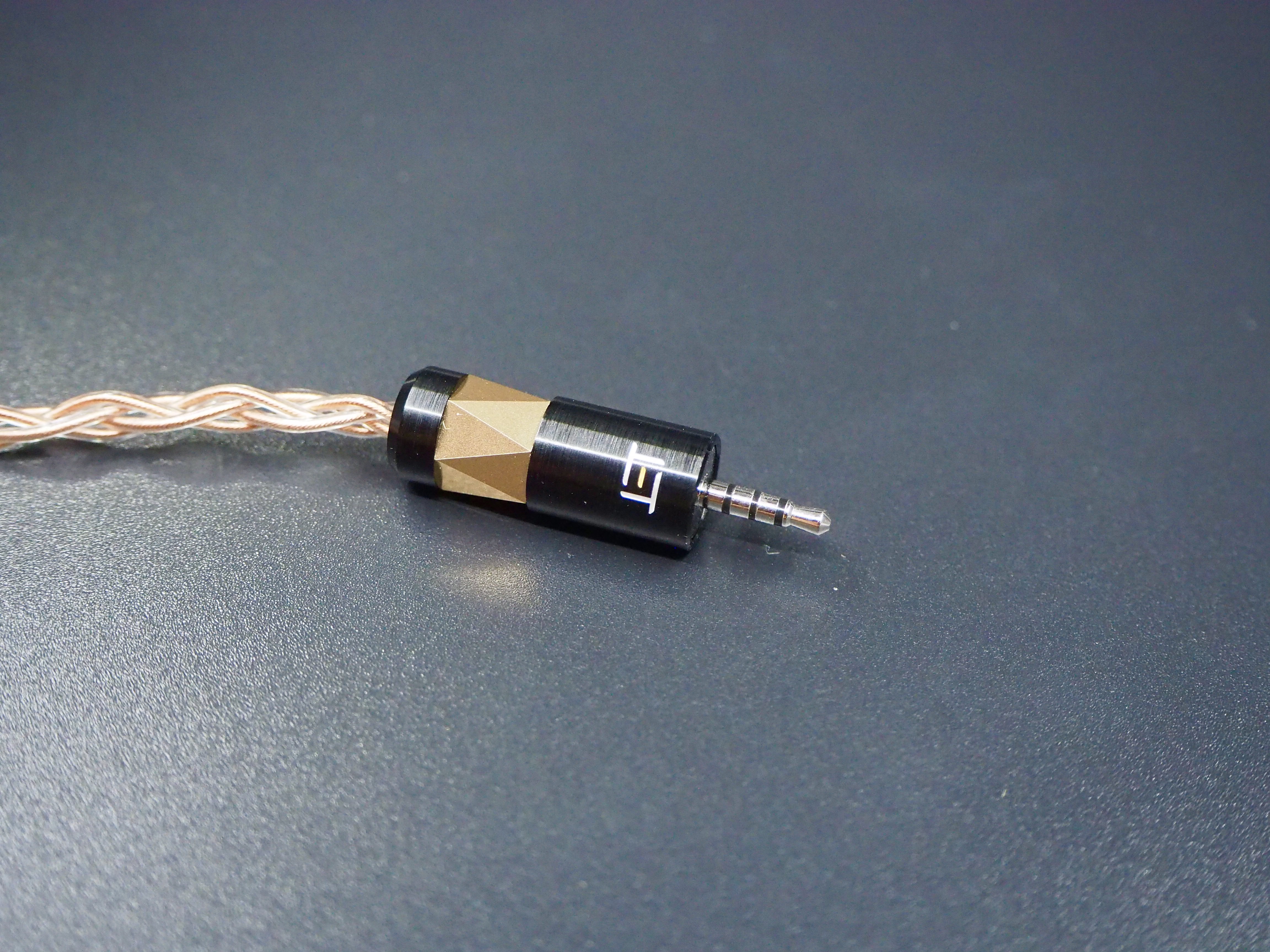 Moving to the splitter, the same design used in audio jack is used. I shall not elaborate more here. It makes the overall design uniform and neat. The 2-pin connector is nicely done. Similar to audio jack and splitter, the connector is designed and produced in-house by Eletech. Electech has high accuracy in getting the connector diameter right. I tested Fortitude on a few IEMs, be it recessed 2-pin or flat 2-pin, Fortitude can handle them accurately and precisely.
Sound Analysis
To analyse the sonic performance of Fortitude, a few IEMs had been chosen to pair with it:
Jomo Audio Haka (Neutral)
Moondrop Blessing (Bright)
Campfire Audio IO (U-Shaped)
These selected IEMs have different sound signature and profile. This helps me to further identify which type of sound signature is suitable for Fortitude. To get a more comparable result, I will use iBasso DX220, my reference digital audio player (DAP) for audition.
Sound Signature
The sound signature of Fortitude is different from typical or mainstream copper cable. It does not have the scorching warm kind of sound signature. It is smooth, but at the same time preserve the details and resolution. I would say it found a balance between overly warm and overly analytical. This is a balance sounding copper cable, rare!
Pairing
1. Jomo Audio Haka
This is a pairing suggested by a fan during the launch event in Singapore. I did not get his name so if you are reading this and you are the one who suggested, please let me know. He is using a custom Haka and he bought Fortitude immediately after trying it at the launch event. Haka is my favorite single balanced armature (BA) driver IEM. It has very good neutrality across the whole frequency spectrum.
If you visited Jomo Audio website, there are two options available for you - with stock cable or Effect Audio Ares II. Indeed, Effect Audio Ares II is a great pairing with Haka and I mentioned it in my review. However, after pairing Haka with Fortitude, I changed my mind. Fortitude preserves the neutrality of Haka and give it additional synergy to bring out the resolution. The presentation is smoother without compromising details. This makes it different from Ares II pairing which boosted the bass and make it a more "bassy" IEMs.
One vote for this pairing!
2. Moondrop Blessing
In my review, I called Blessing as a baby Campfire Andromeda. It has a few characteristics which are similar to Andromeda - highly resolving, airy and sparkling. The lean body of Blessing makes the overall signature even closer to Andromeda. I have been looking for a good cable that able to thicken the body and smoothen the highs. I am glad that I met Fortitude.
With Fortitude paired, the overall sound signature is smooth. I can listen to it longer now without feeling fatigue due to the sparkling highs. This makes the presentation more neutral and natural. Analytical nature is reduced. The body is thicken at the same time. Now, I can listen to Jazz with my Blessing. Saxophone sounds realistic with the thickened body. The notes are delivered to my eardrums with more energy.
Another vote for this pairing!
3. Campfire Audio IO
The highly debated Campfire Audio IO had been selected to try the pairing. The lows and highs of IO is close to Andromeda, accurate and well extended. However, the weakness is at the mids, which I need the most as I listen to pop songs the most. The mids is somehow hollow and weak. This makes the overall presentation a little unnatural. I have been trying with a few cables to match with IO, the best I can get is using my Effect Audio Eros II. It does help but very minimum.
Putting on Fortitude to my IO, the vocals have a thicker body, just like what mentioned in the previous pairing with Blessing. The vocals are now more natural. Fortitude ability in preserving the tightness of bass makes it a more suitable candidate to stay with IO than Eros II. Thickening the mids without overly boosting the bass, this is an ideal situation which I always hoping and now I obtained. I am glad with it.
Conclusion
The Fortitude retails for USD$199. For those who are interested, you can get yours from following channels:
I would call Fortitude an all-rounder. Its outgoing characteristic make it a popular and well-received kids in this community!