Several months ago I was approached by the company Edifier again who asked me if I was interested in reviewing their new Bluetooth headphones, the W855BT. So from the angle of being a product reviewer of course I would accept; but also from the angle of being fortunate enough to have tried a few other products they offer, including their infamous H850's and being overwhelmingly impressed at the quality per their asking price. So I very quickly, and admittedly eagerly, accepted their offer.
So my hopes with the W855BT's were that they would essentially be a wireless H850 with a couple upgrades (seeing they're 3x the price). But before I jump into the review I again would like to extend a heartfelt thank you to Edifier for allowing me to review another one of their products. But with all the pleasantries aside, let us begin the review of the Edifier W855BT wireless headphones.
A little about me

I would like to say that first and foremost I am NOT an "audiophile" but rather an audio enthusiast. I listen to music to enjoy it. Do I prefer a lossless source? Yes, of course. But I can still be very happy streaming from Pandora or even my YouTube "My Mix" playlist. I also prefer equipment that sounds the best to me personally regardless of what frequency response it has or rather or not it's "sonically accurate" and I always have and shall continue to encourage others to do the same.

I'm a 26 year old firefighter, for the City of Concord, North Carolina as well as the U.S. Army North Carolina National Guard. The cliché of wanting to do this since I was born couldn't be more present with me. I've worked hard over the last several years to earn this position and now it's time for me to work even harder to keep it.

My interests/hobbies are power lifting, fishing and relaxing to audio products and reviewing them to help other decide on what products would work for them. Few things make me as an audio enthusiast/review feel more accomplished than when someone tells me that I helped them find the type of sound they've always been looking for.

Now, the sound signature I personally favor is a relaxing, warm and sensual sound that just drifts me away in the emotional experience of the music being performed. Yes, accuracy is still important but I will happily sacrifice some of that if I'm presented with a clean, warm sound that can wisp me away into an experience that makes me yearn for more.

My ideal signature are that of respectably forward mids and upper bass range with the bass being controlled but with some slight decay. I like my treble to have nice extension and detail reveal with a smooth roll off up top as to not become harsh in the least. Examples of products that have given me chills and keep giving me the yearning for more feels are the (in no particular order) Bowers & Wilkins P7, Oppo PM-1/2, Empire Ears Hermes VI & Zeus XIV, Audeze LCD-XC, Meze Headphones 99 Classics.
Equipment used at least some point during the review

-Sources

-LG V20

-Playing Tidal Hifi, Pandora, YouTube, and various lossless FLAC etc... music
Disclaimer

I am by no means sponsored by this company or any of its affiliates. They were kind enough to send me a product for an arranged amount of time in exchange for my honest opinion. I am making no monetary compensation for this review.

The following is my take on the product being reviewed. It is to be taken "with a grain of salt" per say and as I always tell people, it is YOUR opinion that matters. So regardless of my take or view on said product, I highly recommend you listen to it yourself and gauge your own opinion.
The Opening Experience
Why I feel so strongly about the initial unboxing experience

Please allow me to explain why I feel so strongly about the initial unboxing experience with a product. Maybe it's due to my southern roots in the hills of eastern Kentucky, but I've always been raised under the pretense of when you introduce yourself to someone for the first time you present yourself with confidence, class, character, pride, and competence. You greet the other person with a true warm smile, eye contact and a firm handshake. Anything less or short implies to other person that you either don't care about them, are too full of yourself, too busy to be bothered by the likes of them, or worse, just generally disrespectful.

As a consumer, I take this same belief to when I open a new product. Why? Because think about it this way. How else can a company introduce themselves to their customers? How do they present their products? Are they packaged with pride and presented in such a way that makes the listener eager to listen to them? Or maybe they're just wrapped up and placed in an available space. How about the box itself? Is it bogged down with jargon that says look at this, look what I can do. I'm better than anything on the market and here's why read this and check out that. Or, is the package clean, simplistic and classy? As if saying to the customer 'Good day, pleasure to meet your acquaintance. Please give me a listen and allow me to show you what I can do and allow my actions to speak louder than my words.'

This is why I feel so strongly about the initial presentation of a product, and I feel it's truly a shame more people don't. But with all that aside, let's discuss how this products introduced itself shall we?
The outside box of the W855BT is made to look like you're getting a much higher priced product. Edifier did a great job with keeping the packaging relatively uncluttered and honestly only showing a couple things on the back and left the rest on the pamphlet on the inside. For those of you who keep up with me and my reviews likely who how much I love a simplistic look, and I'm quite satisfied with this presentation.
As you open the box, you're then greeted with another, harder, cardboard box that holds the very nice carrying case centered with the Edifier logo in a bright white contrasting the all black case. The directly under (not behind) the headphone case you've a smaller box that contains the accessories to the headphone, i.e. micro usb charging cable, auxiliary cable, and warranty/startup guide.
Now, getting into the headphone case it obviously holds the headphones so the reason I would like to talk about it in particular is that I rather didn't like the layout. This is because as you're looking at the case the Edifier logo is on the bottom, but when you open the part of the headphone that's there is the headband so you have to turn the case around. I feel it would be much better if Edifier would have just rotated their logo 180 degrees and all would've been well. Granted this a very insignificant thing but, to me, it's the little things that matter and make all the difference, but again this is only a $150 product so I'm not going to be too critical on it.
Overall I was very impressed with the "handshake" that Edifier provides with their W855BT headphones. While opening the product I truly felt that the company feels pride in their products and wants their consumers to have just as much.
Construction
This is an area I do find fall by the wayside with cheaper products. Granted, the W855BT's aren't really what I would call cheap at $150USD but I've seen some pretty poorly made products costing more. Edifier I feel found a nice middle ground with the W855BT's construction. It's headband and earcups are made from what they call an aluminum-magnesium alloy which definitely helped on the cost, but it's not the cheap flimsy plastic that us consumers need to worry about breaking (so long as it's not just thrown around casually).
The headband has a pretty decent amount of articulation HOWEVER, I have a reasonable size head but on the W855BT's my head is on the lowest setting, so those with smaller heads may have issues getting a good fit with these. Now, I have put many hours on this headphone the it is a very good possibility that the headband has just stretched out to accommodate my head better for I remember in the unboxing that these looked rather small at first.
The right side of the headphones is where you'll find all buttons and ports and all the whatevers for the W855BT, this is also the only place that anything other than plastic will be found for there's an aluminum ring where the controls are. But in the middle is your play/pause/answer/hangup/ and NFC connection (yup it's even NFC enabled) which is pretty standard but the button was nicely responsive. The right of the center button (unmarked) is the single tap for volume up and long tap for track forward, with the opposite (still unmarked though) for the left side. On the bottom of the ear cup is where you'll find the power on/off and bluetooth paring (hold for roughly 3 seconds or till you hear the tone to enable pairing mode) slider, the 3.5mm aux. port, and finally the micro usb charging port.
The W855BT has very little front to back movement but enough I found to enable the cups to get a good seal on the ears, however, they have a great amount of up and down movement which should help accommodate the varying head sizes.
The build quality of the Edifier W855BT is respectable, especially for it's price point. The design is very elegant looking and the materials are adequate. One doesn't have to baby these headphones but at the same time can't just throw them around either (course I would recommend throwing around any headphones if you want to be perfectly honest) So long as you take care of these I'm confident they'll last you many years to come.
Comfort
Constructions is very important, don't get me wrong, but how much does the build quality of a product matter when they're not comfortable enough to even be worn? Just because they're made to last for a long time doesn't necessarily mean they'll be enjoyed for a long time. As for the Edifier W855BT this is certainly not a worry.
The W855BT has a normal amount of weight to it (not too light nor heavy) so no complaints there but it really excels at the comfort of the padding. Edifier uses a foam filled faux leather padding that at first feels like it's nowhere near thick or firm enough but with the nice amount of clamping force the B855BT's possess I've personally been able to wear these for several hours on end with zero fatigue. The headband though it quite solid for the padding that's supplied there basically does nothing cover the metal, so for those with sensitive heads you may have some discomfort there. Going back to the pads right quick, I also need to add the my ears didn't get hot at all. I feel this is due to Edifier placing small vent holes on the inside (where the ear touches) of the padding, which I believe allows my ears just enough breathing room to stay comfortable.
Overall I have ZERO complaints with how comfortable the W855BT's are. As stated above I've worn these for several hours at a time with no issues nor discomfort. Very well done.
Features
I touched on this above but I wanted to make sure that for those reading are aware of the extra perks that the W855BT offer. Granted, they're pretty much all standard stuff for a bluetooth headphone.
Firstly is that they're wireless (WHAT A SURPRISE!!!!!), hey we can't all be super obvious can we? But they can also be connected via NFC (or Near Field Communication). This is a really cool thing, kinda. I personally find it takes just as long (or longer) to connect a device via NFC than by standard bluetooth pairing. But anywho, what NFC does is if you're phone is NFC compatible and YOU HAVE IT TURNED ON (which wastes just as much battery as leaving your bluetooth on unnecessarily) all you have to do it tap the back of your phone to the NFC icon on the headphones, which is on the right ear cup.
Next is that these headphones have a built in microphone that actually has some pretty good call quality. I've had a fair amount of phone calls on these headphones and have heard the speaker quite clearly and they have said I sounded just fine, most didn't even know I was using something other than my phone.
Lastly is a feature that I feel should be standard (and granted it usually is and is becoming even more so) is that these headphones can still be listened to even when the battery is completely dead. All you have to do is plug in the supplied aux. cable and you're good to go. Which the battery life on the W855BT is outstanding so unless you just forget to charge the headphones for several days, you'll rarely need the aux. cable.
Sound
Alright so I've been building up the Edifier W855BT's enough, so how do they sound? That's what the vast majority of you care about right? For those who have heard the W850 know just what I'm talking about when I say Edifier can make an incredible sounding product for not a lot of money. So do the W855BT's follow in the very famous H850's and their incredible bass presence? Well, yes and no, and I'm going to mostly side with the no aspect.
Though the W855BT's still maintain the overall bass heavy sound that was so impactful in the H850's that's about where the similarities end. The W855BT's, to me, sound much more "audiophile friendly" as in they're much more balanced out and MUCH more detail oriented. The H850's were a headphone that I only listen to when I really want to feel the bass when I'm listening to music like
Freaks
by Timmy Trumpet. Now, the W855BT ain't no slouch in the bass category for they're certainly still mostly bass biased but they also have MUCH better extension into the other areas of the audio as well. But before I move on I need to emphasize that though the W855BT isn't as heavy in the bass as it's predecessor, they still have a wonderful presence to them that has honestly satisfied me enough that when I want those same feels I grab these now over the H850's. Have a gander listening to this
song
(Party Till We Die) and you'll understand what I mean.
The soundstage, of the W855BT's are moderate. They're not directly in your face but they're certainly close. Usually this results in a muffled sound with poor musical separation but that's not really the case with these. In fact I can discern different instruments pretty clearly up to a small classical performance.
The imaging is meh at best though. When listening to music through the W855BT's you're doing just that, listening to music. Don't expect to be swept away in the performance of movie you're watching because these won't do that. The music is definitely coming from headphones and do to the bass nothing sounds natural enough to be able to get that feeling of it being real, at least for me and my months of listening.
But let me talk about the individual aspects of the sound so hopefully you can get what I'm trying to explain a little bit better.
Treble
The treble is honestly quite revealing despite the bass forwardness of the W855BT's. When listening to various artists I can still make out a surprisingly pleasant amount of micro details I feel I would have missed. The treble does have a quick roll off so extension isn't so great but even with that I still really enjoyed listening to pianos, violins, even bells. Hearing these instruments in the background really accentuates the music I'm listening to and I'm glad that even with the bass presence these have I can still enjoy them.
Mids
The mids, as those of you who read any of my reviews know, are my favorite area of audio. This is where the soul and emotion of the music lies. I love hearing the artist sing and it sound as if I'm being directly sung to. As with the W855BT's I don't really get this at all. I can hear the vocals and surprisingly they're not too imposed by the bass but they still don't sound natural to me. Also, female vocals do sound a couple octaves lower than they usually do. I really noticed this when listening to "
Sanctuary
" by Utada Hikaru (love this woman's voice).
Bass
Dat bass though! The bass on the W855BT is awesome. It's very fun and very impactful. There does exist a fair amount of decay but these aren't necessarily audiophile headphones. These headphones are designed to be fun to listen to and feel your music in. And I feel they accomplished that mission sublimely. I love listening to club, dub, and house music in these because they're just fun. The bass doesn't overly envelop the other frequency ranges that most bass heavy cans do so I can not only get all those bass feels but I can still enjoy the finer details as well.
Conclusion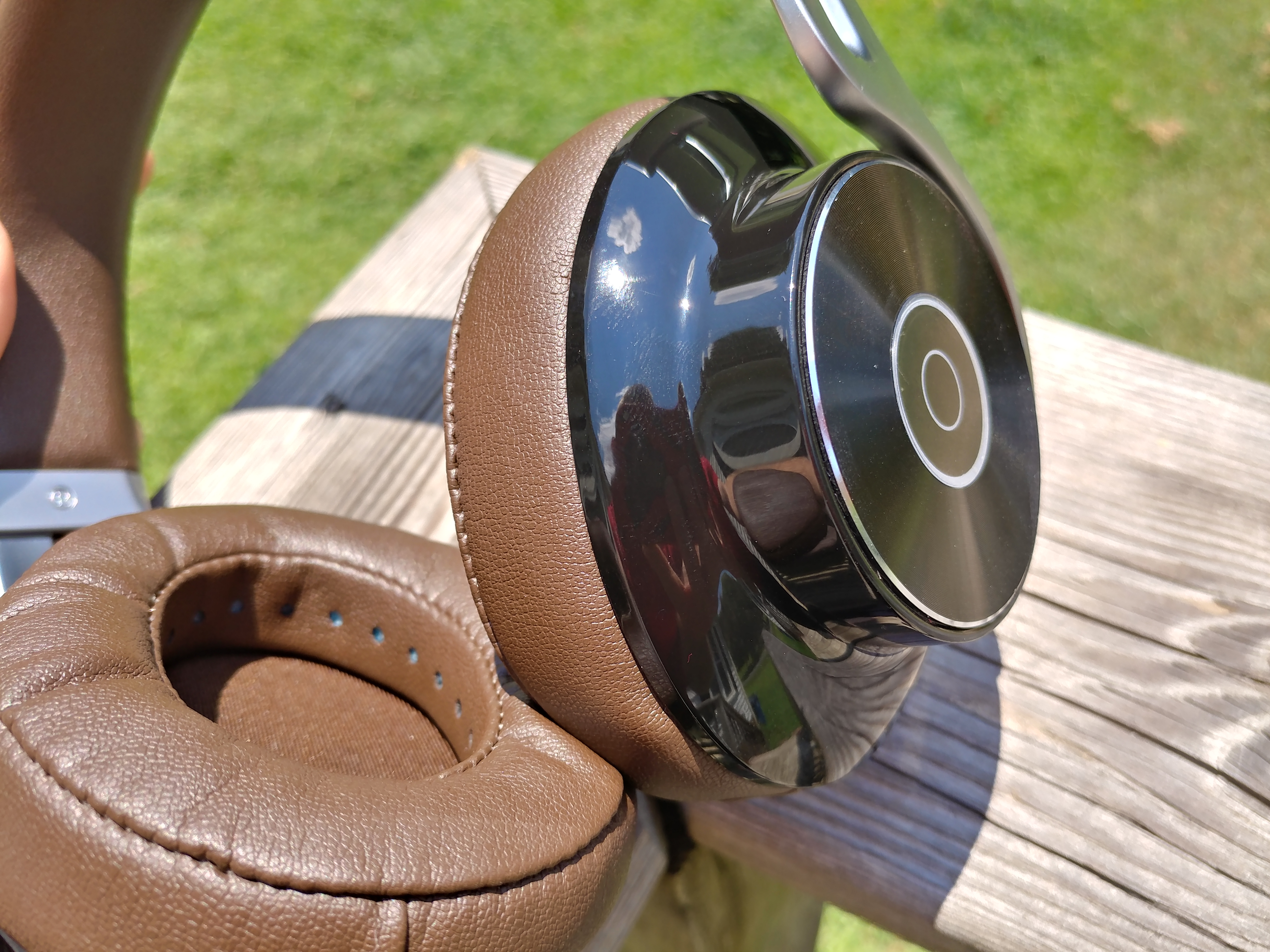 My final thoughts on the Edifier W855BT is that these are an outstanding headphone to listen to when you're wanting to have fun. Though they're more "audiophile friendly" as compared to their other products they're still not designed for that which is something to keep in mind. I was really impressed with how comfortable these headphones are to wear even for long extended listening durations and even more so with how long the batteries last (easily get the claimed 20 hours Edifier states). I'm continue to be more and more impressed with the products that Edifier creates and am just waiting for the day they they become a household name. Since their
acquisition
of the renowned Stax brand I'm just counting down the days before we've a top tier headphone from them.
Also, make sure to check out my
unboxing
and review
videos
. They're pretty awesome AND you getta put a face to the Army-Firedawg name. If this review helped you out at all please hit that thumbs up button for it really helps me out a lot. Till next time my friends, stay safe.