Edifier TWS NB2 ANC Wireless Earbuds
Edifier's secret sauce produces another quality headset
Pros
:
Good call quality in non-complex scenes, ultra low latency, decent frequency response, ergonomic case, looks
Cons
:
Controls, SBC only, mic over-compresses in complex scenes
How I review:
(See Previous Reviews)
Instagram:
regancipher
YouTube:
regancipher
Model
: Edifier TWS-NB2
Price
: £59
Link
:
Edifier
Review Reference:
RC010
Manufacturer Specification:
Brand: Edifier
Model: TWS NB2
Driver: 10mm Composite Driver
Chipset: BES 2300
Impedence: 24 Ohm
Mic: 4, ENC
ANC: Yes
Codecs: SBC
Earbud Weight: 5.3g
Earbud Dimensions: 34mm height, 30mm stem length.
Gross Case & Buds Weight: 44.68g
Case Dimensions: 65,5mm (width) x 48.2mm (depth) x 25.6mm (height)
Case Charge Capacity: 500mAh
Full Charge Time: 120 minutes
Quick Charge: No
Wireless Charging: No
Input: 5V 1A
Single Use Playtime: Up to 9 hours (ANC Off), 7 hours (ANC On)
Playtime with Charge Case: Up to 31 hours (ANC Off), 23 hours (ANC On)
App Support: Yes, IOS and Android - Edifier Connect
Bluetooth Range: 10m advertised
Bluetooth: Bluetooth® 5.0
Bluetooth Protocols: BLE/ HSP/ HFP/ A2DP/ AVRCP
Water Resistance: IPX54
Includes:
1 x Pair TWS NB2 Earbuds
1 x USB-C Charging Case
3 x Pair Silicon Eartip
1 x USB Type-C Cable
1 x User Manual
1 x Cloth Carry Bag
Real Life Experience


Welcome to the Regancipher review of the highly-anticipated Edifier TWS NB2.
Edifier specialize in the design and manufacture of premium audio solutions that showcase technological innovation and design excellence. Founded in 1996 and headquartered in Beijing, China, they claim to deliver outstanding sound experiences through a wide range of home sound, professional audio, automobile audio, headphones, and microphones for personal entertainment and professional use. In 2010, they were regarded as the only Chinese enterprise for national trademark strategy implementation, and in February 2010, joined the Chinese stock share market and became the first enterprise listed in the Chinese audio market.
Edifier has won many international awards, such as the "Red Dot Design Award", "CES Design and Engineering Award", "JIDPO Design award" (Japan Industrial Design Association Award), and the iF Design Award. In 2012, Edifier acquired the Japanese company, Statx Ltd., which was famous for its static earphone brand. In 2016, Edifier cooperated with the top U.S. tablet headset brand Audeze LLC to implement its global market strategy. Edifier is reported on many top media sites, including Forbes, Yahoo, CNBC, CNET, and more.
The Unboxing - 9/10
If you've ever bought a Tissot watch...well this kinda feels like the same experience. Not quite a Rolex, or even an Omega, but they've made an effort. The front outer inlay, pictured in the title pic, nominates their headline features - ANC, app support, battery life and bluetooth 5.0 (hardly something you should be leading with really, but there you go!). The back elaborates further, with features detailed in English, French, Portuguese, Spanish and Japanese.
The faux leather box is nice, and gives a real premium feel to the release.
Opening it up reveals a solid foam casing in which a grey cardboard box houses the case and buds, and when you pull it out you find it contains the cables, tips, manuals and cloth drawstring bag.
The manual is in a bunch of different languages as pictured above, and is straightforward and easy to follow.
The Case - 8.5/10
The same faux-leather finish as the box. On top is an embossed Edifier logo, which again feels very premium. At the rear you have a USB-C charge socket, a sturdy hinge and a light to denote charge status.
The light inside denotes the charging status of the buds, which would be handy on the outside in all honesty. The buds rest face down into the charging case, and here you can see the pairing button, which sits exactly in the middle of the two buds.
Whilst it is larger than some of it's contemporaries, its' pebble shaped design is portable enough, and lightweight so it's suitable for jacket pockets and handbags alike.
The Ergonomics - 8/10
The Edifier TWS NB2 are quite distinguishable with their 3D stems and gun metal exterior.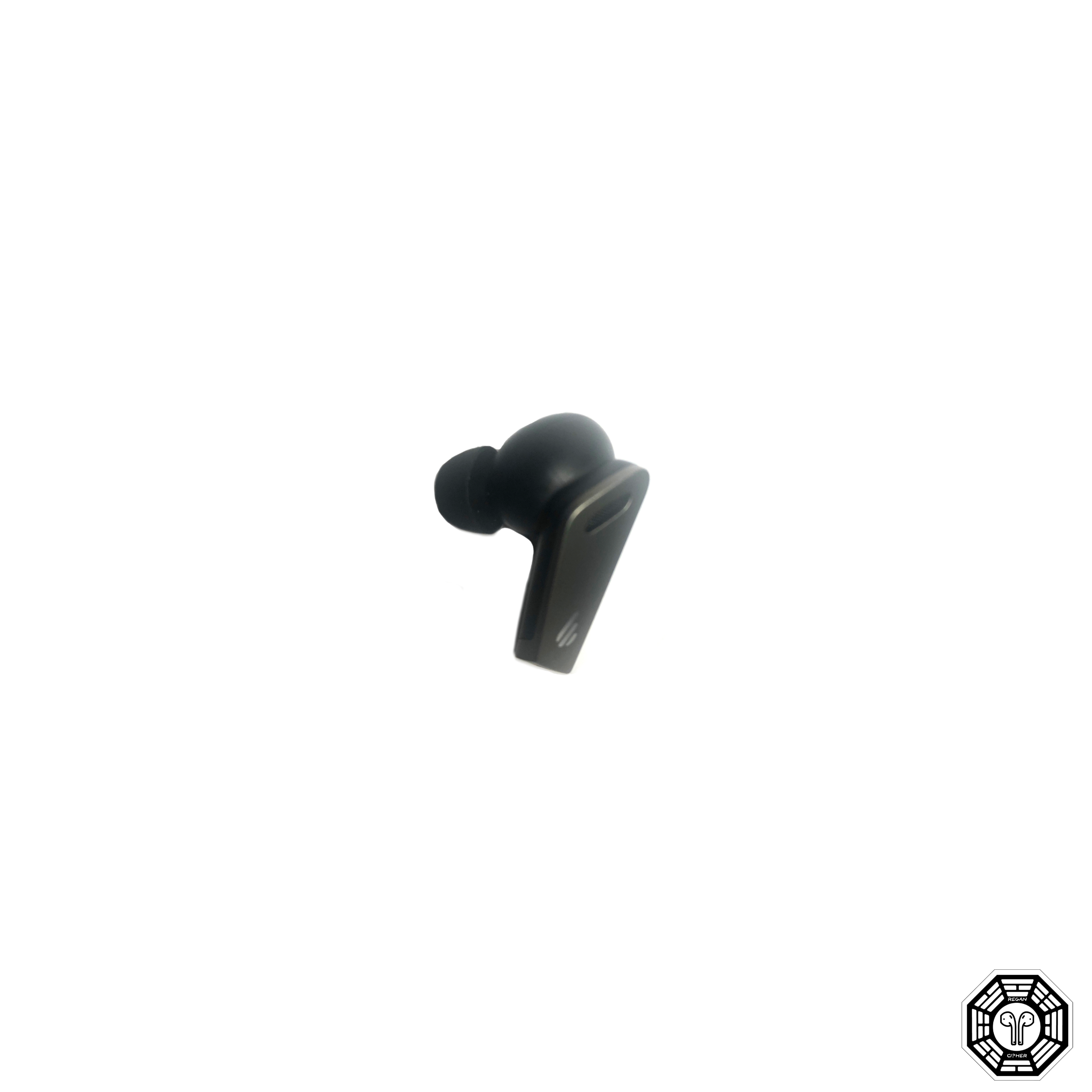 There are mic chambers at the base for the voice, and at the top for ambient sound. On the inside is a pressure relief chamber and feedthrough mic.
They are bulbous, like many others, in order to maximise passive noise cancellation. It doesn't detract from the comfort - they fit nicely, although the stock tips that are fitted are visibly better quality than the other supplied sizes, which is a shame.
Despite the bulbous neck and stubby ends, they sit quite nicely in the ears, although the silicone tips feel quite cheap, so they can feel a little loose. I would recommend changing these out as quickly as possible, otherwise you may find them slipping out rather easily.
The buds are IPX54, so I wouldn't recommend more than a dash to the station in them - certainly no showering or swimming.
Sound Quality - 7/10 for the price, 7/10 raw score
It is always a difficult balance reviewing raw sound quality against intermediate sound quality (i.e. sound quality against price).
Subjective tests were good. They immediately jump out as having a slightly broader soundstage than your average $10-20 buds, retaining more detail than I come to expect, without sounding especially exciting. Bass guitars have weight and kick drums have punchiness about them - the lower frequencies are unquestionably enhanced compared with the NB1, but not offensively so - subbass has no nasty surprises, and the raw sound is more refined than something like the Tronsmart Apollo Bold, but they do a lack a little richness, especially on rock tracks, and even house and techno, where high hats, snares cymbals can leave you feeling a little short changed. Inevitably reviews of the NB2 or Apollo Bold turn into a competition between the two, but both feel a step up from a lot of the buds I've tested of late, just in different ways. I find the Apollo's sound raw and a little harsh at times, and the Edifier a bit thin, with the mid-range frequencies often lacking punchiness and even warmth.
Gaming mode takes latency to just 80ms. This is the best I've tested so far - bear in mind aptx is around 200ms this is out of this world - but there's a catch. Only SBC is supported. No AAC, no AptX.
Call Quality - Indoors - 7.5/10, Outdoors - 6.5/10
On the day I tested the worst earbuds for calls (the Aukey EP-T25) I found the best so far (apart from the Galaxy Buds and Apple Airpods Pro). I'd heard some iffy reviews of call quality on the NB2, but initial impressions were extremely good.
Most frequencies are cancelled to a market leading quality, despite using a proprietary noise cancellation methodology (no CvC or MEMS) and your own voice is exceptionally clear in all environments. This was one of the best features of the earbuds, it really does shine here. The one blot on the copybook is it can sound a touch robotic at times compared with some headsets, but this isn't frequent and is a small price to pay for outstanding clarity.
Fast forward a few months on and the cracks start to show. Outdoors the TWS NB2 over-compresses sound in harsh or complex environments. Out in the wind and rain with traffic, unlike most cheaper earbuds that try and amplify your voice over a loud backdrop, the Edifier just compress the hell out of everything, making you sound muffled and indistinguishable from your surroundings.
I guess this is why they have had such mixed reviews. Something usually has to give, and here it is harsh conditions. These are without doubt fair-weather performers, that would be ok in a reasonably busy office and a quiet commute in countries in good weather, but deviate from that and you're going to see, or rather the person on the other end is going to hear, the flaws.
ANC - 7/10
Not
quite
as good as I expected. Certainly not as good as the Tronsmart Apollo. It's...ok. I suspect with a better seal it could be improved. And sure enough, a month later, by angling the buds slightly further anti-clockwise I am getting better results - not in the league of the Apollo Bold - they seems better at cancelling out more distant sounds than close by - but not so bad that I was about to send them back thinking they were faulty, which I did when they first arrived. Even so, it's debatable whether it is
that
much more effective than the passive isolation on the Whizzer E3 or Fiil T1XS.
There are 3 modes, off, on and ambient. Ambient has a percentage bar within the app, which is a nice touch. When using with windows, noise reduction and normal mode show little difference. Ambient is very apparent.
ANC is activated by double tapping the left bud. Even on iPhone, where it seems to perform better for some reason, there is often little noticeable difference when you activate it, both to sound quality and the ambient sound in silence, which gives the feeling it could be better.
Deeper evaluation revealed noise cancellation is far better on these at low frequencies. With the fan on a low setting in bed this morning, it cut out all of the rumble, and the switch from off to on was much more noticeable.
Without music, ambient chatter and TV sounds are still audible with ANC on, but it dulls your keyboard taps and traffic if you're sat near a window . This will be music to the ears of home office users.
As usual, Edifier are doing things their own way. The ANC is certainly not a major disappointment, but it's also not a stand-out feature of the buds either, from what I've heard so far.
Connectivity, Controls and Other Features - 7.5/10
Connectivity is as expected and as advertised. These performed identical to others in their field. I haven't been able to test in a busy metropolis given the current climate, but interference kicks in internally at around 8-10m. Outdoors, no pocket issues. Over time, it seems to be getting a little weaker. I'm getting similar ranges to my other bluetooth earbuds, whereas it was very strong in the early days.
Pairing was immediate with the first device. The second device required the button to be pressed inside the case for 3 seconds. This obviates the need to touch the buds when pairing. Only one option shows (single bud use isn't through the pairing, which is good). Auto-connect is flawless. It is one of the few sets of earbuds I never have any problems with in this respect.
Controls are reasonably straightforward - double tap left tip for ANC mode, right tip for pause/play and answer/end call. It seems to also answer calls if you double left tap by mistake. Tap left 3 times for gaming mode, right 3 times for next song.
No volume control and a small surface area to get the right connection can cause problems here until you get used to them. The Apollo Bold and Aukey EP-T25 for example are designed for finger sized taps. These aren't, so you sometimes have to feel your way around the top before making contact. This can result in errors. The right / left delineation takes some getting used to. You are told most of the time what you've selected, which is handy as many don't (or default to Chinese like the FIIL!).
Single earbud use is possible. I don't like using earbuds in this way, but these worked fine when tested. Because of the delineation in button control, you're better off using the right bud.
Connection to the Edifier Connect App was very straightforward, and it gives some good options. The front page allows you to turn ANC on and off, turn ambient mode on or off, and a slider bar allows you to define how much ambient noise is allowed through - a really nice touch. It also shows the current battery level of each bud, and you can play and pause here too.
The settings area gives you a bit more to work with such as how the buds behave as pictured. You can control volume in here as well as shutting the device down and setting a timed shutdown. I could see this being useful on bed friendly buds. These aren't bed friendly. The user manual is here too.
Music pauses when the buds are removed from your ear, and its possible to toggle this in the app.
Button sensitivity is also configurable. This was using app version 6.1.
Battery Life - 8/10
Battery Life is a strong feature. With ANC on you still get a good 5-7 hours. The charge case gives you around 22-25 hours with ANC on, and even more with it switched off. This puts it towards the top of the league - real-life testing revealed they do not cut corners on the specification sheets. Contrast this to Anker, whose claims are wildly inaccurate and have an asterix with on 50% volume next to it in the small print!
The Edifier, for their flaws, remain my go to for work. They last all day, and whilst your voice will not sound as natural as even budget sets such as the Boltune BT-BH024 or Omthing Airfree, they are solid performers that keep going.
Summary
Despite only supporting SBC, Edifier have delivered decent quality earbuds that come with many of the key features that consumers desire currently, with nice ergonomics and an impressive case.
They are almost certainly aimed at gamers and those working from home, sat on Zoom or Teams, given the low latency, reasonably good microphone and limited codec support. They would also be great for commuters who have to take calls, listen to a mixture of podcasts, audiobooks and music, and want to change to something fresh in their ears when working out - which these are definitely unsuited to - for those living in countries or climates where the noisy ambient surroundings don't pose a problem.
ANC is
'ok'
- nothing outstanding, but it is acceptable at this price point. I see 'seansays' has rated it higher than the Apollo Bold - in my opinion it definitely isn't close, at low or high frequencies - it is very subtle, but good enough. Sound quality is good. Soundstage is not too narrow, and airy enough to create space between the frequencies - low mids and vocals are clear and relatively uncluttered.
Aesthetics are also pretty good, the charge case is portable, and the app is 'oven-ready' and works well.
At £60 these are mid-tier buds with some good features and some notable absentees, but it is unquestionable they are worthy additions to the armoury, and I'll definitely be keeping them, and testing with some alternative tips to see if I can get more out of the ANC.
Price Weighted Score: 84%
Raw Score: 80%
2022 Score: 74%

2022 Comments:
As users often come back to my old reviews, I will caveat that whilst the NB2 were pretty good in their day, two years have passed, and they are showing their age. Sound is very bloated in the lower frequencies and far less detailed than more recent releases, and this is simply a bi-product of innovation unfortunately. A good option at the time, but every feature - ANC, call quality and even comfort - has now been overtaken even by buds around the $20-30 mark, such as the QCY T13. When looking at reviews, always look at the date!
Last edited: