At the time of the review, the Edifier headphones were for sale on Amazon.com. Here is a link for information and purchase:  
https://www.amazon.com/Edifier-H850-Over---ear-Headphones/dp/B013J8DROA/ref=sr_1_8?s=electronics&ie=UTF8&qid=1467921354&sr=1-8&keywords=edifier  
Introduction
The thing I love about budget earphones is the great price to performance you can get sometimes. Not only that, there is less risk of being out of your hard earned dollars if you buy a product and don't like it (thanks to the lower asking prices). Combine the vast majority of budget gear and the Head-Fi community's feedback, we have a renaissance of sorts. There are many great lower priced earphones being sold, and with Head-Fi's forums we know which ones perform well and are geared towards our preferences.  
With smartphones in almost everybody's hands, there are many who are looking for a great pair of budget earphones. Because of this there is great competition to bring great in-ear monitors and headphones to market, at prices lower than their competition.  
Edifier is more known for their speakers, but they have also dabbled in the world of budget earphones. Today we will cover their budget audiophile headphone, the H850.    
Disclaimer
I was given an opportunity to review the H850 in exchange for my honest opinion and review. I am in no way affiliated with Edifier. I would like to take this time to personally thank Edifier for the opportunity.  
My Background
I AM NOT a numbers and graphs audiophile or sound engineer. Personal audio enthusiast? Absolutely! Headphone junkie? Possibly…  
There's something about quality DAPs, DACs, Amplifiers and Earphones that intrigues me. I want to hear any earphone that looks promising, in hopes that I can share my impressions with  enthusiasts and help them find the audio product they're looking for. My Head-Fi profile has a list of audio products ranked from favorite to least favorite. For me, this hobby is more about getting great price to performance ratio from a product, and having a variety of different gear to mix and match. With personal audio gear, we tend to pay a lot of money for minor upgrades. One thing I've learned over the last few years is that just because a headphone has a higher price tag, it doesn't mean that it has superior build and sound quality.  
I'm always looking for great audio at a great price. I'm after headphones and IEMs that give me the "WOW" factor. I can appreciate different builds and sound signatures as long as they are solidly built, with ergonomics and sound that is pleasing to my ears. It's my pleasure to share my experiences with audio products and make recommendations based on gear I have owned and used.  
REVIEW
The H850 comes in a black and white packaging with gray and silver accents. The front of the package features a very nice high definition photo of the headphones along with the product name.  
The back of the package displays a few smaller pictures of the product, along with some key features listed in four different languages. The sides of the package have some more pictures of the product.  
Specifications and Accessories
SPECIFICATIONS
H850  FREQUENCY RESPONSE: 20Hz~20kHz
IMPEDANCE: 32Ω
CONNECTOR TYPE: Straight
MAXIMUM POWER: 50mW
SOUND PRESSURE LEVEL: 96dB
CABLE LENGTH: 2m
WEIGHT: 0.17KG
CONNECTOR: 3.5mm
INLINE CONTROL: No
ACCESSORIES
1X H850 Headphone
1X Adapter Cable
1X User Manual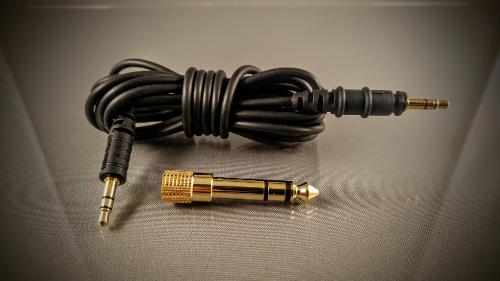 It's kind of disappointing to see Edifier not offer more in terms of accessories. I would liked to have seen a phone cable and a carrying case included in the package.  
Overall Build
This is a mixed bag for me. Opening the package, the first thing that comes to mind is that these have a OEM build reminiscent to many budget bluetooth headphones from MEEaudio and Ausdom. They are mostly plastic and synthetic protein material. On a positive note, it appears as though Edifier has used metal in critical areas that would be prone to breaking easily. Even still, if you sit or step on these things I can almost guarantee breakage.  
The headband is made of a combination of a flexible metal band and plastic and synthetic protein components. Metal slides with notches built into it slide in and out of the arm of the headphone which lead to the cups. Overall, the band is simple and very flexible.    
The metal bands of the headphone attach to plastic arms on each side that leads to a swiveling joint that allows the cups to turn inward about ninety degrees. From there another set of hinges attaches the H850 cups to the arms, allowing the cups to also swivel up and down enough to guarantee a proper fit for just about any shape of head.  
The cups are constructed primarily of plastic and has what appears to be a piece of brushed aluminum with the Edifier logo printed on it as a back plate. It is pretty standard in terms of shape and size. A 3.5 mm plug with an exclusive locking mechanism is located on the bottom of the left cup.  
The cups of the H850 are a padded synthetic protein material that rests very comfortably on the ears. Those with larger ears might have an issue with the pads making contact with the outer parts of their ears. For the most part this shouldn't be an issue for most. One big negative, the pads of the H850 are adhered to the cup, making them permanently fixed, and making replacing the pads not possible without considerable modifications.  
Overall, the H850 offers positive and negative aspects to it's construction. On one hand they are very lightweight and set up to be very comfortable. On the other hand the overall feel is slightly cheap. Moving them around in my hands, I can hear and feel the faint popping and rubbing sounds of plastic components.  
Cable, Cable Jacks, Strain Reliefs
The H850 cable is six feet in length, has a straight designed 3.5 mm jack and another special locking 3.5 mm jack that attaches to the headphones. The cable is jacketed in a rubbery material that has a considerable amount of spring and memory. The cable doesn't feel very premium, and aside from having the locking mechanism, it's on the cheaper and more generic side of the quality spectrum. I wish they cable was more premium, or that they would have at least refrained from using the locking mechanism. Doing so would have made finding an aftermarket cable easier. Even still, using a 3.5 mm cable with a skinny straight style jacketing on the plug can be used with no problem.  
Functionality
The H850 is a plug and play device designed specifically for sound quality. The fact that they have a replaceable 3.5 mm cable, buying an aftermarket cable with a microphone and remote is a possibility.  
Comfort, Microphonics, Isolation
The lightweight build, very flexible headband, oscillating cups and soft ear pads makes this a VERY comfortable pair of headphones. They are so comfortable, it's almost like not wearing headphones at all. I am confident many will feel the same, even those with larger heads. I was able to wear them for extended periods with no problem. The clamping force is so light, it doesn't create an issue, and pads stay very cool for a closed headphone. There was no microphonics to report. However, there is some occasional popping and creaking when using them on the go (with the volume turned down) from the plastic components. Isolation is below average for a closed headphone, and more along the lines of a semi-open headphone.  
Sound Review
I did my demo with my usual gear. I used an LG-V10 for smartphone use, and either my Shanling H3 or iBasso DX80 DAP/Bushmaster D14 DAC/Amp for high fidelity portable use. For desktop use, I used my Toshiba Satellite Laptop in combination with a ifi micro iDSD playing at 32/192 kHz. I tested them with several other sources as well. I used Google Music in its highest download quality (320 KBPS), and also streamed FLAC via Tidal streaming service. I also used purchased and downloaded tracks in MP3, FLAC, WAV and DSD. I make sure that any gear I test has sufficient playtime before writing a review.  
I used my usual same songs for testing gear:
"Limit to your love" by James Blake (bass speed, punch, response)
"Doin' it Right" by Daft Punk (sub bass)
"Get lucky" by Daft Punk (bass to midrange transition resolution, male vocals)
"Madness" by Muse (soundstage, separation)
"Some nights" by Fun (soundstage and male vocals)
"The soundmaker" by Rodrigo y Gabriela (texture and imaging)
"Bassically" by Tei Shi (bass to midrange resolution, female vocals)
"Skinny Love" performed by Birdie (female vocals, acoustic playback)
"One" by Ed Sheeran (male vocals, acoustic playback)
"Outlands" from the Tron Legacy Soundtrack (symphonic presentation, imaging)
"Sultans of swing" by Dire Straits (detail, separation, balance)
"And Justic for All" by Metallica (driver distortion, treble response, rock playback)
"Ten thousand fists" by Disturbed (driver distortion, treble response, rock playback)  
Note: Other tracks were used, but the listed songs were primarily used to assess and break down the gear's response.  
Source Selection
The H850 comes in at thirty-two Ohms, but in my experience with the product the power demands seems to exceed this. The H850 can be used with a smartphone, but you will in most cases catch yourself turning the volume higher than most pairs of portable headphones. With my LG-V10 I usually listen to my music at the halfway volume mark. With the H850 I was at three-quarters to achieve the same result. I got some decent sound, but not with the same dynamics as a more powerful DAP or an attached portable DAC/amplifier.    
The H850 can be used with your desktop amplifier, but it would in most cases be overkill. I think the sweet spot with these is with your favorite high powered DAP. The very balanced sound will compliment whatever source you use them with. My favorite way of listening to my H850 was with my iBasso DX80 and D14 Bushmaster. Your mileage may vary.  
In terms of music files, these are very universal. They will sound okay with poor recordings, good when streaming your music, and great with high bitrate files and high quality recordings.  
Sound Signature
The H850 is one of the most balanced sounding pairs of headphones I've had the pleasure of listening to. The mainstream consumer who wants a bassy or V-shaped earphone won't find it here. The H850 is tuned to give audiophiles a very natural and organic music experience.  
While the H850 has a very balanced sound, there are some who will feel they lack the "wow" factor some are after. With modern genres of music you will get a decent amount of bass and treble, but it won't have the same dynamics that other consumer oriented headphones have.  
I can't classify the H850 as being either warm or cold sounding. It sits right in between the two, having elements of both types of tuning.  
Bass
To my ears the bass of the H850 lacks depth, and has a response more on par with most semi-open headphones. During Daft Punk's "Doin' it Right" the lowest bass notes were rolled off, and the 40mm drivers couldn't achieve the lowest of low notes of the song's bass line. You will get bass with punch, but there's not a whole lot in terms of rumble.  
The midbass of the H850 is fantastic. It has a tight and responsive feel. Upper bass notes sound great, and bass guitars sound fantastic. It is a non-intrusive response that is very clean and avoids any type of bleed or distortion from what I heard.  
Midrange
Lower midrange of the H850 is very clean and I can't  fault it very much. At this range it almost borders on being somewhat cold sounding to my ears. Male vocals are very natural, even the deeper male vocals sound thin in comparison to most closed headphones. I was able to hear a level of resolution in the lower midrange that I seldom hear in other closed cans. Kudos to Edifier for this.  
Moving to upper midrange, I really don't think there's too much I can say aside from the fact that it is very balanced with the rest of the sound. There's good detail and resolution. It's not too forward, and not too far back in the mix. Sorry everyone, I wish I could say more, but these headphones are an engaging and entertaining spin on neutral.  
Treble
Treble is crisp without being harsh. To my ears it doesn't have an incredible amount of extension, but carries enough to make them very enjoyable. As with the rest of the tuning, the treble is in good balance with the neighboring frequencies.  
Soundstage and Imaging
The H850 soundstage is a mixed bag. On one hand we have a headphone that doesn't seem to have incredible extension on either side of the frequency spectrum. On the other hand the H850 has some very organic and natural sound with good resolution and detail. Because of this I give the H850 an above average score in terms of soundstage. Imaging is very good thanks to it's realistic sound presentation.  
Comparisons
Monoprice 108323 ($23 to $30 USD on many sites)
The 108323 comes in at half the price of the Edifier H850, but don't let the price fool you. This headphone made the the Innerfidelity wall of fame for a reason. They are the epitome of budget audiophile headphones, offering a level of sound quality that rivals headphones that cost much more.  
Comparing the two, the 108323 has more sub bass presence and depth. They are a slightly warmer tuned headphone as well. To my ears the H850 is a much airier and audiophile sound. Despite not having the depth, they have a level of clarity and balance that makes the 108323 sound two dimensional and unnatural. Overall, I far prefer the H850 sound.  
In terms of build and design, the H850 gets a decisive advantage. They have a slightly more solid construction, and the design is more ergonomic. To be honest, I would be embarrassed to wear the 108323 in public because of the very square-ish shaped headband and generic look. The H850 has a more sleek, sophisticated and stylish look for sure.  
Accessories goes to the 108323. They provide two cables with their headphone as compared to the one single cable of the H850. Both headphones have a poor accessories package. I wish both headphones offered a more premium cable and carrying case.  
Brainwavz HM2 ($45 to $50 USD on many sites)
The HM2 is a portable budget headphone that I reviewed a few months back. They are a solidly built headphone with okay sound and a nice accessories package.  
Comparing the two, the HM2 is muddy sounding in comparison. They are much warmer sounding and have similar low end extension and depth. Midbass on the HM2 is much more forward and bloated. Midrange clarity on the H850 is far superior. Treble on the H850 is crisper and more detailed. To my ears, the H850 fidelity runs circles around the HM2.  
Build quality goes to the HM2. Holding them in my hand they feel like a sturdier headphone that could handle more abuse. The HM2 also has removeable and replaceable pads while the H850 doesn't. The H850 if far more comfortable however. Bouncing back and forth, the HM2 feels like I'm wearing a vice on my head in comparison to the very cozy H850. In terms of accessories, the HM2 wins, offering two cables and a very nice clamshell case for storage and transport.  
Conclusion
I personally enjoy the H850 comfort and sound a lot. Over the course of my time listening to them, they have become one of my favorite closed headphones to use when commuting, or for when I want to listen to a more balanced and natural sounding pair of cans.  
The H850 is not a perfect product. They have a cookie cutter design, and their build isn't the sturdiest. The stock cable is cheap and there is no storage/carrying case. I think all of these flaws do the H850 no justice. The sound quality far exceeds not only the build quality, but also the asking price.  
The H850 has sound on par with more expensive headphones. I would love to see Edifier take this sound, add a touch more sub bass depth and presence, improve the build and accessories package, and sell them at a higher asking price. If they did this I would be willing to shell out the cash for them. Even still, Edifier has brought to market a very decent sounding pair of headphones that will win the ears of those looking for a natural and organic sound.  
When rating this product I have to average all aspects. Weighing in the asking price, I give the H850 four and a half stars for sound quality, five stars for comfort, three stars for overall build quality, and two stars for accessories. Average this out, I give the H850 four stars. They are a great headphone for those looking for balanced audiophile sound on a budget.  
Thanks for reading and happy listening!