Earmen Sparrow MK2
Pros
:
-
- Mature and crisp dynamics
- Amazing technicalities
- Top notch driving power
- Clean and coherent dynamic transients
- Stable MQA performances
- Good battery endurance to the host
Cons
:
-
- Tone and timbre lacking organic touch
- Less than neutral tuning
- May sound edgy with natively neutral bright partners
- No hardware volume adjuster
Earmen Sparrow MK2​
Review Date:
21 March 2022
SPECIFICATIONS

DAC Chip: ESS Sabre ES9281PRO

Input: USB C Female

Dimension: LxHxW (mm) 42 x 8 x 22

Output 1: 3.5 mm Single Ended

Output 2: 2.5 mm Balanced

Power 2.5 mm Balanced 3.5 mm

3.5mm: 2.0 Vrms into 600 Ohm, 1.4 Vrms into 32 Ohm

2.5mm: 4.0 Vrms into 600 Ohm, 2.0 Vrms into 32 Ohm

124 dB DNR, -112 THD+N

Audio Formats: DSD 64/128, DoP DXD 384/352.5kHz,PCM 384kHz, MQA 384 kHz

Test Equipment


IEMs:
Etymotic ER4SR (Single BA, 45 Ohm, 96db Sensitivity)
Shure KSE1500 (Single Electrostatic 200V, KSA1200 Energizer)
TRN VX Pro (8BA + 1DD Hybrid, 22 Ohm, 106db Sensitivity)
TIN HiFi T3+ (Single DD, 32 Ohm, 105db Sensitivity)
Kinera Idun Golden (3BA + 1DD Hybrid, 32 Ohm, 112db Sensitivity)
SeeAudio Yume Midnight (2BA + 1DD Hybrid, 32 Ohm, 106db Sensitivity)
Headphones:
FOSTEX T40RP MK3 (Magnetic Planar, 50 Ohm, 91db Sensitivity)
Beyerdynamic DT880 (Dynamic Drivers, 600 Ohm, 96db Sensitivity)
Sources:
Windows 10, Foobar 2000 (USB 3.0 Power)
LG V50 ThinQ (UAPP USB Exclusive Mode, Bitperfect)
Sony Xperia X Compact (UAPP USB Exclusive Mode, Bitperfect)
HiBy Music Player App (USB Exclusive Mode)
---
LISTENING EQUIPMENT USED IMPARTED HUGE INFLUENCE TO SOUND IMPRESSIONS & RATING
I have been wanting to get myself an Earmen Sparrow since last year. But only managed to buy one for myself this year. Sparrow is a device that has a good following and for good reasons. It is one of the few Dongles that are entirely designed and made in Europe (Serbia).
The unit that I received came labelled with an additional decal on the box indicating it is an MK2 unit, and I believe that this is a revised unit from the model of yesteryears.
Earmen Sparrow is a DAC/Amp built on ESS Sabre ES9281PRO, basically a top tiered ESS DAC which offers native MQA capabilities.
Build, Functions, Usability​
Aesthetics wise, Sparrow is a very elegantly designed dongle. Aluminum chassis sandwiched by glossy glass on both sides. It is very compact as it is solid. Holding the unit in my hands I was immediately greeted by smooth glazed feel to the touch. Which can cause for a bit of concerns because it can be slippery if not handled carefully. The caveat that I experienced first hand, my Sparrow already picked up small scratches on the front plate, something that happened on the 2nd day when I placed it in my pocket and probably had abrasive encounter with the 4.4mm to 2.5mm adapter that I use. For the record all of my cables are terminated in 4.4mm configuration hence the need for 2.5mm adapter. Being glossy, the Sparrow will also pick up fingerprints quite easily and this can smear the elegant look. So, care is needed if I want my unit to look pristine..
Sparrow being spartan, offers simple interfaces and ports of which a female USB C on one end and two Audio ports on the other end. Sparrow is not exactly new, as such it has 2.5mm BAL instead of the more popular 4.4mm Pentaconn which is the normal standard nowadays.
To complete the look, at the front is a large led indicator for playback resolution. The led indicator being Earmen logo. As per industry standards, Purple for MQA and Green for PCM. Blue for anything in between.
On the subject of MQA, I have found my Sparrow unit to connect flawlessly with Tidal Android app in Exclusive mode. Most importantly the MQA unfolding works as intended without any hint of issues with clipping or occasional artifacts as would be observed with almost half of MQA dongles I tested so far. Tidal native app can be quite finicky with some dongles but not with Sparrow. That's quite a relief.
Endurance wise, Sparrow clocked a respectable 6 hours of continuous drain to my Sony Xperia X Compact (Android 8, 2700 mAH Battery, UAPP Bitperfect, Airplane Mode, driving TRN VX Pro). That is exactly on par to the battery drain score of Cayin RU6, iBasso DC05 etc. After prolonged use, the Sparrow seems to have good heat dissipation as well even when subjected to high load, mildly warm to the touch.
Sound Impressions​
I will be as concise on this as much as I can. Earmen Sparrow being an ESS Sabre unit, sounds exactly like most ESS Sabre DACs I have ever listened to. Up until now, out of 114 dongles I owned, more than half of them ESS Sabre based, so it would not be too extreme for me to say that I can immediately appraise the output of an ESS Sabre DAC the moment I listened to them.
What is evident to me, Earmen Sparrow does not present itself as a neutral sounding unit. It is balanced enough exhibiting mature tuning, but it is not as neutral as how I normally prefer my DAC/Amp should sound like. I can clearly hear that the lower frequencies are elevated above what is neutral, with evident hump in Mid-Bass. On the other end of the spectrum, I am hearing pronounced sparkle that is crisp and borderline bright in the Treble region. The Mids, does sound neutral to my ears. All these were observed through extensive listening throughout all of my regular listening devices from Etymotic ER4SR, Shure KSE1500, TRN VX Pro and all the way to Beyerdynamic DT880. All exhibiting consistent traits.
Timbral balance for Earmen Sparrow is assuredly good, Sparrow managed to avoid the pitfall of sounding outright sterile, metallic and digital-ish. I would say that Sparrow is among the few that exhibited mature and crisp ESS tuning – a rarity since many of the ones out there (ESS) will be either outright bright, lean or edgy sounding. What I do wish Sparrow could have done better, a bit more of organic touch, perhaps a bit more of analogue tonality and a bit more of air. But alas, too many DACs recently were designed with so much focus on chasing clean, clear and pristine sound, more often than not ended sounding sterile and lacking analogue musicality to the output. But then audio has always been a subjective passion and it ultimately boils down to what the listener prefer more over the other. It is not about right or wrong.
On the aspects of dynamics, Sparrow offers articulate balance to emit something that is crisp, mature, vibrant and rich output. The extensions on both end of the spectrum nothing short of reference grade. Perhaps if I am not nitpick, I wished for a tiny bit of smoothness over clinical crisp attack and decays. Going back to lower frequencies, throughout my extensive tests I have concluded that Bass body mass is not just elevated above normal, it is also somewhat slower, larger but a bit loose. I would probably will not complain this much but I have heard many other dongles that offers more neutral yet solid and rich Bass responses.
The highlight of Sparrow, technicalities. Undoubtedly, this is one of the best when it comes to technical prowess. The resolution and details handling are on par with the top dogs of #donglemadness. I must applaud Sparrow for exhibiting good soundstage that does not sound narrow like most ESS based DACs are, there's good depth and height observed with the staging. Imaging and spatial positioning being very holographic and precise. Speed is amazing too, with no chance of any songs I threw at it sounding compressed or compressed regardless how complex they are.
Driving Power​
Another highlight for Earmen Sparrow, it is one of the most powerful 4 Vrms dongles available now. Extensively tested with the pair of my Beyerdynamic DT880 600 Ohm and Fostex T40RP MK3, I am hearing desktop grade of loudness.
For perspective, here's what I have found on how Sparrow compares to some of my DAC/Amps:
Song:
Diana Krall "The Look of Love", Foobar 2000 Windows 10, USB 3.0. FLAC Lossless
Headphone:
Fostex T40RP MK3 91db Magnetic Planar
ZEN Stack (ZEN DAC V2 + ZEN Can): Vol 12/100 (Gain 3/4)
Ovidius B1 3.5mm SE: Vol 30/100 (Adaptive Gain)
Earmen Sparrow 2.5mm BAL: 30/100 (Adaptive Gain)
As can be seen above, Sparrow offered exact same loudness to my all time favorite of Ovidius B1. And by my calculation, half as efficient on loudness alone as compared to the 15.1 Vrms iFi ZEN Stack (of course the ZEN stack still has a lot more in reserve since it is just set a 3/4 gain level). If I am to place a percentage to the output of Sparrow versus the dedicated desktop stack, I would say that Sparrow scored close to 90%. Losing only on headroom, staging, dynamics richness and air. Otherwise, if not comparing side by side, Sparrow will have more than enough juice to substitute for wholesome listening experience even for hard to drive stuffs.
PS: I was unable to compare Sparrow against my No.1 Dongle, CEntrance DACport HD since it is away now for 2022 #donglemadness tour within Malaysia.
3.5mm SE versus 2.5mm BAL
The good thing about Sparrow, 3.5mm SE (rated 2 Vrms) does sound equally great as compared to the 2.5mm BAL (rated 4 Vrms) port. The main difference, audibly loudness levels are much lower. Driving Fostex T40RP MK3 on the Sparrow 3.5mm SE will require me to crank the volume up to 45/100 while it only need 30/100 for the 2.5mm BAL. Other than that, I do not sense any noticeable difference in sound presentation when loudness is matched – which is a good thing because some Dongles like Luxury & Precision W2 exhibited underwhelming 3.5mm SE output, focusing only on the 4.4mm BAL.
VERDICT​
Earmen Sparrow MK2.
Truth be told I have mixed feelings with this unit. Undoubtedly it is a very refined and great sounding DAC/Amp, it has power, amazing technicalities, great MQA stability and well controlled dynamics. However on a personal level of
subjective preference
, I feel that Sparrow is not neutral enough, not organic enough and somewhat still digital sounding compared to the others that I have had the opportunity to own and test extensively. For me, Questyle M12, Apogee Groove, REIYIN DA-Plus and Colorfly CDA M1 remained the ones that I prefer the most for ESS based dongles. Priced at $199 (and another $30 for shipping) , I cannot avoid being a bit more critical than normal when it comes to Earmen Sparrow. Otherwise, ignoring the steep price, no denying that the Sparrow will have niche appeal that would work for some.
​
Best Pairing: Flexible up to 600 Ohms​
#donglemadness
Last edited:
Big Bird
Pros
:
Best balanced circuit in class.
EXECUTIVE SUMMARY
The EarMen Sparrow is a $200 battery-less warm-neutral sounding dac/amp with dual output: single ended 3.5mm and the more powerful 2.5 mm balanced. It is class leading in terms of both power and sound quality. The EarMen Sparrow supports playback from iPhones, Android smartphones, MacOS and Windows computers. It also plays all 32bit/384kHz formats: PCM, DoP, DSD64, DSD128 and MQA. It is the best dongle I have come across (in the $200 category) and was on my personal favourite gear list of 2020.
The EarMen Sparrow review was previously published at
www.audioreviews.org
The Sparrow is on the blog's Wall of Excellence:
https://www.audioreviews.org/wall-of-excellence/
INTRODUCTION
Do all dongles sound equal? Are most dongles just ornaments? Should we rather go for a desktop dac/amp instead to get more value for money? All of the above have been mentioned in discussions lately. For years I have had a single dongle dac/amp, the Audioquest Dragonfly Black. I mainly used it with my iPhone and life was good. Until…
To make this clear a priori: the EarMen Sparrow is the best-sounding dongle I have tested too far…but also the most expensive one. And it is not an ornament.
EarMen is a company registered in in the US, where most of its stakeholders are located – and from where they focus on the North American market. EarMen are a subdivision of premium audio gear producer
Auris Audio
. The production is in Krusavec, Serbia [
video of production facilities]: Made in Europe.
SPECIFICATIONS
Dimensions: 42*22*8 mm
Purchase Link:
EarMen Shop
PHYSICAL THINGS AND USABILITY
In the box is the EarMen Sparrow, the warranty card, and two cables: USB-C to USB-C, and USB-C to USB-A. This allows the Sparrow to connect to Android phones/tablets, and any Windows/Mac computer. It features the ESS Sabre ES9281PRO dac chip – which is well implemented.
The EarMen Sparrow also works with iOS devices but requires the Apple Camera Adapter, which adds to a "monster snake". The $30 ddHifi TC28i adapter offers the same funcionality but cuts the snake's length enormously.
The actual EarMen Sparrow is a sturdy and filigree CnC machined aluminium construction with top and bottom covered by glass…although I wished it had come with a sheath to protect it from being scratched.
In contrast to most other dongles does the EarMen Sparrow offers two different circuits and sockets: a single-ended output through a standard 3.5 mm socket and a balanced output through a 2.5 mm socket. Both outputs/sockets work simultaneously. And it is the balanced output that makes the EarMen Sparrow particularly attractive.
The logo is illuminated depending on input:
White – Connected
Green – PCM/DXD/DSD
Magenta – MQA
Red – Not Connected
EarMen Sparrow connected to iPhone 5S via the Apple Camera Adapter.
EarMen Sparrow connected to iPhone 5S via ddHifi TC28i adapter.
THE IDEA OF BALANCED AUDIO
Balanced audio is a method of connecting audio equipment using balanced lines [
Wikipedia
]. Such lines reduce susceptibility to external noise caused by electromagnetic interference. This is particularly beneficial for recording studios, which use kilometres of lines. For our purpose of portable audio, reduced interference results in a clearer, cleaner signal. Headphonesty compared "balanced and unbalanced" audio connections
in this article
. And yes, it works.
FUNCTIONALITY
The EarMen Sparrow contains no battery and is powered by the source device. It works plug 'n' play with computers, tablets, and phones (Windows/Mac/Android/iOS). And it requires adjusting the respective sound panel settings in Mac and Windows computers. Volume is controlled from the source device – there are no buttons on the EarMen Sparrow. It is as easy as that. The EarMen Sparrow decodes all 32bit/384kHz formats: PCM, DoP, DSD64, DSD128 and MQA.
Sound panel in Apple's OS X preferences.
AMPLIFICATION
The EarMen Sparrow is one of the most powerful dongle dac/amps on the market according to
AudioScienceReviews.com
. Its 2.5 mm balanced output delivers 2.0 Vrms into 32 Ω and 4.0 Vrms into 600 Ω. This results in a power of 125 mW and 20 mW, respectively. The 3.5 mm single-ended output is 1.4 Vrms into 32 Ω and 2.0 Vrms into 600 Ω, which translates to 61 mW and 7 mW, respectively.
From audiosciencereviews.com. The yellow bars refer to the EarMen Sparrow's two outputs.
I don't have a balanced cable for my 300 Ω Sennheiser HD 600 Pro, however the single-ended output drives them "ok". The balanced circuit delivers enough power to drive the 70 Ω Sennheiser HD 25 on my Mac, which indicates that this is good enough for any iem. In fact, imo the EarMen Sparrow drives even the most power-hungry earphones very well with my Mac.
A bit of an enigma is the dependency of the EarMen Sparrow on my sources: it provides way more power when sourced by my Mac, but appears to be throttled by my iPhones 5s and SE (1st generation). I speculate this is caused by the Sparrow's power consumption. Sound quality is not compromised and power-hungry earphones such as the
TRI I3
are still driven sufficiently well. Newer phones and Android devices may not throttle the EarMen Sparrow's power. The Sparrow, like most powerful dongles, appears to be a bit of a battery drain on phones.
I tested the power consumption of several portable headphone amps connected to my iPhone 5S. The conditions were as identical as possible: 3 h test, volume calibrated to 85 dB ± 0.5 dB white noise with Dayton microphone, no sim card, BT off, no other apps open; network on, 32 ohm Blon BL-03 iem, Genesis's Supper's Ready (from the Seconds Out album) played in an endless loop.
The iPhone's battery was fully charged at the start of the test and the remaining charge was measured thereafter. The result is shown in the table below. Since the tests were performed at different times and considering the ongoing battery deterioration, the results have to be seen with a grain of salt.
SE: single ended circuit; HUD 100 refers to the Earstudio HUD 100 model.
TONALITY AND TECHNICALITIES

My tonal preference and testing practice
My test tracks explained
The EarMen Sparrow is a neutral-warm sounding dac/amp (more neutral than warm), and therefore offers the best of both worlds. Whereas a warm dac/amp (such as ifi Audio products) harmonizes best with neutral earphones/headphones (e.g.
JVC HA-FDX1
, neutral amps (e.g.
Earstudio HUD 100
) pair best with warm iems (e.g.
Sennheiser IE PRO series
). Neutral amp with neutral iem may sound like metal on metal – and warm with warm may come across as thick and syrupy lacking clarity and transparency. The EarMen Sparrow appears to strike the right temperature balance to harmonize with most kinds of earphones. The other trait is its good extension in both directions and its full body and natural dynamics. The Sparrow has this quasi-analog sound.
And while the sound through the single-ended output is good, it is fantastic through the balanced output. The difference in sound quality is mindboggling (I A/B-ed a balanced cable between both sockets – with a 2.5 mm female to 3.5 mm male adapter for single ended). Apart from the power gain in the balanced circuit, headroom and clarity opens up substantially…the midrange comes out nicely…this worked even for the ~$3000 Vision Ears Elysium. After several months of using the EarMen Sparrow on my Mac, I conclude that the balanced output is as good as a desktop amp for iems – on a computer.
EARMEN SPARROW COMPARED
The neutral sounding $70
Tempotec Sonata BHD
dac/amp with its balanced output is an impressive sounding device. The EarMen Sparrow, however, offers a richer, more analog sound, a larger headroom, and more power. It is also more versatile with its additional 3.5 mm single-ended output. The less powerful Sonata BHD has a leaner, sleeker but less creamy/soft/weighty sound with more clarity.
VALUE
– IS THE EARMEN SPARROW FOR YOU?
Is the EarMen Sparrow worth its $200? Any answer has to be subjective. For people who regularly deal with >$300 earphones without blinking: yes, no questions asked. Simply makes them sound better.
For the rest of us: yes, but for any or all of these three specific purposes – from my perspective: for the balanced output that sets the EarMen Sparrow sonically and power wise apart from its competition. Second, it is best used with iems or less power-demanding headphones. And third, for use mainly with a computer, where the Sparrow flexes its muscles best.
CONCLUDING REMARKS
I have used the EarMen Sparrow for a few months now. It took me so long to publish my review because I didn't know what to write – it just worked great for me, and I used it a lot for
earphone testing
. The Sparrow is the best sounding dongle I have listened to so far (up to $200), albeit also the most expensive.
What sets it apart from the competition are sound quality and power of its balanced circuit. I don't think one needs anything "bigger" to drive earphones – it was good enough for the $3000 Vision Ears Elysium. And since it does not have a battery, there is no planned obsolescence – the Sparrow will last for a long long time.
It is the balanced output that makes the Sparrow fly high: first it opens up the headroom and then it makes it a most powerful dongle – ahead of the competition. The EarMen Sparrow is just a very fine dac/amp. One of
my favourite devices of 2020
…and likely 2021, also. Basta!
Until next time…keep on listening!

DISCLAIMER
The EarMen Sparrow was provided by EarMen upon my request. I thank them and also the audiofool who had established the contact. The audiofool has reviewed the Earmen Sparrow
here
.
You can purchase the EarMen Sparrow from the Earmen Shop.
Our generic standard disclaimer.
Last edited:
Review EarMen Sparrow and Eagle: Top tiers
Pros
:
For Sparrow: Balanced, yet engaging, detailed and substantially open sound, with realism, very good soundstage, image and dynamics. Outstanding quality.
Cons
:
The soundstage could be bigger, leading to more full bodied sound, although this is not really a criticism.
Introduction
Maybe the name EarMen does not ring a bell to everyone. Although, it is a relatively young company, it had a lot of activity since it was founded just a few years ago. Of course, this is no by accident; EarMen has an older sibling, Auris Audio, which is famous for making tube amplifiers characterized by their emphasis on purity of sound. The idea behind every Auris product is to perfect neutral, natural and clean sound and package the final product in a stylish and quality design that please the eyes and last for many, many years to come.
It is no secret that behind both Auris Audio and EarMen is Milomir "Miki" Trosic who has designed and engineered all products of both companies. Obviously, for someone who has designed the exquisite Auris products is rather easy to design the EarMen products. The difference between the two is that the former are hi end desktop products, while the latter are portable devices to be used with computers and smartphones. However, both share the same philosophy: Top sound and outstanding quality, and this is what characterizes the products under review EarMen Sparrow and Eagle.
Description
Sparrow and Eagle share a lot of common characteristics. Both consist of an aluminum structure design on the sides,created via CNC milling, with a front and back glass plate. This is a light-weight but robust enclosure, which protects audio signal from interference. Also, both devices have smooth rounded edges, which make them look very nice, and the overall quality is truly outstanding and very pleasing to the eyes.
Technically, Sparrow and Eagle have top of the line ESS Sabre DAC chips, ES9281 PRO the former and ES9280C PRO the latter, both chips with HyperStream®II modulation and excellent specs. The difference is that, on top of all PCM, DXD and DSD formats, Sparrow also supports MQA rendering and Qobuz Hi-Res playback, which might be important for some people. Also, both devices sport a 4 layer gold-plated Printed Circuit Board (PCB) and super low Equivalent Series Resistance (ESR) tantalum capacitors; the result of these high quality components is reduction of noise to minimum and improvement of super fine details especially in Hi-Res files where one can feel and hear the differences.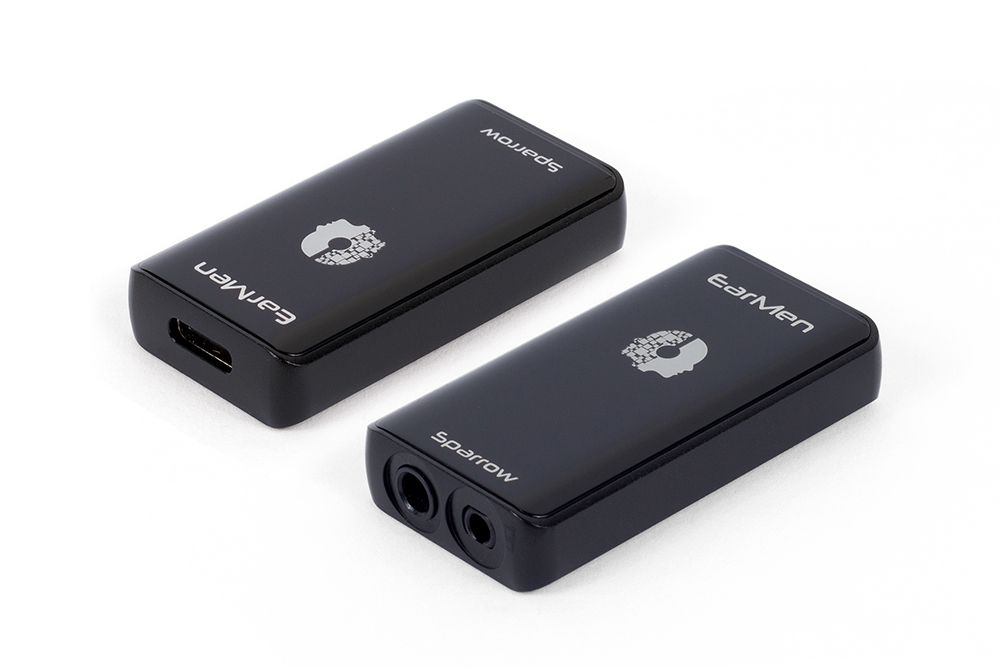 Now, if one difference between Sparrow and Eagle is the audio formats played by each one (see the previous paragraph), certainly the biggest difference between the two is that Sparrow, on top of the 3.5 mm output that both devices have, offers also a 2.5 mm balanced output. The benefit of the latter is much higher power, almost double of that supplied by the 3.5 mm output (see the specs below). The obvious and rather natural question is whether this 2.5 mm balanced output is actually needed and of course whether provides some improvement in sound quality; the fast answer is that this extra feature is needed in some cases and in those cases it provides (some) improvement in sound quality (see the section on sound).
A last difference between Sparrow and Eagle is the way device one connects to one's computer, laptop or smartphone; the former through the supplied USB C to USB A or USB C to USB C cable, while the latter through its USB A port, which is part of the device, although a USB A female to USB C cable is also supplied.
Before we go to sound analysis, let's compare the specs of the two devices:
Sparrow
Led indicator
White
Connected
Green
PCM/DXD/DSD
Magenta
MQA
Red
Not connected
Unbalanced 3.5 mm

Power
THD+N
32 Ω
60 mW
<0.004%
150 Ω
26 mW
<0.004%
Balanced 2.5 mm

Power
THD+N
32 Ω
110 mW
<0.002%
150 Ω
100 mW
<0.006%
Audio Formats
DSD
64/128 DoP
DXD
384/352.8 kHz
PCM
Up to 384 kHz
MQA Rendering
MQA native hardware
Dimensions L x W x H
42 x 22 x 8 mm
Weight
12 gr
Supported Operating Systems
WIN 10, Android, Apple macOS, Apple iOS
Eagle
Led indicator
White
Connected
Green
PCM/DXD/DSD
Red
Not connected
Unbalanced 3.5 mm

Power
THD+N
32 Ω
62 mW
<0.002%
150 Ω
27 mW
<0.004%
Audio Formats
DSD
64/128 DoP
DXD
384/352.8 kHz
PCM
Up to 384 kHz
Dimensions L x W x H
55 x 22 x 8 mm
Weight
15 gr
Supported Operating Systems
WIN 10, Android, Apple macOS, Apple iOS
Performance
I use the word performance, because both Sparrow and Eagle have a DAC and an AMP section, so I shall comment on each one of the two, and the combined effect is what I call performance.
Soundwise Sparrow and Eagle share a lot of common behavior, and they also have certain differences.
First of all, through the unbalanced 3.5 mm output the two devices sound completely identical, and their first characteristic is that they are very nicely balanced; balanced does not mean what some people call neutral. One has to be very careful with this term, and because of that I very rarely use it. I do believe that very few manufacturers want to make a truly neutral product, and I very much doubt that they can actually do it even if they want to. Fully neutral means no engagement and musicality whatsoever, so maybe good for studio recording but not for listening to music. Sparrow and Eagle have tight bass, in the right amount in both sub- and mid-bass; mellow mids, with very nice female and male vocals; and extended but not hissing tremble. Overall, the timbre is natural and smooth and the tonality is uncolored and very nice. Both devices are very revealing with lots of details and very transparent. They have a quite big soundstage, both in width and depth, and a great holographic image and dynamics; they truly do open your sound, and I am sure that they would be an absolutely worthy addition to every computer, laptop and certainly smartphone. The whole of the audio spectrum is reproduced in a very articulate and engaging way, and there is a big difference from the usual one-dimensional output that comes out from a computer's or a smartphone's DAC.
The sound testing on both Sparrow and Eagle was done with a variety of musical pieces from TIDAL, varying from the classical songs "You've got a friend" and "The look of love", beautifully performed by James Taylor and Dianna Krall,respectively; to the really powerful, but not for everyone, piece "Move" of the Japanese artist Hiromi; or the wonderful orchestral piece "Fanfare for the volunteer" by Mark O'Connor.
Now, the main difference between Sparrow and Eagle is the balanced 2.5 mm output that the Sparrow has, and the Eagle does not. Of course the interesting question is how one does compare two devices, essentially, on different grounds. Typically this is not possible, unless you do a little trick: Play Sparrow through the balanced 2.5 mm output and Eagle through the unbalanced 3.5 mm one, and adjust the output level to be (as close as you can) the same in both devices. Doing this little test, the difference, soundwise, between Sparrow and Eagle was truly minimal, to the point that in some cases I was really wondering if there was any. Of course, if your headphone set is truly power hungry, because of its high impedance and/or its low sensitivity, then this will bring Eagle to its limits; in such a case, using Sparrow's balanced 2.5 mm output will supply the extra power needed, opening up the sound and revealing details that were missed through Eagle. Having said this, I want to emphasize that by no means I do not mean, and it is actually wrong to say, that Sparrow is more accurate than Eagle; the right statement is that both are equally accurate, given the power limitations of each one.
And talking about power, the obvious question is how powerful Sparrow and Eagle are? In the unbalanced 3.5 mm output the power is almost the same in both of them, and it is actually plenty for headphones with an impedance of up to 250 Ω. Now, if your set has an impedance higher than that or it has a low sensitivity, and depending of course how loud you want to listen to your music, then Sparrow would make your life easier.
Sparrow or Eagle?
For the majority of IEMs and headphones, Eagle is more than sufficient and its performance will satisfy even the most demanding listeners, keeping in mind that we are talking about a portable DAC. With, overall, top sound and outstanding quality, and keeping in mind that it is Made in Europe (Serbia), at $129.00 Eagle is a bargain.
Sparrow, for $70.00 more, gives you, on top of the unbalanced 3.5 mm output, a 2.5 mm balanced one, with the extra power that comes with it. Given that it has the same top sound and outstanding quality as Eagle, Sparrow is another great buy.
Comparisons
To Nuprime Hi-mDAC
The first comparison of Sparrow and Eagle was made against the Nuprime Hi-mDAC, which I consider one of the best DAC/AMPs in the market. The Hi-mDAC uses a Cirrus Logic CS43131 chip, it has a single 3.5 mm output and an MSRP of $139.00. It is known for its relaxed and balanced, yet engaging, presentation, which mainly comes from the very nice tonality of its internal chip. Hi-mDAC's sound is very open and detailed, with great transparency, big soundstage, and very nice image and dynamics.
Now, the sound signature of Sparrow and Eagle is very close to that of Hi-mDAC, to the point that in some cases it is hard to distinguish between the three of them. They all have the same balanced and detailed presentation. The difference is that Hi-mDAC is a little bit on the dark side, while Sparrow and Eagle are more on the bright side. This might give the impression, in some musical pieces and depending on the IEMs that you are using, that Sparrow and Eagle are a little more open than Hi-mDAC. On the other hand, the power output of Hi-mDAC is kind of a mystery; although it was communicated by NuPrime that it is 30 mW at 32 Ω, it certainly appears to be higher. Nonetheless, whatever Hi-mDAC's power output actually is, it is certainly lower than that of Sparrow and Eagle, so the latter have an added benefit.
To Resonessence Lab Herus+
The other comparison of Sparrow and Eagle was made against what I consider a reference portable DAC/AMP, the Resonessence Labs HERUS+ (an upgrade of the original HERUS). The HERUS+ uses the ESS Sabre ES9010K2M DAC chip, it has a 1/4 inch output and its MSRP used to be $395.00, so it was not cheap. On the other hand, the design and implementation of the HERUS+ was done by the people who designed and implemented the ESS Sabre chips (Mark Mallinson, the owner of Resonessence Labs, was formerly Director of Operations in ESS Sabre), so they took full advantage of the ES9010K2M's abilities. The result is a portable DAC that is made like a tank, it is a pleasure to look at and a bigger pleasure to listen to.
HERUS+ is beautifully balanced, with a sense of naturalness and realism that is rarely found; it has superb transparency, with plenty of details, a huge soundstage, in both width and depth, and top image and dynamics. Up to a certain extent, these merits are found in Sparrow and Eagle, however not in the same amount, particularly as to the overall openness is concerned; Sparrow and Eagle are quite open, but HERUS+ is huge and its sound is certainly more meaty and full bodied. Powerwise, all three DACs are about the same, with the exception of Sparrow's 2.5 mm balanced output. Now, maybe it is not fair to compare HERUS+ with Sparrow and Eagle, as HERUS+ costs at least twice as much and, essentially, it is a miniaturization of a desktop DAC; also, maybe this comparison does not make much sense anymore, given that Resonessence Labs closed down its doors at the beginning of 2020, so it is impossible for someone to buy HERUS+. Granted! But I thought I should give you a measure of comparison for those who happen to know HERUS+ (or HERUS for that matter).
Conclusion
Sparrow and Eagle have a sound that is balanced, yet engaging, detailed, substantially open and overall very articulate. By adding either one of the two to your computer, laptop or smartphone, it will result in a big improvement to the sound out of your headphones; you will hear details that you were missing before. Eagle is sufficient for most IEMs and headphones, roughly up to 250 Ω, and only if you are using the most demanding ones, you would have to switch to Sparrow; however, if you have to, EarMen gives you the option!
The quality of both devices is outstanding, and the aesthetics very pleasing.
Given their top sound and outstanding quality, Sparrow and Eagle have my high recommendation.
https://www.earmen.com
https://earmen-shop.com
Short write-up about the Sparrow
Pros
:
Extremely small & portable (smaller than two 20 cent coins)
Plug & play
Build quality (chassis, cables)
Design
Transparent sound signature (little to no coloration)
Technology & chip used
Price-to-performance ratio (value)
Cons
:
Without a protective case or glass available on the aftermarket, the glass is prone to being scratched (especially if you plan to wear it in your pocket)
Occasionally the playback stops for a second or two
Do not expect it to drive power-demanding headphones at loud levels
If you are not familiar with EarMen, you can read the excerpt from my TR-Amp review:
"Whether it's their genius and sneaky model names, or the devices themselves, EarMen is doing it right, and I love it! There is a great challenge in succeeding when you are a fairly new company to the market — it's hard to reinvent the wheel. Auris Audio is only 7 years old, it's a fairly young company, yet they did it their own way and succeeded in doing that. If you are not familiar with Auris Audio, you may be asking "What is Auris Audio and why is it relevant to EarMen?". First, let's make this clear: Auris Audio is the parent company which mainly specializes in manufacturing high-fidelity and luxury amplifiers, and EarMen is their sub-brand that focuses on more budget friendly (without the compromise of quality!) portable devices.
The combination of leather & wood has become Auris Audio's trademark — once you see it, you know it's Auris. Founded in 2013. by Mr. Milomir Trosic, Auris Audio has achieved major recognition and success, well deserved success and recognition. Both Auris Audio and EarMen focus on producing quality products - they prefer quality over quantity. You will notice that they haven't just released a large quantity of models, but rather focused on putting out fewer quality product ranges (both EarMen and Auris Audio), and this is something that I respect on a high level. How many times did you come across a company with dozens of different models and product ranges of a relatively similar product? I can tell you that the answer is probably more than necessary. Both Auris Audio and EarMen have focused on using the highest quality components from the best companies - Electro Harmonix, Tung-Sol, JJ Electronic, Sabre, XMOS, Texas Instruments, Cirrus Logic, they have it all. Last but not least, Auris is known for manufacturing, assembling, and designing their products in Europe. Not only that, but all products from Auris Audio are handcrafted."
Unboxing experience
The Sparrow is packaged inside a large slim box. As usual, EarMen kept it clean and minimalistic. On the front, you will find an illustration of the device itself, while you will find some brief specifications on the back. On the inside, you will find the Sparrow and the two cables nicely placed inside a single piece of foam. Nothing spectacular, but also nothing to complain about.
A fun little easter egg that I found is that the front illustration of the Sparrow is printed in a 1:1 scale, i.e. it matches the real size of the Sparrow.
Formal format of what you get inside the box:
1x Sparrow amplifier
1x USB-C to USB-C cable
1x USB-A to USB-C cable
Build Quality & Design
The construction of this little guy is fairly simple: the body/frame is made from CNC aluminum, while the front and back panels are made of glass.
The frame is machined from a single block of aluminum. You can see the whole process in this GIF:
The Sparrow is among the smallest portable DAC/AMPs available on the market. It is tiny. To put its size in scale, a 20 cent coin is 22.25mm in diameter, while the Sparrow is 42mm in length – this makes it .50mm smaller than two 20 cent coins. Not only does it fit into a pocket, but it comfortably fits into a watch pocket (that small pocket that can be found on jeans).
From a design perspective, it looks great. I love the combination of the silver lettering, glass panels, the Hi-Res logo on the back, and the LED EarMen logo. Altogether it looks minimalist & elegant. However, there is something that I think is missing: a protective case. The glass panels look great, but since the Sparrow will most likely be carried in pockets, it will get scratched up. One way to avoid that is by offering a protective case as an accessory. Another way is by offering a screen protector.. although it might be more challenging due to the carved nature of the glass. That is just about the only complaint I have in terms of the design, other than that, it is classy.
Technology & functions
If you have taken a look at EarMen's offerings, then you are probably aware of the TR-Amp — a portable amp that has the power needed to drive full-sized headphones. Well, the Sparrow is essentially a portable Amp/DAC that is aimed towards the IEM market. One of the drawbacks of the TR-Amp is that noise is audible with higher sensitivity IEMs or headphones.
This isn't the case with the Sparrow. It uses the flagship Sabre ES9281PRO chip from ESS. After inquiring about the specifications, I found out that it has a SNR (signal-to-noise ratio) of 122 dB, a THD + N (total harmonic distortion + noise) of -112 dB, and 124 dB DNR. In comparison, TR-Amp has a SNR of 114 dB and a THD+N of -120 dB.
When it comes to outputs, you have the standard 3.5 mm, and of course, the balanced 2.5 mm. A balanced output is a must, especially when you are making a portable device that is specifically aimed to be used with IEMs. For example, TR-Amp lacks of a 2.5 mm output, but benefits from a 6.3 mm output.
As stated on the EarMen's product page, all 32bit/384kHz formats are supported (PCM, DoP, DSD64, DSD128 and MQA).
Technical details in a formal format:
| | | |
| --- | --- | --- |
| Input​ | USB C Female​ | |
| Output​ | 3.5 mm​ | |
| ​ | 2.5 mm Balanced​ | |
| ​ | ​ | ​ |
| Power​ | 2.5 mm Balanced​ | 3.5 mm​ |
| ​ | 2.0 Vrms into 32 Ohm​ | 1.4 Vrms into 32 Ohm​ |
| ​ | 4.0 Vrms into 600 Ohm​ | 2.0 Vrms into 600 Ohm​ |
| ​ | ​ | ​ |
| Audio formats​ | | |
| DSD​ | 64 / 128 DoP​ | |
| DXD​ | 384/352.5 kHz​ | |
| PCM​ | Up to 384 kHz​ | |
| MQA Rendering​ | Up to 384 kHz​ | |
Experience
Technical specifications aside, it is performance and user experience that matter the most. I have been personally following the EarMen threads from the very beginning, I was there when the company became a sponsor of Head-Fi. I have been seeing that some people abroad did experience EMI noise. However, for the past 5 months of using the Sparrow, I never encountered that problem. I truly tried to forcefully make the noise appear, but I had no success in that. I went as far to directly put the Sparrow on top of my laptop and phone, but no noise was audible. To give you a better idea of my casual usage, I would usually have my laptop on the bed and the Sparrow would be connected and be placed right besides it. I never took the Sparrow with me outside, so I am not sure whether that would make any difference, but from my casual usage, this problem never came up.
Update: After further experimenting, I was finally able to hear the talked about EMI noise. It was the strongest when the phone was in diract touch with the Sparrow. Since I used the standard TR-Amp cable for the 5 months of usage (the stock one was too short to be used on a laptop while the laptop is placed on your lap), the EMI noise never occured. However, after placing the phone in direct touch with it (with the TR-Amp cable), it was audible, but much quieter than on the stock cables. This makes me question whether the stock cable length is the problem, the shielding, or another factor. As I use the Sparrow with my laptop, this isn't a problem for me (my phone is never close to amps and DACs), but it certainly presents a problem for someobdy who plans to have the Sparrow in the pocket (in direct touch with the phone).
One problem that did occur during my usage period is that the Sparrow's playback would stop for 1-2 seconds, but this only happened around 3 times. Besides this, I had no problems. I actually still use the Sparrow in my daily setup: Sparrow + iBasso SR2.
Power. At first glance you wouldn't expect much, but when you pair it with various full-sized cans, you realize that that it is quite capable. The only time I found it lacking in power was when I paired it with planar-magnetic headphones (Dekoni Blue, Hifiman Deva)… but as many of us know, planar-magnetic headphones are very demanding. You can read the full list of earphones/headphones that were used with the Sparrow at the bottom of this review.
Conclusion
I can firmly say that this little device met my expectations and will continue pleasing me after 5 months of usage. The Sparrow costs $199, making it among pricier dongle AMP/DACs. However, based on what people have said (across several different forums), it is superior in performance to its competitors. This is what I believe makes up for the higher than usual price tag. One thing to keep in mind: what this device is trying to achieve is packing industry-leading technology in as little space as possible. With this being said, by no means should it be compared to anything other than devices alike (dongle DAC/AMPs of a similar form factor), DAPs and portable amps that are the size of TR-Amp cannot be compared, they serve a completely different function and form factor.
As I dislike warmth coming out of my source, I have always enjoyed EarMen products for their transparent mid-range and slight emphasis on lower & higher frequencies. The Sparrow is no exception, and this is why it will stay in my rotation.
---
Headphones paired:
Sennheiser HD598
Sennheiser HD6XX
Dekoni Audio Blue
Ollo Audio S4X
Sivga Phoenix
Sivga P-II
iBasso SR2
Hifiman Deva
IEMs paired:
Jade Audio EA3
KBEAR TRI i3
KBEAR Diamond
Fiio FD1
Audiosense AQ3
Hifiman RE600s V2
Hifiman RE800 Silver
BQEYZ Spring 1
BQEYZ Spring 2
Last edited:
Reviewer: AudiophileHeaven
Fly With Me – Earmen Sparrow Ultraportable DAC / AMP
Pros
:
+ Driving power
+ Nice overall sound
+ Detail
+ Clarity
+ Dynamic sound
+ Good build quality
+ Balanced Output
+ MQA Decoding Abilities
Cons
:
- Slippery
- Pricey
Fly With Me - Earmen Sparrow Ultraportable DAC / AMP
Earmen Sparrow is like a tiny thumb drive that can actually drive IEMs and Headphones. It costs 200 USD, being one of the more pricey DAC/AMPs that exists in this tiny shape, and it has a type-C port, and a driving power of 4.0 V on the Balanced output. It will be compared to
Lotoo Paw S1
,
Centrance DACport HD
, and
iFi Hip DAC
. The pairing list will include
Final Audio A8000
,
Sivga P-II
, and
Meze Rai Penta
.
Important note: I have edited this review, to better follow the internal guidelines, and after having the original unit replaced, as it seems I was experiencing a fault in the build and it was not performing up to the maximum potential.
After re-reading it, I realized I was suffering from a strong melancholy at that time I first wrote the review, as it was right when the first Corona lockdown happened, so I edited certain paragraphs that came out considerably more negative than were intended.
---
Introduction
Earmen is a company from USA, and they are friendly with their customers. This came as a surprise to me, who knew about Auris Audio and them coming from Serbia, but it has been confirmed by them that Eramen is an American Brand, and all their products come from the USA.
You can totally purchase their products and rely on them, but be careful because after a while you may need that warranty. Happily, they are the type of guys who will help you recover it, even if you somehow manage to lose it. The name sparrow seems to come from the company wanting to design is as a killer against the
Dragonfly
series from
Audioquest
. The company has a dual approach, having both great scientific data to back their products, and great overall subjective impressions, their products usually being the result of good concept and design.
It should be noted that I have absolutely no affiliation with Earmen. I'd like to thank Earmen for providing the sample for this review. This review reflects my personal experience with the Earmen Sparrow. Every opinion expressed is mine and I stand by it, the purpose of this review is to help those interested in Earmen Sparrow find their next music companion. Since I reviewed many competitors as well, this review isn't trying to sell the Sparrow to you, but rather trying to help you decide on what is the best choice for you, based on pairings, comparisons and descriptions.
Product Link
You can get the
Earmen Sparrow
from here:
https://earmen-shop.com/products/sparrow
Packaging
First things first, let's get the packaging out of the way:
We're talking about a high-end DAC/AMP at this price point, and it does come with extras, two high quality cables. You should try to shield it a bit while out and about, but the full metallic build paired with a glass body is actually pretty scratch resistant, and I have not been able to damage it while in usage.
Build Quality/Aesthetics/Functionality
Happily it has more than enough power for anything you may imagine throwing at it. Usually, companies like to over brag about their products, which is not helping as many of you guys have been returning and asking me why certain DAC/AMps can't drive your headphones properly. The sparrow should have more than enough juice for portables. It has a really beautiful aesthetic, and this is how my dream ultra portable DAC/AMP looks like. Smol, glassy, and made like a tiny tank. Really tiny one. It is a slightly slippery device, so be careful when handling it.
I would recommend using double sided velcro strips to attach it to your smartphone while using it. It has no Bluetooth like
FiiO BTR5
, but it has MQA decoding abilities, along with DSD and DXD decoding abilities. It is also one of the very few DAC/AMPs that stays fairly cool during usage, and which can drive
Sivga P-II
very well from the balanced output. The sound is incredibly good with MQA, so if you haven't tested MQA yet, you better give it a go, it is fun and the sound is pretty great.
The balanced output sounds much better than the Single Ended one, and it has more driving power too. It is easily recognized by all my smartphones, windows computer and laptop, and doesn't need a driver installed. If you need an alternative cable, I recommend checking out this one, which I use and I like a lot:
https://www.amazon.com/CableCreation-Braided-Compatible-MacBook-Resistance/dp/B01CZVEUIE
The unit is light, and feels well made, and the Earmen Logo lights up during usage, and in different colors depending on what type of files you're decoding. The DAC inside is an ESS ES9218PRO, a really ballsy one actually. In fact, it is the only ultraportable DAC/AMP that has this DAC in the PRO version, and Earmen is not afraid to use it at its full potential.
Despite all of this, it doesn't really drain too much battery from my
Xiaomi Note 9S
or
Huawei P20
, so I can easily recommend it for portability. It doesn't take noise from being close to a smartphone either, being well protected from EMI or interference, and I experienced no issues with it while using it, although the original cables did not work well for me, and I like the ergonomics of aftermarket ones.
Technical Data
Video Review
Sound Quality
The sound of the Sparrow is really impressive, being one of the most transparent and detailed DAC/AMPs you can find around the price point. It doesn't have much of a signature, as transparency itself means that it doesn't color, but rather play what it is being fed. Earmen Sparrow has a really clean sound, with tons of detail, a wide soundstage, and reminds me an awful lot of
NextDrive Spectra X
, when it comes to the dynamics, having a magically dynamic presentation. Please be careful, the volume from the balanced output can be really loud at 10/100 with IEMs, so it has tons of power to spare, but if you don't adjust it carefully you may lose an IEM or an ear.
The overall sound of the Sparrow can be described as extremely clean and precise, with no elevation at any point in the sonic range. It has a linear performance, with a quick, tight bass, deep soundstage, and with an energetic treble, good air and a wide soundstage.
The bass is generally really quick and snappy, but can get really low and hit you with extreme impact. The deep rumble is outstanding and reminds me more of what stuff in the ~500 USD price range can do. The overall extension is better on the balanced output, with even more impact, and the bass is extremely clean. Using MQA files, the bass seems to warm up a bit, and to sound more analogue-like, with better realism and more quantity, yet the same quick and revealing presentation.
In fact this is a very persistent characteristic of the sound of Sparrow, it is clean to the point of insanity. There's no background noise, there are no uncontrolled passages, and regardless of what you connect it to, it has really good authority. The dynamics in the mids are extremely good for the price, and the overall texture is smooth, grain-free, and fatigue-free. It has that special juicy presentation for guitars that I enjoy greatly, and in my book the mids are a 10/10.
The treble is also nicely done, with a good extension up to the highest octaves, with really nice details and a wide soundstage. The overall sound is slightly forward, so metal music lovers will surely appreciate the Sparrow. The name starts to make sense, and it is a good counterpart to the Dragonfly series. The Audioquest gems are known to be a bit laid-back and relaxed, the Sparrow being there for the attack. Having compared them side by side, I would say that the company aimed perfectly well at eating away their competition. For example, if you hear them side-by-side, you know that Sparrow is much quicker, more punchy, more dynamic. The treble is my favorite part of the Sparrow, being so brilliant in extension and energy that I'm rocking to Dance Gavin Dance and Closure in Moscow even while writing those very words.
Comparisons
The main comparisons I picked for your reading pleasure are with
Lotoo Paw S1
,
Centrance DACport HD
, and
iFi Hip DAC
.
There are tons of good USB DACs in this price range, like the
Earmen TR-AMP
(which is just 50 USD more than the sparrow), being one of my favorite DAC/AMPs still in 2021.
Earmen Sparrow vs Lotoo Paw S1 (200 USD vs 170 USD) -
Lotoo Paw S1 has a 4.4mm balanced output, where Sparrow relies on a 2.5mm one. Given the size and shape, it is understandable why each went for the respective option, and S1 is nowhere near as portable as the Sparrow. I would describe the S1 as being wider, with more emphasis on warmth, and less air in the treble. The Sparrow is more engaging, has a more vivid and colorful midrange, is more dynamic, and the Sparrow has a more juicy mid paired with more treble extension. The Sparrow also sounds slightly more forward, bringing more detail to the listener, and although it doesn't have an EQ option like S1, it seems to have better control at maximum volume, with lower distortion.
Earmen Sparrow vs Centrance DACport HD (200 USD vs 180 USD) -
Centrance DACport HD is aimed at those who want to use it with really hard to drive cans that cross the entry-level price point, and who don't want to use a balanced cable for it. The DACportHd sounds warm, forward and aggressive sound with tons of power. The Sparrow has even more power over the balanced output. Earmen Sparrow has more detail, a more vivid and colorful midrange, and a deeper soundstage, with better instrument separation.
Earmen Sparrow vs ifi Hip DAC (200 USD vs 150 USD) -
The Sparrow has more driving power on Balanced, with a more engaging and dynamic midrange, and a deeper soundstage. There's better treble extension to the Sparrow, with more air and more sparkle, plus better control at the maximum volume.
Pairing
The pairing part will include pairings with
Final Audio A8000
,
Meze Rai Penta
, and
Sivga P-II
. I went with pretty pricey IEMs because the Sparrow is aimed at harder to drive and more picky partners, and it makes more sense when the IEM can reveal how good the source is as well.
All of the partners I picked are easily driven By the Sparrow, and it could easily drive a
HIFIMAN Deva
,
iBasso SR-2
, and even an
HIFIMAN Arya
too, so don't be shy with pairing it when you got for its mates.
Earmen Sparrow + Final Audio A8000 - (200 USD + 2000 USD) -
A8000 is a bit of a benchmark to me, and the Sparrow passed the test! It got good details, no background noise, and a ton of impact in its sound. The dynamics are awesome too, and the overall engagement factor is great, making me keep this pairing always close to me when I go out and about.
Earmen Sparrow + Meze Rai Penta - (200 USD + 1300 USD) -
Meze Rai Penta is actually helped a lot by the Sparrow, as it gives them a sparkly sound in the highs, which they direly needed. They have a smooth top end, and are somewhat too laid back for rock and metal. Sparrow is here to help, pump up their sound, improve their detail, and give them a beautiful, musical sound with more life and more engagement.
Earmen Sparrow + Sivga P-II - (200 USD + 400 USD) -
I was really surprised to hear that the Sparrow had enough power to drive the P-II on balanced. The sound is really balanced, sparkly, fun and engaging. I'm impressed by the speed of the bass and nice extension in the treble, and the wide soundstage. Overall, a really recommended, albeit slightly unlikely pair when you think about how much I struggled to drive P-2 well, once again showing how good the Sparrow can be.
Value and Conclusion
The value of the Sparrow is great, especially if you want a mini-sized DAC/AMp that can properly play MQA files, and where the
TR-AMP
has been a genius product, the Sparrow shows once again that the company can make some great products.
The build quality is really good, and it doesn't disappoint in any way. Although the body is not marketed as being covered in gorilla glass or any other type of protective glass, I found no scratches after taking photos of the Sparrow and using it for a while, and as you can see from the photos, I've been a bit adventurous with it and taking it outdoors.
The decoding abilities are impressive, with MQA, DXD and DSD, along with PCM all being read by the Sparrow. In fact, it is one of the very few DAC/AMPs on the market that has the ES9218PRO on the market, and it manages to take full advantage of it.
The sound is clear, punchy, and it has plenty of dynamic and driving power. The sound is so good that it is probably in my top 3 best portable DAC/AMPs below the 300 USD price point, and just like the
TR-AMP
, Earmen shows us that they can totally make something that sounds good.
At the end of today's review, if you want something well made, by a company who knows what they're doing, if you want to hear one of the best a mini DAC/AMP has to offer, and if you like a clean, clear, detailed and sparkly sound, with excellent dynamics and punch, the Earmen Sparrow is really easy to recommend to you.
Product Link
You can get the
Earmen Sparrow
from here:
https://earmen-shop.com/products/sparrow
Last edited:
EarMen Sparrow: Seasonal changes, but the sound remains.
Pros
:
Superb sound
Superb build
Portability
Cross-platform usage
Adds clarity to pretty much all devices attached
Cons
:
Large packaging
Slippery little bugger
No dedicated volume itself?
Too bright for some, possibly
Much competition
EarMen Sparrow ($199):
Seasonal changes, but the sound remains.
Sparrow
Introit:
Following on the heels of the TR-Amp, the Sparrow is oriented towards Smartphone use, and includes a 2.5bal headphone jack. "Dongles" such as these are becoming more in vogue, but one would be remiss if you did not mention the history here. Giving yet another option that is cost effective while allowing the user to bring their balance headphones along and hook into their smartphone, this market gets ever crowded. Knowing the quality offering in the TR-Amp (one of my favorite portable amps), Miroslav offered the Sparrow. I humbly accepted and afford him gracious thanks for the continued support.

It takes something "different" to separate one of these dongles from another and here the Sparrow is a very fine DAC/Pre-amp/Headphone amp. Using an excellent Sabre DAC, the Sparrow comes with MQA capabilities. You can even run two sets of headphones from the unit at once, which affords you the ability to share your music.

One would also be remiss in not mentioning those that came before such as the Audiodirect Beam. My first foray into the portable dongle/DAC it was good. Since then many have come along including the Sparrow, and the Beam has also been updated as well. The volume control was interesting, especially on a smartphone, but it worked. Todays "dongles" are much more refined, showing those that have a smartphone what can be done at the affordable price. Options are good...

The Sparrow is mine to keep but may be asked back for at any time. Until then, the unit is mine to use and keep, but not resell. That's uncool.
Specs:
| | | |
| --- | --- | --- |
| Input | USB C Female | |
| Output | 3.5 mm | |
| | 2.5 mm Balanced | |
| | | |
| Power | 2.5 mm Balanced | 3.5 mm |
| | 2.0 Vrms into 32 Ohm | 1.4 Vrms into 32 Ohm |
| | 4.0 Vrms into 600 Ohm | 2.0 Vrms into 600 Ohm |
| | | |
| Audio formats | | |
| DSD | 64 / 128 DoP | |
| DXD | 384/352.5 kHz | |
| PCM | Up to 384 kHz | |
| MQA Rendering | Up to 384 kHz | |
| | |
| --- | --- |
| Dimension LxHxW (mm) | 42 x 8 x 22 |
Gear Used/Compared:
Noble Sultan
Dunu SA-6
Noble Savant II

MBP
iPhone XS Max

Earmen TR-Amp
iFi Zen CAN
iFi Hip-DAC


Songlist:
Joey Alexander-Warna album and others
Mark Knopfler-Laughs And Jokes And Drinks And Smokes
Santana w/ Mana- Corazon Espinado
twenty one pilots album, Trench
Tedeschi Trucks Band
Big Head Todd & The Monsters-Beautiful World
Mark Knopfler-Down The Road Wherever
Elton John-yep, still good, still cool
Tidal MQA
Unboxing:
Coming in a fairly plain black box, EarMen continue their subdued ways of presenting the product. Nothing wrong with that. One only need look at Burson and how their products are presented to appreciate starkness in presentation.
Opening the flat box yields a gray semi-hard (semi-soft?) foam insert, which cradle the Sparrow and two provided cables nicely. Also included are spec and warranty cards. Nothing fancy, nothing extraneous needed.
Build/Finish/Functionality:
Moving drastically away from the TR-Amp's industrial look, the Sparrow presents itself as a black monolith, not unlike the one found in a
2001, A Space Odyssey
. There is as much hype surrounding it as there was the peculiar monolith. But that hype is due to the accolades and accords given the other EarMen (and Auris) products. Having heard the Euterpe (and enjoyed it immensely), I value the TR-Amp as my go to portable amp due to its ability to work through a USB-C while being charged. A nicety when it comes to portables.
Since the Sparrow is driven by the source in which it hooks, you need not worry. Coming with both a 3.5se and 2.5bal headphone jack, you can utilize the plethora of headphone choices we seem to have. Currently enjoying the crispness of the Noble Sultan through my MBP and listening to Jesse Cook, I enjoy the trio. Vibrant would be an apt description. Back to finish, the Sparrow is clean with its curvaceous lines and seemingly completely smooth, including the markings on the back and lighted logo on the front, which glows in differing colors depending upon the source frequency. Small and a bit slippery, but oh so portable. Simple plug and play at its best.
A note about connectivity, though. Upon first getting the Sparrow, I had no problem hooking it directly to my MBP with the provided cable (USB-C to USB-C). After about two weeks, that connection stopped, and I had to utilize the USB-A to USB-C cable and a dongle. I did note a slight drop in quality, and attribute this to the dongle. Why you ask? Well, when using the excellent DDHiFi "upgraded" TC05, the sound was excellent. I will add that I used the DDHiFi TC28i for my iPhone XS Max without issue as well. My suspected problem is that if I do not restart my MBP after a long time, the audio portion gets a bit finicky, sometimes when an update of something is needed. This has happened across a few devices, and I really hate restarting my MBP, so that should tell you that the issue is most likely due to the MBP. I have multiple tabs and about 20 reviews in queue open, so this is quite the hassle. That said, every single time I have "restarted" the MBP, audio function (including all cables with the Sparrow) work flawlessly.
To sum: The Sparrow worked flawlessly across multiple platforms, as I expected.
Insides:
The ESS 9281 Pro Sabre chip runs clean and clear, with a good vibrant tonality to it. I have come to appreciate the Sabre chipsets as being on the more energetic side of life. With the ability to run MQA through Tidal, which is becoming the norm, you still get very good value out of the diversity of the chipset. Powering up to 32/384 PCM and DSD128 in addition to the MQA, the Sparrow provides all the necessities for a small portable dongle. Some may balk at the price, but when you consider the other options at this price are not portable, there is a sense that not only is the market moving higher, but the demand appreciates this upscale movement. Spending this could be considered not only a good first step, but to many, it may be all they need as Smartphone sources get better and better, closing that gap to quality mid-fi DAP's. Whether the industry likes it or not, Smartphone sound is getting better (some erroneously argue it has surpassed mid-fi DAP's), so the smartly modify to meet the demand. This can also afford those same manufacturers to move to an even higher scale with their sources. Look at the plethora of $2k DAP's currently sprinkled across the market and you understand. So in that perspective, what one is willing to pay for the increase seems to be moving higher and can thus be justified.
Back on task, the 2.5bal and 3.5se work flawlessly as mentioned by the Sultan, which runs the "normal" Noble cable (really friggin nice, it is) and my BQEYZ Spring 2 2.5bal cable works as well. In fact, it is advertised that both jacks and be utilized simultaneously. I have tried it, and there is no perceivable loss of sound/volume to me.
Sound:
Single-end:
With items such as this, I have the hardest time. DAP's can be quite easy in comparison due to the various architectural presences and innards, but here the differences can be enough to not give me confidence. Thankfully, the difference between the TR-Amp and Sparrow are immediately noticeable. The TR-Amp runs on the warmer side of life. The Sparrow adds that springlike vibrancy to your sound. There is not hiding that the
mids
to me are elevated to the point of a crisp, cleanliness that is of very good quality. There is a good vibrant detail to the Sparrow, which to me results in good texture. By this I mean that I can discern the finer points of layering, and when a
bass
-heavy song such as Jesse Cook's
Azul
comes on, I can discern a pretty decent reach down low through the Sultan, even if the sound is detailed. Sometimes that is not the case, as the bass texture can overrun a good mid of guitar work. Not so here, and I am pleasantly satisfied with the result.
Treble
is neither biting nor sibilant. A certain amount of restrained sparkle comes through as a result. I appreciate the tenacity of the treble not to become biting nor overly sparkly. Tamed would even be too strong a word, but a certain subdued-ness is present, which I appreciate. I am not dissatisfied with the se sound and appreciate that many people will still have only 3.5se headphones, and they shant worry about any perceived lack of sound quality.
Balanced:
Switching to the Dunu SA-6 for the balanced portion, you immediately notice the difference. While the vibrancy of se is still there, you get more. Kind of like going to 11 on that proverbial Spinal Tap amp.
Bass
reaches lower (yes, I know two different IEM's...), with more punch and detail. Almost like the clarity level has gone up as well with the added punch.
Dynamically, through the song Gravity you get the staccato of a vibrant punctual sound. Succinct to a point, the Sparrow on balanced is a quick little critter in its transitions. There is no hesitancy, but it never came across as urgent. Always flowing with a syncopation that belied that urgency, with an attitude of subtle laidback nature to it.
Fall At Your Feet
promotes this flowing, syncopated nature very well. The vocals come across with that sense if vibrant, clear & concise nature providing a path to a certain serenity. Maybe that is too gushing, but the difference makes you not want to go back to 3.5se again. Not that the 3.5se is dull or lifeless, but the difference is a wonderful fruition in the Sparrow, and to me certainly justifies having both, and the increased price.
I do note a certain push up top, which can become a bit too much when the volume rises, but that is just me. That clarity pushes the level of which I can tolerate, not a discrepancy of song or combination source/Sparrow. No, it is down to my tolerances. I suffer in pleasure.
@Wiljen
likens the difference to between driving a McLaren and a Mustang. The Mustang seems almost pedestrian after the McLaren. That is until you realize that even a V6 Mustang is capable of a low to mid-6 second 0-60mph time...so take that as you may. Pretty darn quick versus OMG!-quick.
Comparisons
:
I could compare to an older dongle I received, in fact it is purported to be the first, the original Beam, but that would not be really fair. Priced at the then price of $99, I touted the Beam as possibly the only dongle you would ever need. As mentioned above though, times have changed, and the market has moved upscale as technology increased as well. The Beam was good for its time. The Sparrow is better, as expected.
Earmen Sparrow ($199) v Earmen TR-Amp ($249):
Pretty much the next level up, the TR-Amp can be used as a pre-amp out as well. Running only single-ended headphones through either the 6.35 or 3.5, there is a distinct disadvantage here, leaning towards the Sparrow. But, the TR-Amp is so good, you do not miss it one bit. At the time I was coming off a string of balanced IEM's and devices, so the TR-Amp was held with a bit of consternation. That is until I heard it. To say that it could easily sub into a desktop set-up in an executive's office would be laughable, were it not true. Those other execs who laugh at the site, pardon themselves after hearing the TR-Amp so that they may purchase one for their office, and slyly slide their lesser systems off the shelf behind their desk until their very own TR-Amp arrives. It is good. It is powerful. And it is and excellent option at the next level. My current go-to portable amp, it is.
But here is where that misses the point. The Sparrow is the dongle that can make you appreciate the TR-Amp for what it does on the home front, while the Sparrow would be the one that gets used on the airplane between London and Delhi on those long flights. So small, you only need disconnect and put in the laptop bag to appreciate its portability. As you land, you switch to your Smartphone, not missing a beat, and with a sound that can nearly rival the TR-Amp quality-wise if not power-wise.
Earmen Sparrow ($199) v iFi Zen CAN ($149):
Coming in for a long-term review over the last week, the iFi arrives on the heels of the pretty darn good Hip-DAC, which is another direct competitor to both the Sparrow and TR-Amp. Running $50 cheaper, the Zen comes with more features, including the time and tested bass-boost and 3D sound enhancement. I pull no punches. I am an iFi fan and own much gear of theirs from my Black Label/iDAC2/Tubes2 stack to the fantastic iDSD Pro. So, I like ifi...a lot. That said, the Hip-DAC did not wow me like others, nor on the same level as my owned iFi gear.
Through initial listening, the Zen CAN is changing that. From the off, I prefer it to the Hip-DAC, and would easily choose the former over the latter. But here if we look strictly at portability and playability, the Sparrow is a plug-n-play forget. You get what you get. And it is good. The Zen provides more functionality, which is quickly becoming a hallmark for iFi products. Great readers of the current AND upcoming markets, iFi never fails to impress; and with the Zen CAN so far, they have another hit. If you want a dedicated desktop DAC/amp, the Zen CAN is a worthy choice, with plenty of power. If you value that portability and ease of use between your desktop/laptop/Smartphone, then the Sparrow is the easy choice, even for the extra green.
Earmen Sparrow ($199) v iFi Hip-DAC ($149):
I mentioned in my review, how I was not that enamored with the Hip-DAC. That is not a knock on the device itself, but more of what other iFi products I have in my stable. I would gladly take the xDSD or xCAN over the Hip-DAC, even with the portability issues. And to be frank, the size difference is not that much. For what it is though, the Hip-DAC works and works well, plus you add in the near-trademark iFi 3D and xBass and it is one to consider.
But, if you want to simply add purity to your sound, and have an ultra-portable device, the Sparrow is a no brainer here as well. I like the sound presentation more as well, which is weird coming from someone who prefers the darker sounds of products I have on hand. Both a good. Both are worth a look, but it is the Sparrow that accompanies me to school everyday and on trips.
Finale:
As the market moves ever higher in function and quality, the accompanying price does so as well. Knowing this, one still may be loathe to fork over two Ben's for such a small artifact as the Sparrow. But to think that way would be antithesis of not only the process involved but the very reason such a device exists: so, you can have your music quickly and across many platforms. Plug the unit into your laptop at work for the day. Pull it, and plug it into your DAP, or easier yet your Smartphone for the commute home. The Sparrow fits into your pocket, or easily attaches to your Smartphone via Velcro or hangs loose if you prefer not to dim the unit up.
Simplicity now comes with a higher cost, but that cost can now be justified across multi-platforms with the accompanying USB-C cable. Top that off with excellent sound, especially with the 2.5bal jack and you have what is to me a pretty much no brainer. There is a reason the Sparrow is named such...for eating Dragonfly's and this one certainly does in my mind.
I again thank Miroslav and EarMen for the unit and support, it is very much appreciated. I now carry the Sparrow with me every day to school, and use it when I can, between my queue. A worthy addition to my rotation and regular set up.
EarMen Sparrow: Staying Power
Pros
:
Audio performance - Clean design and better build than it looks - Very clean sound from both balanced and single ended outputs - File support - Plenty of power for more demanding gear
Cons
:
No plastic insulating layer between the aluminum frame and glass panels (potential durability concern re. drops) - Unnecessarily large packaging
Greetings!
Today we're checking out the Sparrow from EarMen, a new USB dongle-DAC.
EarMen clearly has a sense of humour, and it shows in the clever naming of their products. With models like the Donald Dac and TR-Amp in their lineup drawing a chuckle, it is no surprise that the Sparrow is a jab at a popular series of DragonFly DACs from AudioQuest. Sparrows are known to snack on the occasional dragonfly which for most avian species is notoriously wily and difficult to catch thanks to their speed and uncanny agility. The attention of consumers is much the same when there are piles of similar products on the market.
The Sparrow has been with me for five months now and has powered everything from budget friendly earphones like the KZ EDX and Moondrop SSR to full-sized planar and closed back headphones like the HiFiMAN Deva and Campfire Audio Cascade. Did it do a good job of it? Let's find out.
Packaging and Accessories
The Sparrow arrives in a surprisingly large, flat box with a mostly smooth, matte black texture. On the front is the usual branding and model info, along with a glossy, embossed image of the Sparrow set between wire frame images of the front and rear panels. What's neat about these images is they are 1:1 and accurately reflect the Sparrow's compact dimension. Flipping to the rear are some basic specifications along with logos for PCM, Hi-Res Audio, DXD, DSD, and MQA.
Cutting the QA seals and lifting the slender top flap reveals a sheet of soft foam taking up the entirely of the interior. Set within shaped inserts are the Sparrow and two cables; USB Type A to C, and USB Type C to C. Also inside is a warranty card and a much more in depth specifications sheet.
Overall a very simple but effective unboxing experience. I appreciate that EarMen included a Type C to C cable in the box, as that has been a main criticism of mine as of late for a couple other products that fill a similar niche, such as the Radsone Earstudio HUD100 and EarMen's own TR-Amp, although the latter is notably less portable than the Sparrow or HUD100.
Build Quality
Initial images of the Sparrow had me thinking it would be a compact, plastic affair, but wow was I ever surprised once it showed up. A lot like the FiiO BTR3K, the Sparrow takes cues from modern smartphone design with front and rear glass panels and a painted black aluminum surround. It feels amazing in the hand for such a small device, with a weight and density I would attribute to something larger and more visually substantial.
On top top end of the device is a USB type-C input, while the opposite end housing the standard 3.5mm output, along with a balanced 2.5mm output. The type-C and 3.5mm ports are neatly integrated, while the 2.5mm port is flattened along the top and bottom, shaving off some of the plastic surround. It doesn't effect anything and I haven't experienced any issues with durability, it just looks odd given they didn't do the same thing with the larger 3.5mm port.
The front glass panel houses the EarMen logo, brand name, and model information. The brand and model names are decked in a reflective silver that looks better in person than in pics, while the logo is a soft white. Flipping to the rear panel you find the MQA logo, model and brand names, again in that sexy reflective silver. A small Hi-Res Audio logo sits dead centre. Further adding to the premium feel of the Sparrow is that all of this branding/writing is under the glass panels, ensuring they won't wear off over time.
A neat touch that went unnoticed until the device had powered up was the EarMen logo doubling as an LED. It indicates a number of things; white means the device is connected, with red indicating the opposite. Green says you're using PCM, DXD, or DSD audio formats, while Magenta indicates MQA is in use. The colour indicators are more limited than some of the competition, such as the aforementioned BTR3K and Earstudio HUD100, both of which indicate 5 or more formats with various colours. I never refer to this feature, but if you're one who does, you might be underwhelmed by the lack of precision in format indication.
Overall, the Sparrow looks classy and feels excellent in the hand. The build quality is fantastic, but I would like to see either EarMen or a third part like DDHiFi develop a case for it because glass is glass, and glass breaks when dropped. The Sparrow lacks a plastic insulating layer between the aluminum frame and glass panels. If it somehow finds its way from your pocket to the ground the shock will transmit straight through to the glass, increasing the likelihood of cracks or chipping. It's such a good looking device, I would hate to see that happen to anyone.
Sound Quality and Device
Pairing
The Sparrow utilizes the Sabre ES9281Pro, a flagship in their ESS lineup of DACs. As I explained in my TR-Amp review, I'm casual scum when it comes to explaining and/or understanding the tech behind DACs and amps. As such, EarMen can take over in describing why the above matters. This next bit has been borrowed from the Sparrow's product page.
"
Sparrow is powered by ES9281PRO, the flagship of the ESS line, which can provide best-in-class audio performance at 124 dB DNR and -112 Total Harmonic Distortion plus Noise (THD+N). The ES9281PRO is the first USB product that offers an integrated hardware MQA (Master Quality Authenticated) renderer that makes MQA playback easy and cost-efficient. The encoding process folds extra information into the signal that can be recovered later. The ES9281PRO automatically detects the MQA stream and engage the rendering. The entire process requires no additional design work."
That out of the way, what I've found is the Sparrow follows the experience I had with the TR-Amp. Through both the 3.5mm single-ended output and 2.5mm balanced output, the sound of the Sparrow is extremely clean. The 2019 Campfire Audio Solaris and original Polaris are some of the pickiest products I've come across, revealing noise from the vast majority of sources I've tested. Even through balanced out on the Sparrow, the background is dead silent and hiss free. Impressively, the Sparrow bests the Radsone Earstudio HUD100. While the HUD100 is dead silent through its standard output, the high output option introduces a hint of background hiss on sensitive earphones like the aforementioned Campfire Audio gear. Compared to another similarly sized DAC/Amp, the Periodic Audio Nickel, there is no comparison. The Sparrow is significantly cleaner sounding, most especially with sensitive gear that is basically unusable with the Nickel.
Also impressive is the Sparrows ability to drive headphones of various requirements. We already know it handles extremely sensitive stuff with ease, but what about something a bit more challenging? Well, HiFiMAN's affordable orthodynamics, the Sundara and DEVA, are easily brought up to volume with plenty of headroom and no distortion. Same with the notably more demanding Alara from Brainwavz. When listening to the demanding Astrotec Phoenix, the Sparrow's basic 3.5mm output produces more volume than the Radsone HUD100 and its high output port under the same settings. When comparing the Periodic Audio Nickel to the Sparrow, I was expecting the Nickel to be the better of thw two in terms of raw volume output but that's simply not the case. What about the ridiculous HiFiMAN Susvara, a device that makes full-size desktop amps weep? Like the HUD100 and to a lesser extent, the Nickel, the Sparrow can run it though it understandably isn't ideal. The sound produced lacks the nuanced dynamics and soundstage the Susvara is capable off. I suspect the two would work better together if I had an appropriate cable to use the Susvara through the more powerful balanced out. Still, the Sparrow isn't being knocked for this. Expecting such a small DAC intended for use with portable devices to run a full-sized flagship planar is absurd and completely unreasonable. What is impressive is that the Sparrow will do it as well as it does, while still running extremely sensitive products with a perfectly clean background.
When it comes to sound quality the Sparrow continues to follow in the footsteps of the TR-Amp with a coloured signature that adds warmth and low end to the presentation. That said, it's not an overbearing amount of heat or bass leaving it fine to just pair with products that already have these qualities in aplomb, such as the new Vega 2020 from Campfire Audio. Adding to those qualities does not leave it lacking in upper end air or emphasis either, meaning it still pairs well with bright earphones like the ADV GT3. For a portable device this tune is ideal since bass is the first thing to lose impact when outside of the home in a noisy environment, where ever that may be for those of us in Covid-current environments. Extension deep into sub-bass regions or well into the brilliance region is excellent with no roll off that I can detect. The Astrotec Phoenix provides the deep, physical rumble I expect, while the soaring highs of EarNiNE's EN2J are there in full force. Notes are presentation pretty much the same as I felt with the TR-Amp. Everything is quick and snappy and as a result I never found anything to be held back in those regards when paired with the Sparrow. Where I found the TR-Amp to slightly compress the sound stage, no such flaw can be heard in the Sparrow. The Campfire Audio Andromeda sounds just as open and spacious here as it does through my TEAC HA-501 desktop amp (but without the background hiss) and other products like the ZiShan DSD or FiiO BTR3K. It also does a good job of displaying the imaging, instrument separation, and layering qualities already inherent to anything you plug into it. The Brainwavz B400 can still envelope me in a busy track without congestion, just as the original Campfire Audio Polaris' wall-of-sound is retained. Flaws already inherent to the staging qualities of your headphone or earphone will still be present, but nothing new will be added
When listening to it next to some competition, the Sparrow comes out on top. I wasn't expecting to find another portable DAC I liked as much, or more, than Radsone's HUD100 this year, but the Sparrow comes out on top in terms of sound quality. While they are both tuned very similarly, particularly when you start using the tuning switch on the HUD100, the Sparrow has better micro detail and a more dynamic feel to it thanks to more apparent depth and height to it's extremes. This along with a more rapid feel to notes when they hit and decay, it just sounds like a more lively, crisp version of the sound offered up by the HUD100. Pitting it against the Periodic Audio Nickel, a device that pretty much stays glued to my Shanling M0, shows just how hard hitting the 199 USD Sparrow is. At 299 USD, the Nickel is completely shamed when it comes to build quality, but more importantly, can't really hold up to the Sparrow when it comes to sound. In the Nickel's favour it does present itself with a more balanced, less warm signature. It also provides a hint more space and seems to image slightly better. These positives come at the expense of the smooth, natural sound provided by the Sparrow. The Nickel adds a harsh, almost metallic edge to some products and as a result it lacks the pairing versatility of EarMen's smaller, more feature rich and affordable option. My M0 might have a new best friend...
Final Thoughts
The last five months with the Sparrow have been an absolute joy. The small size and outstanding build quality as well as the powerful output via both single-ended and balanced outputs have made it a near perfect companion to use at all times. Whether I'm at work on my laptop or desktop, typing up a review or answering emails from a client, lying back in my recliner for some rare casual listening time, out for an evening walk, or analyzing a product for my next review, the Sparrow has integrated itself seamlessly into whatever task I need it for. This little device is outstanding, and well worth the attention of anyone in the market for a compact type-C DAC/Amp/Pre-Amp.
Thanks for reading!
- B9
Disclaimer
A huge thanks to Miroslav for reaching out to see if I'd be interested in reviewing the Sparrow and for arranging a sample for the purposes of this review. The thoughts within this review are my own subjective opinions based on five months of regular use. They do not represent EarMen or any other entity. Please note that the first sample provided was dead on arrival and was replaced by EarMen. Hopefully they were able to determine why as it was returned for examination. At the time of writing the Sparrow was retailing for 199.00 USD. You can check it out here:
https://earmen-shop.com/products/sparrow
EarMen Sparrow DAC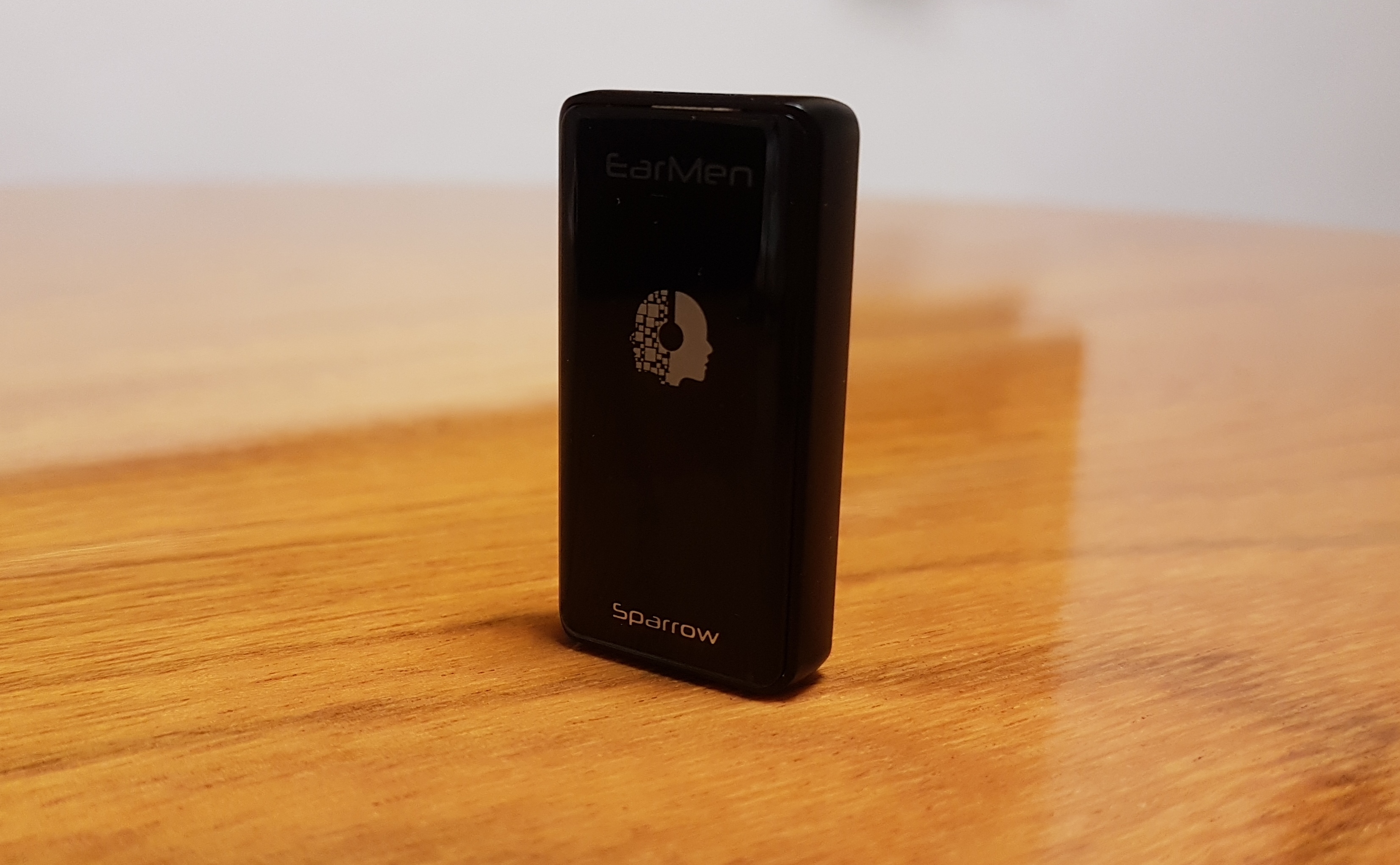 Website –
EarMen
​
Specifications
| | | |
| --- | --- | --- |
| Input | USB C Female | |
| Output | 3.5 mm | |
| | 2.5 mm Balanced | |
| | | |
| Power | 2.5 mm Balanced | 3.5 mm |
| | 2.0 Vrms into 32 Ohm | 1.4 Vrms into 32 Ohm |
| | 4.0 Vrms into 600 Ohm | 2.0 Vrms into 600 Ohm |
| | | |
| Dimensions | (L x W x H) | 42 x 8 x 22 mm |
| | | |
| Audio formats | | |
| DSD | 64 / 128 DoP | |
| DXD | 384/352.5 kHz | |
| PCM | Up to 384 kHz | |
| MQA Rendering | Up to 384 kHz | |
Price
:
U$ 199 / € 219
.
Official Sparrow page
The Sparrow unit was kindly provided by EarMen company for the review.
The Sparrow device arrives in a simple and compact black cardboard box. The unit inside is protected by soft foam material as well as the two USB cables, one for Type-C connections and the other for Type-A. The cable quality seems good enough and the Type-C plugs connect strongly on the Sparrow side. A iOS lightning cable and a small case would have made it a perfect package.
Design
The EarMen Sparrow is one of the smallest USB audio devices. The design is super minimalistic, and its tiny size is about the same as a compact USB flash drive. Build quality is still really good with a whole CNC aluminum main chassis in a smooth matte black finish and 2.5D glass panels on both sides. Not sure if there is a technical reason for the use of glass panels for this type of device, because as much as it gives a nicer look, it can also require a little more care than a full metal structure. A simple case would have been good to be included, especially if meant for daily portable use.
The layout is pretty simple. On one side is the USB Type-C connection for digital input and on the other side the two audio analog outputs, single 3.5mm and balanced 2.5mm. The upper panel has the company logo printed on it and features a small LED light that indicates the status and files audio quality with different colors – green for PCM, DXD and DSD, and magenta for MQA quality; white if the device is just connected and red if it is not. The Sparrow has no dedicated volume controls and it is limited to the connected source volume, which can be considered its main disadvantage for its price as a small Amp/DAC.
For the Inner hardware components the Sparrow features a very competitive Sabre ESS ES9281 Pro DAC chip. It supports up to 32bit/384kHz for the higher formats: PCM, DoP, DSD64, DSD128 and MQA, and 24-bit/192kHz for FLAC files. Output voltage can reach up to 4 Vrms from the 2.5mm balanced side, at 600 Ohm, and 2 Vrms at 32 Ohm; 3.5mm reaches 2 Vrms and 1.4 Vrms, respectively.
Worth noting that the Sparrow DAC drains the source battery faster than several audio DACs with this kind of design.
Sound Quality
First of all, there are noticeable differences in sound quality and presentation between the single and balanced outputs. With most of the gears used, from IEMs to large over-ear headphones, the sound balanced output was clearly better, with a certain few exceptions where the single output proved a very positive synergy.
The Sparrow DAC may be a super small and minimalistic device, but it packs a high amount of driving power that none of other small DACs or compact DAPs are capable of. It can get really loud at very low volumes, especially when using sensitive earphones (i.e. IEMs) or easy to drive headphones. With most IEMs, 5 or 6 out of 100 steps are enough from the single-ended output, and 3~4 from the balanced. A single step more and they already get too loud, so on occasions getting the right volume won't be easy with the Sparrow. With the final B1 and B3, and Hifiman RE2000 it can be raised to ~10 due to their higher impedance / lower sensitivity, so easier to match a more proper listening volume. For the iBasso SR2 a 20/100 level is already loud enough, and for more demanding planars like the Aiva and Sundara, ~30/100 were sufficient from single mode. (No balanced cables for these headphones yet)
From the single-ended output, the sound is more colored with a dark and a bit warm tonality. The low-end is elevated with some more bias on the mid-bass region that continues up to the lower midrange. The whole bass has more energy and greater impact, giving a good boost to more neutral headphones, though a bit too much with bassier/warmer sets. Bass notes have more weight and thickness but still remain controlled. In spite of the greater quantity, there is an improvement in quality with better dynamics, layering, texture and depth. Sub-bass is not as present and a little limited in extension. The midrange is fuller with thicker texture on the low midrange region – not as elevated as the low-end but with similar weight. Transparency is kind of missing here; instead, it has a smoother, more mellow tuning. Separation is decent but overall sounds more intimate. Lower instruments and male vocals sound particularly better here in the single output, while upper instruments and female vocals are more reserved and lacking some energy. That said, some sibilance can be noticed with the corresponding earphones and/or music tracks. The treble feels smoother and laid-back. Not dull, but instruments are missing some sparkle, texture and air. The detail is still very good, just less forward. Soundstage is average with a more intimate presentation.
Now, switching to the balanced output is when this little Sparrow DAC starts to shine. The sound is technically better, more refined and, more importantly, much better balanced. The improvements may not be as drastic as day-and-night, but are immediately perceived. First of all, there is a change in the overall tonality from the warm/dark single output to a more even, less colored and more transparent sound. It doesn't turn to a flat neutral response as there is still proper weight. The bass is still above neutral but more even from sub-bass through mid-bass regions. The pronounced mid-bass lift is not present and so it sounds tighter, cleaner and better layered. The transition to the lower mids is clean. They maintain good weight and fullness but not thick as on the single-ended out. The whole midrange is more linear where the upper midrange gets the needed position and greater clarity. Dynamics are very good and instruments are well separated. I still find the midrange a little bit dry, though. Sibilance is still hearable, not much improved from the single out. Treble is now pretty good; more natural, energetic, sparkly and extended, yet well controlled. The micro details are easy to perceive, and overall everything sounds more accurate. The balanced output is not just more clean sounding but also more powerful, suited for more demanding headphones. Still does not impress in imaging, but overall the sound is more open with wider soundstage, improved extension on both ends and clearer notes.
EarMen Sparrow – a marvel of miniaturisation
Pros
:
Best-in-class sound quality from balanced output
Excellent build quality
Enough power for most headphones and all IEMs
Good value for money
Cons
:
Single-ended output is good but not remarkable
Could use a volume control
4.4 Pentaconn would be killer
This is an abridged review. The full review can be found
here
.
The EarMen Sparrow does not do wireless. It's also smaller than most other 'proper' dongles (unless you consider Apple's or Samsung's headphone adapters proper dongles). So what makes this tiny device so enticing to make you pick it over the many other options available at or around its $199 price point?
What you get
The Sparrow houses a new all-in-one flagship SoC from ESS, the SABRE ES9281PRO, the first combination DAC/amp chip to offer built-in hardware MQA decoding. Made from high-quality parts, including a gold-plated PCB, the DAC section supports all PCM formats up to 32/384kHz and DSD128 (including DoP 128 for Mac), and the amp delivers up to 4.0 vRMS of voltage from its 2.5mm balanced headphone output.
The face of the Sparrow features a LED indicator light that illuminates an EarMen logo in different colours based on its active mode: white when powered, green when receiving a USB audio signal, and magenta when decoding an MQA stream. It connects to your smartphone or laptop through a USB-C port on one end (EarMen supplies both a USB-C to C and USB-C to A cable in the box, but alas not a USB to Lightning cable for iPhones), and to wired headphones via single-ended 3.5mm and balanced 2.5mm ports on the other.
Sound quality
The story of the Sparrow, at least when it comes to sound quality and power, is a story of two outputs:
single-ended
and
balanced
.
Single-ended
Does the Sparrow, by virtue of its audio smarts, make your headphones sound better than a device that already has a built-in headphone jack?
The short answer is yes. Playing a well-recorded and multi-layered track like Brandi Carlile's 'The Story' through my phone has always been a good experience. The LG's
superpower
is its SABRE DAC, and I chose it specifically for this feature. But plugging the same IEMs into the Sparrow yields an even better one: Brandi's vocals are notably more distinct, better separated from the melee of instruments around her, and the sense of space is better defined too.
Switching tracks (and genres), the classic 'Hotel California' by the Eagles is a staple demo track for most audiophiles because of how well it's been recorded, and to hear it from the Sparrow takes an already pleasant experience on the phone (and even directly through the MacBook) to new heights. The version I like to use was recorded live and features on the Eagles' Hell Freezes Over album, and from the very start of the track, as the noise of the crowd fades in and the guitars start to play, you're treated to what I can only describe in layman's terms as
really excellent sound
.
Balanced
If using the Sparrow single-ended is an improvement, using it balanced is a revelation. I can pick up the basic character of an audio chain from the opening chords of BEYRIES 'Alone', a simple vocal set against sparse instrumentation that on really good gear feels like Amélie Beyries is sitting right next you, singing in your ear. With the Sparrow connected balanced to a pair of 64 Audio IEMs, I could almost feel her holding my hand, a tear slowly parsing her cheek.
Where the quality gap was easily more obvious in the single-ended sessions, switching to balanced really blurred the lines between what I'd become accustomed to from my higher-end gear, and what I was hearing from the Sparrow. This was especially true with more complex music, like the busier passages in Daft Punk's 'Giorgio By Moroder' and the collision effects in 'Contact' from the same, sublime Random Access Memories album, where the sound was more even, more controlled, less congested and better defined using the balanced output.
Often I've said I hear a wider stage and better separation of instruments with balanced headphones, no matter the source, which is not always obvious and always seems to be up for debate on the popular audio gear forums. Listening to the Sparrow, this point at least is not up for debate.
Other thoughts
By and large, the EarMen Sparrow has a very natural, neutral tuning that prioritises details but not at the expense of musicality. The sound can best be described as transparent, giving vocals and instruments just enough body so they don't sound thin, without unnecessarily colouring the sound. It's a fairly linear response, not too bright or too warm, with no unsightly peaks or troughs to worry the measurebators.
I've already established the Sparrow's advantages when used balanced, so I'll only add here that if you find the sound too intimate single-ended, it really opens up in all directions with a good balanced headphone. Not to mention, balanced is significantly more powerful, which brings me to one possible quibble: volume.
This is more a warning than a design flaw, but because the Sparrow doesn't have its own volume control, I suggest you turn down the volume on your connected device
before
hitting play. Let's just say I failed to do so first time, and have never in my life yanked earphones out of my ears so quickly. I can still hear the ringing…
Closing thoughts
That I'm finding a similar emotional connection to my music with a $200 dongle as I would be with a high-powered DAP is testament to how well this little bird can sing. While I won't go as far as to say the Sparrow renders higher-end music players redundant, it definitely skews the value proposition downward, far further down than I anticipated was possible.
Is it the right device for you? That depends. Do you use wired headphones but don't want or need a dedicated music player? Are you a Tidal subscriber with a playlist full of hi-res MQA tracks? Do you regularly use your laptop or tablet to play music? If you answered yes to any of these questions, the Sparrow is a shoe-in. In fact, if you are someone who prioritises sound quality above all else and want to take it with you wherever you go, the Sparrow should be near or at top of your list.
Last edited:
Hawk or Sparrow?
Pros
:
Enormous sound quality by balanced output.
- Tiny size.
- Power for your size.
- Very attractive external design and construction.
- Internal construction and components chosen to maximise sound Quality
Cons
:
It is not compatible with versions of Windows prior to Windows 10.
- It does not have ASIO drivers.
- The high power that the device can develop implies a consequent higher power consumption, in the devices to which it is connected.
- It does not have a Lightning to USB Type C cable.
- Absence of silicone cover for protection.
- The connectors are not gold-plated
Introduction
Earmen is a very curious brand, which never ceases to surprise me. When you enter its website, you can see its design, how it is built, its photos and, of course, its products. And they are the true soul of their philosophy: "Enjoy Music Without Limitations", "Simply Is The Best", "Portable High Performance Audio Devices for All", "Portable Audio Freedom For All"... These are some of the phrases that one can find, browsing their site. After reading its "About" section, several things strike me: It is not only a "new" brand, but its staff has "decades of experience in developing high-end audio amplification and processing equipment". The products have been "designed and engineered by Milomir "Miki" Trosic, founder of sister company Auris Audio". It is based in the United States, specifically in Chicago, IL. But they are manufactured in Europe, specifically in Serbia, as you can read on the box. Finally, Earmen's motivation is based on satisfying those audiophiles who run away from Bluetooth technology and are looking for the best listening experience. We (of course, I include myself in them), don't care about cables, we care about quality. But size does matter and so does ease of use. And don't forget about design and elegance. In this sense, Earmen has hit the nail on the head, providing products of the highest quality, impressive and simple in design, trying to reduce the size and operation to the maximum. This is why Earmen is a very serious company, but also one with a great sense of humour: from Chicago to Europe, including the name of its products: Donald DAC, TR-Amp, Eagle, Sparrow... (Clear allusions to politicians, cartoon characters, predators that eat dragonflies, etc...), Earmen, never ceases to surprise me.
On this occasion, the product that I am going to review fulfils all the features of Earmen's philosophy: Sparrow is tiny, beautiful, powerful, simple and sounds... Well, I will explain that below, along with other things, of course.
I want to thank EarMen for giving me this great opportunity to enjoy their products in exchange for my humble opinion.
Specifications
DAC: ES9281PRO
Dynamic Range: 124 dB
THD+N: -112 dB
Input: USB Type C female
Output: 3.5mm Audio, 2.5mm Balanced
Power: 2.5mm à 2.0 V RMS at 32 Ω. 4.0 V RMS at 600 Ω. 2.5mm à 1.4 V RMS at 32 Ω. 2.0V RMS at 600 Ω.
Audio formats: DSD 64/120 DOP. DXD 384/352.5 kHz. PCM up to 32 bits 384 kHz. MQA Rendering up to 384 kHz.
Weight: 12 gr.
Packaging
The Earmen Sparrow comes in a relatively large box for its size. Its dimensions are 204x124x23mm. It is black with white letters. On the main side is the logo, brand and model, on the top. In the centre there is a realistic photo, at real size, of the main face of the product and its top and bottom views, where the connections are located. Below, in smaller letters, you can read the description of the product. The box is sealed in cellophane and has a tamper evident on each opening. On the back side are the product characteristics, the different logos of the supported audio formats, a QR Code and an EAN13, as well as the origin, place of manufacture and the brand's WEB address.
On the inside of the box, there is little: a large soft foam mould, which contains two USB cables (Type C to Type C, both cores and Type C to Standard-A). The size of both cables, not counting the connectors, ranges from approximately 76mm of Type C to Type C to 84mm of PC cable. As a curiosity, it is recommended that the connector that has the inscription in white letters, of the brand, be connected to the DAC/Amp. Finally, there is also a guarantee sheet and instructions with the specifications.
The presentation is sober, elegant and the accessories are the minimum required. Some silicone or plastic cover, would not have been bad, to avoid scratching the product and protect it from possible falls.
Construction and Design
The Sparrow is a tiny, lightweight but sturdy aluminium tablet, whose structure has been manufactured using CNC technology. The size is 42x22x8mm. Both sides are protected by glass. All its edges are rounded. On the upper side you can read EarMen above and Sparrow below, in almost silvery letters. In the centre is the white logo of the brand. Below it there is an LED that lights up in different colours, to indicate its status. On the back side, at the top is the MQA logo, in the middle is the Hi-Res logo and below is the logo of the brand, model, CE certificate, where the headquarters is (Chicago) and where it has been manufactured (Europe). On the upper edge is the USB Type C female connection and on the lower edge, the two headphone sockets, the 3.5mm on the left and the 2.5mm on the right. Neither connector is gold-plated. Neither are the cable connectors. Their sleeves are made of black aluminium. Its cables are covered with a braided textile fabric.
The interior is protected from interference, thanks to its aluminium construction. Its PCB is made up of 4 gold-plated layers, with the intention of avoiding losses in sound quality. They also use Super LOW ESR tantalum capacitors, to reduce noise to a minimum. But the star product inside is the Sabre ES9281PRO chip, top of the range of the ESS series. This DAC is the first USB product to have integrated hardware to reproduce MQA, as well as reaching 124 dB in dynamic range and having a THD+N of -112 dB.
As a particularity, many components have been manufactured in companies close to its centre, except the components Made In China.
After all this information about the Sparrow, it is worth mentioning the fantastic and delicate finish of its chassis, its small size and its insignificant weight. It is hard to believe that something so small has so much power, in addition to the two headphone outputs. It is clear that in that body it has not been possible to include volume buttons, nor any other extra functionality, other than that of decoding and amplifying the sound in the best possible way.
Connectivity
Earmen Sparrow is a DAC/Amp with USB connection. Connected to a personal computer or laptop, either Windows 10 or Apple macOS, it does not need drivers and becomes a powerful sound card. On the other hand, it is not compatible with Windows 7 or Windows 8. It also does not have ASIO drivers. It can also be connected to an Android or Apple iOS smartphone. Some Androids may require a USB OTG cable. In my case, with my Xiaomi Redmi Note 8 Pro, I have only needed the Type C to Type C USB cable, which comes as standard. Similarly, with the iPhone, the Lightning To USB Adapter cable may be necessary.
It can also be connected to a compatible DAP. Of the ones I have, it is compatible with the Tempotec V1-A and with the HiBy R3 Pro, this being the source with which I have obtained the best sound. Connected to my laptop with W10, using Foobar2000, I had to configure it as WASAPI (event) to work properly. With my Smartphone and the APP HiBy music it works deluxe, being able to choose the volume in the most appropriate way.
The conclusion in this section is that the ease of use has predominated, compared to a more optimal sound quality, connected to a PC. The absence of drivers allows for such ease of use and installation, but it is clear that the ASIO drivers provide a superior exclusivity of use than WASAPI. On the other hand, as a user (still) of W7 for its stability, ease of use and other personal issues as a code programmer... I have to criticize the impossibility of using the Sparrow on my main computer.
Operativity
The Sparrow continues its philosophy of ease of use: it has no buttons, no battery and there is only a multicolour LED on the top. It lights up white when connected, green when playing PCM/DXD/DSD, magenta with MQA and stays red to indicate it is not connected.
According to my tests, the Sparrow has two modes of automatic gain. It seems that if it is connected to the source device with no load connected, it is put in high gain mode, being able to obtain the maximum possible voltage. If, on the contrary, you first connect a headphone and then connect it to the source, the Sparrow calibrates the connected impedance, setting itself in the corresponding mode. In any case, and due to the high power that Sparrow is capable of developing, I recommend that the volume of the source is low so as not to damage the connected headphones.
The absence of volume buttons can be an advantage or a disadvantage. Such absence benefits a unique volume control from the source. If you have a volume control, my advice is that you should turn the source to maximum (provided this does not cause a negative influence or decrease in quality) and control the volume through the device. If it had volume control, it would have been compatible with the DAP xDuoo X3II as well, since it detects it but sets its output via USB always to maximum volume, as if it were a fixed line output. In this case, the absence of volume controls on the Sparrow implies a disadvantage. In all other cases, for me, it's an advantage.
Measures
It is a pleasure to be able to say that Sparrow's measurements are those specified, at least what can be seen with my humble system of measurements. For the 3.5mm output, you can see that at 32Ω, the Sparrow delivers that 1.4V RMS without any saturation in the signal, during all the frequency spectrum. With 100Ω connected, 1.8V RMS is reached from 150Ω at the specified 2V RMS.
Measures to 32Ω (Audio output 3.5mm):
In the first image, saturation at maximum volume is observed to 32Ω, but, after lowering the volume slightly, a clean signal can be observed at 1.4V RMS.
Measurements to 100Ω (Audio output 3.5mm):
Something similar to 100Ω. The first capture shows a slight saturation at maximum volume and after lowering it a little, it is observed that the measurements are precise at 1.8V.
Measurements at 300Ω (Audio output 3.5mm):
No problem to 300Ω.
Measurements at 620Ω (Audio output 3.5mm):
Also not to 620Ω.
Measurements without load (Audio output 3.5mm):
Measures to 32Ω (Balanced Output 2.5mm):
The same applies to the 2.5mm balanced output. In the specifications, it says that 2V RMS is delivered to 32Ω and so it can be seen. The first picture shows saturation at maximum volume and after adjusting it, you can see a clean signal at 2V RMS.
Measures to 100Ω (Balanced Output 2.5mm):
The same applies to 100Ω. With the maximum volume, it is saturated and after lowering it, it reaches those 3.3V specified.
Measures to 300Ω (Balanced Output 2.5mm):
No problem to 300Ω to assume the 4V RMS.
Measures to 620Ω (Balanced Output 2.5mm):
4V RMS also to 620Ω.
Measurements without load (balanced output 2.5mm):
Of course, the measurements without load are the same.
The frequency response is flat, with a very slight drop at both ends.
Comparative frequency responses with other devices, whether dynamic drivers or pure BA drivers, per SE or per balanced output, show no alteration in their frequency response.
Note: during the measuring process I have brought the Sparrow to its maximum power during all the time I have been testing. I have been able to observe that the device has heated up in a bearable way, without its temperature being high, just warm and never dangerous.
Sound
Earmen Sparrow demonstrates excellence in sound by its balanced output, which unfairly dwarfs the quality of the 3.5mm output. The sound from the SE output seems excellent to me, but from the balanced output it is superior. In addition, the Sparrow scales in quality, the better the source. The difference, in this respect, is clearly audible, between the Tempotec V1-A and the HiBy R3 Pro. The bad thing is that I can't count on better sources to check how far the quality of this tiny DAC/Amp can go. Even so, I can't complain about the sound offered either. With my Smartphone the sound is at the doorstep of the one obtained with the HiBy R3 Pro, which is a great achievement. Those who want to use their mobile device as a source can enjoy the enormous sound quality. Having tried all these options, including the connection to my Windows 10 laptop, I prefer to make the sound considerations with the HiBy R3 Pro.
As a personal advice, I prefer the sound that is achieved by connecting the headphones to the Sparrow first and then to the source. In this way, the gain adjusts to the connected impedance, achieving a better volume range, a more adequate, linear and somewhat less bright sound, such as warmer and more natural volume influences? It is possible, but I find that the Sparrow fits very well with IEMS, by means of this method.
The sound profile of the Sparrow is almost neutral, although I think I find a slight warmth in its overall staging, even though SABRE is behind it all. And I find that the combination of this warmth and the analytical character of this DAC, gives it a different personality, which gives it a plus in its appeal. Above all, the sound is distinguished by its superior cleanliness, spaciousness, airiness, vast width and very good definition. This mix of warmth and analytical character is emphasised in the 3.5mm output, while the balanced output, on the other hand, has a more analytical profile offering the highest resolution and definition, as well as a more ethereal, volatile and separate sound. The result is a sound that sticks to me like sand in Vaseline. A quick switch between the 3.5mm output of the Sparrow + HiBy R3 Pro vs HiBy R3 Pro by SE, makes me realise how good this little thing is. In these intangible terms of definition, resolution, separation and spatiality, the Earmen Sparrow takes the R3 Pro to a much higher level. What a great match!
The lower SE zone is slightly warm, very well defined, compact and tight, quite rich and with an ideal texture, a mixture of descriptive roughness and definition in its curves. The layers are remarkably explicit and the evolution of the bass can be followed from its beginning to its final decay, in great detail and separately. The Sparrow's spatiality and separation allows it to isolate the bass, independently of the headphones connected, and to follow it in its complete path.
The balanced output increases the level of spatiality, recreating a greater sense of depth and even gaining in speed of generation. Hits are executed with greater precision, being even more compact and contained, achieving a mix of viscerality and surprising finesse, improving the level of enjoyment with respect to the SE output. The lamination of the different bass layers is represented in a way that can be seen individually, in a staggered and sequential way, in a kind of slow motion, surpassing the similar sensation produced by SE, adding even more nuances and details, both in its texture and in its body.
The mid-range by SE still shows the initial character: slight warmth, moderately analytical sound, high clarity and cleanliness of sound. The voices are drawn very precisely and very sharply, with ample detail and nuances throughout. The resolution is very high, but despite all this cleanliness, the scene is perceived as wider than three-dimensional. The tonality is vivid, without any hint of darkness. The sound is quite dynamic, with body, but open and clear. The great sensation of separation allows to give a space for each instrument, voices and other details, without sounding congested at any moment.
When you switch to the balanced output, the definition increases, achieving a more analytical and precise sound. It is also more powerful and has more punch. The mids have a more concise body, are more impressive, with a closer presence and in the foreground, making the details splash with immediacy and enhanced realism. It seemed that it was difficult to improve the means offered by SE, but fortunately this is the case. The voices sound more spatial, their recreation has a more three-dimensional body and greater height. Their edges are polished and their definition reaches a higher level. The increase in analytical capacity is clearly felt. But the sound is not simply surgical or flat, it is definitely more complete, complex and large, occupying a larger space in which more edges, borders, profiles, roughness, texture and, above all, air can be accommodated.
The treble at the SE output is quite controlled, despite being explicit and well-defined, but it lacks edges with higher resolution and a little more air. The control I'm talking about prevents the crunching from being complete and the feeling that they could go a little further but they don't, staying a little flatter and producing less space.
This feeling disappears when connected to the balanced output, as if removing a delicate and invisible filter. Now, the treble appears in its ultra-clear version, with ideal separation and no limit to its projection. It is as if the notes have been sharpened, separated and cleaned with a triple layer of shiny wax. The result is a bright, luxurious, airy sound with a very dark background and absolute silence in it. But the best part of it is still its control: having tried the most critical headphones in this respect, there is no hint of harshness in the recreation of the treble, but the Sparrow manages to get the best out of each one, without losing energy, nor overcoming the barrier of natural and delicate fidelity.
After these considerations, it is almost not worth talking about scene and separation, because I have already commented that both parameters are outstanding by SE, superior by balanced output. But, especially, I want to emphasize the sensation that is produced in the lower area, when the balanced output is used: the first sensation that can be observed is that the bass is reproduced with greater depth. But, in addition, this deep zone seems to widen and become more spherical, expanding as if it were a funnel. The distance, separation and lamination of the different bass layers can be noticed. In the mid zone, the representation of the voices acquires a realism that manages to recreate them with a more complete body, as well as a closer, almost tangible, height and presence. In the high zone, the increase in the amount of air influences the perceived separation and better definition of the treble, its more optimal and realistic brilliance and its better projection.
Comparisons
Qudelix 5K
It may seem a bit of an unfavourable comparison, considering that the 5K is worth half as much, but performance is really very high and that is why I have such a fondness and predilection for it, also because of its enormous versatility. In that aspect, the Sparrow cannot compete with the Qudelix (Bluetooth connection, volume controls, simultaneous sources, exclusive control APP...). Even in power both devices measure very similar, giving, in my measurements, slightly higher values in the 5K, when using impedances lower than 100Ω.
But in sound the price difference, this time, justifies the Sparrow. I could start at the end, stating that the balanced output of the 5K is close to the level of the Sparrow's SE output, but still with reservations. Qudelix could present the end of the road for most average listeners. But Sparrow brings a higher level, both in definition, resolution, scene, amount of air, space and silence. The differences between the two arise in these parameters, as the sound profile is similar, it should be remembered that both have Sabre DACs. But the performance in the Sparrow, is simply better. A quick change between balanced outputs with the same headphones and the same source (HiBy R3 Pro), allows to verify that the cleanliness of the sound is greater in the Sparrow. Also its spatiality and depth, something that can be seen in how the lower zone is able to expand in a way that is unattainable for 5K. In that sense, the Sparrow demonstrates its power to recreate a very wide and enormously airy scene, with a lot of depth and that width that is demonstrated, even in the distance and the remoteness. And also the height plays a fundamental role in this aspect. Sparrow's enveloping feeling makes the voices appear closer, wider, present, complete and complex, with greater resolution. In the same way, the bass takes advantage of the Sparrow's depth and level of resolution, to be recreated with a power, restraint, compactness and texture that the Qudelix fails to draw. In the upper zone, the amount of air provides the Sparrow with an ideal space for the reproduction of its precise, sharp, delicate, energetic, high and transparent highs. In the 5K there is less air and the sound is more compact and cohesive. This means that the treble has that entrapment that prevents it from expanding completely, something similar to what happens with the Sparrow because of its SE output.
Finally, in defense of my dear Qudelix 5K, I want to stress again that the better the source, the better the Sparrow scales, which is not the case with the 5K. However, when both are used as DACs connected to the PC, the sound quality is quite equal, being slightly superior the Sparrow. Not bad for the price of both devices.
Conclusion
With the Earmen Sparrow I have managed to hear the sound I have been looking for many times, the one that has made my critical sense fade away and I only pay attention to the music. And for this alone the Sparrow already costs every penny of its price. On the other hand this DAC/Amp is insultingly tiny, defying all logic in terms of power and sound quality. So much so, that if I lose it, I'm disgusted...
Earmen has created a device that is totally oriented towards the portable Hi-End: practical, simple, tremendously effective and, above all, spectacular in sound. A product that could perfectly be the paradigm of what I try to look for in my humble blog: absolute quality in sound, at the best price. At first sight, its value seems high. But once it has been fully tested, one only has to surrender to the evidence and even acknowledge that the sound is above its price. Bravo Earmen! Thank you very much for creating devices like this!
Earphones and Sources Used During Analysis
HiBy R3 Pro
Xiaomi Redmi Note 8 Pro
Tempotec Variations V1-A
OurArt QJ21
Ikko OH10
NF AUDIO NM2
NF AUDIO NM2+
BGVP ArtMagic VG4
ISN H40
NS Audio NS5 MKII Extra Bass
Tin HiFi T4
Tin HiFi T2 Plus
Takstar Pro 80
SoundMagic HP150
Ratings
Construction and Design: 95
Packaging and Accessories: 70
Connectivity: 75
Sound: 95
Quality/Price: 92
Purchase Link
You can read the full review in Spanish here
Last edited:
Sparrows eat Dragonflies Right?
Pros
:
Premium build, exceptional sound quality in balanced mode, cabling options
Cons
:
Sound signature differences in balanced vs SE outputs.
disclaimer: The Sparrow was sent by Earmen for the purpose of this review. I have no financial interest in Earmen, nor have I received any remuneration for this review. If you have an interest in learning more about the Sparrow or Earmen, check out their website.
Packaging:
The packaging of the Sparrow is deceptive as the picture on the front of the box is actual size for the device and realistically you could have packed 20 of them in this size box. Packaging is fairly plain with a graphics on front and specs on reverse. Inside you have the manual, and a foam block with two cables one USB-A male to USB-C male and the other USB-C to USB-C male and the sparrow itself. The only thing lacking is a lightning to USB-C cable in the box but my apple made cable worked well for that purpose so while not included, it certainly is an option for those with i-phones.
Build:
The sparrow makes even the Hud100 look big. it is no larger than many of the dongles available. The unit is about the same dimensions as a USB drive in height and width and roughly a centimeter shorter than most of my thumb drives. Construction is glass and metal with a USB-C port on one end, an indicator LED on the main face (the Earmen logo), and 2.5mm balanced and 3.5mm single ended jacks on the other end. The unit has little heft, but looks and feels quite well made. It looks the part of a premium device.
Internals:
The Sparrow uses Ess Technology's ES9281Pro to do most of its work. The 9281 is a system on chip that incorporates a USB 2.0 controller, i2s, stereo line input, microphone input, and a DAC supporting up to 32/384 PCM, DSD128, and hardware MQA unfolding on chip. What ESS has done is created a chip (They call it a codec) that can handle USB input, convert that input to analog, amplify it and output it with almost no supporting characters involved. We are increasingly seeing either the 9281 or 9270 used in dongle products for this reason as they are low-power devices with very small footprints required to support them. The biggest difference in the two ESS chips is MQA support with the 9281 having full hardware unfolding and the 9270 omitting it. Needless to say there is a price difference between the two chips so some vendors will opt to leave off MQA to save on cost, while others like Earmen choose to use the more expensive part and provide the end user greater functionality.
The trade off usually comes when we look at output power vs battery life as there is simply no way to increase output without increasing consumption commensurately. As such, there is always a target range of earphones and headphones products are designed to power, and it usually is those below 150Ω with fairly high sensitivities. The sparrow lists output as up to 4V into 600Ω balanced or 2V into the same via the single ended connector. I tested the sparrow using my 600Ω Beyer 990 and it was able to drive them to usable levels but not with a lot of headroom above that so I would say while possible, the sparrow is more at home with easier to drive models. When I kept my expectations to 300Ω and models with sensitivities in the high 90s or low 100s, all worked well.
Plugging the Sparrow into windows, mac, and android devices resulted in it being detected and working properly with no need of additional drivers. The LED indicator turned white as soon as power was applied and then green for file playback (PCM or DSD), Streaming Tidal Masters yields a Magenta indicator for MQA as well. Thankfully I never saw the red indicator which indicates power is present but no USB signal as in most cases that is indicative of a problem. I did find that when used with Hiby or UAPP, I did need to set the output to bit perfect in the software to get the MQA rendering to work correctly.
Sound:
I tried the sparrow with a bit of everything around the house. laptops, desktops, phones, tablets, even a couple DAPs and it worked admirably with all of them. One thing I will warn about up front is when you plug in the sparrow, turn the volume down to zero before turning on any playback as it is considerably louder than most (especially the balanced output) and if you just plug it in on 50% volume and hit play you are likely in for a shock, and ear damage. Notes below are divided into balanced and single ended as they sound slightly different and deserve separate coverage.
Single ended:
Bass is good with some rumble and good extension. The limited output power prevents the sub-bass from really feeling visceral, but I have yet to find a dongle with that kind of potency to it. Mid-bass is fast and clean with good slam and detail.
Mids flow from the mid-bass with no change in level and again very cleanly presented with good detail and textures. While I liked the mids here, those who love mids really need to use the Sparrow in balanced mode as it has much better dynamics and layering and the mids come much more to life.
Treble has good detail as well and is still on the same level with nothing particularly jumping forward in the signature. Air and sparkle are somewhat limited, but extension is good with roll-off being above my own personal ability to perceive it. Here again, the treble sounds good on SE until you use the balanced output and realize what you were missing.
Overall, very linear and clean, but slightly sterile and lacking a touch in dynamics.
Balanced:
Bass: The first thing I noticed was how much better the extension is in balanced mode with what was a bit dull in SE suddenly digging deep and giving good enough rumble to be used for theatrical explosions etc. Mid-bass is fuller and more detailed with much better dynamics as well. The one drawback, at least to my ear is the bass is now slightly above neutral and those looking for true neutrality may want to eq it just a bit to return it to linearity.
Mids: Here again, much better dynamics are on display than the single Ended version. The Mids now have space to breathe and live and timbre is better with vocals much more lifelike and naturals and string tonality greatly improved. I love good mids, and the balanced output on the Sparrow is very capable. So much so, that I think the next version should omit the Single-ended connector and just offer the balanced. Its that much better.
Treble: Air and sparkle are much improved with the balanced output as the dynamics open up the space and give the treble more life and energy. Details are very good with a transparency that was lacking in the single ended output.
So you'd be excused for thinking I don't like the single ended output after reading the above. The fact is, having compared it to others in my collection, the Single Ended output on the Sparrow is somewhere between the Dragonfly Red and Cobalt in overall quality and is no slouch, its just that the balanced output is so much better that it just blows you away when you try it and I can't imagine wanting to go back to single ended knowing that option is out there. Its a bit like test driving a McLaren only to return to your Ford Mustang, sure the Ford gets you from point A to point B, but not with the same pizazz and excitement of the McLaren.
Comparisons:

First off, you gotta love the sense of humor that Earmen have about their products. While the products themselves are all business, the naming is lighthearted and fun. The reason this device got named Sparrow? You guessed it, they eat Dragonflies. So does it live up to its billing as a Dragonfly killer?
Dragonfly Red
– this is the price point equal of the Sparrow in the dragonfly line. Other than that, the two have little in common. Build quality is more premium on the Sparrow and the addition of balanced output is something no dragonfly can match. Sound quality wise, the sparrow is cleaner and more potent than the red in single ended mode and offers even more potency when using balanced output. While both support MQA, the Red supports PCM only to 24/96 while the Sparrow gives you the option of up to 32/384. With more and more music becoming available at 24/192, this may be a feature that tips the scales for the Sparrow if others don't.
Dragonfly Cobalt –
So does spending $100 more than Sparrow change the competition in favor of the Dragonfly? Nope, even on steroids the Cobalt still lacks the balanced output, is limited to 24/96 due to its USB section, and lacks the build quality of the Sparrow with the outer case on mine being barely attached to the internals. Both sound quite good and in single ended mode the sparrow is slightly more neutral while the Cobalt is bit fuller in the low end but both offer good detail and sound is nearly a wash for me. I find myself liking the sound of one a bit better for some tracks and the other for other material so this can come down to mood for me. With the addition of the balanced output to the fight though, the dragonfly quickly gets gobbled up by the Sparrow with improved dynamics as well as better output potency.
So yep, there you have it, the Sparrow does indeed eat dragonflies, or at the very least takes their lunch money and leaves them crying on the playground.
Conclusions:
With more and more people going to phones as their primary listening device, the dongle has become the hottest thing in portable audio with every maker trying to produce an offering that distinguishes itself from a now very crowded field of competitors. The Sparrow offers a very small package with interchangeable cables which I like as it means no need for an adapter like the dragonfly or others require. To me, requiring an adapter kind of kills the notion behind a dongle of effortless portability. The problem generally associated with tiny packages is they limit how much functionality one can reasonably expect. The Sparrow chooses to omit any form of volume controls and rely on the source device instead and concentrates its efforts on packing a flagship dac in the mix. I think we will probably see a flurry of ES9281Pro based dongles in the near future as ESS designed this chipset specifically for the portable market, but I have to think that some of the magic in the balanced output of the Sparrow is home grown and due to Earmen's careful matching of other components inside the tiny device. With 32/384 PCM, DSD128, and MQA support all native, most wont have any problems with unsupported formats. With Roon Support, Tidal Masters, and Qubuz support, streaming options are well covered. (For the record spotify and Amazon music worked fine too). And to top it all off, the balanced output had enough potency to run even my HD800 well. At $199, the Sparrow may eat a lot more than Dragonflies. Like the TR-amp before it, I think Earmen got nearly everything right except the price point which could have easily been $100 higher. Let's don't tell their Accounting department and hope that trend continues shall we?

Packaging - 7/10

Accessories - 6.5/10

Build Quality - 8/10

Sound Quality - 8/10 (assuming balanced in use)

Output Power - 7.5/10 (assuming balanced in use)
A Tiny DAC With A Big Sound
Pros
:
Punchy and lively sound
Rhythmic and nimble presentation
Phenomenal soundstage and micro-details over Balanced out
Cons
:
Older Windows than W10 not supported
Sparrow is a portable DAC brought by EarMen – a quite fresh brand on the market, but I have to say they entered it with aplomb. While writing this article, one of the brand's first products
TR-Amp
is sitting on my desk and juicing my headphones. It really says something about the product when you don't want to stop using it after the review is done.
But today, it's about finding out if EarMen can repeat its success with a truly portable and tiny device. Let's dig in.
Build and Package
A lot of devices call themselves portable nowadays, but sticking a battery into something doesn't really make it all that portable, does it? Well maybe to some degree, carrying mentioned TR-Amp or Chord Mojo with my laptop is quite OK, but carrying those slabs in my pockets is a completely different story – neither my pockets nor patience is that stretchy.
On the other hand, I find the Audioquest DragonFly family to be proper portable devices. EarMen Sparrow is even a bit more compact than that. It's tiny and lightweight but the use of quality materials means it doesn't feel cheap. On the contrary, it looks very slick and feels like a well-built product.
The Package is very simple, there's the DAC itself and two USB cables. The USB-C one to connect it to your smartphone, and the USB-A one that's standard on all our PCs. If you're an Apple user, you'll have to buy additional cable, or maybe nicely ask your favorite brand to start following industry standards for once.
Features and Connectivity
EarMen Sparrow is based around Sabre's ES9281PRO D/A converter that offers wide format support, including the increasingly more popular MQA decoding. Aside from that, it'll take PCM and DXD up to 384 kHz, as well as DSD up to 128 DoP.
Being this small means there's usually not much to talk about in this section, but Sparrow packs one important surprise. There's one input in form of USB-C, but there are two outputs to choose from. One is your normal single-ended 3.5 mm stereo jack that offers up to 2.0 Vrms, while the other one is a balanced 2.5 mm output that'll go up to 4.0 Vrms in 600 Ohms. This second one makes all the difference when talking about this unit, but more about it in a sound quality section.
Sparrow doesn't have any controls, it's powered automatically when connected while the volume is controlled via the player. It lights with four different colors signifying different states of operation, but I'll not go into the details here – it's in the user manual anyway.
Sound (Single-ended Out)
Firstly, I connected a great in-ear model
Kinera Freya
to the 3.5 mm socket and started browsing through my favorite songs. Sparrow treated me with a full-bodied and punchy sound. Its overall character was very neutral and no emphasis on any region could be detected. Bass depth and control were great, while the soundstage was adequate.
Moving to my bigger
Hifimans
I realized there's enough power in the small Sparrow to drive them in a satisfying manner. Control over the baseline was good, vocals sounded full and present, and dynamics left nothing to complain about. If there's one area I wished a bit more, it was the highest register. Even though Sparrow is capable of crisp detailing, I felt some air from the acoustic and live recordings missing. But overall, I was very happy with the presentation that proved to be better controlled, cleaner, and more dynamic than
DragonFly Black
. Unfortunately, I didn't have DF Red on hand for a direct comparison, which would make more sense since they're priced equally. Going solely by my memory, and using Black as an intermediate device I've heard next to both, I'll go on a limb here and say that Sparrow wouldn't have much problem taking on Red either.
Sound (Balanced Out)
I switched my cable then and moved to a balanced output. Oh my, that was an experience you don't have every day. The soundstage opened with greater transparency being evident all over the frequency range. Bassline gained more grip and texture, transients became crisper and notes richer with micro-details. You remember how I said that air is lacking up top with SE output, well forget about that complaint cause it's gone. The highest register just lit every recording with a fresh amount of air and allowed instruments to breathe.
Listening to the
Every Morning by Keb' Mo'
I immediately noticed how much wider and spacious the soundstage has gotten. Guitar strings plucked with more zest and intent making me nod my head along with this slow but soulful tune. Moving to a faster
Madness by Muse
confirmed the superior grip over bass notes, composure, and layering of balanced output. Keeping the rhythm and fast pace was made to look like an easy task by this small unit.
At this moment, I felt Sparrow is leaving both Red and Black Dragonflies in the mirror. In some areas, such as sheer transparency and pacing, it is even surpassing its older brother TR-Amp. Commendable achievement.
Conclusion
EarMen Sparrow is a truly portable device you can carry around in your pocket. Knowing this, we usually apply a lower set of standards the device has to measure up to. Over the single-ended output, Sparrow fulfills these with flying colors, matching and even surpassing the aging competition. Switch to its balanced output, however, and it surpasses the expected in the most spectacular way. While you still can't expect physics to suddenly bend and this tiny unit to pour incredible amounts of power, the sheer sound quality to size ratio is just astonishing.
....
UPDATE: Some users reported hearing random clicking noise for a minute when Sparrow is connected to the phone. I had a similar experience with one of my players (HiBy Music) but couldn't replicate it with the Tidal app and another phone (with its default player) so I assumed it was a HiBy player-specific issue. It seems however than this might be an issue with a wider selection of phones/players. Thanks to all who brought it to attention, I've already notified the manufacturer and will keep you updated if there's any new info about it.

UPDATE 2: EarMen has released a firmware update that solved the clicking issue. Both firmware and tool needed to flash it onto your device are available for download on the official page: https://earmen-shop.com/products/sparrow
...
My video review:
Last edited: