Earbuds Anonymous EA Buds Review!
Pros
:
- Almost neutral sound signature without any signs of lacking bass and treble.
- Already sounds good without the need of foams (subjective)
- Forward, airy mids.
- Fast, detailed lows.
- Very good technicalities.
- Excellent fit and comfort.
- Easy to be driven to its full potential.
- An actually well-built case.
- A unique shell that can be a different flavor from the usual MX500 and PK shells.
Cons
:
- Instances of upper mids peak on very sibilant tracks and higher than usual volumes.
- A cable winder would be a good treat for everyone (my nitpick)
Earbuds Anonymous "EA" Buds Review!
Good day! After 4 days of casual and critical listening, here's my written review for the Earbuds Anonymous EA Buds. Almost perfectly balanced, as all things should be!
​
=============================================================================================================
Disclaimer:
I purchased this unit second-hand from the marketplace. Rest assured that the following observations and findings will be away from bias/es as much as possible.
The following remarks and observations shall be made and owned only by me.
No monetary compensation is/was involved before, during, and after the period of creation of this review.
-our mileage may (and always, will) vary.
Burn-in time: 5-10 hours per day, 4 days.

Source/s used:
Hidizs AP80
Not-By-VE Avani Realtek Dongle
Zishan U1 USB DAC (AKM Variant)
Samsung Galaxy ON7
Non-HiFi smartphone (realme 5i)
Local Files via Foobar and Roon, YouTube Music, Deezer, and Qobuz with UAPP.
Earbud configuration:
EA Buds with and without thin VE Foams, 40-60% volume, tested in low and high gain, with Lepy LP-A1 amplifier and without.
=============================================================================================================
Sound signature:
Neutral leaning borderline bright, for the most part. It can sound midcentric-bright on some sources, particularly when paired with a bright source. Punchy, controlled lows, clear, forward upper mids, well-extended highs. Very good technicalities. Earbud foam density will greatly affect its sound.
Lows:
Lows are nearly linear and controlled but managed to keep things not boring or dry. Midbass is dominant compared to its sub-bass, but the sub-bass still exhibits good rumble for an earbud. Decay leans to a moderate to faster side in terms of speed. Bassheads will find its lows lacking due to its almost linear nature but will be sufficient for most tracks.
Mids:
The mids are clear with very good presence. Lower mids lean to a more neutral side with a tinge of warmth to keep the male vocals and instruments accurately thick. Upper mids are forward, airy with above-average clarity. Instances of tolerable peaks are present but only on very sibilant tracks, especially on higher than usual volumes. These peaks can be lessened with the help of earbud foams. However, this earbud is a bit more sensitive than usual when it comes to earbud foams as its mids presence varies on the density of the foams. I recommend using donut foams or thin earbud foams as these foams balance the presence of the lower mids and lessen the peaks on the upper mids. Using thick or higher density foams will result in a warm sound.
Highs:
The treble is nearly bright and well-extended without exhibiting any pierce or harshness throughout the testing period. Cymbals and higher notes will sound alive and clean. Detail retrieval is above average for a mass-produced earbud as I hear nuances more clearly.
Soundstage, Imaging, and separation:​
The soundstage is wide with an average level of expansion. It is also wider than deeper but still has a good level of height when compared to an IEM in the same price range. I can even say that the EA buds is almost immersive in terms of experience. Separation is also very good with some instances of slight congestion on very busy tracks such as Let Me Hear by Fear, and Loathing in Las Vegas and Asphyxia by Cö Shu Nie. Imaging is very good for most tracks as it kept the vocal and instrument position accurate.
=============================================================================================================
Pros:
Almost neutral sound signature without any signs of lacking bass and treble.

Already sounds good without the need of foams (subjective)

Forward, airy mids.

Fast, detailed lows.

Very good technicalities.

Excellent fit and comfort.

Easy to be driven to its full potential.

An actually well-built case.

A unique shell that can be a different flavor from the usual MX500 and PK shells.
Cons:
Instances of upper mids peak on very sibilant tracks and higher than usual volumes.

A cable winder would be a good treat for everyone (my nitpick)
Verdict
It has been three years since the EA Buds, a collaboration between the Earbuds Anonymous Facebook Group and the Penon Audio, has been initially released. I am happy to report that the EA Buds still holds up to this day and is still a very good option when looking for an all-rounder, comfortable, mass-produced earbuds. With proper pairing, particularly with a warm source to tone down that upper mids peak, whether it be pop, rock, acoustic, or live performance, the EA buds managed to sound good while balancing both tonality and technicality for its asking price. This earbud can still be purchased via Aliexpress of Penon's website, but I am not sure if the secret discount code for this earbud is still valid today.​
Thank you for reading!

Non-affiliated link: https://penonaudio.com/earbuds-anonymous.html

Additional Photos:


Sound For All Publics
Pros
:
Great V-shaped profile, refined and balanced.
- Sparkling, delicate and delicious treble.
- Remarkable sense of detail and nuance, even in the mid-range.
- Ample bass.
- Very good stage and level of separation.
- All-round tuning.
- Excellent ergonomics.
- Remarkable carrying case.
- Outstanding price/performance ratio.
Cons
:
Slightly coloured bass.
- Subtle sub-bass end.
- Despite the good level of the mids, the slight V-profile makes this range less descriptive, with less texture and physicality.
Introduction
Earbuds Anonymous are earbuds created by the Facebook group of the same name. Earbuds Anonymous Facebook Group was founded on 1 December 2016 by Justin Miner, a well-known earbud lover. The group currently has over 13,000 members. These earbuds are the official earbuds of the group and were released at the end of 2019. In Justin Miner's own words: The tuning and design were carefully selected to represent the overall love of earbuds. The signature sound is a handcrafted blend of detail and fun. The construction is unique and classy. This headphone represents all that is great about our community. Like our diverse members around the world, this headphone is capable of handling a plethora of genres. It has also been manufactured to be used with a wide range of HiFi and LoFi devices to provide high quality playback. For those looking for their first earbud or number 100, this earbud is sure to please your ears and your spirit.
To purchase these earbuds at a favourable price you just have to prove you belong to the group and buy them in the Penon Audio shop.
I must confess that a some time ago I asked Justin himself how to purchase these earbuds. I told him then that I would buy them. I think it's been a year or so since then, but I finally got them and I think I owed him a review for a job well done. These Earbuds Anonymous are not just any earbuds, I fully subscribe to Justin's words regarding their profile and construction. I really think they are unique earbuds, with simple but distinctive packaging. It's clear that they are a great representative of the philosophy of the group and their creator. We'll talk about their worth in the next review.
Specifications
Type of Drivers: 15.4mm dynamic
Driver magnet: NdFeB n45
Diaphragm material: PET
Frequency Response: 20Hz-20kHz
Sensitivity: 101 dB/1kHz
Impedance: 32 Ω
Jack connector: 3.5mm SE silver plated
Cable material: 4N silver-plated copper.
Packaging
The Earbuds Anonymous come in a small pure cardboard box, which has been painted black. It's true that the entire surface is satin-finished and takes it a bit away from a more vulgar cardboard. But cardboard is the best packaging and one of the best protections for any product, so I don't find any derogatory reason for this material. The dimensions of the box are 95x75x47mm. On the front side is the photo of the Facebook group. On the back side are the specifications and the logos of the regulations it complies with, as well as the "made in China". Inside the box is a black zippered case, specially designed for earbuds, which does not open sideways, but is "hinged" on the short side. The case is more oval than usual and this allows to hold both the earbuds and a small collection of spare foams. On the top side of the case you can see what might be the group's logo. Inside the case there are two transparent zip bags, one holds the earbuds and the other the foams. There are 4 full foams and 4 donut foams. That's all. Actually, just enough to enjoy the earbuds. To highlight the zippered case, the simplicity of the box and the fact that there are both full foams and donuts, something that a good earbuds lover always has to have as a spare.
Construction and Design
I have to confess that I was pleasantly surprised by the design of the EA. Firstly, because I expected them to use the classic MX500 capsule, and secondly, because of the level of ergonomics they have. Suffice to say that they are made of hard, black plastic, a common material, but the grille is metallic and micro-perforated. The diameter of the capsules is 17mm and the complete length, including spigot and capsule, is 38mm. And, coming back to the shape, it is a capsule with a good ratio between width and flatness. The cone is not very large and the relatively narrow profile elevates the fit. The spigot is quite long and narrow. At its junction with the capsule it is thinner, while at its centre it thickens slightly, but without losing its slim shape. Yes, it is a design that mixes simplicity with a classic, but quite unique design. I don't know if this shape is completely original, but I agree with its creator that its design is unique and classy.
In the head of the capsule, at the back, there are 6 holes. The two pairs at the ends are joined together, forming a horizontal 8, while the two pairs in the middle are separated, although superficially they also form a horizontal 8.
At the bottom of the spike is the lettering indicating the channel, in silver ink. A little higher up is the model logo: EA letters in italics.
The cable is made of 4 strands, wound together, coated with black insulation. Inside, silver-plated copper is used.
Internally, the dynamic driver used is 15.4mm, driven by an NdFeB n45 magnet, while the diaphragm is made of PET.
It has an impedance of 32Ω and although it is not difficult to move, it is happy when connected to a source with some power.
Overall the construction is simply good, but the design is excellent.
Adjustment and Ergonomics
I keep remarking that the shape and design of the Earbuds Anonymous feels winning when one fits the earbuds. First, the weight is ultra-light and the design couldn't be more appropriate. The fit is immediate, no repositioning is required. The capsule has a large diameter on the large side of the earbuds, but the relatively flat shape at the edges, coupled with a cone that is not very tall, in conjunction with a narrow, elongated earpiece, makes for a package that is both appropriate and ergonomic. The AE's are the epitome of a simple, yet highly specialised design, concealing small, well thought-out details, the result of which is excellent ergonomics. That's all I can say.
Sound
Profile
I think the profile of the Earbuds Anonymous is a light v, the bass has a good, but not predominant, presence. It is not an eminently warm profile, nor is it cold, although it does veer towards the organic and natural side of the sound. The treble is presented with a good initial sparkle, capable of remarkable detail, without being brilliant earbuds. The balance of the V is presented in the mids, without their presence and closeness being high, they enjoy a good representation, possessing remarkable clarity and balance. It is true that the male voices are favoured over the female ones, as they have more body and physicality. But, on the whole, these are very all-rounder earbuds, preferably for genres that are not too classical or basically vocal.
For the sound evaluation I used the standard donut foams.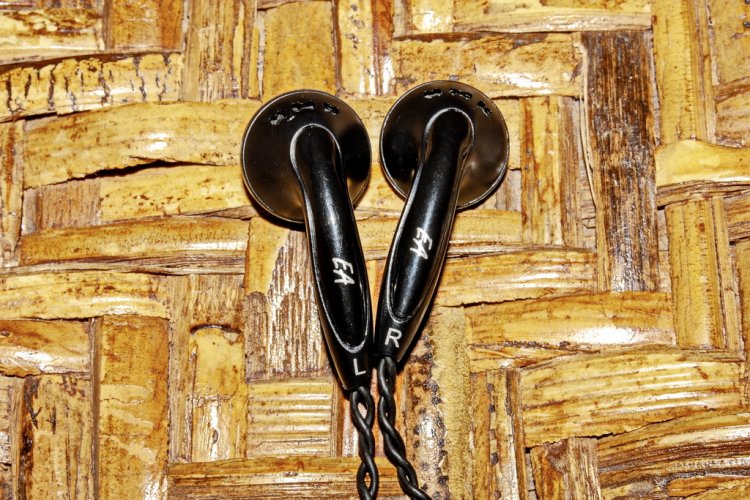 Bass
The bass in earbuds is often a complex point, for one thing everyone knows that the free fit of these headphones works against delivering a high or powerful amount of bass. In reality and in general, I think that the bass in earbuds is quite powerful, partly to compensate for the loss due to the low occlusion setting. In this case, thanks to the excellent ergonomics of the AEs, I perceive the bass in a more complete way, including the sub-bass. It is true that the lower frequencies are lighter and slightly coloured when using pure tones. But in normal musical reproduction, the bass is represented with a good punch, surprisingly fast for its level of power, solidity and physicality. In this way, the low end enjoys a remarkably full-bodied feel, while at the same time feeling free and not muddying the midrange. It has a very good control, it is not massive, nor intrusive. The decay is fast, especially considering its power. It has very good technical characteristics and is able to handle complex unfiltered bass quite well, representing planes with a good distance and distribution between them. And it doesn't suffer in these more extreme conditions either, being able to resolve them competently and without losing musicality or authenticity. I would say that the only slight drawback I observe in the low end of these earbuds is their slight colouration, something that detracts a bit from their realism, naturalness and greater depth. But I'm being very picky in this regard. So the reality is that this is a great range that only accentuates the great all-round character of these earbuds.
Mids
The controlled V-level of the Earbuds Anonymous is noticeable in the voices, more so in the female voices than in the male ones. The good bass presence brings a slight warmth in the first part of the midrange, something that adds body and physicality, especially in men's voices. I have mentioned that the low end is clean and controlled, but that does not detract from the fact that the tuning possesses that faint warmth. Thus, the thickness in this first part is medium, as is its presence and distance. It never feels recessed, but neither is it the protagonist, although the presence ends up being closer than it might seem a priori. The best thing is that the thrust of the upper zone and first treble is very capable of adding a delicate, pleasant and very musical sparkle, ideal for finishing the voices and instruments in a resplendent, very natural and melodious way, with a high level of clarity and transparency. It's sensational to see how the detail and smooth body of the mids are combined with powerful bass all around, without any of it overlapping or clouding the scene. As good earbuds, there is room for everything and the planes are distributed frontally in a natural and unobtrusive way, allowing for a wide and spacious laterality. This is how the instrumentation manages to be distributed in the music, but without being completely protagonist, nor predominant.
It is true that, when the tracks are vocal, its predominance is more exuberant, it is easier to discover more details and nuances, although its surface is still soft and with a smoother texture, despite the level of sparkle and brightness it possesses, something that sweetens its representation, multiplying the sensation of musicality, without losing the aforementioned delicacy. In this way, the AEs continue to demonstrate their all-round power, exhibiting a central range of far greater value than a simple complement to a V-tuning.
Treble
Normally, the treble extension in earbuds can also feel compromised. And the idea is to know how to combine the treble at the strongest points, but in the best possible way. That's exactly what the Earbuds Anonymous do in their high end. Without having a very wide area, the first half of the treble has a highly effective and, why not say it, beautiful level of recreation. The treble is delicate, like slight sparks, fine, but eloquent, representative and softly crisp. This is a distinguished, masterfully executed touch of tuning, here we are not going to find a clearly brilliant sound, nor a sharp one. But the sound will never be nuanced or muted, because the exquisite sparkle and defined brilliance will prevent it from being so. This is how I perceive the treble, with its own representation of a remarkable value, but with an outstanding action for the rest of the sound. This is how the AEs gain in clarity, transparency, level of resolution and definition. A real highlight with a good dose of air, which increases the overall value of earbuds that are much more complex and musical than they may seem at first glance.
Soundstage, Separation
Undoubtedly another strength of the Earbuds Anonymous, albeit on the realistic and natural side of the spatial representation of sound. The scene is wide, eminently frontal, yet with a special laterality and height, but without feeling detached or out of the head. The image is rational and well-spaced, with incipient but perceptible three-dimensional recreation, without becoming ethereal.
The bass is solid, with a good degree of depth, the mids cover a lot of space, without reaching the foreground, but without getting lost in the mix. The treble provides detail, definition and an almost excellent level of resolution. The extraction of micro nuances in the midrange is truly eloquent and surprising. Moreover, it scales with good sources, even conjugates in a special way with cold and analytical sources, enhancing that sparkling level of detailed treble, but without losing musicality and delicacy.
The exposure of each band has its own space on all three axes and the sound is effectively distributed, with a remarkable level of separation and a good sense of air, clarity and transparency. It is very important to note that there is no congestion and that this is one of the clearest and most well separated earbuds I have to my credit, a virtue I usually emphasise, especially when the price is relatively low.
Comparisons
NiceHCK EB2S
A recent model in a similar price range is the NiceHCK EB2S. With a large, eye-catching metallic design in a pleasing green and gold colour, plus a transparent cable that allows you to see the colour of the copper, they are the perfect touch piece to compare with the Earbuds Anonymous. The EA's are more humble in their plastic construction, but both the capsule and design are of high quality. Despite the remarkable ergonomics of the EB2S, I prefer the fit of the Earbuds Anonymous. Both weigh very little, but the EA's are lighter.
In terms of sound, the EB2S are more mid-centric, with a better balance and balance between bass and mids. The Anonymous Earbuds are more V-shaped and the low end has more presence, power, energy and texture. The same bass in both earbuds sounds different. The EB2S have a slightly more coloured sound, but are faster and drier. The EA's are deeper, with a bit more decay, a characteristic that favours a greater point of fun and a richer texture. Overall, the bass is wider, expanding to take up more space, as if the capsule were larger, although both drivers are the same diameter. The bass of the EB2S is more concentrated. This aspect is detrimental to the treble. In the EBS2s, such details and high-frequency sparkle seem to remain behind the bass. Whereas in the EA's the sparkle is much more easily detected, occupying a different space, not on a different plane of depth, but in a place of its own to be detected and enjoyed with better and greater clarity. Treble representation suffers more in EB2S, although they can reach, on their own, a similar level of presence, their recreation is less delicate and precise, even shaky. In the AEs, however, they are reproduced in a delightful, natural and very pleasant way.
The mid-range of the EB2S would be the best point in its favour. The better balance between bass and midrange, with a fuller and more balanced representation of the midrange, beats the more V-shaped profile of the AEs. I still feel that the extraction of detail and micro nuances is superior in the Anonymous Earbuds, something that gives a higher quality in the recreation of this range, but there is a better texture, body and physicality, which adds a higher descriptive level in the NiceHCKs.
The level of resolution in the Earbuds Anonymous is superior, something that can be seen in the amount of detail and its ability to enrich the nuances. The EB2S are more concrete, perhaps more accurate in some respects, but not as resolving. This level of concreteness limits the recreation of the scene and its sense of separation. Proximity to the listener is greatest in the bass and midrange, only receding in the treble. This makes it difficult to recreate a wider, deeper, three-dimensional or ethereal scene. Whereas the Earbuds Anonymous enjoy a more distinct separation and amount of air. Their soundstage is wider, starting from the bass, which is larger and deeper, the sounds feel more distant from each other, somewhat further away from the corseted precision of the NiceHCKs. In this way, the three-dimensional feel is more perceptive, resulting in a more fluid, even more vaporous sound. In short, the AEs are distinctly wider, more enveloping, deeper, with more headroom and air.
Conclusion
Reviewing the Earbuds Anonymous you might get the impression that this type of headphones hasn't evolved much. I don't think that's true, the dynamic drivers keep getting better and better, as do the magnets and the material used for the diaphragm. Perhaps it would be more accurate to say that the EA is a great product, capable of rivalling and surpassing current models. Starting from a classic and refined shape, ergonomically very advantageous, the EA's have a slight V-profile that is highly compatible with a wide range of musical genres. Their bass base is juicy and broad, the mids are better than one would expect from this profile and the highs are delicately delicious. The icing on the cake is the earbuds' particular ability to generate a very wide, spaced, separated, three-dimensional and slightly vaporous soundstage, but without losing realism or naturalness. Actually, I couldn't write anything better than Justin Miner's own words: the Earbuds Anonymous represent the general love for this type of headphone. And that's completely true point for point. Nothing more to add.
Sources Used During the Analysis
S.M.S.L Sanskrit 10th MKII + iFi ZEN CAN.
Hidizs AP80 PRO-X.
HiBy R3 Pro.
Earmen Colibri.
Earmen Sparrow.
xDuoo Link2 BAL.
Tempotec V1-A + Hidizs DH80S.
Tempotec Sonata HD V
ACMEE MF02s.
Ratings
Construction and Design: 85
Adjustment/Ergonomics: 92
Accessories: 75
Bass: 86
Mids: 83
Treble: 90
Separation: 90
Soundstage: 88
Quality/Price: 96
Purchase Link
You can read the full review in Spanish here
Last edited: