CVJ CSK – A NEW PATH OF CVJ
Pros
:
Groovy and Meaty Low End
Excellent Fit
Cons
:
Texture, Resolution and Separation
Cable
Drastic V shaped which needs more refinement.
INTRODUCTION:
CVJ, an underdog brand from the Chi-Fi's audio industry, is doing a pretty great job by releasing some spectacular products like the Mirror, CS8, CSN and the Angel Wings. Their products always have that in house sound signature which is pretty balanced and mid centric and liked by a lot of people. The CSK is focused towards another set of people who love the Low end and live for the low end. In this review let's see how CSK performs against its competitors.
DISCLAIMER:
The CSK is provided to me by Janet Hu from the CVJ team and I'm very thankful to the team for sending me this unit for review purposes. This review is completely based on my experience with this unit hence i have not been influenced by the brand to manipulate this review. The opinion might differ from person to person and it depends on the music taste and the source used to test out the gear.
SPECIFICATIONS:
Sensitivity: 108dB
Impedance: 22Ω
Frequency response: 10-40KHz
Cable Length: 1.25m±5
Plug Type: 3.5mm plug
Connector: 2PIN 0.75MM
Color: black/Purple
Driver: 8mm 1DD+1BA(30095)
PACKAGING:
The packaging is pretty minimal and small in size. Inside the box you get the earpiece, cable, eartips and the carry pouch. All the included accessories are nice for the price you pay and nothing to complain about in terms of packaging.
DESIGN AND FIT:
The design of the earpieces are custom shell shaped hence the fit is one of the best i have to say. The seal is pretty nice and the included tips are pretty good. The 2 pin connector area is nicely recessed and the faceplate is pretty minimal and simple. Two colour options are available ( all black and bicolour ) and in my opinion the multicolour looked nice in real life.
The nozzle is of medium length and has the lip in the nozzle for holding the tips but the issue here is that the lip is pretty big and frequently changing the tips is one tough job.
The cable is pretty average and if you need a premium feels better get some aftermarket cable but sonically it the stock one does the job. The stock one gets tangled frequently but hey the cost of the earphone is pretty cheap and changing the cable just defies the cost of the earphone itself!
SOUND:
The overall sound signature of the CSK is a typical chifi V shaped. The low end is boosted very noticeable and the midrange is recessed, the highs are boosted as per the terms of V shaped. This is actually a new path for the CVJ since most of their products don't follow this kind of signature since they lean towards the neutral to balanced sound for the most part.
Yes of course I found the CVJ products lacking in the low end department and now in the CSK this is completely the opposite! The low end here is just huge and has a big rumble. In this review let's dive into the full review of the sound.
Source: iPhone + Zorloo Ztella + iFi Zen Can
LOW END:
The low end is pretty huge and weighty providing a nice thump and energetic feeling overall. The sub bass extension is pretty deep and even the subtlest rumble can be heard very nicely. The mid bass is pretty good with fuller sound thus makes the midrange warmer and fuller too.
SUB BASS: This just digs deeper and creates enough rumble in the tracks. They even appear even though the track doesn't call for it. Especially in the tracks like the "WHAT ARE YOU GOING TO DO WHEN YOU ARE NOT SAVING THE WORLD" – Hans Zimmer the rumble is actually very silent in the track but the CSK amplified them to give that nice little extra rumble sensation. Sub bass is pretty good in this set.
MID BASS: The mid bass is pretty fuller and warmer. The quantity of the bass is huge thus giving the overall track the fuller experience. In fact the mid bass feels slightly excessive in the faster tracks especially since this interfered with the technicalities of it. The mid bass here is boom and weighty rather than a defined or resolved mid bass. They are okay for a pop track but when it comes to something like metal genres they struggle a lot to give that separation.
TECHNICALITIES: The bass here is punchy, big and weightier but this definitely lacks the resolution and separation hence the faster tracks appear very muddy. The bass is overall slow here and would have appreciated a little faster bass. The texture is average but the control is fine overall. The bass is pretty enjoyable but needs some refinement in the separation and resolution department and slight improvements in the texture.
Tracks Used:
Why Do We Fall – Hans Zimmer
Even Heaven – Aimer
Sirens Of The Sea – OceanLab
Royals – Lorde
MIDRANGE:
As usual that you expect from the V shaped sound signature, the midrange is drowned in between the low end and the highs. The vocals in the CSK are lean and slightly sibilant especially the female vocals. Even in the male vocals when the "S" words appear they sound slightly sibilant to me and also a little bit grainier. The background instruments are fine for a V shaped profile but still they can be brought forward for the engaging experience.
The tonality is warmer and the timbre has no issues here which is pretty surprising since most of the budget chi-fi hybrids miss out on this. The kick drums have a nice impact overall and the piano notes sound very natural with the hint of warmth due to that mid bass presence.
The mid bass gave nice body and warmth to the midrange thus giving that fuller experience while listening. The background instruments do get lost when the track gets busier and sounds very muffled but that's the cost of a V shaped profile. As an overall sound the midrange is fine for this kind of profile and executed well. This might not be the midrange oriented set but still they deliver some good midrange performance.
The upper mid emphasis is seen here hence that slight sibilance when the percussion instruments strike and the decays of those instruments are slightly longer too which leads to that slight sibilance.
Tracks Used:
The Blowers Daughter - Damien Rice
Perfect - Ed Sheeran
Dire Straits - Sultans Of Swings
TREBLE:
The treble in the CSK is expected, since it's v shaped the treble is boosted a bit but thankfully they are not that peaky and can be used for longer listening too. The problem here is the separation and detail retrieval. When the track becomes busier the csk struggles in the treble region. They tend to be very bright in this region. The timbre is great for most parts but the percussion instruments timbre is slightly off hence the electric guitars and the jazz tracks sound slightly metallic in taste.
The cymbal crash decay is pretty long hence the crash sounds very splashy and spicy. The high hat is kind of sibilant thus making the classical listening very difficult for a longer listening period. The trumpets sound overall natural but still the metallic timbre is felt in certain instruments, but for the price there is nothing to complain about in this part. The CVJ tried to be different and this is their first product in this sound profile hence improvements are expected in their next iteration.
The high end is moderately airier but the separation suffers when the track becomes faster. Especially if you listen to a lot of electronic music which are quite fast paced this might not excite you but this is very good for pop and slow tracks.
Even though the treble has some complaints for the most part they are quite fatigue free to listen. Overall considering the profile of sound the treble is fine for the most part.
Tracks Used:
Move your Body - Sia
Something Happened On The Way To Heaven - Phil Collins
The First Time - Treble Chargers
TECHNICALITIES:
Soundstage: The soundstage here is pretty intimate and everything appears in your head. All the instruments revolve in your head and lack spaciousness. The width is pretty small but the depth is above average since the bass is on the heavier side. Overall the soundstage is pretty average for the price you pay
Imaging: The imaging is not 3 dimensional instead it has the 3 point positioning. Since the bass is very boomy the precise identification of the instruments are not possible here. The transitions of the instruments are pretty average and it's not the smoothest in this price range.
The detail retrieval is not the strongest aspect of this earphone where this is tuned to appeal to a given set of people who love the bass and its thump. The detail is very average and if not they are not the best in terms of it. The resolution and the separation are pretty mediocre too since this has no presence of air in the top end thus making the whole listening experience very intimate and closed.
VERDICT:
The CSK, latest offering from the CVJ is a new approach for the brand and did they do it right? Well it depends. The low end here is pretty meaty and weighty but lacks the definition, resolution and the texture. The midrange here is fine for the instruments but the vocals still sound thin and slightly sibilant. The treble is pretty good for the most part but still needs refinement in the separation and detail retrieval. Technicalities are good for the price and overall since this is a new approach for the brand, it's a pretty welcoming package, you get a nice and neat packaging with one of the best fitting earpieces. The cable needs to be improved but as an overall package they still deliver some value in this V shaped category.
If you love the low end and you love only the low end, especially for casual listening (bassy tracks) while travelling then this can be in your bucket list for your next purchase. The CSK creates a new pathway for the CVJ brand and this might open a way for the next iteration of v shaped products with much more refinement.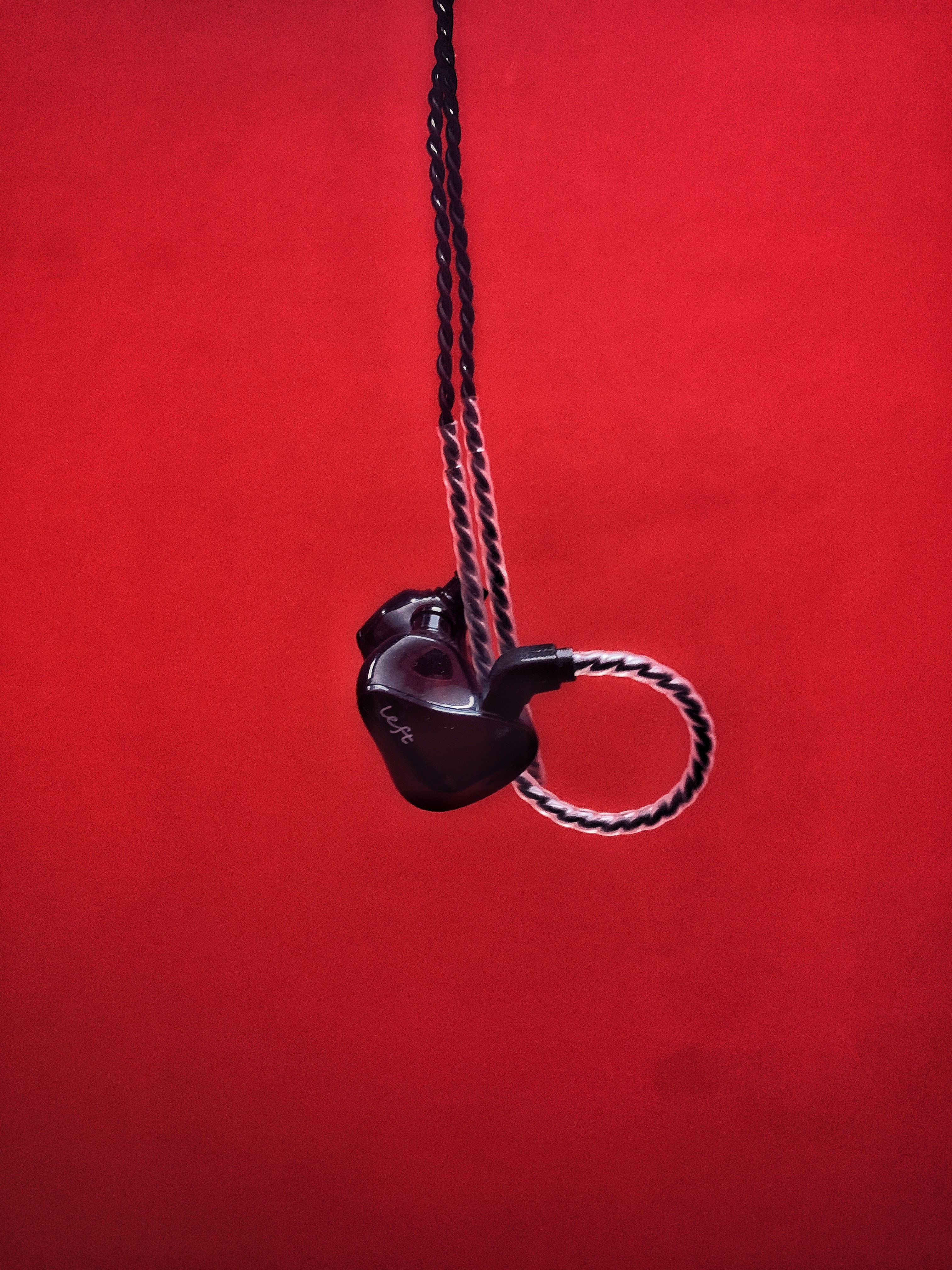 CVJ CSK: Comfortable Sound Yet Lacking
Pros
:
- Cheap and Affordable.

- Decent built quality on its shell.

- Includes an improved stock cable which is more thicker than previous ones.

- Overall smooth and relaxed sounding for long listening session.

- That natural timbre quality the you are looking for in a budget segment is what CVJ CSK delivers.
Cons
:
- Definitely not for bassheads.

- Occasional midbass bleeds on mids.

- Too basic accessories and freebies included in a box ( Subjective)
What's up again mates, I'm doing another product review from CVJ. As you read my blog or in my posting in Head-fi, I'm doing a lot of reviews of CVJ products and this is their 5th product. CVJ is now releasing their newest entry-level set in under $20/£14.
I'm introducing to you their latest entry- level IEM, The CVJ CSK. The CVJ CSK has a hybrid set-up consist of one custom Balanced armature and one 10mm Dynamic Driver. It has an aesthetically attractive polycarbonate shell in both base and faceplate that reminds me a mecha theme (probably from Evangelion, especially the choice of colour that I've got). This set will around $13/£10 and will be available online stores.
The fitting of this IEM in my lug holes are quite comfortable and didn't encounter any discomfort at all. The base of its shell has a fin thats sitting comfortably in the concha to provide even more stability.
Its packaging box is identical to other CVJ products and its contents are consist of IEMs, a new OCC Black stock cable, a velcro cable winder for organizing, a velvety brown pouch and some paperworks like basic instructions and warranty card.
CVJ CSK is an easy to drive IEM as it is scales well in decent sources like smartphones, tablets and laptop as they have a low impedance and decent sensitivity rating.
The tuning of this set is a V-shape one as it has an boosted bass, recessed mids and elevated highs.
I will explain the sound characteristic on each part of audio frequency range spectrum.
LOWS/BASS:
The bass quality of this set is impactful, has a good reach of depth and in a boomy side. It has decent amount of sub bass as I feel the rumble on its endpoint, Midbass has an acceptable note texture but my minor gripe on this one that it sounds woolly in most bassy tracks that I listen to as it has a tendency to bleed on the mids. The bass kicks is a little bit soft and and the sound of bass guitar has less growl and hollow.
MIDS:
The mids are more laid back on the frequency spectrum yet retain its warmth and crisp. Vocals on both gender has an acceptable texture and clarity as each timbre sounds natural, same with Percussive, rhythm and wind instruments also deliver the organic tone of each respective instrument.
HIGHS/TREBLE:
This is where I really impress its part of the tuning of CVJ CSK, the soothing and pleasant sounding of a treble, I didn't perceive that tinny sounding metallic timbre that most of budget range IEMs suffers. The uppermids is somehow smoothen a little bit just gave an ample energy and definition of on overall sound. It has sufficient amount of airiness range. the sound of hi hats are crispy and the crashing of cymbals are glistening and sizzling features.
SOUNDSTAGE AND IMAGING:
The dimensional size of soundstage is more on above average with decent depth and some emphasis on height. The layering and separation of each instrument has adequate sense of spacing. Perceiving on each placement of instruments and the singer is commendable as you locate them acceptable on point .
As I conclude my review, this particular set is somehow still impressive as how it separate and distinct themselves over their contemporary competitors for they are showing some potential on their tuning despite of their shortcomings.CVJ prove themselves that they have a capability to deliver a decent tuned product at decent price.
SPECIFICATION:
MODEL: CVJ CSK
IMPEDANCE: 22Ω
SENSITIVITY: 108dB
FREQUENCY RESPONSE: 10H-40KHz
CABLE LENGTH: 1.25M
PIN TYPE: 0.75MM 2-PIN CONNECTOR
PLUG TYPE: 3.5mm /2.5mm/4.4mm
DRIVER UNITS: Single 8mm Dynamic Driver and 1 Balanced Armature.
Some Tracks Tested: ( * = 16-bit FLAC, ** = 24-bit FLAC, *'* = MQA, '*' = DSD, *'= .WAV)
Marianna Leporace- If ( Bread cover) *
Debbie Gibson- Foolish Beat *'*
Led Zeppelin - When The Levee Breaks *'*
Santana - Europa *
Europe - Final Countdown *
Guns N' Roses - Patience *'*
Eric Clapton - Tears in Heaven '*'
Barry White - Never, Never Ever Give You Up
Pearl Jam - Daughter **
Roselia - Hidamari Rhodonite *
Agent Steel - Bleed for the Godz*
Metallica- Fade to Black **
Camouflage - The Great Commandment *
Queen - Killer Queen **
Michael Jackson - Billie Jean *
Bad Manners - Just a Feeling *
Riot- Warrior *
Mariah Carey- Love Takes Time *
Layla Kaylif - Shakespeare in Love *
Stone Temple Pilots - Plush *
David Bowie - Heroes **
Prince - When the Doves Cry *
Exodus - Metal Command *
Nelly - Luven Me *
P.S.
I am not affliated to CVJ nor receive monetary incentives and financial gains as they provide me a review unit for an exchange of factual and sincere feedback from yours truly.
Last edited:
CVJ CSK - Not everyone's cup of tea
Pros
:
Thumping bass
Good enough of detail for the price point
Cons
:
Bass bleed
Slow driver speed
CVJ CSK - Not everyone's cup of tea

Intro
CSK is CVJ's latest entry into the budget scene. The budget scene is fairly competitive at the moment with brands like TRN,KZ,CCZ and a few others churning out models after models, can they hold their ground with CSK?
Packaging/Build
The packaging is CVJ styled packaging. Box, silicone eartips and a cloth carrying case with the cable and IEMs. Nothing great to shout out. Built wise, it is plastic and very lightweight. The protruding ear fin does a good job of holding the CSK on my ears without feeling any discomfort. Noise isolation is also good when a good fit and seal is achieved.
Source
CSK is fairly source sensitive in my opinion, tried pairing it with a dongle (CX-31993), it sounded very bright and the highs are just unlistenable to me. I settled with N3 Pro DAP which I find to be well synergized. Smooth out the highs.
Cayin N3 Pro (Tube Mode - Ultra Linear) -> CVJ CSK
*I swapped out the stock cable to NICEHK's Litz Copper Cable and also used BGVP's A07 Tips. As I am unable to enjoy the sound produced from stock cable and eartips.
Sound
Upon first listen, the V shaped tuning is obvious and the vocal is recessed. Bass is dominant and so is the high. The overall tuning for CSK is just odd. Something that I've never heard before. This is not to say that it's bad. Just not my preference.
Bass is dominating and thus it bleeds into the mids. In busy tracks like Slipknot's Duality Live Version, the bass bleed is very obvious, it ruins the song's experience, everything is just muddy and all you hear is just the bass.
Switching to another song, Close to You covered by Susan Wong, the vocal is alright, it sounded recessed as mentioned earlier due to its V shaped tuning. Timbre wise it doesn't sound metallic to my ears.
The top end exhibit a good amount of details and resolution. Just enough to my ears, not class leading for sure, however it's good at this price point.
Soundstage and imaging is average at such a price point. Nothing to shout out. Imaging is alright when the tracks aren't busy. However when you switch it up to some busy tracks, basically you can't tell where the instrument is coming from. Soundstage wise, it's not too boxed in or wide. Just okay.
Final Thoughts
Considering the mods that I need to do to make it sound better. 18 USD NICEHK's Cable and 1 USD's Eartip. Adding all of the cost on top of CSK's selling price at time of writing 12 USD, totalling to 31 USD. In my opinion, you should just get something else such as TRN's ST2 . I can't recommend CSK if you are new to this audiophile journey, but if you have a few spare cables around and eartips to roll with, feel free to pick this odd ball up and give it a try.
Personally I don't like the tuning of CSK, but this doesn't make it a bad earphone. Hope this will give you some insights for those looking to purchase CSK.
Previously known as Wretched Stare
CVJ CSK Odd duck?
Pros
:
Bass is powerful, soundstage is expansive forward only, very relaxed treble, details are good.
Cons
:
Everything is tuned a little weird for my taste, bass bleed, average soundstage width.
We all know by now CVJ includes a TRN style cable and tips a cable tie and pouch in every box. Build quality is average but the shells on these do look nice with the cool angled design. As always the unit will be tested stock , opinions are mine and whether or not I purchase or am sent a review sample I'm going to give my opinion without influence.
I own a lot of CVJ IEMs almost all, I am just missing the Mirror as far as I know. both recent models have been in the lower budget segment and I liked the CSE sound but it was just average and the design was hit or miss to me. I think the CSK is the opposite to me in some extent, I like the look and the blue n purple really look nice to me reminding me of my old KZ ZST pros. The Sound however is hard to pin down, yes its fun but odd to my ears.
I will begin my observances of the CSK.
build, comfort etc.
Build quality is on par with most IEM earphones in this price range, my pair was fine out of the box with glue being stable and everything in working order. I found the design nice looking and it was comfortable too. Accessories are normal for CVJ.
Sound:
Bass is deep and after a period of time regains control and is less loose but still retains that powerful Sub-Bass slam. Bass has details too, its a decent quality Bass in both Sub and Mid but Mid-Bass does bleed into the Midrange giving it warmth and a recession too.
Mids: Are Recessed as one would expect from a strong Vshaped IEM but the are not too bad sounding. Most recordings they had sufficient character and vocals were warm and pleasant enough but I found them lacking for my taste.
Treble: was quite relaxed but sometimes would sparkle then descend at times it was polite and decent.
Soundstage: was Deep and yet not too wide, immersive and imaging was average to hazy at times.
Conclusion: This is not the worst IEM , in fact its kind of a fun listen but that said its tuning is odd and uninteresting. For me Its a too crowded a segment to be a good option as there are KZ , TRN and many others that just sound great and normal in this price range. I'm sure it will have some fans for the nice bass and different tonality but I'm not sold on it, maybe with some mods I will grow to like it.
Burn baby, burn!
Pros
:
Pros
Impressive bass extension
Present mids
Well tuned treble
Overall timbre
Expansive soundstage
Musical enjoyment
Cons
:
Bass can dominate
Some bass bleed
Stage depth flattens in climaxes
Poor cable
Basic accessories
I would like to thank Kimberly from Fedai via Amazon.com for supplying this unit for review.
Product link:
https://www.amazon.com/gp/aw/d/B097ZJBTXC
The CSK is the latest 1DD + 1BA hybrid model from CVJ following on from the recent CSE and the excellent CSA. The dynamic driver is an 8mm dual magnetic design with a titanium coated diaphragm and a field strength of 1 Tesla. The BA is CVJ's custom version of the venerable 30095 balanced armature. The CSK has an impedance of 30 ohms and a sensitivity of 107dB per mW.
Similar to the previous packaging of the CSE, the CSK comes in a small black rectangular box with a sleeve featuring a colour image of the IEMs on the front and the specifications printed on the back. The box has a gold CVJ logo and, inside, the earpieces are presented in a card cutout along with the spare eartips (the medium size being pre-fitted to the IEMs). Below this are stored the accessories.
The contents include:
* CVJ CSK IEMs with medium eartips pre-fitted
* 2 pin black braided 4 core cable
* 2 pairs silicone tips (S, L)
* Faux suede storage pouch
* Documentation
The CSK has a different design of earpiece from previous models. The faceplate is roughly triangular in shape, softly faceted and coloured light purple with the words "Left" and "Right" written in a white script font. The body is in a light blue tinted resin material through which the components are visible. There is a circular vent for the dynamic driver on the rear of the earpiece and another at the base of the nozzle which is made of black metal. The 2 pin sockets are set flush to the surface.
The cable is a 4 core braided type with a 90° black plastic 3.5mm plug and is similar to previous cables from CVJ and TRN. The angled 2 pin connectors are also made from black plastic and there are clear plastic pre-formed ear guides.
The CSK was tested with an Xduoo X20 DAP and at first the pre-fitted tips were used. I found the stock cable limited the quality available and employed a Senlee hybrid cable which revealed more of the true potential of the CSK. A further change of tips to Spiral Dots produced more "air" and improved the staging. A burn in period of 100 hours was allowed to settle down the components. The earpieces were very comfortable and isolation was very good and well above average.
First impressions
Out of the box, the sound was disappointing. The bass was dominant and somewhat loose, and there was a strong bass bleed which coloured the midrange. Also, the mids themselves were recessed and the treble was subdued. However, after a lengthy burn in, these problems largely disappeared. Once settled, the CSK's 8mm bass driver produced a deep and powerful bass which possessed excellent extension with the lowest frequencies reproduced clearly. The mids were warm in tonality due to the influence of the bass but had good timbre and became more forward with time. The treble was quite polite and restrained but was detailed and not harsh or peaky. The soundstage was outstanding, being expansive in all three dimensions with very good imaging, separation and layering. It was hard to believe sound of this quality emanating from such an affordable IEM. Like the recent CCZ Plume, I found the CSK to be very source sensitive and the best results were obtained with a neutral/bright source. I found the Sony NWZ-A15 and Hifi Walker H2 too warm sounding but the Xduoo X20 delivered a perfect balance. I did find myself cranking up the volume on these and felt they benefited from a bit of extra power.
Bass
The bass was deep and powerful but revealed quite a lot of detail and although somewhat elevated, remained musical. Sub bass was very impressive with a healthy dose of rumble available and mid bass possessed plenty of punch and impact. The ability to reproduce ambience and reverberation was notable, especially in cathedral organs which possessed power and majesty in equal measure with the atmosphere of the venue authentically portrayed. Its strong influence was not so noticeable in simpler pieces where the warm and attractive timbre added character and depth, inviting further listening. The transients were very well handled with good impact.
Mids
The mids were suffused by some bass bleed but retained a warm and well balanced profile. The timbre was very authentic and there was plenty of attack and life. The tonality gradually became brighter with frequency but there was no evidence of harshness or sibilance. Male and female vocals were handled equally well and instruments sounded good with bodies of strings nicely separated, brass possessing shimmer and bite and cellos and pianos possessing a believable and natural character, with accurate reproduction of harmonics and overtones .
Treble
The treble tuning was very well done. It was largely gentle in character yet still displayed good levels of resolution and clarity. The lower region was smooth and clear and fairly well detailed but perhaps a little dialled back. However it lacked the expected peaks from the BA placed in the nozzle and was free of harshness. There was no trace of "BA timbre". It rolled off somewhat early which accounted for the polite nature of the presentation, but it recovered in the extreme HF providing some welcome air and sparkle. The tuning of the well known 30095 unit was unusually restrained and was all the better for it.
Soundstage
The CSK's soundstage was surprisingly large and spacious, which was unexpected for an IEM in this price range. Width and height were impressive in extent and depth was good although it did tend to decrease with volume, with more complex pieces experiencing a flattening of perspective. Separation was well above average but did decrease in the same manner as the depth. Layering was of a high standard, as evidenced in the layout of orchestras which were very natural, giving the impression of a seat in the concert hall about half way towards the rear of the hall, and imaging was also well handled, especially at the price, it being easy to discern stereo effects and instrumental positioning.
Comparisons
CCA CSN
CCA's CSN is also a 1DD + 1BA hybrid and features the excellent KZ XUN DD coupled with the familiar 30095 BA. It has a mature, well balanced tuning which makes it suitable for many genres. It is better built than the CSK, having a metal faceplate and a more solid resin body and comes with a better cable. The CSN has a similar overall profile to the CSK but the bass is more controlled and there is no bass bleed. The mids are a little more refined and the treble is more even. It is more expensive than the CSK but if a more neutral profile is preferred it may be suitable. The improved build quality justifies the extra cost. The CSK on the other hand may be considered more exciting and fun and certainly holds its own in comparison.
KBEAR KS2
KBEAR 's KS2 is, like the CSK, a dual hybrid and is built from resin. It features a 10mm dynamic driver with composite diaphragm, partly PU and partly bio-cellulose. The balanced armature is described as a "high end custom unit" and is placed within the nozzle. The KS2 is a classic V-shaped IEM with a appealing dynamic and exciting character. Its presentation will not suit all types of music but it performs well, especially at the price. It does sound similar to the CSK because of its powerful bass which sometimes dominates proceedings, but it also has some bass bleed and that peak in the upper mids and lower treble so often found in affordable hybrids which the CSK does not suffer from. The overall profile is more V shaped but it has, like the CSK, a large and expansive soundstage. Overall the CSK is better balanced and will suit a wider range of genres.
CVJ CSA
CVJ's debut model, the CSA is also a dual hybrid with a 10mm DD and a "custom" BA. It has a very neutral/bright tuning which established CVJ's "house tuning" which is rare in this price sector compared with the more commonly found V profile. Bass is firm and well textured, mids are forward and clean and the treble is clear and extended with an absence of peaks. Compared to the CSK, its resolution is finer and more accurate which is especially good for vocal music. Its even handed approach also suits many other genres, though it does not possess the powerful bass of the CSK and perhaps just misses out on the "fun factor" that the present model displays, but these are two very different IEMs.
Conclusion
At the price, the CSK was a pleasant surprise. With its visceral and impactful bass, expressive mids, large soundstage and smooth yet detailed treble, its expansive and powerful delivery brought out the best in large scale orchestral works, film scores and electronic music.
The out-of-box experience was unfavourable but after burning in, although some bass dominance and a minor bleed remained, everything was in better balance, so I would advise with this IEM that burn in is mandatory and that they should be given some time to reveal their true nature.
Further improvements can be obtained with a change of cable and tips which unlock the CSK's considerable potential, and although this does add to the cost, it is definitely worth pursuing. In addition, the use of a neutral or brighter source will help to achieve a good balance and tame the bass.
At its best, the CSK is outstanding at its price level. It is certainly a departure in tuning from what was the CVJ "house sound" seen in their earlier models like the CSA, CSN and Mirror, but it offers an exciting and entertaining listen for very little money, and must be considered amongst the best entry level IEMs on the market at present. Being so affordable, its minor failings can certainly be forgiven and it is highly recommended.
Bleeding Love
Pros
:
-Treble extension (~11.5k)
-Light-weighted
-Not Harsh/Sibilant
Cons
:
-Severe Bass Bleed
-Small stage
-Average Imaging
Disclaimer:
This earpiece is provided to me by CVJ for review.

Setup used:
PC > Topping E30 > CSK [Foobar2000]
Handphone > CSK [UAPP & Hiby App]

Impressions (Stock):
To put it bluntly and shortly, the bass bleeding to lower mids is horrible. Time and again I thought it was bad drivers or the fact that it simply needs more burn-in time. Unfortunately, after more than a week with total usage of about 20hrs, it still sounds bad, real bad... As you would expect, the bass amount is good in terms of quantity (volume) but the quality sucks big time. I call the bass bad due to two reasons, first being the slow bass that leads to bleeding and secondly boomy bass (FYI, I prefer punchy bass so this is a little bias here based on preference)

Moving on to the may/may not be problematic mids, generally, if the track is not so much focused on the male vocals or is not bassy, it would sound decent. Unfortunately, whenever the bass notes drop, the bass bleeding just makes lower-mids (male vocals) sound very muffled, the upper region of male vocals sound like a castrated eunuch if not a voice-cracking puberty 14-year-old boy. As mentioned in the Pros, this piece does not have a sibilant nor harsh nature, making female vocals sound pretty decent.

Treble extension reaches around 11.5k for my ears when I perform a frequency sweep test around the volume I typically listens to. To put it simply, extension is not something to be proud of that extends very far but is still decent enough to give some micro-details if you listen at a slightly louder volume.

Mods:
I have tried a few cable types as well as playing around with various tips that can suppress the problematic bass, but it is a pity that my accessories collection do not have anything that could reduce the impact from the extensively bleeding bass. I then proceeded to EQ the bass by creating a low shelf filter at 83Hz with +3dB. The outcome would be boosting the sub-bass region a little more while increasing the steepness/filtering of the region between the bass and lower mids. The purpose is to artificially "filter" the bleeding into lower mids but creating a "faster decay". The downside would be thinner male vocals but more pleasant sounding.

Why I gave the score
The fact that the "mod" is so lengthy is kinda self-explanatory that the crucial issue of bass bleeding is pretty horrible to my ears. Despite the fact that everything except the bass bleed would be average and should be reflected with a 2.5-3.0 star rating, I have to fail it in my personal review over the CSK for that intolerable bass bleed and the aftermath.
Last edited:
Bass Bass Bass Bass Bass…… 💥 - CVJ CSK
Pros
:
- fun boomy bass
- good for Hip Hop
- lightweight, great fit
- non-sibilant
Cons
:
- generic Chifi V-shaped tuning
- recessed mids and hollowed vocals
- bass bleed
- weird treble peaks
- small soundstage
- below-average imaging
CVJ CSK is CVJ's latest budget hybrid IEM that comes in at $11.99usd. It sports a 1DD/1BA configuration, with its 1DD driver handling the bass and the 1BA driver handling everything else.
Upon opening the box, I am presented with the IEM itself, 3 pairs of eartips (S,M,L), a thin looking SPC cable, and a pouch. The presentation is pretty generic, but hey, for $10usd, I'm not complaining.
With that out of the way, let's start the review.
*Disclaimer: this review is done using both stock tips and cables.
PROS :​
Very fun V-shaped tuning with heavy bottom and top end. fun for Hip Hop!
Bass hits hard and dominates the track. Had a lot of fun listening to CSK with bottom-heavy tracks from genres like Hip Hop/EDM/Club.
Treble is... At least it isn't sibilant.
Great fit. Fits my ears perfectly. Can use this for working out!
The build is lightweight and efficient. I love how the CSK looks and feels. Weigh like nothing too! Very comfortable
CONS :​
Generic Chifi V-shaped tuning. You get BIG BASS and treble. Not at all resolving.
Recessed mids and vocals that are hollow and undetailed.
Bass bleed causes male vocals to sound muffled.
Boomy bass that lacks detail, texture, and finesse (bass is slow).
Treble is unrefined and lacks air. It could also be weirdly peaky at times, especially with cymbals. To my ears, it sounds like the treble is confused and don't know what to do lol.
Soundstage is smol. It's like everything is in your head.
Imaging is hazy. Couldn't really tell where's where
Instrument separation is sub-par.
Fierce competition
PAIRINGS:​
I managed to make the CVJ CSK sound good by pairing it with an SPC cable ($25usd) and Final E clears/red tips ($5usd)
However, I don't see why you should do this. The total cost of everything here brings the price of the IEM up to $40usd. At $40usd, just get the CVJ Mirror instead. Great flat neutral-sounding hybrid. Can't recommend that enough.
IN CONCLUSION:​
If you know me, you know that I love the CVJ Mirror. At $50usd, I think that it is a no-brainer for someone looking for a hybrid that is relatively flat neutral.
However, I can't really say the same for the CVJ CSK. I know that it isn't fair to compare apples to oranges here, but even at CVJ CSK's own price range, the competition is fierce. At $10usd, I would rather get the TRN MT1 or the KZ EDX and still have a few bucks left for a cup of coffee (both are also better imo).
I really want to like the CSK, but I can't. Sorry CVJ, but the CSK ain't it.
Interested in the CVJ Mirror? Link to my review here:
https://www.head-fi.org/showcase/cvj-mirror.24891/reviews#review-26089
(4.5/5
)
Purchase links (non-affiliated);
1. CVJ Mirror -
https://a.aliexpress.com/_m0ZzOaX
2. CVJ CSK -
https://a.aliexpress.com/_mKq1ztD
Last edited: