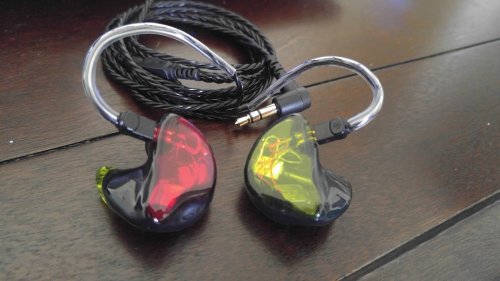 Let me start this review by saying that I am relatively new to the world of audiophilia. The only notable iem I have owned prior is the ATH-IM70, although I have tried and own(ed) a decent amount of low end to high end headphones. This is my first review on head fi.
I won't mention accessories or go into too much detail on build quality, as you can read all about those in the reviews prior. Let me just say that I was very happy with the design.
(I purchased these myself and what follows are my 100% honest impressions)
Ordering

I must say custom art's ciem order page is superior to most others out there on the net, letting you see what each option looks like in real time on a custom shell. This can result in you fiddling over the options for a long time, designing hypothetical iem shells and evaluating them endlessly, which I can confess I did.
Even when I reached my final design and ordered, I changed my mind and sent Piotr my new request, which he was happy to take! Just over a month and they were in my hands.
Fit

Being a newcomer to custom in ear monitors, it took some time for me to get used to inserting them. Initially when I put them in I thought I couldn't get a proper seal. Turns out they "click" into the cymba portion of the ear when enough force is applied. Once I figured that out, I had a perfect, secure fit. Isolation is impressive; you can still hear outside noises but they are quite faint, the edge is taken out of them. They are vastly more comfortable than my im70's which was my main issue with those; those just never felt secure. Props to Piotr on that front.
Sound

The first feature I evaluated in the Ei.3's sound signature was its bass response; bass is often the first thing we notice in any sound signature and this works to the Ei.3's advantage, because the bass is full and extends well into the lower registers. I enjoyed its impact and rumble quite a bit, and it was fast enough not to sound overbearing. Listening to old-school trance and techno was a blast ("Forbidden Paradise 5" trance mix [1996] and Drexciya – "The Journey Home" [1995]), and I found myself upping the volume in spite of myself.
I am not adept at describing mids so I will simply state that the sound of the ei.3 is not hollow or distant. Vocals have presence without sounding too laid back or too forward; there is nothing particularly noteworthy about the Ei.3's vocal performance. Switching straight from the Audeze LCD 2 however, the upper midrange is significantly less natural sounding; female vocals sounded a bit unnatural. I am aware that this is hardly a fair comparison, but something to note anyway. As I used the Ei.3 on its own for longer, I grew accustomed to them and this became less of an issue.
Now highs – this is where the Ei.3 falters. Treble takes a general downward slope past 6K or so, which we can generally see from Crinacle's measurements shown. The result is a lack of air/sparkle in the sound. I prefer warm sound signatures in my headphones, and I was surprised by how warm the Ei.3's were if that is any indication. I don't think that many people accustomed to high or mid-fi audio will be 100% satisfied with this ciem's treble.
These aspects in combination give the Ei.3 a thick, somewhat weighty sound and non-fatiguing sound signature. This is great for beat-centric electronically produced music like techno, trance, house, juke, DnB/Jungle, dubstep, UK garage and hip-hop. But contrary to what other reviews have stated, I find the Ei.3 to be inadequate for acoustic or vocal-centric music like rock, jazz or soul/funk. Listening to Alice in Chains' "Nutshell", the Ei.3 was too congested, with not enough detail or air. I hesitate to say "muddy" because that is going to extremes, but there is a certain muddiness to the sound which reveals itself in natural, acoustic recordings but isn't really there at all for electronically produced tracks.
So when Piotr markets this ciem as a product best used for electronic music, he is 100% right and is obviously fully aware of the Ei.3's strengths and limitations when promoting them this way, because the Ei.3's do shine in that regard. However I have to disagree with some of the points made in other reviews which pitch this ciem as a balanced iem capable of handling all genres.
Verdict
As an avid consumer of electronic music, these ciems are a great start for me. I can forsee myself using them as my main portable/outdoor drivers for many years into the future. And at the price they go for, you really can't do better.
Value: 10/10
Design: 9/10
Fit: 10/10
Sound: 7/10