--
******Spolier Alert!****** 
This is an awesome 2.1 System, you might as well just go buy them right now, no point in reading my review.  
But if you must insist in continuing to read, I guess I'll do my best to elaborate.      
*The Box*
Being a wireless, relatively small speaker system, I made a mistake when picking up the box for the first time, I assumed it was light, it is not and my back will confirm this.  Like many Creative products there is a quality of weight you can feel when you pick up their products for the first time.  Their design teams are so great at putting so much into a tiny package, thus why they always seem to weight more than I would thought.  This means this system, though small is more for home use than portable.
Contains
:  
·         Two satellite speakers
·         One subwoofer
·         RCA-to-3.5mm stereo cable
·         Wired Audio Control Pod
·         Infrared remote control
·         Power cord(s)
·         Safety and Warranty leaflet
·         Quick Start Guide  
Ways to Connect
:  
·         Bluetooth 3.0 (Pod)
·         NFC (Pod)
·         3.5mm (Pod)
·         Optical (Subwoofer)
·         RCA (Subwoofer)
All of which work flawlessly, choose your poison and off you go.  For me, personally I used the NFC feature to quickly connect my Samsung S4 and I was almost instantly streaming some good tunes (everyone loves Katy Perry, right?).    
-Subwoofer-
Before I had mentioned the weight of the box, well that is due to the substantial subwoofer.  This thing is solid and looks as such.  The Subwoofer is where you will find the Power Plug Insert, RCA In, Optical In, MiroUSB Service Instert, Small Volume Knob, Control Pod Insert and the connection ports for the Satellite Speakers.  There is a lot going on at the back of this small, yet powerful subwoofer.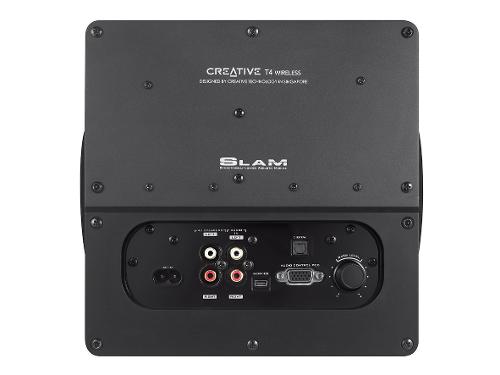 -Satellite Speakers-
The Satellite Speakers are compact, light and look great (IMO).  Now, this is the point I have to say I cheated.  I had read other reviews prior to testing myself, so I knew in advance how to hook these little guys up the proper way.  It basically comes down to lining up these small notches on the sockets for easier insertion, though you still have to provide a decent amount of force when plugging in.  Have I not read other reviews, would I have been able to figure this out quickly?  Maybe, I'm not sure.   
-Pod-
The pod looks like an alien space from those old black and white Sci-Fi movies.  The volume knob has a great feel in the hand, I love how easy it is to use.  Here you will find the NFC Touch, Bluetooth and a 3.5mm Aux in.  All work great and without issue.  NFC connects in seconds.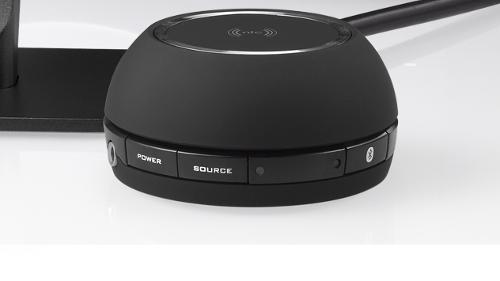 - Remote-
It is basic, but very much gets the job done.  I found the range to be very good, never having a problem at any distance in my home (though my condo is quite small).
*Sound*
Wonderful, that is how these sound.   
Bass
– The subwoofer is powerful and extremely accurate.  It has quite a punch for it small footprint.  I really enjoy the feel of the bass that it can protect and if it gets to be too much a quick adjustment is all you need.  
Mids
– Using a 2.1 setup, I sometimes find the mids take a back seat, but not with the T4.  The Satellite Speakers produce a full quality that brings out vocals, without leaving them behind.  
Highs
– You will notice a quality sparkle right off the bat.  Control in the upper range is quite impressive. 
*Overall Thoughts*
The value of the Creative T4 is through the roof.  These make great high end computer speakers, can be used to power a small theater setup, or just be a wonderful sound system that can be put in any room of the house, handling all challenges with ease.  The numerous connections make it more versatile that most products out there.  The T4 wants to be used and wants to reward you with a good quality sound.  Creative hit a home run with this product, it is well designed and works perfectly.  One of the easiest purchases I have ever have recommended.    
--