Many thanks to Creative Singapore for the review sample of Creative Sound Blaster Roar 2!
I supposed to post this review early this year, but it has been delayed quite a while due to unforeseen high workload this year.  
Website:
http://sg.creative.com/p/speakers/sound-blaster-roar-2  
Sound Blaster Roar 2 is the improvement of the 1st version of Sound Blaster Roar, mainly on the size and weight. Being 20% more compact and around 9% lighter,  Sound Blaster Roar 2 is claimed to offer similar performance to the predecessor.  
And here is the user manual that I find very useful to understand the operation of Roar 2:
http://img.creative.com/files/guide/roar2/Roar2_A6_User_guide_Rev_A_3_EN.pdf  
A few features have been removed from the 1st version of Sound Blaster Roar, like USB security option which is cool but probably may not be frequently used by many users, and the stereo setup option which I think is good to have. For most users, I believe, the reduced size and weight are practically more important than those extra features.  
Before I start with details, I would like to share an experience. Soon after I received Roar 2 from Creative, I brought it to the office to get general opinions from friends about it. Long story short, 3 of my friends soon bought Roar 2 after they listened to it. I guess this experience is no doubt a proof of how good the Roar 2 is.  
Pros:
Very good sound quality and level of loudness considering the size.
Very good Bluetooth implementation, very sensitive and stable connection.
Good battery life.
Various inputs: Bluetooth, USB, Line Input, and micro SD memory.  
Cons:
Very slow USB charging. Cumbersome to carry additional 15V adapter when traveling.
The power button is prone to accidental press.  
Suggestions for Improvement:
A little increase in treble response and extension.
Better placement or recessed power switch. When kept in the pouch, sometimes the power button may accidently be pressed.
Soft switch for microphone mute function, to avoid switching noise when muting or unmuting the microphone.
USB fast charging, like adopting Qualcomm® Quick Charge technology.
To include the Silicone pouch as default accessories.  
Sound Quality
My first impression, when tried Roar 2 for the first time, was, 'Wow it sounds big!'. It is pretty loud for a relatively small speaker. Roar 2 could easily fill a small to medium size living room with music at pretty good loudness. It has decent level of bass that not many speakers at Roar 2 size are able to achieve. Besides that, I was impressed especially by its vocal presentation. Both male and female vocal rendered very nicely by Roar 2. It doesn't have those typical 'thin' vocal sound generally associated with small speakers. Vocal sounds full with good body and clarity. Vocal is really one of the Roar 2 primary strength.  
The classic problem with a small speaker is always the ability to produce a decent level of bass. Roar 2 has nice bass tuning, so despite the small size, there is decent level of bass to make music sounds rich without sounding thin. But don't expect bass level like from proper bookshelf speakers, still not there yet. I used Roar 2 to watch sci-fi and action movies, and I was surprised that Roar 2 has sufficient bass and dynamic to make movie sounds enjoyable, especially for a small setup like watching a movie on PC, notebook, or tablet. Thanks to the excellent implementation of the passive radiators.  
Clarity is good without causing any listening fatigue, especially good for Pop and Jazz kind of recordings. Compared to UE Boom that I borrowed from a friend, Roar 2 is less bright with more bass. Perceived brightness is better on UE Boom, but UE Boom might sound a little bright sometimes. It would be nice if SB Roar 2 could have a simple treble adjustment to adjust the treble when needed. It does have 'TeraBass' and 'Roar' mode to add some oomph, and I find it especially useful for low volume listening. But when listening to a classical chamber music or solo performance, it would be nice to have a little increase in treble.  
SB Roar 2 is pretty well tuned. So far I didn't hear any annoying peaks or dips in the tonality, and tonality is actually sounded quite nice. A little mid-centric, but in a nice way, and quite expected from a speaker in this size. The tonality tuning is very good and sounds pleasing. I would say Creative did a good job on SB Roar 2 tuning!  
Due to the one side placement of all the active drivers, Sound Blaster Roar 2 has dual orientation, and can be positioned either vertically or horizontally. So far from my experience, somehow horizontal placement sounds nicer and more pleasing. A subjective observation definitely, but I prefer to position it horizontally. Solid surface is also important, as Roar 2 performs best when placed on a solid surface. Give some distance from the wall and other objects, it sounds better with more space around it.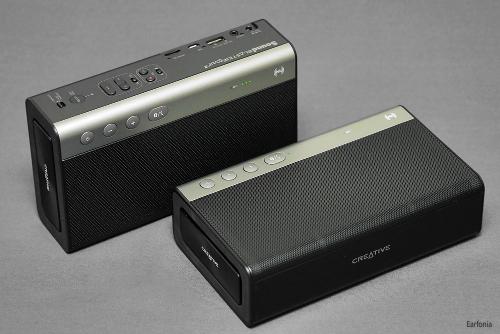 Here are some highlights of the sound quality:
Well tuned, sounds pleasing and enjoyable without any annoying peaks and dips on the tonality.
Sounds best on vocal and slow to medium pace music such as pop, jazz, and vocal. Still good for classical chamber music, but doesn't sound fast enough for complex orchestra and fast paced music, which is generally expected from such a small speaker.
Bass is good, decent level of bass for such a small speaker. In a small setup such as watching a movie using laptop or tablet, with Roar 2 placed around 1 meter away from the listener, we can actually feel the bass from this little speaker.
Midrange is probably the strength of Roar 2. Vocal is naturally and beautifully rendered, sounds full and clear.
Treble is a little soft, level wise slightly below midrange. Good treble level for modern genres to have good clarity without causing any treble fatigue, but for classical recordings, I do prefer a little more treble.
Best placed on a solid surface, with some distance from a wall or other objects.
At max, loudness reach around 85-86 dB SPL when playing pink noise, measured 1 meter from the speaker. Pretty loud for a small to medium size room.
Loudness was measured using an SPL meter, around 1 meter from the speaker. Roar 2 was placed on a table and the SPL meter was positioned around listening height when I'm on sitting position, as shown in the picture below. This small speaker is pretty loud, playing Pink Noise through Bluetooth, at maximum volume, reached around 85.9 dB(C). Practically, in small to medium room, I rarely set the volume to maximum.  
I did some simple non-standard frequency response measurements, in a 2.8m x 5m x 2.6m (W x L x H) room, using the well known REW program and MiniDSP UMIK-1 measurement microphone. SB Roar 2 was in horizontal position on the floor in the middle of the room, measurement mic was around 1 meter directly above the speaker, pointed down facing the speaker.  
Speaker frequency response is room dependence. Measurement in a different room will show different frequency response graph. Therefore this measurement (Psychoacoustic smoothing applied) is just to show an example of the Roar 2 frequency response in a room, comparing the default setting when Tera Bass and Roar were disabled, and when Tera Bass or Roar were enabled.  
Looking at the graph and the hump around 500-600 hertz, one might think that the speaker might sound a bit honky, but in reality, it doesn't sound honky. As mentioned earlier, Roar 2 tonality is rather mid-centric, but in a natural way, where vocal is rendered very nicely, clear, full, and natural sounding. So don't worry about that hump, it is probably just room resonance or something, and it doesn't cause any annoying sound. Tera Bass or Roar give some boost around the bass area as shown by the graph. Though it is not shown in the frequency response graph, there are some small differences between Tera Bass and Roar. Besides bass boost, Roar mode gives a little clarity boost as well and increasing the overall loudness. But the effect is not very obvious in loud volume setting.  
Features
Build
SB Roar 2 is designed for indoor use, and not ruggedized for outdoor use. In my opinion, the silicone case should have been included as default accessories for additional protection. At around 1 kg, it is not particularly light for a Bluetooth speaker, but not particularly heavy as well considering the performance. SB Roar 2 has 3 active drivers and 2 passive radiators on the sides. The active drivers are 2x 1.5" tweeter & 1x 2.5" woofer. It used Bi-Amplified design, using 2 amplifiers, one stereo amplifier to drive the 2 tweeters, and another amplifier to drive the woofer. The passive radiators on the sides are pretty tough and durable. I personally like the simple rectangular design of Roar 2, looks simple and elegant.  
Voice Prompt
Before going into detail on other features, in my opinion, one very important feature that every Bluetooth speaker must have is the voice prompt disable feature. To me, it is even better if the speaker doesn't have any voice prompt at all. No matter how good is the sound of the Bluetooth speaker, if the voice prompt cannot be disabled, to me, it is a deal breaker. To me, Bluetooth speaker with voice prompt is really annoying. The good news is, Roar 2 voice prompt is not very annoying, and can be completely disabled. Let me quote the steps from Roar 2 FAQ:  
http://support.creative.com/kb/ShowArticle.aspx?sid=125377  
How do I disable the Voice Prompt on the Sound Blaster Roar 2? 
With the speaker powered ON, press both the Volume "-" and Multifunction button at the same time. You will hear a voice message indicating that the voice prompt is successfully disabled.  
Press both buttons shortly at the same time. Long press doesn't work.  
If for some reason it needs to be enabled:
How do I enable the Voice Prompt on the Sound Blaster Roar 2? 
On a speaker with a disabled voice prompt, ensure that it is powered ON. Press both the Volume "+" and Multifunction button at the same time. You will hear a voice message indicating that voice prompt has been successfully enabled.      
Source & Connectivity
Creative approach to playback from multiple sources is to mix them all. For example when it is connected to my phone via Bluetooth, and I connected the auxiliary input to an audio player, at the same time having a microSD card with MP3 files in the mSD card slot, and play audio from all the 3 sources, Roar 2 will simply mix the audio signal from all the sources and play them all together. So, no switching between sources, and mixing the audio sources is the approach taken for Roar 2 for operational simplicity.  
Roar 2 has 4 inputs for audio signal: Bluetooth, USB, MP3 from micro SD slot, and analog auxiliary stereo input.  
Bluetooth can be paired by a simple NFC tap or manual Bluetooth pairing. The Bluetooth version is 3.0 and supports AAC, aptX, and SBC. More detail on SB Roar 2 page. I never had any issue with BT connection so far, receiver sensitivity is very good and stable. I did a 'line of sight' distant test with my Android smartphone (Samsung Galaxy S4), and music still playing smoothly at staggering 40 meters of distance between the phone and Roar 2. I tested it in a corridor, probably the walls help to channel the BT signal, but 40m still a very long distance for Bluetooth. At home, I put the Roar 2 in a room, closed the door, placed my phone on other room, not line of sight, solid wood door and concrete wall in between, BT reception was still good for like around 7-8 meters distant. aptX codec works well so far, good audio sync with the video signal when watching movie. Besides that, there is a cool feature to connect 2 Bluetooth devices at the same time to Roar 2, and it will seamlessly switch between two devices for audio playback. Only one BT device playback at a time, not mixing the sound from the 2 devices. 1st device stop, the 2nd device can play and Roar 2 will automatically switch to the 2nd device. In summary, the Bluetooth implementation in Roar 2 is really good.  
Roar 2 has USB Audio functionality. Only 16bit - 44.1kHz mode is available which is acceptable for such a small speaker. That means, if a PC or laptop lacks BT interface, it can be connected to Roar 2 via USB connection, and stream the audio signal digitally to Roar 2. The computer will detect Roar 2 as another playback device, and no driver required for Windows. Roar 2 charges its internal battery when connected to the PC USB at a slow rate. There is a switch to switch between 'USB Audio' or 'Mass Storage' mode. Switch to USB Audio for streaming music digitally through USB.  
On Roar 2 specification it is mentioned that it supports microSD or microSDHC cards up to 32GB formatted in FAT/FAT32. I tested 128GB microSD formatted in FAT32, and it works fine with Roar 2. The only audio file format that is supported is MP3. File playback is either sequential or random. Sequential will follow the order of folder names and file names.  
Analog auxiliary stereo input is must have for any Bluetooth portable speaker, and I found it to be very useful. Aux input allows other audio devices without Bluetooth interface to use Roar 2 as an external speaker. In church, we have a keyboard that has no built-in speakers. Every Time we need to use it, we need to connect it to a sound system, and sometimes this can be a little impractical in certain circumstances. Roar 2 comes in handy for this kind of situation, for example, a simple rehearsal. Just plug Roar 2 to the headphone output of the keyboard and it is loud enough for the purpose. Sometimes the keyboardist also needs a close speaker monitor when playing on stage, where the sound from the main PA system may not be clear enough from the place where the keyboard is positioned, Roar 2 is very useful for this kind of situation.  
I bought another unit of Roar 2 to test it as a stereo pair. I cut a long 3.5mm to 3.5mm cable to become a stereo cable for the 2 units of Roar 2. The result was very satisfying! It is loud, and the stereo setup expands the stereo imaging. Perfect for small to medium room solution. To achieve balanced volume setting, both Roar 2 volume were set to maximum, and listening volume was set from the audio player. Roar 2 in the stereo setup is simply more than double the fun!  
Recorder Function
Roar 2 has a built-in microphone, mainly to use Roar 2 as a speakerphone. The speakerphone function is good, loud and clear. The microphone is pretty good as well. To record the conversation, simply insert an FAT32 microSD, and press the record button. There is Red LED to indicate recording is enabled. Press the record button again to stop the recording. There is a minor problem with the microphone, the mute switch is mechanical, therefore the other party can hear a soft switching noise when we mute or unmute the microphone. It is recommended for Creative to use a soft switch for the microphone mute function to avoid audible switching noise.    
Battery & Charging
SB Roar 2 has built-in 6000mAh Li-ion battery. I tested it with continuous music playback at loud volume, almost max, it last for slightly more than 8 hours. Pass 8:11' hours, the overall loudness dropped around 6 dB, and the battery completely exhausted at around 8:31' hours. Creative specification for 8 hours playback is proven. Also noted that no heat issue during the continuous playback, only slightly warm at the back of the speaker.  
Internal battery can be charged by either using the 15V adapter that comes with it, or a generic USB charger through the USB port. USB charging is extremely slow, drawing current only around 0.5 - 0.63 Amp. Below are the measured charging duration using both 15V charger and 5V USB charger (smart & high capacity 2.4A charger), from completely discharged battery to 100% charged:  
15V Volt charging (max current 0.96A) : ~ 2:18' hours
5V USB charging (max current 0.63A) : ~ 9:00' hours  
In my opinion, Creative should have adopted the Qualcomm® Quick Charge™ technology, either QC 2.0 or the newer QC 3.0. But even if Creative is not adopting Qualcomm® Quick Charge™, still they should have designed the 5V charging to draw higher current when connected to 2.0A or 2.4A USB charger. All USB charging port has USB coding (from the D+ and D- USB pins) to give the indication to the device connected to it, of the maximum current the port is able to supply for charging. For example:  
PC USB 2.0 with D+ and D- pins open : Max. Current 0.5A
PC USB 3.0 with D+ and D- pins open : Max. Current 0.9A
Generic USB Charger with D+ and D- shorted with max. 200 ohms : Max. Current 1.5A
Apple USB Charger with D+ voltage 2.8V, and D- voltage 2.0V : Max. Current 2.1A
Apple USB Charger with D+ voltage 2.8V, and D- voltage 2.8V : Max. Current 2.4A
Quick Charge 9V : D+ voltage 3.3V, and D- voltage 0.6V : Max. Current 2.0A
Quick Charge 12V : D+ voltage 0.6V, and D- voltage 0.6V : Max. Current 1.5A  
There are more USB charger codings than what is listed above. If Roar 2 USB port can detect those coding like what most smartphones do, it can easily use 1.5A to 2.4A USB charger to draw higher current for battery charging, that may resulting 3 or 4 times faster charging than the current 0.5A USB charging. These days we have so many gadgets require battery charging. Laptops, tablets, smartphones, camera, etc. It is simply inconvenient to bring another 15V power adapter just to charge the Roar 2. If everything can be charged using a powerful multi-port USB charger, it will make things simpler and more convenient. I hope Creative would consider improving the USB charging speed for all of their Bluetooth speaker models, and simply remove the unnecessary 15V charging port and adapter. It will also save some production cost.  
Besides the micro B USB port for charging the internal battery, There is another USB type-A port for charging external devices, to make use the Roar 2 internal battery functions as a power bank. The USB A port is capable to output 1A current to charge other devices. But please take note, I observed that the output voltage is only around 4.77V at 1A, a bit low for 5V charging. Maximum discharge output capacity is approximately ~ 3900 mAh. Maximum discharge capacity, at 0.5A and 1A discharge rate:  
0.5A discharge : 3858 mAh
1A discharge : 3923 mAh  
Measured discharge capacity will always be less than the internal battery rated capacity due to several factors such as step up the voltage from 3.7V to 5V, converter efficiency, etc. So measured output capacity at 65% or more is considered good for a power bank.        
Currently Creative has expanded the successful Roar product line with some new models. Here are the Roar models with timeline:  
2014 September : Creative Sound Blaster Roar
http://sg.creative.com/p/speakers/sound-blaster-roar
First generation of Sound Blaster Roar. 2x 1.5" tweeter & 1x 2.5" woofer. The 2 stereo full range speakers are placed on the side, while the woofer facing up.  
2015 June : Creative Sound Blaster Roar 2
http://sg.creative.com/p/speakers/sound-blaster-roar-2
Smaller and lighter than the 1st generation Roar, while offering similar performance.
2x 1.5" tweeter & 1x 2.5" woofer. All drivers are placed on the same side of the speaker.  
2015 November : Creative Sound Blaster Roar Pro
http://sg.creative.com/p/speakers/sound-blaster-roar-pro
The 2 stereo full range speakers are now placed on the side similar to the 1st Roar.
2x 1.5" tweeter & 1x 2.5" woofer.  
2016 January : Creative iRoar
http://sg.creative.com/p/speakers/creative-iroar
The 2 stereo full range speakers are placed on the side similar to Roar Pro.
2x 2.0" tweeter & 1x 2.75" woofer.  
2016 August : Creative iRoar Go
http://sg.creative.com/p/speakers/creative-iroar-go
2x 1.5" tweeter & 1x 2.5" woofer. All drivers are placed on the same side of the speaker, similar to Roar 2.  
Creative iRoar is currently the biggest and the most advance Roar speaker. While Creative iRoar Go with IPX6 ratings seems to be the Roar 2 with improved outdoor durability.      
Conclusion:
Even when compared with the newer model, Creative Sound Blaster Roar 2 is still a solid and good sounding Bluetooth speaker that holds its own value pretty well. It is feature rich and has good battery life. A nice solution for music lovers on the go, or those who need a small and simple, but good sounding speaker. Sound Blaster Roar 2 is a perfect companion for modern multimedia gadgets. Kudos to Creative!        
2 rubber strips at the bottom of the speaker.      
Equipment used in this review:
DAP & Smartphone:
Onkyo DP-X1
Samsung Galaxy S4
Bluetooth Speaker:
UE Boom  
Measurement Instrument:
MiniDSP UMIK-1 (measurement microphone)
Dayton Audio iMM-6 (measurement microphone)
ZKE EBD USB+ (battery bapacity tester)
USB Charger:
Aukey PA-T1    
Some recordings used in this review: